Spencer doesn't know that she's the bitch who chipped them, while brainwashed in the dollhouse, but it's good they realize they've got trackers in their noggins now.
They explore the lab some more, and the cages finally trigger Hanna's PTSD. She goes full-on Beast Boy and starts freeing all of them. Unfortunately, one of the raccoons doesn't know that it is supposed to go to the door, swipe Lesli's key card, walk down the hallway, walk out the front door, and return to a happy woodland life. It just stands up on its back legs and starts swaying and hissing a little bit like maybe it is going to kill them or maybe it is just going to sing a Beatles song. Hanna legit goes, "Why is it moving like that?! Is it on speed or something?!" Spencer tries to lure the raccoon back into his cage with some Cheetos from Hanna's purse, but he's too smart for that shit.
Pretty soon all the rats are free, and the birds. There's lemurs climbing all over the place and pigs rootin' around, and a leopard, and some sheeps are baaa-ing in the corner, and a gross naked mole rat leaps from a light fixture onto Aria's shoulder. It's fully pandemonium when the lights go out — and then, like a springtime shower after a scorching hot day, a lamp comes on and Mona Vanderwaal is standing in front of them. She claps her hands, one single time, and the animals to go back to their cages.
Hanna: Booo, you are not one of us! You work with Lesli Stone who was in Radley with Charles and Bethany, boooo!
Mona: You can hear from my voice that I have a cold, and I spent ten times as long in that dollhouse as y'all did, and you're still three miles behind me.
Spencer: Lesli and Bethany were best friends and Lesli hates us because Bethany ended up buried in Ali's grave!
Mona: For starters, Bethany and Lesli hated each other, so if you know of anyone who is trying to get at Lesli, like by framing her for a hit-and-run or something, you might consider that that person is Bethany Young. Especially if she looks like Bethany Young.
Spencer: We don't know anyone like that.
Mona: Fine. Second thing, Bethany and Charles snuck out of Radley on the same night. They were great friends, knew everything about each other. So, again, if you know an orphan who has appeared from nowhere looking like Bethany Young and worming her way into your inner circle and gaining access to your vital organs and Caleb's top secret hacker stuff, that's probably Bethany Young.
Aria: Spencer told you, we don't know anyone like that!
Mona: Okay. Well. Goodnight.
Emily returns to the Brew to tell Nicole she can't go with her to Thailand this summer because she's raising a wolf cub who can't be left alone, and she doesn't even offer to take Nicole out for dinner or anything, even after she came all this way! She leaves her in the company of Ezra Fitz, is how brainwashed she is already! Aria peeps Nicole and Ezra through the window later on and feels really sad about it. She just wants to hang out with Ezra so he can trash her art and make her feel loved! Spencer wants that too, so she goes to AA, looking for another lecture from Dean. He is not there, because being a petulant little brat is more important to him than staying sober.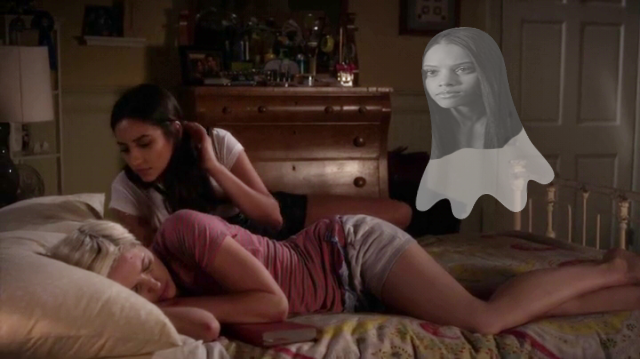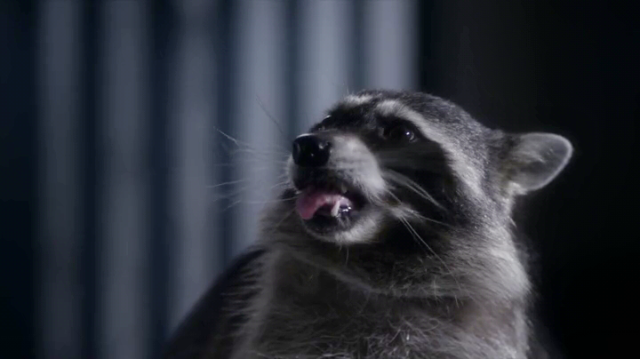 Emily stops by Hanna's on the way home to learn that Charles chipped them. She thinks about it the whole way home, and when she sees Sara curled up in her bed, she decides she'll check and see if she's chipped too. But she doesn't get a chance to figure it out because Sara flips right over and plants a sapphic smackeroo right on Emily's lips, and Emily smackeroos her right back.
The camera fades from Sara's face to Charles' grave. Vernon is there digging that thing right the fuck up. The card he got earlier, it says: Happy birthday, Daddy! I'm coming home! You should plan a party to die for! Just you!
As always, my deepest and most sincere thanks to Nicole (@PLLBigA) for the amazing screencaps and just for generally being the most best. I'd give her all my cheese doodles even if they were my dinner. 
Pages: 1 2 3 4See entire article on one page