"Caleb's office."
Caleb: When we tweet about Pretty Little Liars, we use #BooRadleyVanCullen.
Sara: What does that even mean?
Caleb: It's a Twitter hashtag Heather Hogan made up when she was recapping the first season because she thought Toby was a vampire/Boo Radley hybrid creature and she didn't want to watch this white hot glory by herself.
Sara: What's a Twitter? What's a hashtag? What does a hug feel like?
Caleb: Um.
Sara: Am I not the most pathetic human person you've ever seen? What's Alison DiLaurentis like, by the way? You can trust me; my life has been constant misery.
Caleb: I think maybe you should ask Emily about her.
Sara: No, she gets too cagey every time I bring her up, like they're in love or something. I just want to know about the girl I was pretending to be.
What a goddamn thing to say! Sara is better at pretending to be Alison than anyone ever has been or will be, including Cece Drake who is both Alison's soul sister and Horcrux. Who Sara is pretending to be right now, in fact, is exactly who Alison is: A girl who has suffered constant torment and abuse and isolation. A girl who has the Liars' best interests at heart, after looking inside the darkness of her own self for so long while she was forced to stay away. A girl who deserves emancipation from the parents who perpetually fucked her up and over. A girl who longs to find redemption in the arms of Emily Fields. Sara doesn't need a mask of Ali's face to wear over a mask of her own face or even a yellow tanktop to pull it off. Sara is pretending to be who Alison DiLaurentis really is, just fine.
In fact, Sara's arc with Emily is exactly what I thought Alison's arc with Emily would be this season, (but that Alison's would be genuine). It's freaky as balls, y'all.
Hanna grows weary of waiting for Spencer to show up in Philly, so she decides to steal Lesli's car. It's the easiest thing she's ever done. It's easier than the time she stole those sunglasses in the pilot. She just walks up to the valet at the sushi place and shows him her bra strap and smiles and tells him she loves him, and he hands the keys right over.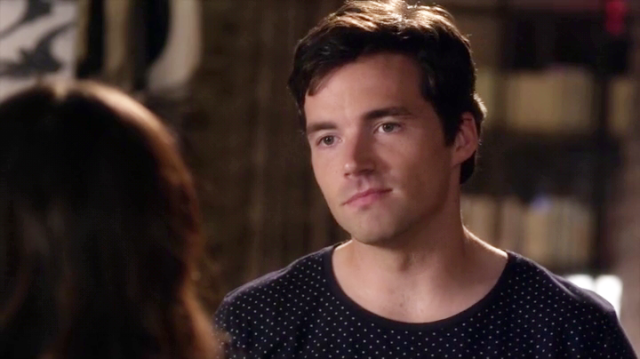 Ezra is wearing his most fancy polka dot blouse today, and when an Aussie lesbian shows up at the Brew looking for Emily, he swoops right on in to introduce himself. It quickly becomes apparent that she is old enough to have a driver's license and is therefore not his type, but he doesn't mind if she hangs out here and waits for Emily anyway. Her name is Nicole and she's from Habitat for Humanity. She hung out with Rumer Willis and Emily in Haiti that summer after Maya died and Emily just wanted to get drunk and show A her boobs.
Emily goes with Aria to the junkyard to see if A is still there or if she left any fingerprints or like a business card or something. They talk for a few minutes about how Emily's gigantic Hufflepuff empathy has landed her in situations where she ended up having to stab a guy, and like, ironically, the only people you can trust on this show are the Liars. Sometimes the significant others. But never randoms who wander in any time after season two claiming to be a friend, or a cousin. Emily hears Aria, she really does, but she can't stop thinking about how Sara didn't have any love to come home to when she left the dollhouse. She can't stop wondering what got her through those dark days.
Aria: Right, that's literally what I just said. Gigantic Hufflepuff empathy. It's the same thing that landed you in that lighthouse, dude.
Emily: I think maybe the best thing I can do is allow Sara to sequester me from the things that sustain my soul, manipulate me into taking complete responsibility for her physical and mental well-being, and potentially make out with her.
Aria: Better to get it out of your system now than in your 20s, I always say.
Clark shows up to take more photos as Emily is receiving a text that Nicole is at the Brew waiting for her. He offers to give Aria a ride home so Emily can bounce. Aria agrees, but wishes she hadn't, because as soon as Emily's gone, she spots a doll that seems oddly familiar to her, so she flips it over and underneath it's dress is a whole other doll and it's Aria-shaped and it's got a needle in its eyeball like that time she was under Alison's porch looking for Mike and she peeped up through that knot hole and almost got blinded! The doll is resting against a bird cage, like Tippi's!
Spencer finally arrives so she and Hanna can rummage through Lesli's shit in her car to look for clues about how she's the one who kidnapped them and held them captive underground in a state park. They find a brush that smells like a cat box, a box of non-perscription glasses (which really seals the deal for Spencer; like what a monster!), and four unassembled cages. Spencer is aghast at the cages. They say they're for possums, but she knows they're for teenage girls. They take turns putting on Lesli's fake glasses while discussing the probability that she is A, and also discussing how Hanna is frustrated that her mom and Caleb think she's so weak they won't even let her cut her own toast these days.
Maya Goldsmith writing dialogue for Ashley Benson is one of life's most pure and delightful pleasures.
Emily arrives at the Brew to find that Ezra has already told the whole bunker story to Nicole. She doesn't want Emily to be mad at Ezra, and Emily is not. It's honestly the least offensive thing he's done in terms of invading her privacy. Here's the thing: Nicole really loved building houses with Emily that one summer and waking up to see her face every morning and wondering if today would be the day she was ready to move past losing Maya and open her heart/pants to someone new. Emily kept getting closer and closer to that moment, but before she was fully there, the summer ended and she left. Well and then she disappeared off of WebsitePageBook.com and she changed her email and there was no way for Nicole to keep up. How was she to know if Emily was okay? If she was single and ready to mingle? If she was mourning the loss of another girlfriend way up here in the lesbian murder capital of the world?
So Nicole flew from India to Pennsylvania to ask Emily to come to Thailand with her to build houses again.
Pages: 1 2 3 4See entire article on one page