One of the things Spencer and Hanna find in Lesli's car is her key card to the laboratory at the school where she's a TA. So, Spencer rushes on over to "Caleb's office" to get a copy, and of course Sara is there, Being Sad.
Sara: What's it like to be the smartest person in the room?
Spencer: I don't know. Ask Hanna.
Sara: I wish I could know what it feels like to be the smartest person in the room, or the hundredth smartest, or what it's like to even know things. My mom sold my brain on Ebay when I was in kindergarten.
Spencer: Well, book smarts aren't everything.
Sara: She sold my liver too. And my gall bladder. The only organ I have left is my heart, which beats limply against my chest because it is forever broken.
Spencer: Jesus, Eeyore. Look, when's Caleb coming back? I need a copy of this card I found in Lesli Stone's car.
Sara: You suspect this "Lesli Stone" for doing something shady, then? Tell me more. Tell me everything.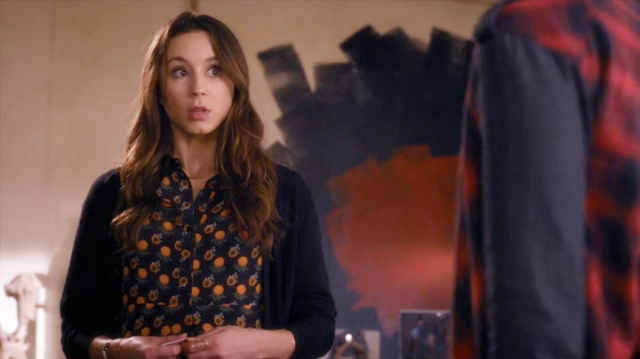 Caleb is reading a book called "When Love Grows Toxic" at The Brew. Ashley spots him and his book and comes over to pet his head and tell him he's gotta be patient with Hanna. She's spent the last couple of years getting molested and stalked by various grown men in this town, run under by cars, kidnapped, framed for multiple murders, abandoned by her dad, arrested for possession of a firearm, arrested for possession of a shovel. She spent one full semester eating cupcakes and dancing with Lucas to keep Ashley from going to jail for robbing a bank. Maybe one day she'll tell Caleb what happened in the bunker. Maybe she won't. And if he has a problem with that, he should consider the fireflies and the fact that he never told Hanna he's a cursed war ghost.
Aria is on the phone with Emily, talking about how Spencer is on her way to kill Lesli because vigilante justice is their only hope at this point, when Ezra wanders up and Aria hangs up the phone.
Ezra: I filled out the application for your photo contest.
Aria: I mean, thanks, but these are all lies?
Ezra: Knowing literally everything about you and lying are kind of my two main things.
Aria: Oh. Well, do you like this doll who looks like me?
Ezra: No, it's disgusting.
Aria: This makes me feel so safe.
When Spencer arrives home, Dean is there, skulking and brooding around outside. Spencer was supposed to meet him, I guess, and she is late. As soon as he sees her, he yells and stomps away because he was just waiting there to make a dramatic exit. He didn't even call or text, because he wanted to work up as much anger as possible, and bringing Spencer into the conversation would have just robbed him of his right to be rage. Dean says he's angry because when his friends don't show up places, it means they're dead and in a ditch and how dare she.
My girlfriend only watches PLL sometimes, and usually she's playing a game on her phone or something while it's on, but Dean sent her over the edge last night. She looked up from Candy Crush and glared at the TV and yelled, "THAT IS LITERALLY SPENCER'S ENTIRE LIFE BUT YOU DON'T KNOW THAT BECAUSE EVERYONE ELSE'S EXPERIENCES ARE CENTERED ON YOU BECAUSE MAN PAIN IS SO MUCH MORE VALID THAN ANYTHING SPENCER EVER COULD FEEL BECAUSE SHE HAS A VAGINA!"
It was a good moment for our love when she was screaming that at the TV like that. A really good moment.
Anyway, Dean goes on to say that he needs to stay away from Spencer because when he's around her all he wants to do is violate her boundaries. She almost kisses him because she thinks that's a really romantic thing to say because of how people who have spent their whole lives wandering around a desert can't tell the difference between sand and water.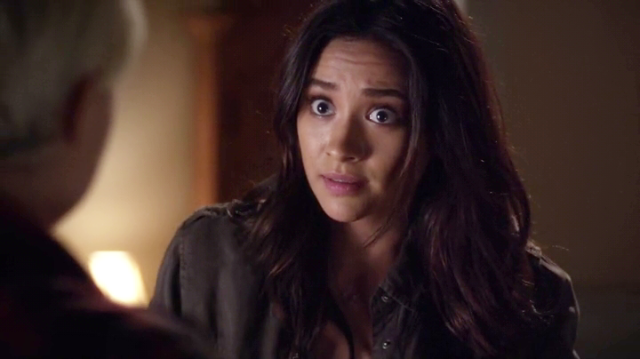 Emily returns home to find Sara beaten all to hell and bleeding all over the carpet and cleaning like Cinderella, apologizing the whole time. What happened to her? She can't remember. Who did this to her? She doesn't know. Well. I mean. Maybe she knows. She might know. She could be forced to remember. Does Emily have any photos on her phone of cars that maybe could have tried to run her over, like any cars that were being driven by people who are Lesli Stone?
In fact, Emily does have just such a photo on her phone. Sara sees it and confirms that's the car that smashed her. That's the person the Liars should be investigating. Not anyone else. Especially not anyone else in his very bedroom.
When Hanna gets home, Caleb is there, and he is so tired of being on the outside of Hanna's whole deal that he decides to get inside of Hanna's whole deal. (HEY-O!)
After which intercourse: Aria and Hanna and Spencer break into the lab at Lesli's college with her keycard. While they're looking around for clues, a scanner in the corner starts beeping. It beeps every time Hanna moves past it. So Spencer walks over and hold Hanna's head in her hands and tick-tocks her back and forth in front of the scanner. It's so wonderful. Hanna and Spencer's hijinks these last two episodes are fueling my heart with unleaded adoration. Hanna goes, "Why am I beeping? I haven't even stolen anything yet?" Then, more panicked: "Spencer, why are we radioactive?!?"
The answer is: Bitch chipped them.
Pages: 1 2 3 4 See entire article on one page