Previously on Pretty Little Liars, Hanna and Spencer creeped into Radley's abandoned basement to retrieve Charles' medical records, despite also finding his medical records in a  warehouse the previous week. These new records indicated that Charles' organs had been harvested and sent off to the hospital to populate the bodies of living non-psychos. Also in the basement was Mona Vanderwaal, who was picking up Lesli Stone's Radley file. And Maddie Ziegler was there too, just a-dancin'. Aria went to the junkyard with Clark to take some headshots of A. Alison's dad called her a whore in eleven different ways while watching a whole new police officer take advantage of her. And Emily continued her slow lesbian crawl toward making out with/getting murdered by Sara Harvey.
The news that Lesli Stone was a patient at Radley with both Bethany Young and Charles DiLaurentis has blown Spencer's entire mind. She is now convinced it was Lesli who kidnapped them, Lesli who held them hostage down in that bunker, Lesli who curated the Charles DiLaurentis Retrospective at the Museum of Modern Horrors. How else do you explain Mona getting a gas mask and juice boxes while the rest of them were forced to torture each other and cut their own hair? It was the Radley Bro Code, yo. That's how come Mona was okay down there.
Emily: Okay, look, every time you have accused anyone of anything, you have literally never been right.
Spencer: At some point, I will be right, though, because I will accuse every person, and there are only a finite number of characters on this show.
Emily: Incorrect. One new queer girl a week shows up here looking for an invitation to my pants party.
Hanna: Speaking of lesbian pants parties, Mona's mom won't let her out of the house, so she's not coming over to answer our questions about Lesli.
Emily: Y'all. Lesli does not look fit enough to hurl herself from a roof to the top of a moving ambulance; nor does she look hackery enough to own a CIA-style lair of surveillance equipment.
Spencer: You're confusing your A's. Spider-Man A was Shana Costumeshop. Aria murdered her. Surveillance Lair A was Ezra. He has suffered no consequences for his actions.
Emily: I have to go to therapy now.
Spencer and Hanna: WHAT? WHY?!?
Emily rides her bike home toward mandatory therapy with her mother, but is accosted along the way by Vernon DiLaurentis, who has received a birthday card and is very unhappy about it. Did Emily put it there? Did Emily see who put it there? Did she?! DID SHE?! I don't know, Vernon, why don't you ask one of the police officers who have been stationed outside your house to guard your daughter — but instead are mocking and molesting her — whether or not they've seen anyone lurking around your car. What's that? You don't trust the Rosewood Police Department? What a thing to say! Let me introduce you to my buddy, Officer Lorenzo; he'll explain why RPD are the good guys in a way your delicate, feminine mind can understand.
At the Hollis photo lab, Aria tries to sneak back the negatives she nicked from Clark, but he catches her. He thinks she didn't want to be in any photos, and that's cool with him; he just kind of wants to get a bagel and some coffee and brainstorm about more junkyard photos. Aria is so spooked when she realizes she has come into contact the most mythical creature in all of Rosewood — an age-appropriate man who respects both her boundaries and autonomy; and is interested in hearing what she thinks about things, as opposed to telling her what she thinks about things — that she runs out of there like she's been zapped by a cartoon lightning bolt.
Caleb drops by Hanna's to see if anyone's been planting trackers in her skull or anything like that, but she is not in the mood to be coddled this morning, especially by someone who also tracked her without her permission and then made DadFace at her. She says she's going to Philly with Spencer for an appointment, and she's using the buddy system like Ashley asked her to do, and so obviously they will be safe. Never mind that the last time she was kidnapped, she was with all three of her buddies in the back of an armored van.
Sara is hanging out nekkid in Emily's bedroom when Emily bebops in and creates a vortex of absurdity. Sara is freaking out about finding something classy to wear to "Caleb's office" and Emily is so undone by seeing a girl in a bra, which: Was for sure season one Emily, but she has seen now seen dozens of girls in bras in this very bedroom. Many of those bras on the floor, after she helped lesbians right out of them. Emily puts some tattoo cream on Sara's new Tippi ink and picks out an outfit for her to wear to "Caleb's office" and then runs out of there like she's Sara Harvey and the shower is empty. The music goes, "The Pacific Ocean is deep and you're hypnotizing me with your lesbianism and also the sky is blue and these are just the facts of life." When Emily leaves, Sara frowns and shakes her head like she's sad she's going to end up chopping Emily into tiny pieces with an axe. What a loss to mangle and murder a sweet girl with such a face.
As Spencer is getting ready to head to Philly and meet up with Hanna — who is stalking Lesli Stone outside a sushi restaurant, judging both her psychopathy and punctuality — Dean arrives and smashes his face against the window, like a Fucking Johnny of yore. He has brought Spencer some pot-free brownies and a really good book about staying sober, from one of his old sponsors. Spencer's like, "If it's so good, why are you back in AA?" But they don't have a chance to journey down that rabbit hole, because Veronica calls to leave a voicemail to pester Spencer into accepting the position of valedictorian. She doesn't want to do it because: a) She has only received five days of education from Rosewood High School, total, and b) she doesn't want to be the poster child for PTSD.
Dean tries to think of a way to condescend to Spencer or make this all about him. When he can't come up with anything, he says he'll swing back by later.
"Caleb's office."
Caleb: When we tweet about Pretty Little Liars, we use #BooRadleyVanCullen.
Sara: What does that even mean?
Caleb: It's a Twitter hashtag Heather Hogan made up when she was recapping the first season because she thought Toby was a vampire/Boo Radley hybrid creature and she didn't want to watch this white hot glory by herself.
Sara: What's a Twitter? What's a hashtag? What does a hug feel like?
Caleb: Um.
Sara: Am I not the most pathetic human person you've ever seen? What's Alison DiLaurentis like, by the way? You can trust me; my life has been constant misery.
Caleb: I think maybe you should ask Emily about her.
Sara: No, she gets too cagey every time I bring her up, like they're in love or something. I just want to know about the girl I was pretending to be.
What a goddamn thing to say! Sara is better at pretending to be Alison than anyone ever has been or will be, including Cece Drake who is both Alison's soul sister and Horcrux. Who Sara is pretending to be right now, in fact, is exactly who Alison is: A girl who has suffered constant torment and abuse and isolation. A girl who has the Liars' best interests at heart, after looking inside the darkness of her own self for so long while she was forced to stay away. A girl who deserves emancipation from the parents who perpetually fucked her up and over. A girl who longs to find redemption in the arms of Emily Fields. Sara doesn't need a mask of Ali's face to wear over a mask of her own face or even a yellow tanktop to pull it off. Sara is pretending to be who Alison DiLaurentis really is, just fine.
In fact, Sara's arc with Emily is exactly what I thought Alison's arc with Emily would be this season, (but that Alison's would be genuine). It's freaky as balls, y'all.
Hanna grows weary of waiting for Spencer to show up in Philly, so she decides to steal Lesli's car. It's the easiest thing she's ever done. It's easier than the time she stole those sunglasses in the pilot. She just walks up to the valet at the sushi place and shows him her bra strap and smiles and tells him she loves him, and he hands the keys right over.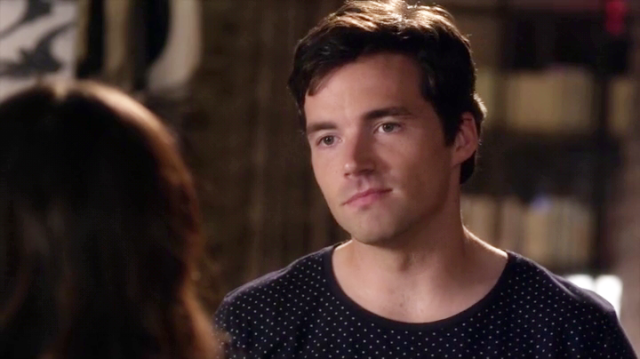 Ezra is wearing his most fancy polka dot blouse today, and when an Aussie lesbian shows up at the Brew looking for Emily, he swoops right on in to introduce himself. It quickly becomes apparent that she is old enough to have a driver's license and is therefore not his type, but he doesn't mind if she hangs out here and waits for Emily anyway. Her name is Nicole and she's from Habitat for Humanity. She hung out with Rumer Willis and Emily in Haiti that summer after Maya died and Emily just wanted to get drunk and show A her boobs.
Emily goes with Aria to the junkyard to see if A is still there or if she left any fingerprints or like a business card or something. They talk for a few minutes about how Emily's gigantic Hufflepuff empathy has landed her in situations where she ended up having to stab a guy, and like, ironically, the only people you can trust on this show are the Liars. Sometimes the significant others. But never randoms who wander in any time after season two claiming to be a friend, or a cousin. Emily hears Aria, she really does, but she can't stop thinking about how Sara didn't have any love to come home to when she left the dollhouse. She can't stop wondering what got her through those dark days.
Aria: Right, that's literally what I just said. Gigantic Hufflepuff empathy. It's the same thing that landed you in that lighthouse, dude.
Emily: I think maybe the best thing I can do is allow Sara to sequester me from the things that sustain my soul, manipulate me into taking complete responsibility for her physical and mental well-being, and potentially make out with her.
Aria: Better to get it out of your system now than in your 20s, I always say.
Clark shows up to take more photos as Emily is receiving a text that Nicole is at the Brew waiting for her. He offers to give Aria a ride home so Emily can bounce. Aria agrees, but wishes she hadn't, because as soon as Emily's gone, she spots a doll that seems oddly familiar to her, so she flips it over and underneath it's dress is a whole other doll and it's Aria-shaped and it's got a needle in its eyeball like that time she was under Alison's porch looking for Mike and she peeped up through that knot hole and almost got blinded! The doll is resting against a bird cage, like Tippi's!
Spencer finally arrives so she and Hanna can rummage through Lesli's shit in her car to look for clues about how she's the one who kidnapped them and held them captive underground in a state park. They find a brush that smells like a cat box, a box of non-perscription glasses (which really seals the deal for Spencer; like what a monster!), and four unassembled cages. Spencer is aghast at the cages. They say they're for possums, but she knows they're for teenage girls. They take turns putting on Lesli's fake glasses while discussing the probability that she is A, and also discussing how Hanna is frustrated that her mom and Caleb think she's so weak they won't even let her cut her own toast these days.
Maya Goldsmith writing dialogue for Ashley Benson is one of life's most pure and delightful pleasures.
Emily arrives at the Brew to find that Ezra has already told the whole bunker story to Nicole. She doesn't want Emily to be mad at Ezra, and Emily is not. It's honestly the least offensive thing he's done in terms of invading her privacy. Here's the thing: Nicole really loved building houses with Emily that one summer and waking up to see her face every morning and wondering if today would be the day she was ready to move past losing Maya and open her heart/pants to someone new. Emily kept getting closer and closer to that moment, but before she was fully there, the summer ended and she left. Well and then she disappeared off of WebsitePageBook.com and she changed her email and there was no way for Nicole to keep up. How was she to know if Emily was okay? If she was single and ready to mingle? If she was mourning the loss of another girlfriend way up here in the lesbian murder capital of the world?
So Nicole flew from India to Pennsylvania to ask Emily to come to Thailand with her to build houses again.
One of the things Spencer and Hanna find in Lesli's car is her key card to the laboratory at the school where she's a TA. So, Spencer rushes on over to "Caleb's office" to get a copy, and of course Sara is there, Being Sad.
Sara: What's it like to be the smartest person in the room?
Spencer: I don't know. Ask Hanna.
Sara: I wish I could know what it feels like to be the smartest person in the room, or the hundredth smartest, or what it's like to even know things. My mom sold my brain on Ebay when I was in kindergarten.
Spencer: Well, book smarts aren't everything.
Sara: She sold my liver too. And my gall bladder. The only organ I have left is my heart, which beats limply against my chest because it is forever broken.
Spencer: Jesus, Eeyore. Look, when's Caleb coming back? I need a copy of this card I found in Lesli Stone's car.
Sara: You suspect this "Lesli Stone" for doing something shady, then? Tell me more. Tell me everything.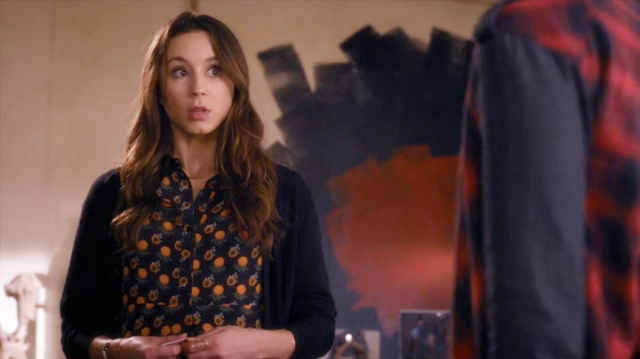 Caleb is reading a book called "When Love Grows Toxic" at The Brew. Ashley spots him and his book and comes over to pet his head and tell him he's gotta be patient with Hanna. She's spent the last couple of years getting molested and stalked by various grown men in this town, run under by cars, kidnapped, framed for multiple murders, abandoned by her dad, arrested for possession of a firearm, arrested for possession of a shovel. She spent one full semester eating cupcakes and dancing with Lucas to keep Ashley from going to jail for robbing a bank. Maybe one day she'll tell Caleb what happened in the bunker. Maybe she won't. And if he has a problem with that, he should consider the fireflies and the fact that he never told Hanna he's a cursed war ghost.
Aria is on the phone with Emily, talking about how Spencer is on her way to kill Lesli because vigilante justice is their only hope at this point, when Ezra wanders up and Aria hangs up the phone.
Ezra: I filled out the application for your photo contest.
Aria: I mean, thanks, but these are all lies?
Ezra: Knowing literally everything about you and lying are kind of my two main things.
Aria: Oh. Well, do you like this doll who looks like me?
Ezra: No, it's disgusting.
Aria: This makes me feel so safe.
When Spencer arrives home, Dean is there, skulking and brooding around outside. Spencer was supposed to meet him, I guess, and she is late. As soon as he sees her, he yells and stomps away because he was just waiting there to make a dramatic exit. He didn't even call or text, because he wanted to work up as much anger as possible, and bringing Spencer into the conversation would have just robbed him of his right to be rage. Dean says he's angry because when his friends don't show up places, it means they're dead and in a ditch and how dare she.
My girlfriend only watches PLL sometimes, and usually she's playing a game on her phone or something while it's on, but Dean sent her over the edge last night. She looked up from Candy Crush and glared at the TV and yelled, "THAT IS LITERALLY SPENCER'S ENTIRE LIFE BUT YOU DON'T KNOW THAT BECAUSE EVERYONE ELSE'S EXPERIENCES ARE CENTERED ON YOU BECAUSE MAN PAIN IS SO MUCH MORE VALID THAN ANYTHING SPENCER EVER COULD FEEL BECAUSE SHE HAS A VAGINA!"
It was a good moment for our love when she was screaming that at the TV like that. A really good moment.
Anyway, Dean goes on to say that he needs to stay away from Spencer because when he's around her all he wants to do is violate her boundaries. She almost kisses him because she thinks that's a really romantic thing to say because of how people who have spent their whole lives wandering around a desert can't tell the difference between sand and water.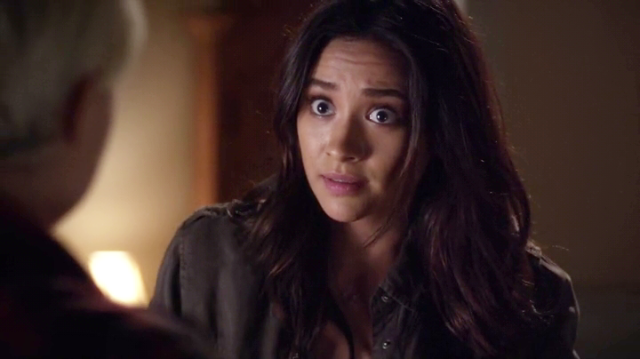 Emily returns home to find Sara beaten all to hell and bleeding all over the carpet and cleaning like Cinderella, apologizing the whole time. What happened to her? She can't remember. Who did this to her? She doesn't know. Well. I mean. Maybe she knows. She might know. She could be forced to remember. Does Emily have any photos on her phone of cars that maybe could have tried to run her over, like any cars that were being driven by people who are Lesli Stone?
In fact, Emily does have just such a photo on her phone. Sara sees it and confirms that's the car that smashed her. That's the person the Liars should be investigating. Not anyone else. Especially not anyone else in his very bedroom.
When Hanna gets home, Caleb is there, and he is so tired of being on the outside of Hanna's whole deal that he decides to get inside of Hanna's whole deal. (HEY-O!)
After which intercourse: Aria and Hanna and Spencer break into the lab at Lesli's college with her keycard. While they're looking around for clues, a scanner in the corner starts beeping. It beeps every time Hanna moves past it. So Spencer walks over and hold Hanna's head in her hands and tick-tocks her back and forth in front of the scanner. It's so wonderful. Hanna and Spencer's hijinks these last two episodes are fueling my heart with unleaded adoration. Hanna goes, "Why am I beeping? I haven't even stolen anything yet?" Then, more panicked: "Spencer, why are we radioactive?!?"
The answer is: Bitch chipped them.
Spencer doesn't know that she's the bitch who chipped them, while brainwashed in the dollhouse, but it's good they realize they've got trackers in their noggins now.
They explore the lab some more, and the cages finally trigger Hanna's PTSD. She goes full-on Beast Boy and starts freeing all of them. Unfortunately, one of the raccoons doesn't know that it is supposed to go to the door, swipe Lesli's key card, walk down the hallway, walk out the front door, and return to a happy woodland life. It just stands up on its back legs and starts swaying and hissing a little bit like maybe it is going to kill them or maybe it is just going to sing a Beatles song. Hanna legit goes, "Why is it moving like that?! Is it on speed or something?!" Spencer tries to lure the raccoon back into his cage with some Cheetos from Hanna's purse, but he's too smart for that shit.
Pretty soon all the rats are free, and the birds. There's lemurs climbing all over the place and pigs rootin' around, and a leopard, and some sheeps are baaa-ing in the corner, and a gross naked mole rat leaps from a light fixture onto Aria's shoulder. It's fully pandemonium when the lights go out — and then, like a springtime shower after a scorching hot day, a lamp comes on and Mona Vanderwaal is standing in front of them. She claps her hands, one single time, and the animals to go back to their cages.
Hanna: Booo, you are not one of us! You work with Lesli Stone who was in Radley with Charles and Bethany, boooo!
Mona: You can hear from my voice that I have a cold, and I spent ten times as long in that dollhouse as y'all did, and you're still three miles behind me.
Spencer: Lesli and Bethany were best friends and Lesli hates us because Bethany ended up buried in Ali's grave!
Mona: For starters, Bethany and Lesli hated each other, so if you know of anyone who is trying to get at Lesli, like by framing her for a hit-and-run or something, you might consider that that person is Bethany Young. Especially if she looks like Bethany Young.
Spencer: We don't know anyone like that.
Mona: Fine. Second thing, Bethany and Charles snuck out of Radley on the same night. They were great friends, knew everything about each other. So, again, if you know an orphan who has appeared from nowhere looking like Bethany Young and worming her way into your inner circle and gaining access to your vital organs and Caleb's top secret hacker stuff, that's probably Bethany Young.
Aria: Spencer told you, we don't know anyone like that!
Mona: Okay. Well. Goodnight.
Emily returns to the Brew to tell Nicole she can't go with her to Thailand this summer because she's raising a wolf cub who can't be left alone, and she doesn't even offer to take Nicole out for dinner or anything, even after she came all this way! She leaves her in the company of Ezra Fitz, is how brainwashed she is already! Aria peeps Nicole and Ezra through the window later on and feels really sad about it. She just wants to hang out with Ezra so he can trash her art and make her feel loved! Spencer wants that too, so she goes to AA, looking for another lecture from Dean. He is not there, because being a petulant little brat is more important to him than staying sober.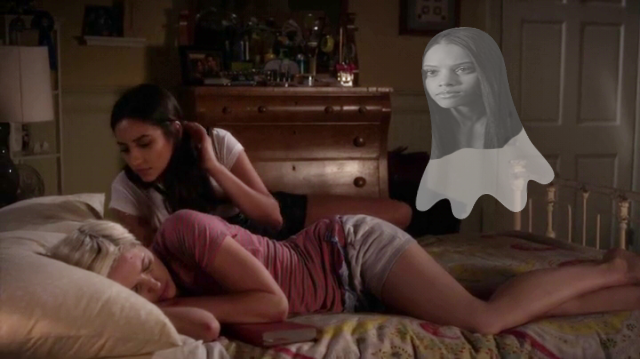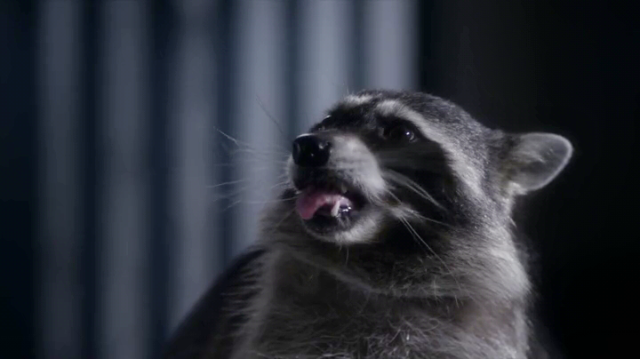 Emily stops by Hanna's on the way home to learn that Charles chipped them. She thinks about it the whole way home, and when she sees Sara curled up in her bed, she decides she'll check and see if she's chipped too. But she doesn't get a chance to figure it out because Sara flips right over and plants a sapphic smackeroo right on Emily's lips, and Emily smackeroos her right back.
The camera fades from Sara's face to Charles' grave. Vernon is there digging that thing right the fuck up. The card he got earlier, it says: Happy birthday, Daddy! I'm coming home! You should plan a party to die for! Just you!
As always, my deepest and most sincere thanks to Nicole (@PLLBigA) for the amazing screencaps and just for generally being the most best. I'd give her all my cheese doodles even if they were my dinner. 
Pages: 1 2 3 4See entire article on one page