It's that time of the week again! The time where we recount the trials and tribulations of four young girls without a care in the world. Except of course, their murdered friend and just exactly how to make enough time in the day to deep condition their hair. It's the trials and tribulations of Pretty Little Liars.
We open this week on a bright shimmery day in Rosewood. 7am and no one's murdered yet, it must be a good day! In fact, today is the day that Emily's dad returns from his tour overseas because the Department of Family Services thinks Emily is being abused. But before anyone can say much of anything, Emily's got to get to school. Nothing says teary-eyed reunion like Calculus class.
Outside the hallowed halls of Rosewood High, Caleb and Hanna have a big fight over what type of herbal tea they should have with breakfast. Caleb updates Hanna on his conversation last episode with Papa Marin. Caleb feels pretty damn sure that if Papa Marin's gun is missing then Ashley took it. Hanna's not so convinced. She reminds Caleb that a lot of people just use pistols to decorate elaborately themed western parlor rooms. It's all the rage in Real Simple Magazine.
Hanna: "Is this what you call helping?"
Caleb: "As a matter of fact, yes."
Hanna: "Well it's not. Next time just pick up the lube on your way home from school like I asked and stay out of my business."
Hanna, all fired up from her rage fight with Caleb, tracks down Aria and Spencer on their way into school. Basically she just wants Spencer to nut the fuck up and ask Melissa about the mask. Unfortunately, Hanna goes a little aggro on her friends in the process. It's okay though, at this point everyone is used to the occasional inappropriate outburst. Just then, Emily walks up and joins the gang. No one is happy. Everyone is sad.
Little do the Liars know that Detective 2.0 and a brand new woman are watching them. It turns out that the woman is Detective 2.0's boss/partner/sisterwife and she's chosen him to figure out just exactly why the Liars can't seem to make it six months without showing up at a crime scene. They're also going to get to the bottom of just exactly what makes their hair so shiny. Top contenders include Maybe They're Born With It and Maybe It's Maybelline.
I hope this becomes like Sailor Moon where each episode Detective 2.0 recruits a new Monster of the Week to help him take down the girls and each episode the Monster of the Week fails. Also, I think she's maybe supposed to be Jewish? Or from New York? Or both? Should I be offended here? Fortunately she seems like kind of a badass.
At lunch, the Liars regroup and complain that Emily's family wouldn't be under investigation right now if only they'd told bigger better lies. Much much bigger lies. All of the big lies. Yeah guys, that's the moral of the story here.
An update on Aria reveals that her BDSM dom Sensei Hot Stuff is still "just fine" and that her mother is still flying off to Austria with Bakery Boy.
The fact that I didn't think to call Bakery Boy the Muffin Man will be the largest regret of my life. I may not recover from this.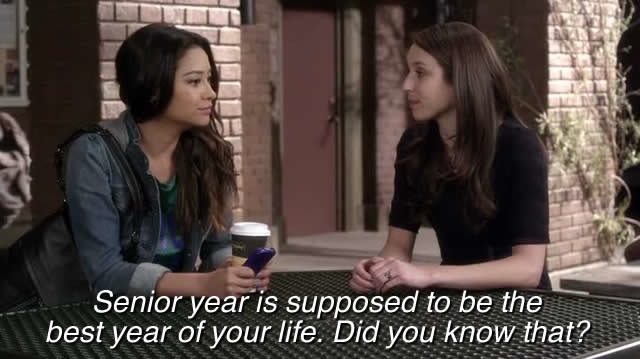 Later, at the Life Cafe, Ms. Hastings is back in town! It 's a good thing too. Pam, Ashley and Ella are already embroiled in drama, why not add Lady Veronica Uptight into the mix as well. Uptight, for the record, is Veronica's maiden name.
As it turns out, Veronica is back in town to talk about how awesome Melissa's new fantasy job in San Francisco and London is. FYI if anyone wants to give me a job where I commute between San Francisco and London I would be happy to take it. I even promise to find a chick on the side in both places.
Melissa also wants to talk about how cool it will be when Spencer goes off to UPenn. Except, oops! Spencer didn't get in! Veronica decides to show off just how terrible her parenting skills really are by refusing to believe that Spencer got rejected. It was pretty sad.
Fortunately sister Melissa is all about helping Spencer scam her way in. I mean, UPenn is the best college in the world. Way better than Duke or Stanford or MIT or UChicago or Yale or Princeton or, I don't fucking know, Harvard. Nope. None of those will do. Now that Spencer's been rejected from UPenn the only thing to do is to go all Blair Waldorf and scheme her in.
Across town Hanna and Ashley are having a less than ideal Take Your Daughter To Work Day. You know, the kind of day that involve the police showing up to your place of work. Fortunately, Detective 2.0 and  Detective Badass aren't there to search through Ashley's things. They're checking out Wilden's safety deposit box which Ashley just happens to be in charge of.
Wilden's box has got cash, a gun and most importantly, a Canadian Passport.
Shit We Learned This Episode
1. Wilden is Canadian
Wait. Did Wilden die just before Canada Day? He didn't even get to celebrate Canada Day 2013?! Oh the humanity!
Later that night, Spencer and Emily talk on the phone. They decide to use Melissa's mask as leverage to force Melissa to admit that her face is actually a permanent mask and underneath it she's actually a crab-person.
Once they hang up, Spencer does a quick Google search for Dr. Louis Palmer who is maybe a pediatrician or maybe a family practice doc or maybe Wren's alter ego. Emily on the other hand eavesdrops on her parents. They're worried about her/the family/drug allegations/murders. You get the picture.
---
The next morning Emily tries to deal with this problem head on. She goes straight from her Lesbian Camouflage Enthusiasts of America meeting straight to the doctor's office to explain everything.
It goes wonderfully and the doc calls Family Services and explains it was all just a big misunderstanding. Just kidding! She makes it worse! Now he really really thinks Emily is being abused and also she has a partial tear in one of her rotator cuff muscles and can't swim anymore! She might even have to get surgery! With an unpredictable outcome! This is not Emily's day.
Starsweep across town where Hanna has stalked Detective Badass all the way to one of Rosewood's many fine benches. Detective Badass is reading a bunch of case files and wearing blue pumps. Reading the case files is significant as those files are probably totally confidential and shouldn't be read in public. The blue pumps are significant because they're cute and I want them.
Hanna sits down next to Detective Badass. I've decided she's a total lezzie. Detective Lezzie Badass
Hanna asks Detective Lezzie Badass a bunch of questions that seem posited exclusively to make her seem guilty. What's with all of Wilden's cash? What's with his gun? What's with the passports? Who killed Jenny?
Detective Lezzie Badass responds the way any perfect middle aged lesbian detective would. By being totally manipulative and digging for the truth.
She sort of oddly reminds me of a really effective lesbian high school vice principal  Is that a thing? Either way I sort of think she's awesome. Am I falling in love with the bad guy? Someone stop me.
Caleb walks up and pulls Hanna away. You don't ever let your girlfriend talk to another lesbian. Ever.
Starsweep across town where the Pretty Little Liars writing staff seems determined to make me stop watching this episode and just proceed to check out girls on OKCupid for an hour. In other words, it's a TobAy's mom scene. Dr. Louis Palmer turns out to be the doctor TobAY's mom saw. He decides to drive up to see the doc that day. You know, because telephone is a nonexistent communication form on TV.
Spencer skips the drive and heads over to the Life Cafe to hang out with Aria and Emily and play a round of Veronica Mars.
Just as they're discussing how to best present Melissa with the mask mold, Paige walks in. Praise the fucking lord. I would not have made it another week without some lezzie action.
Emily tells Paige about her shoulder.She and Paige softly cry to one another while Paige strums "Landslide" on her guitar. Actually, Paige tries to cheer Emily up by joking about getting a competitive edge in swimming. It's so cute. I could die. Alone. I probably really should scour OKCupid for another hour in the slim chance I find someone who makes me happy. Wait, what was I saying?
Emily goes to ask Paige "What if I can't swim anymore?" but ends up stopping herself short. I don't think this is just about Stanford either. I think this is about Emily knowing that swimming is sort of their thing together. Maybe she's scared if she loses swimming she'll lose Paige too. I cry.
Then they kiss. But not the way high school lesbians kiss. The way middled aged lesbians kiss when one of them just got home from dropping their oldest kid off at soccer but there are still another two kids at home. What I'm saying is high school lezzies use tongue. There, I said it.
Pages: 1 2See entire article on one page