feature image via .neha. on flickr
Despite being a born and bred Georgian, I delayed my pilgrimage to The Hostess City of the South until my freshman year of college. In my mind, I'd already been there. Gone With the Wind references were thrown around here more than questions about Obama's citizenship; my hometown—over 200 miles away from Savannah—had immortalized Rhett Butler and Scarlett O'Hara in a sprawling mural.
Savannah would be better for ya. You'd just get in trouble in Atlanta.
– Mammy, 'Gone With the Wind'

In my defense, had Gone With the Wind entailed Scarlett O'Hara having a steamy affair with Melanie Hamilton while simultaneously abolishing slavery, Savannah would have definitely piqued my interest earlier on.
That trip ended up being the third best decision I've ever made (next to buying a hammock and reading Autostraddle, obviously).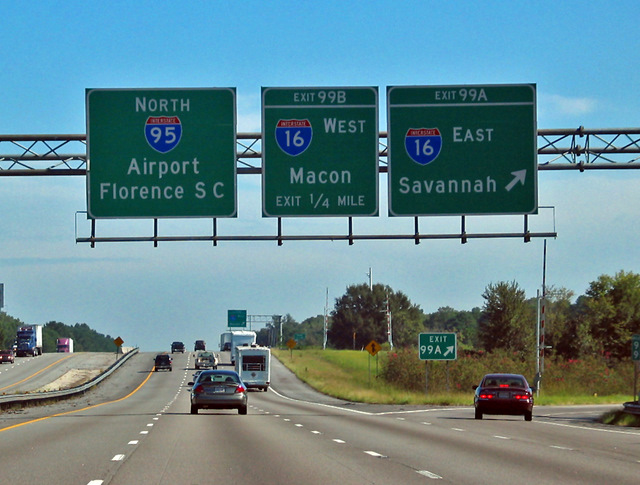 Savannah is nothing like the movies. If one thing defines her, it is the not the presence of heavy drawls and hoop skirts: it's the weather. Miles away from the city, it greets you through your car's open windows. The mix of unbearable humidity and beachy breeze urges you to strip down to nothing, to bare it all, to be yourself. Everyone and everything is accepted as-is—queer girls and Spanish moss alike.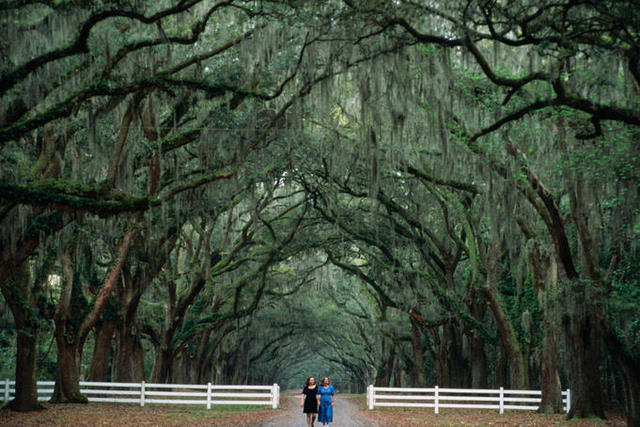 Since then, Interstate 16 has become my lifeline. It's said that the further south you travel, the more "northern" the culture seems. The saying comes to an apex in Savannah, a city where southern values eccentrically coexist with progressive schools of thought.
While 'gay' and 'southern' seem like they'd mix together as well as Liberace at a tent revival, Savannah is a remarkably queer place. If the city were a member of the LGBTQIA community, she would totally be a queer fat femme: Hailing from a traditional location, she's managed to subvert the racist and sexist post-antebellum norm and made the city into a better place for all.
Savannah's progressive atmosphere is primarily due to her healthy relationship with the past, a rare quality to find in Southern cities. Some try to hush their unflattering histories by covering it over with six layer of paint (see the removal of historic murals from the Atlanta capitol) while others boast their heritage as unquestioningly as a rebel flag bumper stickers on a pick-up truck.
The former Confederate capitol, on the other hand, takes it all in stride: she owns her past but never stops moving forward. The local underground railways, slave burial grounds, and Civil Rights Museum are all reminders of what Savannah once was. The city's past is everywhere, intersecting with its present on the cobblestone streets made from the rocks once used to anchor slave and cotton ships in the port of Savannah.
Today, you can find people of all stripes out and about in Savannah. The city's four nationally-accredited universities (including Savannah College of Art and Design) are a testament to her progressive outlook and do wonders to ensure that the city is never short on sexy gender studies majors and brooding creatives. But it didn't take an art school for Savannah to debunk post-Confederate clichés. The city's best and brightest have been at it for over a century.
+
JULIETTE GORDON LOWE
With the assistance of her fierce collection of hats, Savannahian Juliette Gordon Lowe created the Girl Scouts of America in 1912. Over its 100 years of existence, the organization has done its share of patriarchy-smashing by including African-Americans, LGBTQ youth, and disabled Scouts and offering badge in non-traditionally-feminine endeavors like aerospace and science. It's no wonder that Hillary Clinton, Sally Ride, and approximately two-thirds of lesbians nationwide (including my Gold Award-winning, Gold Star girlfriend) are among GSA's alumnae.
This year, the city is celebrating the Girl Scouts' 100 years of service with exhibitions, talks, and tours of Juliette Gordon Lowe's massive home on the corner of Bull and West Oglethorpe.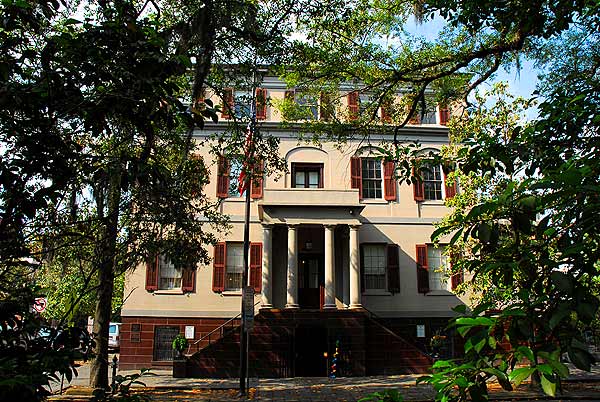 +
FLANNERY O'CONNOR
The $6 admission to Flannery O'Connor's childhood home on East Charleston is well worth it. One of the few women involved with the southern gothic literary movement, O'Connor was also a queer ally.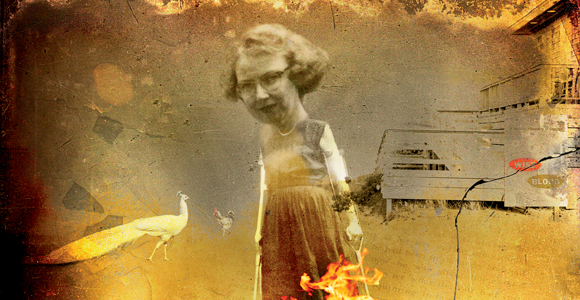 Between 1955 and 1964, the writer exchanged over 300 letters with her 20th century fangirl, Elizabeth "Betty" Hester. When Hester came out to O'Connor, the author responded:
"There are times when the worst suffering is not to suffer, and the worst affliction, not to be afflicted."
While there's no evidence to suggest that Hester and O'Connor's relationship went further than friendship, Hester's closest friends claim that she spent the nine-year friendship pining over her favorite literary rock star.
+
JIM WILLIAMS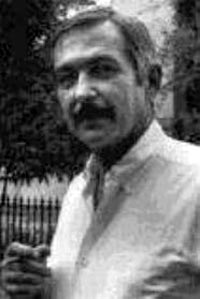 Renovator Jim Williams began restoring Savannah's historic homes as national treasures during the '50s. Ironically, Williams is most well-known in Georgia for being the sole person to be tried four times for the same crime: The 1981 murder of his assistant and lover, Danny Hansford.
Tragically, Williams died shortly after the "not guilty" verdict of his fourth trial—in the same spot in the Mercer House where Hansford died nine years prior. A must-visit for any tourist, the home has become a hotspot on Savannah's trolley tours.
Alternatively, you could just Netflix Midnight in the Garden of Good and Evil and watch Jude Law play a striking, sulking Danny Hansford.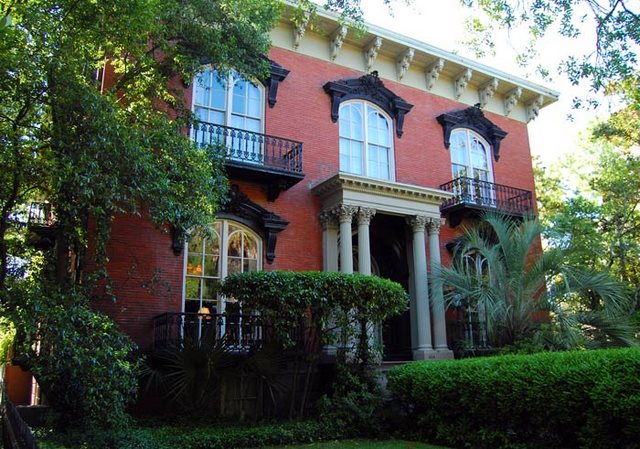 +
LADY CHABLIS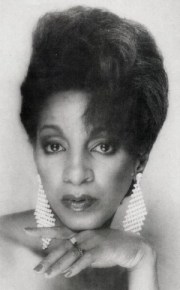 There are drag queens, and then there is Lady Chablis. The first lady of comedic drag rose to fame after being featured in John Berent's original book, Midnight in the Garden of Good and Evil, in 1994. She still regularly performs at Club One, Savannah's largest gay club.
Take a gander:
+
PAULA DEEN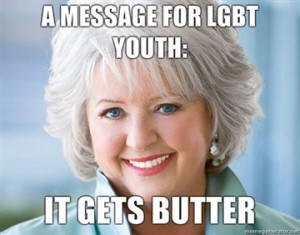 While I have an unwavering hatred of grits and cannot fathom why anyone would want four pounds of sugar in their tea, I can appreciate Paula Deen. She's regularly spoken out against the bullying of LGBTQ teens—a rarity for southern women.
Located on the corner of Congress and Whitaker, Deen's Lady and Sons is a major tourist attraction due to its proprietor's fame, but is hardly visited by locals who've already been inundated with the queen of butter's face on everything from barbecue sauce labels to magazine covers to frying pans. To quote my own mother, "I'm sure she's a damned good cook, but I can make the same food for next to nothin'."
+
Queer By Day
While many queer communities in the south are largely silenced by gender roles and sexual taboo, Savannah is readily accepting of its blossoming queer culture.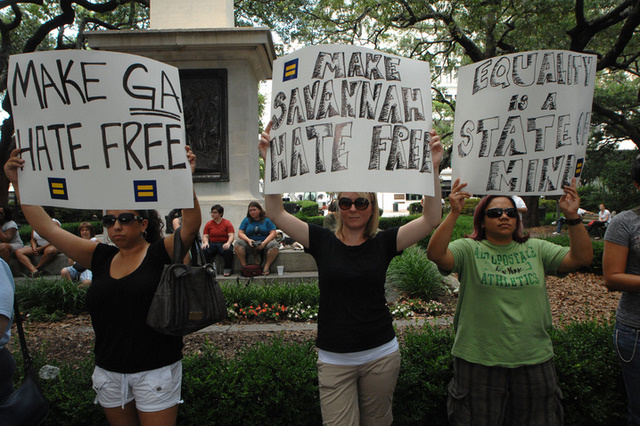 Savannah Pride
Since 1999, Savannah Pride has been growing each year. Get your pre-game on at Club One beforehand with disco dancing and a comedy show featuring Lady Chablis. Pride usually takes place during September, thus sidestepping the muggy summer months where wearing pants equates having a death wish.
Standout Youth
A trans*-friendly LGBT safe space, Standout Youth works to empower teenagers by providing weekly meetings for groups to gather and talk about their experiences.
Saint Patrick's Day
Next to Mardi Gras and Atlanta Pride, Paddy's Day in Savannah is arguably the best excuse to get wasted in the deep, dark south. The Forsyth Park fountain is even dyed green in remembrance of the Irish saint and drunkards everywhere. The best Irish car bombs can be found at Chuck's.
Tybee Island
A fifteen-minute drive from downtown Savannah, the beach is a much-welcome sight when you've spent the better part of the day sweating bullets.
Good Grief Alley Cat
If dykes on [non-motorized] bikes are your thing, Savannah's the place for you. Bike stores dot every downtown corner, and the city has hosted both the Tour de Georgia and the Savannah Century. This April marks fixed geared cycling's first appearance in competitive racing in Savannah.
River Street
Tourists and citizens agree: River Street is the place to be. The strip separating the Port of Savannah from the downtown area is dotted with casual bars, seafood restaurants, arts and crafts dealers, thrift stores, and—most importantly—candy shops. River Street Sweets' (13 E River Street) pecan pralines are legendary.
There are few things more blissful than having Gelatohhh's (224 W St. Julian Street) famous organic gelato on a summer day while watching ships come into harbor.
+
Queer By Night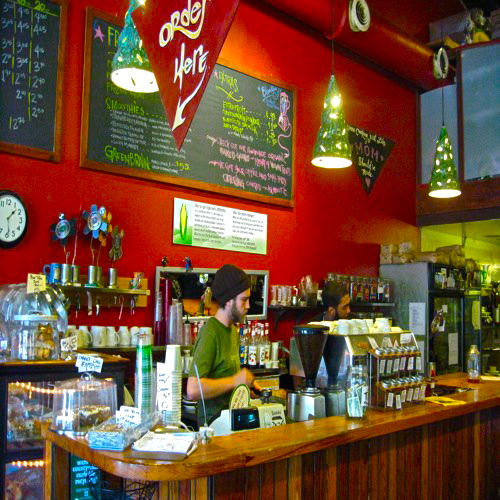 Sentient Bean (13 E Park Avenue)
If you've never understood the "lesbian coffee shop date" cliché, you're overdue a visit to the Bean. Patrons are mostly queer and/or vegan, and SCAD students. Plus, who couldn't love a coffee shop with its very own documentary?
Peace Love & Hummus from LA Reno Photography on Vimeo.
Rocks on the Roof (102 W Bay Street)
Located on River Street in the Bohemian, Rocks on the Roof is where the upscale gays play. While the prices could be considered steep, you're paying for more than just an amazing view. Don't come here for the booze but do make your way here for southern food that's low on grease and high on flavor.
Club One (1 Jefferson Street)
Savannah's biggest gay club. If you go on the weekend, ask for a bartender named Cody, and tell him Sarah Fonseca sent you.
Chuck's Bar (305 W River Street)
If you find the straight crowd at Club One a bit much, head a few blocks down to Chuck's. While most of the patronage is older gay men, it's the perfect excuse to break out your "I Heart Bears" tee.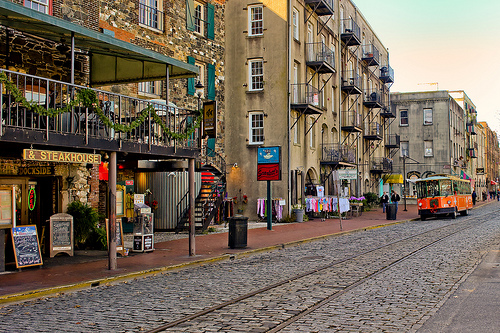 Now download a map of downtown Savannah, grab some Field Notes and get going!