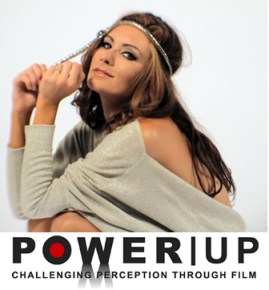 This Sunday, November 6th marks the 11th annual fundraiser for PowerUp Films, the production company responsible for some of your favorite lesbian films including D.E.B.S. and Itty Bitty Titty Committee. Founded in 2000 by Stacy Codikow and Amy Shomer, Power Up's mission "to promote the visibility and integration of gay women in entertainment, the arts, and all forms of media" has been wildly successful as they develop, finance, produce and distribute  LGBT films and conduct  workshops, seminars and classes for aspiring filmmakers.
The annual
Power Premiere Gala
is Power Up's only fundraising event that raises money that will support all of Power Up's 2012 educational programs, films and events.
This year's event
will honor 20 gay men and women including
Tracy Ryerson
,
Jessica Clark
,
Lesley Goldberg
and our very own miss
Haviland Stillwell
and will feature appearances by
Kate Walsh
(Private Practice) ,
Michelle Clunie
(Queer as Folk),
Kristanna Loken
(The L Word),
Erin Kelly
(Loving Annabelle, and
Claire
,
Kaci
and
Cori
from
The Real L Word
.
PowerUp's latest film, the feature length lesbian musical (you read that right) Girltrash: All Night Long (starring The L Word's Rose Rollins, Clementine Ford, Kate French and South of Nowhere's Gabrielle Christian and Mandy Musgrave) has been under a microscope, with fans eagerly awaiting the film which started filming back in 2009.
I spoke to PowerUp's president of film production and distribution, Lisa Thrasher about this Sunday's big fundraiser (tickets are still available!), Claire's involvement with Power Up on The Real L Word Season 2 and just when fans will be able to catch the wildly anticipated Girltrash movie.
What makes the Power Premiere event special each year?

Each year we have different performers, and then we always have little surprises that happen throughout the evening. Maybe I'm just an entertainment geek, but I think for me and for most people in the entertainment world, seeing the actual speeches of the awardees and the recipients is really the most moving part… these people are getting the opportunity to get up and talk about their life and talk about what it has meant to them to be openly gay or lesbian and to be out professionally and what challenges they have faced. I think we forget, especially when we live in cities like Los Angeles or New York or Chicago, or Miami, where things are really accepted and a good percentage of us can go through our daily lives without too much discrimination, that it's hard to remember that we really are all still fighting for our civil rights right now, not just as gay and lesbian persons, but as women.
Women never got equal rights in this country, ever, which I really didn't even grasp until I was in law school in my 30s. I didn't realize how backward the United States still was on civil rights issues, so I think the evening is kind of… you leave there feeling really touched and really connected and inspired and reminded about like, "Wow, we really do have a long way to go, and these people really have done something significant," you know? They may not be Martin Luther King or Rosa Parks, but in their own way in just being out in their industry and working and being open and being proud of who they are and a significant contributor to great works of art through film or just being contributors to the industry, we're reminded of what's important in the world.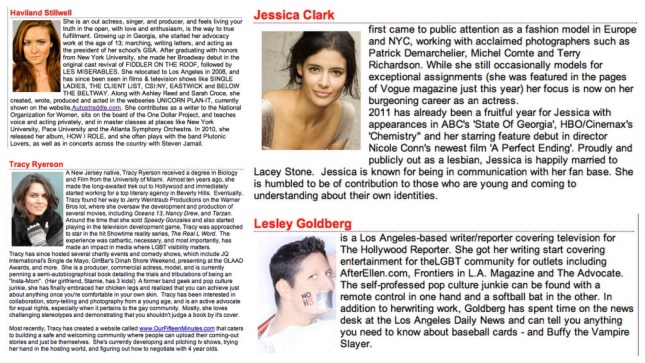 With so many out professionals in Hollywood, how does Power Up select the ten men and women they honor each year? What made you select Haviland this year?
The names of the honorees that get into the pool come from recommendations from people in the industry. Around March or April we put a call out through our email newsletter, and we say, "It's that time of year again. Please nominate, for us, who you think deserves to be awarded," and we always get recommendations of people that we know, and then oftentimes, there are new people that we haven't even heard of before. Each nominee needs to have more than one nomination, and then it goes out to a committee of people, and they talk about what the contribution is and that sort of thing. So, for example, with Haviland, we felt very strongly that her contribution via Autostraddle was really significant to all of us and that it was a really interesting platform and it was nice and refreshing to have a new platform where we could go and we could hear about culture and what's going on in the news and everything else, and we felt that that was really a significant contribution, I think.
Haviland has done wonderful things for lesbian visibility online as a role model on the advice video blogs with Riese going back to 2007, to her music and now with the series she co-created, Unicorn Plan-It.

Yeah, and that's important. It's nice to have a place, especially again for those of us who are in major cities, we forget that we have people all around us, for people all around the world in other parts in the Midwest or in other countries, the Internet and connecting on the Internet is sometimes a life-saving vehicle where gay and lesbian people can reach out and find acceptance.
Oh, absolutely. Can you tell me about any of the booked performers this year?
Performers are booked up to the last minute but so far we have Sandra Valls hosting, and appearances by Kate Walsh (Private Practice), Erin Kelly (Loving Annabelle), Freddie Smith (Days of Our Lives), Michelle Clunie (Queer as Folk), Kristanna Loken (The L Word) and we have quite a number of the girls from The Real L Word. Kacy and Cori, the couple in season 2 that were trying to have a baby, and Claire is coming, who we love despite how poor Claire was portrayed. Power Up loves her. She's a smart, lovely, wonderful, beautiful woman with great ideas, and our interview with her went so much better than they made it look on TV.
That actually was something that I wanted to talk to you about. Based on the way it was presented on The Real L Word, Claire really did embarrass herself saying an internship at PowerUp was essentially beneath her and the meeting appeared extremely awkward for everyone. Did she backpedal with you guys and make nice?
No, that's not how it was at all. The conversation lasted about two or three hours, and we actually went on to help her with a whole bunch of stuff. We did a whole bunch of photo shoots for her website. We got her in touch with web designers. We got her writers to write the text and people to take the pictures. We worked with her over a few-month period of time, and everything was great. That interview was actually a really positive interview. They really had to look hard to find those negative points, and it was really funny when we watched the episode, we were laughing so hysterically because it was so different than it really happened. The way they did that show and the way they cut that scene together was really funny for the show, but poor Claire, she really got the short end of the stick on that one.
Why do you think that they didn't continue filming her involvement, considering that her whole story line was about her-
Oh, they did film it all.
They just chose not to air it?
Right.
Wow.  
Yeah, they filmed all of it. They filmed the whole process that we went through with her.
How long have you been involved with Power Up? What is your exact role in the organization?
I'm the president of film production and distribution, and I oversee basically all of the film production, the PSA production and all that sort of thing, so we'll take our projects through development through production through distribution and everything else. I've been involved with Power Up for the full time, for the full ten years, pretty much after, I'll say, six months in. I met Stacy [Codikow] six months into Power Up, so I wasn't there for the first six months, but everything since then I've been involved in. At the time, I was actually working for 20th Century Fox as an attorney, and I did anti-piracy litigation for them, and I left Fox in 2003 to come and work full time for Power Up, but prior to going to law school, my undergrad degree is in film, so I had been working in documentaries for a number of years on the east coast before I did that, so coming to Power Up and producing all of our films and doing all of our production and distribution really kind of blended together my two career paths, which is as an attorney and as a filmmaker.
From what I understand, the money that funds all these productions is all raised at this Power Premiere gala?

Yes. Stacy and I work for free, and Power Up is volunteer-run, so we work for free for Power Up full-time, so that obviously frees up a lot of the money. When people buy their tickets for the Power Premiere, for example, the majority of the money, aside from paying for the cost of the Power Premiere itself, which is quite costly, the remainder of the money goes entirely to our educational program because it's not being funneled into, you know, salaries for me and Stacy, we can allow that money to go to fund the films and all that sort of thing, which is great because we can put it all towards where everyone wants it to go.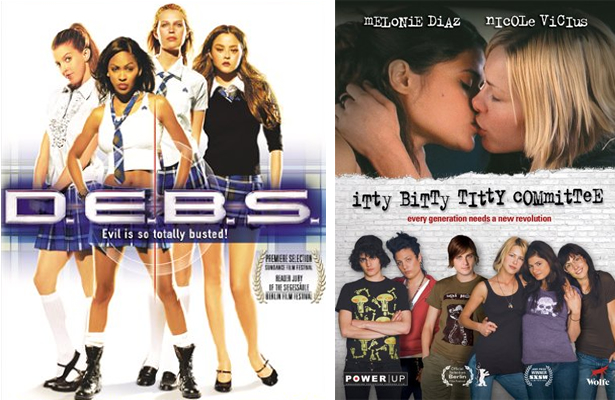 Can you tell me about some of the challenges that Power Up has faced over the ten-year history in producing the films?
Well first of all, producing the films is really the most fun of everything, but I think that hard challenges really are the kind of big industry challenges, which are that most distribution companies don't want to fund women project because women's projects don't profit as much as men's projects do, and that's true whether the projects are straight, gay or lesbian. It really goes back to economics. It's all intertwined: politics, economics, everything. Women generally make less money than men, so a two-woman household is going to, statistically, probably have less money coming in either a straight household or a two-men household. So when the business end of the film business looks at where we're going to invest our money, what types of films are most likely to profit, you know, it a number-crunching business, so women's films – and lesbians films especially – really get the short end of the stick because there really isn't the market for it. Women don't spend enough money. Women don't go out to the movies that often. They'll usually try and watch things online and stuff like that or get Netflix on DVD or something like that, so there's not a big… The big companies, the companies that have money, the companies that are funded aren't likely to put their money and their business towards a woman's movie.
If you could give advice to any aspiring gay filmmakers, writers, actors etc, what would you say?

The best thing, honestly, that every gay and lesbian person can do is spend their money on gay products. Spend their money. Go buy The Advocate. Go buy Out Magazine. Donate to gay non-profit organizations. Go to the movies and see a gay and lesbian film in the movie. Put gay and lesbian film in your queue on Netflix, or watch them on Instant Play on Netflix. All of those kinds of things that we all can do really easily and without much strain, can actually show our numbers and show that we are a force to be marketed to, make ourselves more important economically as a consumer base, and then companies will want to put money towards our products, and then, as a result, the politicians, because they're controlled and puppeted by the big business, the politicians will then eventually change all the laws so we have equality because they're being pressured by the big businesses because the big businesses have realized that we are a force to be marketed to and that we matter economically, and then we will matter politically. Unfortunately, that's the way it goes. That's our country: Capitalism first, democracy second.
Is there a gay story that you would love to see told?
Oh, wow, that's a great question. Hmm. Gosh, I don't know. You know, I'm a person fan of period pieces. I would love to see some kind of historical pieces about people who may have been gay, you know, like people say Abraham Lincoln was gay or Emily Dickinson was gay, but it would be interesting to see our history told with that being a part of the history. That, I would find satisfying.
Have you read that book on Abraham Lincoln that discusses all of his relationships? Or, The Girls, which exposing all the dyke drama that was going on in the 1920s/1930s? Like Marlene Dietrich, Greta Garbo, etc.

Oh yeah, that would be a great one because people love watching celebrity, like, actors and actresses gossip stuff. That would be really fun.
What films are in development or in production right now?
We are in post-production of Girltrash! All Night Long, which is a lesbian rock musical comedy about a gang of girls who go to the battle of the bands and they encounter all kinds of trouble and humor and everything else and sing song. It's really cute and really fun. And then the next film that's in the pipes with us is a thriller, and it is still in the development stage. We're fine-tuning the script.
[yframe url='https://www.youtube.com/watch?v=aR4zXRdh73I']
Regarding Girltrash, I know that the movie was filmed about two years ago… what has been the holdup in getting it out?
Well, movies usually take at least a year to complete. We filmed Girltrash in three separate sections. The first section was in December 2009. The second section was in February of 2010, and then the third section was in September/October of 2010. So it's really only coming up on a year now. We are in the last stages of post-production. It's right on time. We filmed this film in three sections, or in three stages due to cast availability and the timing of things and everybody's schedule and that sort of thing, and so we're right on track, it's just people are used to things happening fast in today's Internet world, and movies still take a long time.
[yframe url='https://www.youtube.com/watch?v=SAM5sMslxtI']
So when will the movie actually be out? Our readers have been asking about it for years now and the fans really love and care about the series and want to see the film.
Even though the movie's still not done, we have been applying to all of the film festivals. We have applied to Sundance and Berlin and Toronto and all of the major film festivals that's part of the proper distribution process, and as soon as someone selects us to make our world premiere at their film festival, that's when distribution starts. So basically, we ask people, "Hey, can we premiere our film at your film festival," and they might say like, "Oh my god, I love the film, but we've already promised that premiere spot to somebody else." So it's that whole process that goes along, and we don't take it and just put it into DVD. It goes first to the film festivals, then it goes to theatrical release. There's a whole very slow process, and it's so much slower than most people realize unless you're actually working in the business, you know, it can take two, three, four, ten years sometimes just to get a film from concept to the screen. It takes a lot of people and a lot of processes, and even though technology has advanced, Power Up still uses the old, professional kind of cameras. We do things the professional way. We aren't taking shortcuts on you know, like, handheld cameras and stuff like that that would be student film or amateur stuff, so things probably for the Internet world seems like it's taking a long time because everybody's used to being able to edit something on your camera and put it on the Internet, but that's not how the real world works.
So you're promising our readers that this film will come out in the relative near future.
Oh, of course! We didn't spend all this time and love and hard work, and like, I said, I work for free. I've been working on this film since early 2009 when Stacy and I first approached Angela, and offered the directing spot to Alex, and we said, "Will you write a script for us? A Girltrash script for us to make a Girltrash feature." You know, we went to them, and we asked them. There was no script. There was no idea. There was no idea of a musical or anything until Power Up went to Angela and said, "Hey, we'd like to make a Girltrash feature because we love the characters. We think it's something that, you know, young lesbians of today would love to have."
What is your favorite lesbian film?

I think I'd have to say Fire. I just found that film to be a really powerful movie. I love foreign films, but I will also say that although technically maybe not a lesbian film, The Hunger was the pivotal lesbian film for me and my growth as a young lesbian.
Was there any backlash from the lesbian community last year when you opened up the honorees to 10 men as well?

Not at all. Power Up, even though we have always been a lesbian organization, we always have gay men who volunteer for us, gay men who work on our films. We've had some transgendered men and women who work on our films and come to our events, and we've always been really co-ed, even though it's been first and foremost a lesbian organization.
Since Power Up started ten years ago, what has been the biggest change or evolution from Year One to Year Ten that you've witnessed in the company?
I think between when we made the shift from shorts to features, and we did Itty Bitty Titty Committee, I think, and I traveled with Itty Bitty to a lot of the festivals all around the world, I think what struck me the most was that we were speaking to a younger audience of people who were just emerging as consumers, you know, teens to 30. You know, because when people are young, they don't have a lot of money to spend on stuff and that sort of thing. I think making Itty Bitty Titty Committee for me, it was very significant for a number of reasons, but I think that the feminism aspect of it was really important to tell and kind of remind women and remind gay that we still aren't there yet, that we still have work to do, and I think it was really nice for me to feel like we has this sort of introductory vehicle to young lesbians to say, "Hey guys, let's not get distracted by things. Let's keep our eye on the ball. We still have work to do."
How late can people buy tickets to this Sunday's event?

Day of! They can bring cash to the door. We can't take credit cards at the door, but we can take cash, so any time.