My family is Irish and Czech in origin, which means that our food is either fried or boiled, and frequently potato-based. Within these parameters, you have a lot of different options, but if you ask me, the king of Eastern European comfort foods will always be pierogi.
Pierogi/s are a savory dumpling with a filling, usually potato-based, wrapped in dough and either boiled or fried. They are like Polish ravioli, or Eastern European gyoza, or maybe sort of like a second cousin once removed of samosas, if you're reaching. In my house, they were always Mrs. T's brand, frozen (pierogi are a humble food, no pretensions). We ate them fried (we don't mess) and served with fried onions and bacon that were topped with sour cream. This is not a food for people who are concerned about their cholesterol, or long-term survival, or really anything besides pierogi. But there are few things I miss more from my days of eating meat and dairy. And when I had a particularly stressful week of trying to be a human being earlier this month, it really felt like the only thing that would do.
I had only ever seen one vegan recipe for pierogi (Mrs. T's, sadly, have dairy/eggs in them.) It's in Isa Chandra Moskowitz's Vegan Brunch (but also conveniently on her website), and even though I've never thought about pierogi as a brunch thing so much as a Tuesday night dinner, I was up for it. I didn't even try to replace the bacon and sour cream because I personally find the vegan versions of these products to be sort of awful, but reader! I did not miss them. Why? Because these are delicious pierogi, and needed no adornment to be perfect and wonderful and exactly what I needed. Also, if you're worried about them somehow being transformed into health food, you can stop. It's all white flour and white potatoes up in here. Rejoice!
A warning, though: when you are making them from scratch and not pulling a box out of the freezer, this is a fairly long recipe — maybe make it over the weekend, and/or with friends to help. Are you ready? There's a kitten involved.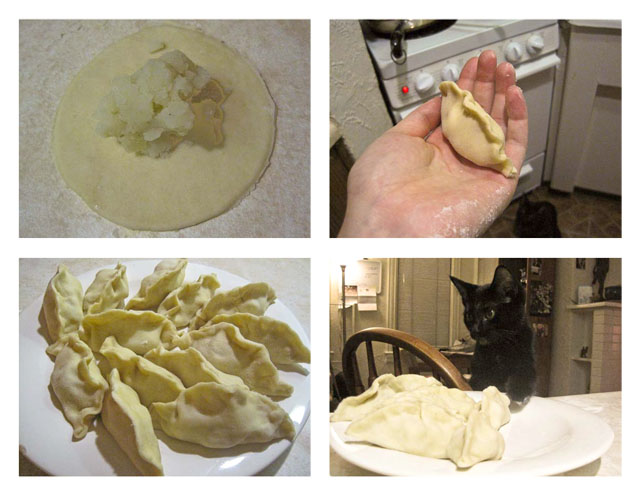 Pierogi
Ingredients
2 lbs sweet onions (Vidalia or Walla Walla), diced medium
3 Tablespoons canola oil
1 cup warm water
3 cups all purpose flour (plus a little extra for sprinkling)
3/4 teaspoon salt
1 1/2 lbs yukon gold potatoes, peeled and sliced, cut into 3/4 inch chunks
1/4 cup canola oil
1 small onion, finely chopped
1/2 teaspoon pepper
1/2 teaspoons salt
Directions
1. Make the filling first. Peel and cut up the potatoes into largeish chunks and cover them with water in a pot. Bring to a boil on the stove, and then simmer for about 15 minutes, or until they're soft when you stab them with a fork. In the meantime, dice the small onion and saute with the oil (all of it!) until it's translucent and yummy. When the potatoes are done, mash them with a potato masher, and mix with the onions — get as much of the oil in there as you can. Add salt and pepper, in the amounts given or to taste. Once it's all mixed and fairly smooth, put in the fridge to cool.
2. I started the caramelized onions and the dough at the same time, and it worked out pretty well for me. Slice the ridiculous amount of onions called for — all of them! you will not be sorry — into thin slivers, and put in a pan on medium-low heat. Cook slowly, stirring very occasionally but mostly letting them sit to allow the onions to brown. Add some salt after 10 minutes or so. Continue on to making the dough, remembering to stir the onions every once in a while, and add some water to the pan if they start to dry out or burn.
3. Put the warm water and 3 tbsp canola oil in a bowl, and mix in 2 cups of flour and the salt. Once it's all one big gooey mass of dough, turn it out onto a floured countertop, and start to knead, incorporating the remaining cup of flour a little at a time. In 5-10 minutes you should have a smooth, elastic dough that's slightly tacky.
4. Split the dough into two halves, and roll out one onto the countertop with a rolling pin. It should be really thin; the original recipe calls for "1/16 of an inch thick, which is to say, very thin but not see through." (I may actually have rolled mine out too thin, as the original recipe also says it makes 30 pierogi and I have AT LEAST 50.) Once it's the desired thickness, use the top of a glass or a cookie cutter that's between 3 1/2 and 4 inches wide to cut out circles of dough. Start a large pot of water to boil.
5. Fill each circle of dough with about a tablespoon of filling, which should now be cold or at least room temperature. Use your fingers to fold it up and pinch together, using a little water around the inside of the circle to get the dough to stick to itself if necessary. Continue for as long as you have both dough and filling. Don't forget you have another half of the dough left, and also you can re-roll out the dough left over from your first batch of dough circles. Wow, that sentence said "dough" an awful lot of times!
6. Now the time has come to speak of cabbages and kings, and also boil your pierogi. (Your caramelized onions should be fairly well caramelized by now.) Is your water boiling yet? Did you put some salt in it? Do that. A large pinch. Then you can drop your pierogi in, about six at a time depending on your pot's size. NOTE: I live alone, and while I like to think I have some big aspirations in life, I know that I cannot eat 50 pierogi in one sitting by myself. I boiled six and froze the rest, uncooked. I have not tried cooking them from the freezer, but I'm pretty optimistic about it. Just saying. Anyways, I boiled mine for about four minutes.
7. Mix with your caramelized onions, salt and pepper to your heart's content, and dig in! Enjoy, and you're welcome!