Real ratatouille often involves artfully arranging vegetables in thinly-sliced spirals. This version is for when you don't have all afternoon. The original recipe calls for this salad to be served chilled, but it's -15 degrees outside my apartment right now and there is no way I'm eating anything below the temperature "scalding."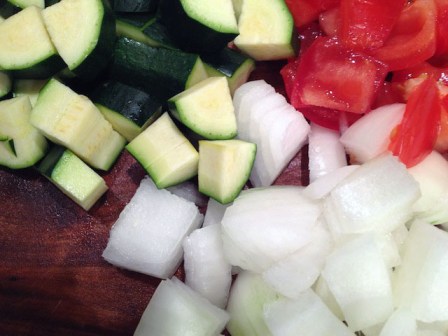 Ratatouille Salad
Ingredients
1 large eggplant
1/3 cup olive oil
1 zucchini
1 onion
1 tbsp minced garlic
2 medium tomatoes
1 tbsp fresh thyme leaves
1 tbsp fresh lemon juice
1/2 cup minced fresh parsley
salt and fresh pepper
Instructions
1. Cut the eggplant into one inch pieces, sprinkle them with salt, and let them sit in a strainer in the sink (or somewhere things can get drippy) for about half an hour. Rinse and drain.
2. Heat half the oil in a large skillet over medium heat. Add the eggplant, add some salt and pepper, and cook until golden-coloured and soft all the way through (about 10 minutes). While the eggplant is cooking, roughly chop the zucchini, onion, and tomatoes, and mince the garlic. Keep the ingredients separate for now. Remove the eggplant and place on paper towels to drain.
3. Add the remaining oil to the pan (being careful not to splatter, since the pan is hot), and add the zucchini. Heat for about three minutes, until it starts to wilt. Add the onion and garlic and cook until soft (another three to five minutes). Add the tomatoes and thyme leaves and cook for another minute or two. Remove from heat.
4. Add lemon juice and season with salt and pepper. Put the eggplant and the contents of the pan in a serving dish, garnish with parsley, and serve.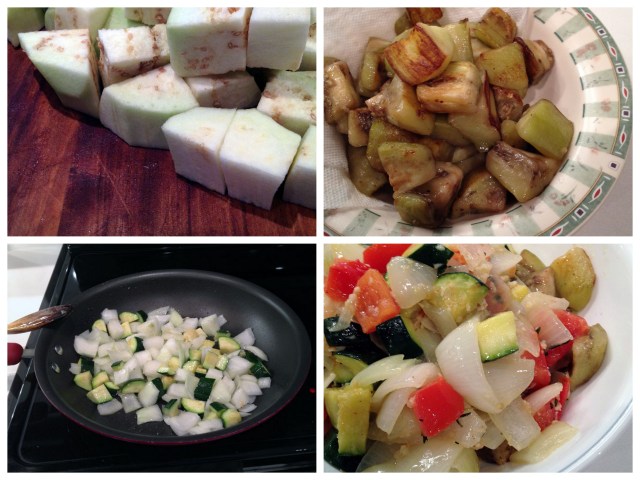 Adapted from the New York Times.