I invited Angela Davis to my campus in 2012, when I was the outgoing (and soon-to-be-graduating) Director of our student-led women's rights organization. She showed up right on time, waiting to be escorted, and when I met her, I was speechless. (Later on when I went to introduce her, I was met with raucous applause – because we had such similar hair that, for an instant, people actually mistook me for her. It was the greatest honor of my lifetime.)
We brought Angela as part of our Women's History Month programming, but her visit was planned months before March rolled around. One of the first things I did in my office was write an emotional letter to include in her offer packet, which we sent off with crossed fingers to the speaking agency booking her appearance. I was the first, to my knowledge, non-white leader of the group in its history; I was also only the second queer woman and, potentially, the first from a working-class background. Angela Davis was everything to me: a radical queer feminist who worked to dismantle systems of oppression and worked alongside some of the most iconic feminists in American herstory. "I want to inspire students to go further than signs, and further than petitions," I told her. "I want to empower women to go into the field. To live a new history. "
Her speech that night was amazing, touching on power and privilege and how we can best push back against new challenges to our humanity. My favorite part, though, was that I was in the front row and she kept saying my name.
---
Angela Davis was born in Birmingham, Alabama in 1944 to two working, college-graduated parents who consorted with the Communist Party and were, in many ways, already tied up in the activism she would come to live as an adult. She spent her childhood among organizers and activists in the midst of racial conflict. By her junior year in high school, she'd had enough, and applied to a program that placed black students in northern integrated schools. Davis left for New York City, where she became immersed in the young socialist and communist movements. She would later go on to study at Brandeis, where she was only one of three black women in her class.
Davis travelled often — perhaps because, at that time, she related most to people outside of the communities and worlds she was living through. She explored France, Switzerland, Helsinki, all the while seeking out revolutionary minds and legacies to grab onto. It was at this point where she was first pinned down by the FBI who, in 1963, asked for an interview with her due to her high-flyin' communist ways.
At Brandeis, Davis became intrigued by Herbert Marcuse because he "taught me that it was possible to be an academic, an activist, a scholar, and a revolutionary." She went on to be all four, graduating magna cum laude in 1965 while preparing to depart for Frankfurt, where she studied philosophy and lived on $100 a month. Eventually, though, she went home, pulled back by word of the Black Panther Party and the SNCC.
Davis' colliding worlds — fringe activism and prim and proper academia — made life messy for her, to say the least. She was questioned during her time as a professor at UCLA about her involvement with the Community Party, and also pissed off a lot of (presumably white and male) people who didn't appreciate her perspectives or her language during class. In 1970, she became a fugitive when the FBI deemed her a "terrorist" and made her #3 on the Most Wanted List. "Free Angela Davis" became a guiding phrase for social justice movements, and her eventual release from jail only left her more driven than ever to take action.
Davis' activism reflected not only her experiences, but her own desire to be liberated. Constantly outnumbered and often labeled an enemy of a state which could not yet come to appreciate her magnitude, Davis was left to be a freedom fighter, no matter what the costs. Even now, she remains devoted to her principles: black liberation, gay rights, abolishing the prison-industrial complex, pursuing a more just feminism. She remains as active now as she was then, touring for speeches and publishing countless books on the injustices that face our nation and our world. Angela Davis will never be silenced, and her speaking out means that the rest of us are safely carried on the backs of giants when we do so ourselves. She remains a professor, a radical, a scholar, and a necessary piece of various movements. She has mastered her own mission.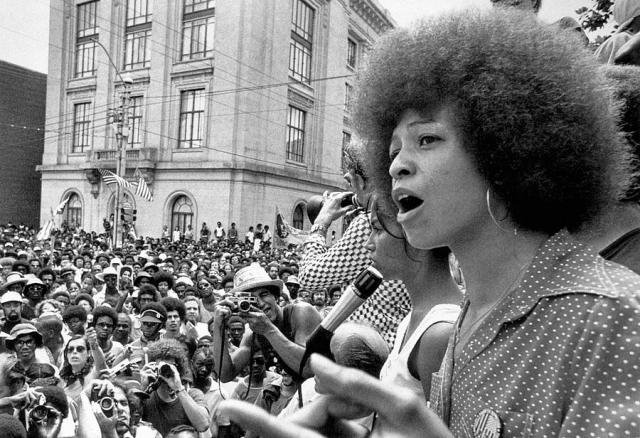 When you live at the intersections of oppression, it is hard to choose something to devote yourself to for the rest of your life. Do you take on the political machine? Do you fight for visibility and recognition? Do you challenge all the systems which held you in place? Who do you align yourself with? Angela Davis mastered this tightrope walking decades ago, moving between movements and providing each with a perspective and framework no one before her had thought possible. She conjures respect from various communities, and lifts each one as high as the last through her work.
When I brought Angela Davis to my campus, I was looking for intersections. Nobody embodies the philosophy of intersectional feminism like she does, and like her I feel myself drawn not to one particular justice but to the pursuit of it overall. What I found that night, sitting in that auditorium with my head (and hair) held high, was inspiration: to push forward, to keep fighting, to never back down. For that, I'll always be indebted.