Guess who saw Carol this week with Heather Hogan and Rachel Kincaid? THIS GIRL. YUP. I'd like to apologize in advance that many of today's stories fall into I Don't Care About The Future territory, but you know, I did my best with the news I had.
---
Teevee
https://youtu.be/-f5aP4h3zrk
+ The long, strange history of ABC Family I MEAN FREEFORM. Which, by the way, despite its hip new name, will still be airing The 700 Club.
"This name-change marks a decisive effort to finally shed the neoconservative Christian ethos that has dogged the channel's branding, however mildly, since Fox bought the network from Pat Robertson in 1998."
If you caught Pretty Little Liars last night, you probably noticed all their brand-new promos, which have a vague Skins-ish aura to them.
+ What the hell is going on with Person of Interest when is Season Five starting will there be a Season Six somebody level with us. (Guess who plowed through Seasons One through Three of Person of Interest this winter and is well into Season Four? ME.)
+ Taraji P. Henson on homophobia leveled at Empire: "We ignore that. That's nonsense and that's fear."
+ The censorship of Steven Universe undermines the UK Cartoon Network's LGBT Progress.
+ Canada has greenlit an Anne of Green Gables adaptation from a Breaking Bad writer.
+ Precious Davis will be the first transgender bride on "Say Yes To The Dress" this week.
+ "How Jane Lynch makes pop culture's nastiest villains some of the most likable characters on TV."
+ Well, this sounds good: Herlock: An All-Female Sherlock Parody With A Karaoke-Induced Mind Palace
+ Jewy, queer, daring and political: Season Two of Transparent
---
Carol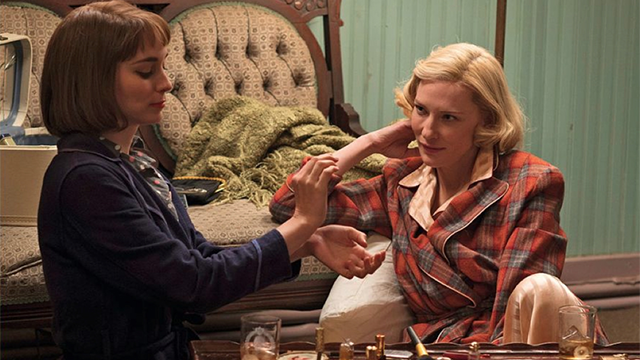 + "Now, as we look at a future in which Carol might somehow get swept under the Academy's rug, we are faced with a few questions: is Carol too good? Is Carol's beauty too effortless? Was it so expertly crafted it seems 'easy?' Are the performances too natural? Or, all of that aside, is it simply that, in 2016, we've reached a crossroads in how lesbian relationships are viewed onscreen."
+ I didn't know that The Dorian Awards, chosen by the Gay and Lesbian Entertainment Film Critics Association, even existed, but they do! Kinda snubbed Freeheld on Best Picture though, imho.
+ The Seven Stages of Watching Carol
+ Carol: The Adaptation the Lesbian Community Deserves
---
Movie Cinema Screens
+ Netlfix has picked up worldwide streaming rights for Allison Janney and Ellen Page's "Tallulah," written and directed by Sian Heder, although theatrical release details are still up in the air. Variery reports that "The story of a young drifter (Ellen Page) who takes a baby from a negligent mother was expected to be one of the hot titles at this year's festival." This will be Ellen Page and Allison Janney's second baby-related film together!
+ The New York Times talks to the cast of that O.J Simpson movie I AM SO EXCITED ABOUT even though Ryan Murphy is involved. This cast includes Sarah Paulson, who is involved in pretty much everything awesome these days, including Holland Taylor.
+ Not Just Priscilla: A Brief History of Queer Cinema in Australia
+ A walking tour of Tangerine.
---
Famous People Are More Important Than Other People
+ Vogue suggests that anybody looking to "rock a classic blazer with cool-girl style" look to Ruby Rose for inspiration.
+ Eileen Myles is the only good pundit in America
+ Mary Lambert talks about her faith and sexuality
+ Apparently some people took time out to be offended by Jennifer Lawrence's "slutty power lesbian" comments. (We did not)
+ "In real life Jackie Mabley was a proud and defiantly out butch black lesbian woman, at a time when the very concept of such a person would probably not have computed even to people who worked with her on a day-to-day basis."
---
Also These Things:
+ "At its heart, "Love in Public" seeks to create a supportive space for femme and queer people of color — one that occupies a digital form for now, but that the team hopes will one day become a public space that facilitates physical projects for the benefit of marginalized communities."
+ The Lesbian Vampire: A (Fairly) Brief Retrospective
+ 8 Trans Tropes We Need To Retire in 2016
+ Crushing on dapper women. It happens.