Welcome to your very special one-of-a-kind Pop Culture Fix, a weekly love affair where we catch you up on all the relevant pop culture news of the day.
Today is quite a day because Pretty Little Liars came out as transphobic and Kristen Stewart came out as "not straight," and both of those items will be addressed in a few hours in their very own posts by their respective on-staff experts: Pretty Little Liars recapper Heather Hogan and Gothip Girl Stef Schwartz.
---
Sexually Fluid Celebrity Corner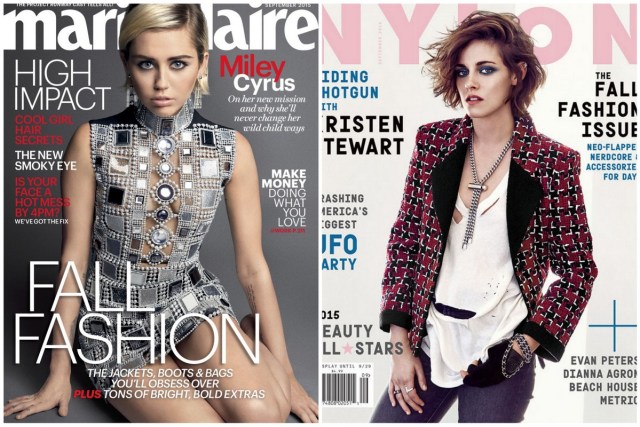 + There is a very important Kristen Stewart interview with Nylon Magazine making the rounds today in which K-Stew is the most candid she has ever been about her sexual fluidity. Stay tuned for the full report from Gothip Girl later today!
+ Miley Cyrus is on the cover of Marie Claire, talking about things and stuff:
As she opens her front door, Cyrus' dogs circle around her ankles, barking excitedly. Like her studio, her home is hospitable and unaffected—there is nothing to suggest global superstar celebrity. There is, however, a 5-foot-tall embellished bong and a dildo covered in pink and red puffballs, art projects of Cyrus, though, she emphasizes, "The bong works."
The full interview isn't online yet, but some snippets are, like this one about why she started The Happy Hippie Foundation:
A lot of us are born into some shit, you know what I mean?  Lately, I've been talking a lot about my being gender-fluid and gender-neutral. And some people snarl at that. They want to judge me. People need more conventional role models, I guess. But I just don't care to be that person.
---
If you care about the future:
+ Sarah Silverman will return for a three-episode arc in Season Three of Masters of Sex, and her storyline will feature Betty and Helen trying to start a family. Show creator Michelle Ashford:
"We have a great story. Helen decides she really wants to have a baby and so it's about what did gay women do in 1966 if they wanted to have a baby. It's like seeing the very very beginnings of that movement when gay couples decided to have children. It's really touching. She's determined. She wants to have a baby and they want to stay together."
+ Faking It comes back August 31st and we've got the scoop.
+ Patti Smith's book "Just Kids" will be a Showtime mini-series.
+ The Lion King sequel will be a TV series.
+ Jennifer Nettles will play Dolly Parton's Mom in "A Coat of Many Colors"
+ Beetlejuice will have a sequel.
+ The Jem & The Holograms movie has a new trailer.
+ Annabeth Gish will be part of The X-Files reboot.
+ Britney Spears will guest star on Jane the Virgin.
+ The Twin Peaks revival will debut in 2016 or maybe in 2017.
+ Lily Rabe will play lesbian serial killer Aileen Wournos on American Horror Story: Hotel.
+ BET is developing a New Edition mini-series.
+ Fox Searchlight is probably working with the BBC on an Absolutely Fabulous movie.
---
Laverne Cox Dances It Out
---
All The Things She Said
+ TV Execs wanted to whitewash Awkward Black Girl but Issa Rae shut that down.
+ I was very unimpressed with how Donald Trump's jab at Rosie O'Donnell was received. So was Chely Wright, who took to Facebook to talk about it:
Nearly ALL 5,000 people allowed this man– who aspires to be the leader of OUR America– to publicly bully, mock, attack Rosie O'Donnell (again– he's been doing it for a decade and it's bothered me for as long), but they cheered him on as he did it.
Wright also linked to a Huffington Post article by Elizabeth Birch outlining just some of the work Rosie has done over the years:
When I came to work with her, I could not have imagined all she had quietly done in her then short career to help people in need. By 2005, she had already contributed well over $60,000,000 to charities focused on the health and well being of children. Through her own charity, the For All Kids Foundation, she contributed millions in capital grants to hundreds of day care centers all of the country serving low income children. This was not someone else's money nor leveraging her celebrity. This was investing her own hard earned cash. And her generosity began well before she hit pay dirt on the Rosie O'Donnell Show.
Birch details the work Rosie did after Katrina, the work she's done with Rosie's Broadway Kids foundation, and so much more.
+ Naya Rivera did a pregnancy photoshoot and talked to Yahoo! about pregnancy and internet trolls.
+ Vulture spent a day at the office with out actress Lily Tomlin and talked about her career, Grace & Frankie and her upcoming film, Grandma, in which she plays "a semi-retired gay professor and poet."
+ Eight female showrunners from the CW did a panel at TCA about being women in the television industry and it was pretty cool:
Sometimes you're on other staffs of other shows or you're not the showrunner and you have to do a rape storyline and you don't want to do it. People are going to be watching it and they're going to see your name on the episode and they're going to think you think that's what it means. Like, this is your interpretation of what it feels like to be a female and suffer this — and it's not. It's your own staff of the show, and this is what you kind of have to write, and it's just such a horrible position to be in as a writer, and I don't want to put any other writer in that position
---
Queer Things You Can Watch Right Now
+ RED, a Brazilian webseries that "tells the story of Mel Béart and Liz Malmo, two actresses who meet while shooting a short film and end up taking to their real lives the romantic relationship that they portray in fiction as Scarlet and Simone."
+ Clean Hands, a short about a "troubled lesbian marraige."
---
Also:
+ In Praise of Willow Smith and Black Girls Who Dare to Be Carefree
+ Disney Princesses without makeup
+ ONTD has unforgettable dance scenes from movies.
+ The Boozy Underbelly of Saturday Morning Cartoons
+ Take a look inside Karrueche Tran's Closet
+ Straight Outta History, the Rage That Makes Movies: "Universal Pictures took on one of its more delicate challenges on Tuesday: making sure that the studio's film "Straight Outta Comptonwp_postsheals more wounds than it reopens."
+ Meet Eight New Afrofuturism Artists Creating a Future of Color
+ Here's your Orange is the New Black Guide to Prison Makeup