Welcome back to No Filter, the best possible use of my time. Every week, I tirelessly scour Instagram for the most important international news items in the world of celebian social media, and this week there's a lot to cover. This week, we've got new music from Angel Haze, the cast of Orange Is The New Black partying with Rosie O'Donnell and Samuel L Jackson, and learned some secrets about the sexual proclivities of Annie Clark. Let's jump right in!
---
https://instagram.com/p/6ESbECqhbE/
I know we talked about it already in the Funday, but how cute is Megan Rapinoe's engagement?!?!?!?
---
https://instagram.com/p/6QbQLTLmp0/
I love when I can kill two birds with one stone and be your Music Editor and Vapid Fluff Editor all in one shot. Were you waiting for new music from Angel Haze? CHECK IT OUT. "Babe Ruthless" is a pretty massive earworm; good luck getting it out of your head.
---

Still trying to put this picture into words. Samuel L Jackson is living my dream life.
---

We'd also be remiss if we didn't note how goddamn good Samira Wiley looked at the Hamilton premiere, especially alongside the dapper Lea DeLaria.
---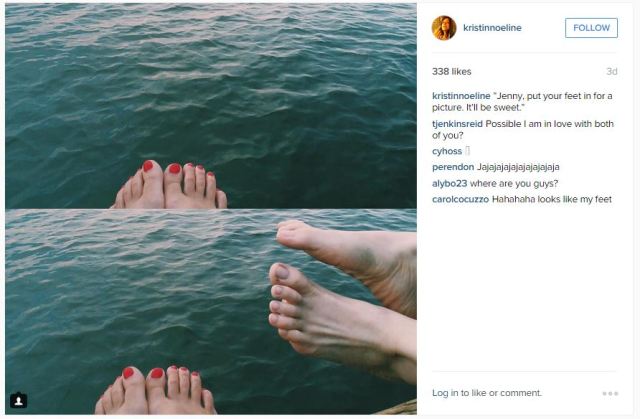 Jenny Owen Youngs, you big weirdo.
---
Remember that dog from last week? Here he (probably) is chillin with Ellen Page. Dude gets around.
---
https://instagram.com/p/6GFspzwTbC/
We learned something really serious about St. Vincent this week. I assume this painting is part of the Provocations collection, coming this winter to the CAC courtesy of Peggy Peabody.
---

This video of Samantha Ronson's twin sister surprising her on their birthday is actually just so cute. I keep following Samantha in hopes she and Lindsay Lohan will reconcile even though that was a bazillion years ago. Keep the dream alive.
---
https://instagram.com/p/58Jkmqn_iM/
Janelle Monáe is keeping it real on top of this giant inflatable swan.
---
Join us next week, when Cara Delevingne and St. Vincent will probably split a plate of spaghetti Lady and the Tramp-style.