Welcome to Queer IRL, a monthly Autostraddle community photo series that gathers little clips of lesbian, bisexual, queer and otherwise-identified women, trans and non-binary folks, just living our lives in 2017.
This very first gallery is Queer in the Kitchen. Nearly 200 of you sent in photos and boy are my arms tired! If I've learned anything, it's that we are an incredibly attractive group of people with lots of cabinets and pets. Oh and that I've never loved you more.
I hope you scroll through these many, many pictures (all nine pages!) and feel like FUCK YES, WE ARE ALL OVER THE PLACE AND WE WILL NOT GO GENTLE INTO THAT GOOD NIGHT. And I hope you submit photos for the next gallery! (More on February's theme and deadline soon.) Thank you so so much for making this a thing, you wild and wonderful weirdos.
---
Rachel A. L. / 22 / Ithaca, NY / Psychology Lab Manager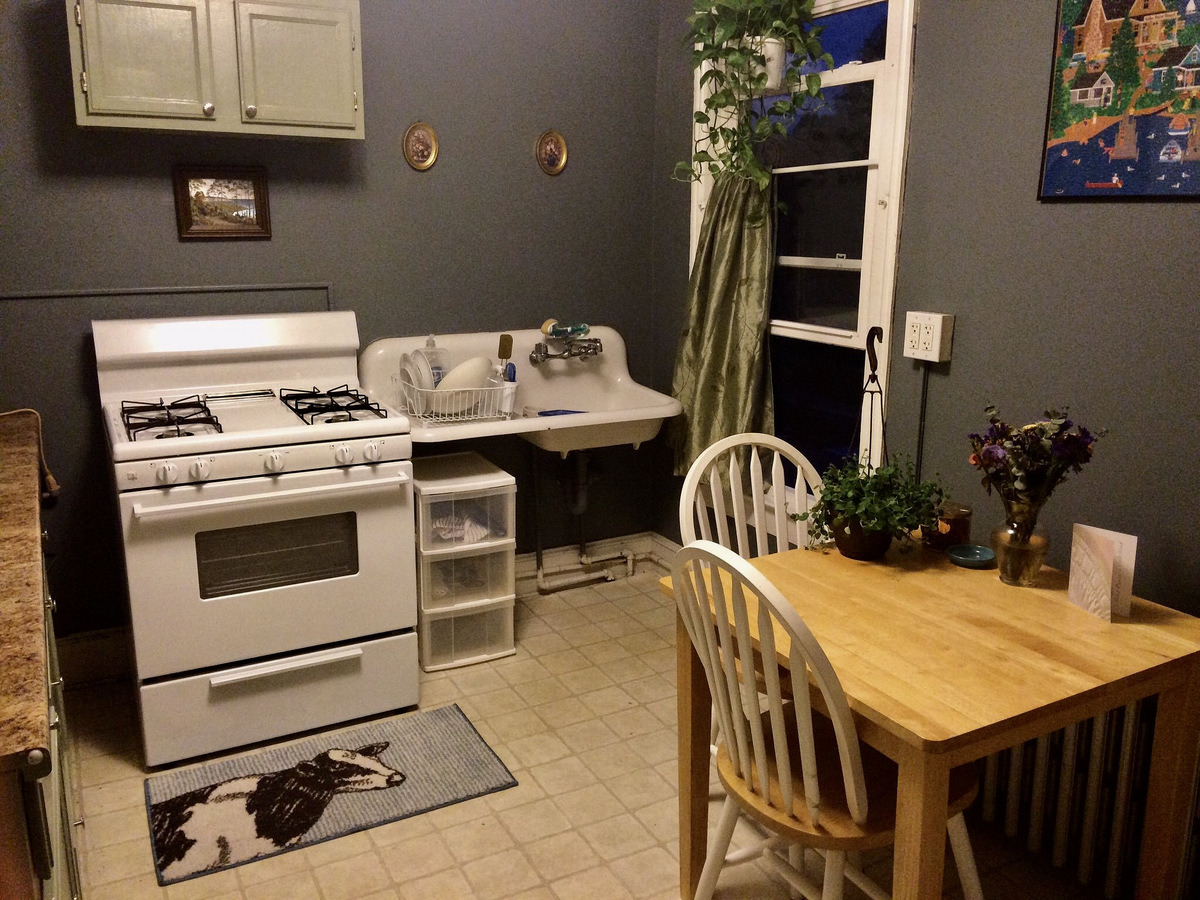 "I really love my cow mat. I live alone, so I named her Genevieve."
---
Nani / 25 / Minneapolis, MN / Graphic Designer at Children's Theatre Company; Art Director at Backroom Caracas
"The kitchen is also my library."
---
Casey / 28 / Vallejo, CA /  Music director, vocal teacher, registered yoga teacher, performer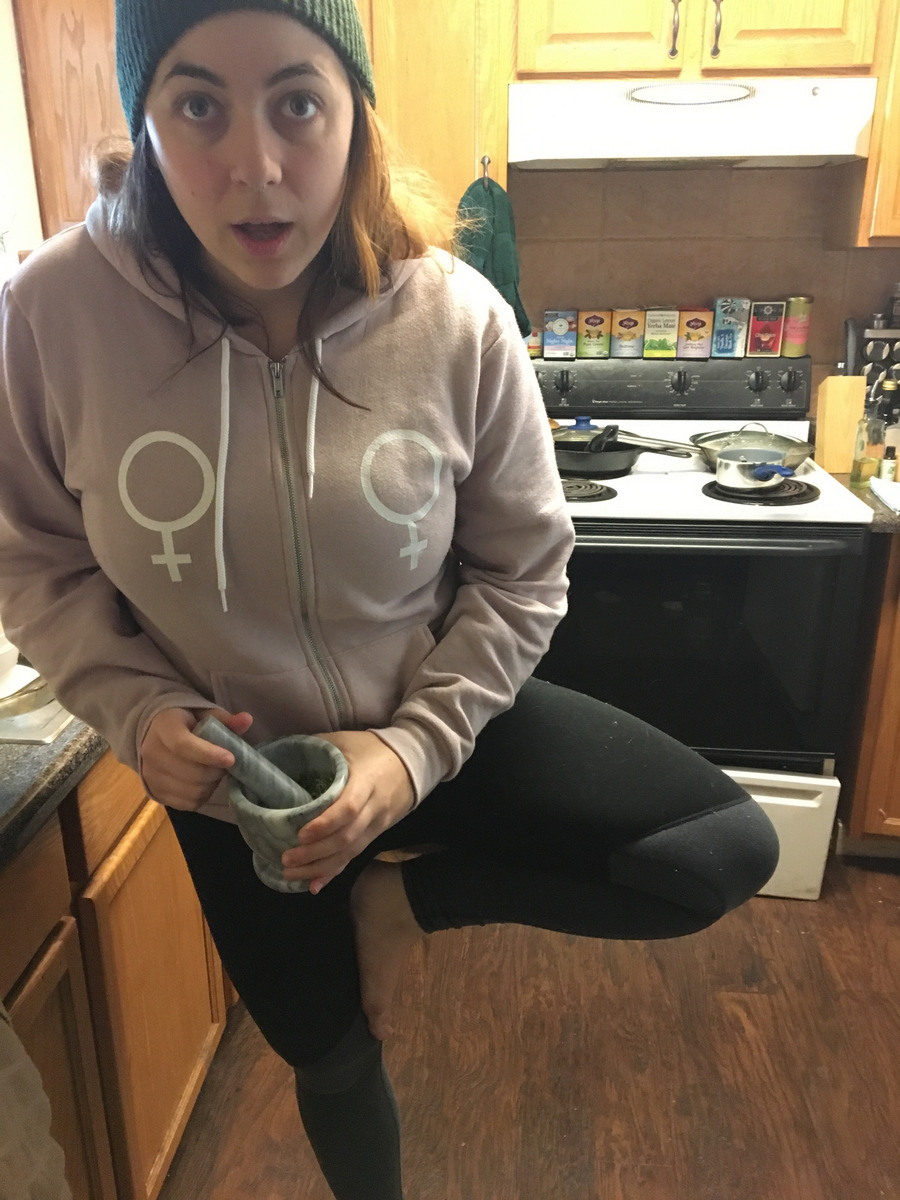 "The best things to prepare in my kitchen are witchy salves and oils with my roommate, lots of tea concoctions, coffee so much coffee, and homemade vegan queso. Also it smells like so much cinnamon in there because of ants and because of never wanting to use chemicals! Winter time in the Bay Area!"
---
Marie / 27 / Collingswood, NJ / Customer Service and Inside Sales Partner in Specialty Foods Distribution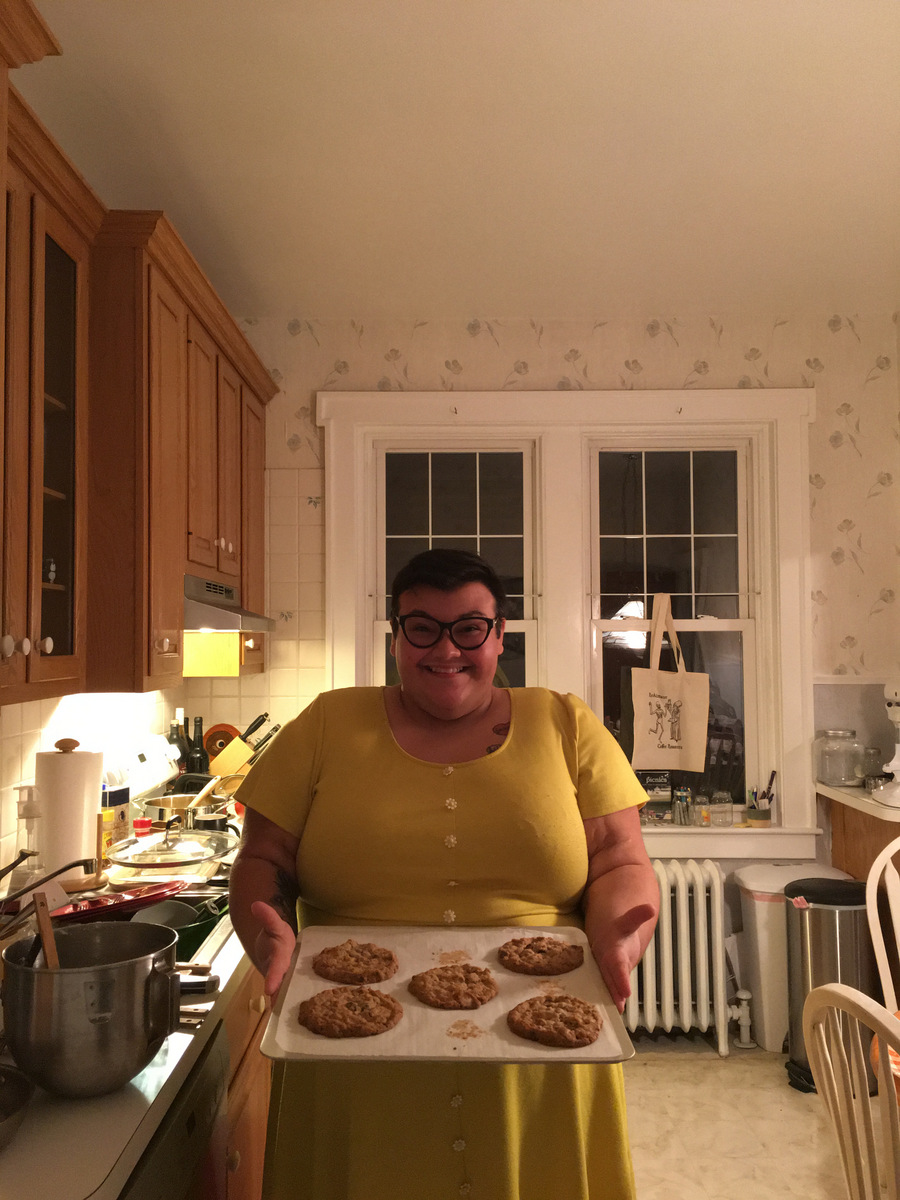 "While I'm definitely super excited about those Compost Cookies I'm holding, my favorite dish to prepare has to be Eggplant Rollatini. I always feel like my Nanny and parents are right there with me as I put it all together."
---
Liz / 20 / Wellesley MA / Student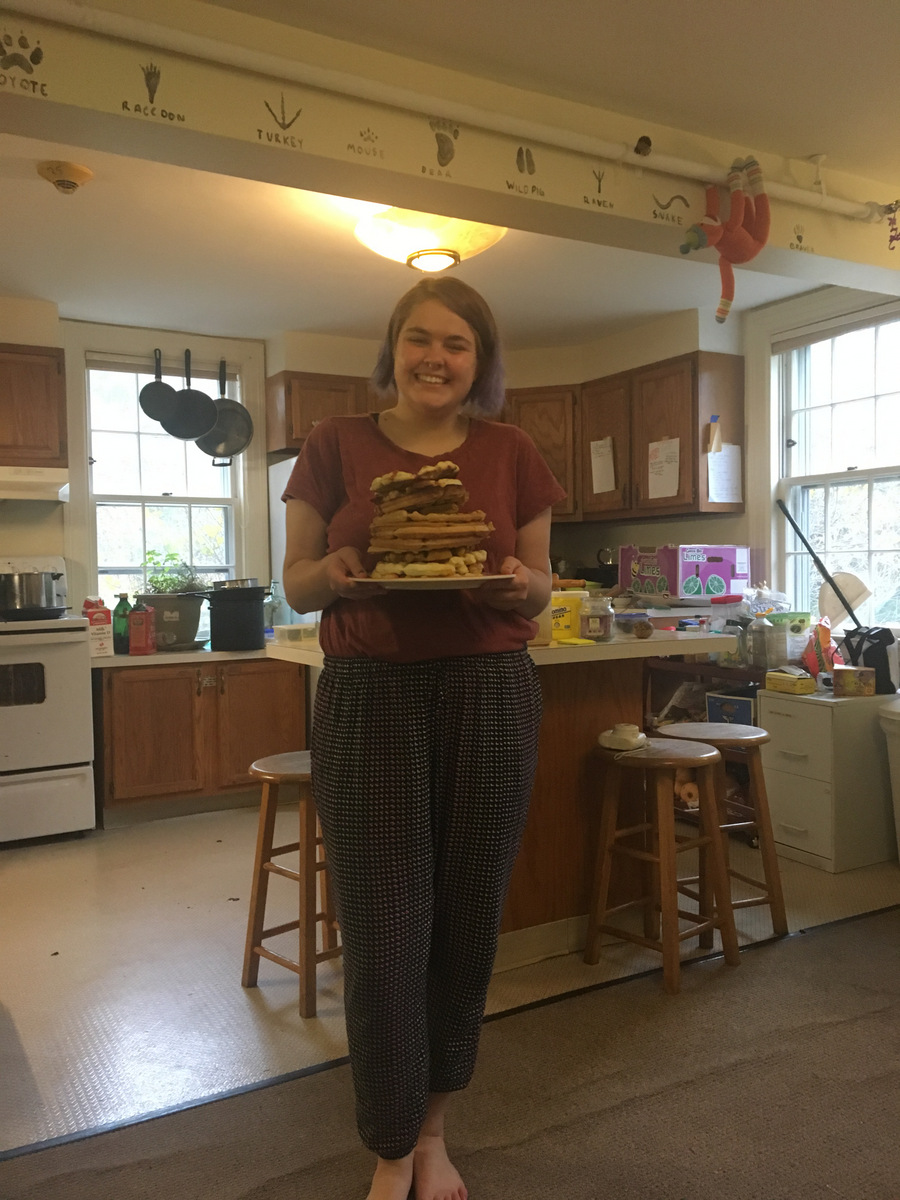 "I live in a coop on my campus with 13 other people, and I love making food to share with others. I just moved in here this year and was excited to host my annual Friendsgayving in a kitchen that felt like home."
---
Alysia Angel / 43 / Sacramento, CA / Director of Consumer Support at HealthSherpa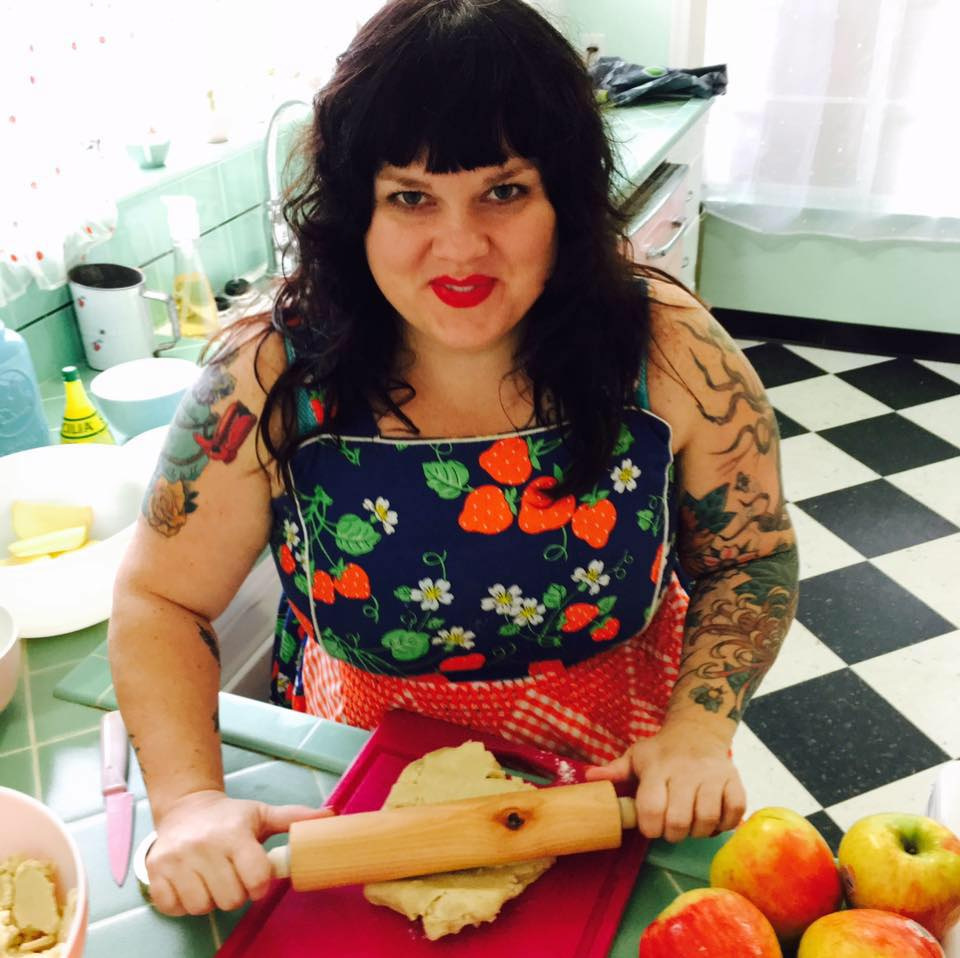 "I am a huge rage baker, when the systems and constructs of the world matched with the intense vibration of community woes press down on me. As of late I made cookies for the revolution, bourbon banana bread for hope, fruit pies to fuel upstarts to continue to rise up, and had a cookie decorating party for nothing other than because community and chosen family matters. I also cook savory meals in my kitchen, but baking is my passion, and it truly is one of my favorite ways to practice self care."
---
Megan / 30 / Minneapolis, MN / Raging Queer Feminist Homemaker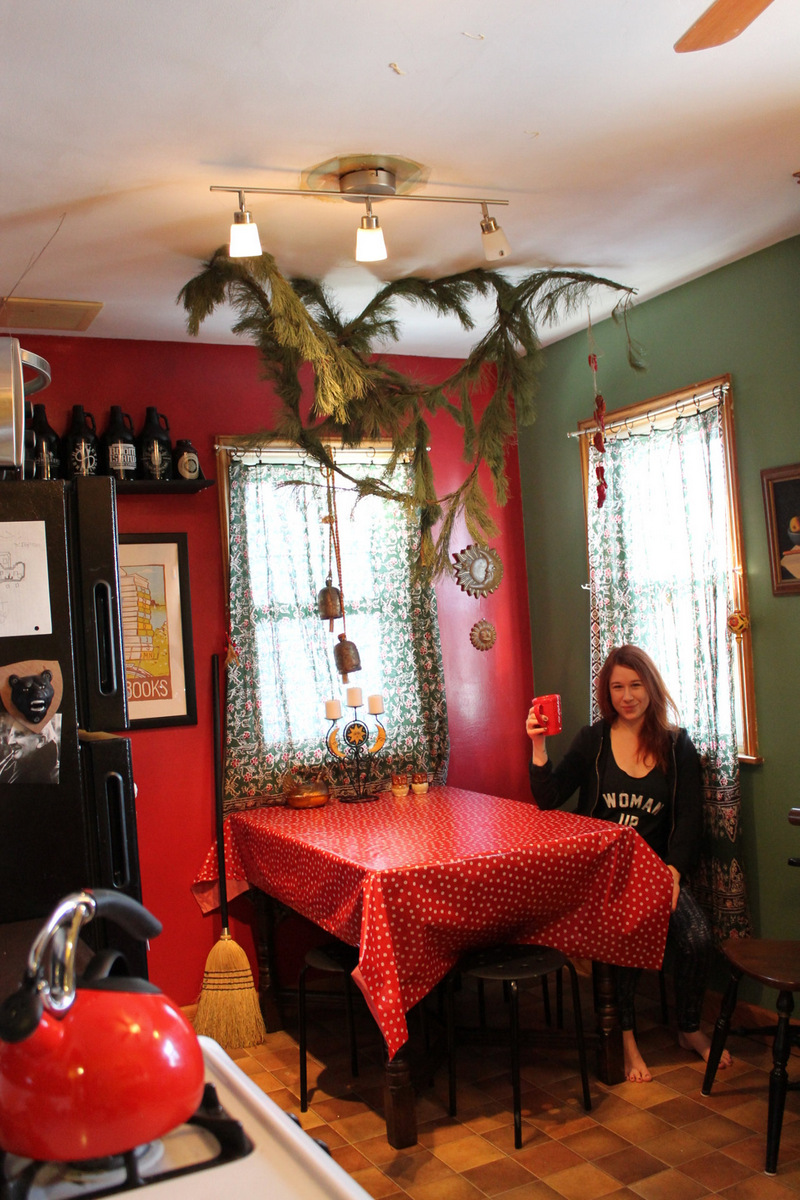 "My kitchen is the most inconvenient, undersized, poorly put-together and annoying room in my tiny home…and I love it. I've found joy in covering up its damaged walls and cupboards with wild colors, starting a spaghetti noodle collection on the chipped ceiling (you can see one or two in the photo, if you look close), and sitting down at our polka-dot covered table for crowded family meals saturated in love, laughter, fart noises, and political/social/feminist rants."
---
Dani Rose / 25 / Sunnyside, Queens / Assistant in the Entertainment Industry and Independent Filmmaker, Photographer, Burlesque Dancer on the side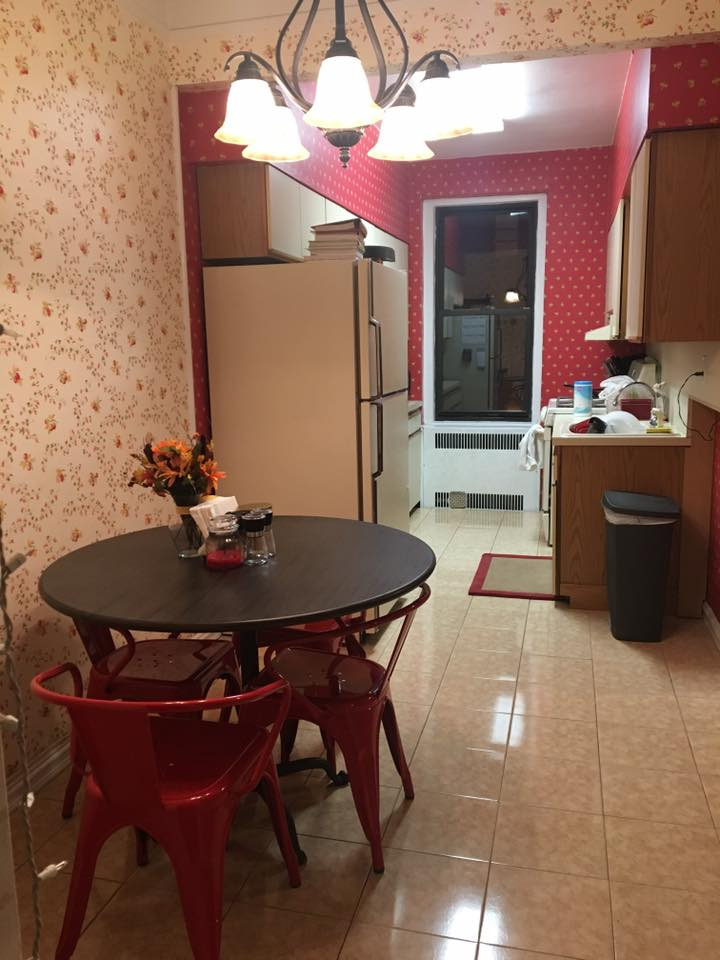 "When I first saw a picture of my kitchen in a Naked Apartments listing, I immediately texted my boyfriend (I'm bi but in a relationship with a man) a picture of the wallpaper saying: "IT'S SO TACKY…. I NEED IT!" It was the first apartment we saw, and we moved in a few days later. We threw an ugly sweater party this past year and I have to say I think my wallpaper won the award for 'ugliest.'"
---
Jen / 27 / Hamilton, Ontario / Finally Not a Cashier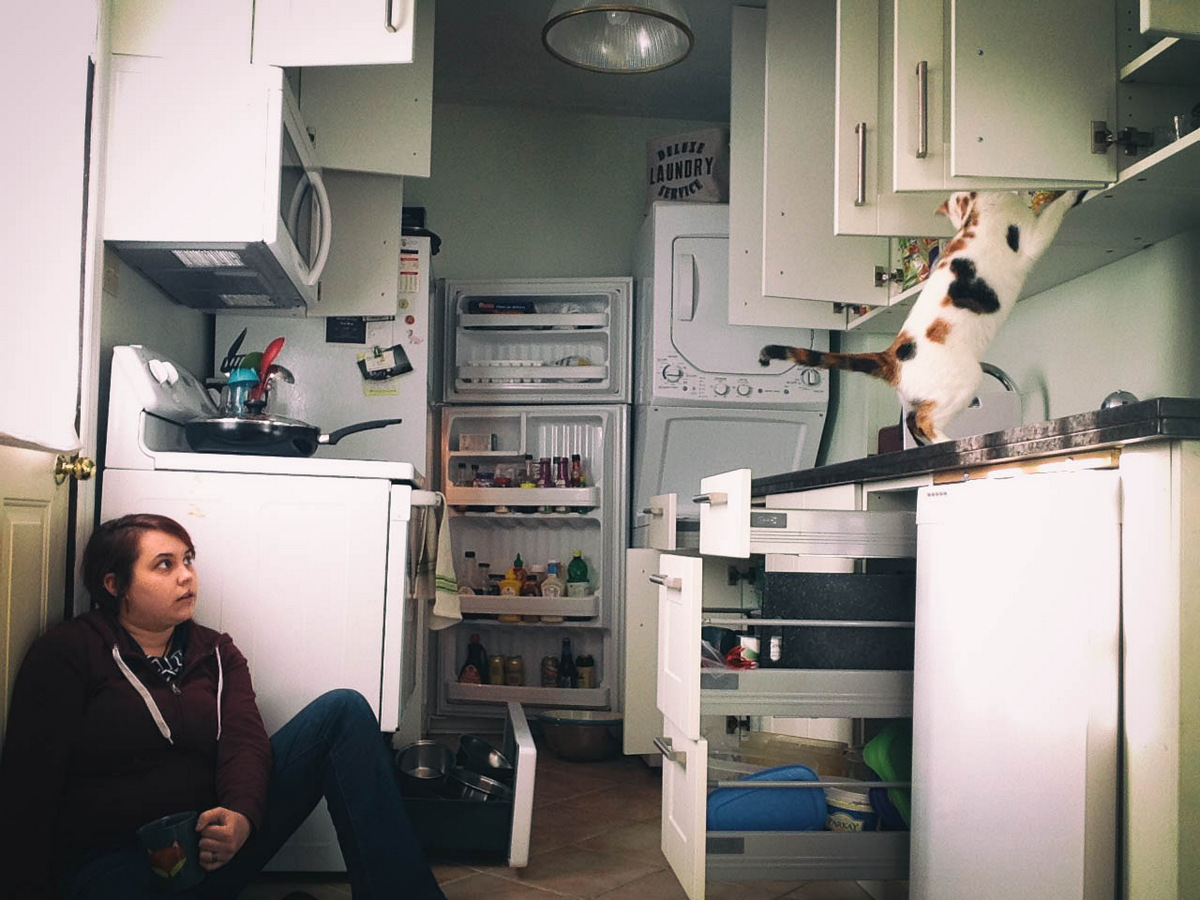 "I couldn't boil a potato before my wife got her hands on me. I tell people my brain is like a well-stocked kitchen, where all the cabinets are open."
---
Megan and Alyssa Hillier-Geisler (That's us in the picture in a popsicle frame on top of the fridge!) / 31 and 29 / Salt Lake City, UT / Innovation Manager and Communication Specialist (both at large non profits)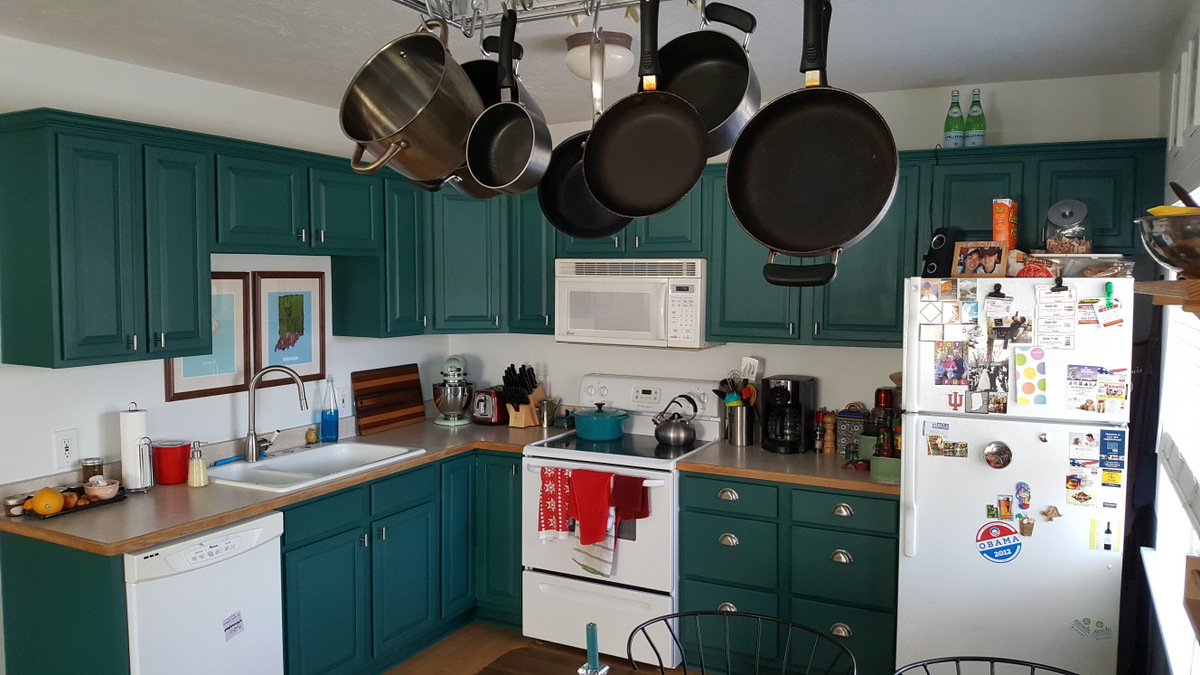 "Alyssa is an amazing chef with a stack of cookbooks a mile high and would be happy if she never ate the same thing twice. I basically make soup and horribly unhealthy things (all the salt, cheese, and spicy you can put together) that we call "bachelor food." After 5 years of marriage and 4 years in SLC, we just bought our first house a few months ago. The house is microscopic so the kitchen and living room are one big room. We love that the two rooms we use the most are now together (meaning we can watch the Cubs play while we cook)."
---
Sandra Londino / 41 / Ithaca, NY / Certified Nurse Midwife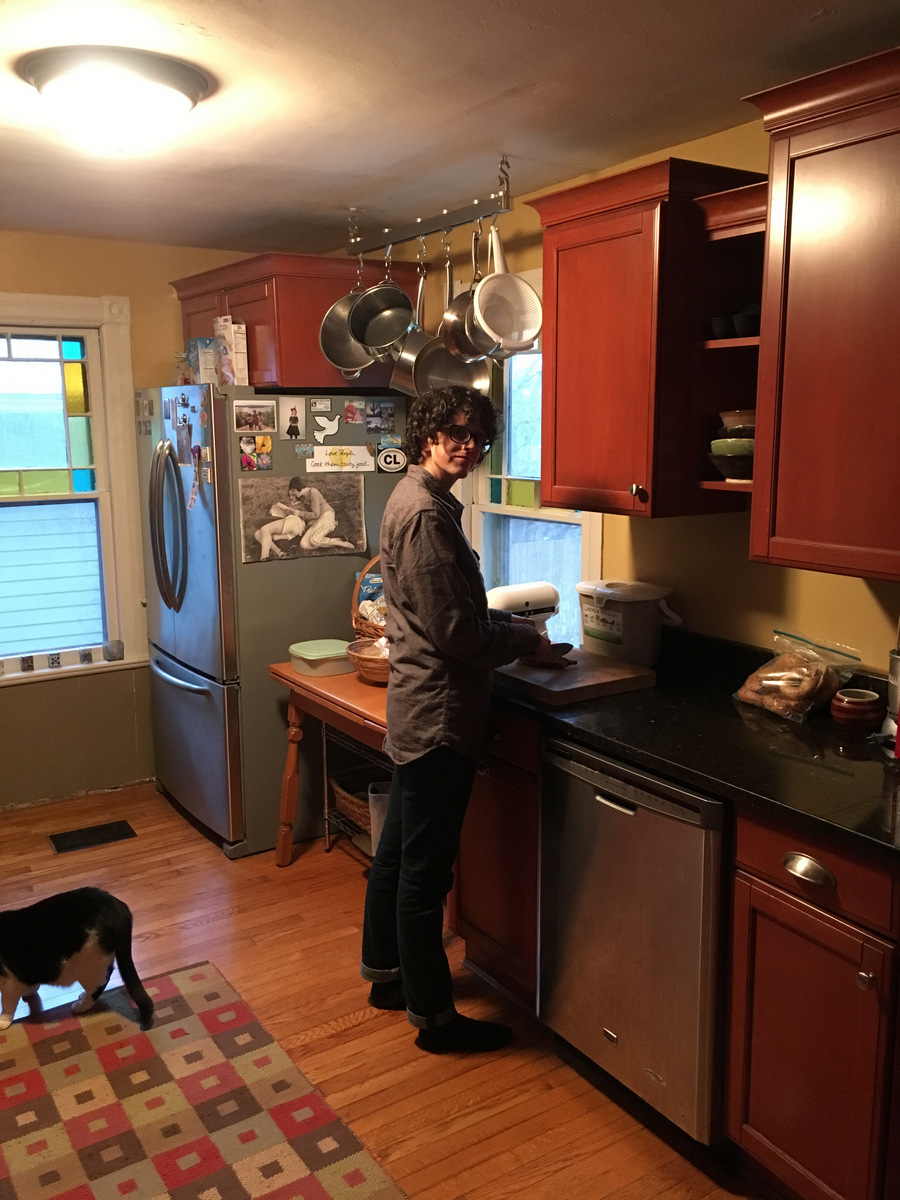 "I really like cooking dishes with lots of ingredients. The more small bowls filled with chopped veggies and spices all around me, the happier I am."
---
Kait (human), Hercules (dog) / 27 (human years), 7 (dog years) / Indianapolis / Social Worker by day, Improviser by night.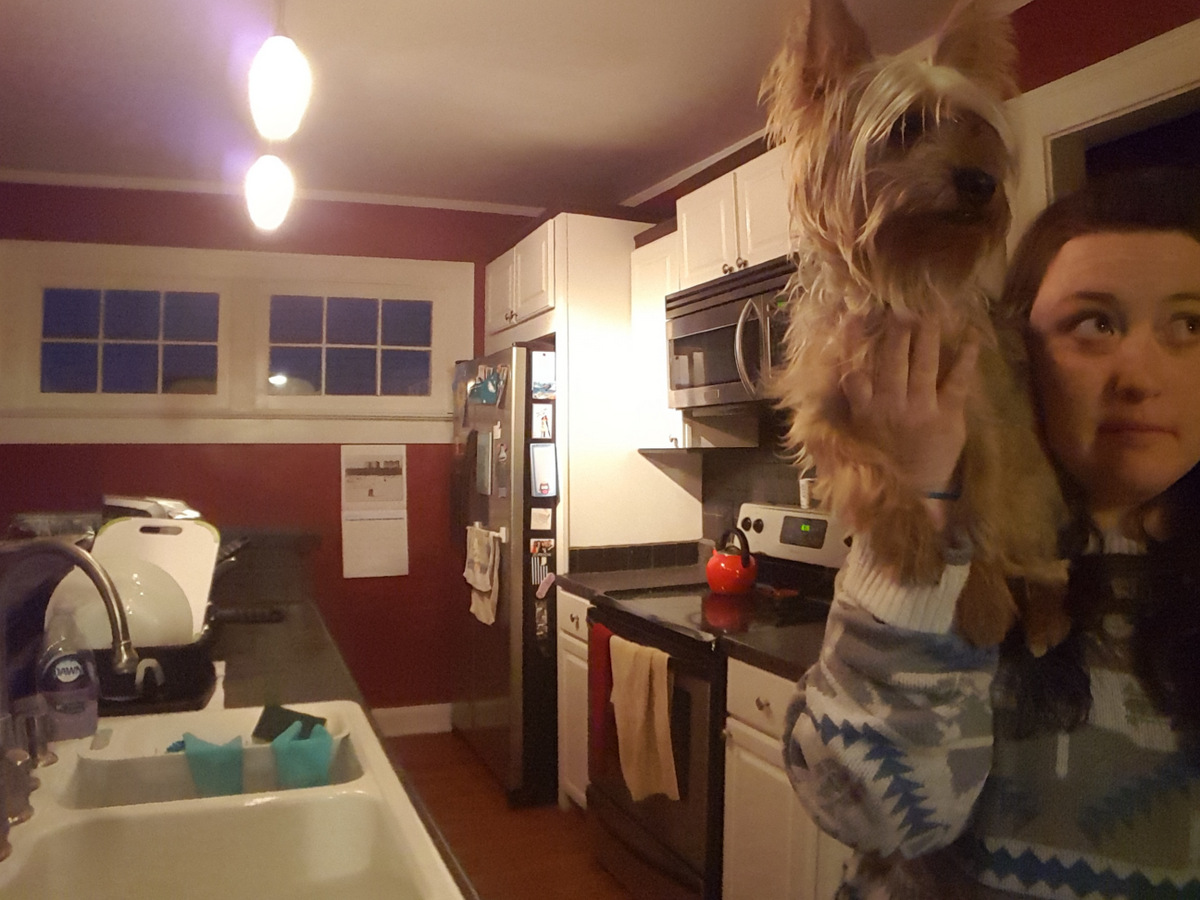 "My favorite thing to do in the kitchen is to sautée EVERY DAMN THING."
---
Emma Grinde / 26 / Viroqua, WI / Food Scientist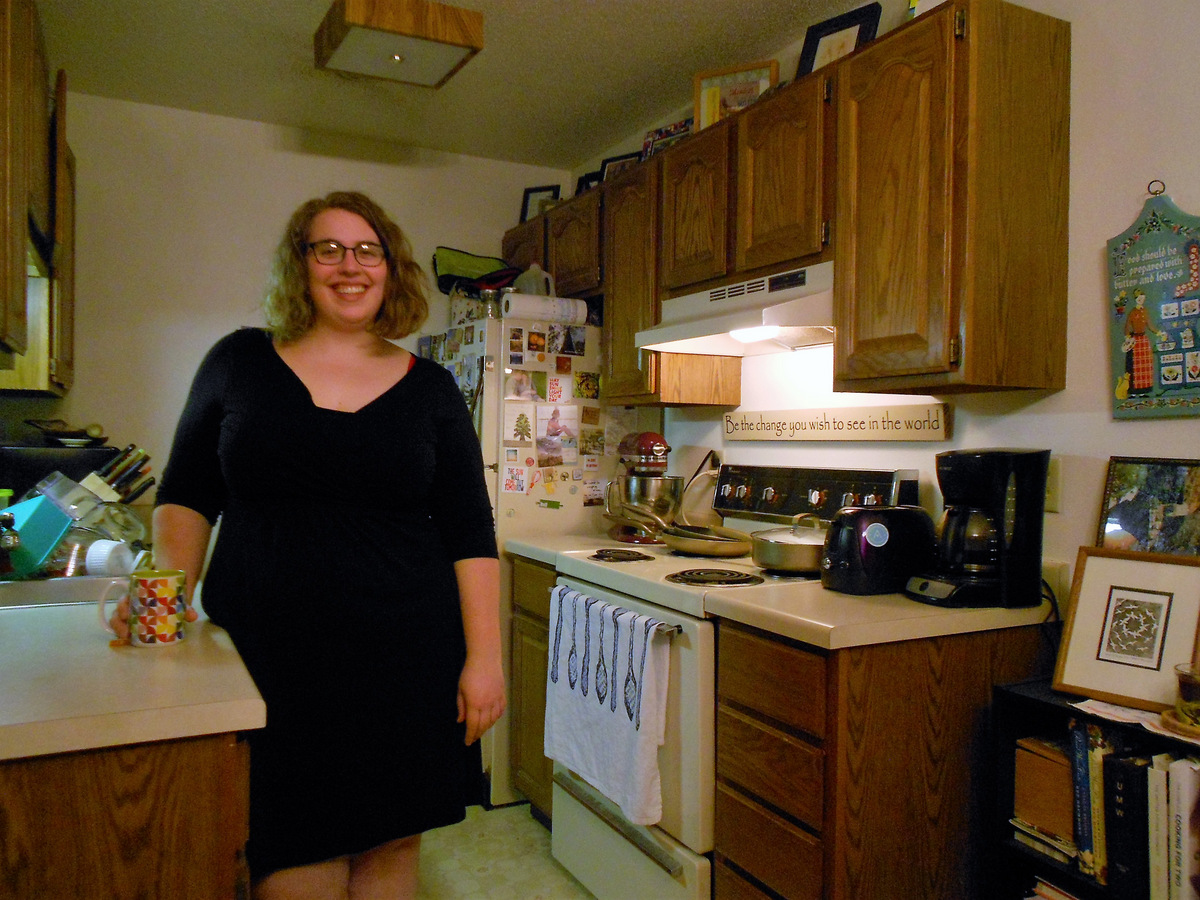 "What this photo doesn't capture is the smell of a hair tie burning on the bottom of my oven (how did a hair tie make it into my oven?!) and the sound of the fan trying blow away the burning hair tie smell.
PS – Like the anonymous question-asker in Some Answers to Some Things You've Been Asking Us #10, I didn't know where to put my A+ sticker. I took Yvonne's suggestion and went with the toaster."
---
Kayde Mae / 40 / İstanbul, Turkey / Artist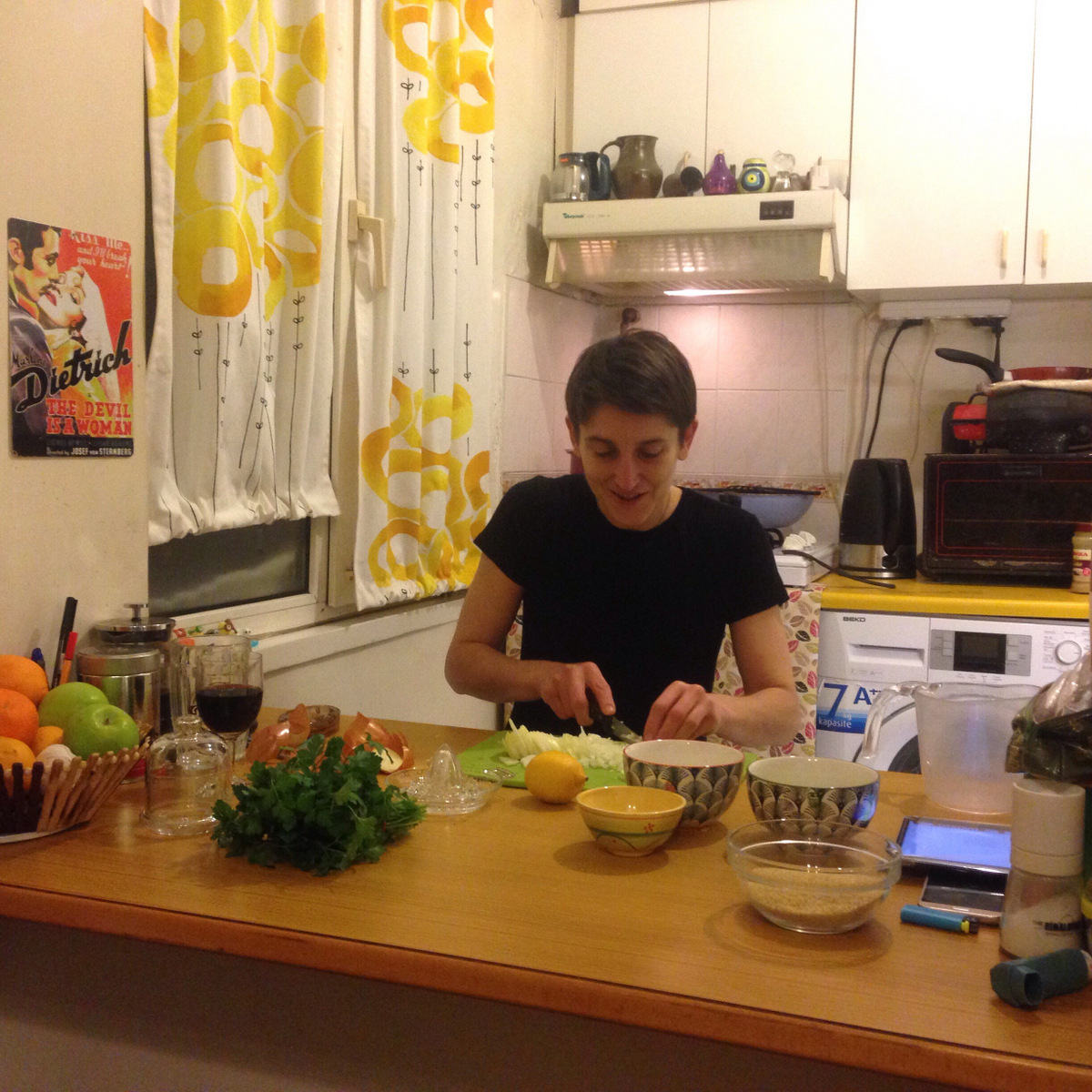 "Most prized kitchen item is the spice rack."
---
Amelia / 23 / Leeds, UK / Working in customer service and volunteering at a rape crisis centre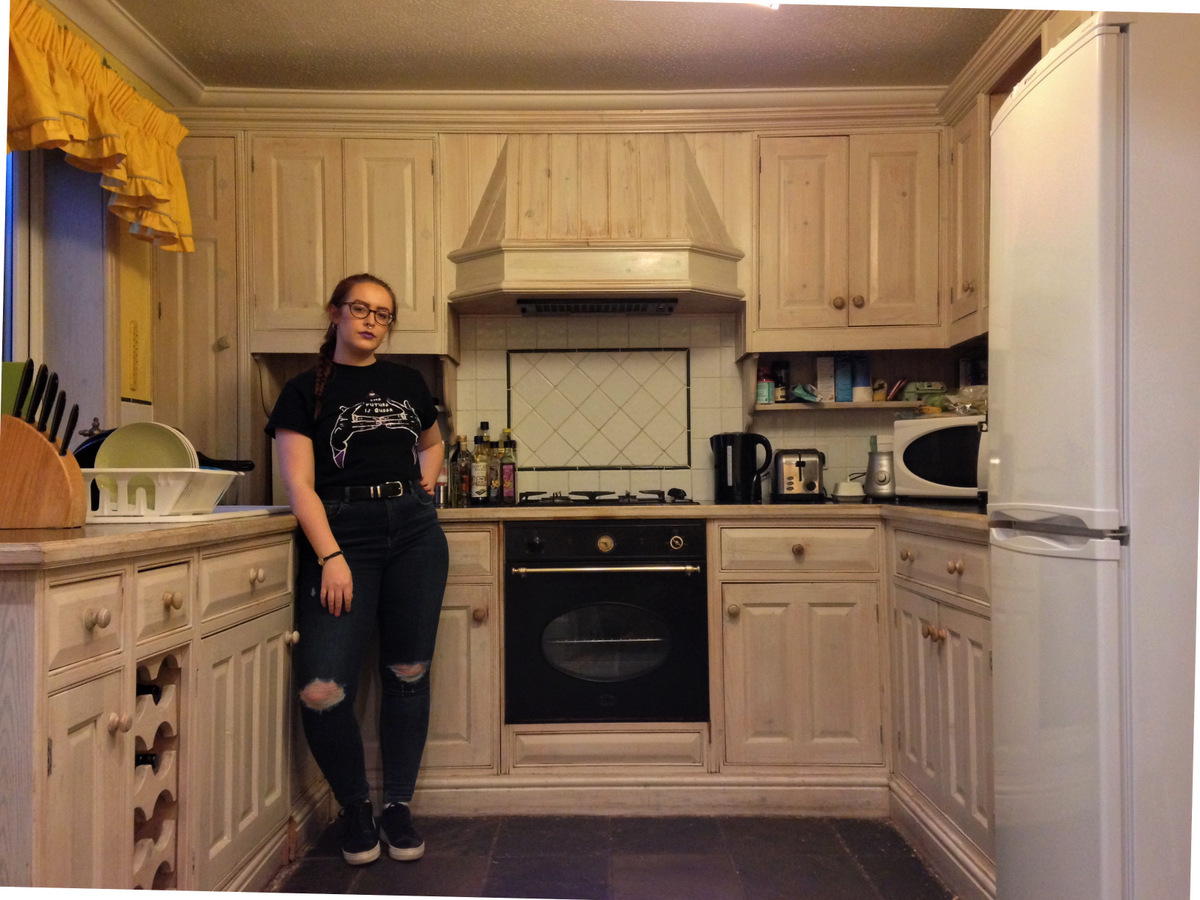 "I love cooking for family and friends — especially things they've never had before, so I can surprise them and let them in on something great that I've discovered."
---
An Sasala / 24 / Lawrence, KS / Women, Gender and Sexuality Studies PhD Student
"I fell in love with someone in this kitchen. Now, I'm learning how to be alone again."
---
Leslie Robertson / 29 / Chicago, IL / Digital Marketing Associate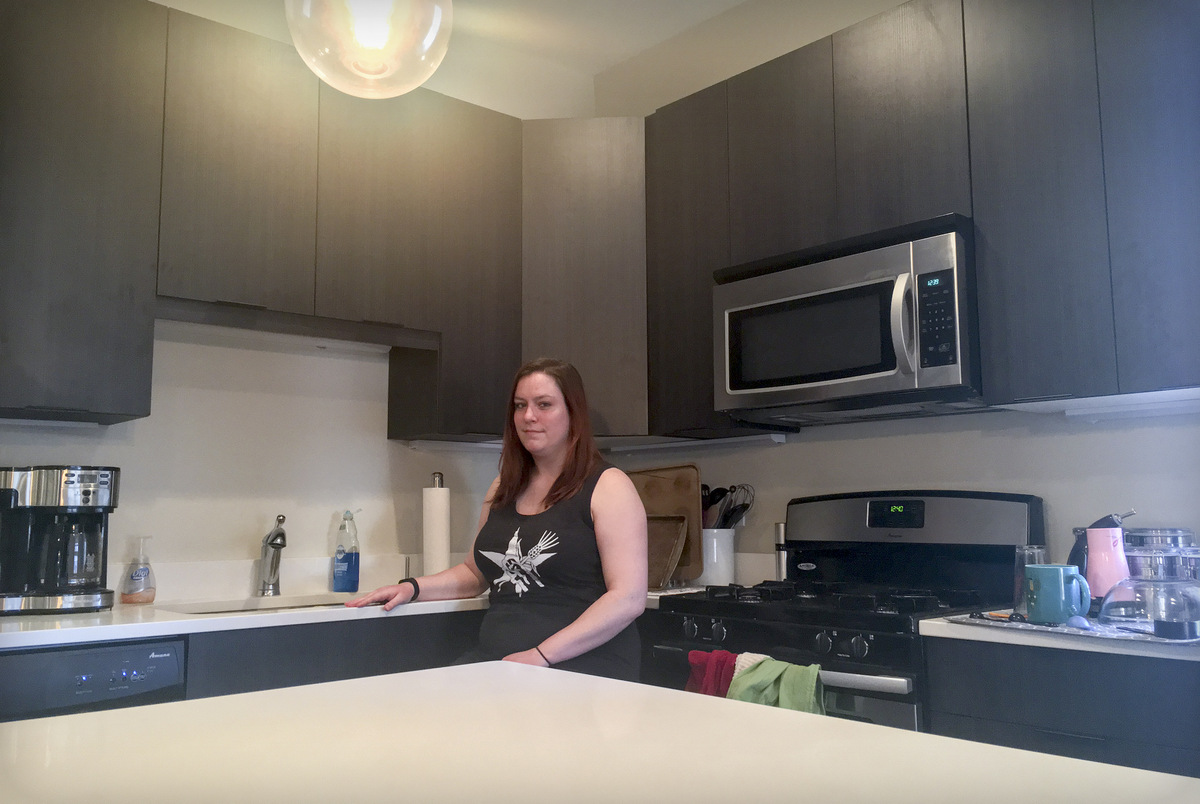 "This kitchen is the main reason we got the place. I'm a pretty casual person and not confident as a cook, so I'll usually make some kind of chicken and rice (if it's not a frozen Trader Joe's dinner). My most prized kitchen item(s) are the dishes I inherited from my 98 year old grandmother."
---
Amanda and Rachel Walwood + cameo from dog Willa / Amanda is 28 and Rachel is 29 (Willa is 1.5) / Amanda works in donor relations for Macalester College. Rachel is a software product manager and aspiring web developer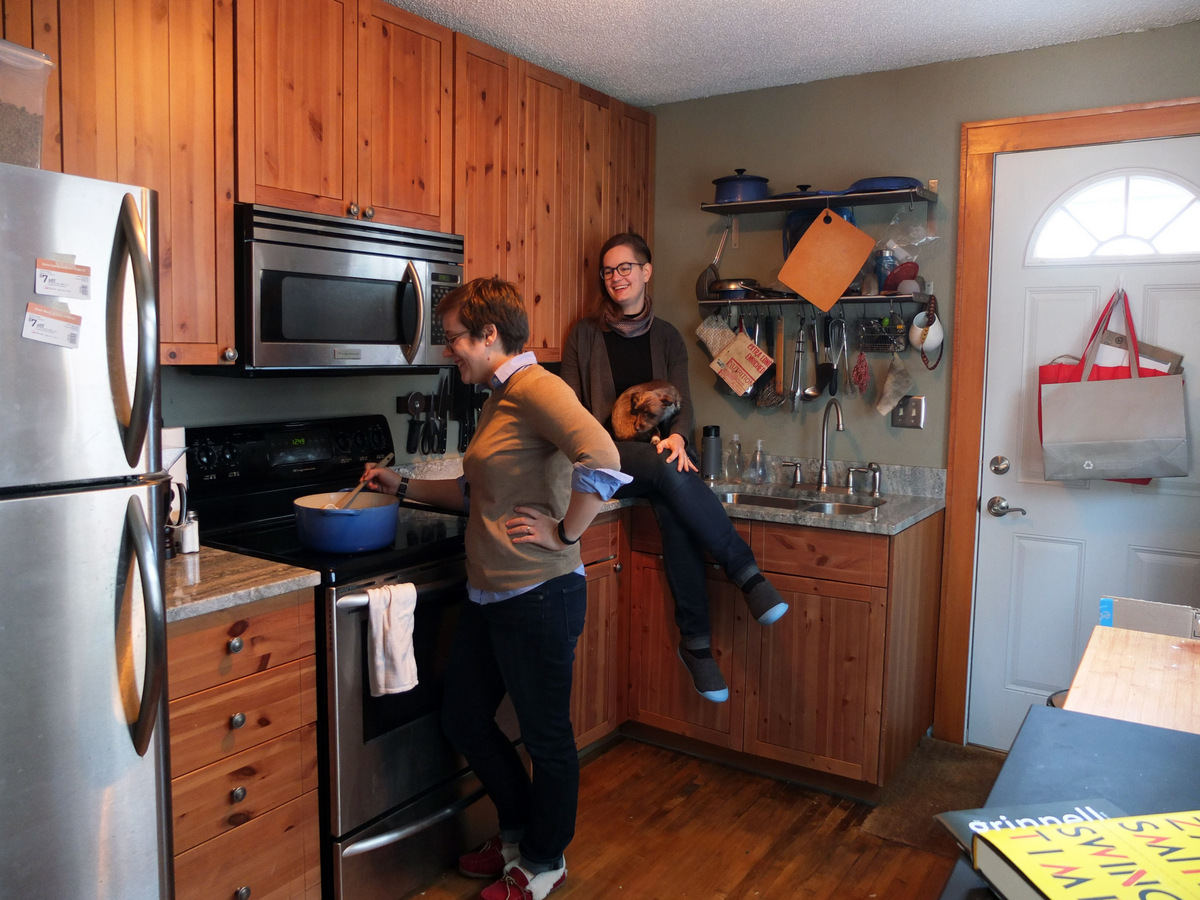 "Winter weekends usually mean braised meats and some combination of butter + flour + cinnamon. You can just see the top of it in the bottom right here, but our portable dishwasher is probably our most prized kitchen possession — we call it our robot butler."
---
Kylie / 27 / Lincoln, NE / Mental health therapist

"I love my kitchen especially in the late afternoon when the sun is just beginning to mellow. Beer tastes better and chocolate chip cookies smell sweeter here. It's the cat hair."
---
Wiley Reading / 28 / Burlington, VT / City Kids (after school elementary) Lead Teacher, Personal Care Attendant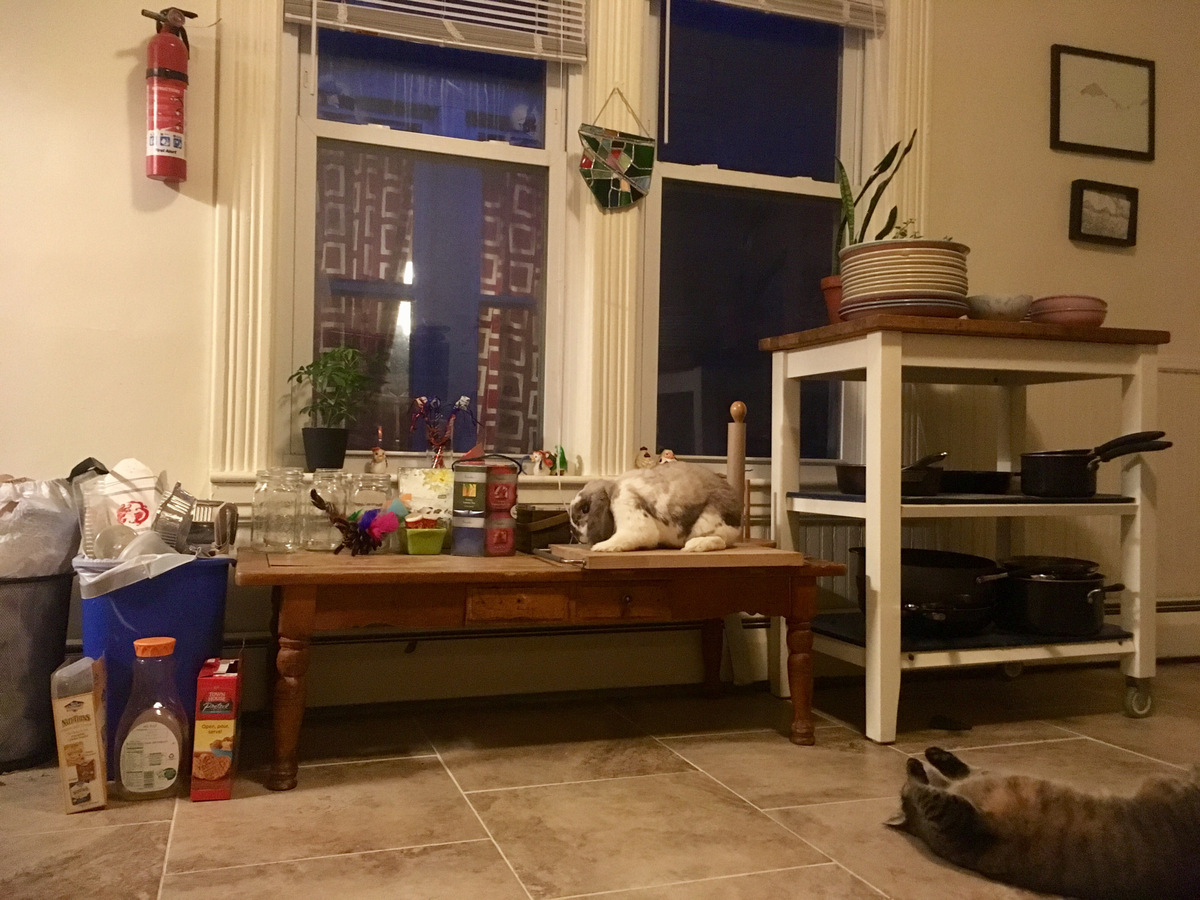 "My favorite thing to prepare is something that shows off my skills making something fancy out of super "humble" ingredients, like dumpster-dived kale or chicken organ meat. Examples: latte with foam and cinnamon dust WITHOUT espresso maker OR frother, or kheema paratha with only stuff I get from the discount veggie bin at the co-op and some pantry basics.
I didn't take out the trash or recycling for this photo, and those pretty curtains in the window are actually in the window of our across-the-alleyway neighbors (also a queer household) #radicaltransparency"
Erika Bielenstein / 27 / Chicago, IL / Behavioral Health/Therapist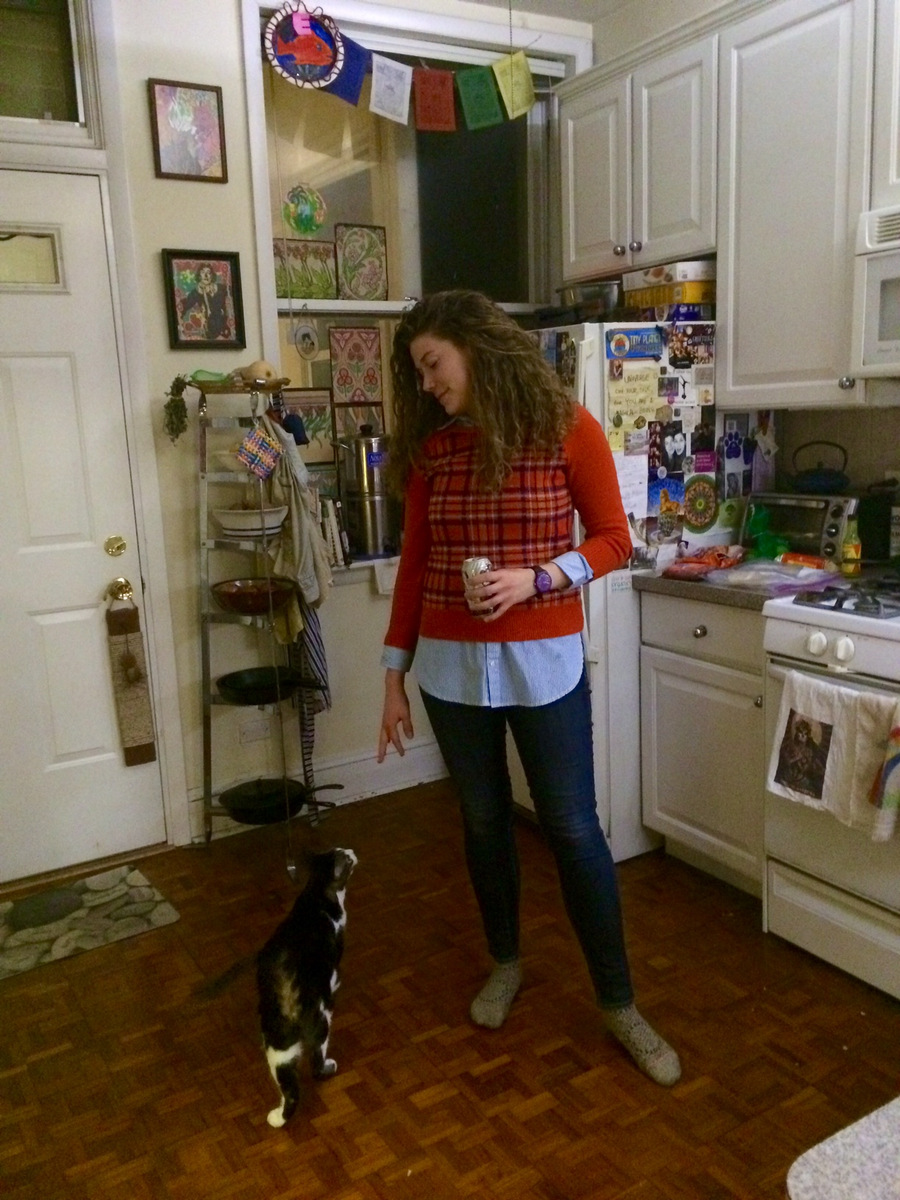 "My favorite thing to prepare is what I call the Erika Special. Sweet potato, onion, and peppers cooked up with herbs du Provence in a cast iron skillet (my favorite kitchen possession) served over a bed of greens with a fried egg on top and avocado, cheese, pesto, and hot sauce."
---
Caitlín Eller / 39 / Arlington, VA / Teacher

"Cooking in the kitchen is like performing spellcraft: they both require confidence, love, and a little magic. My favourite thing to cook is my (well-guarded) family corned beef and cabbage recipe."
---
Reneice Charles / 28 / Los Angeles / Small Business Owner

"My favorite thing to prepare is breakfast for whoever I let spend the night."
---
Chelsea (they/them) and Leah (ze/zir) (Also pictured: Snowball) / 28 & 32 / Seattle, WA / International Education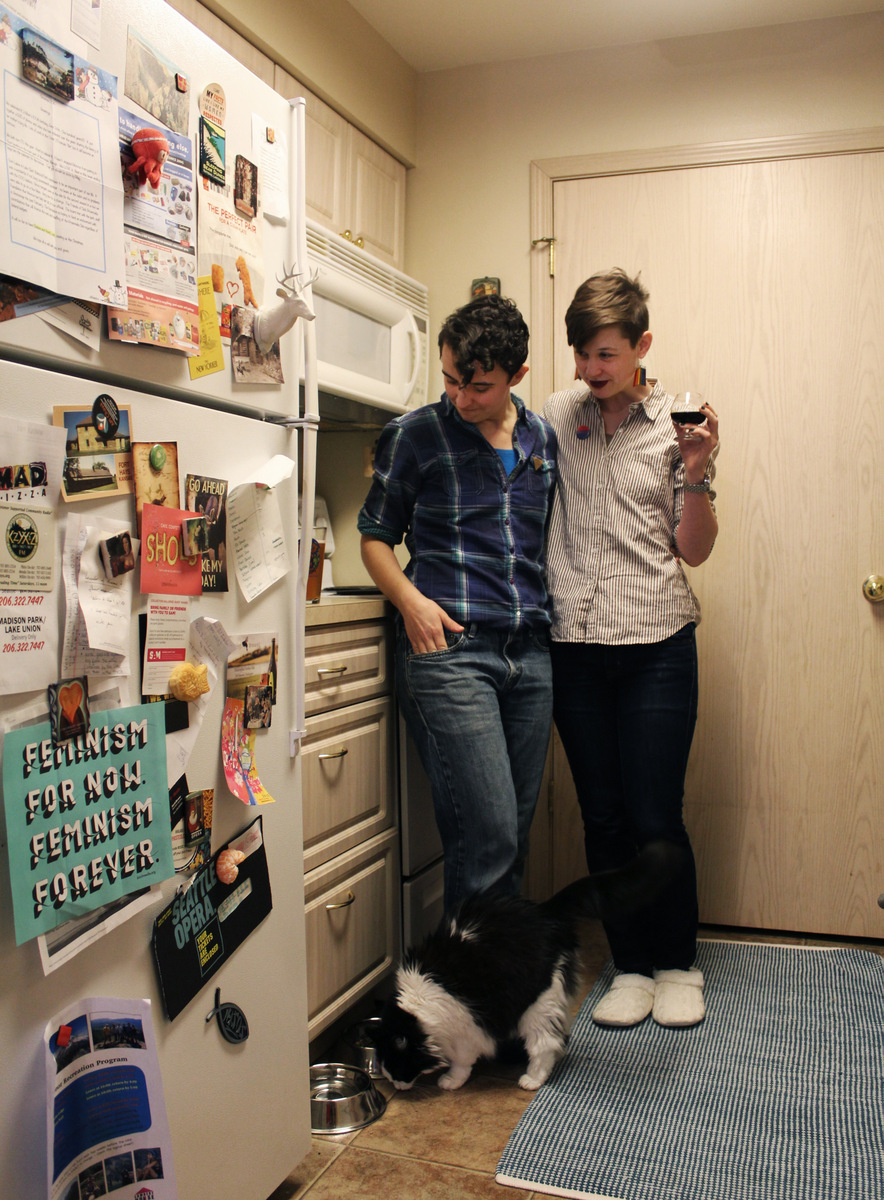 "We're two bisexual genderqueer nerds who fell in love teaching cooking lessons together and making each other breakfast. Leah is a baker and Chelsea is a cook; our kitchen is tiny, but it's the best room in the apartment."
---
Sarah (they/them) / 30 / Pittsburgh, PA / Librarian, PhD Student
"I'm living alone for the first time, and I think my favorite thing about it is getting to cooking whatever food I want, whenever I want, no questions asked. That pizza turned out awesome, btw."
---
Emma / 36 / Madison, WI / Toddler teacher and summer camp director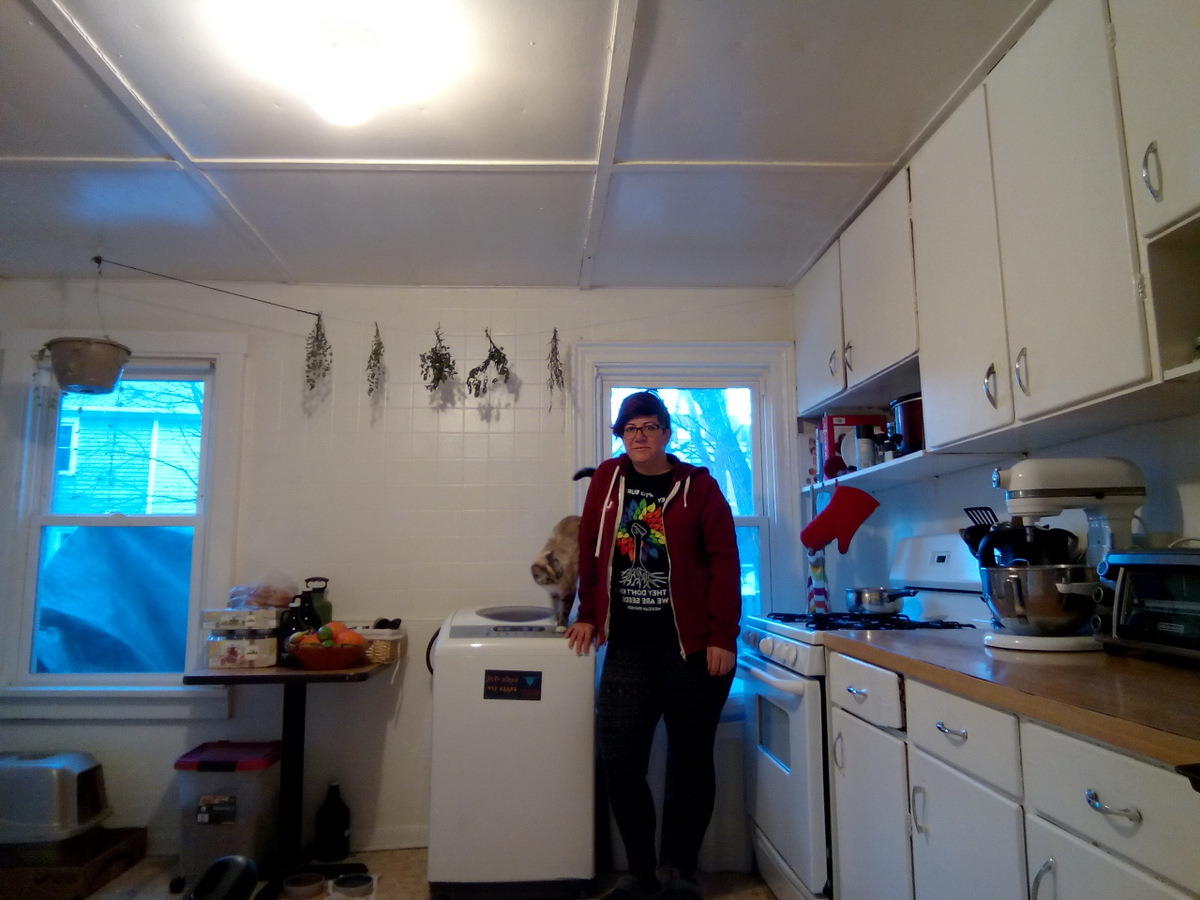 "My kitchen is my sanctuary; baking is self-care. My stand mixer is my prized possession."
---
Laura M / 30 / Cambridge, MA / Engineer, Staff Writer at Autostraddle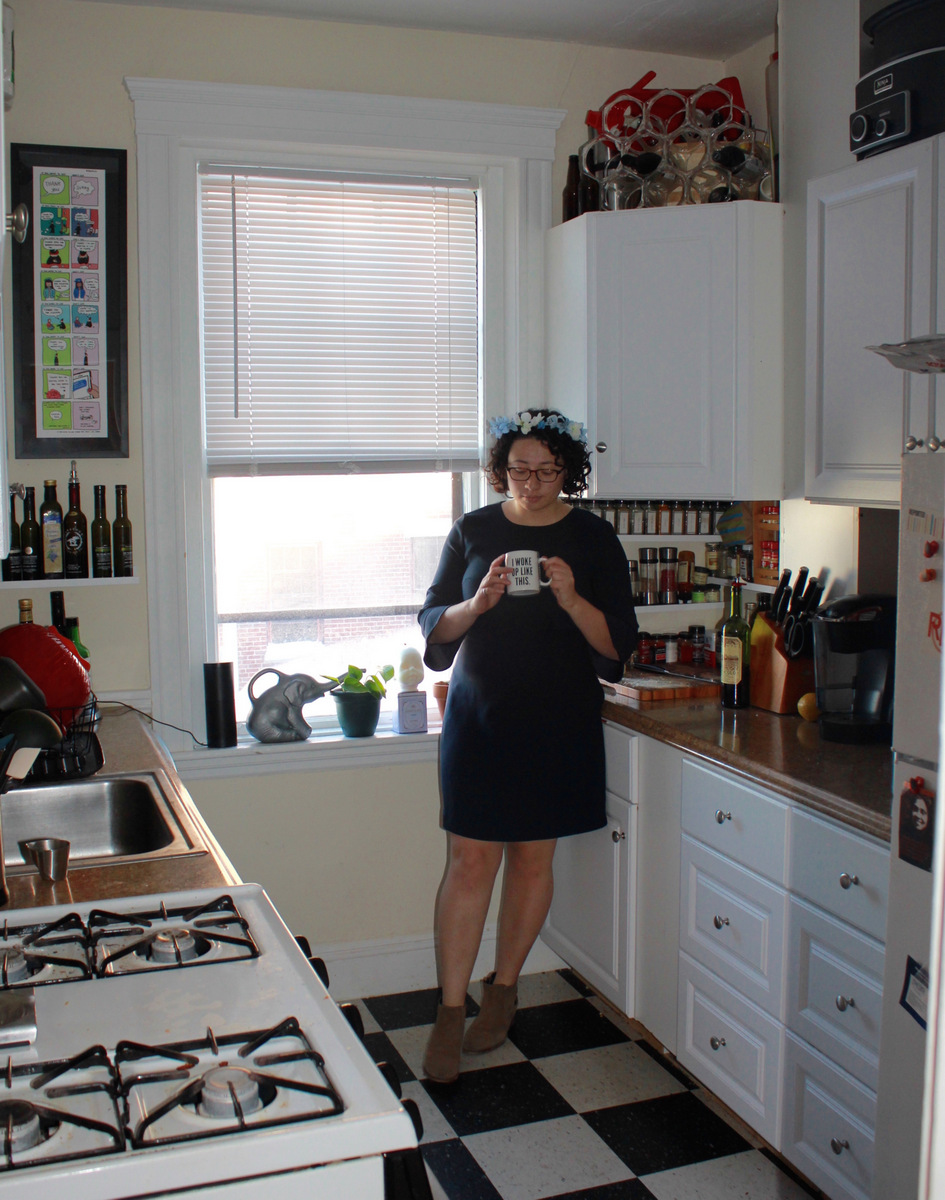 "I like saving vegetable scraps in a bag in my freezer until I have enough to make stock with. It's way better than what you can buy at the grocery."
---
Claire (and Peggy) / 25 / Amesbury, MA / Science Educator

"My kitchen is special because it's all mine, even if it is a little rough around the edges, and I often let pasta boil over."
---
Angelica and Dani (and Jean-Jacques and Louis!) / 28, 30 / South Beach Miami, FL / Musician, Lingerie Designer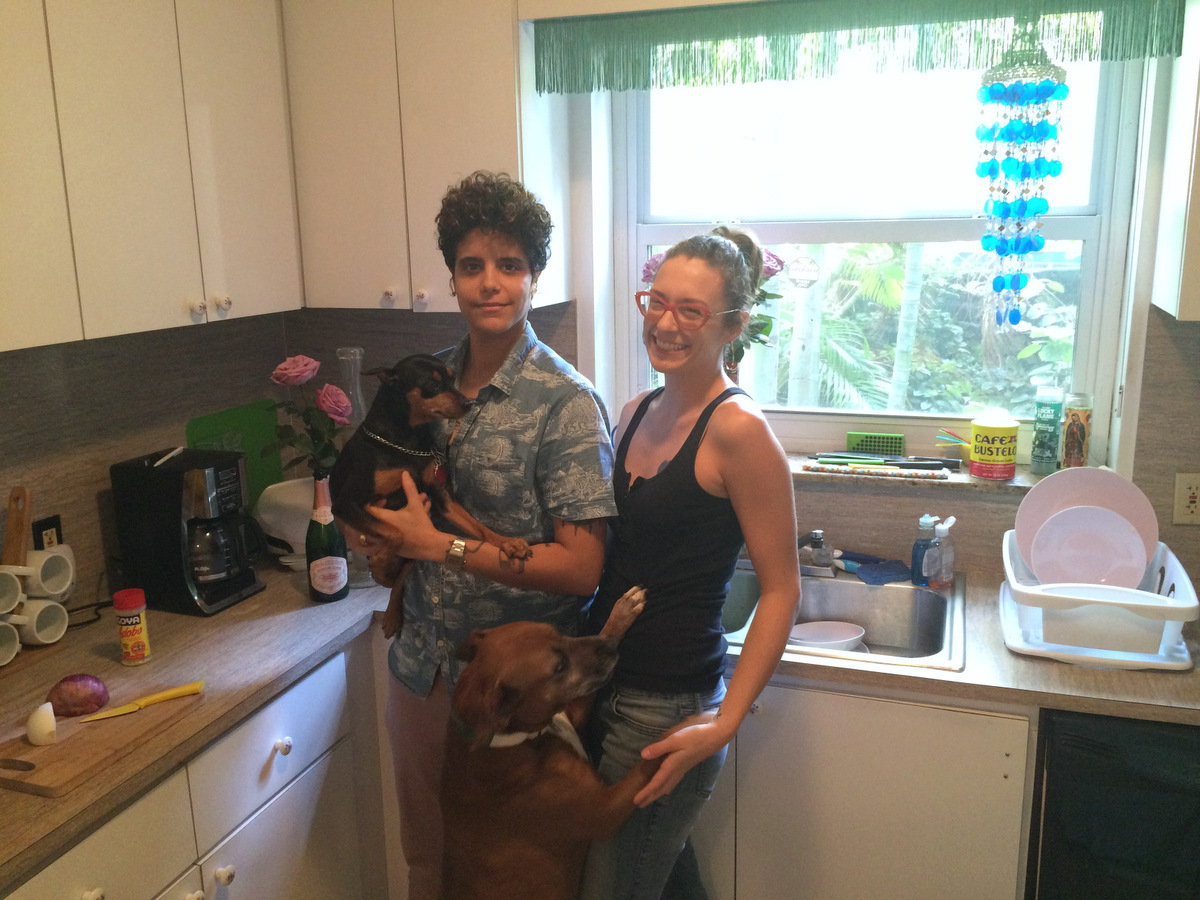 "Our most prized kitchen possession is our Cafetera (stove-top coffee maker). We can't get enough of Cuban coffee, especially since moving to Miami. Thanks to our Cafetera, our house fills with the aroma of fresh Bustelo at least once a day."
---
Alice / 25 / Breda, The Netherlands / Game Art Student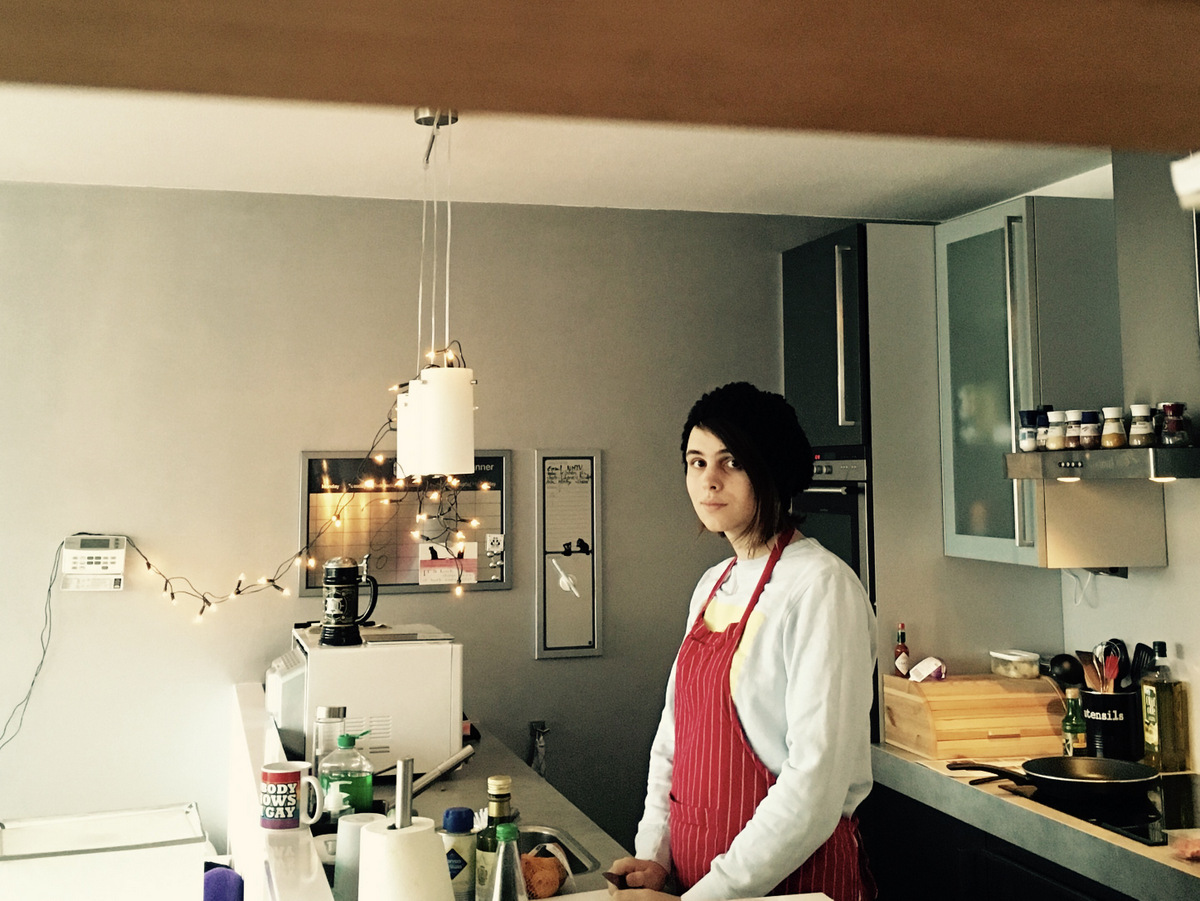 "My favourite thing to prepare is this great tarka dal recipe I found a while back. It's really good and most importantly it's easy to make a huge batch and then eat that for half a week, which is great for when you don't always have time or energy to cook!"
---
Mavi Llamas / 42 / Los Angeles, CA / Part-time student at UCLA, full-time favorite auntie, and freelance unrequited romantic.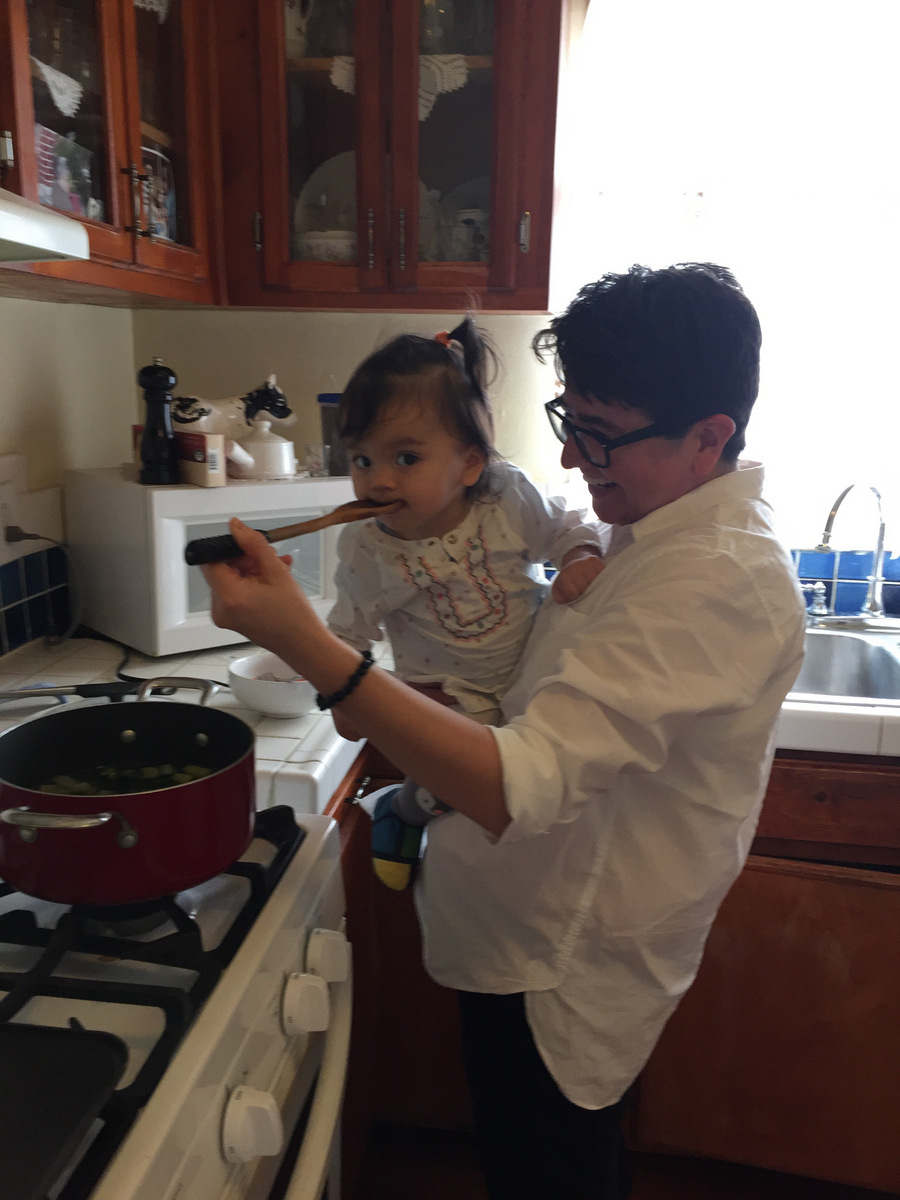 "My kitchen isn't fancy; it isn't even that clean, but it is where everyone ends up when my family comes over, and there isn't even any seating. My favorite thing about it is the picture of my father taken in this kitchen as he was skewering meat for a carne asada, and a picture of me shortly after he died doing the same. This picture is of me letting my niece taste the soup I made her for seasoning."
---
Kelly / 25 / Vancouver, WA / Accountant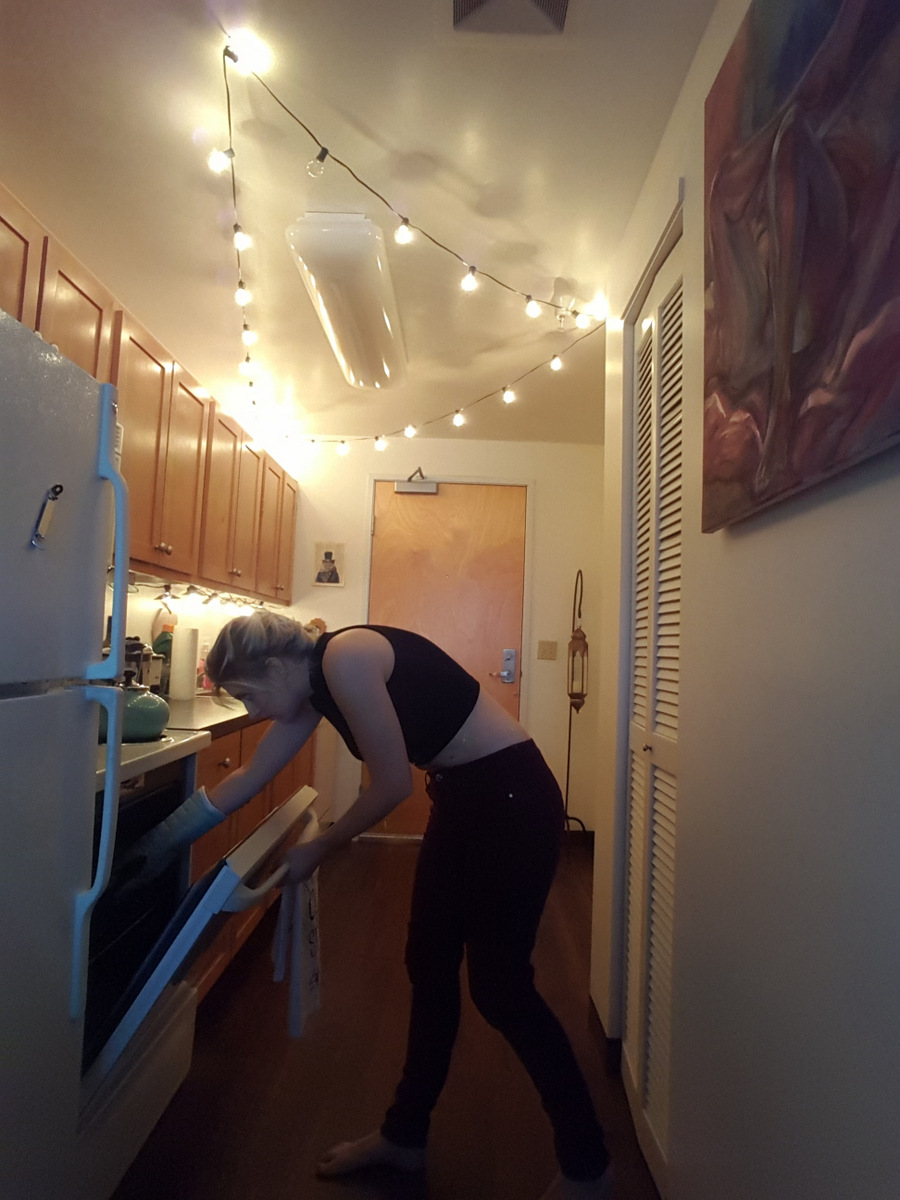 "I like that my kitchen is also my entryway, it's quite poetic in a way. Also yes, those are kale chips I'm checking on, you are correct."
---
Angela Maugey / 30 / London / Occupational therapy assistant (mental health)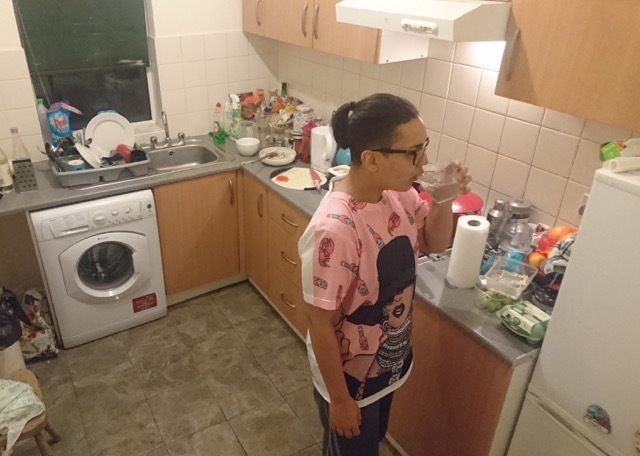 "Having a water break while making a curry, our favourite thing to cook."
---
Erin and Gateau / 37 and 1 / Denver, CO / Librarian

"Favorite thing in my kitchen: the Ernie cookie jar that my dad gave to my mom when they were dating."
---
Lydia / 31 / Olympia, WA / Mama and Tech Nerd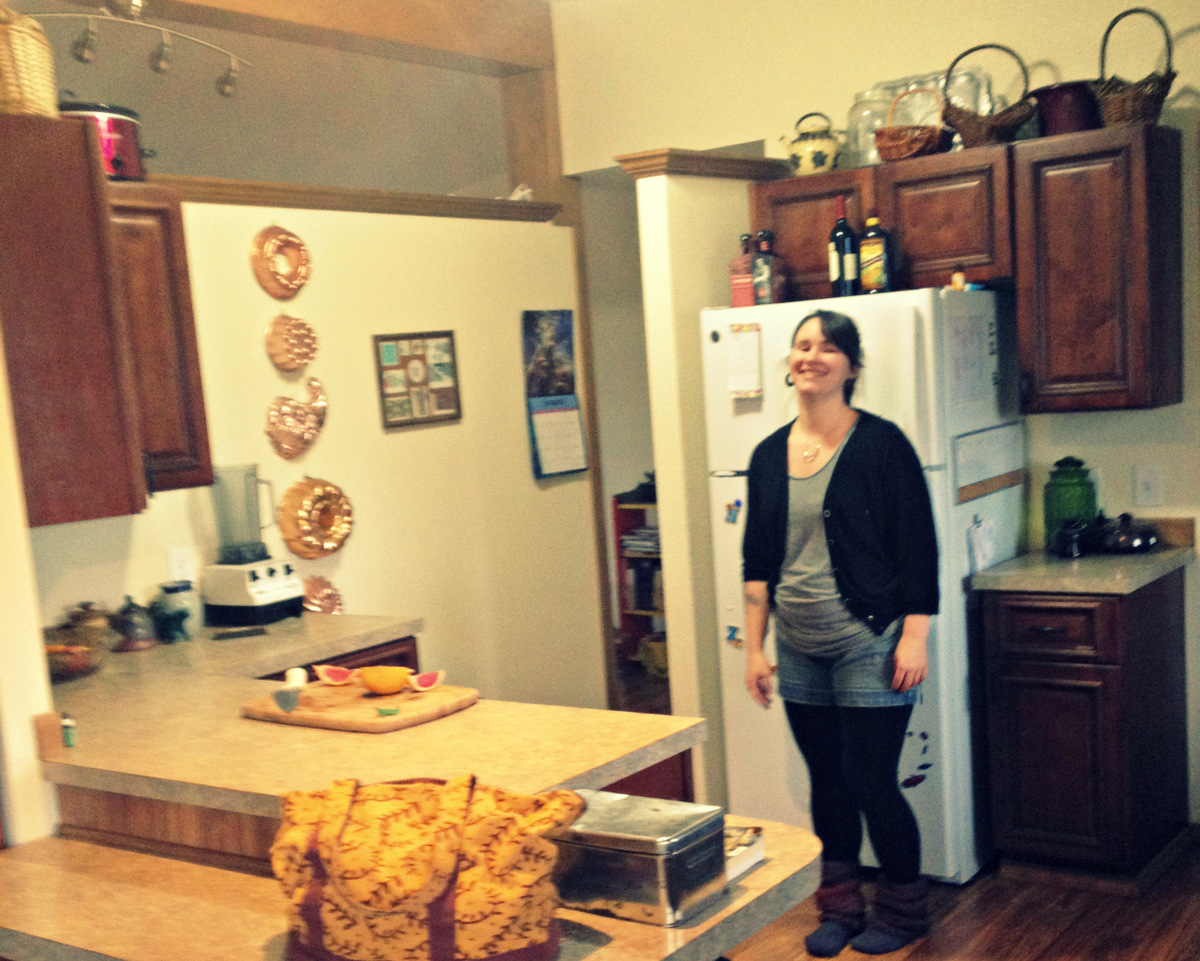 "This kitchen is all about tea, snacks and the occasional complicated dinner."
---
Tara / 27 / Albuquerque, New Mexico / University Student Affairs Program Coordinator
"I love spending a couple hours meal planning in the kitchen on Saturdays, so we're eating healthy and on-budget through the whole week."
---
Megan (plus my daughter, Hazel, and our cat, Phryne Fisher) / 36 (Hazel is 3, Phryne is 1.5) / Minneapolis, MN / Science Librarian

"Cooking is fine, but baking is my favorite. I've had my KitchenAid mixer since I was an undergrad in college and it was jammed into my tiny dorm room kitchen. I like teaching my daughter to create in the kitchen even though it gets pretty chaotic. Today we're making tacos and lemon curd parfaits."
---
Ella, Octavia (baby) Albus (dog) / 28, 5 months, 2 / Melbourne, Australia / Statistician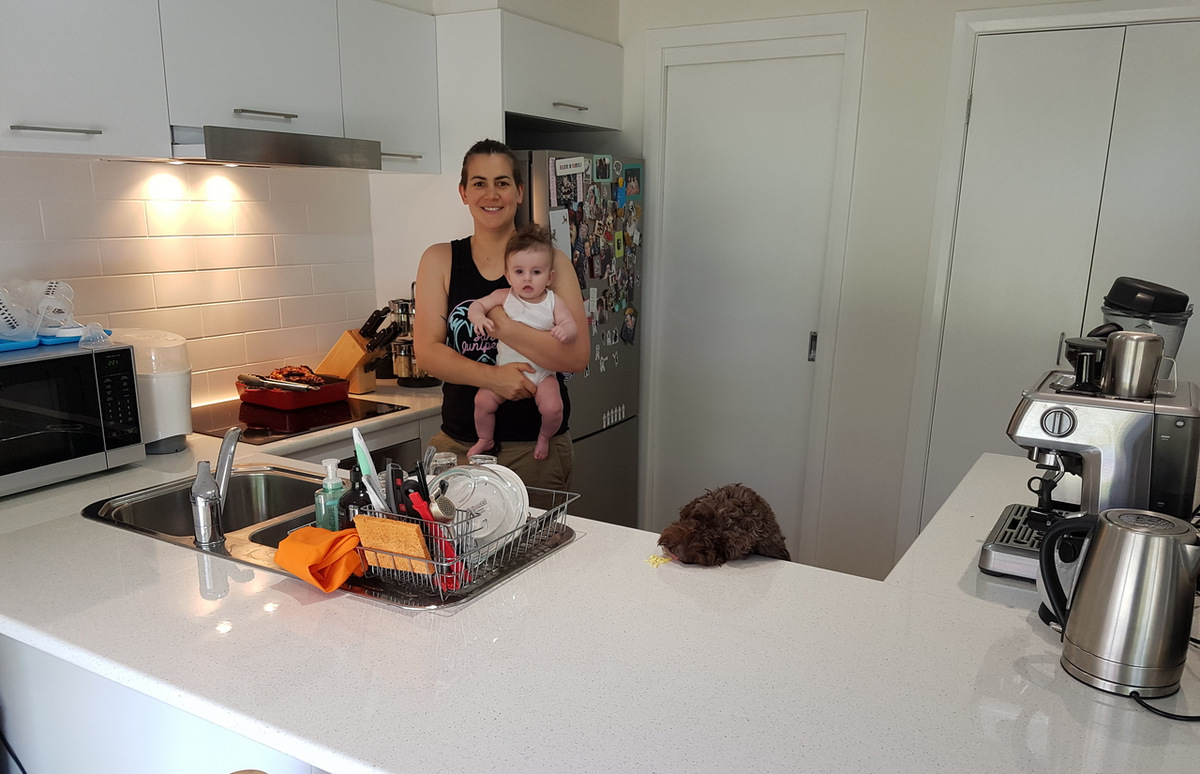 "Growing up my mum would never let us put anything on the fridge because she hates clutter. As soon as I moved out I filled the door with as many pictures that would fit. I can't wait to put my kid's drawings all over it."
---
Deirdre and Amanda (and our cat, Stella) / 25 / Philadelphia, PA / Urban Farmers, Community Organizers
---
Jay / 22 / Ashland,OR / College student

"I often bake a lot of treats for my friends because I show love by baking and cooking. I also love my little kitchen mascot, the ghost owl on my wall."
Gabrielle / Brooklyn / Digital editorial director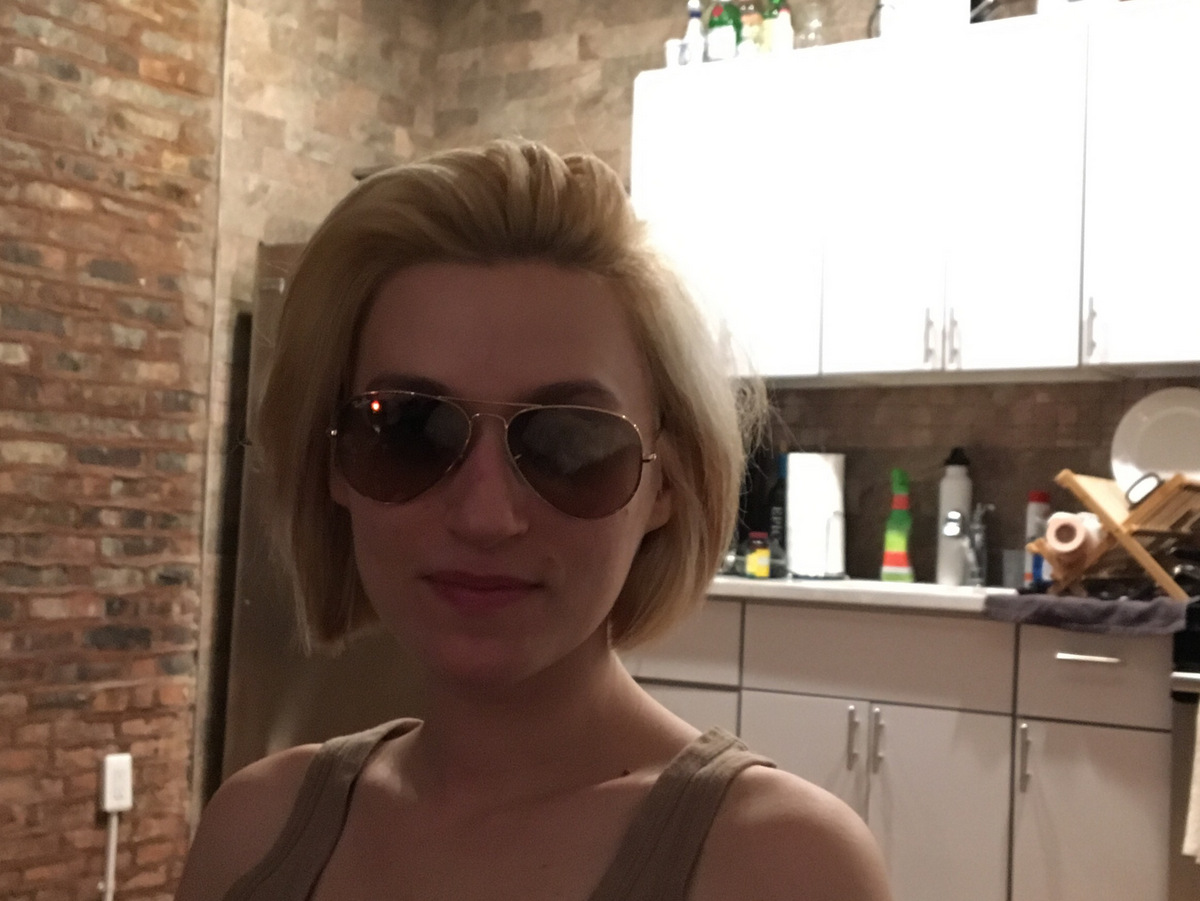 "Loves a good oatmeal."
---
Cole Lu / 32 / St. Louis, MO / Artist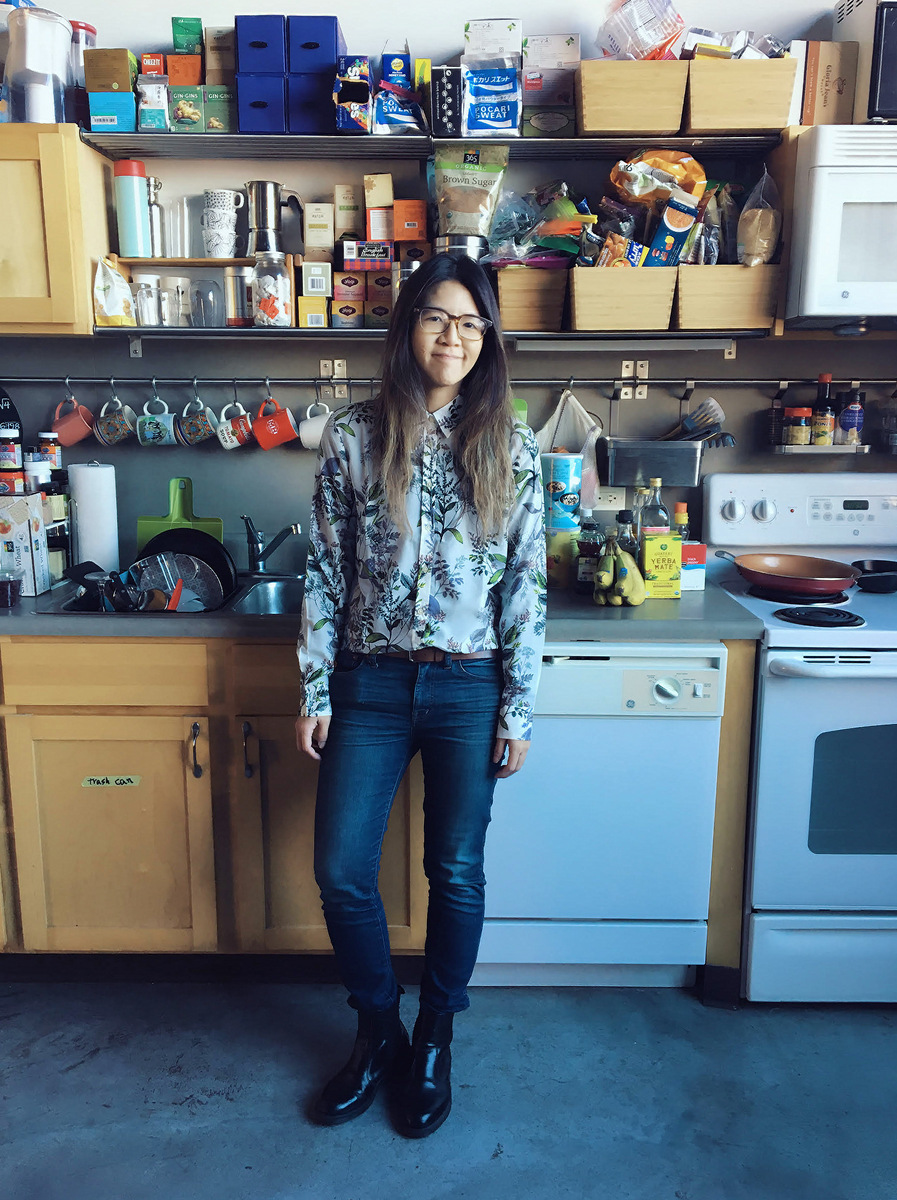 "My kitchen is the lexicon of my longings."
---
Kirsten / 29 / Asheville, NC / Parent and Alternative Family Living Home Provider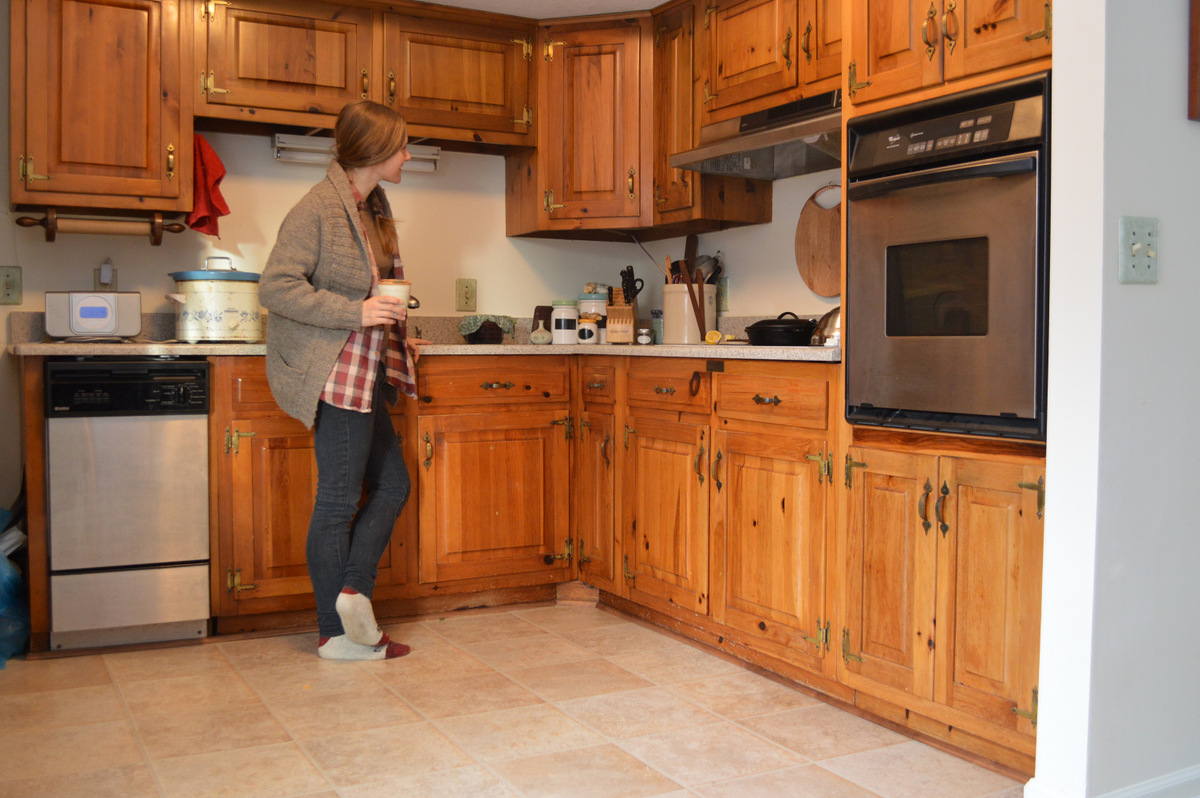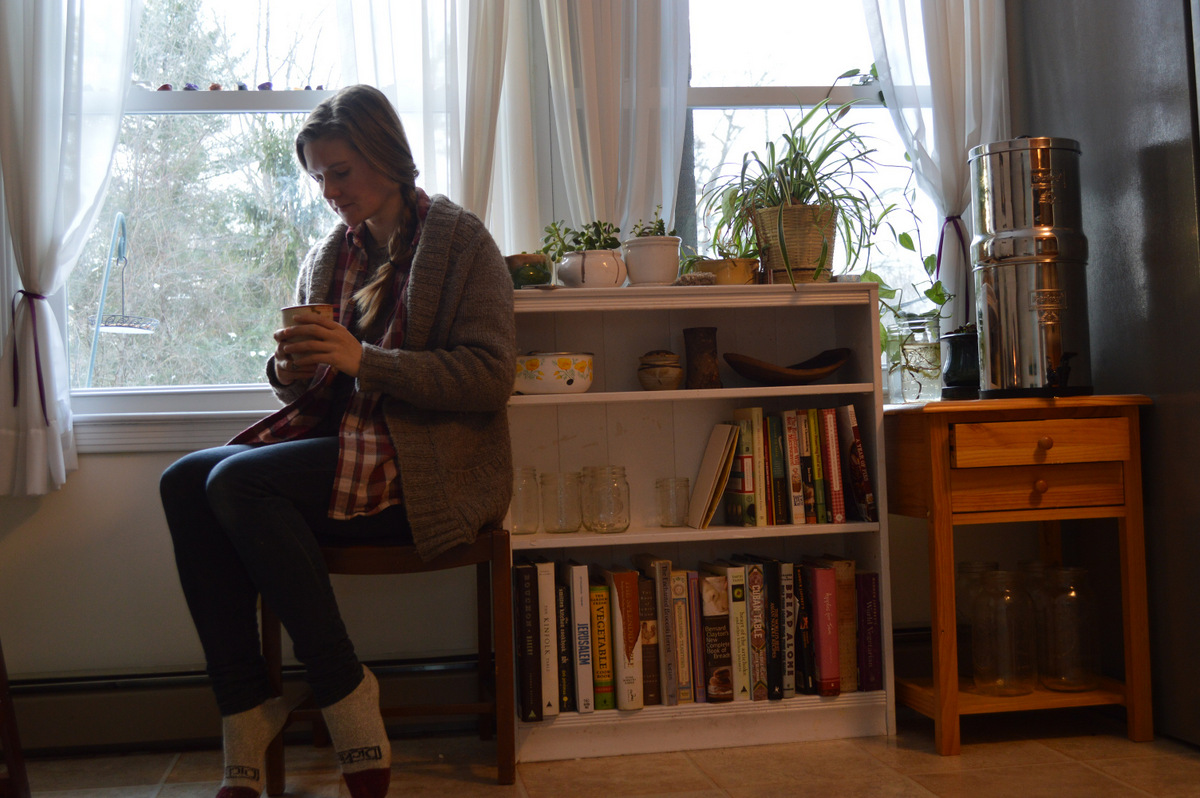 "Food sets the culture of our home and the culture of our bodies, so I spend a lot of time in my kitchen, making sure I feed myself and my lil' queer family well. I moved into this kitchen on January 1st and it is the first kitchen that I haven't shared with any roommates/partners. I am so very in love with it, even if my face doesn't show it in the photos."
---
Heather Mangione (cat's names are RoofCat & Pip) / 31 / Worcester, MA / Community Relationship Manager at the United Way of Central MA & Co-Founder of Airspray Worcester (Queer Community Organization)
"I love my kitchen! I love having people hang out and cook together in my kitchen! My favorite thing to cook is a big pot of veggie chili and then invite a bunch of people over for dinner. My most prized kitchen item is my teal cast iron enamel pot (on the stove in the photo). It's super versatile and lets me make the heartiest meals all winter long."
---
Ally Sterling / 28 / Holyoke, MA / Community Herbalist & Full-Spectrum Doula

"My partner and I spend most of our time at home in our kitchen. We love to cook, bake, can & preserve, using ingredients from our garden. My most prized kitchen item is the hand built drying rack I'm standing behind, that my partner built for me with the help of our friend."
---
Megan / 31 / Bellingham, WA / EA for a non-profit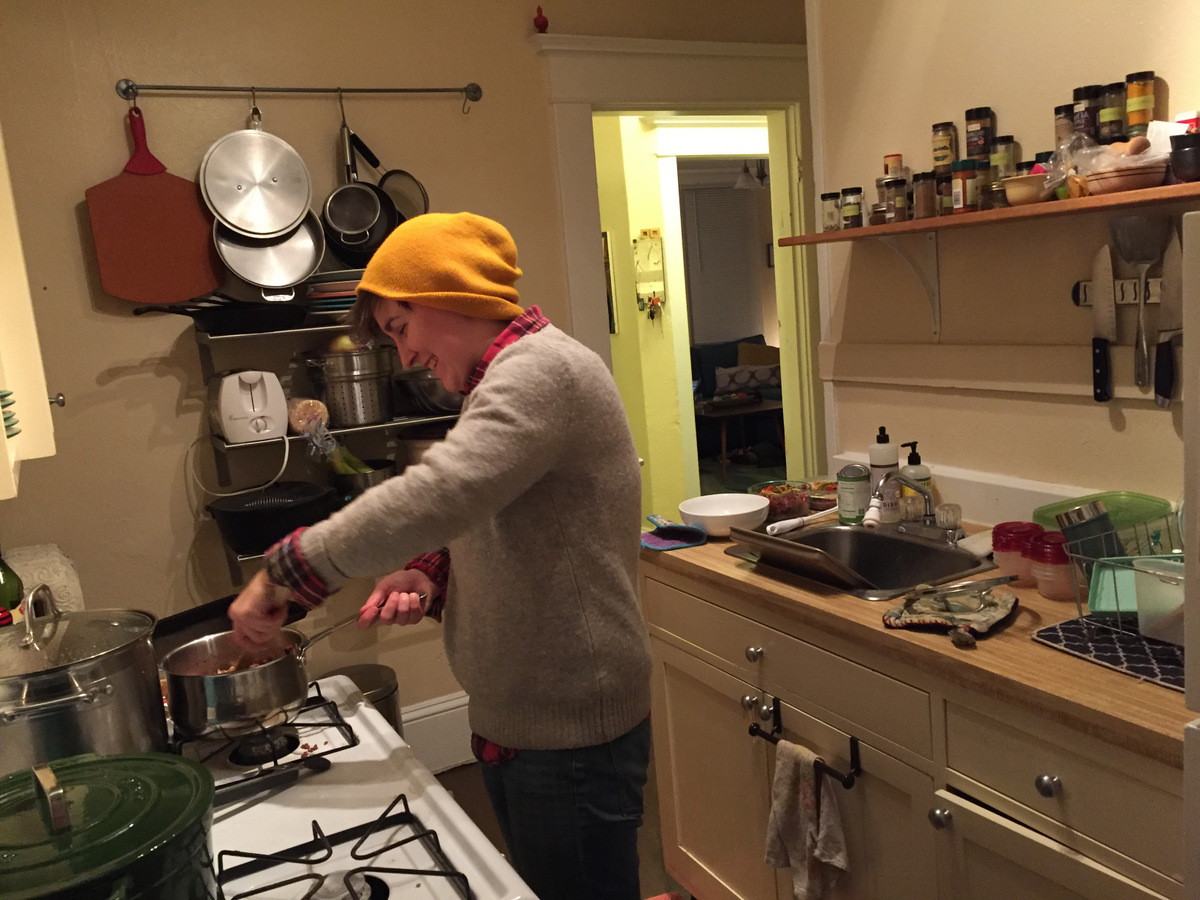 "When my GF and I were looking for apartments we made a list of  things we wanted and hoped for within our price range we pretty much got everything we wrote down including wood floors and a gas stove. We did not get what we did not write down including flow and spaciousness. Lesson learned."
---
Ani Niow / 32 / Alameda, CA / Some Startup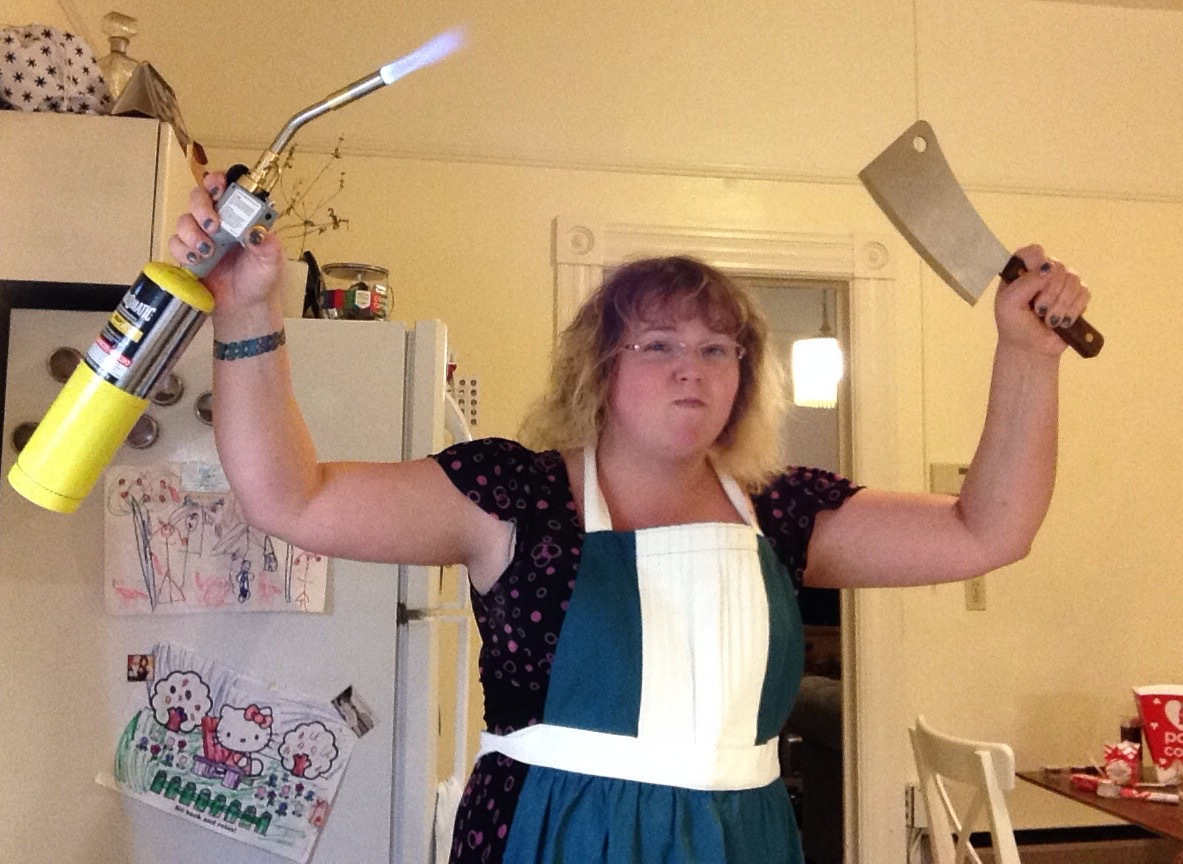 ---
L to R: Meagan, Shannon, Kat, Pam, Mack, In the bowl: Joe / 20.75 +/- 1.79 / The Royal City, Ontario / Book Nerd, Animal Nerd, Dirt Nerd, Computer Nerd, Research Nerd, and Joe is a professional vacuum
"Prized Kitchen Possession(s): Press, Re: Garlic, Coffee, Bench."
---
Ann / 19 / California and Rhode Island / Student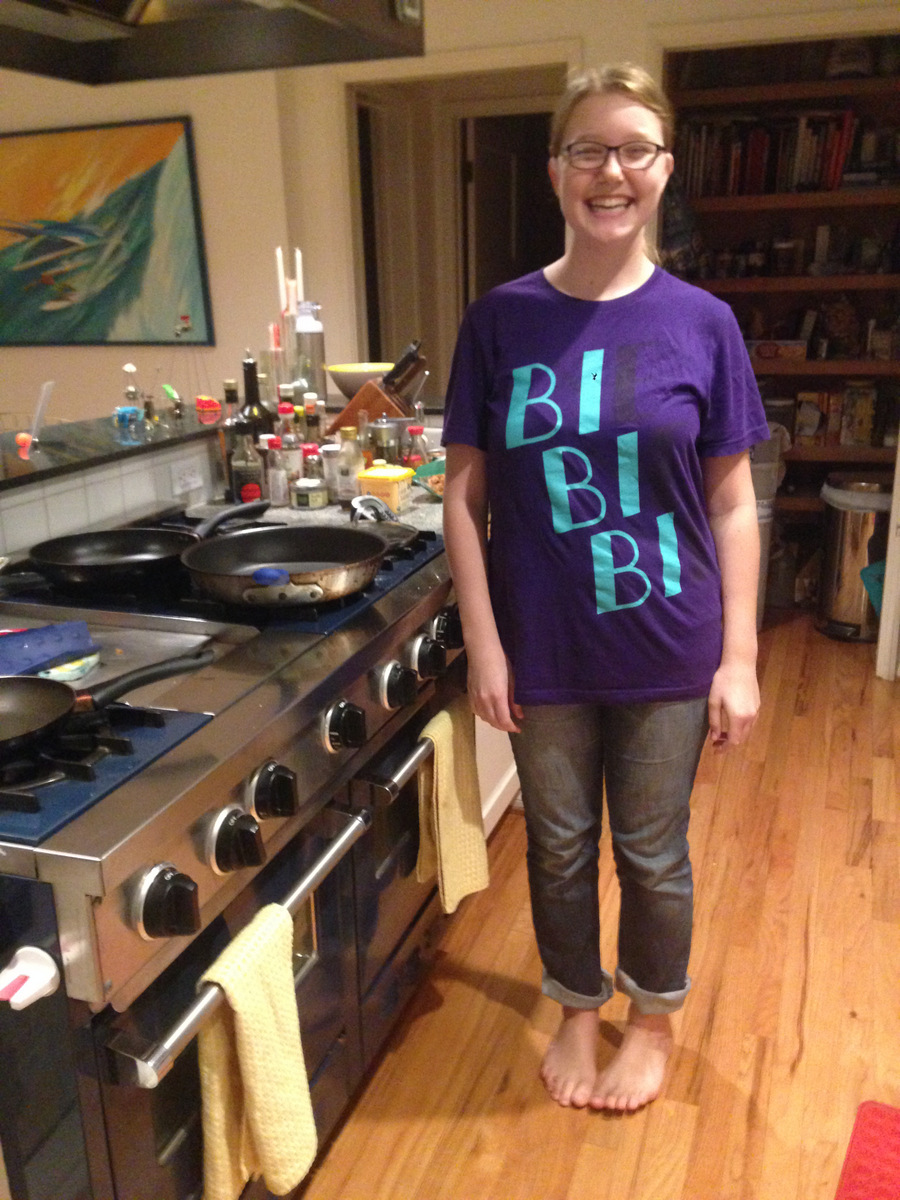 "Basically the only things I ever prepare in a kitchen are vegan versions of cookie / brownie cheapo boxed mixes, neither of which I ever actually cook!"
---
Emma / 21 / South Hadley, MA / Student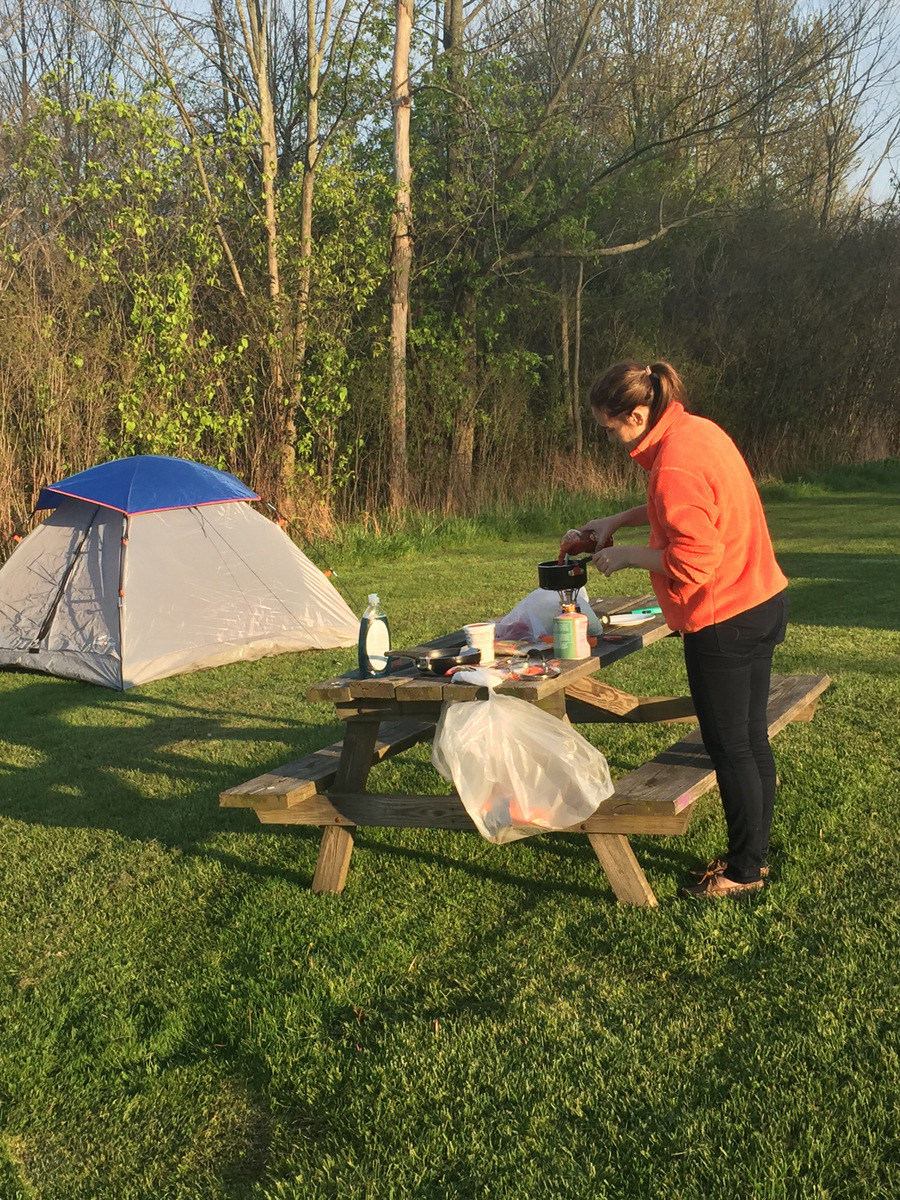 "About a month after we started dating, my girlfriend and I took a week to drive from Massachusetts to Texas together. Cooking dinners for the two of us on our tiny camp stove is still one of my favorite memories from our (now nine month) relationship. Photo taken near Cuyahoga National Park in Ohio, May 2016."
---
Alex and Erica / 32 and 32 / London, UK / Pediatric Physician Assistant & PhD Candidate in Children's Literature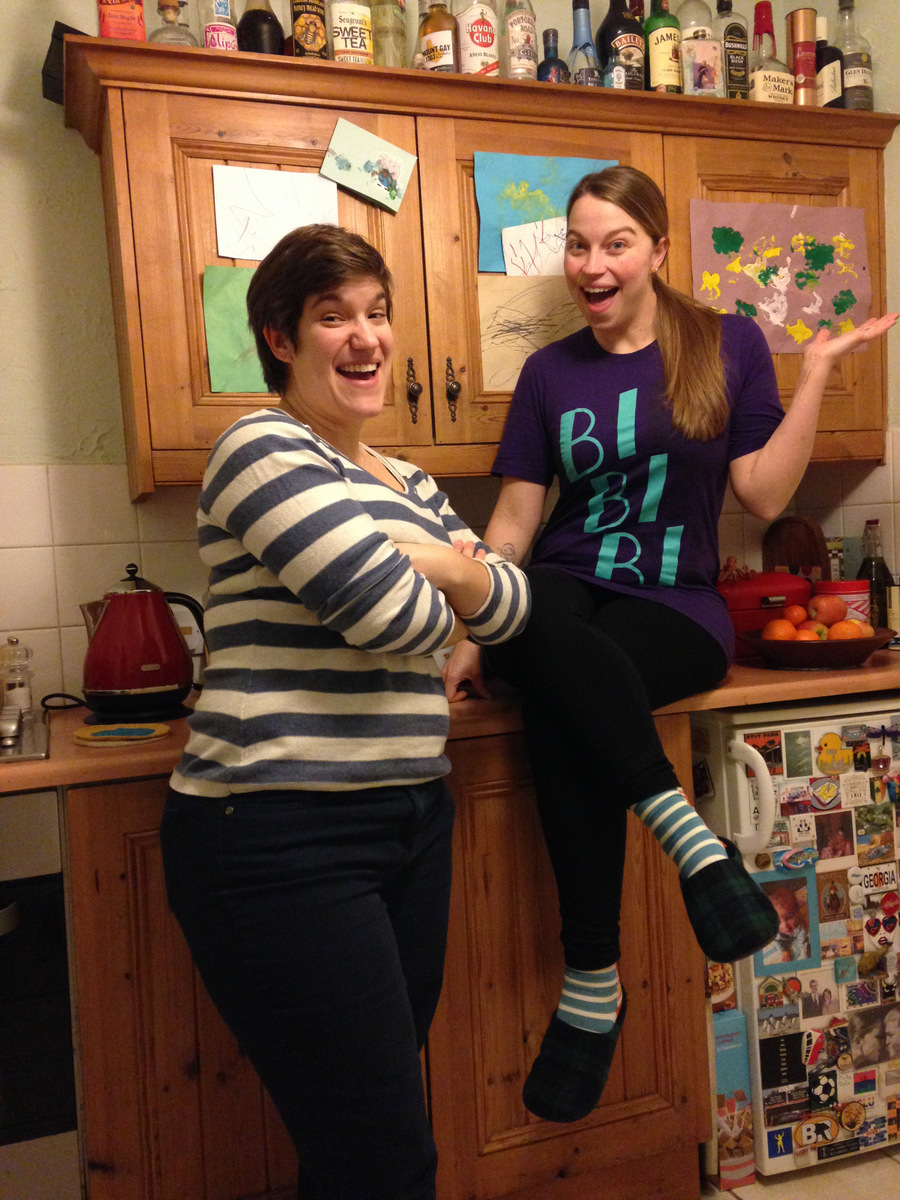 "Our queer kitchen aesthetic incorporates the essential electric kettle, kitsch travel magnets, artwork by our godchildren, sufficient 'liquor in the' selection, and our redwood 'fruit bowl for the fruits' (made by Erica's dad as a wedding present)."
---
Rachael, Rosa, Anna / 27, 25, 23 / Raleigh, NC / Researchers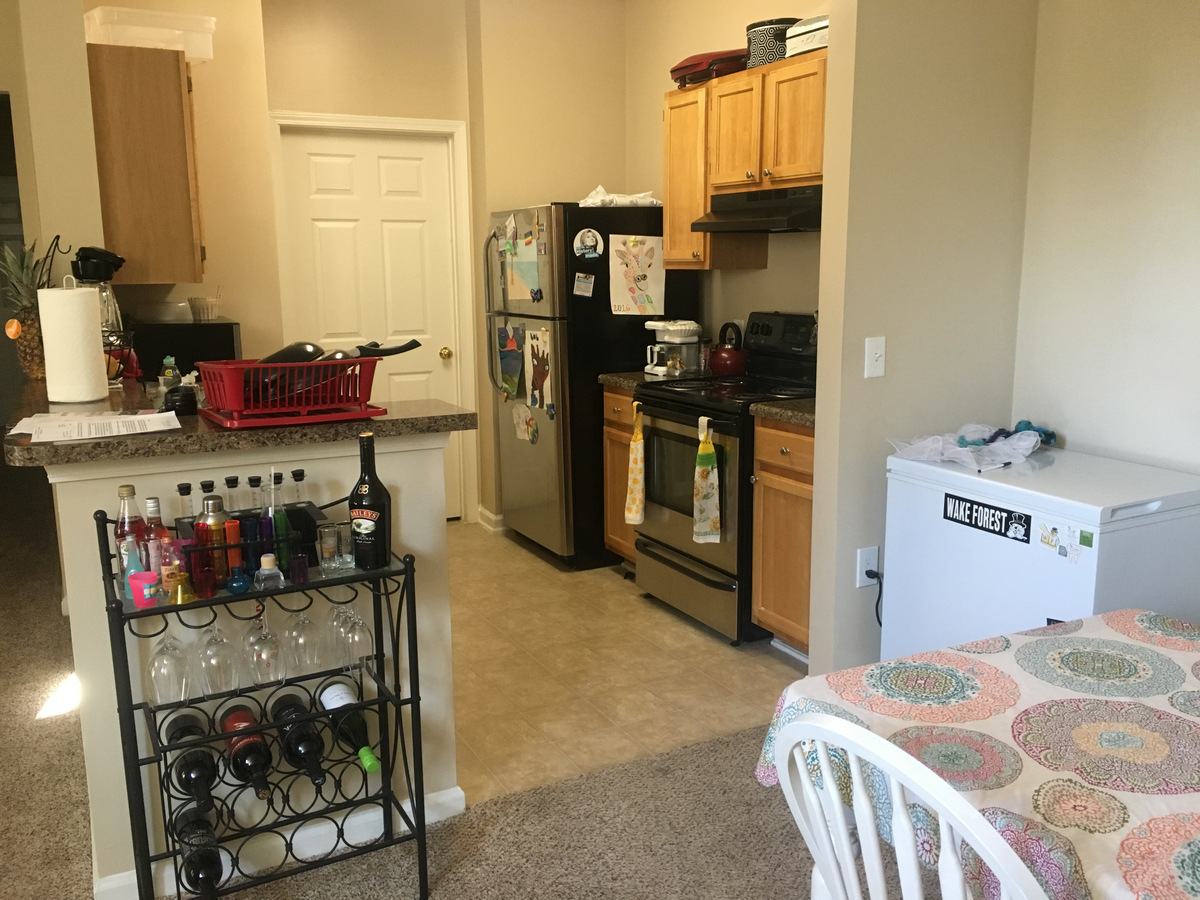 "We drink a lot, laugh a lot more, and eat a ton of Mexican food."
---
Ana and Clarice (and Shadow) / 23 / Arthouse movie theater projectionist and floor staff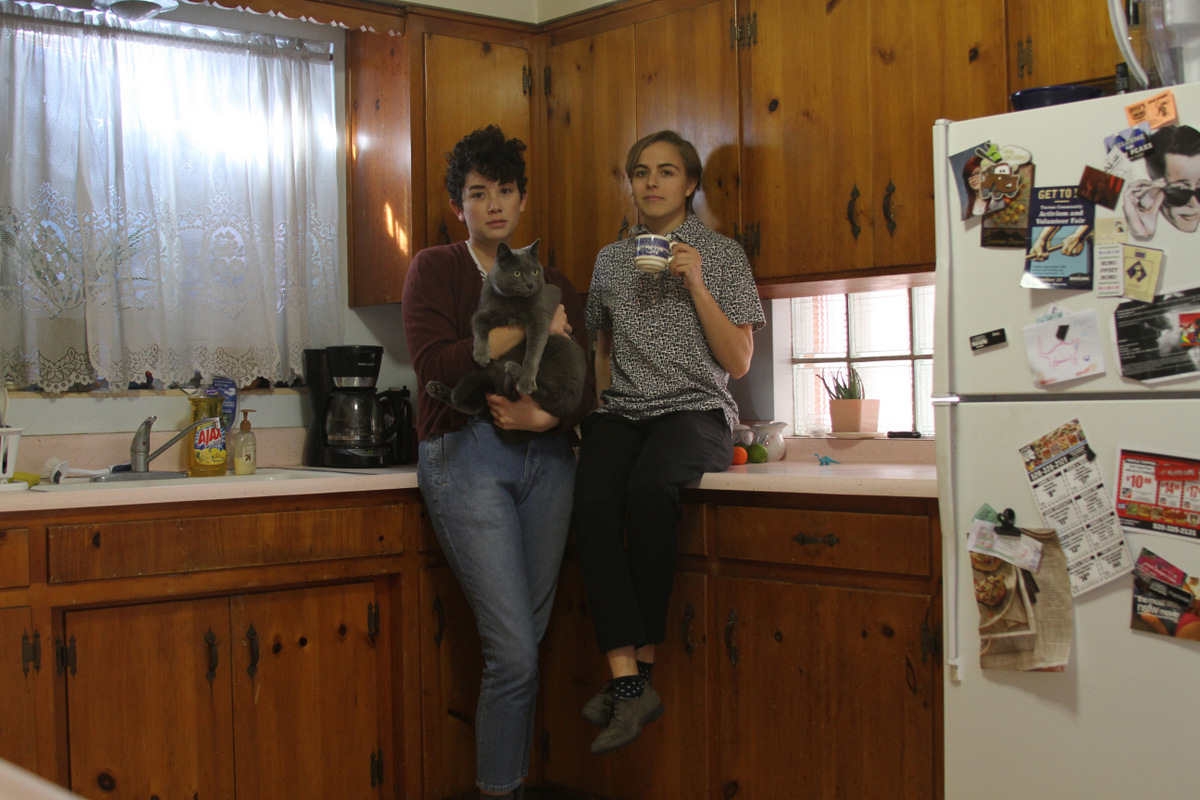 "Favorite kitchen thing:  Clarice – My cast iron pans and tea kettle are the best!  Ana – I thought I was a real coffee freak until I got my french press and now I'm not sure how I'd live life without it. Shadow — His food bowl, duh! Look at that tummy!"
---
Meghan / 30 / Calgary, Alberta / Facilitator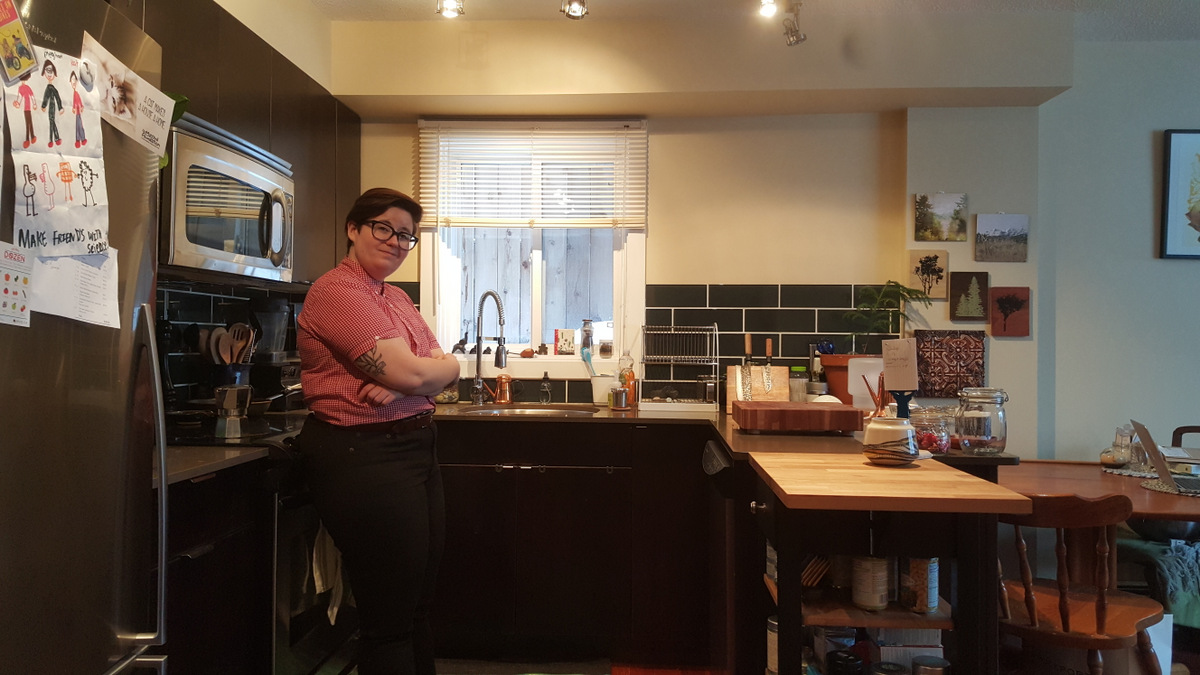 "Potatoes are my most favourite thing to prepare. Can one eat too many potatoes? Well, probably, but what type of life would that be."
---
Janie / 22 / Glenmoore, PA / Special needs supporter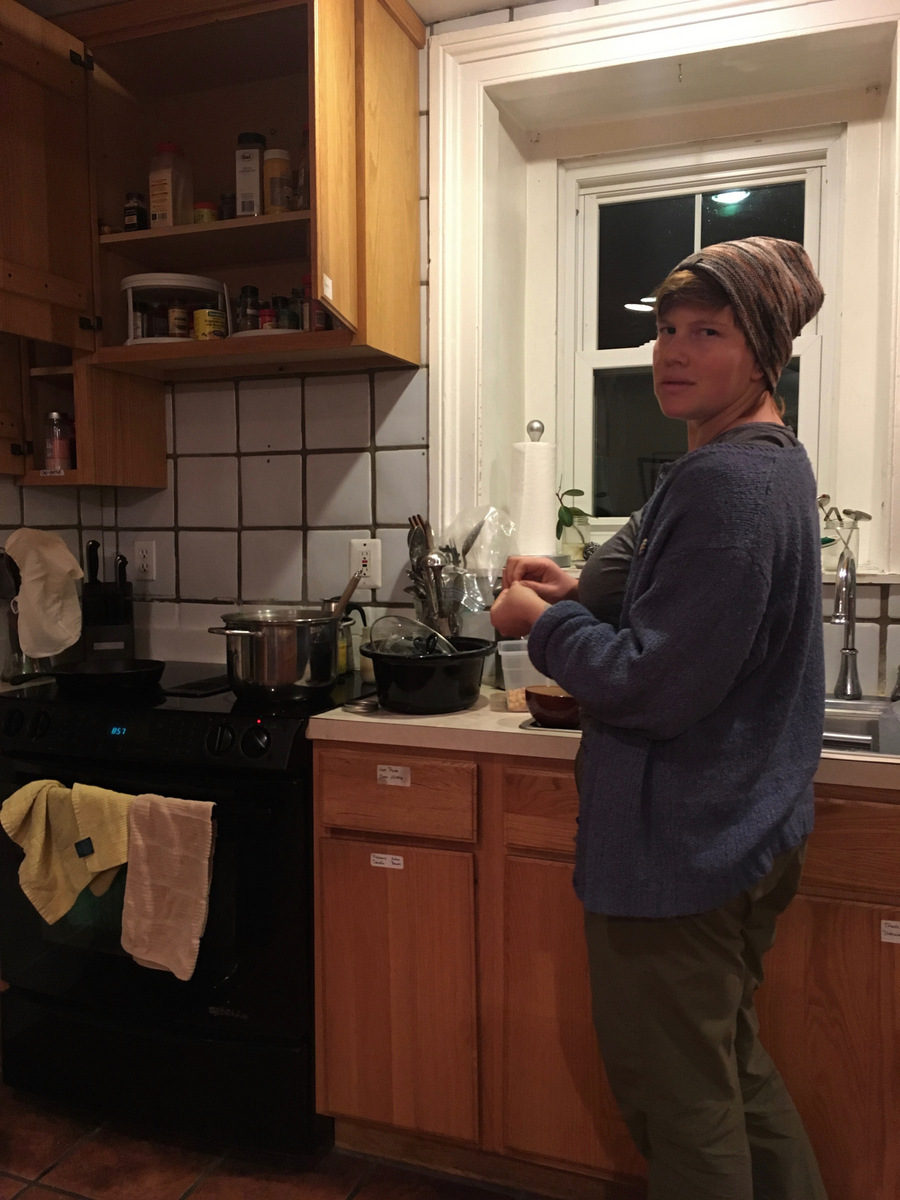 "Having moved a bit in the last three years, I have nested into 7 different kitchens in 4 different states. My common thread: having at least three things cookin' at any one moment. My unbreakable kitchen habit: leaving every cabinet door open."
---
Hayley / 21 / Wollongong, NSW, Australia / Student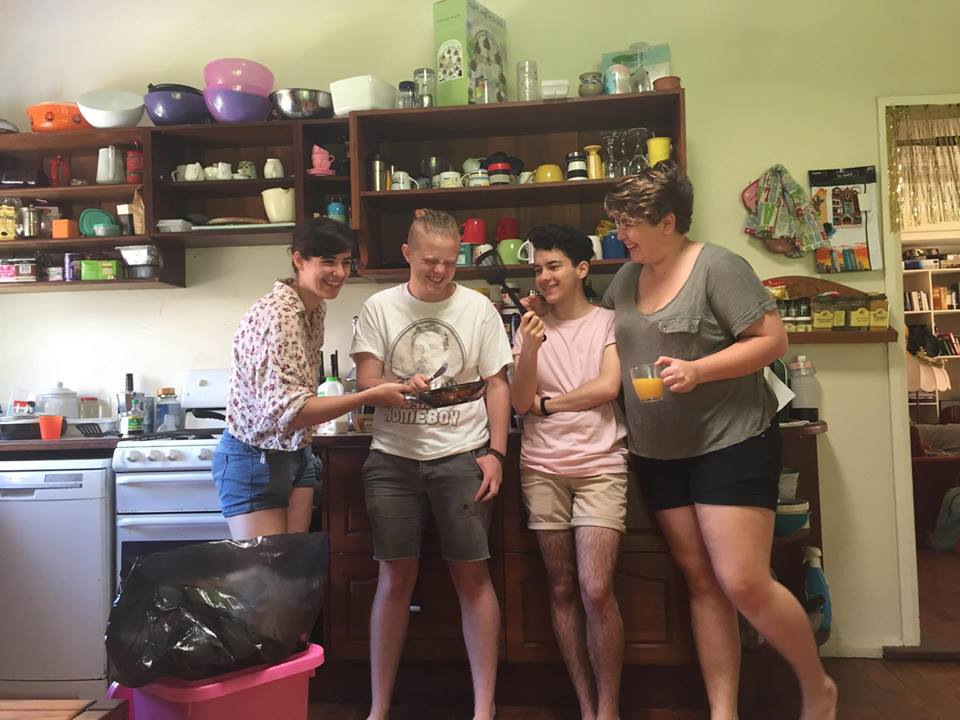 "This is the kitchen at 'Queertopia' where myself (far right) and Brittany (far left) live. Our friends Gabriel and Alex came to visit and we made the gayest pancakes in the world."
---
Hailee / 23 / Bennington, VT / Elementary Music Teacher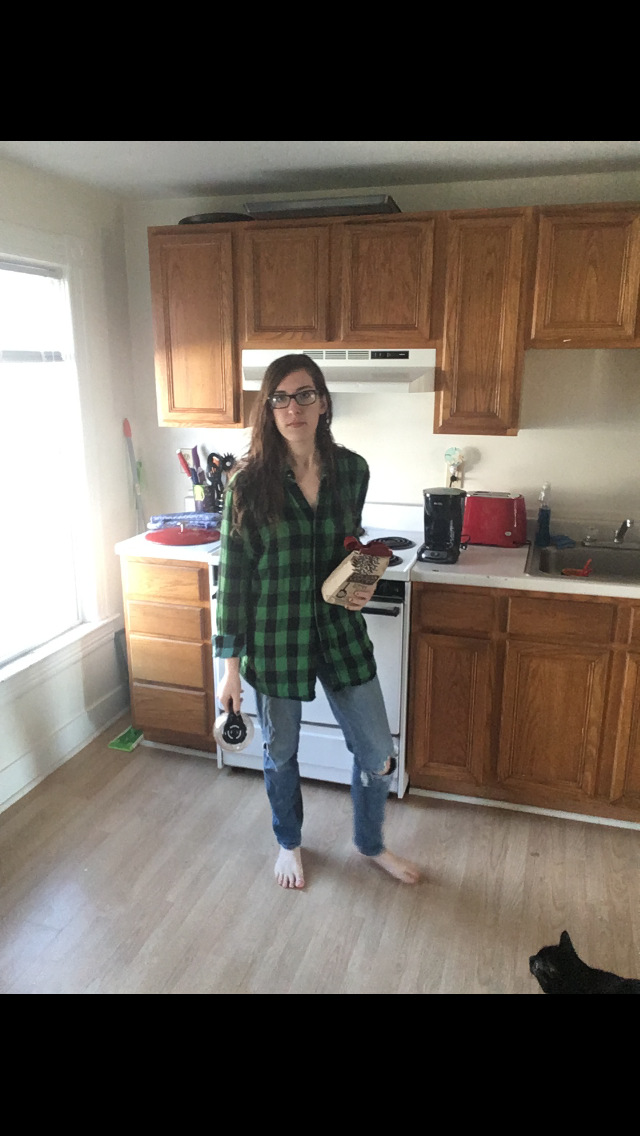 "I've always loved a kitchen that's full of light. And coffee. Either alone with the light or making breakfast for friends."
---
Esmé Lloyd-Baldwin / 23 / Co. Dublin, Ireland / Waitress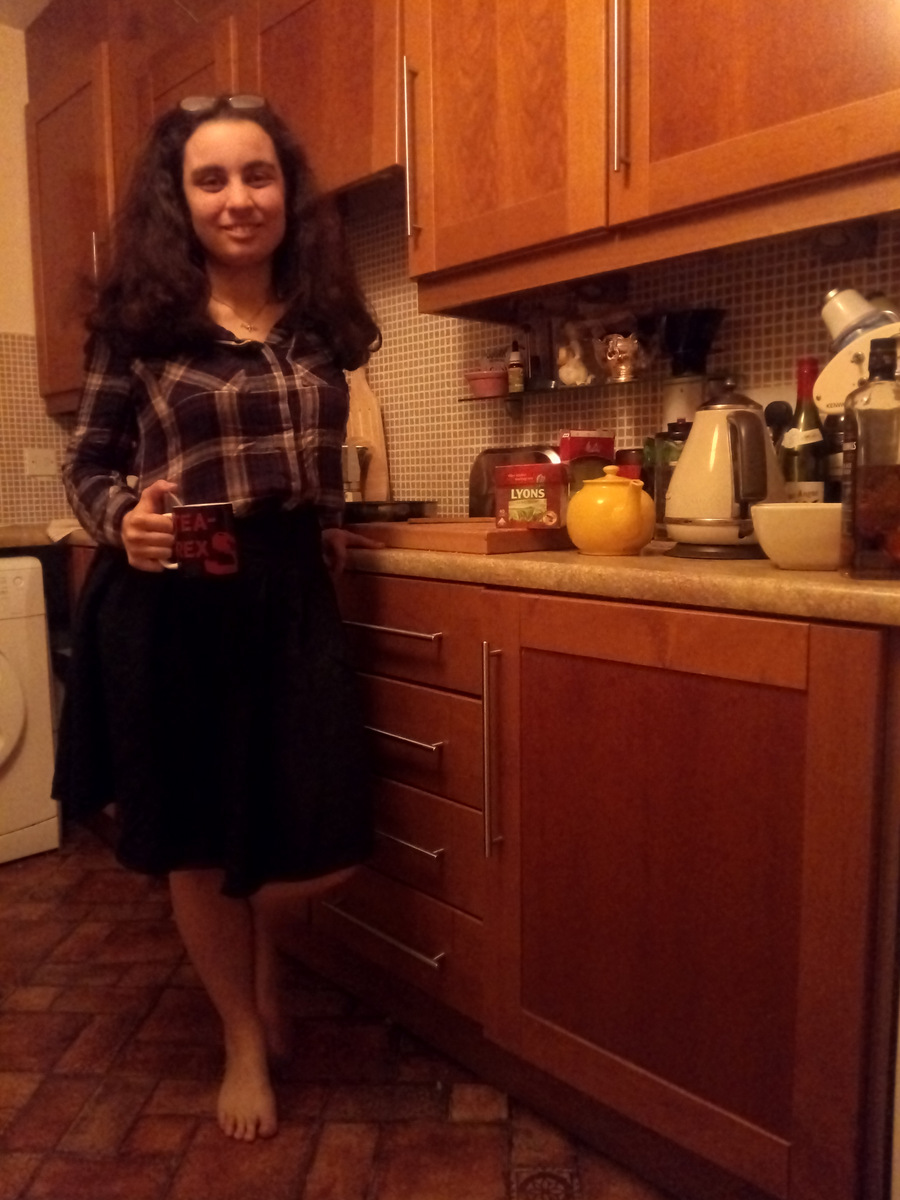 "My favourite thing to prepare in the kitchen is probably tea, which is good cause I do it about 14 times a day. Whipping up a good chocolate cake is a close second though."
---
Ashleigh Armstrong / 26 / Los Angeles, CA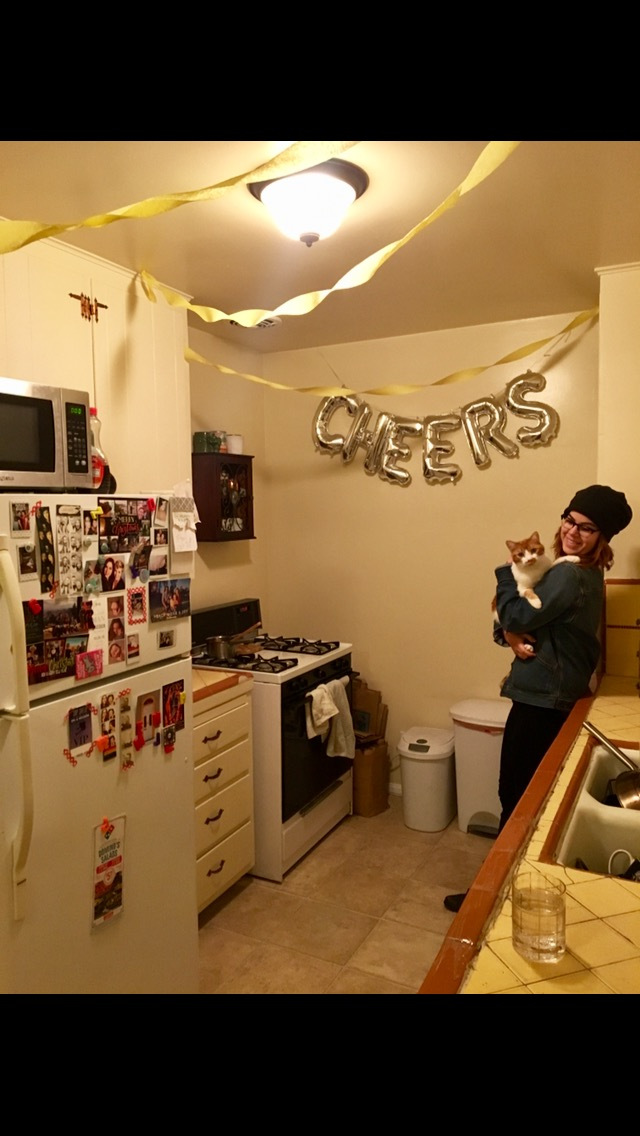 "My mom is a chef so I would like to think I learned a thing or two about cooking from her. I love to make pizza, artichokes, and chili! I like to grab fresh vegetarian ideas from my Trader Joe's cookbook. My favorite item (not pictured) is a wine holder that looks like my cat, Simon, guzzling a bottle of wine. It's the greatest secret Santa gift I've ever received!"
---
Sam / Nashville, TN / Butcher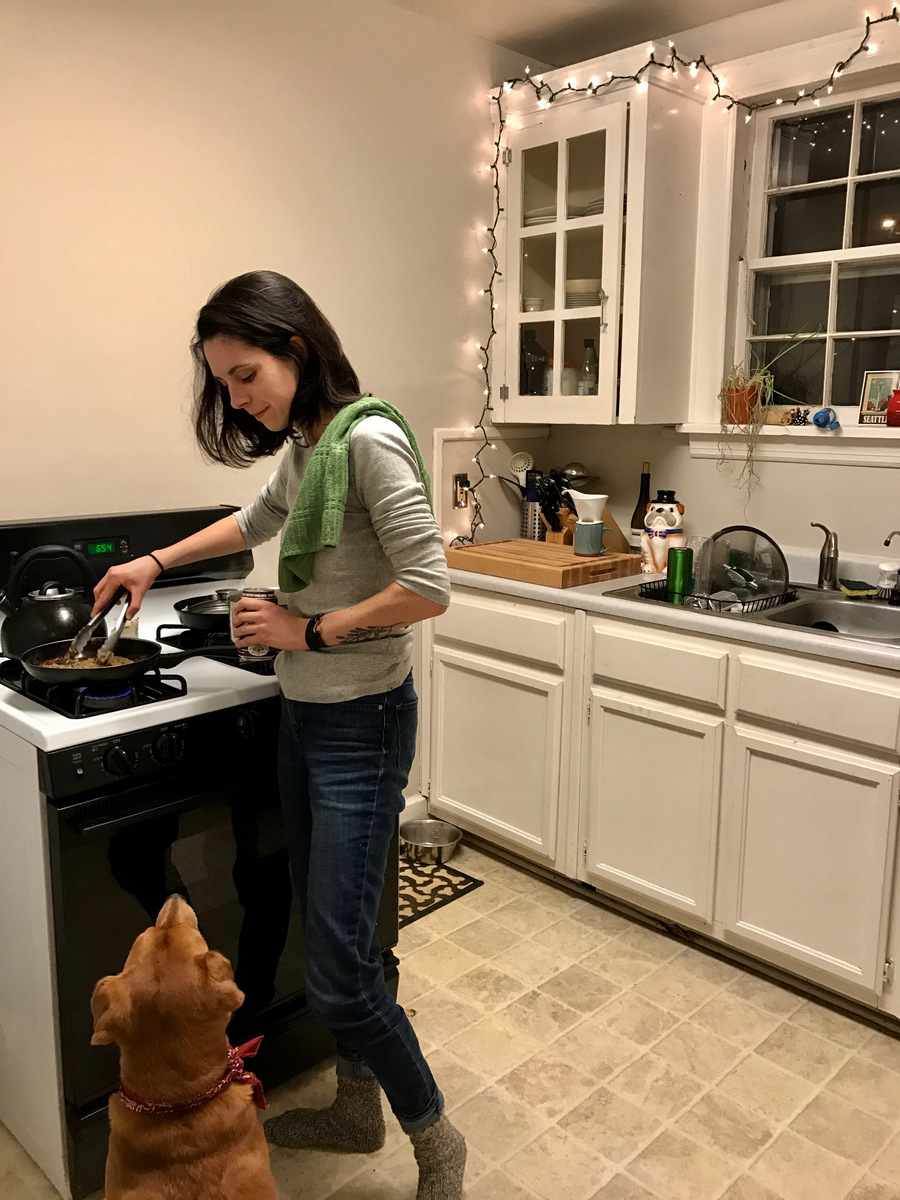 "Most prized kitchen item: I was recently gifted some amazing Japanese knives. They are a complete game changer."
Vicky / 27 / Madrid, Spain / Marketing

"My favorite thing about my kitchen is a toss-up between the tape and glitter on the fridge/washing machine/cupboards, the repurposed "Happy Holigays" banner, and my KitchenAid which I had my parents bring over from England!"
---
Kirsten (she/her/hers) / 36 / Portland, Maine / Librarian-ish, student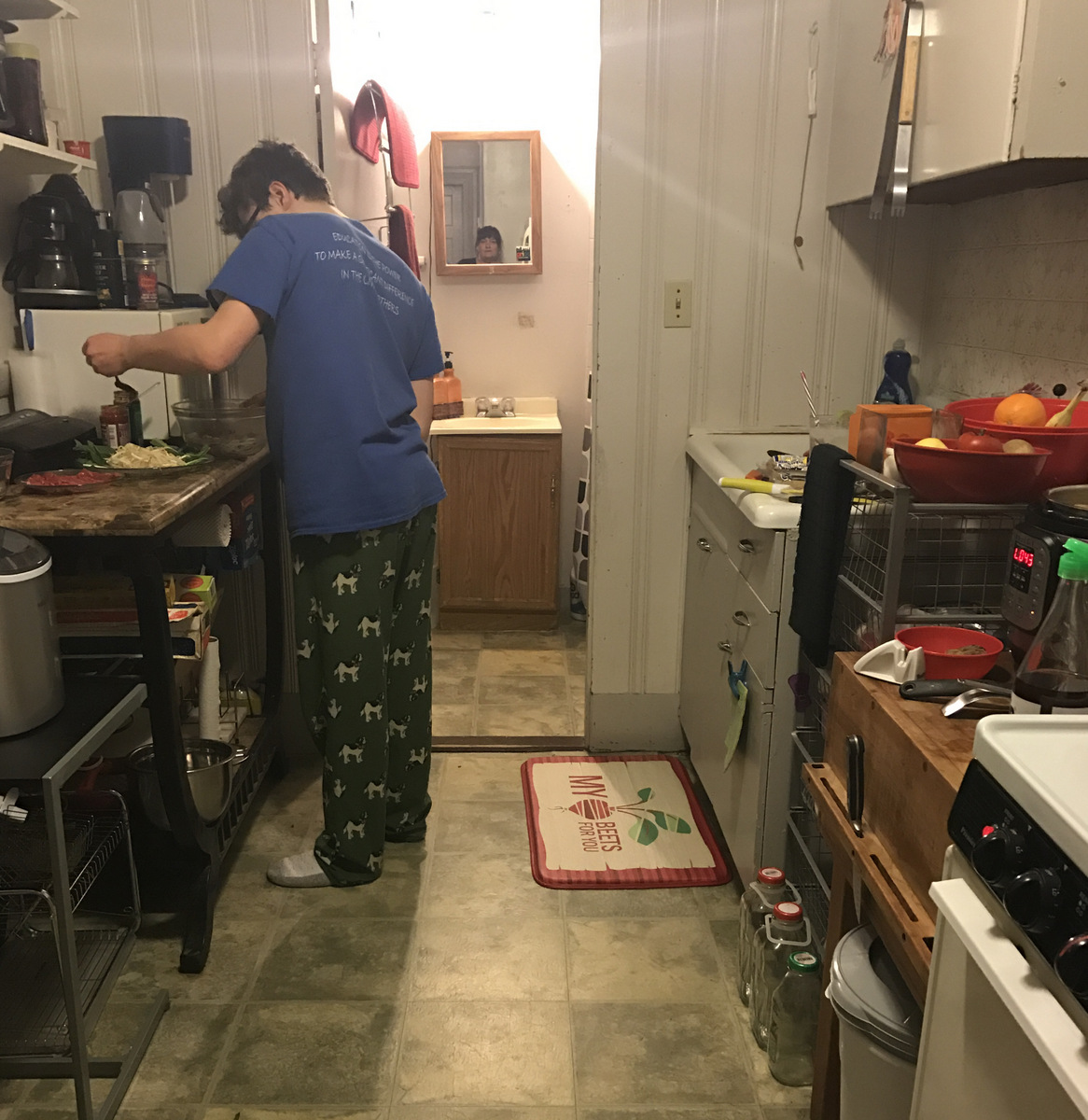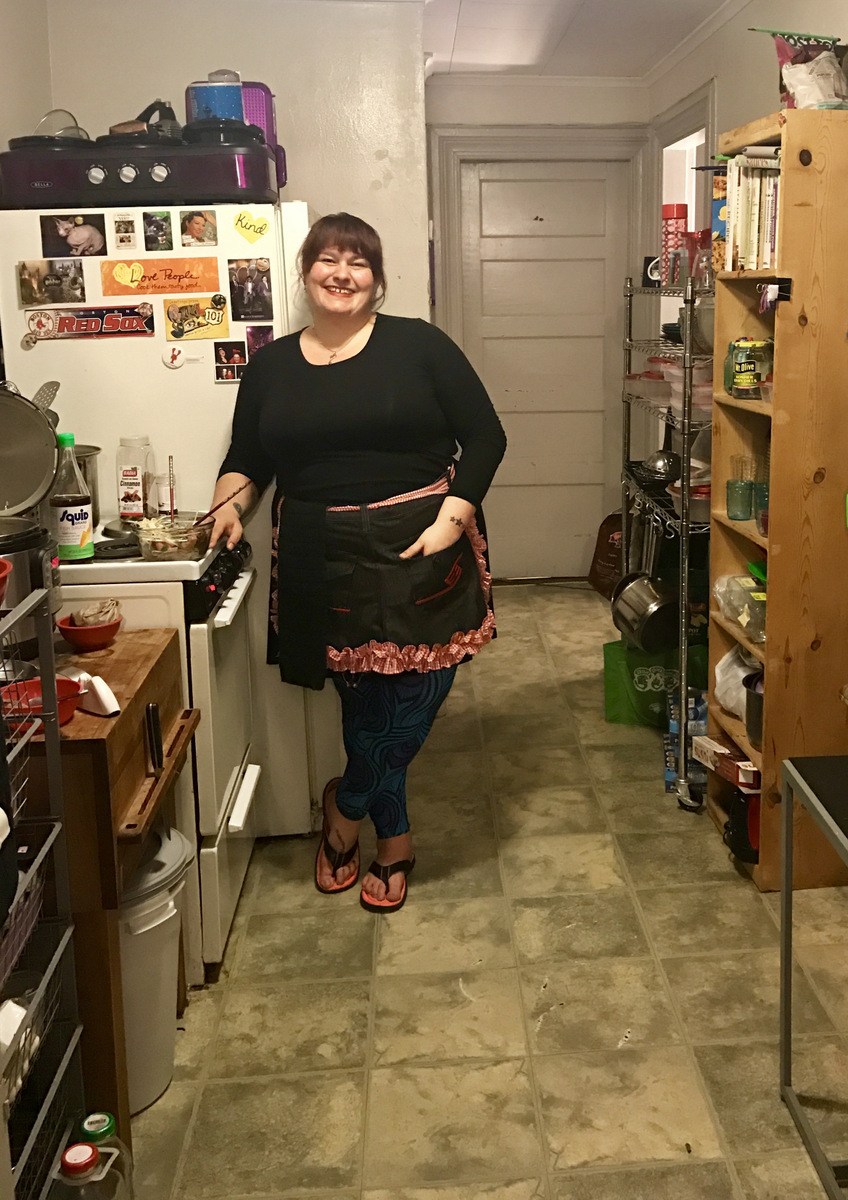 "Creating delicious and beautiful food for people I love feeds my soul, which I guess is all I need because I'm never actually hungry for the meals I make when they're ready to serve. Life goals: Gas range. A bit of a garden for vegetables and herbs. Enough cabinets for the basics without getting "creative." A kitchen where two people can walk past each other without turning sideways and sucking in."
---
Sarah / 30 / Cambridge, MA / CS grad student, church organist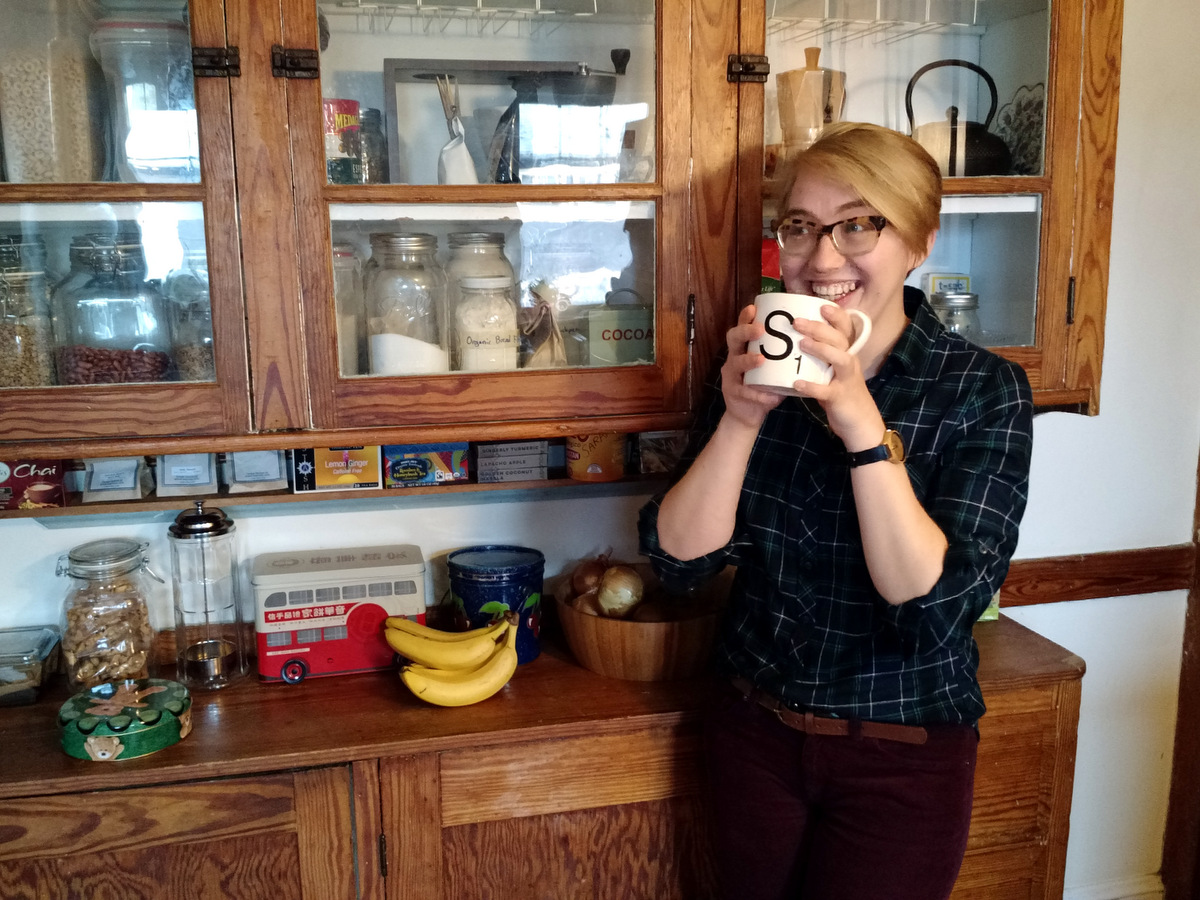 "I could not live without my giant Arts and Crafts kitchen cabinet! It satisfies my compulsion to organize things: dried beans, miscellaneous flours, and my enormous tea collection."
---
Janice, Hallie, and Fee (the dog) / 28, 30, and just turned 1 year old / Portland, OR / Student, Student, and Foot Warmer/Toy Destroyer/Blanket Thief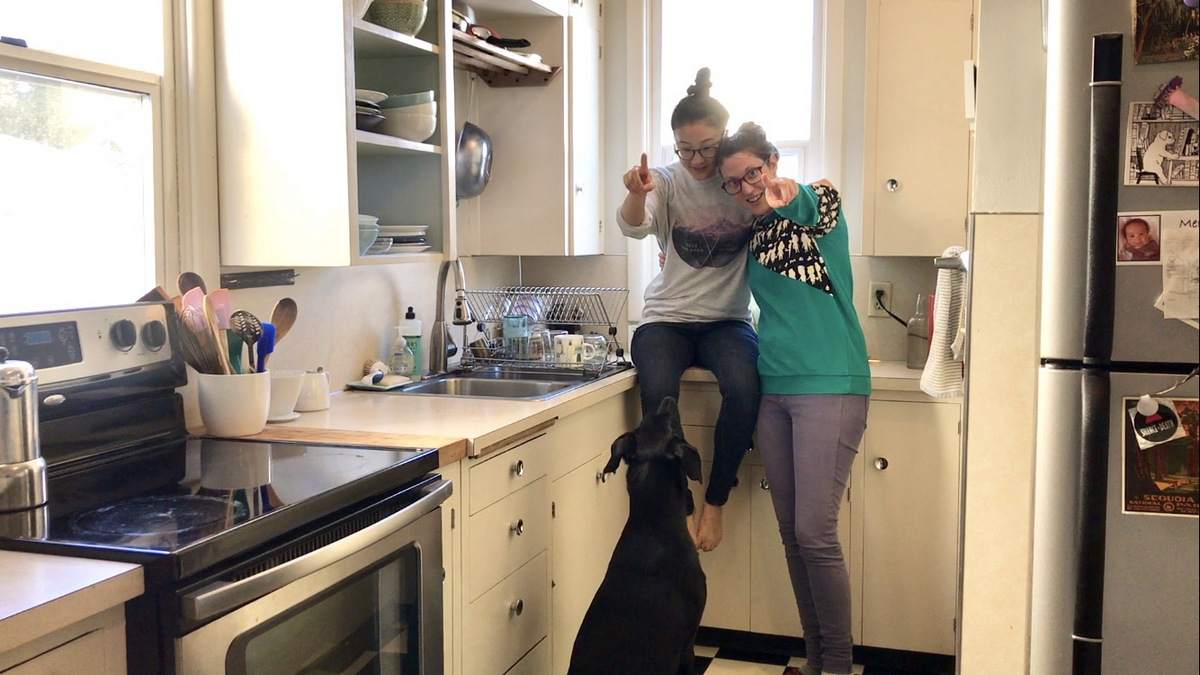 "Our favorite thing to prepare together is pizza, because Janice makes the best tomato sauce and I make the best crust and Fee is the best at eating the cheese that falls on the floor, so together we are unstoppable."
---
Mandy and Zoey Dye / 33 and 32 / Portland,  OR / Mandy (glasses) is a Sociologist who cooks at her day job, and Zoey (bangs) is an artist who works in the bakery department of a local grocery store.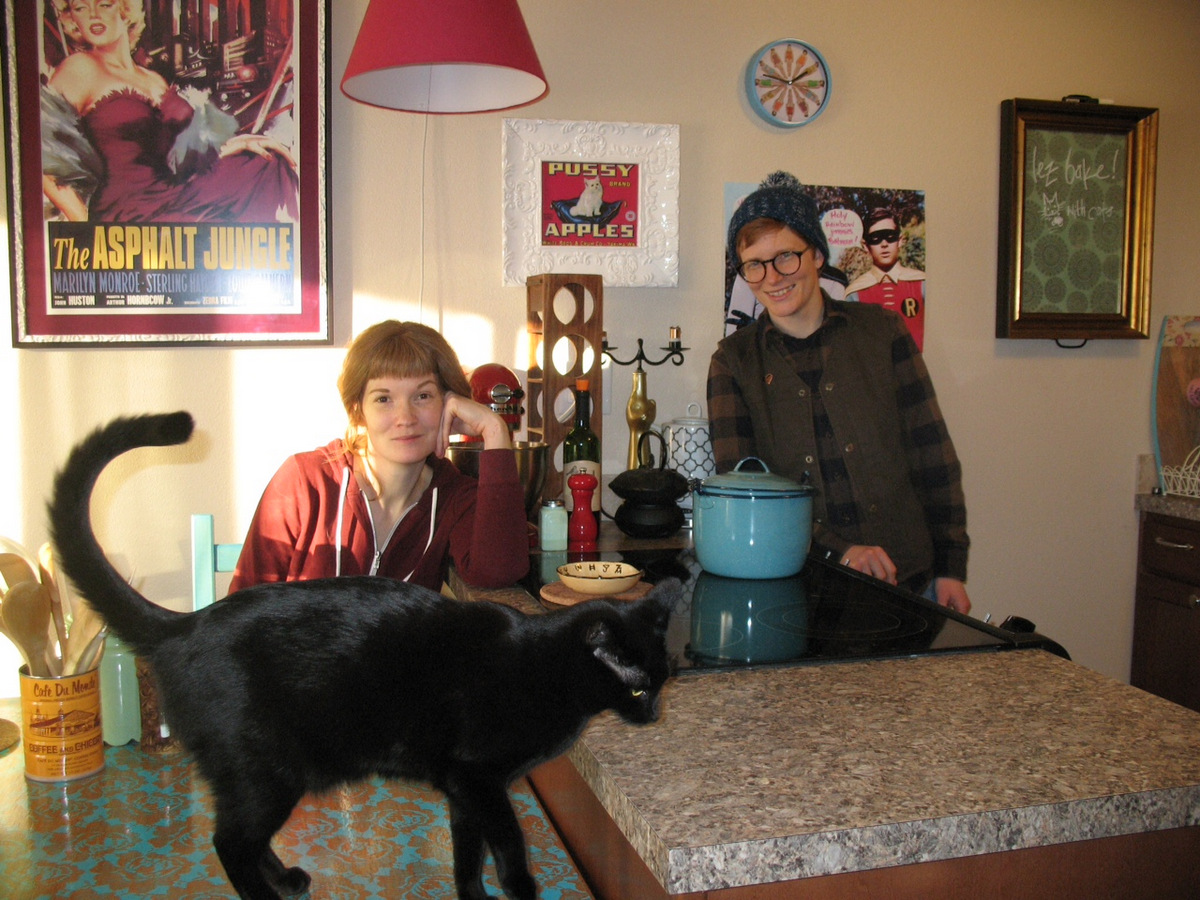 "Mandy loves cheese and the cast iron skillet. Zoey loves to bake gluten free vegan treats with her kitchen aid mixer. The cats like to be underfoot and to steal our breakfasts. You can watch a little of this on Zoey's YouTube channel Lez Bake with Cats."
---
Renée / 25 / Philadelphia / Graduate Student & Opera Ticket Slinger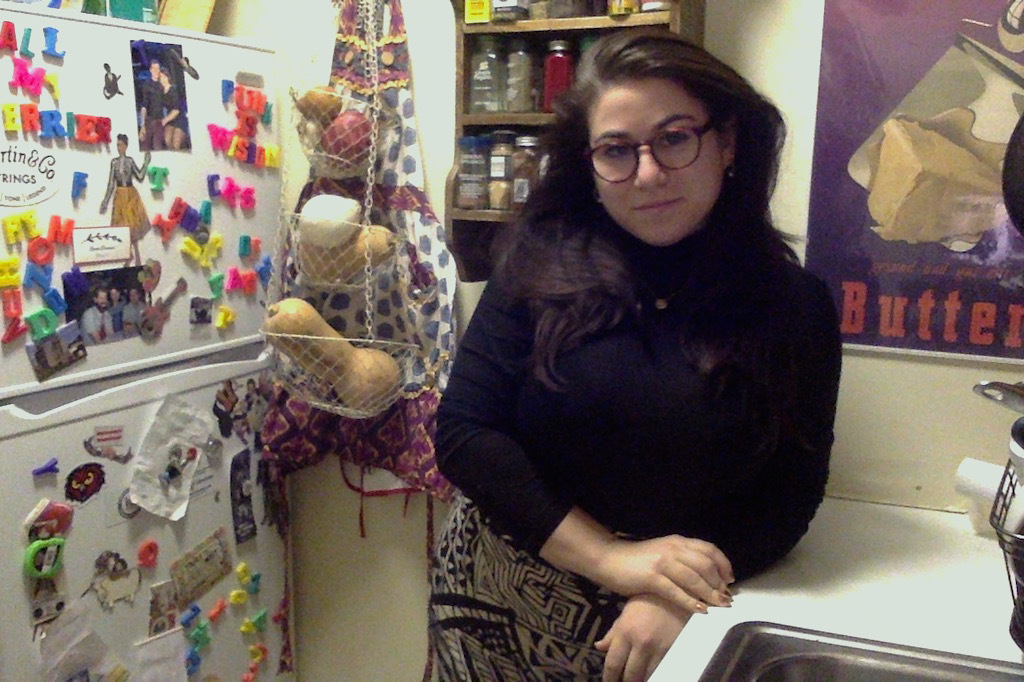 ---
Sophie / 23 / Ishikawa prefecture, Japan / ALT (Assistant Language Teacher)
"I have two gas burners, the world's tiniest grill, and a microwave/combi oven to my name. Also, my bathroom sink is right next to the fridge, so there's that."
---
Emma / 28 / Detroit, MI / Grad student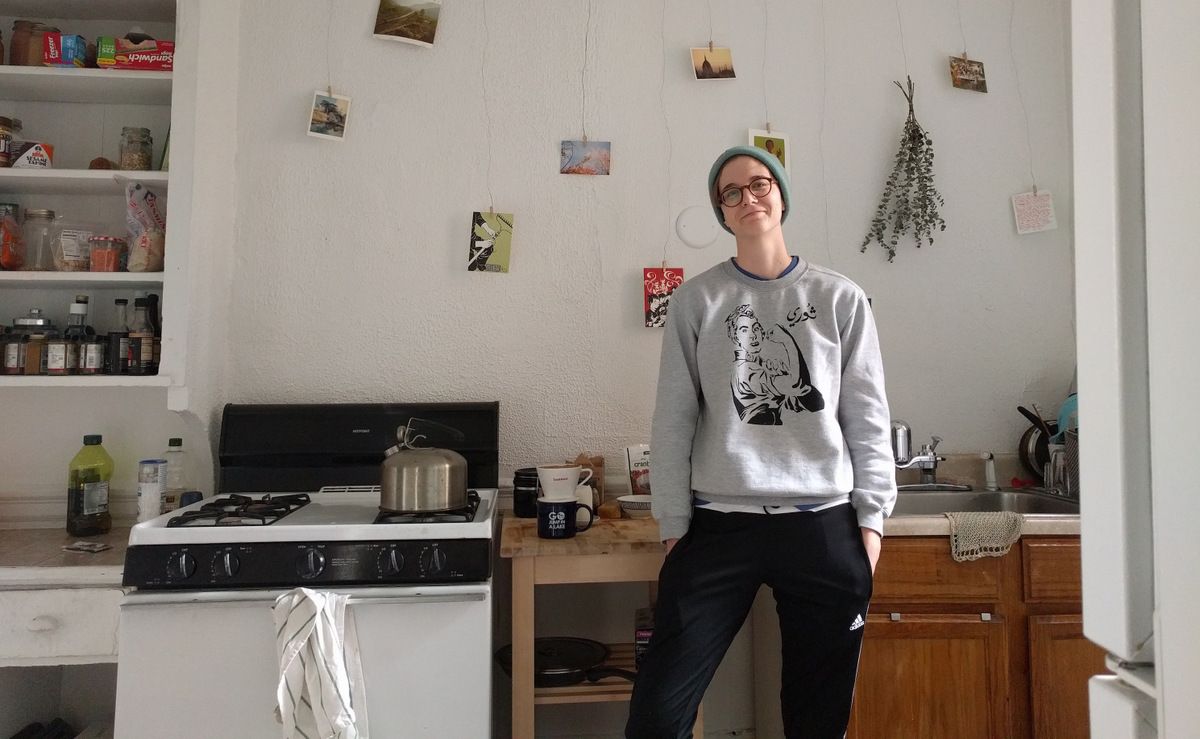 "I love this one bright corner in my otherwise dark apartment; it smells like coffee and eucalyptus and lavender soap."
---
Quel / 29 / Lisbon, Portugal / Sculptor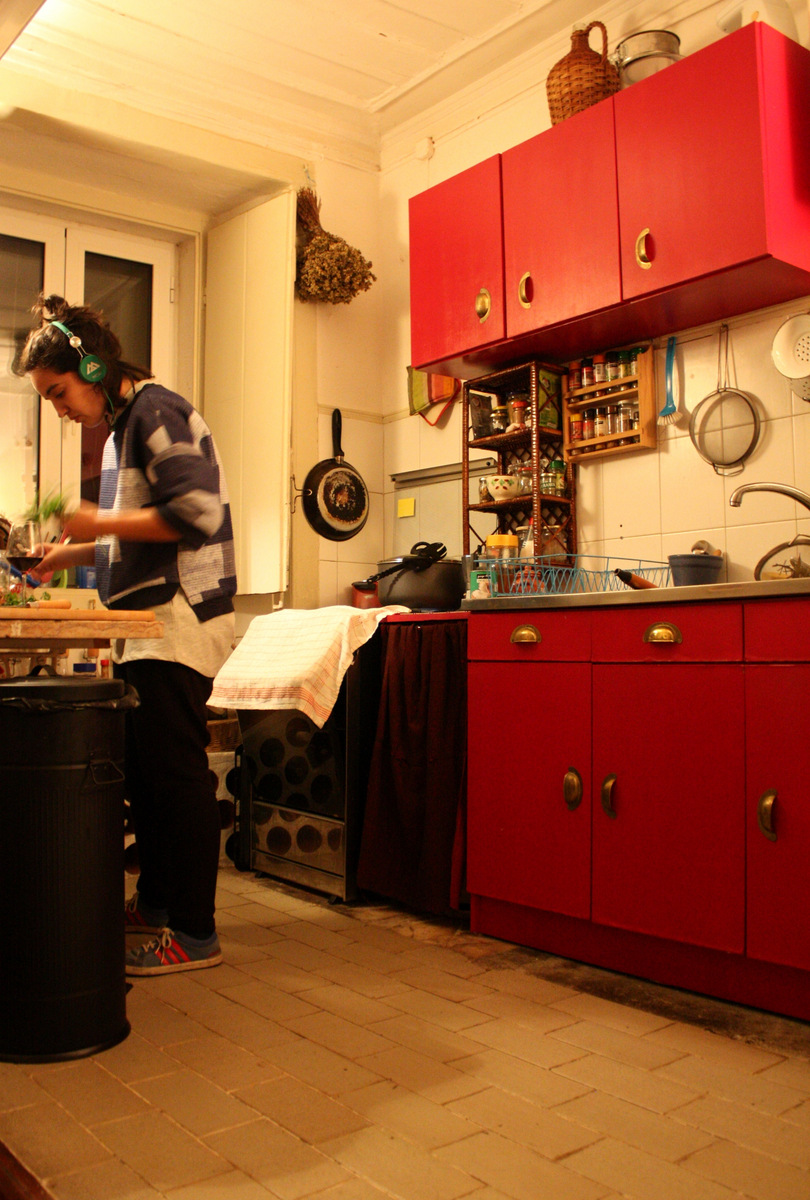 "The wine rack makes me happy."
---
Rachel Kincaid / Milwaukee, WI / Managing Editor at Autostraddle
"The thing I've been cooking most regularly lately is this tomatoes and farro from Smitten Kitchen."
---
Heather Hogan / 38 / Astoria, New York / Senior Editor at Autostraddle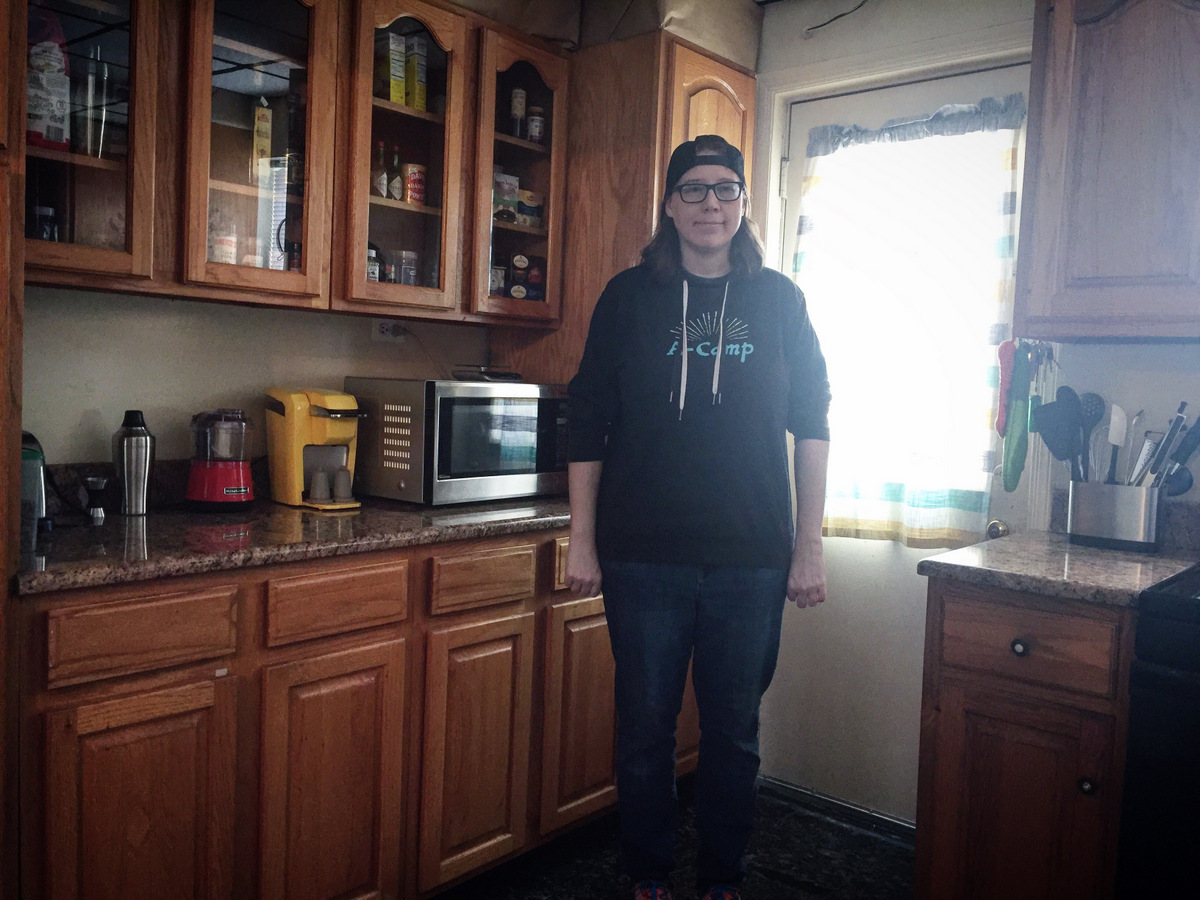 "Tomato and goat cheese pie is both my favorite thing to cook and the thing I am best at cooking! It is flaky crust and several kinds of tomatoes. It is goat cheese. It is basil. It is toasted bread crumbs and olive oil and peppers if you like 'em (I like 'em!). My second favorite thing to cook is scrambled eggs. I believe I could win a trophy for my scrambled eggs. And finally: coffee."
---
Anna / 23 / Chelsea, MI / Theater apprentice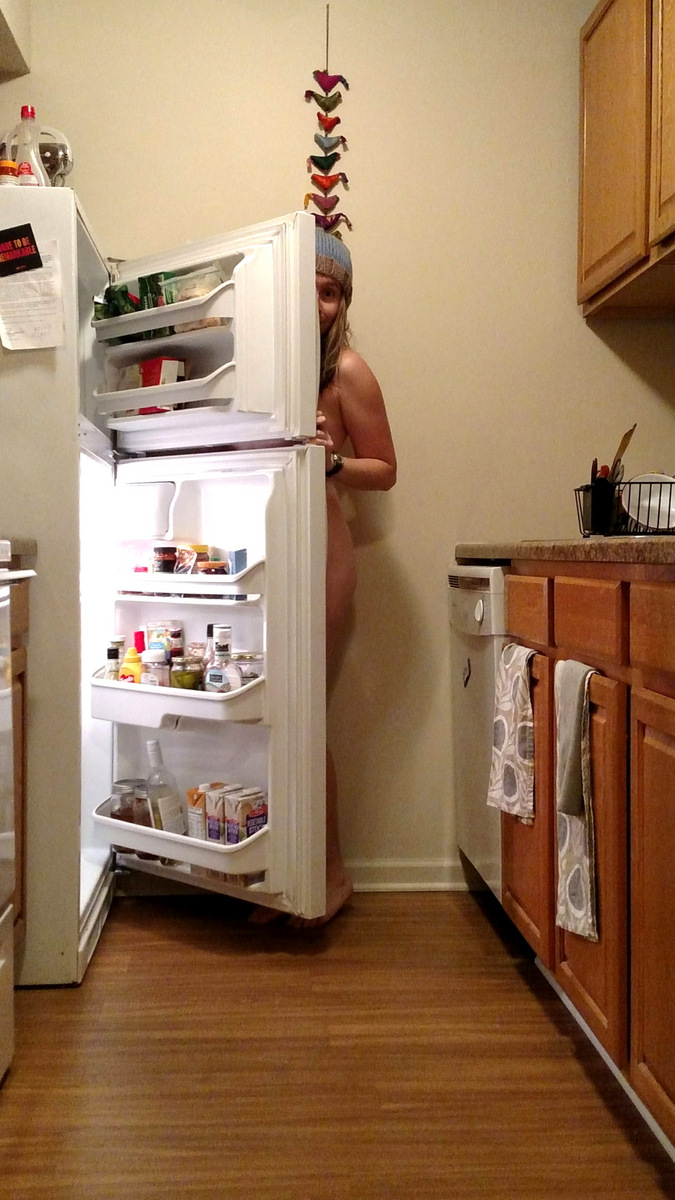 "My fridge looks really well stocked because you can only see the condiment shelves. We always have multiple varieties of mustard, hot sauce, pickles, curry, soy sauce, dressing- but frequently run out of actual food to put it all on. I also keep my nuva ring on the top shelf next to the jam."
---
Emily / 34 / Philadelphia, PA / Electrical Engineer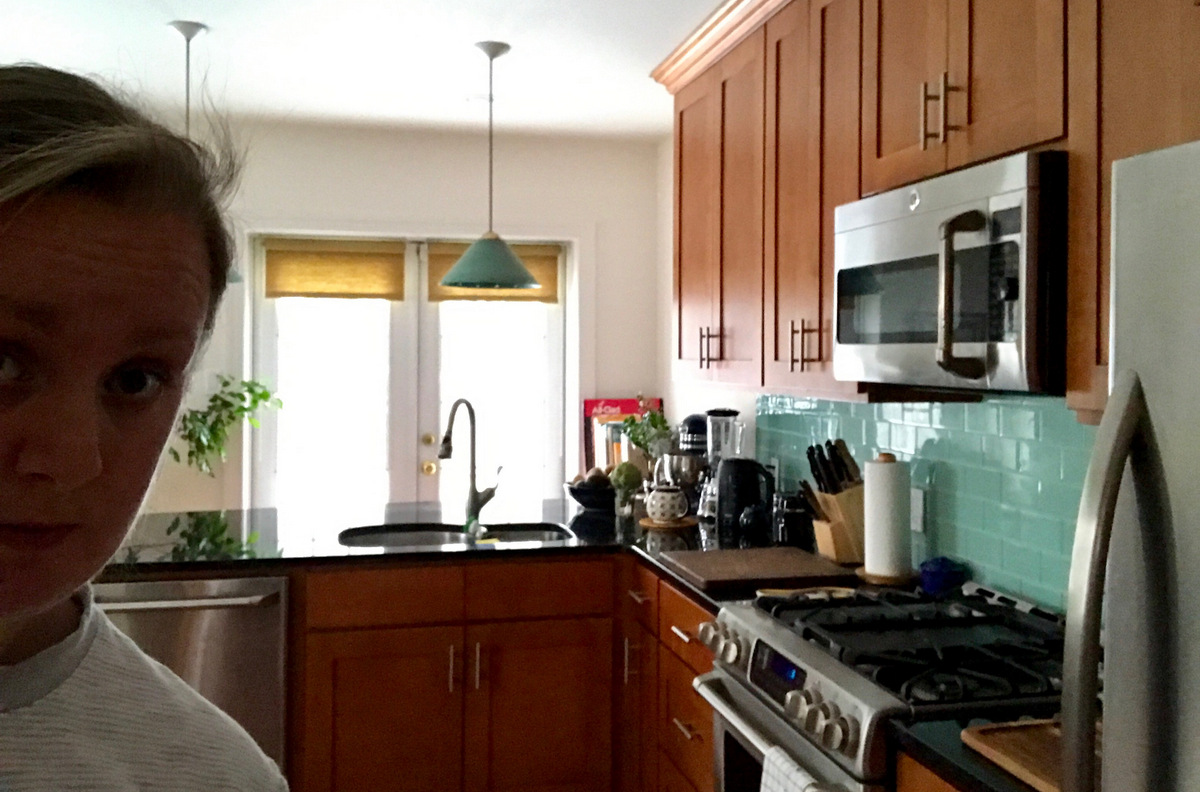 "I love my kitchen for its excellent lighting, counter space, and the backsplash I installed last year. My kitchen makes me feel capable."
---
Zsuzsanna and Laura / 26 and 27 / Budapest, Hungary / Unemployed Neuroscientist and PhD Student in Cognitive Science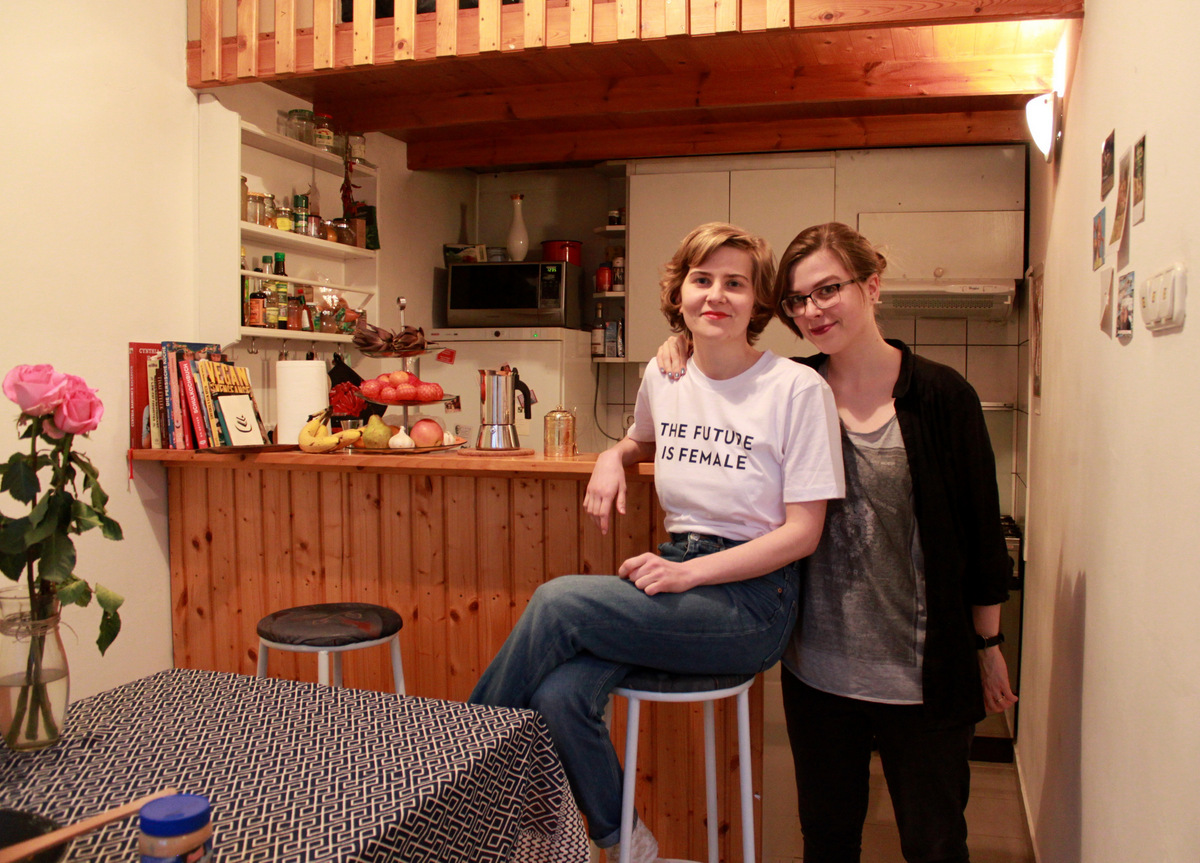 "We moved in together last year and just got engaged!!! What we love most about this kitchen is the sociable counter. Zsuzsanna is the one who makes coffee, Laura drinks it and makes pancakes and/or margaritas. We love trying new vegan recipes with the limited resources available in Hungary, and only set the kitchen on fire once so far!"
---
Emily and Ryn (housemates!) / 28 and 26 / Somerville, MA / Teacher and Academic Administrator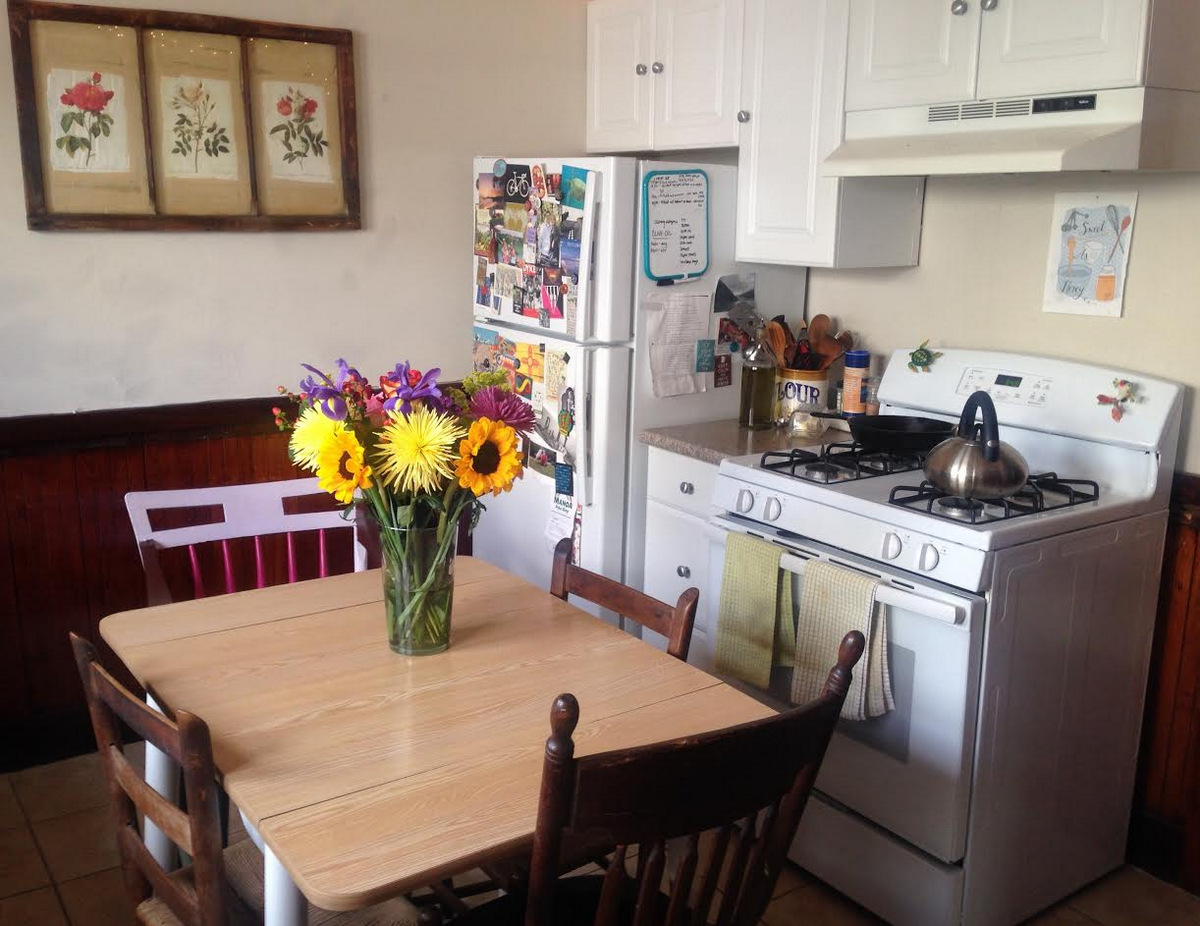 "Our kitchen is sunny and tiny and full of plants. We love hosting people for pizza and a favorite utensil is the pizza peel Ryn found on the side of the road while biking home."
---
Carolyn Fryberger / 32 / Durham, NC / Program coordinator for a nonprofit rural economic development consulting initiative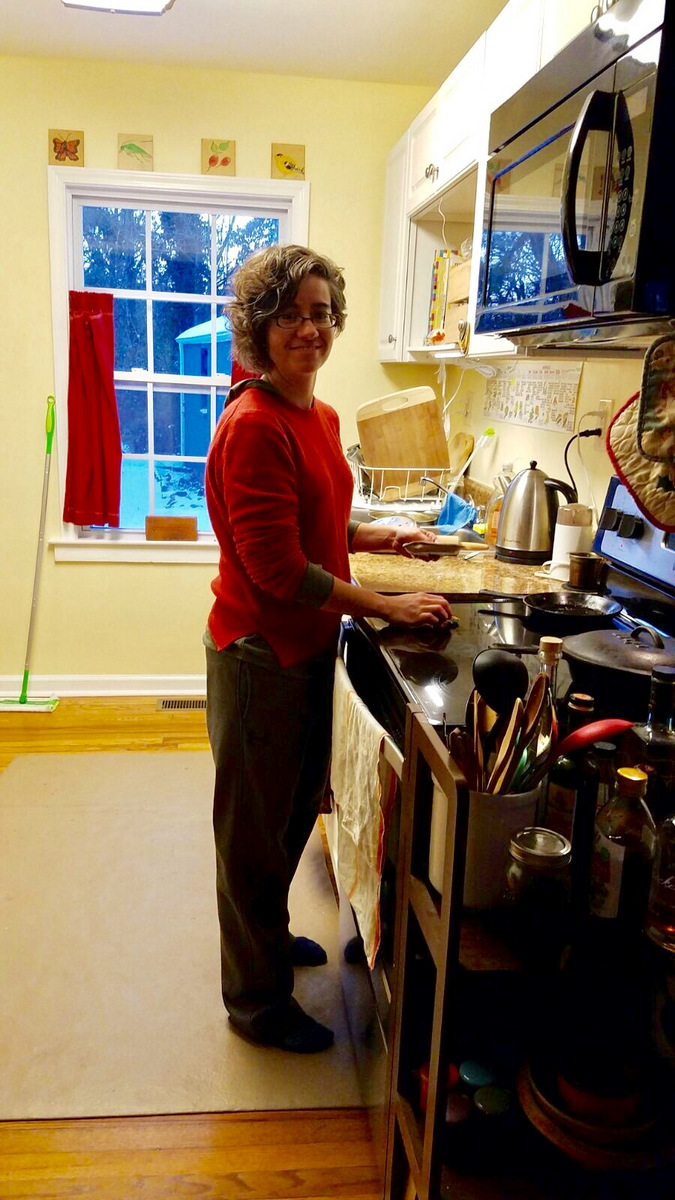 "It is Saturday afternoon, I just made a pot of soup and mixed up a pie crust, it is snowing outside and I am cleaning because if you love your kitchen eventually you have to embrace that that means cleaning. You will wash the same dish over and over again, carefully wiping the knife to keep it from slipping in your soapy hands. You will feel comforted by how quickly a wipe of the counters makes everything feel more manageable, even a tower of undone dishes."
---
Priscila / 25 / Toronto, ON / Software Developer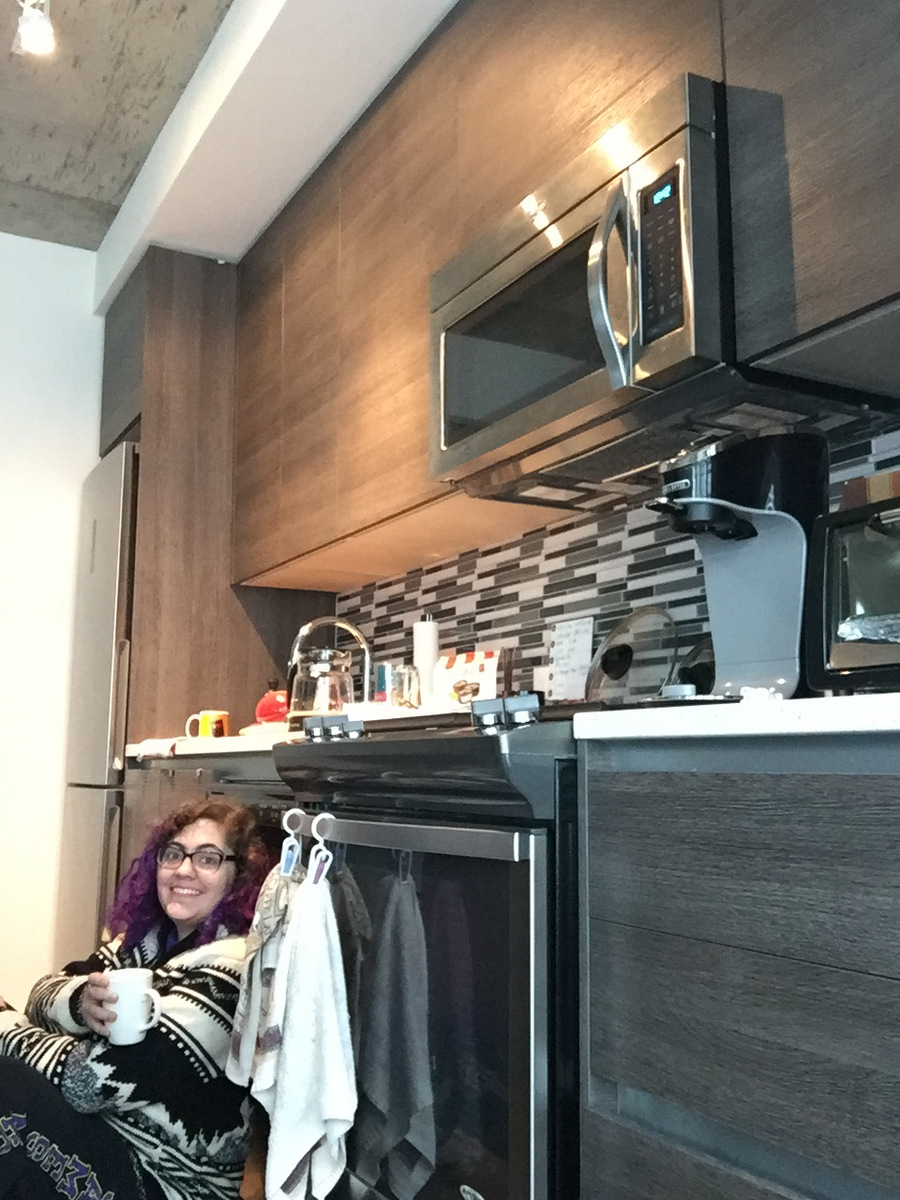 "My most prized kitchen item are this 3 little owls my mom gave me over the break. They are very colorful and have the covering eyes/mouth/ears expressions."
---
Deanna / 25 / Los Angeles, CA / Associate Producer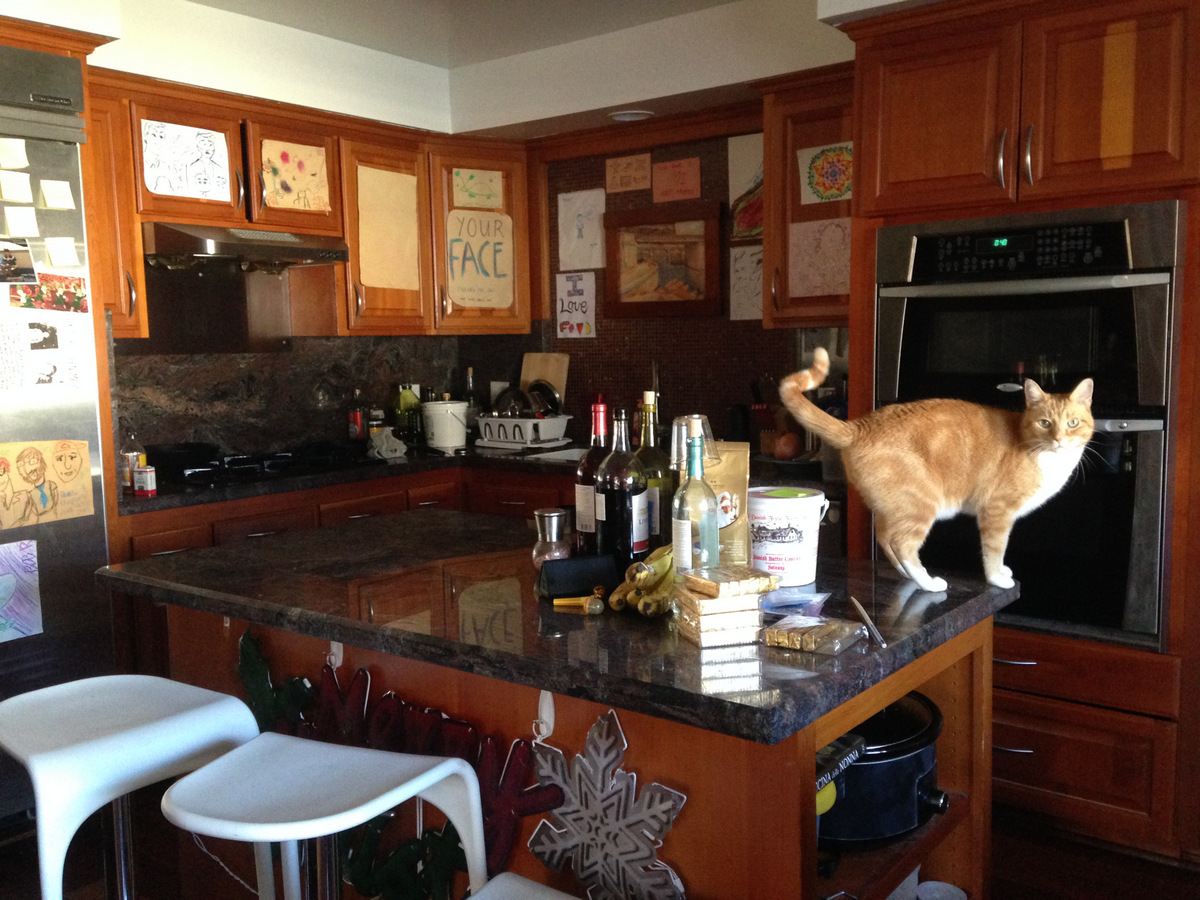 "Bread Junkie. Love my flour mill."
---
Mary Roth and Katie Mackenzie / 25 and 33 / Eugene, OR / Copy Editor and Freelancer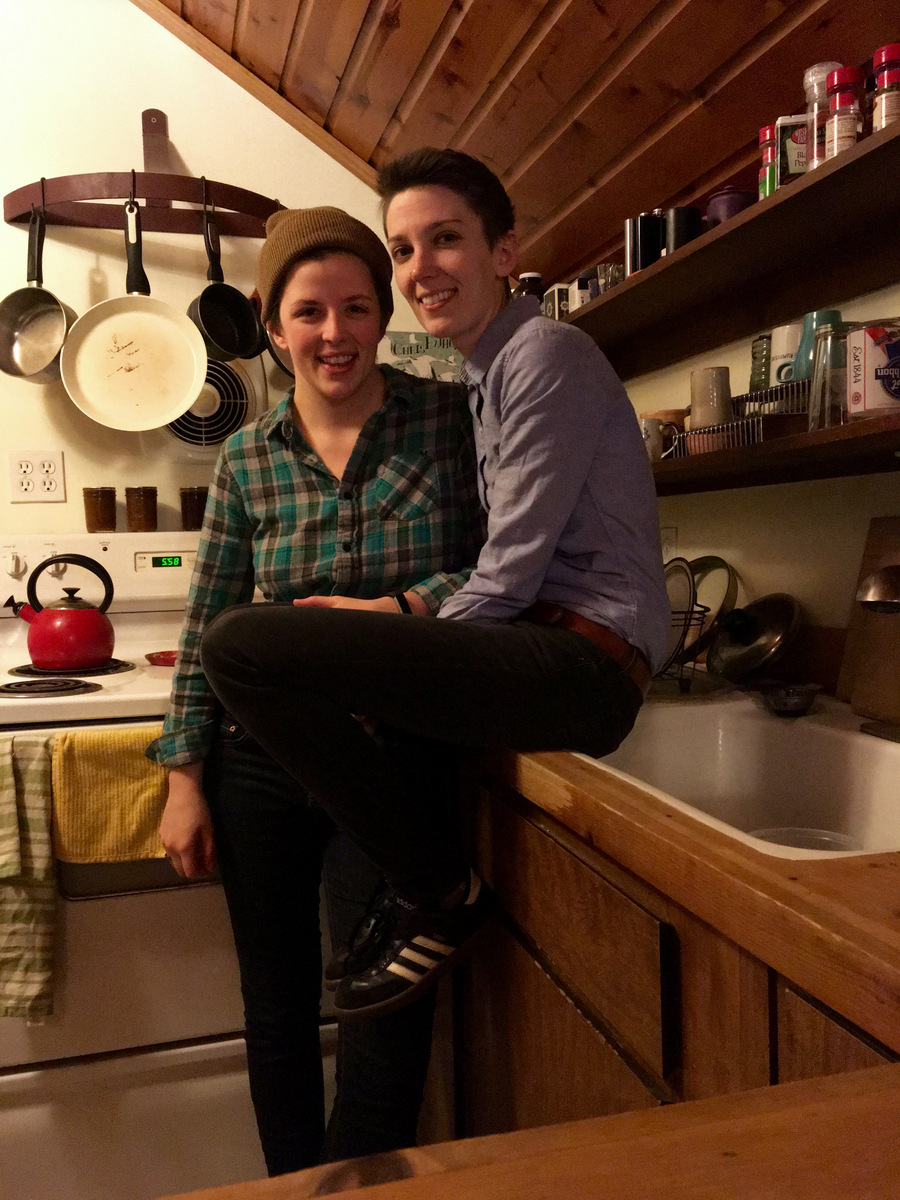 Mary: "We make a mean breakfast whenever we're both working from home: eggs, hashbrowns, avocado and toast."
Caitlin: "In very lesbian fashion, Mary and I love to talk about our future family, and we even (preemptively) made Friday our 'family night,' specifically reserving that time for making pizza."
---
Kristen Chiucarello / 29 / Brooklyn, NY / Zine editor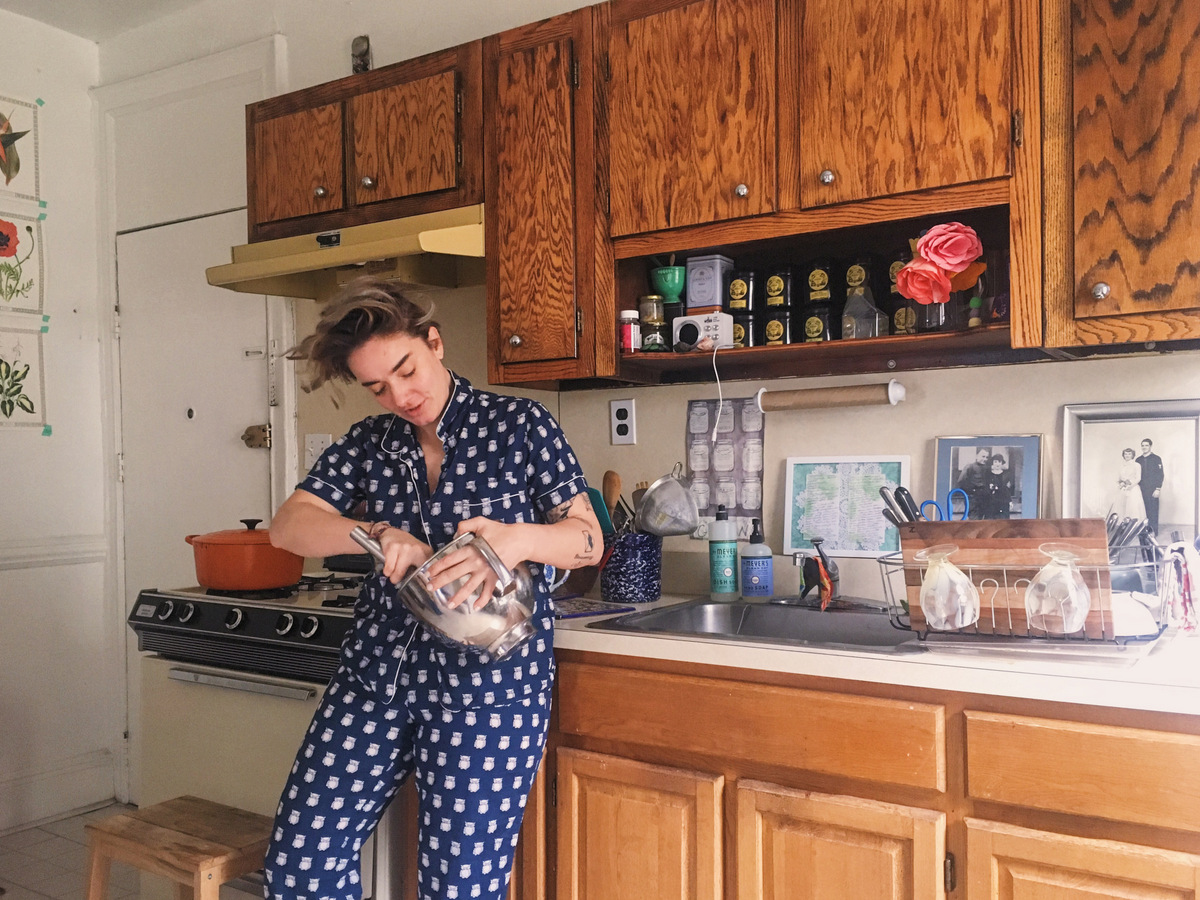 "My favorite thing to prepare in my kitchen are large, extravagant, for-no-reason meals for my friends. I'm particularly known for my breakfast layouts and quiches."
Cat Baldwin / 34 / Brooklyn, NY (Bushwick) / Location manager/Illustrator
"I derive a lot of pleasure from experimenting with, cooking, eating and feeding new and time-tested recipes to my nearest and dearest and I have all the gadgetry to go along with such a hobby. That said, my FAVE gadget are tongs because I like to think of them as my ROBOT HANDS, capable of retrieving items from substances too hot for my human flesh. Robot hands forever."
---
Sara (sitting w/ Pesto) and Hanna (standing w/ Odessa) / Both 26 / Brooklyn, NY / Technical Projects Manager and Photographer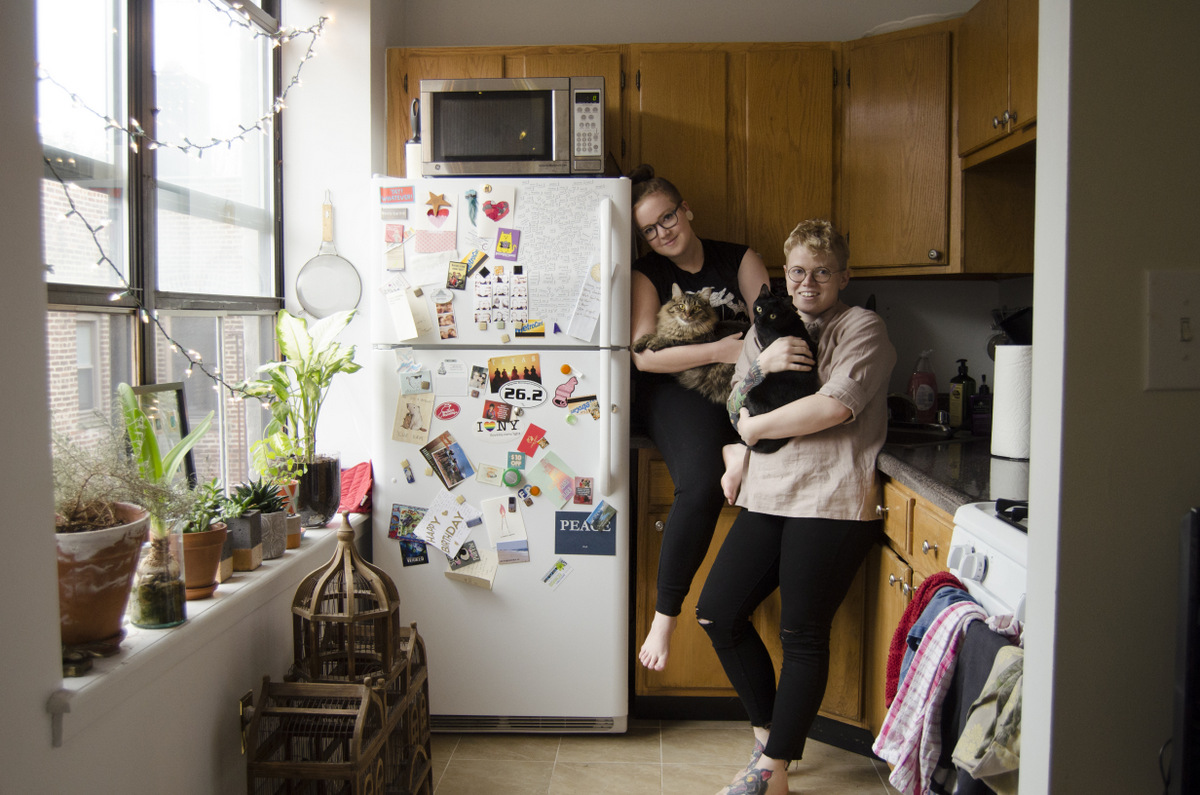 "Sara collects tiny teacups and Hanna collects large coffee mugs. Pesto and Odessa collect bottle caps."
---
Jenn / 28 / Minneapolis, MN / Graduate researcher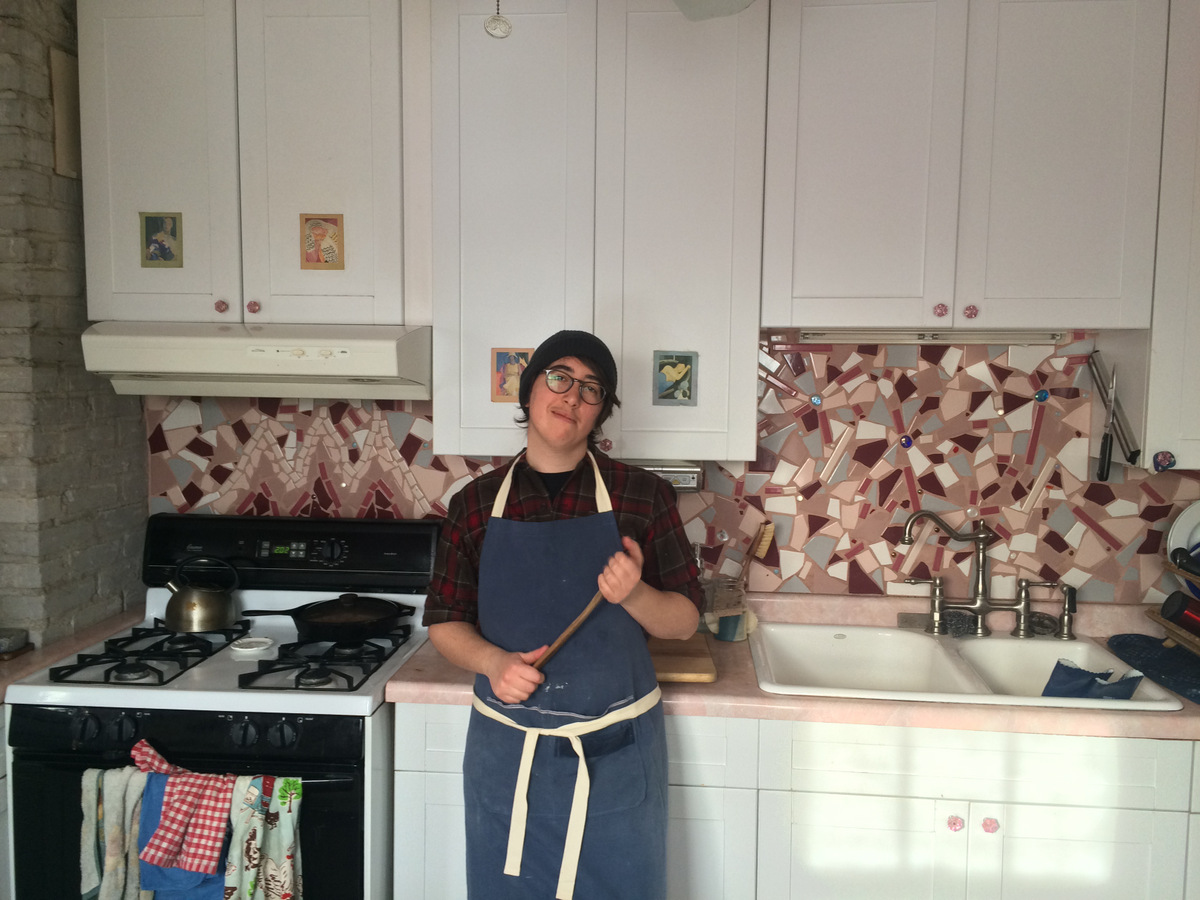 "When I transitioned from professional baker to professional student, having an adequate kitchen was really important to me. This kitchen, in all its pink glory, is extra special because it was originally designed by my landlord for her mother, a 90 year-old lesbian activist, and everyday I am reminded of the struggle and community we share."
---
Kass/ 34 / Southern OH / Comic & Alt-meat entrepreneur
"I often have many helpers while I make food to the dulcet tones of NPR. My food processor and immersion blender tie for most prized items and I use my microwave as a food safe."
---
Britt Ransom and Melissa Tran / 29 and 27 / Long Beach, CA / Assistant Professor of Sculpture and New Genres at California State University Long Beach, and Museum Educator at Museum of Contemporary Art Los Angeles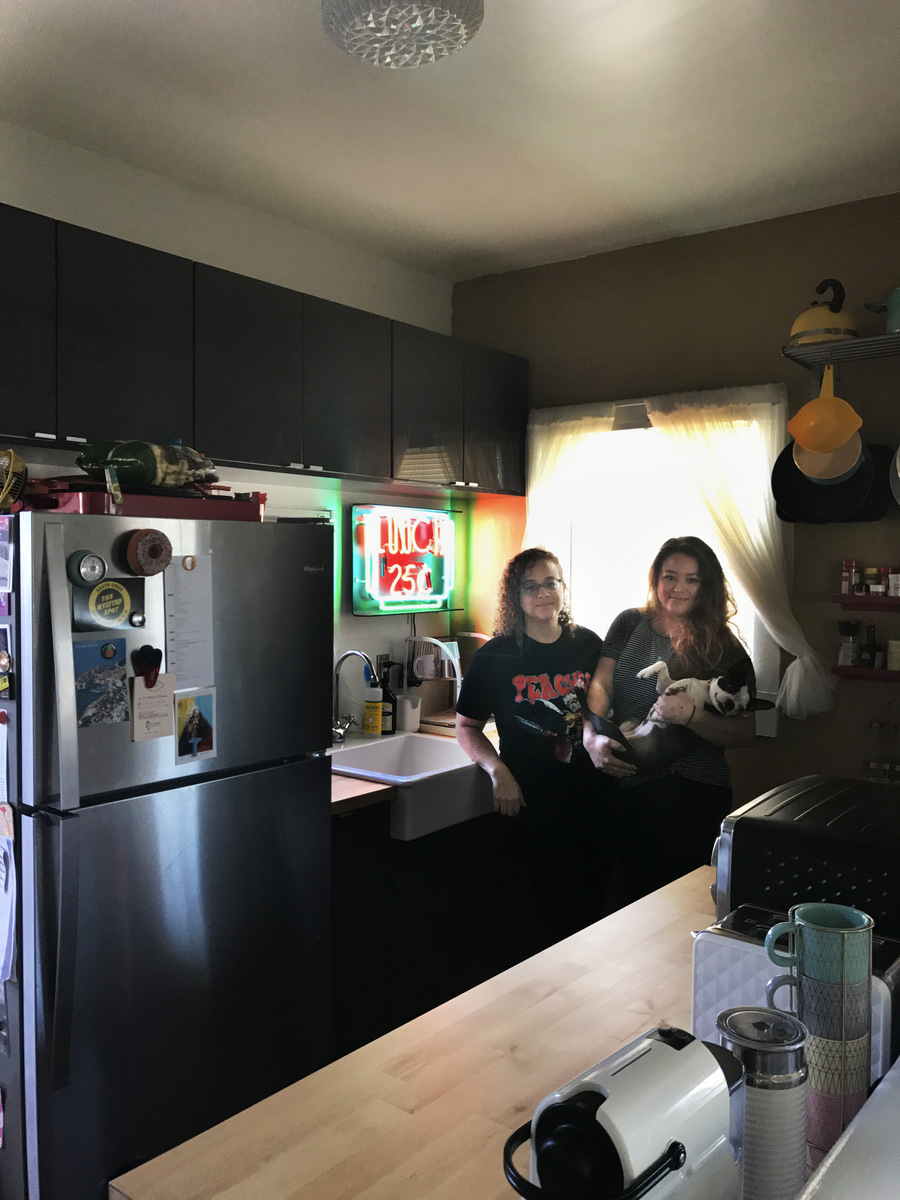 "Our Most Prized Kitchen Item: The Normann peeler. This might sound weird (because it is weird maybe), but we argue over who gets to peel vegetables and fruits because we love it so much. Apparently our dogs do too."
---
Rachel Pritzlaff, Cilantro, Parinda Darden/ 26, 6, 25 / Astoria, Queens, NY / Dance Performer, Educator, and Non-Profit Administrator; Dog; Software Engineer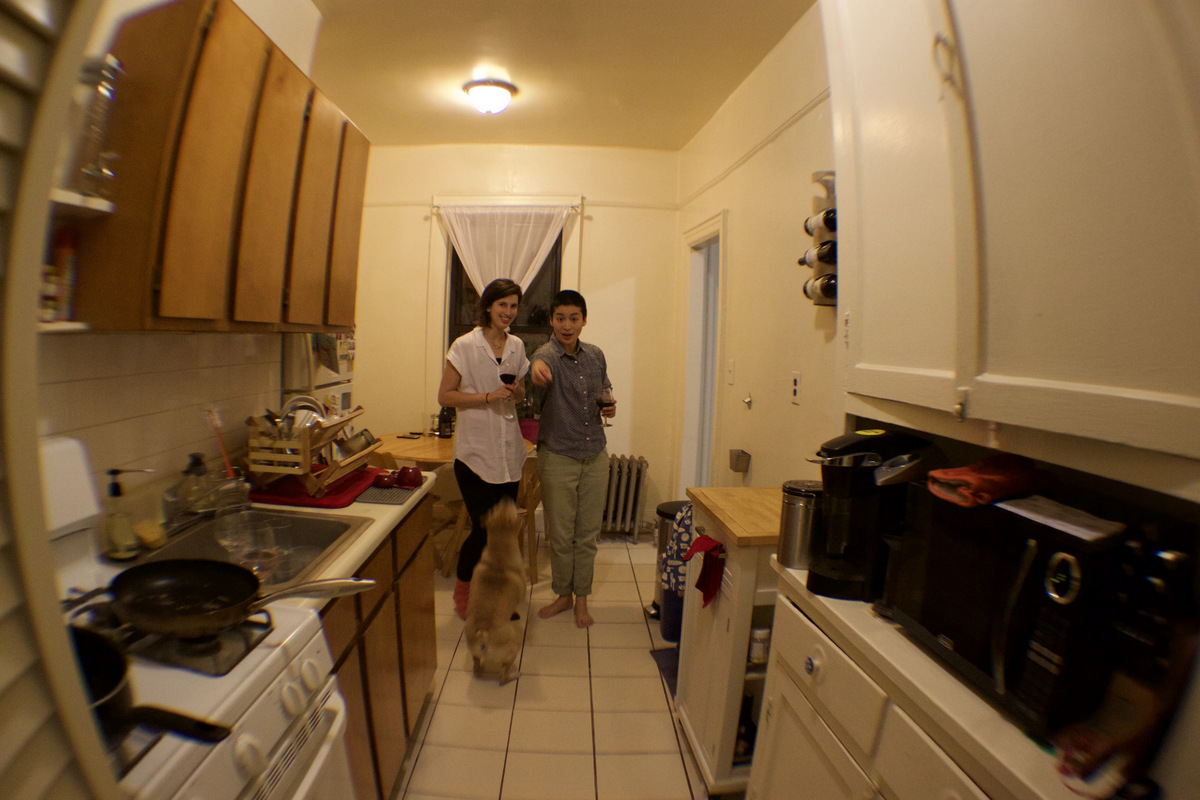 "Parinda loves to make Pad Thai, and Rachel loves to make Ritz Cracker Pie. They both love their Aeropress."
---
Elle / 28 / Austin, TX (Photo: Ambrea Dean)

"Home of the best vegetarian breakfast tacos in Austin."
---
Anna / 44 / Registered Nurse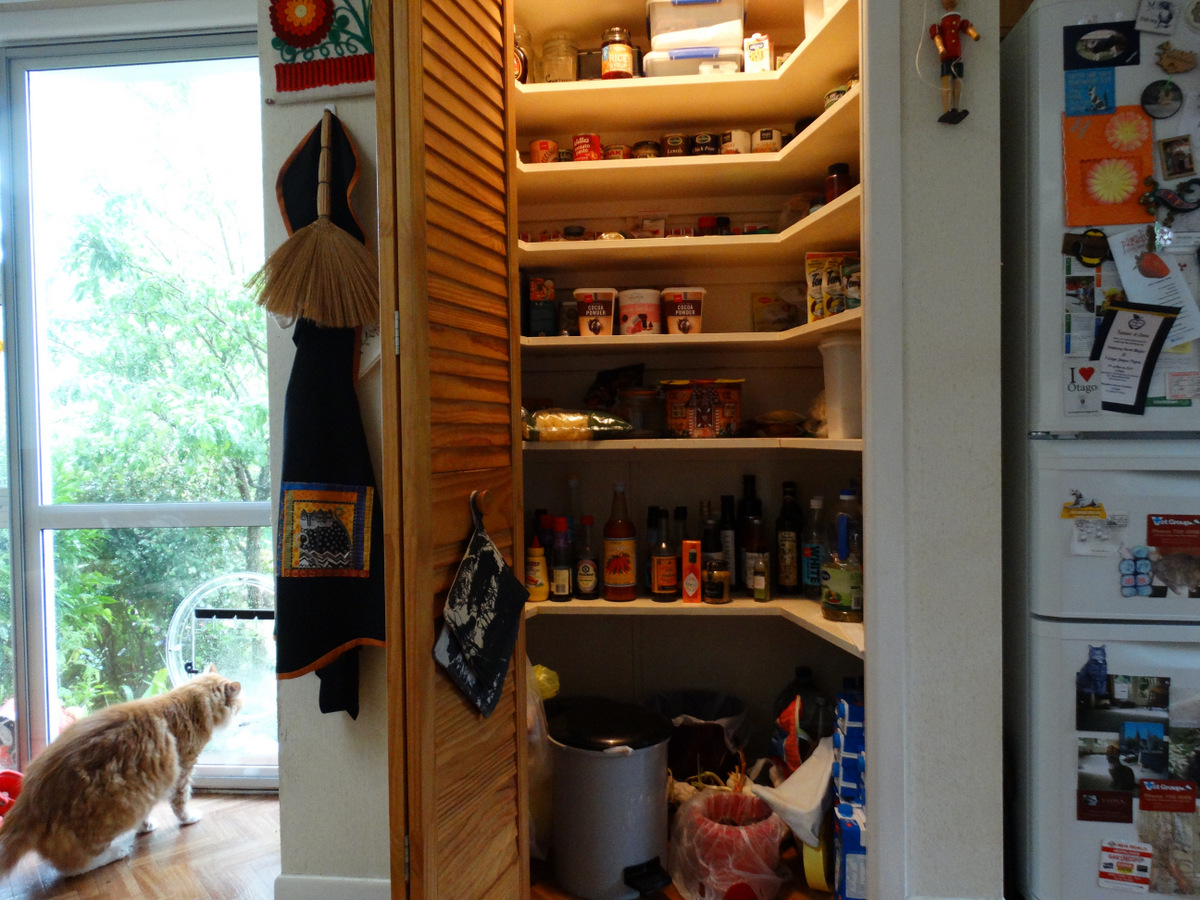 "The kitchen is my favourite place in the house; a creative haven, a chemists theme park, and it is so close to our growing fruit and vegetables, which is great to look at after being at work. My favourite tools are a very sharp knife, a chopping board, my girlfriend's wok, the couch in the kitchen, and the stove. My favourite ingredients is a lot (like 4 bulbs) of hand chopped hand peeled caramelised garlic, fresh lemon zest and juice from our great old lemon tree and olive oil. And parmesan. I am a bit of a recreational vegan as regards parmesan."
---
Char, she pronoun / 26 / Montreal, Canada / Queer Tattoo artist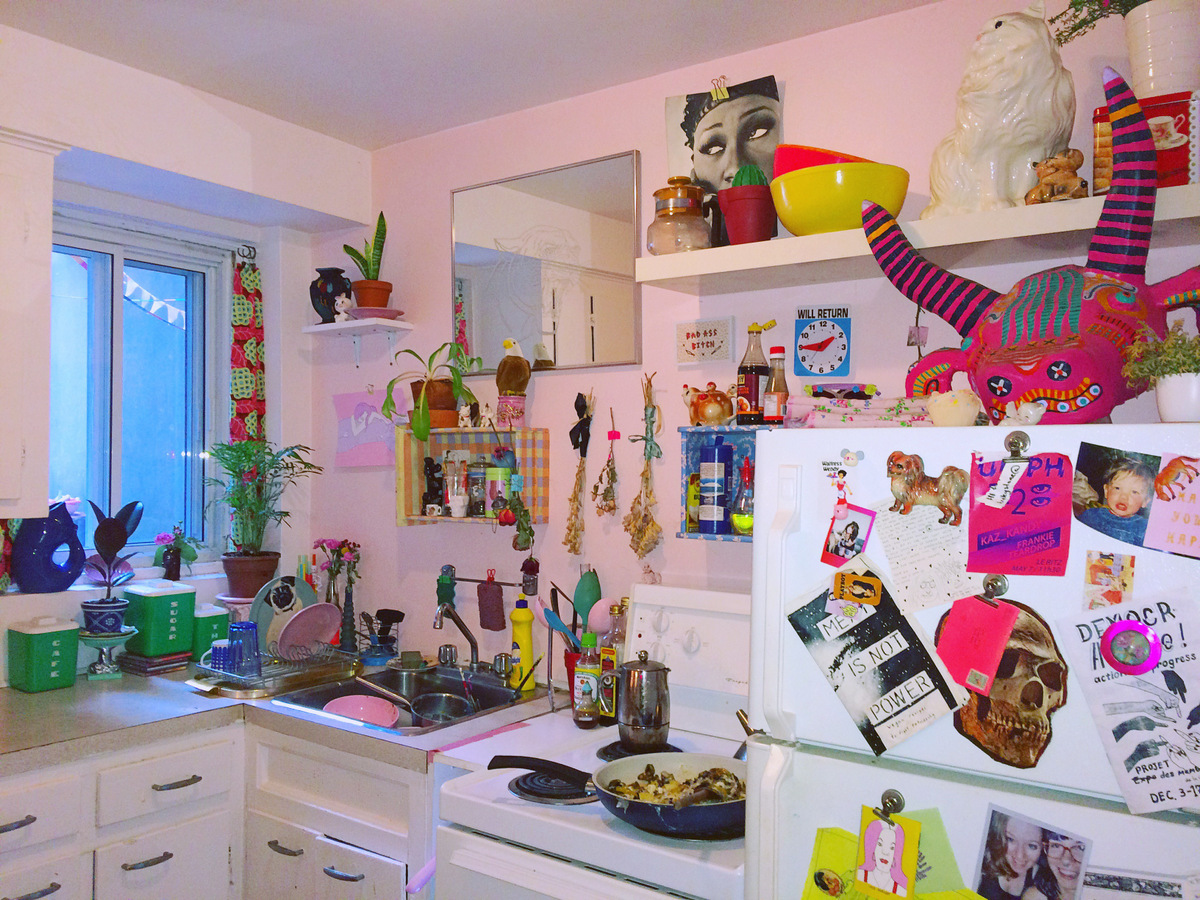 "I love my collection of dried flower bouquets all from ex dates! A true princess!"
---
Alex / 20 / Richmond, VA / Writer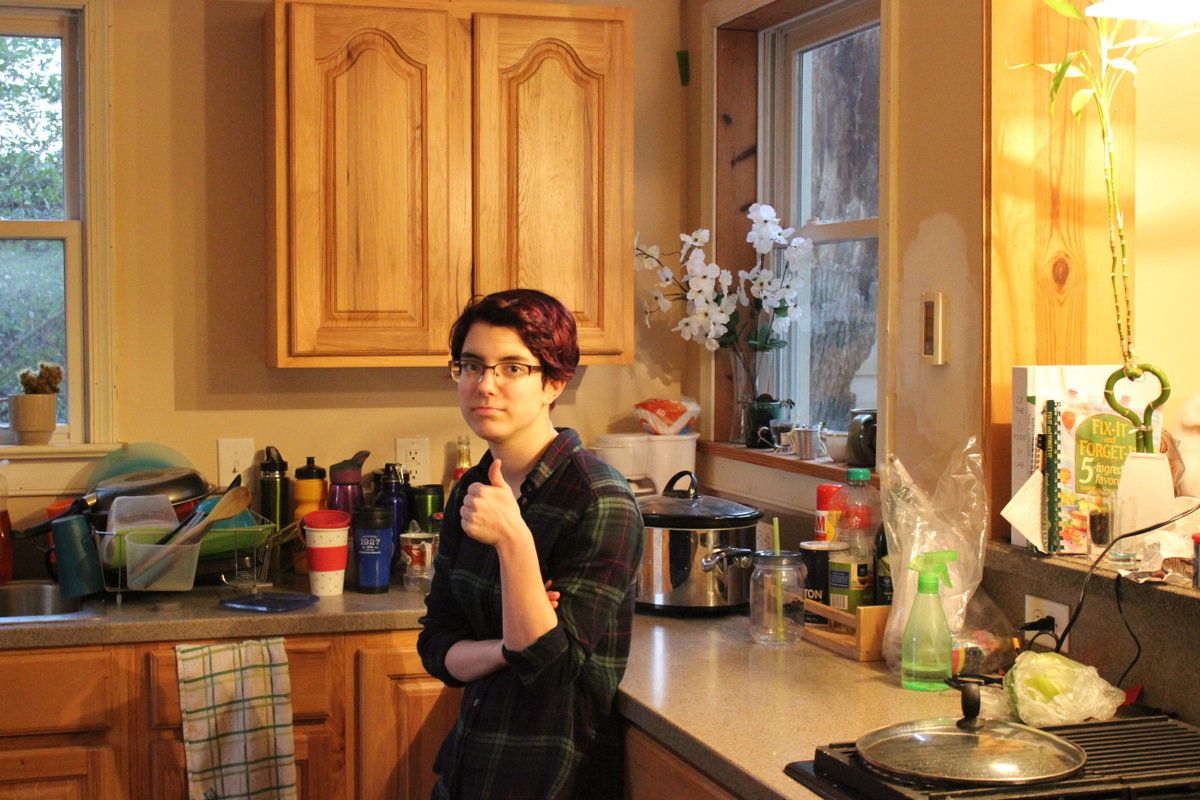 "We have a bad habit of cooking the same three dishes over and over, lately we've been trying to diversify our eating habits more."
---
Chinue Igwe / 25 / Oakland, CA / Sr. Admin Assistant at a mental health nonprofit (Photo: Erica, girlfriend)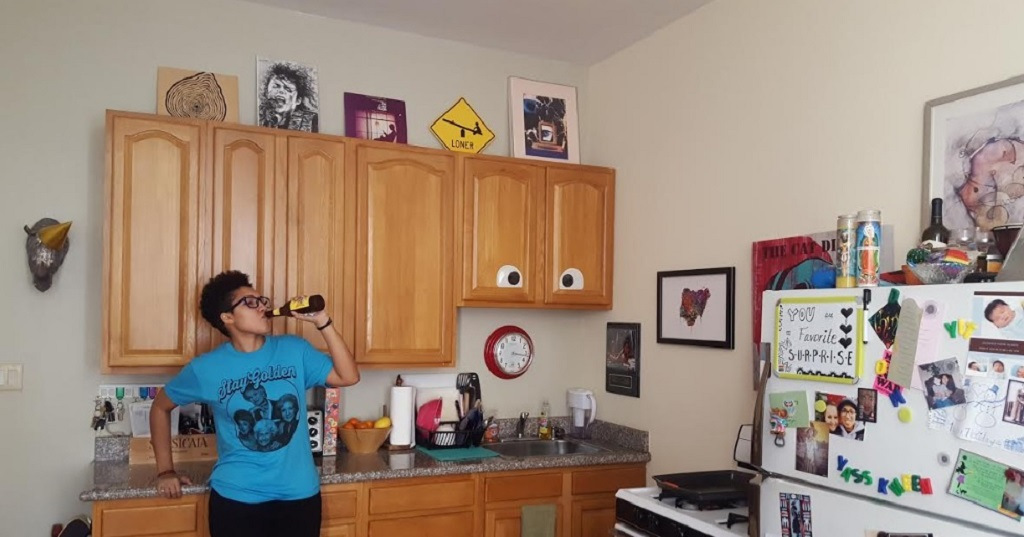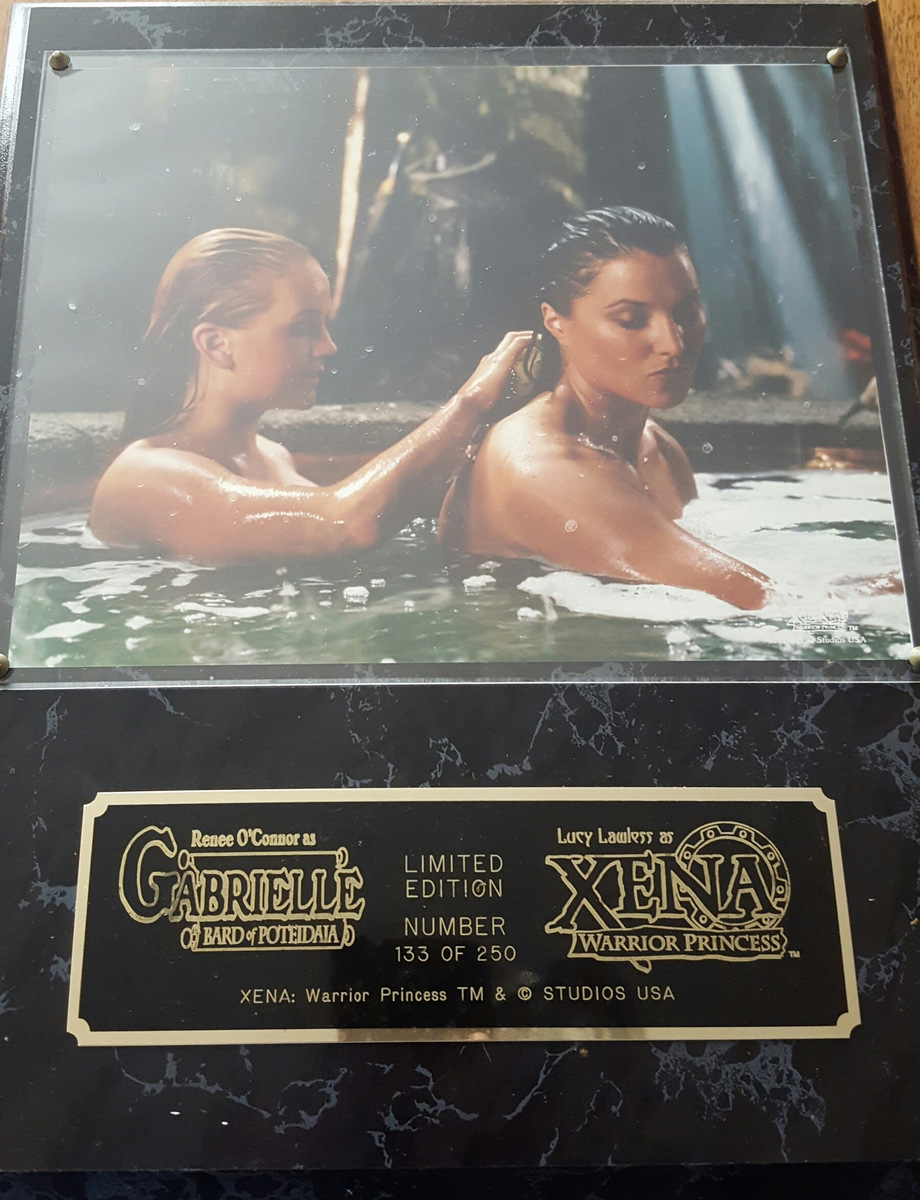 "My most prized kitchen possession is my limited edition Xena Warrior Princess plaque that hangs next to my sink. I may be a terrible cook, but I'm an excellent lesbian."
---
Pam Barrett / 25 / Cleveland Heights, OH / Writer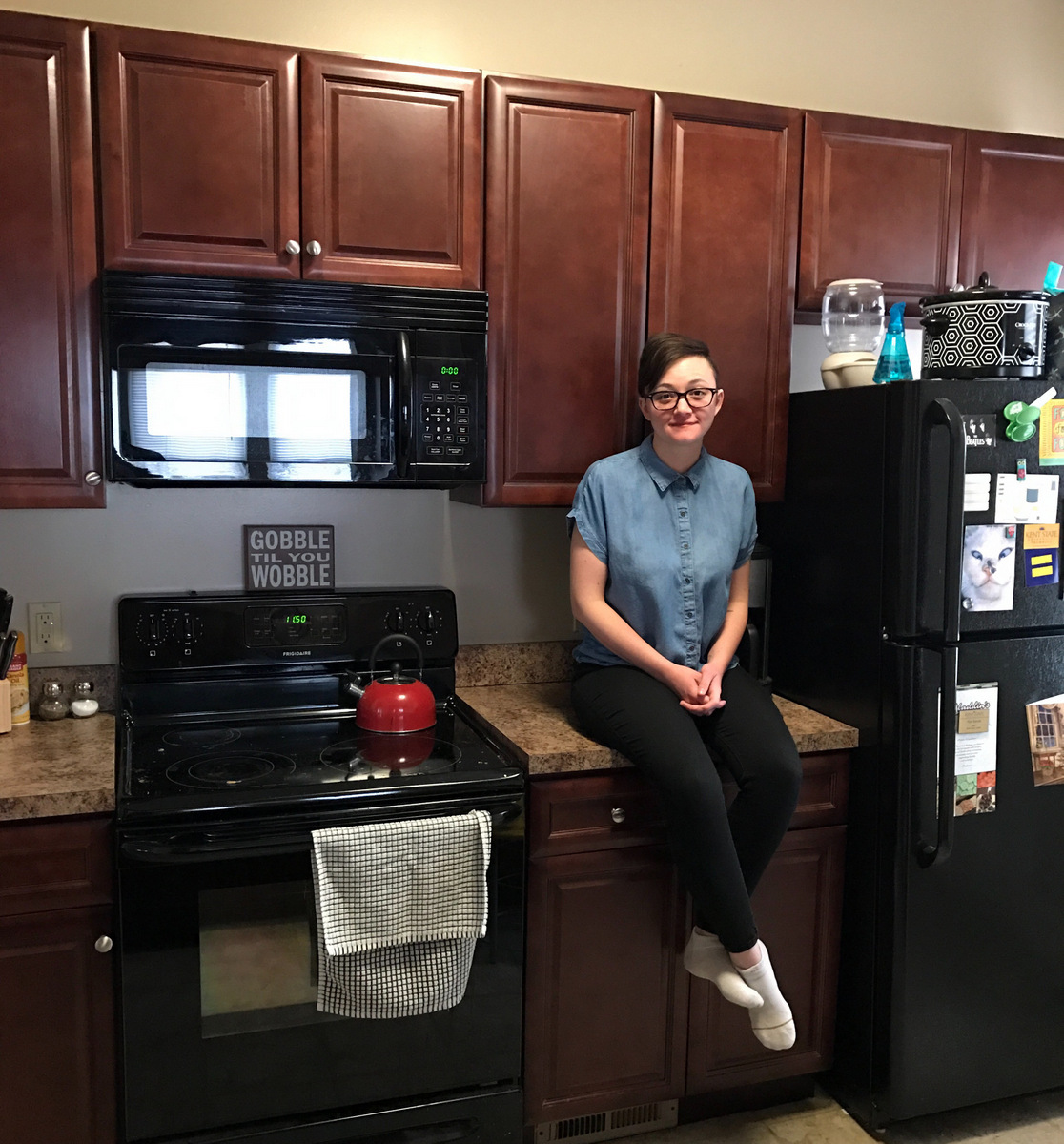 "I'm newly vegan, but never learned how to cook. I love listening to podcasts with comedians talking to each other while attempting a new meal, and then washing my dishes the next day."
---
Emily / 19 / Davis, CA / Full-time English undergraduate, part-time copy editor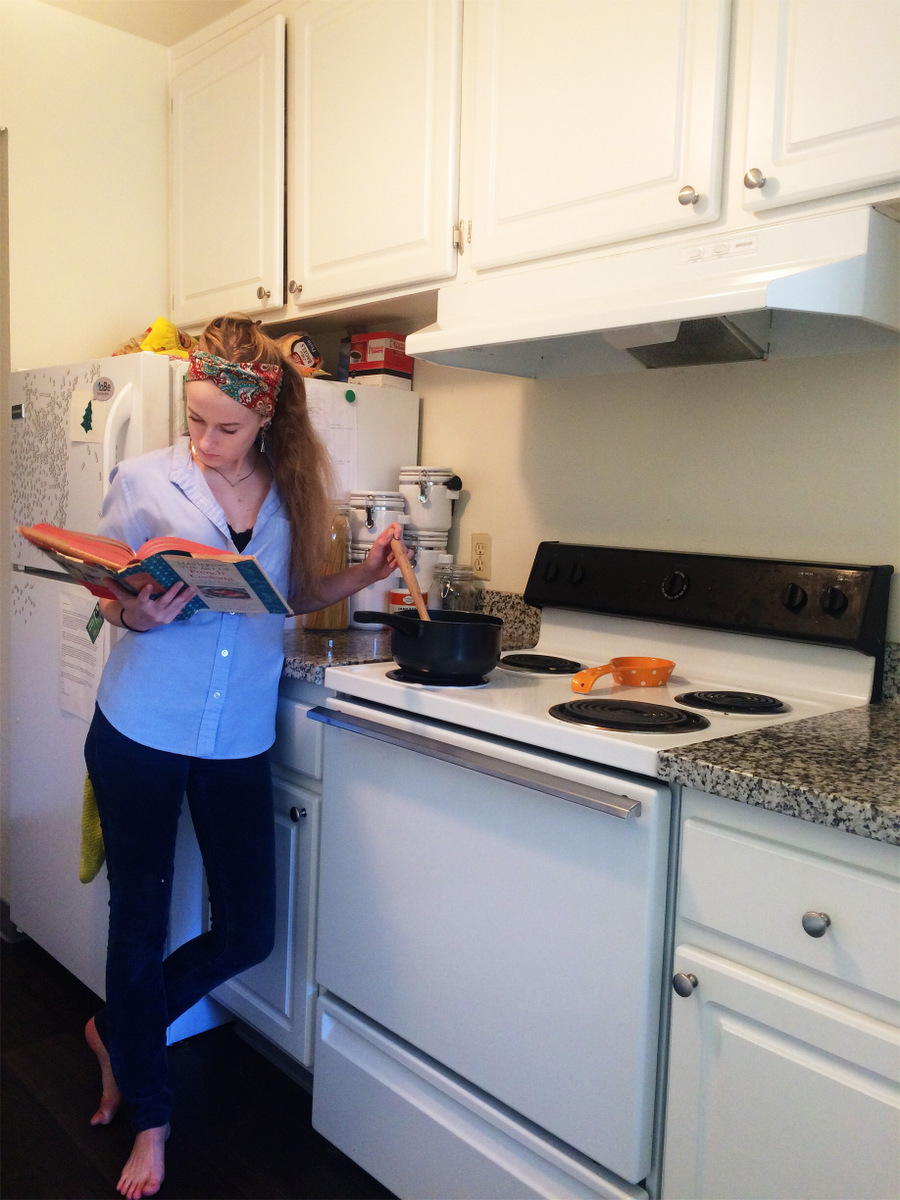 "My kitchen is small and doesn't have enough counter space and the stove is electric instead of gas, which I hate, but it's my real grown-up kitchen, in my first grown-up apartment, so despite its faults, I love it."
---
Bridget / 24 / Columbus, OH / Licensed Social Worker on hiatus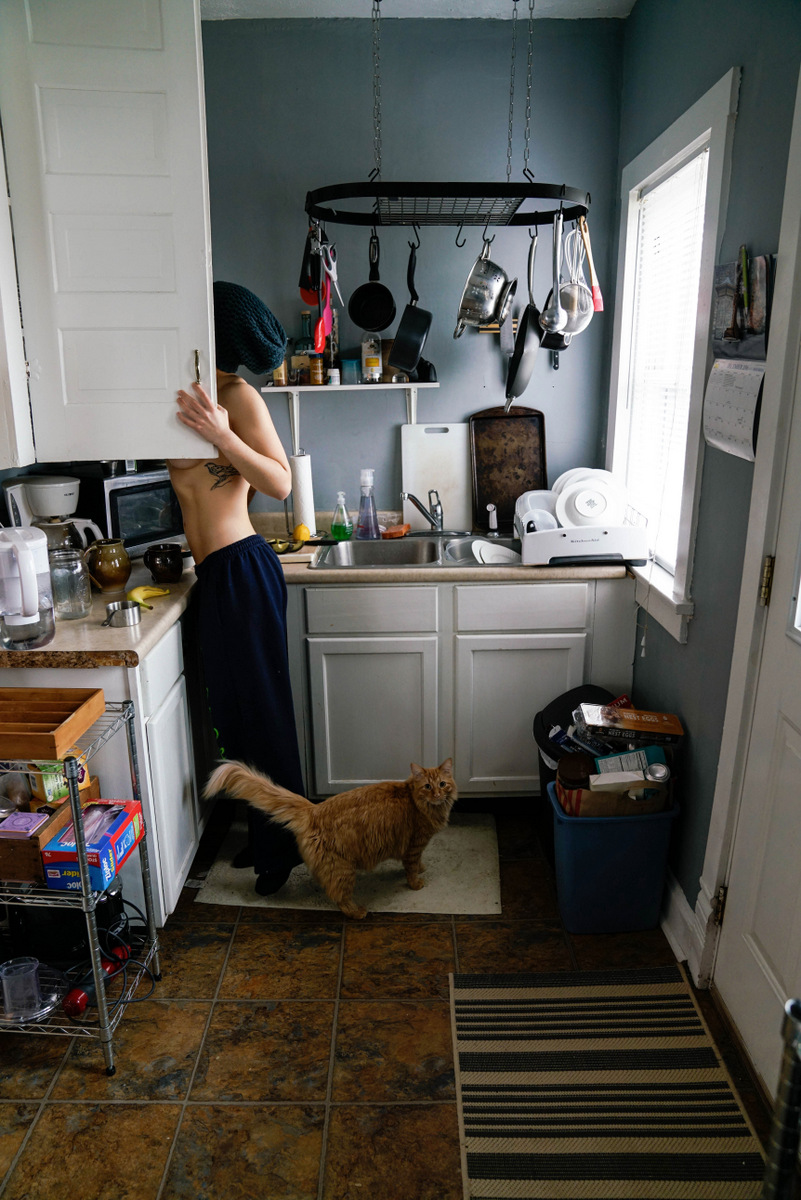 "My kitchen accepts me and all of my failed baking attempts."
---
Nana / 32 / Selangor, Malaysia / Freelance consultant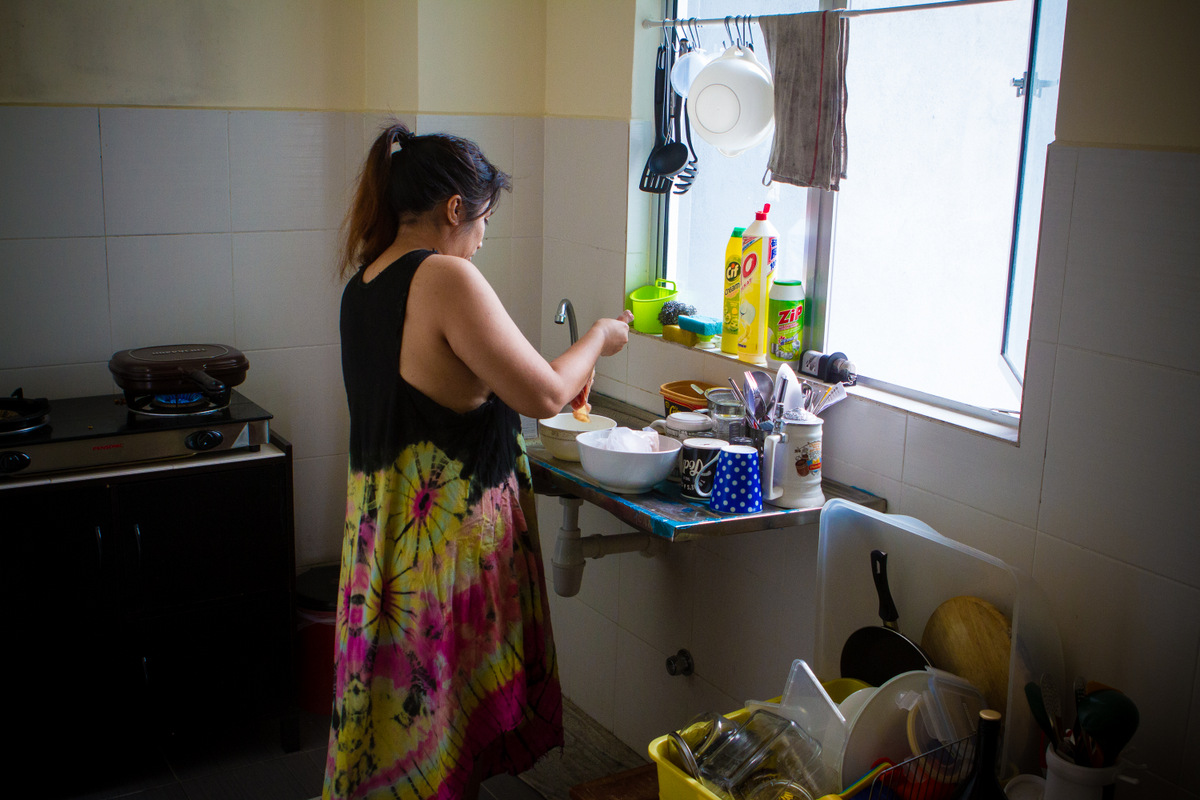 "I'm preparing salt and pepper grilled chicken with a dash of sesame oil. My kitchen is small and cozy with only the basic necessities (but with almost ALL of the essential Asian spices). The grilled chicken is easier to prepare with my super handy Double Pan which is definitely my favourite kitchen item at the moment!"
---
Kali / 32 / Chicago, IL / Elementary school music teacher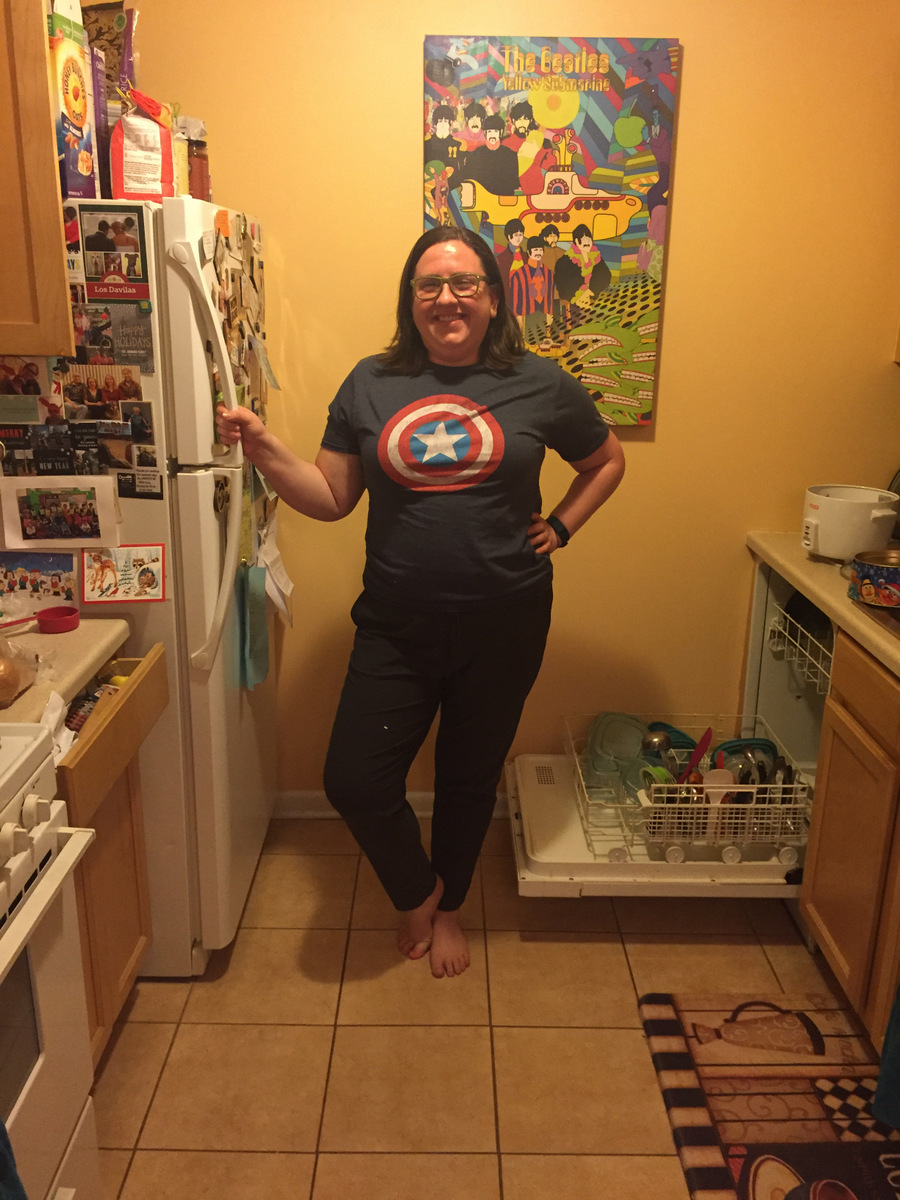 "I am one of those people who love to cook and bake for other people, I call it my inner soccer mom. Couple weeks ago, a friend suggested we get a birthday cake for another friend of ours … She was going to buy it. I went, oh HELL NO. I have a Kitchen-aid mixer, I have enough tins to make 100 mini-cupcakes at once, I make pie crust from scratch."
---
Chae Fields / 32 / SF East Bay, CA / Owner and Head Chef of Eat Suite (We are a meal prep and catering company 100% owned and operated by women of color) (Photo: Miki Vargas Photography)
"I absolutely love to create unique dishes using simple ingredients so that our customers feel inspired to get busy in their own kitchens. Like my sweet potato lasagne, which is my favorite dish to prepare. It takes me nearly all day as each component is prepared from scratch but the final product is like nothing you've ever tasted before!"
---
Katie / 23 / Halifax, Nova Scotia / Law student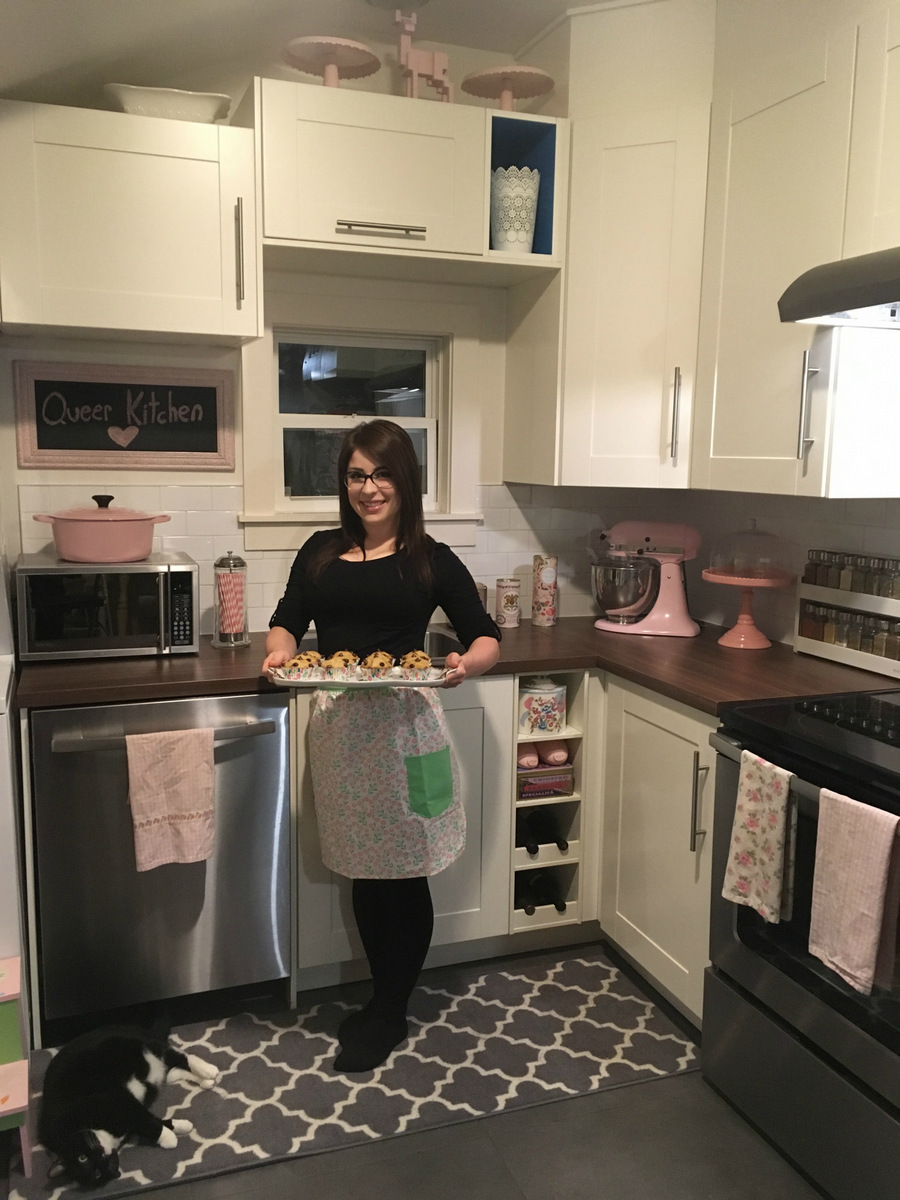 "I'm working my way to a completely pink, 1950's inspired kitchen one item at a time. My Kitchen Aid stand mixer is by far my most prized possession."
---
Megan / 23 / Hilo, HI / Horticultural Therapy Guide at Pacific Quest

"I woke up super early this morning and couldn't fall back asleep, so I walked into the kitchen and just started cooking things. I ended up with a pumpkin curry soup, cinnamon toasted pumpkin seeds, and some avocado pesto. Some people get lost in playing music or painting or doing photography; I cook."
---
Shan / 26 / Columbus, OH / Veterinary assistant by day, roller derby skater by night

"I like making plant based breakfasts. Pancakes and tofu scrambles are my go-to."
Caity / 24 / Las Vegas, NM / Cook on a food truck

"I cook all day at work and, sadly, I don't get the chance to cook very often in my kitchen. I make the world's best orange chicken burrito (according to my girlfriend) and bake when I'm stressed."
---
Maya B / 27 / Oakland, CA / High school teacher

"Favorite thing to make: Matzoh ball soup. Fun fact: The cat I'm holding is also named Matzoh."
---
Kelsea, Sadcat, Hebe / 24 and 24 / Manchester, UK / Theoretical Physicist; LGBT + youth worker, artist

Kelsea: "I fry a lot of plantains in here."
Hebe: "This is probably the nicest kitchenI've ever had because it's light, has lots of space and I get to share it with my pal (eating the plantain she makes) and our cat! Special dietary requirements thrive in this kitchen."
---
Kathleen, Rosalyn, Rose / 5 months, 33, 35 / Stockport, UK / Baby; Baby cuddler; Standard office job

"Though we do prepare and eat food in the kitchen, it really comes into its own as a dance floor. Bronski Beat is our current favourite."
---
Emma / 28 / Berkeley CA / Bookkeeper

"I like cooking gluten-free blueberry pancakes with creme fraiche and maple syrup on top."
---
Sophia / 26 / NJ / Graduate student

"I like making tea (several times a day, in the winter) and anything with chile in it."
---
Jade / 23 / Olympia, WA / Honey bee educator and advocate

"Most prized kitchen item: My partner Zero and I collect weird dog mugs (mugs with weird pictures of dogs) from thrift stores. We like to think about the people who design these mugs and the lives they lead; we don't have a dog."
---
Danielle Young (in girlfriend Jessica's kitchen) / Kansas City, MO / UX Designer

"Danielle loves going on library dates with her awesome girlfriend, checking out cookbooks and making dreams into reality."
---
Cori and Keili (and Gilly the cat) / 31 and 27 / Santa Barbara, CA / Footwear designer for Teva; Licensed massage therapist with my own private practice; Gilly is a professional little shit (which is what we get for naming her after Kristin Wiig's character on SNL)

"My special kitchen friend is my plate set! They're beautiful onion printed plates that my nana bought 50 years ago in England when she lived there with my dad. My dad gave them to me 6 months ago and I was so excited to finally be able to use them! Cori's favorite thing is when we work together but not necessarily in the same room. Our kitchen is so small and I get crabby when we're rubbing elbows while handling butcher knives. However, when Cori is grilling something outside and I'm cooking something inside and we're both bopping around drinking wine and listening to music, we get into a groove. Plus we get to eat something delicious! Like last night we had most of the dinner ready, just had to cook it. I was dying of cramps so Cori cooked everything up and then I made an apple pie from scratch! It worked out nicely for everyone!"
---
Geneva / 25 / Minneapolis, MN / Web developer

"I don't love to cook, but I do love a good cup of coffee in the morning!"
---
Alyssia / 29 / Washington, DC / Government analyst

"My favorite meal lately has been butternut squash risotto. It takes just enough effort to seem like an accomplishment and never fails to make me feel right at home."
---
Ophelia / 35 / Berlin, Germany

"One shelf is yet to be mounted. Cat didn't seem to want to be photographed. Overall missing: lovable lady so we could try out new recipes, warm up after a nice walk outside, have a gemuetlich breakfast, or or or."
---
Edith (partner Josie on the left) / 39 / Cardiff, Wales, UK / Community worker, writer-researcher and postgrad

"My most prized kitchen item is my money plant. I raised it from a single stem and it has brought me and my family luck through a couple of difficult years."
---
Lauren and Faith / 31 and 27 / Hamilton, Ontario / Draftsperson; Lingerie sales associate

"Lauren's favourite thing to prepare is crepes. Faith enjoys making applesauce from the backyard apple trees. Our kitchen is friendly and cozy, we just moved in a couple months ago so it's still a bit stark but we're working on it!"
---
Aisling Mc Niffe / 30 / Dublin, Ireland / Senior executive in a trade association

"I love looking up at the sky from my glass box of a kitchen with a cup of coffee. It steadies me for the day ahead."
---
George (front) and Cordelia (seated) and Milo and Pip (reluctant pets) / 30 and 27 / Nottingham, UK / Marketing; Academic at the university

"We bought this house last week and the first meal we cooked in our new kitchen was our go-to pasta favourite: Spaghetti Puttanesca packed with capers and anchovies. We make it spicy, salty, and garlicky: perfection."
---
Cora / 18 / London, England / Student studying A level History, Politics, and Philosophy (Photo: Rosa)
"I suppose this is technically my father's kitchen, but I tend to occupy it cooking our meals and baking vegan cakes. Once I'm on my gap year I'm hoping to be baking commissions at least part-time."
---
Taylor / 25 / Glasgow, UK / Grad student, writer

"I've lived in New York and LA, and got used to living with very small or ill-equipped kitchens. Which was annoying because I love cooking, especially recipes that require you to do 80 things at once. My kitchen here in Glasgow is so spacious and has a six burner gas stove and cooking here is just an absolute dream."
---
Marne / 30 / Berlin, Germany / Comic

"Here I am, frying johnny cakes for my girlfriend on a snowy Sunday evening. My favorite kitchen appliance is the electric kettle, and you can tell we're giant queers because the kettle is peeking out from behind those pink Tegan and Sara tickets on top of the fridge, just above the purple 'still loving feminism' postcard."
---
Ami Freeberg and Ellie Grace / 29 and 38 / Kansas City, MO / Urban farm and local food organizer; Musician, songwriter, dancer, and teacher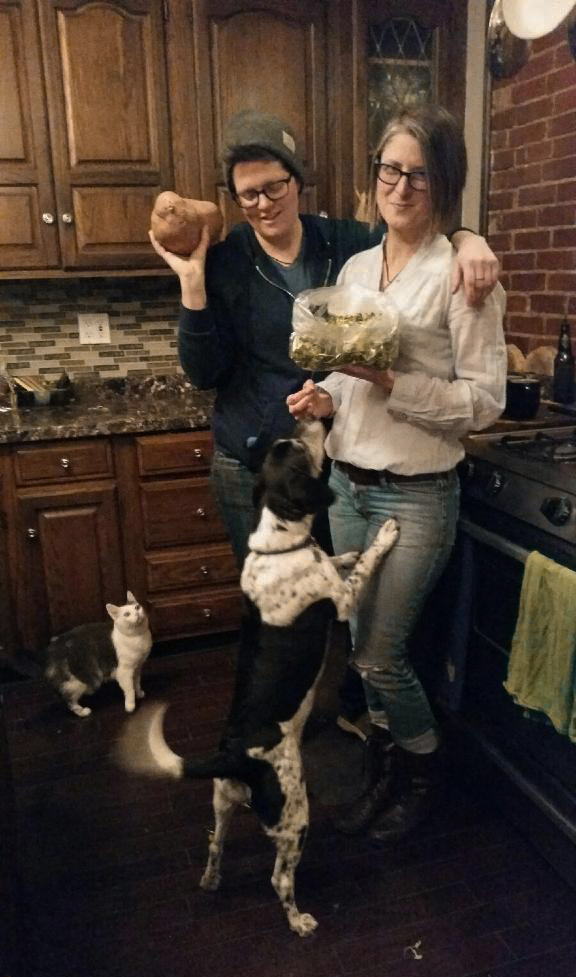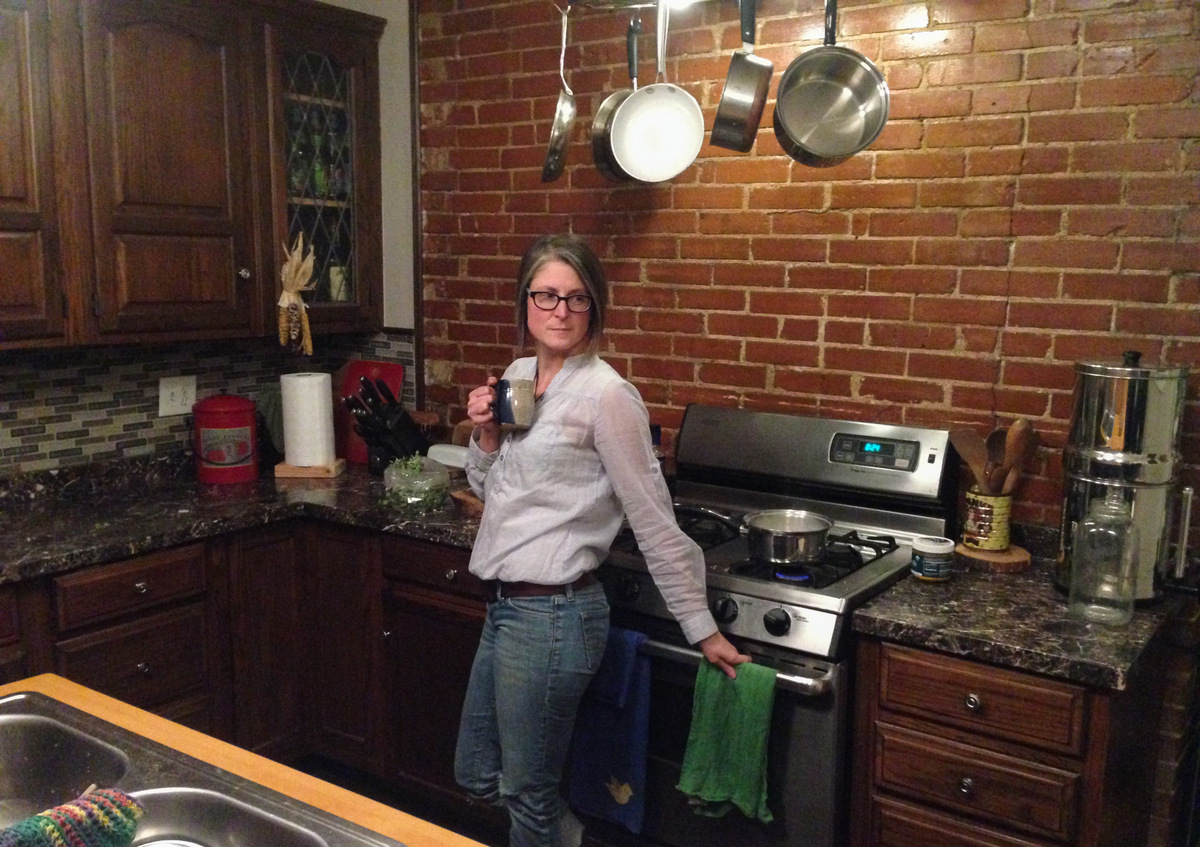 "As two life-long vegetarians raised by hippie parents, our culinary tastes as a couple are quite compatible. Ami's passion for growing, cooking, and eating fresh veggies drove her decision to buy this house – the kitchen was perfect with exposed brick, lots of counter and cabinet space, and enough room for the whole party to gather in the kitchen."
Sharon / 26 / Peterborough Ontario, Canada / Carpenter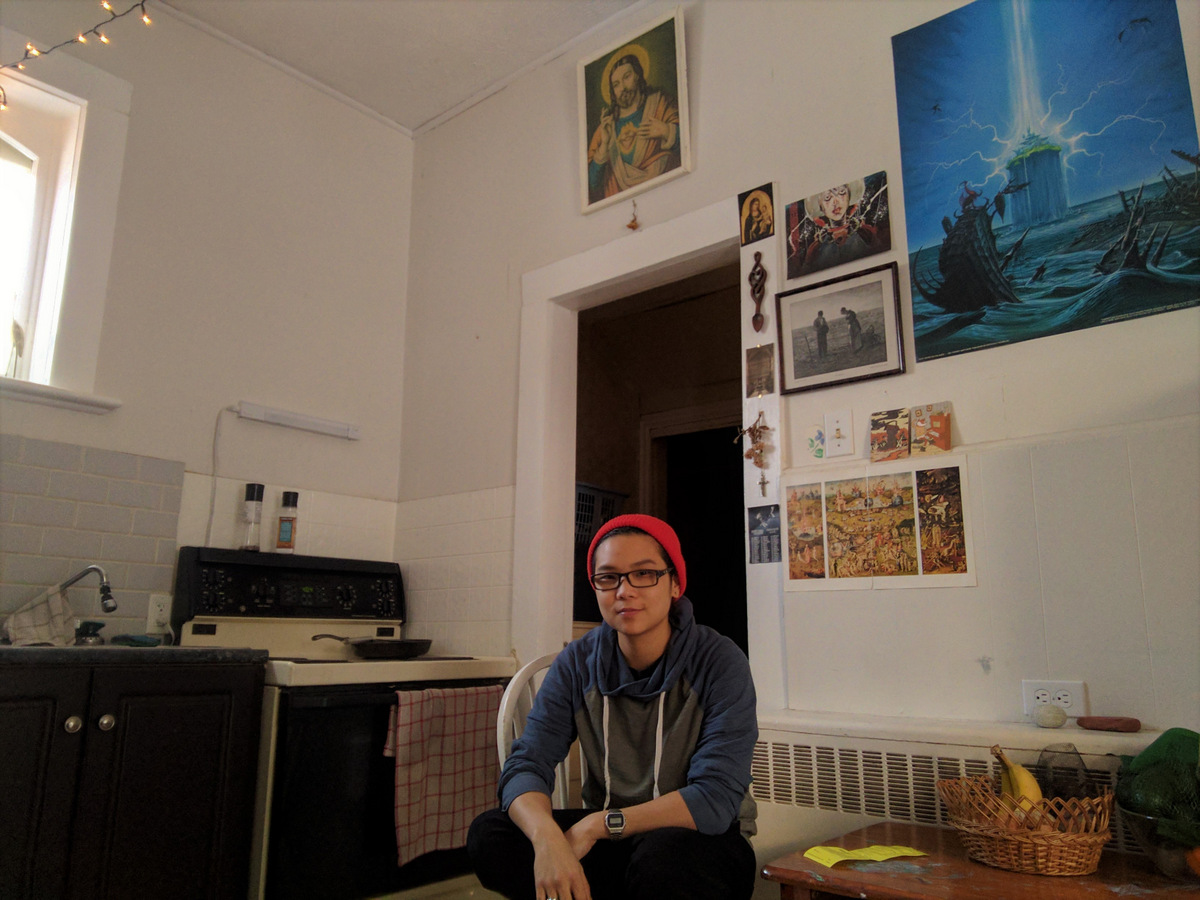 "My roommate isn't religious, but really likes religious art… so here we are. Also I just got that parking ticket, so I'm pretty pissed."
---
Stacia and Izzy / 24 and 23 / Cambridge, MA / Communications; School Psychology Intern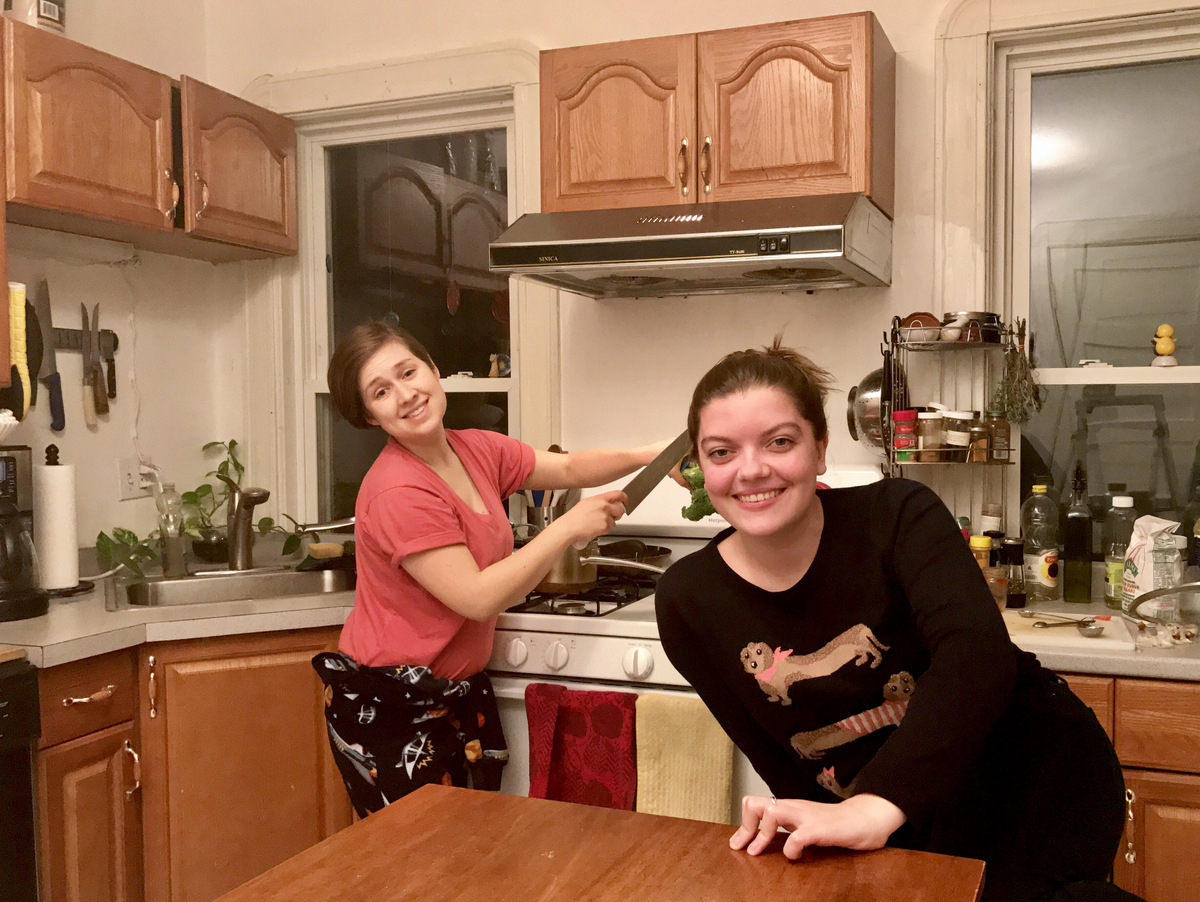 "Our kitchen is a place of creativity, compassionate cooking, salt, and root vegetables."
---
Jamie and Hannah / 25 and 26 / Montréal, Qc / Quality Assurance Tester; Grad student and housing advocate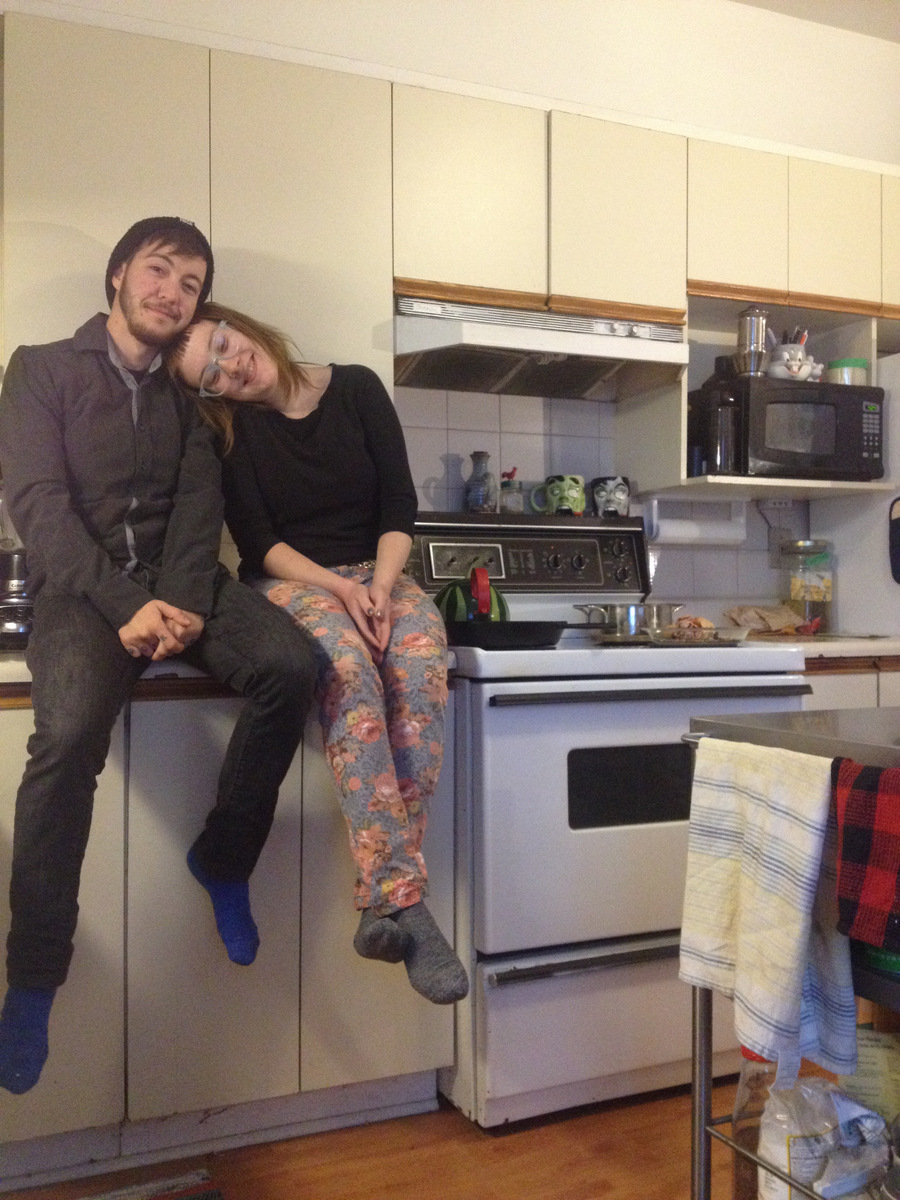 "Thinking about priced items, we've got a wicked cool space cats mug where all the cats are wearing astronaut outfits. We cook a lot, but breakfast is definitely extra special at our house: vegan banana cinnamon buns, tofu scramble, egg in the basket, fresh bread and lotsa coffee."
---
Sarah and Sheldon / 29 / Denver, CO / PhD Student

"The kitchen is one of the few spaces my academic work hasn't invaded and many of the items in it were given to me by some of my favorite people, so it's become a comforting and grounding place for me."
---
Chelsea and Amelia / 27 / Paddington, Brisbane, Australia / Mechanical engineer (yay STEM) and PhD candidate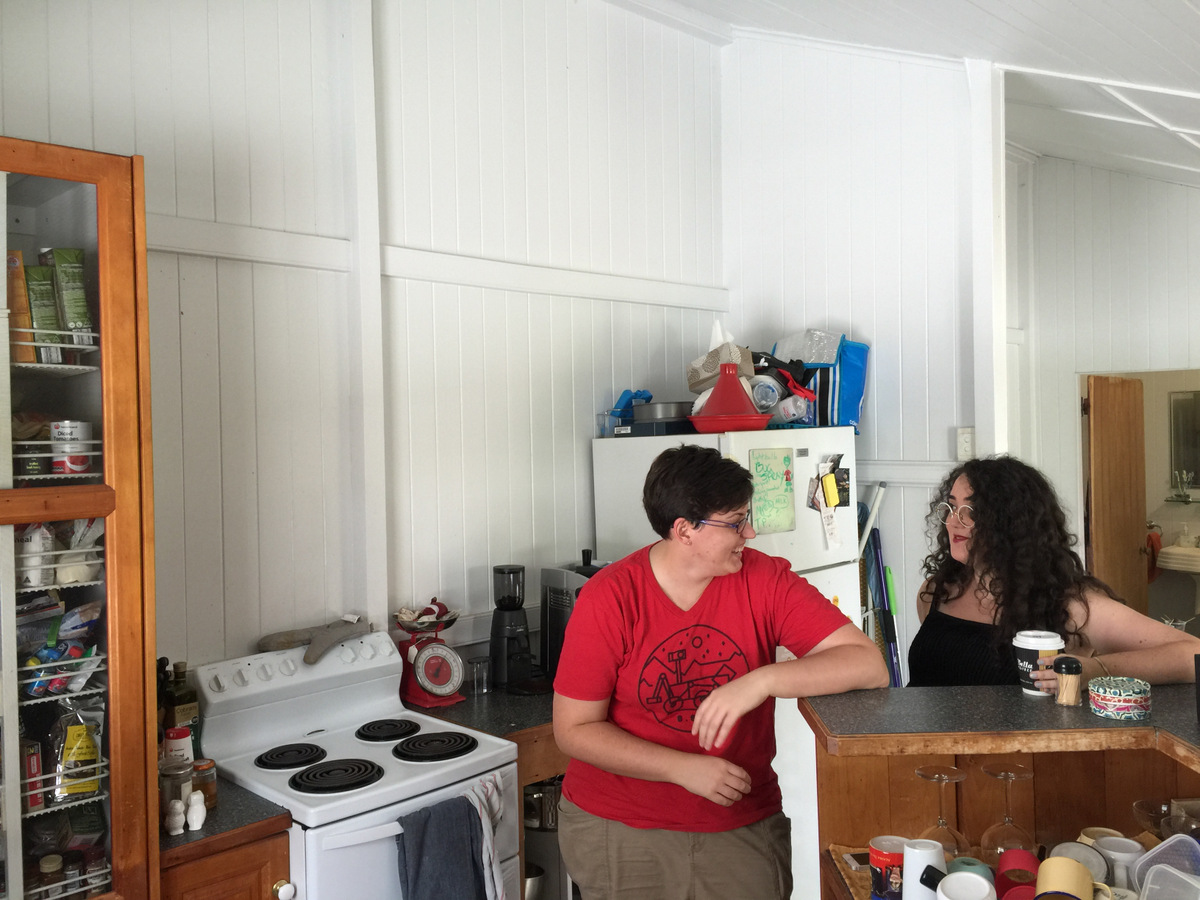 "Our kitchen is a very strange shape, and while it looks quaint it's difficult to use for anything other than toast. It's part of a Queenslander, which is a specific type of house from our state that is actually just a wooden box on stilts. Our most prized kitchen item is Chelsea's coffee machine, because we equate 'most-prized' with 'most used' and without coffee we are nothing."
---
Holly / 27 / Hamilton, Ontario / Grad student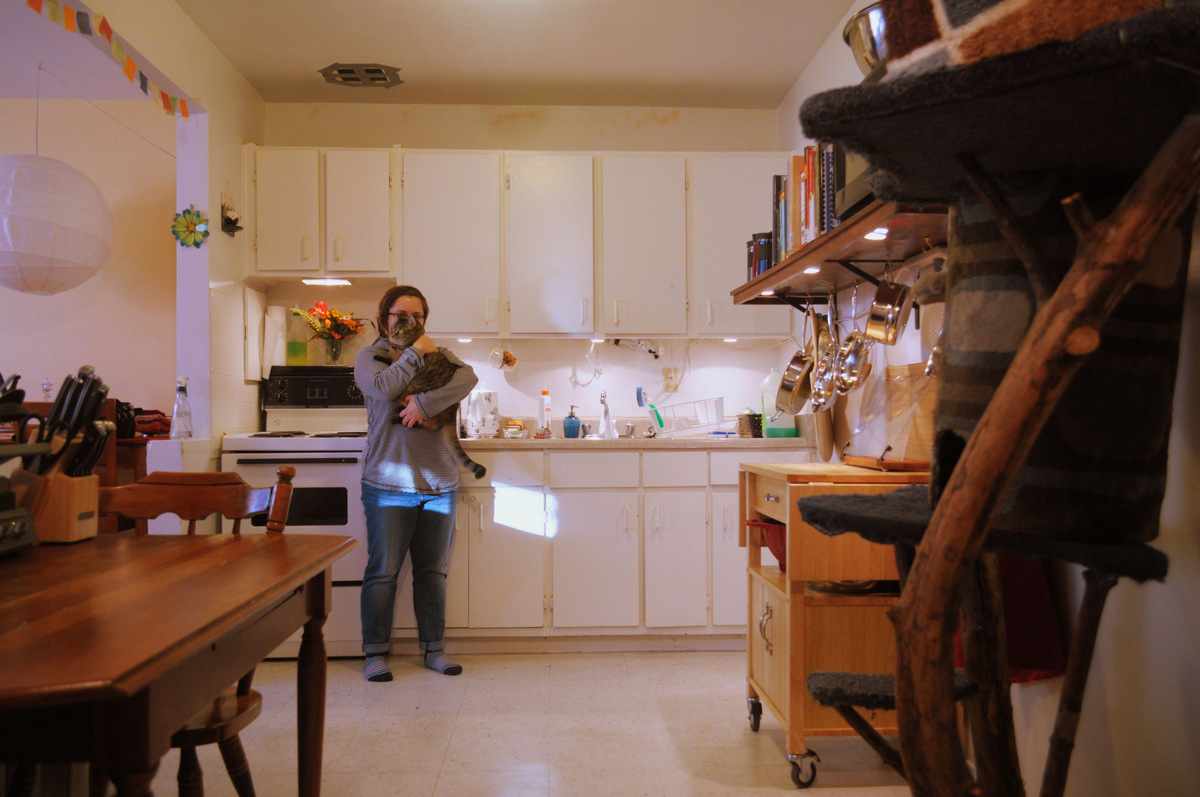 "I like cooking anything that has lots of spices in it, because adding spices to a simmering pot of food makes me feel like a potions master."
---
Kate / 28 / Oakland, CA / Clinical Psychologist

"When I'm in my kitchen I feel like I can do anything."
---
Hanna / 21 / Vancouver, BC / Gender Studies student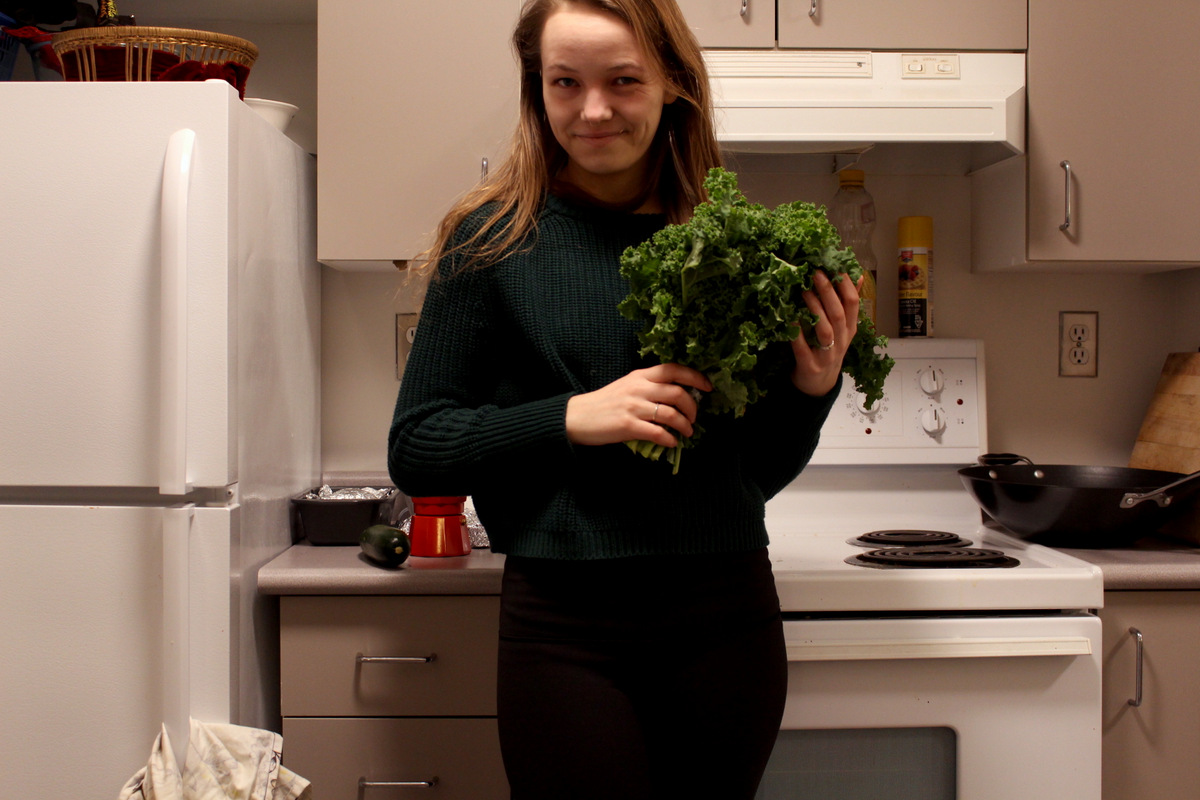 "I love to cook an assembly of whatever vegetables I have in my fridge (like this bunch of kale I am fondling!). I don't have strong positive feelings towards my kitchen because it's a shitty student residence kitchen. But at least some delicious things come out of it!"
---
Lark Malakai Grey / 29 / Ypsilanti MI / Nutritional Therapist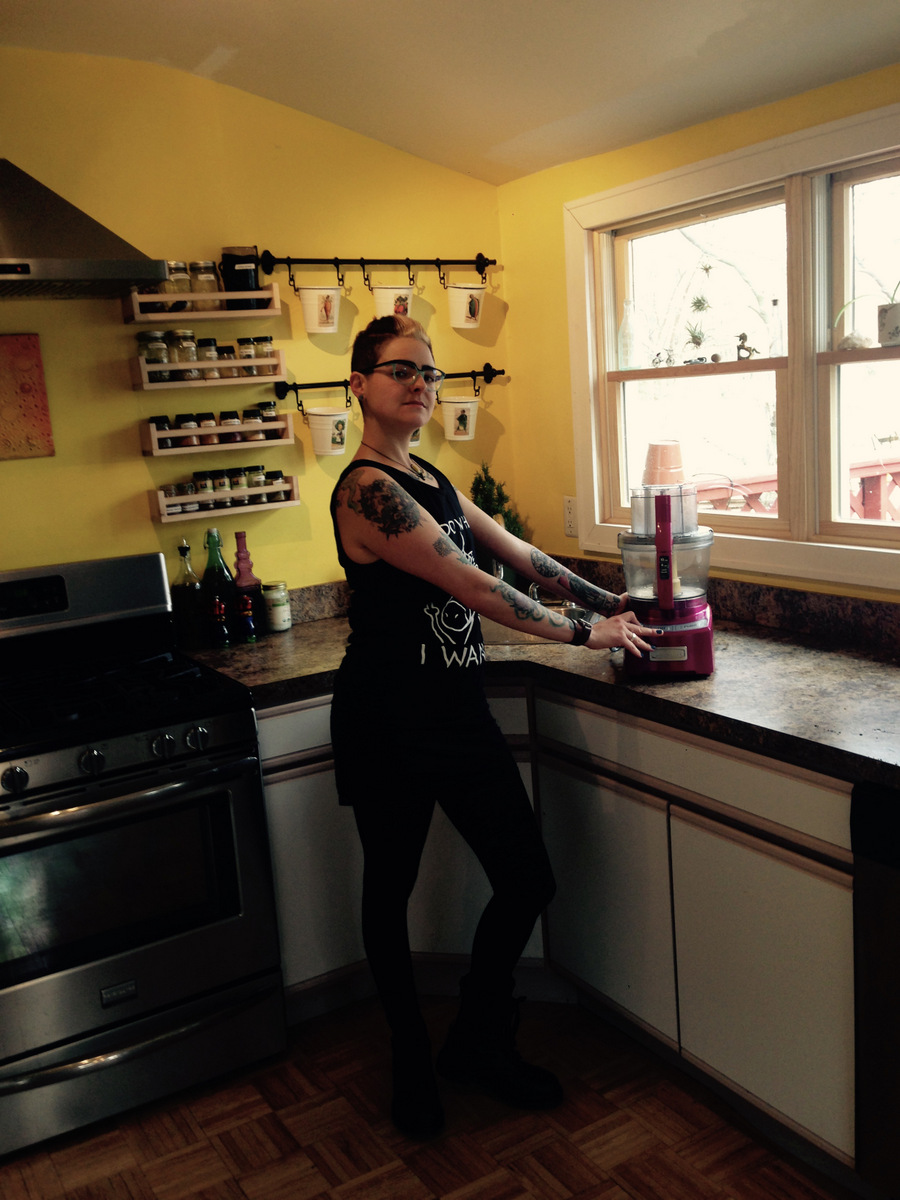 "I'm a food witch, and this food processor is my familiar."
---
Alia Allen / 38 / SW Detroit / Academic Advisor

"I love my stove.  Picked it up for 25 bucks off craigslist. She's a real champ."
---
Leah / 30 / Chicago / Theatre Person

"On our first date, my fiancé Katie and I made lasagna together in my shitty grad student kitchen. She still loves it when I make that (and so do the cats)."
---
Kristi (left) and Grace (counter), Elvis the dog, and Ripken the cat / 27 and 31, 4 and 4 months / Kitchener, Ontario / Runs a home daycare; Business analyst
Kristi: "It's not my dream kitchen, but I've definite had worse. My favorite things to make are chili, gumbo, and pretty much any Italian food. Most prized kitchen item? Definitely our juicer. There's nothing better than fresh juice in the morning."
Grace: "Kristi's the cook. I make the salads."
---
Emily / 24 / Saskatoon, SK, Canada / Treeplanter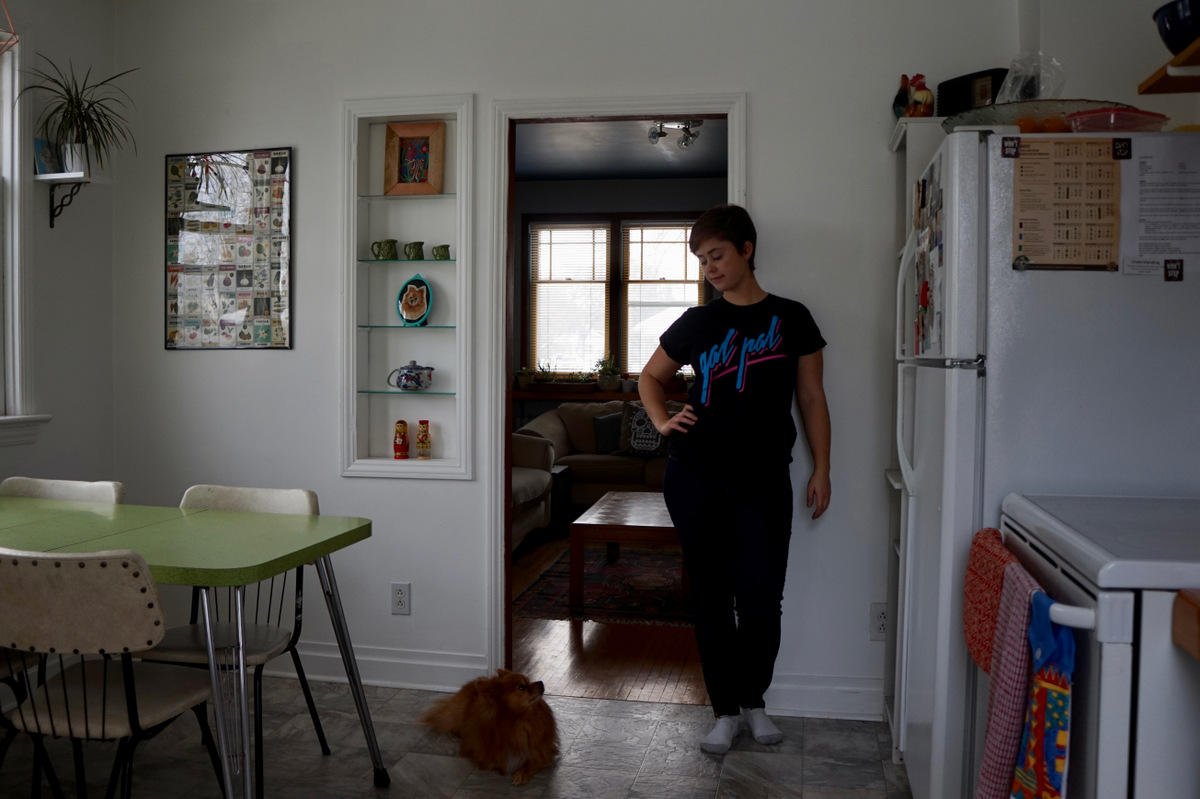 "My favourite thing about my kitchen is Friday night soup night. Everyone is invited to soup night."
---
Dwyn Asher / 26 / Belmont, CA / Artist, VISTA member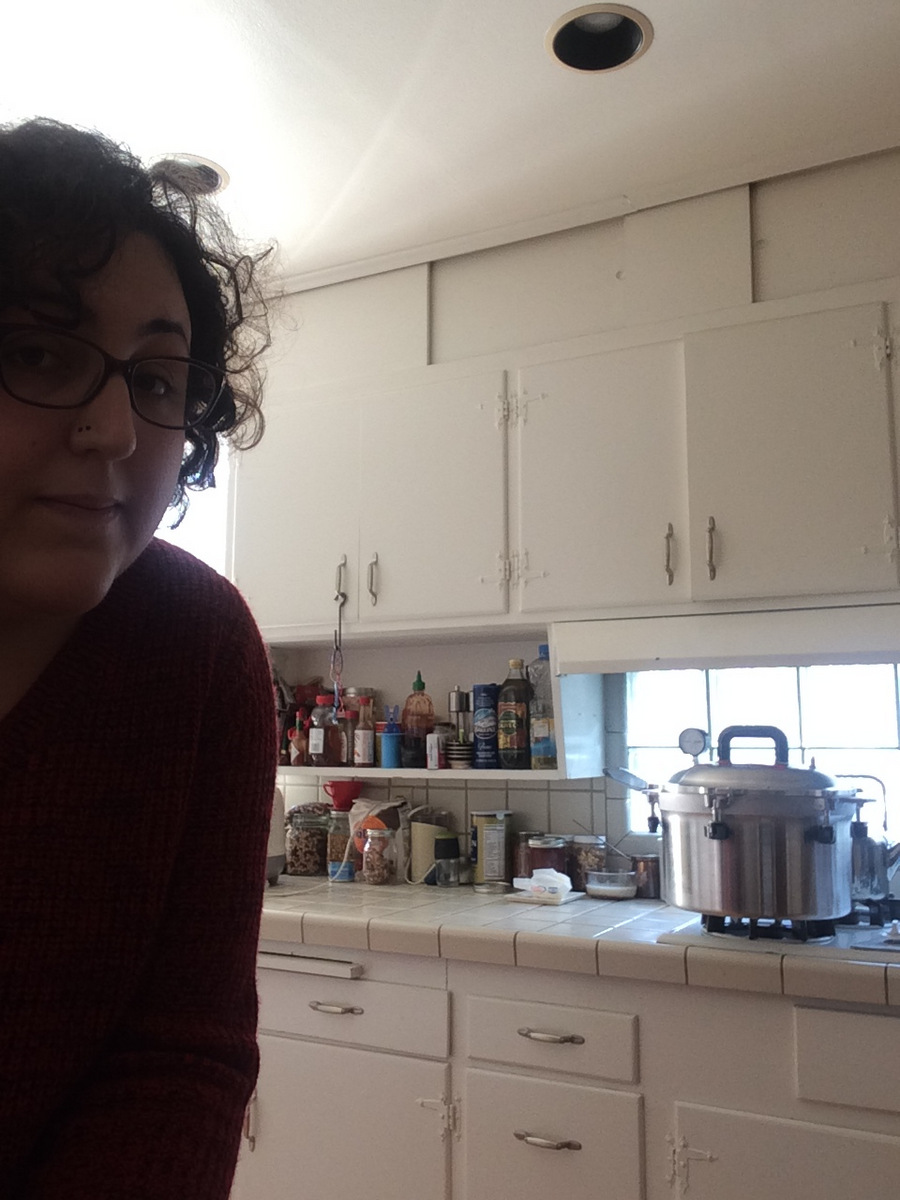 "I bought a pressure canner a few years ago and it's my favorite thing I own. I love looking at all the soups and sauces I've canned over the summer and I feel cool and sciencey using it."
---
Christine and Katie / 27 and 22 / Ferndale, MI / Environmental engineer; Aspiring physician (fresh UMich graduate)
---
Megan and Sarah, Mason and Nemo (dogs) / 29 and 26 / Brooklyn, NY / Interior designer; Sexuality educator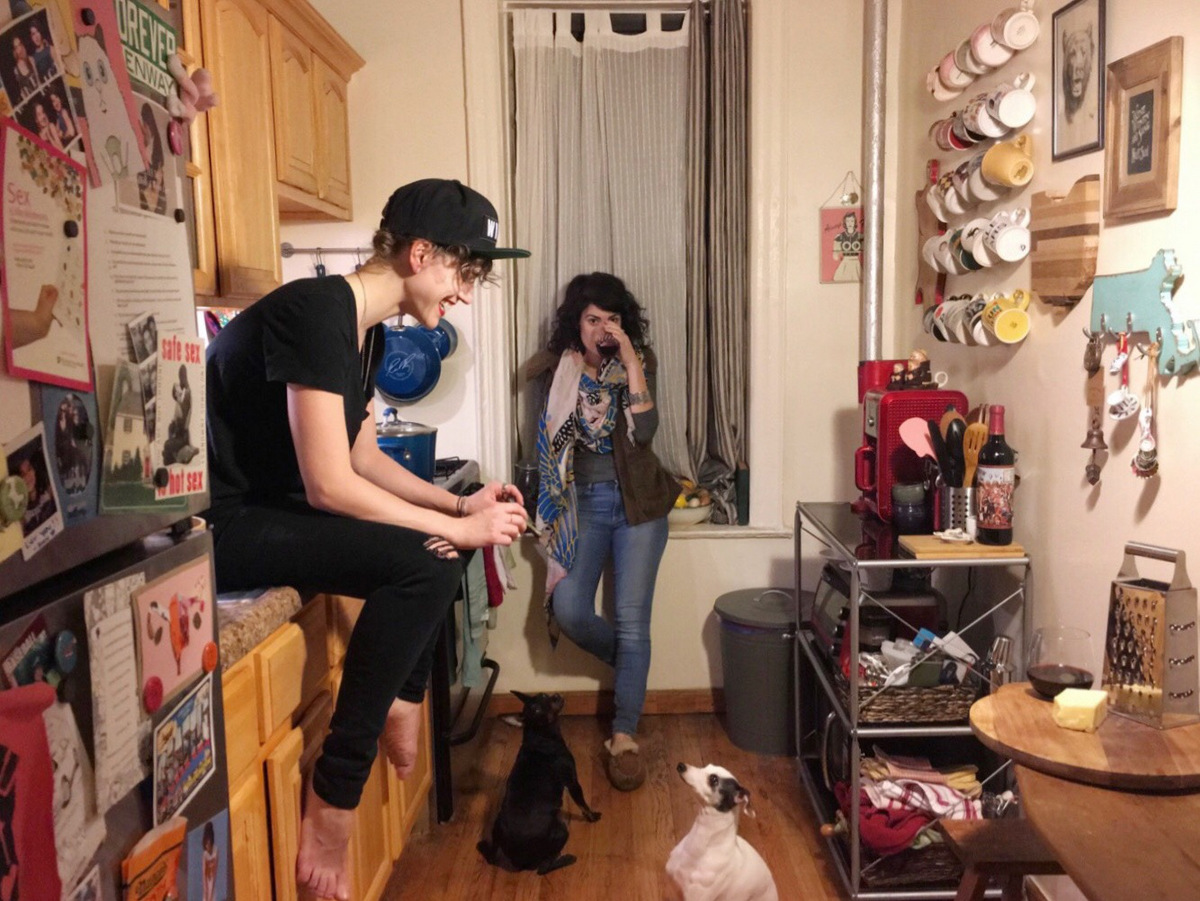 "Megan just got into cooking, while Sarah has always loved to bake. The favorite kitchen item isn't even a kitchen tool – it's the sign on the wall that says "wine, women, and song." We also love the wooden ironing board; it hangs out against the wall all day to provide more counter space, and then when it's time to eat, we just pull it out from the wall and sit on either side. Our stools double as our nightstands."
---
Gilda / 35 / Mexicali, Mexico / Customs Broker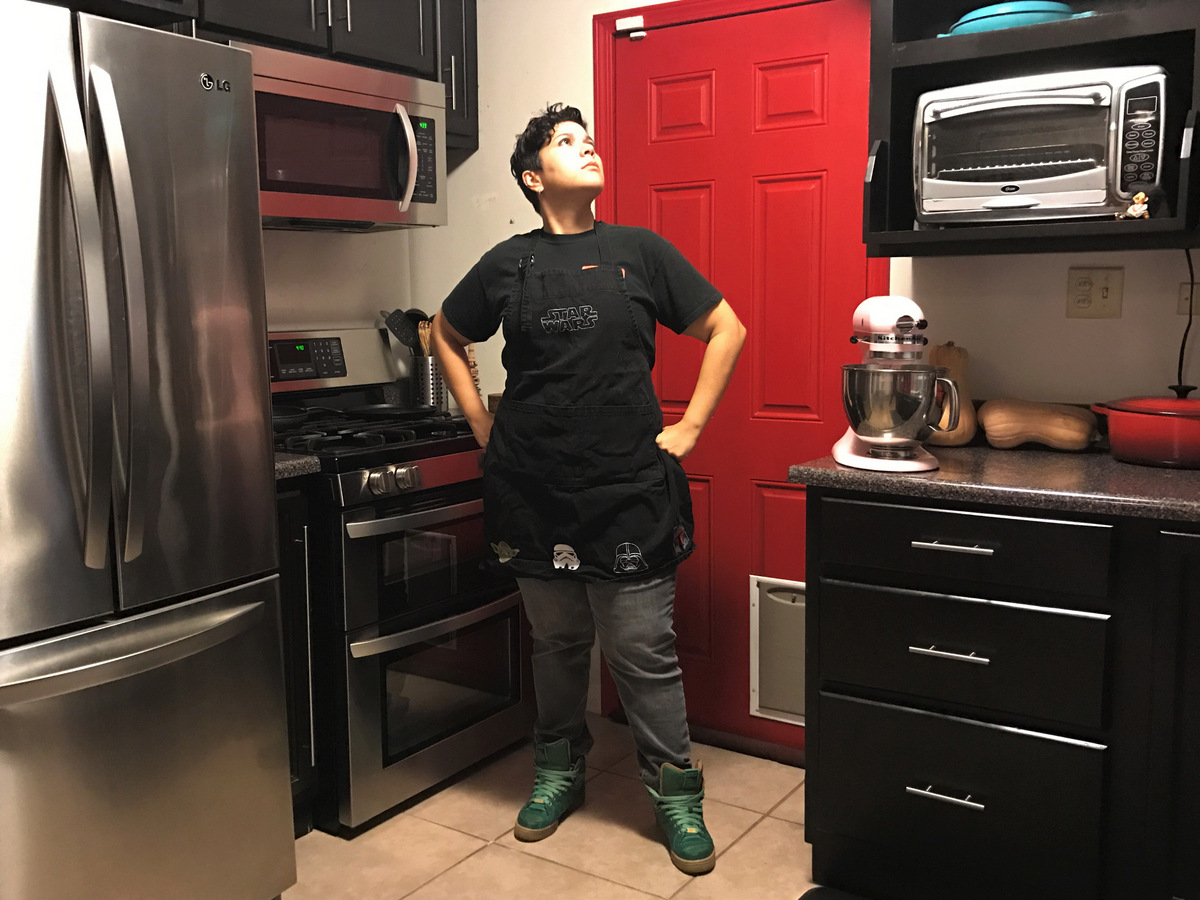 "I've made perfect macarons in this very kitchen. That officially makes it a holy place, right? That's how that works?"
---
Helen Lockett / 27 / San Diego, CA by way of England / Tutor, recent Women's Studies MA graduate
"I feel deep feelings about my small, adorable kitchen. I spend my days making soup using my girlfriend Sarah's immersion blender."
---
Mel, Kelly, and Bolin (cat) / 23, 22, 2 / San Francisco, CA / Software Engineer, Software Engineer, Loaf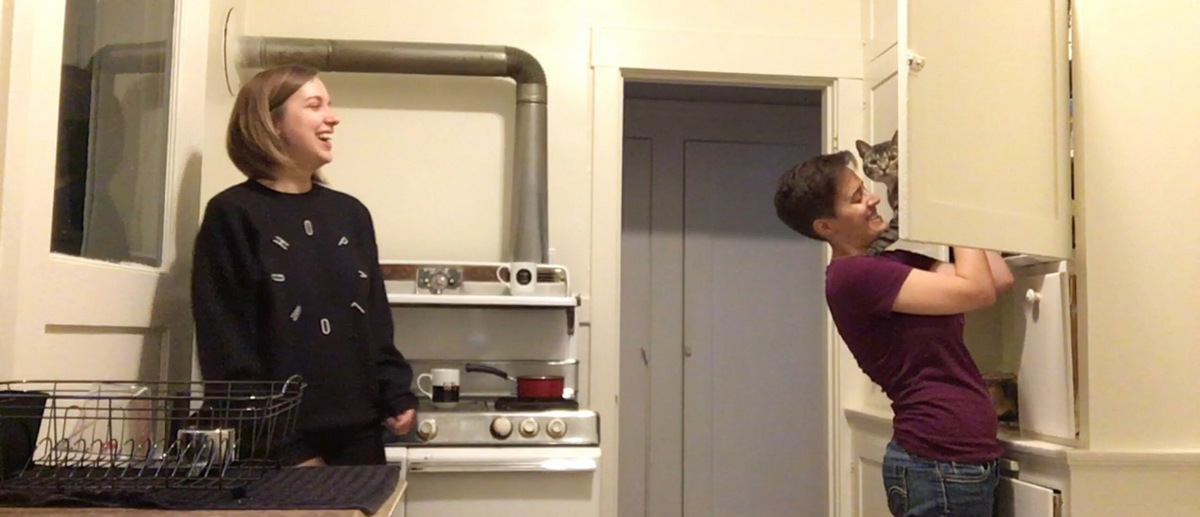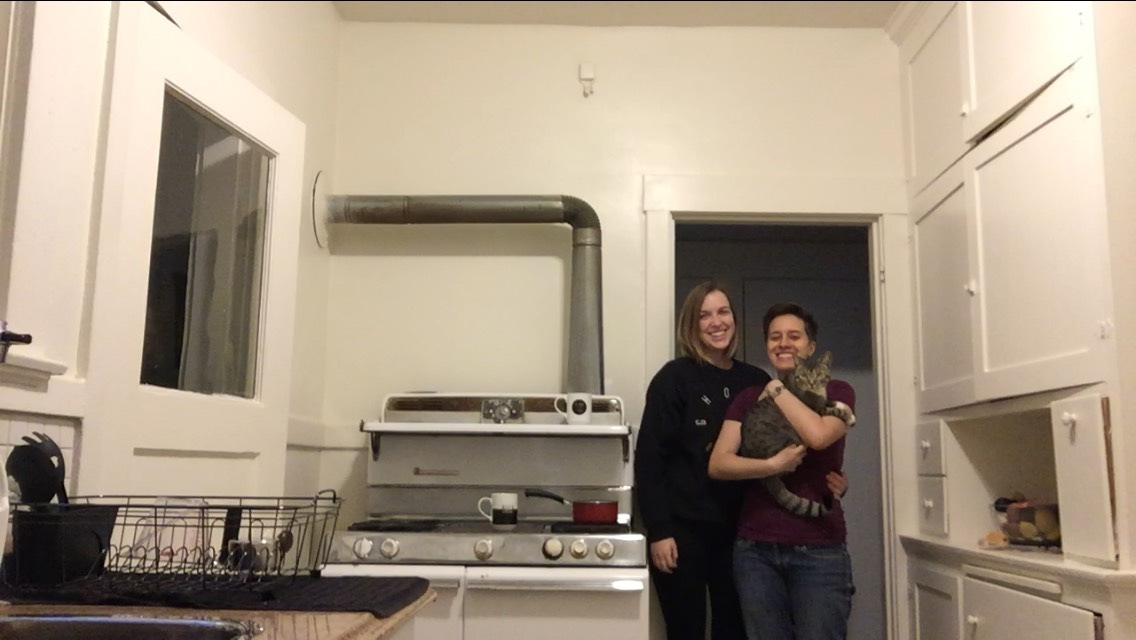 "We love all the quirks of our 1920's kitchen, including the ice box which isn't pictured, and the two dishwashers who are. Cooking has been a huge part of moving in together and learning how to adult; it sometimes seems like the only thing that makes sense in our world!"
---
Rachel / 33 / Brooklyn, NY / Public Health Professional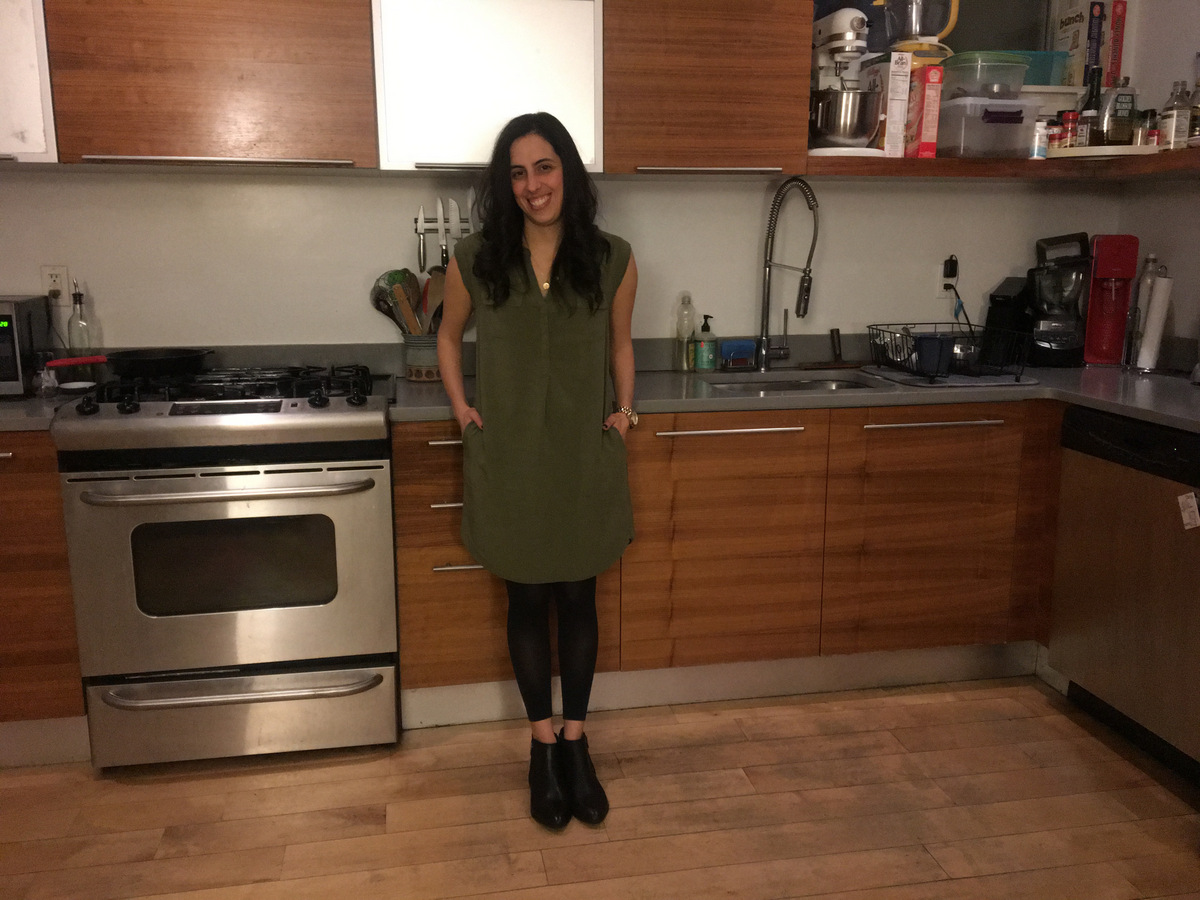 "I love trying to bake something that will challenge me, or teach me a new skill. Next on my list: baklava."
Liz and Chrissie / 28 and 30 / Philadelphia, PA / Ob/Gyn Resident; Accountant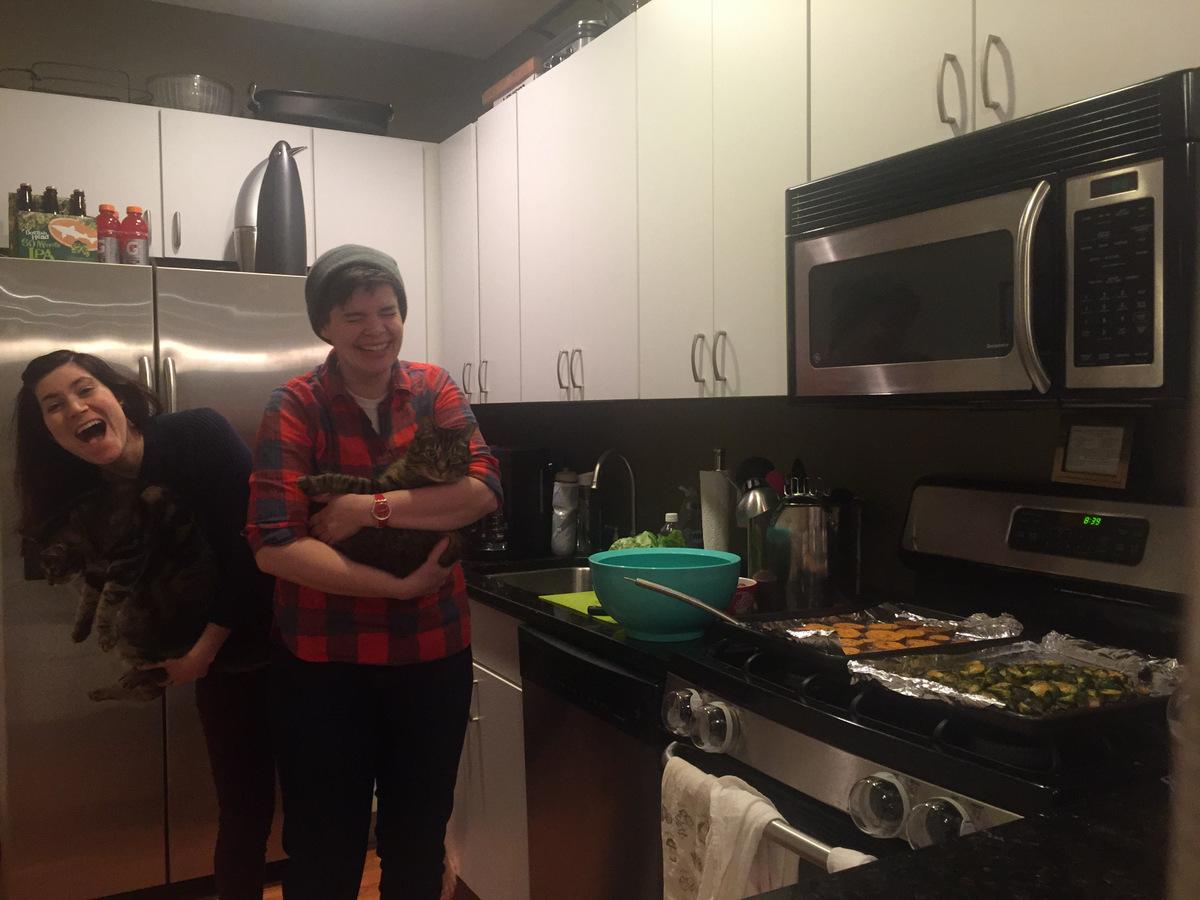 Liz: "At first I was like "ahh I have to clean the kitchen for a picture," but then I didn't want to. I took this shot while Chrissie was trying to cook dinner. It was really hard to wrangle the cats."
Chrissie: "Dinner is now cold."
---
Jo(sephine) / 24 / Champaign, IL / Recovery from a head injury and substitute teachin'
"I was raised by two professional chefs. Cooking is a trip!"
---
Linsey / 27 / Madison, WI / Project Manager (Photo: Amanda Polzin)
"I love my kitchen. I bought this house this summer, and the kitchen was the first part of it that really felt lived in, and totally mine. It's where I spend my mornings, with my french press and my first cup of coffee; it's where I host my friends, putting together cheese plates and big dinners; it's where I retreat at the end of the day, to do something that is just for me, making dinner for myself."
---
Lucia / 42 / Champaign, IL / ESL teacher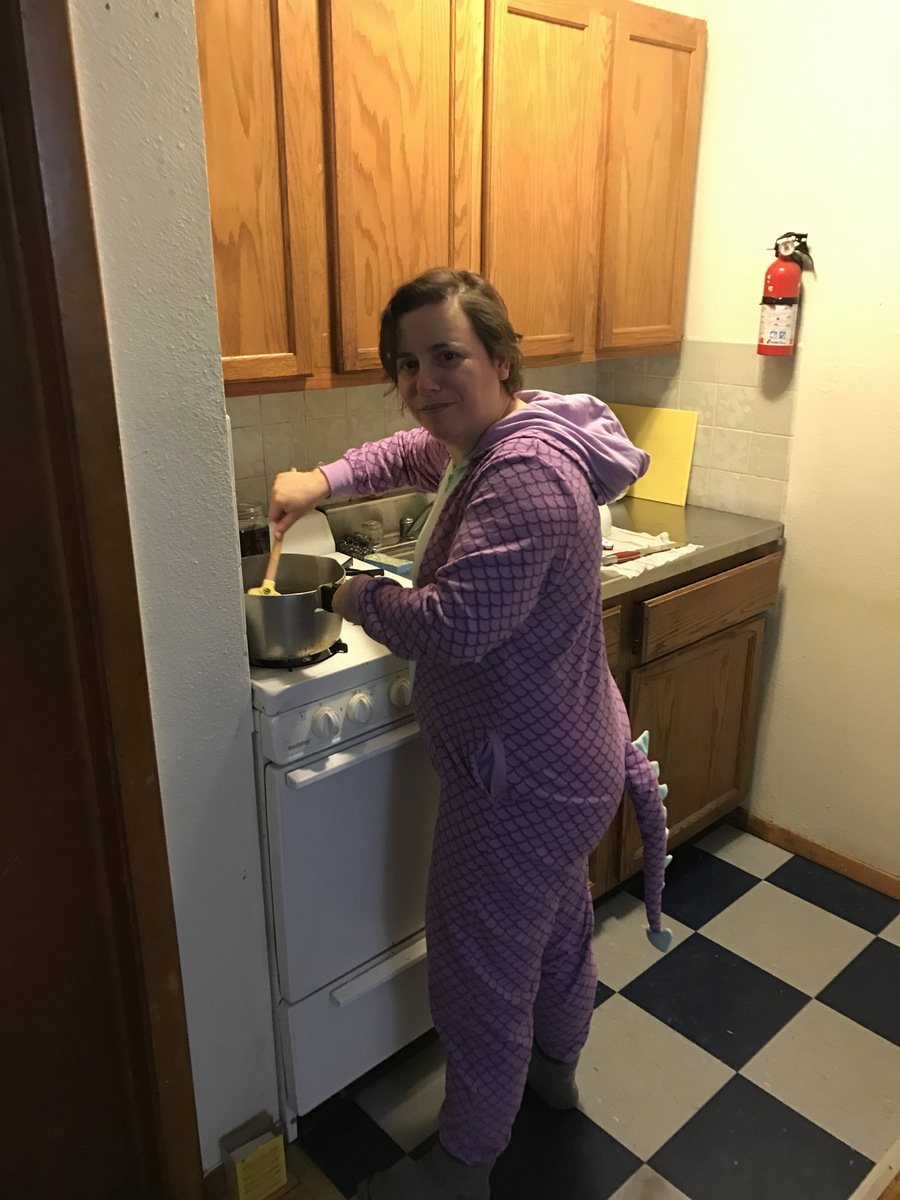 "Cooking is easy and fun for me. I can really groove out to cutting fresh vegetables. In the winter, I make more stews, mostly vegetarian. This winter, I particularly like making Gobi Coconut Curry featuring the delicious cauliflower."
---
Rachel / 35 / MA / Graduate Student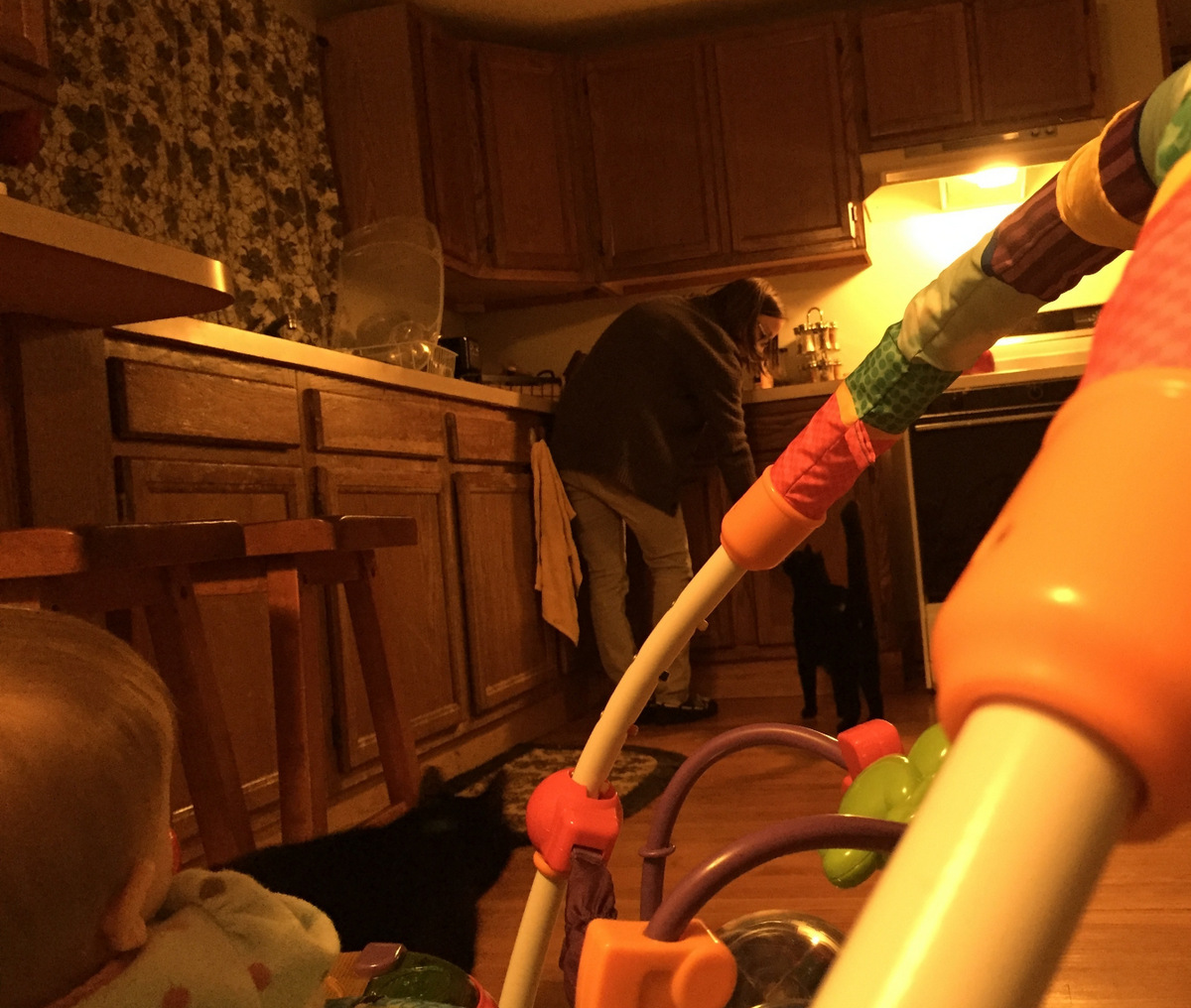 ---
Kate / 32 / Orono, ME / Bodysex Workshop Facilitator and Real Estate Agent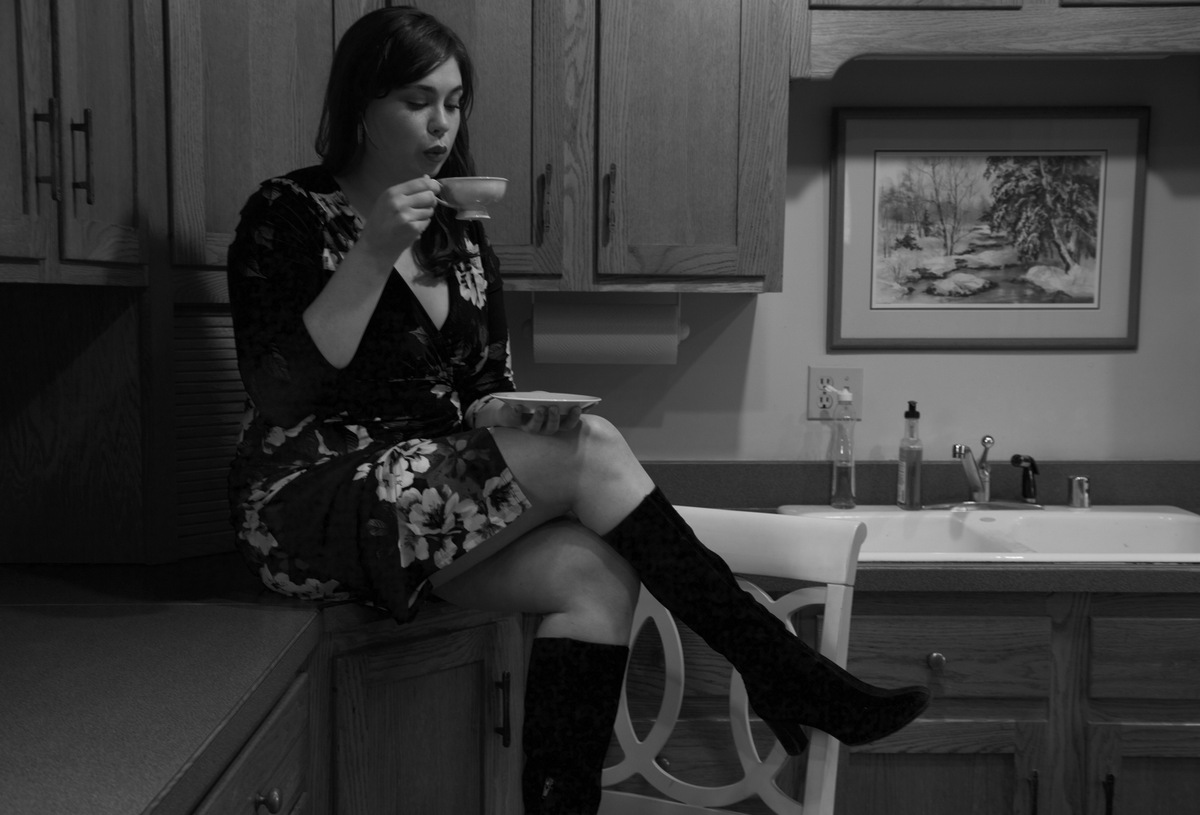 "I love making food for one on one dinners with good friends. Fresh herbs and spices like garlic, ginger, and basil can make anything taste delicious."
---
Amarys and AdriAnna (married humans), Titi and Rocky (unmarried dogs) / 27 / Durham, NC / Law student; Restaurant General Manager

"We both love to cook and trying new recipes. Our most used/prized kitchen item is our espresso machine; we make tons of Cuban coffee!"
---
Maggie / 26 / Orono, ME / Nonprofit Development Director
"I cook to love myself, to love other people, and to say a big fuck you to a world that can't deal with the radical acts of survival happening in the heart of my home. Kitchen=life."
---
Fall A-Camp 2016 Reunion / Varied ages / Madison, WI / Being amazing, taking no shit from anyone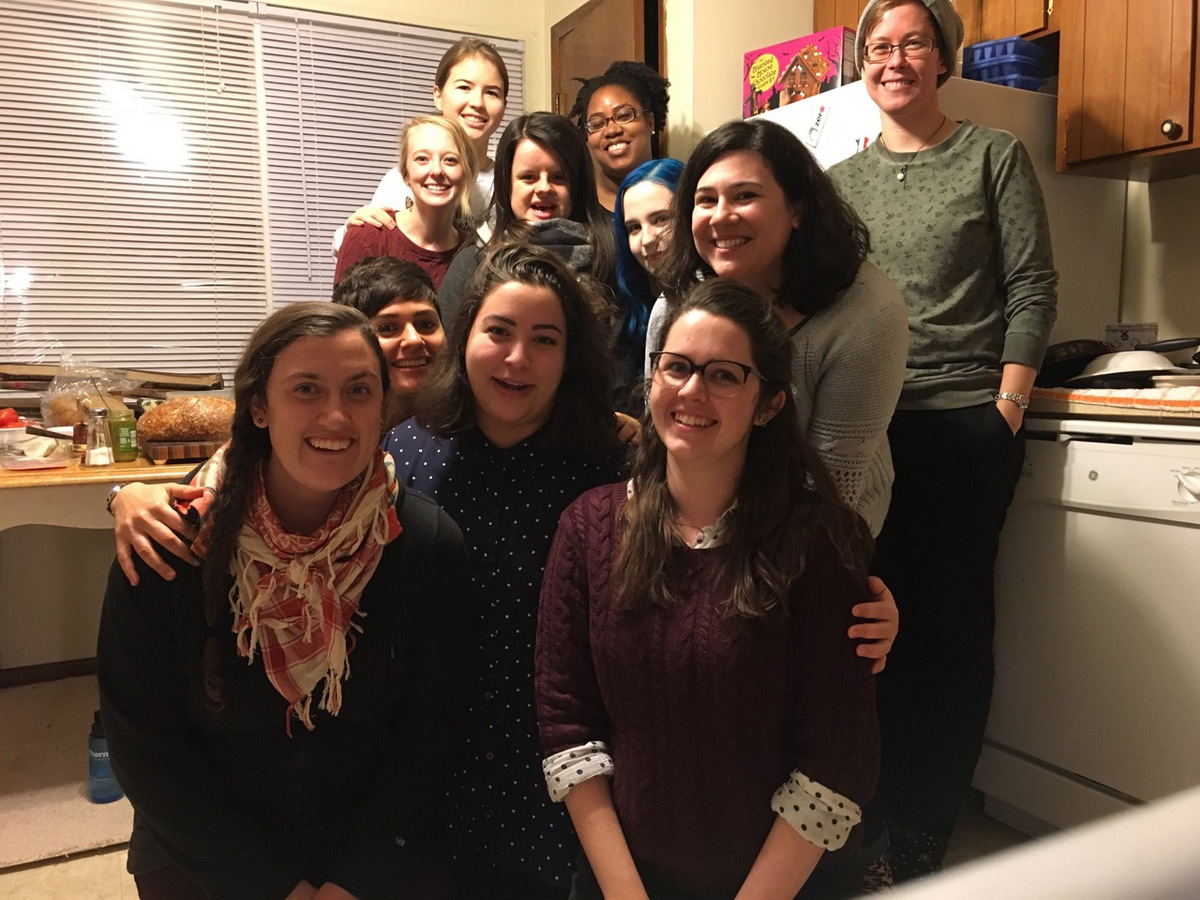 "Our group has talked for the past few months since A-Camp 2016 and all reunited in Madison. Cue queer hockey games, skating, cheese and liquor tastings."
---
Kate / 28 / Orono, ME / Filmmaker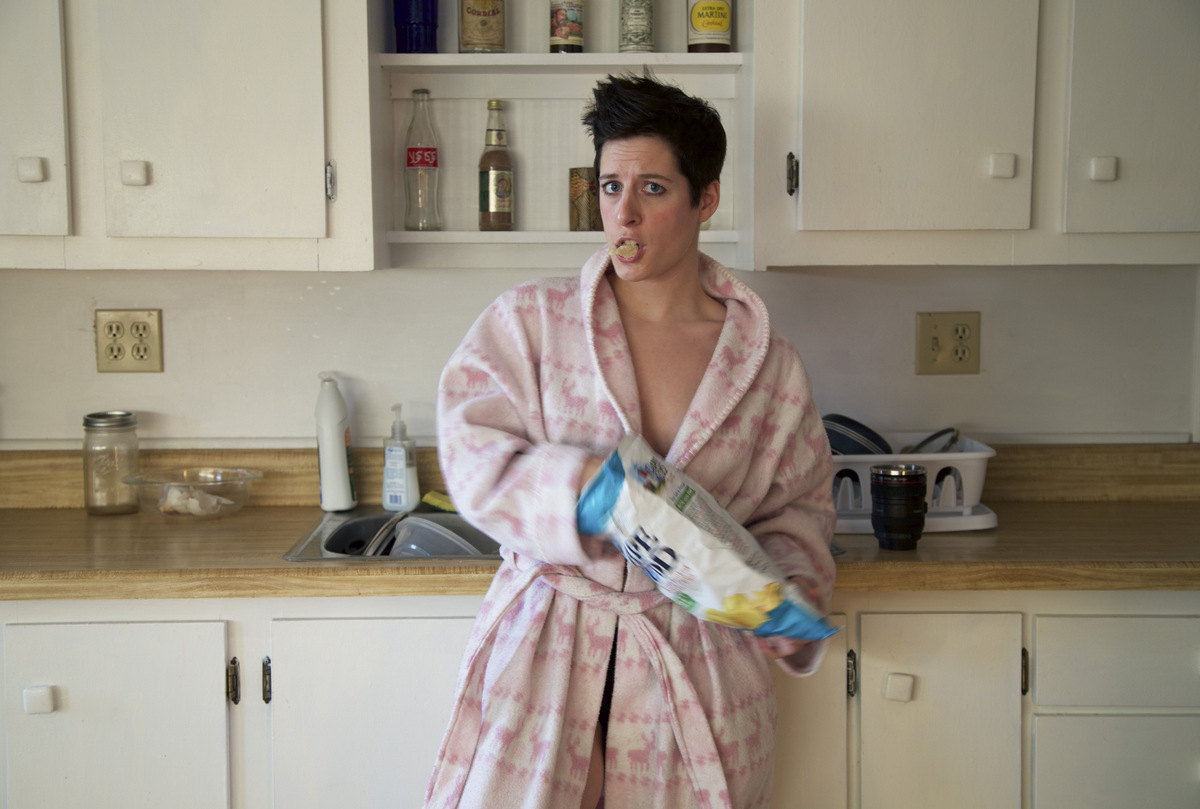 "How I feel about my kitchen: It's complicated…"
---
Emily / 25 / Chicago, IL / Economic consultant

"This is the first apartment I've had to myself, so I granted my childhood wish of having a chalkboard wall in my kitchen. Turns out I really hate chalk dust."
---
Ilene Palacios / 26 / Chicago, IL / I spend much of my time organizing art & community events in the Pilsen neighborhood, and being absorbed in various books, shows and movies

"My kitchen is a comfortable place where I can take my time to create something that will nourish me or my loved ones, affirm my Xicana identity, and honor and continue the knowledge of my family's womxn. In this photo, I'm making some flautas de pollo y queso, which my mom and grandma taught me to make, while rocking a Hogwarts t-shirt because I'm a bruja."
---
Sidra and Audrey / 24 / Santa Cruz, CA / Graduate students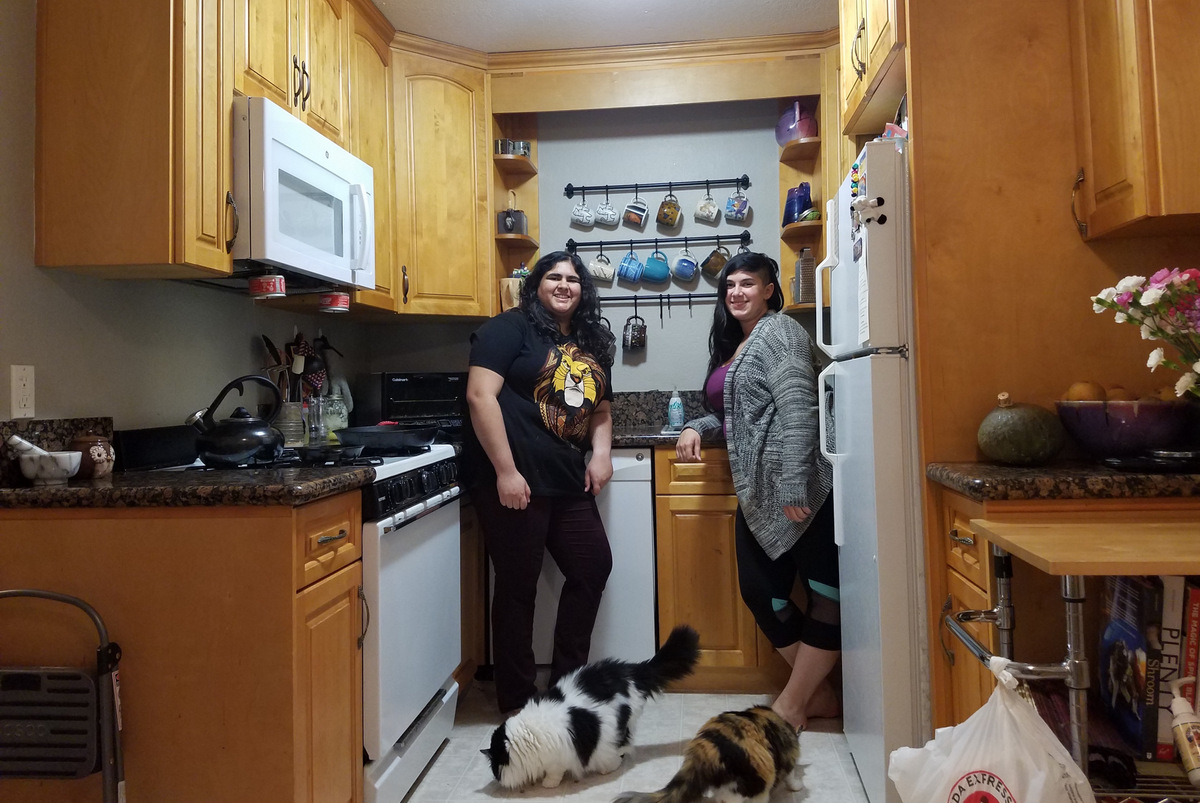 "Favorite item in kitchen: cats. Second favorite: cast iron skillet."
---
Alanna / 26 / Missoula, MT / Grad student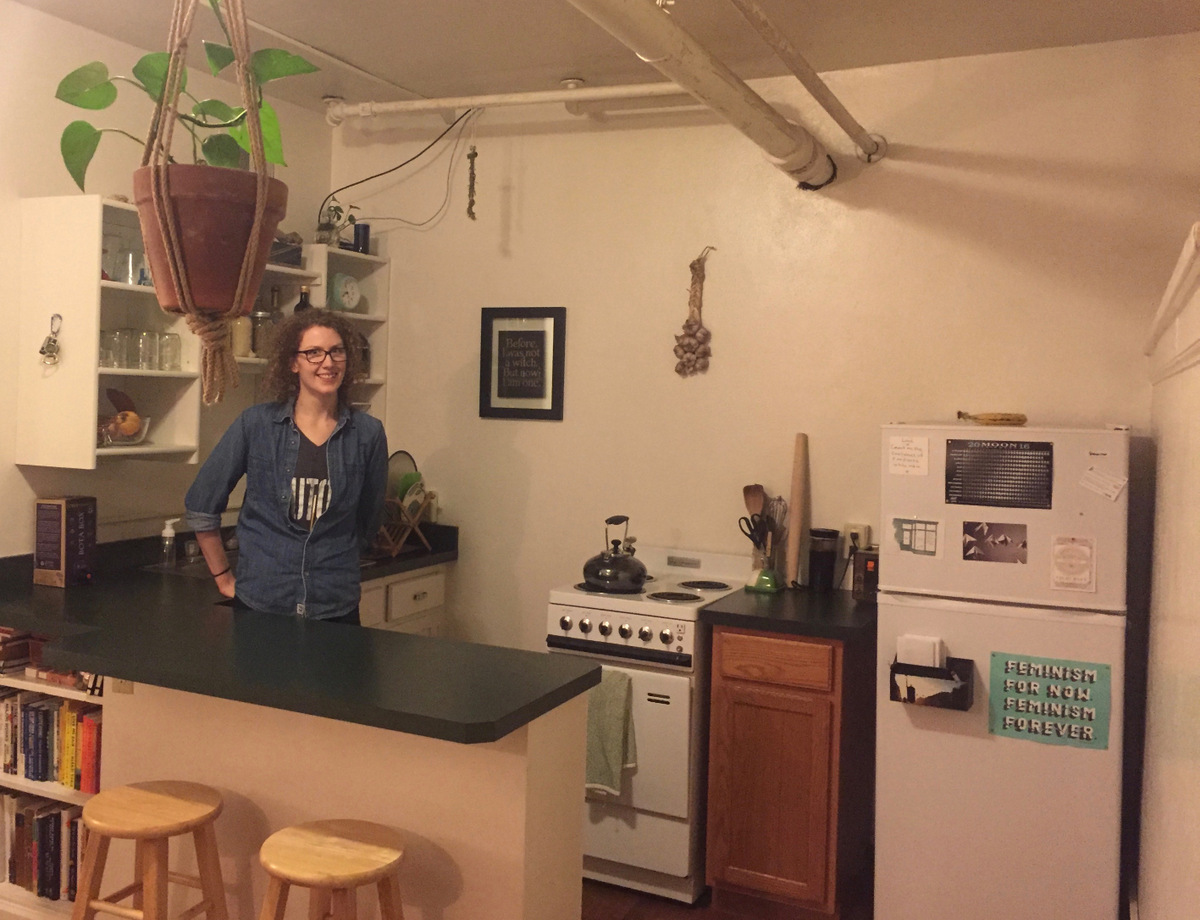 "My kitchen is fully one third of my apartment, but is the first kitchen that is just mine and therefore beloved. But seriously, buy a French rolling pin."
---
Taz Solace (ft. Cappucino/"Cappy", my 14 year old cat familiar) / 21 / East Van, Unceded Coast Salish Territories, "Canada" / Disabled genderqueer high femme, singer-songwriter

"This kitchen is shared between 4 queers in a colourful collective home. I find myself using it the most to whip magical meals out of seemingly nothing. It's tiny, (with so little counter space that we moved my office desk into the room for more cooking space), messy (nothing to be ashamed of!), and too busy for some roommates' tastes but I'm very proud of how we've turned a bleak space in a pricey city into a DIY, cozy, body-positive, Weasley-esque kitsch-en."
---
Kristin and Zowie X (Zowie: they/them) / Columbus, OH / Stylist at Rendezvous Salon; Pet Sitter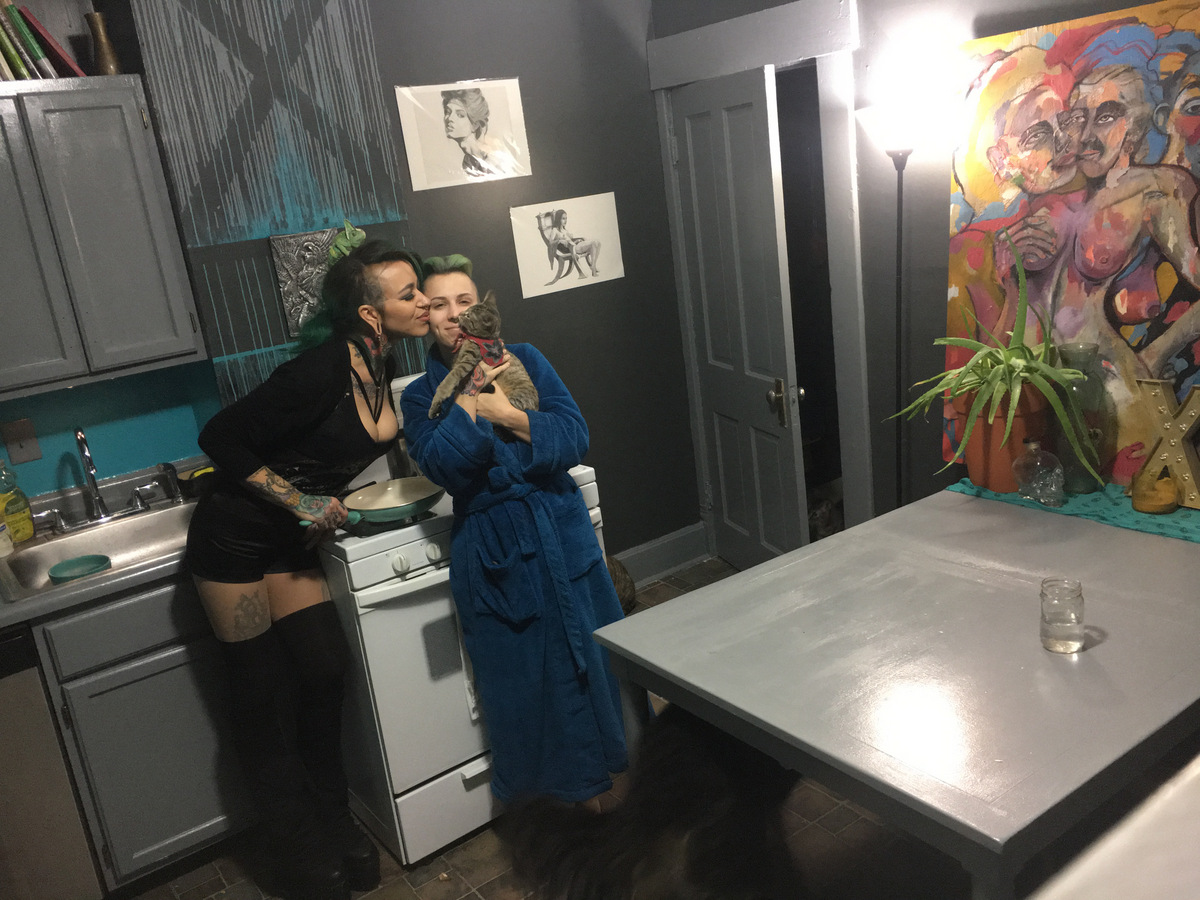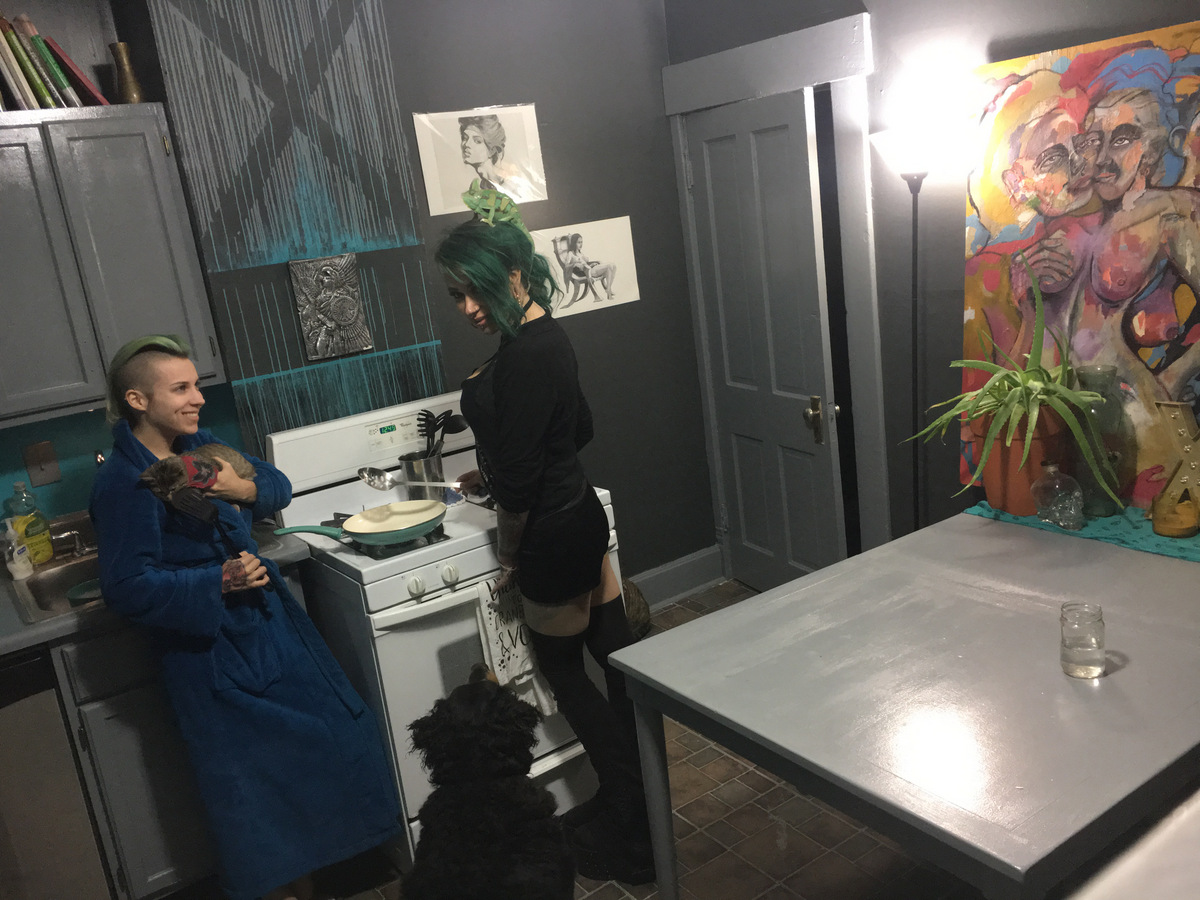 "We are obsessed with caramelized onions. We each would prob do anything for them; we eat them with pasta, hash browns, queso, or alone and without shame. It's probably the only thing we put any time into preparing, otherwise we get food delivered. (And by we, we mean Zowie.) There's nothing hotter than coming home from a long day at work to your partner holding a kitten and caramelizing onions in the n00d."
---
Hannah / 24 / Denver, CO / Barista, Bartender, Writer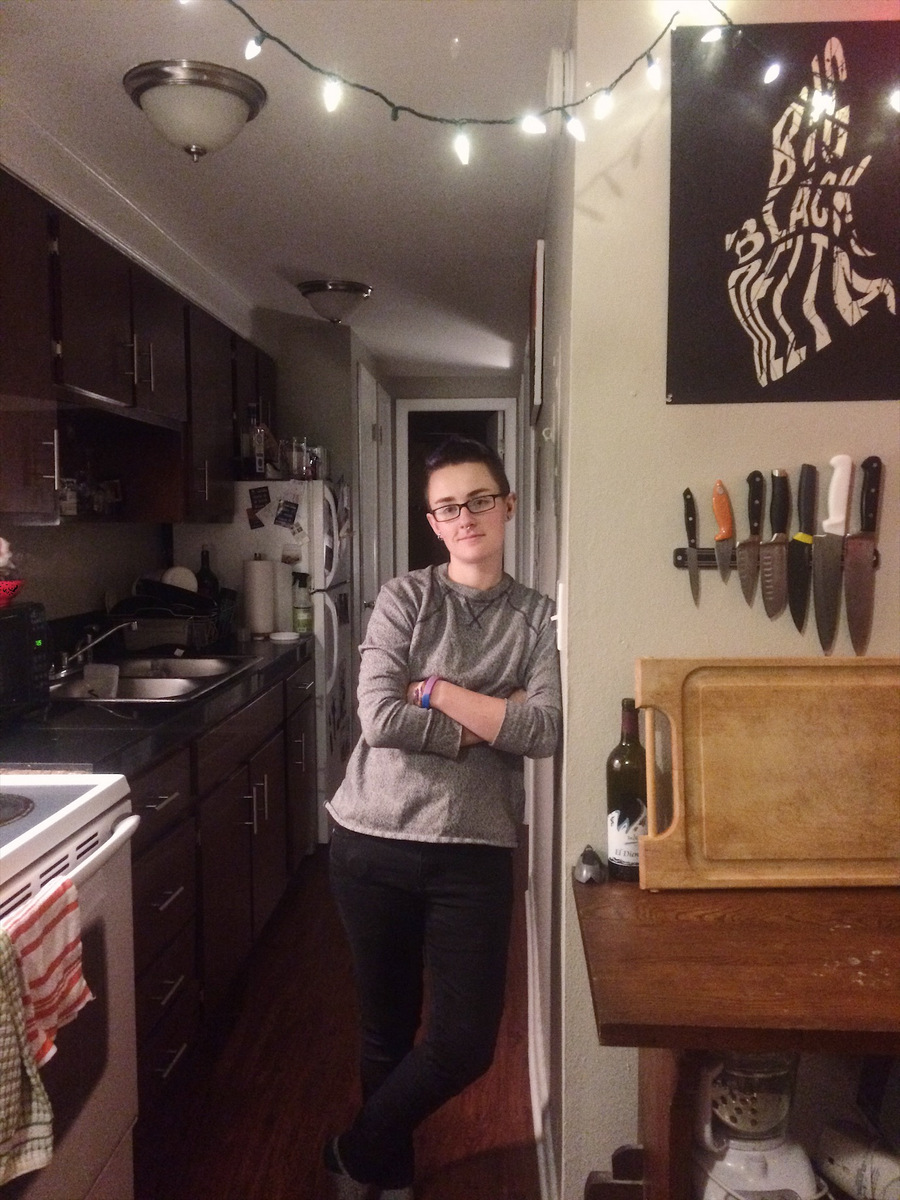 "Cooking for me is about love and creation. No matter how crappy my kitchen is, it's still something of a sacred creative space for me, and cooking is a way of kind of radiating love out of that space, towards my own body and to others."
---
María José & Kate / 31 and 29 / Vancouver, Canada / Tech Support Human; Public Space Engineer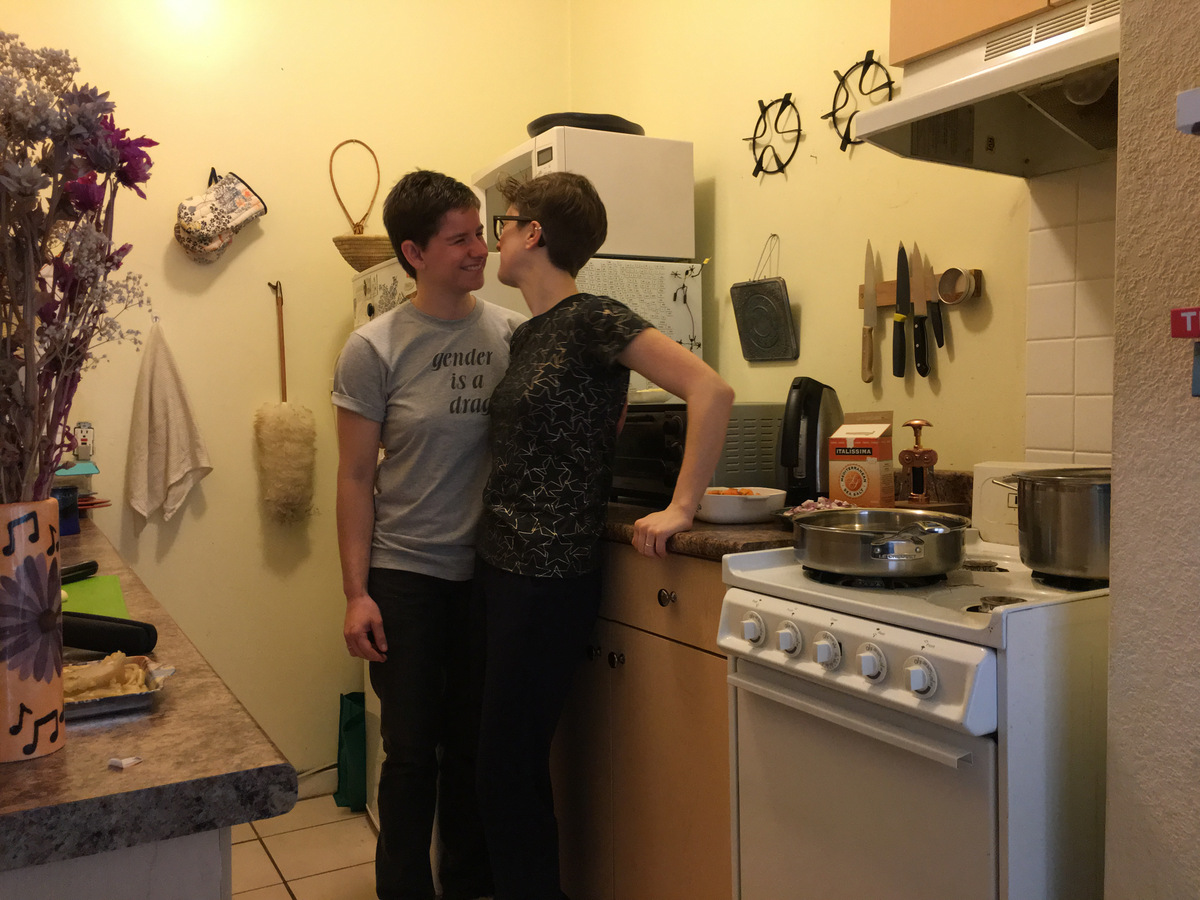 "Three years ago, this was just Kate's kitchen, and Maria sat on top of the fridge (a thing that rock climbers do when they're nervous?) while Kate made pancakes, rounding off a very successful third date. Last weekend, Kate made huevos rancheros (one of Maria's favourite breakfasts) and Maria did the dishes."
---
Haji / 41 / Sabah, Malaysian Borneo / Manager at a Non Profit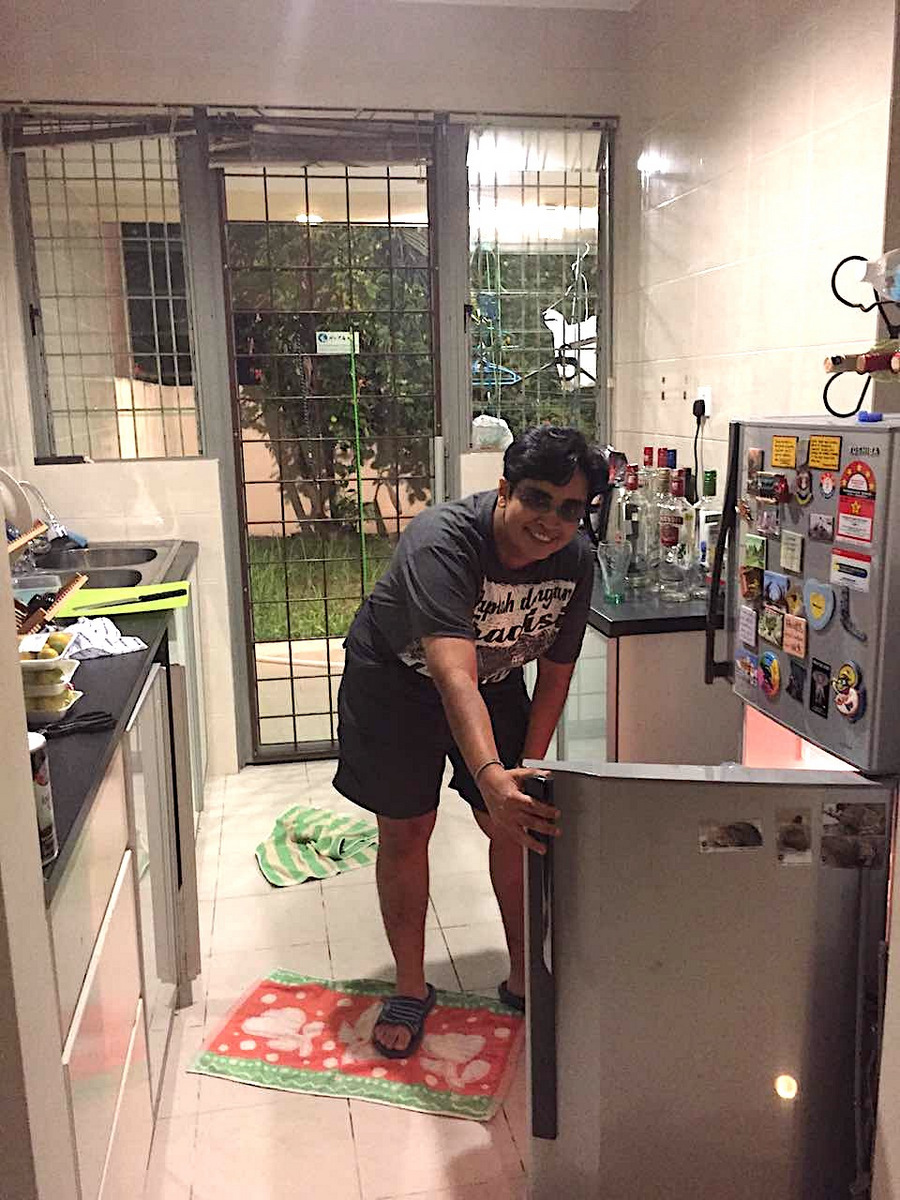 "I don't cook, so this tiny kitchen is perfect for me and my Smirnoff vodka bottles which I use for water."
---
Beth Maiden / 34 / Isle of Skye / Tarot reader
"I feel odd about my kitchen. It's the fanciest kitchen I have ever had in my adult life, but I'm temporarily living in a holiday home and everything in it is immaculate and grown-up and absolutely not mine. I feel lucky to be here. But I also feel like I can't wait to have my own messy perfect 'me' kitchen again. My favourite thing to make is bread."
Kate / 24 / Vancouver, Canada / Geological Engineer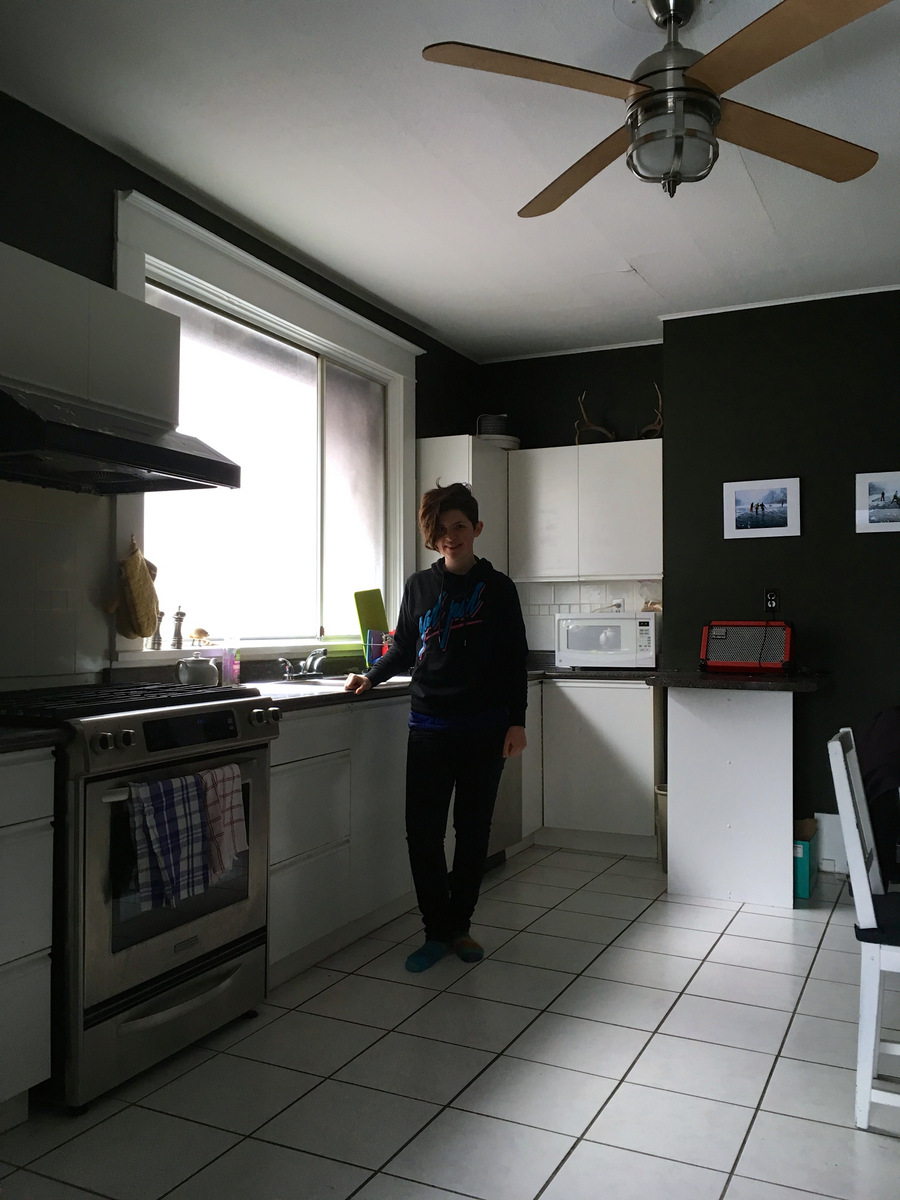 "I like cooking dinner with friends. Nothing overly complicated – I want to focus on the conversation, not the recipe."
---
Monique / 27 / Tucson, AZ / Kindergarten Teacher
"I just moved in so there's not much here, but I love putting my students' artwork on the fridge. It's cute to look at every day."
---
Celia / 28 / Knoxville, TN / Cook, salad tosser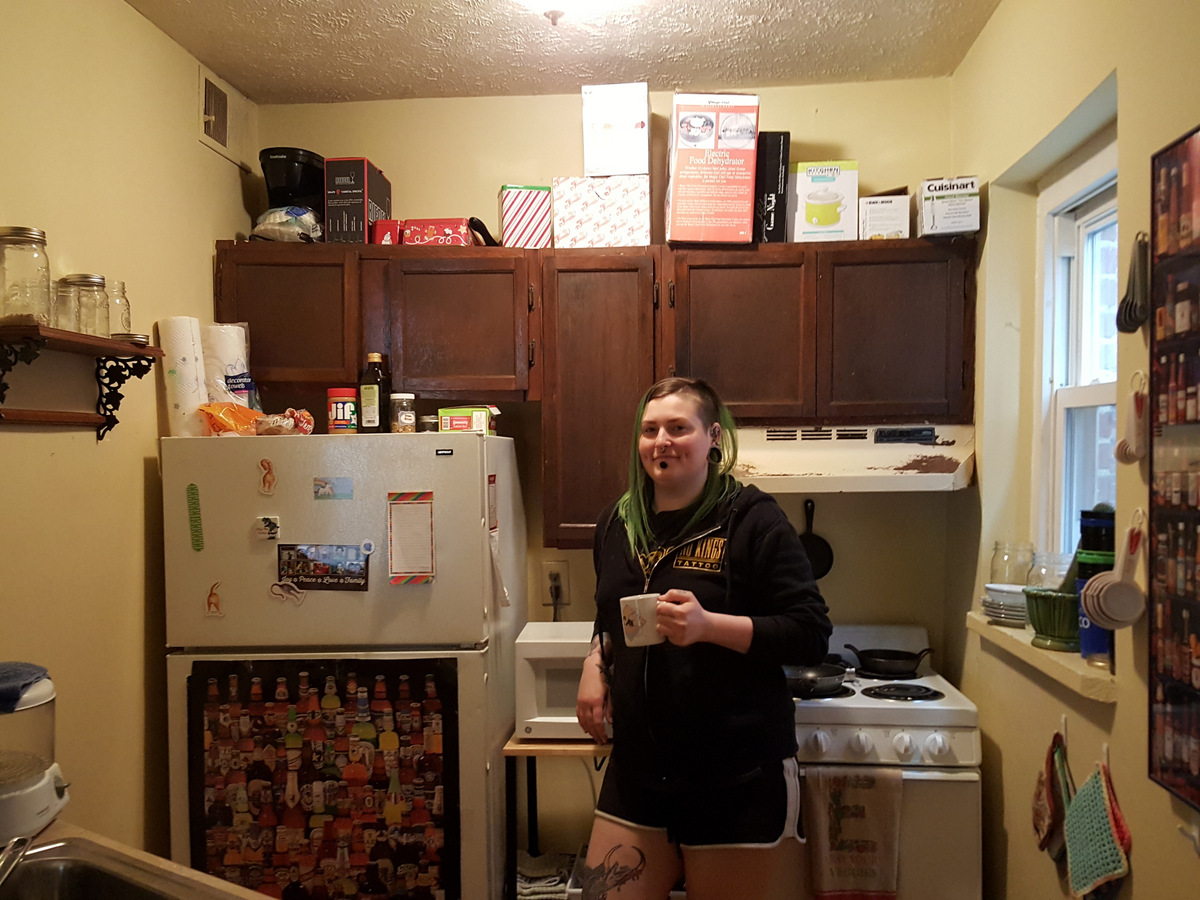 "When I'm not busy living off of PB + J sandwiches, I find a way to make delicious vegan foods in my tiny kitchen."
---
Col / 31 / Ithaca, NY / Social Worker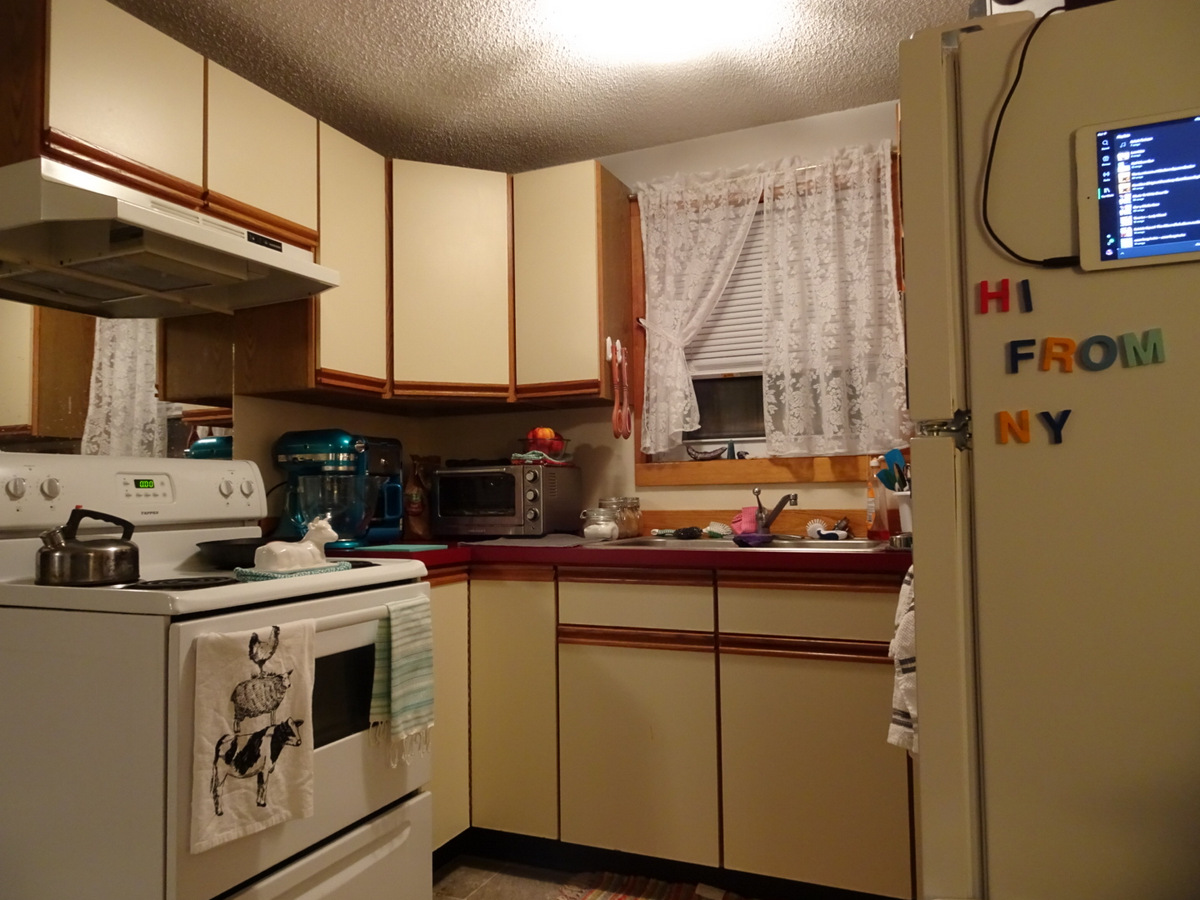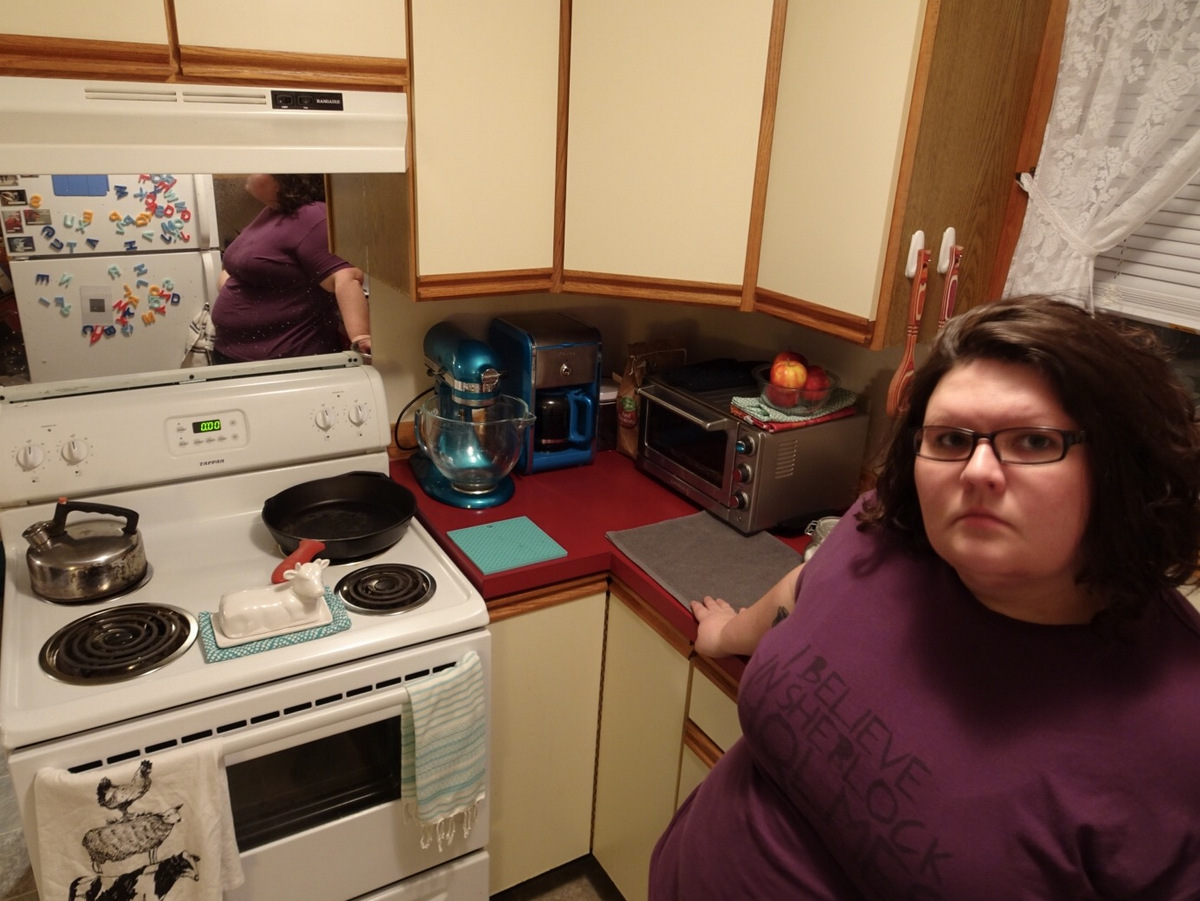 "My most prized kitchen item is my KitchenAid Artisan Stand Mixer. My brother knew that I'd been wanting one for years, and surprised me with it this past Christmas! It's my favorite color, teal!"
---
Kay / 23 / Cambridge, MA / Physics teaching-lab staff at MIT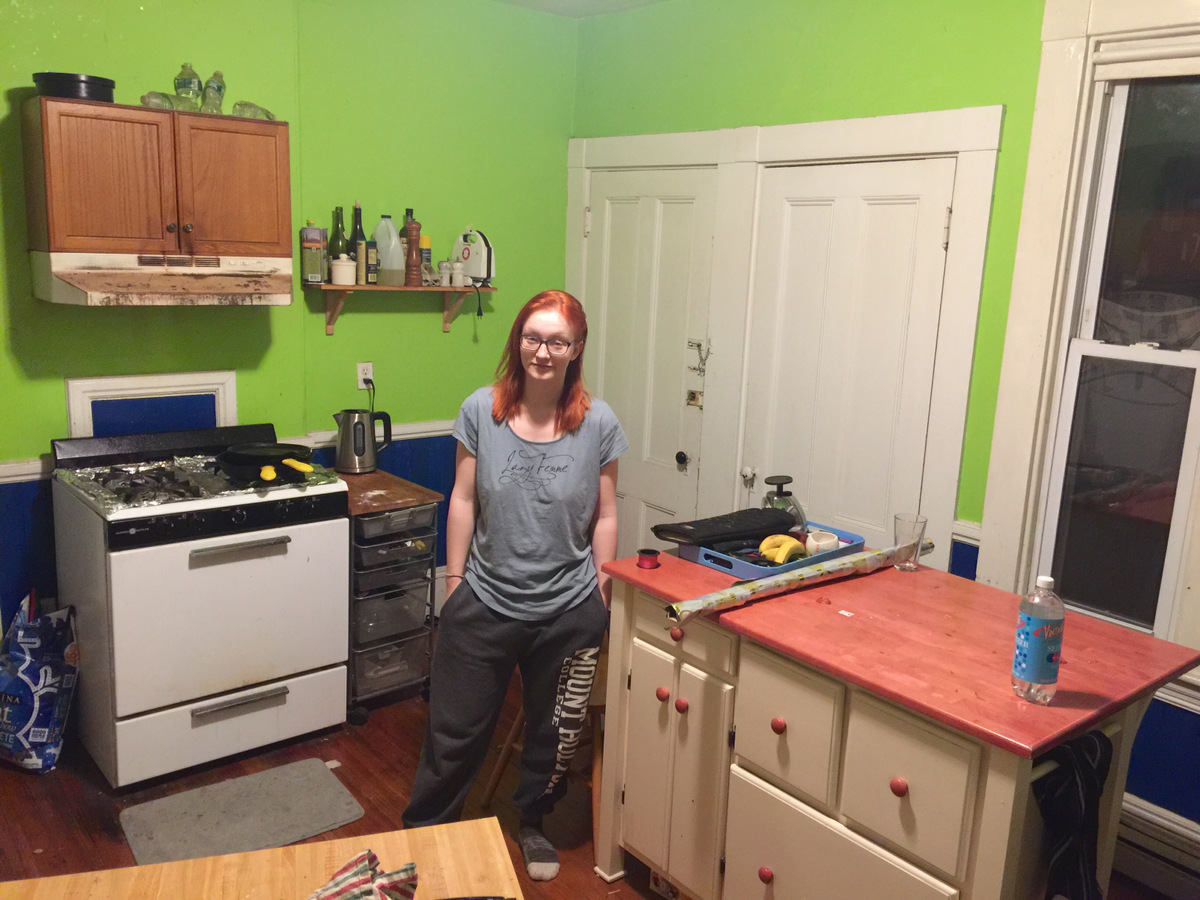 "This kitchen is vast. As someone accustomed to tiny kitchens, sometimes that makes me feel lost in it. But I can't complain. Except about the lime green."
---
Sally and Gillian / 34 and 30 / Winchester, UK / Software Development Manager; Textile Designer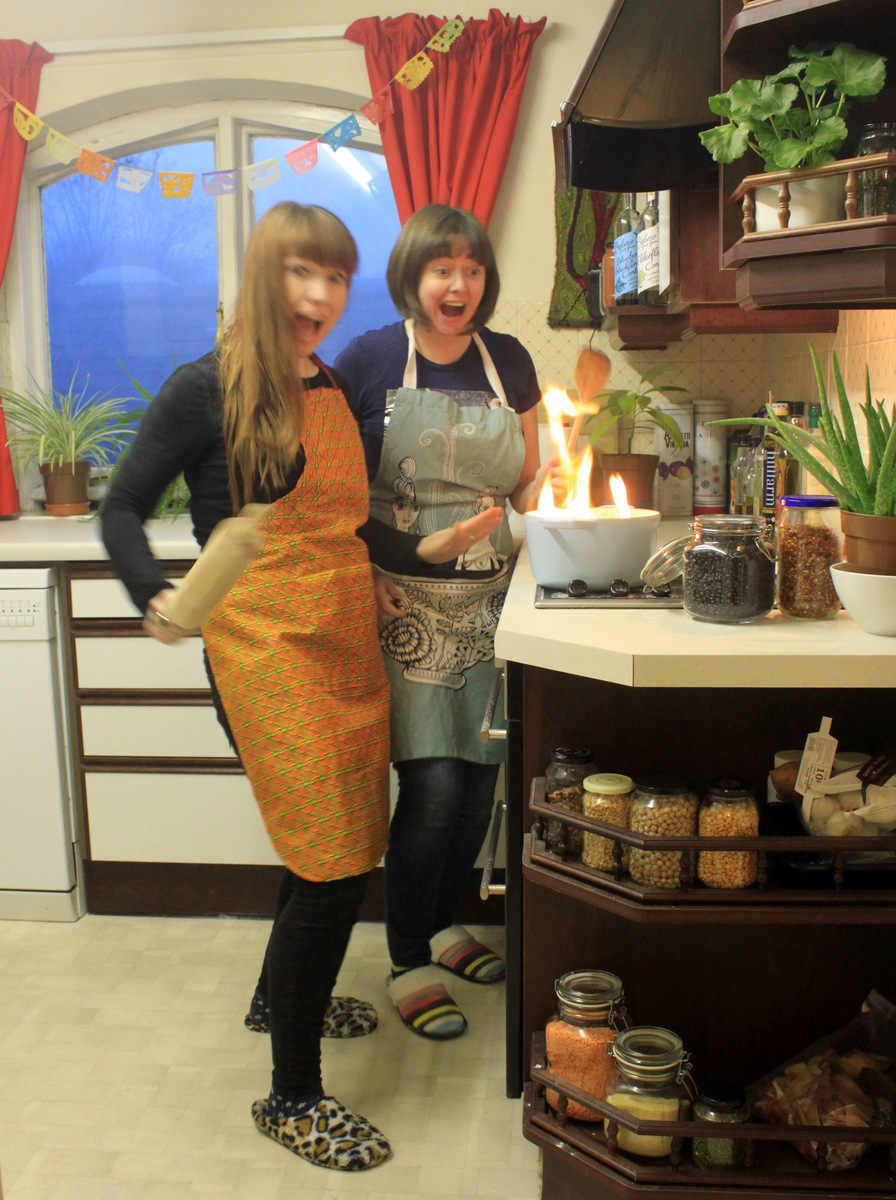 "Sally is a kitchen top. Gillian burns things."
---
Laneia / 35 / Chandler, AZ / Executive Editor of Autostraddle
"My favorite part of this extremely too-small kitchen is the window (not pictured) on the other side of the fridge that looks out onto the patio. From there I can see the sun set behind that one tree, birds fighting over seeds at the feeder, and two flowering vines that Megan's kept alive for a couple of years, despite Arizona's best efforts to wipe them out. The sill on the inside is filled with little antiques, glass from my grandmother, rocks from all over, two feathers, a jar of seashells, and several air plants from our wedding in 2015. I do most of my prep work and bread-making at the counter in front of that window and it's the most calming, grounding thing."
---
Ira / 31 / New York, NY / Activist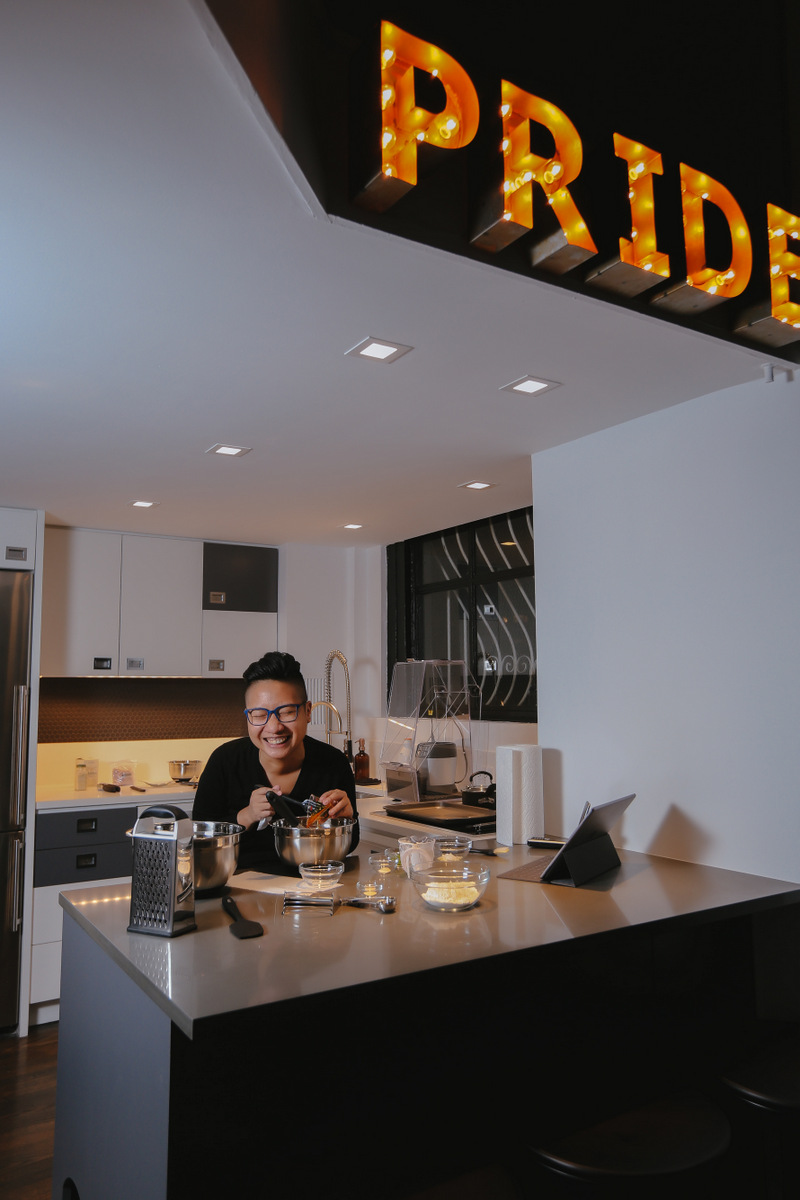 "I was brought up in Manila, in a household where take out and dining out is the norm. I started learning to cook when I moved to New York and so far I'm having lots of fun in the kitchen!"
---
Maree Hamilton / 29 / Berlin, Germany / Staff Writer for AS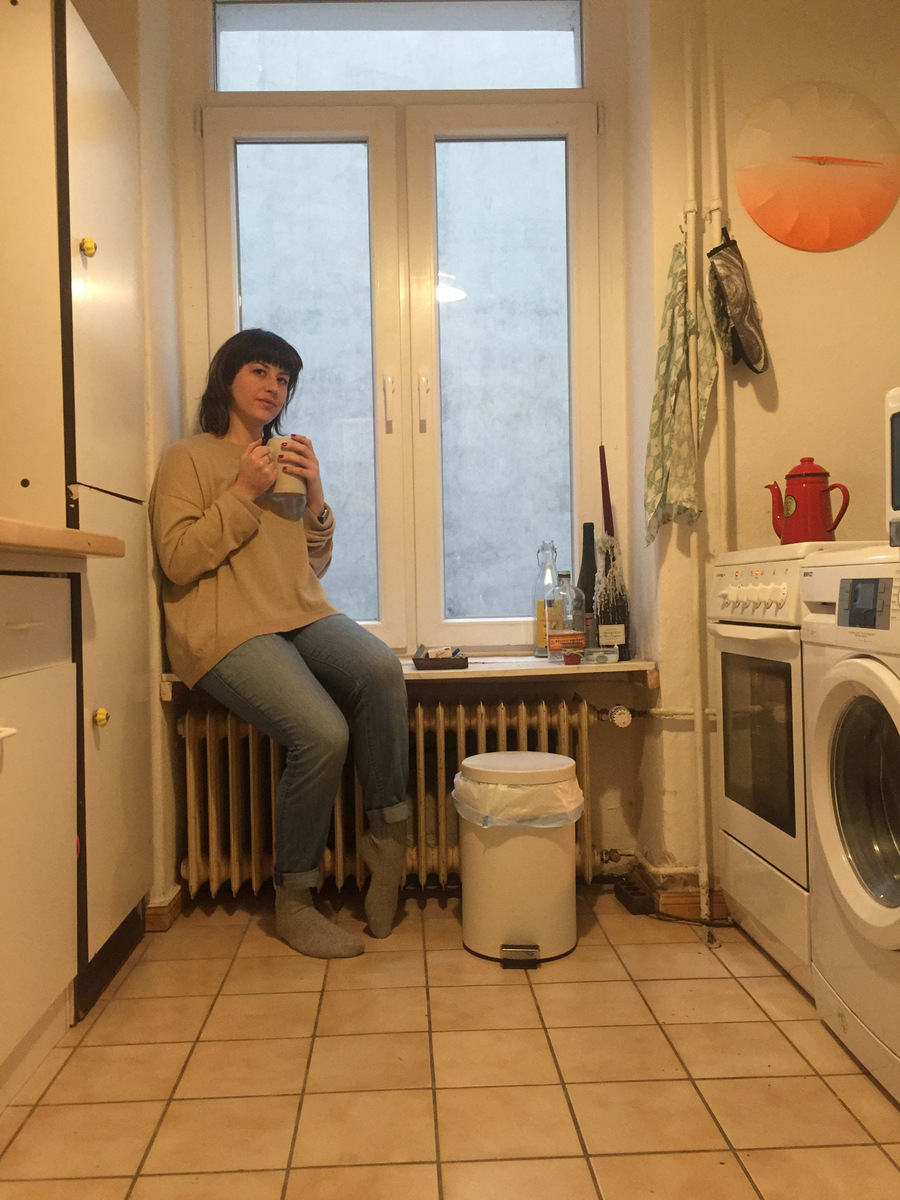 "This is my tiny kitchen that doesn't get any direct sunlight and I love it exactly the way it is. My most prized possession is my red enamel kettle named Poochie."
---
(L to R) Anna Selle, Rachel Jess, Beth Prier. (Also, Blue and Arthur) / 23, 25, 29. (Two months old, four months old) / Kansas City, MO / Non-profit management; Grad student; Scientist of some nature? (Honestly, we've been best friends for a couple of years and I'm still not sure what exactly Beth does.) (The cats have no occupation.)
"We really like to make brunch here together, especially since we realized how much money we could save by whipping it up ourselves. As an added bonus, we get to enjoy it in our pajamas and with our cats!"
Pages: 1 2 3 4 5 6 7 8 9See entire article on one page