Welcome to Queer IRL, a monthly Autostraddle community photo series that gathers little clips of lesbian, bisexual, queer and otherwise-identified women, trans and non-binary folks, just living our lives in 2017.
This very first gallery is Queer in the Kitchen. Nearly 200 of you sent in photos and boy are my arms tired! If I've learned anything, it's that we are an incredibly attractive group of people with lots of cabinets and pets. Oh and that I've never loved you more.
I hope you scroll through these many, many pictures (all nine pages!) and feel like FUCK YES, WE ARE ALL OVER THE PLACE AND WE WILL NOT GO GENTLE INTO THAT GOOD NIGHT. And I hope you submit photos for the next gallery! (More on February's theme and deadline soon.) Thank you so so much for making this a thing, you wild and wonderful weirdos.
---
Rachel A. L. / 22 / Ithaca, NY / Psychology Lab Manager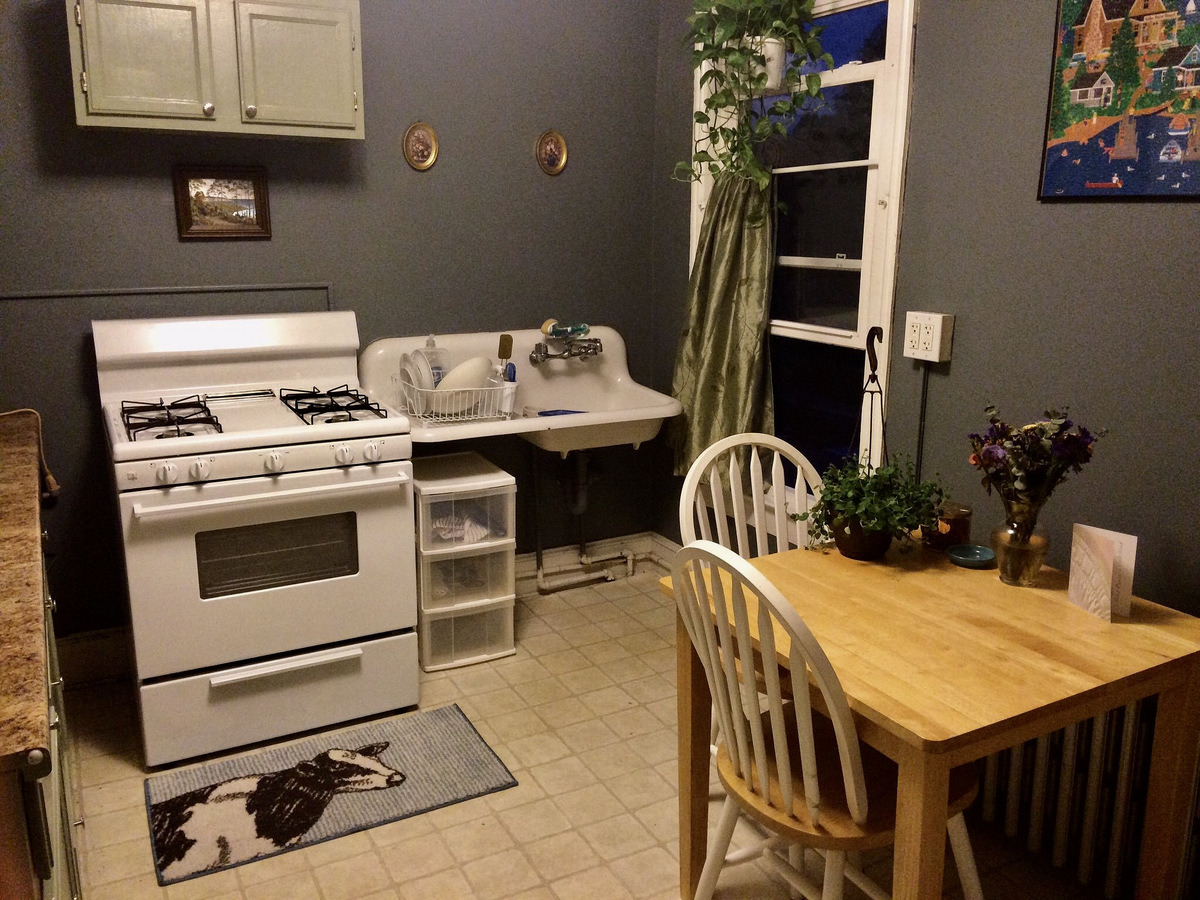 "I really love my cow mat. I live alone, so I named her Genevieve."
---
Nani / 25 / Minneapolis, MN / Graphic Designer at Children's Theatre Company; Art Director at Backroom Caracas
"The kitchen is also my library."
---
Casey / 28 / Vallejo, CA /  Music director, vocal teacher, registered yoga teacher, performer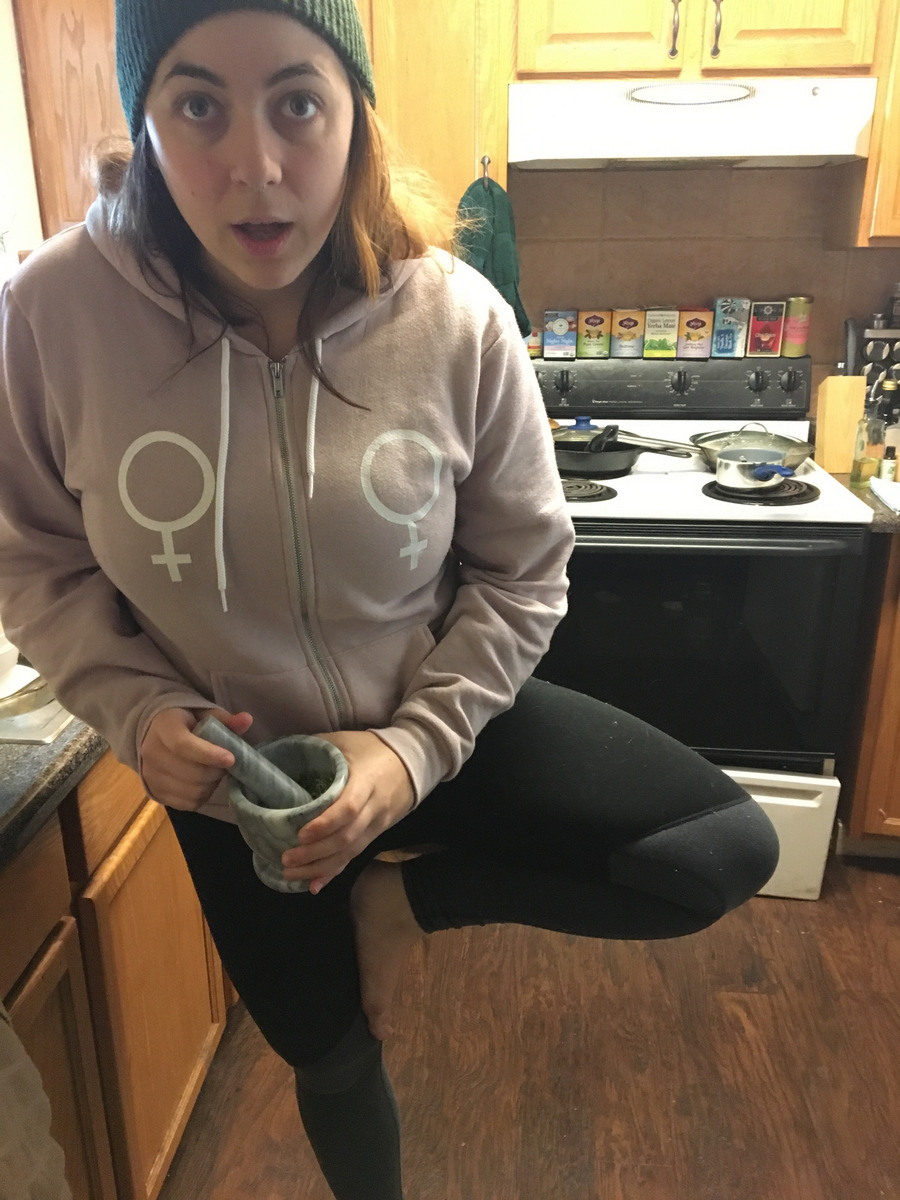 "The best things to prepare in my kitchen are witchy salves and oils with my roommate, lots of tea concoctions, coffee so much coffee, and homemade vegan queso. Also it smells like so much cinnamon in there because of ants and because of never wanting to use chemicals! Winter time in the Bay Area!"
---
Marie / 27 / Collingswood, NJ / Customer Service and Inside Sales Partner in Specialty Foods Distribution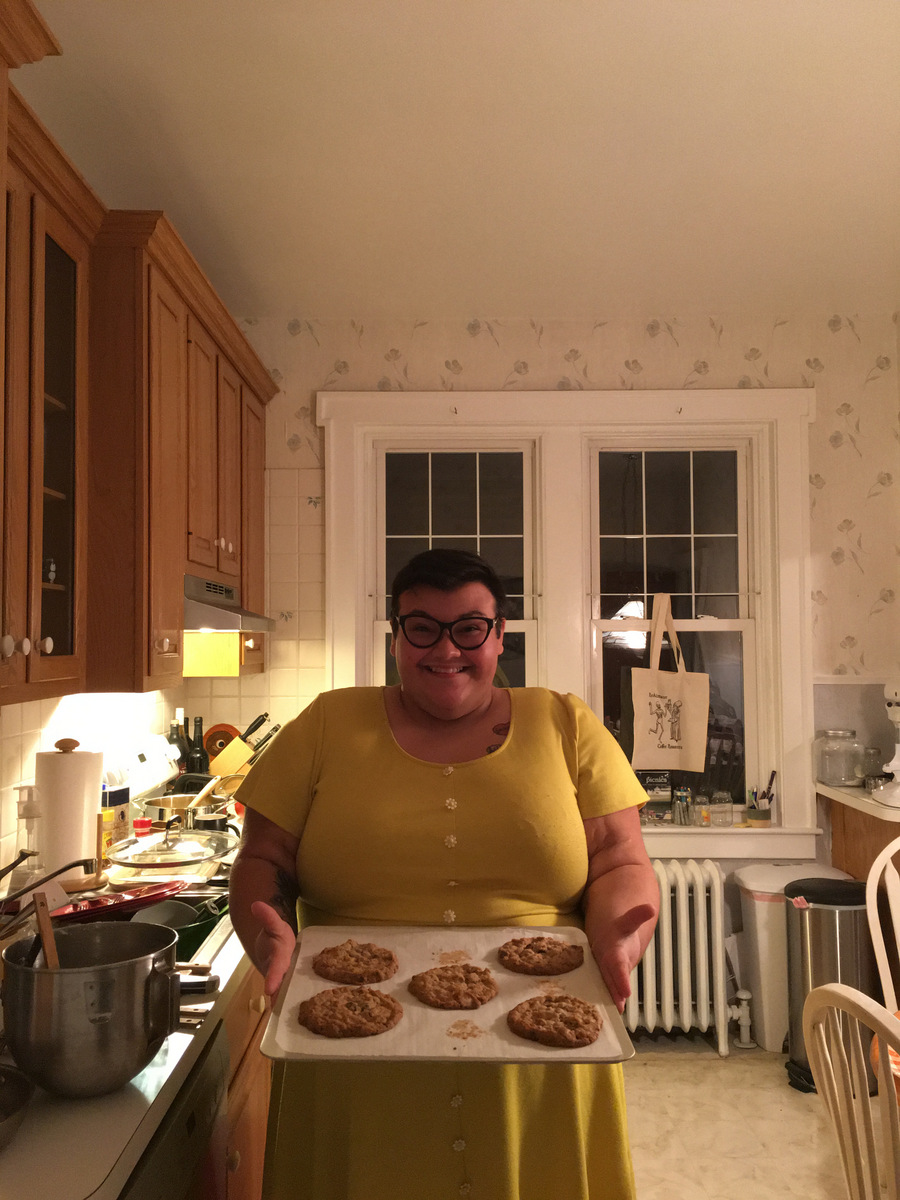 "While I'm definitely super excited about those Compost Cookies I'm holding, my favorite dish to prepare has to be Eggplant Rollatini. I always feel like my Nanny and parents are right there with me as I put it all together."
---
Liz / 20 / Wellesley MA / Student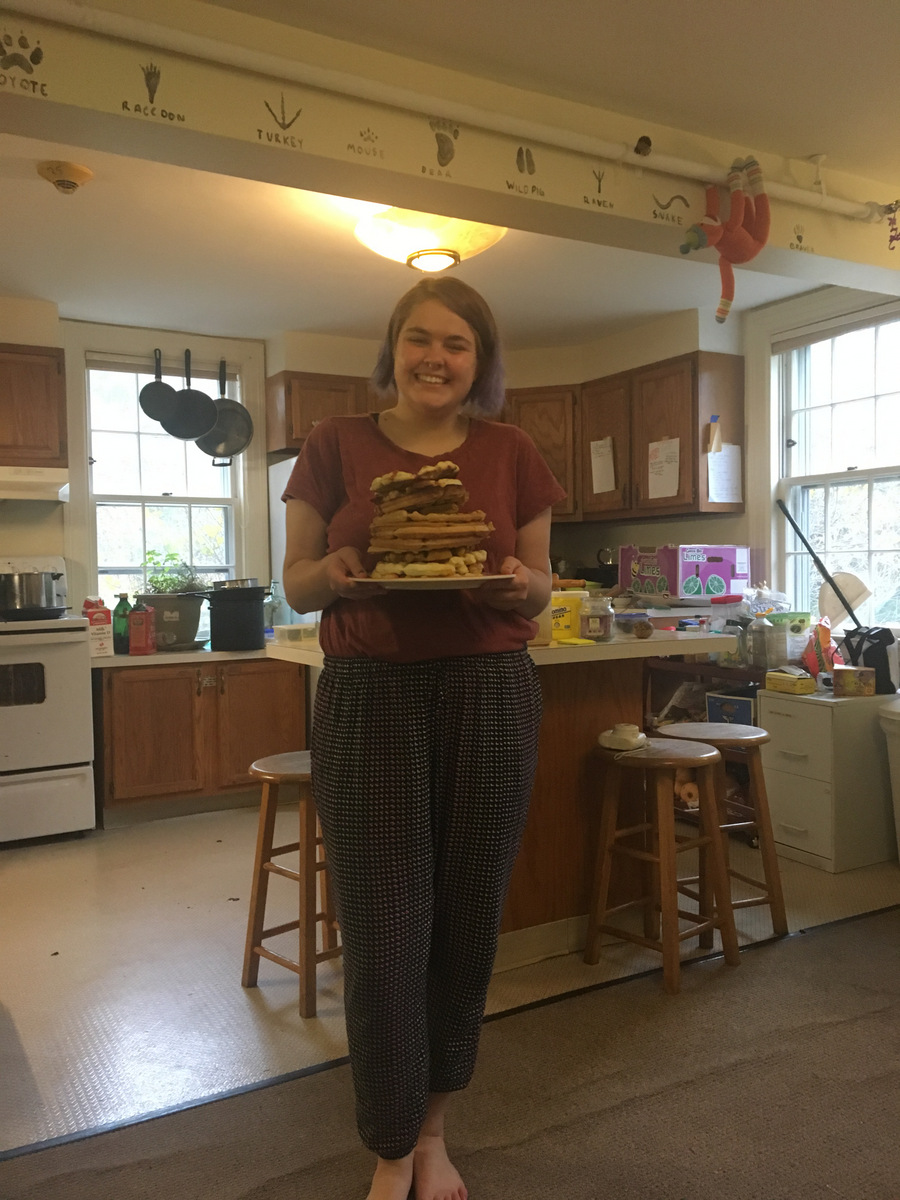 "I live in a coop on my campus with 13 other people, and I love making food to share with others. I just moved in here this year and was excited to host my annual Friendsgayving in a kitchen that felt like home."
---
Alysia Angel / 43 / Sacramento, CA / Director of Consumer Support at HealthSherpa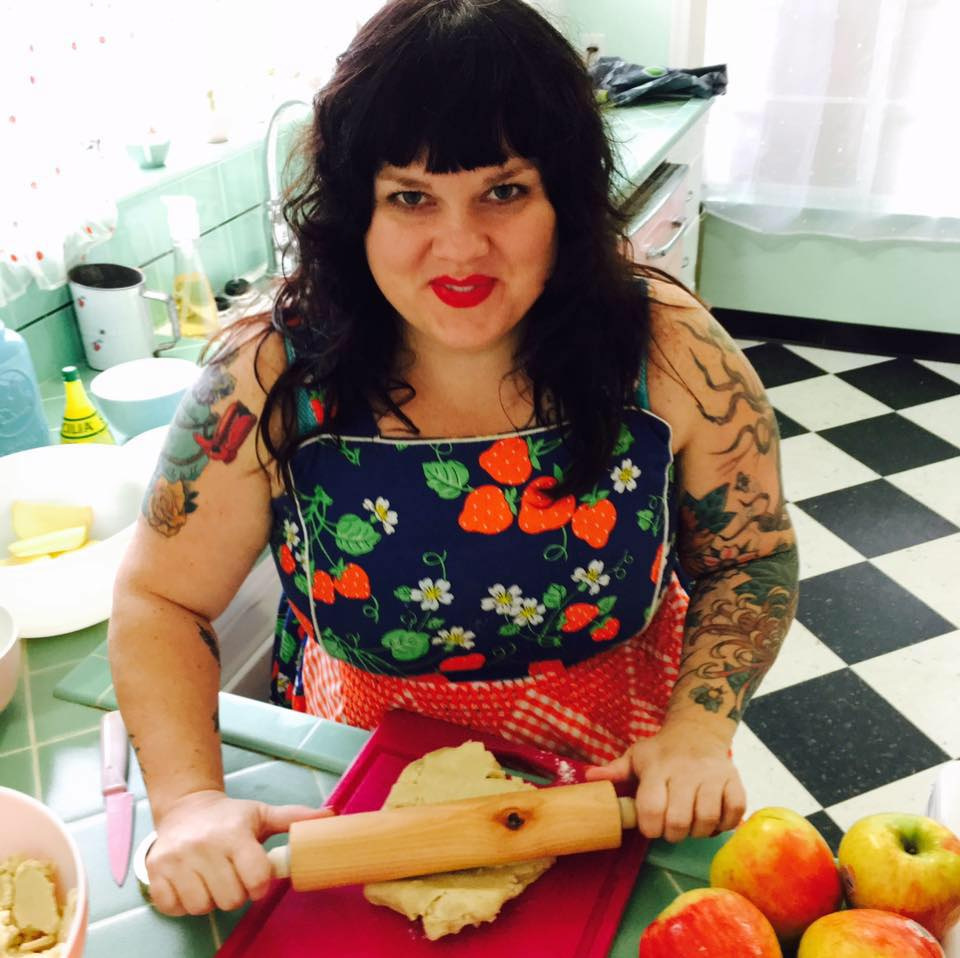 "I am a huge rage baker, when the systems and constructs of the world matched with the intense vibration of community woes press down on me. As of late I made cookies for the revolution, bourbon banana bread for hope, fruit pies to fuel upstarts to continue to rise up, and had a cookie decorating party for nothing other than because community and chosen family matters. I also cook savory meals in my kitchen, but baking is my passion, and it truly is one of my favorite ways to practice self care."
---
Megan / 30 / Minneapolis, MN / Raging Queer Feminist Homemaker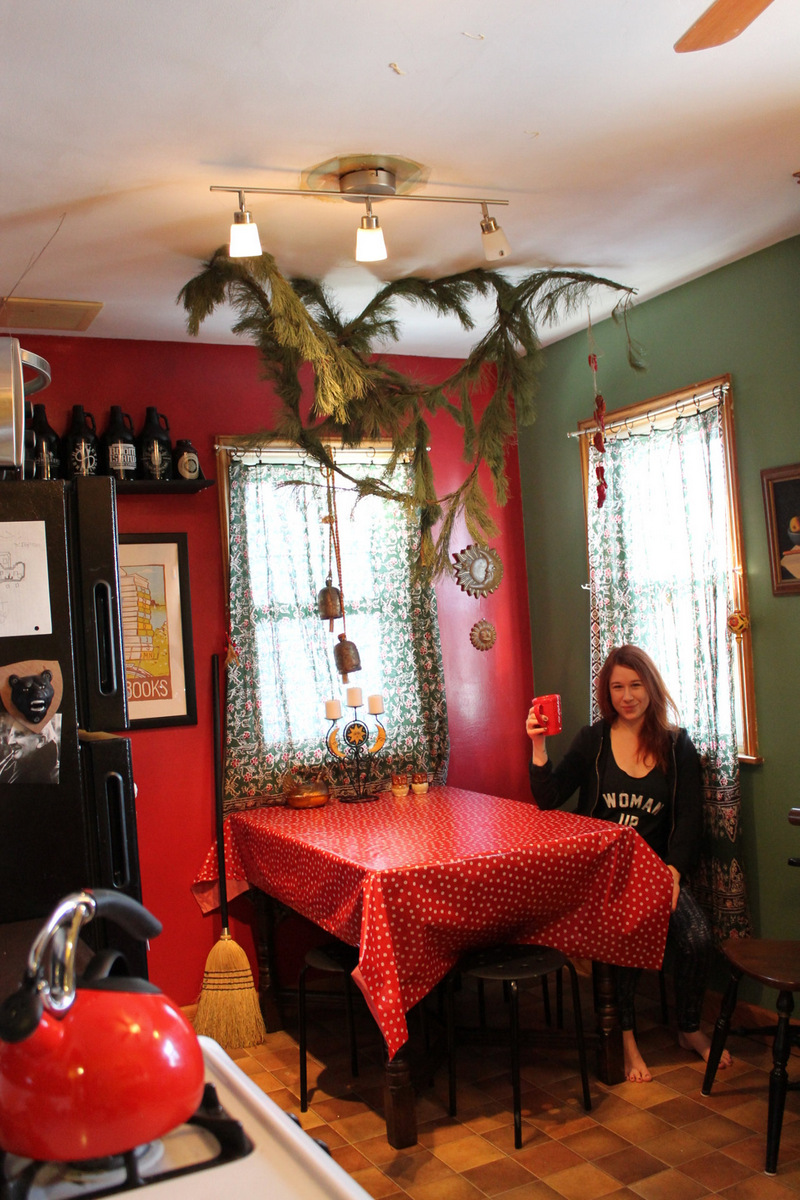 "My kitchen is the most inconvenient, undersized, poorly put-together and annoying room in my tiny home…and I love it. I've found joy in covering up its damaged walls and cupboards with wild colors, starting a spaghetti noodle collection on the chipped ceiling (you can see one or two in the photo, if you look close), and sitting down at our polka-dot covered table for crowded family meals saturated in love, laughter, fart noises, and political/social/feminist rants."
---
Dani Rose / 25 / Sunnyside, Queens / Assistant in the Entertainment Industry and Independent Filmmaker, Photographer, Burlesque Dancer on the side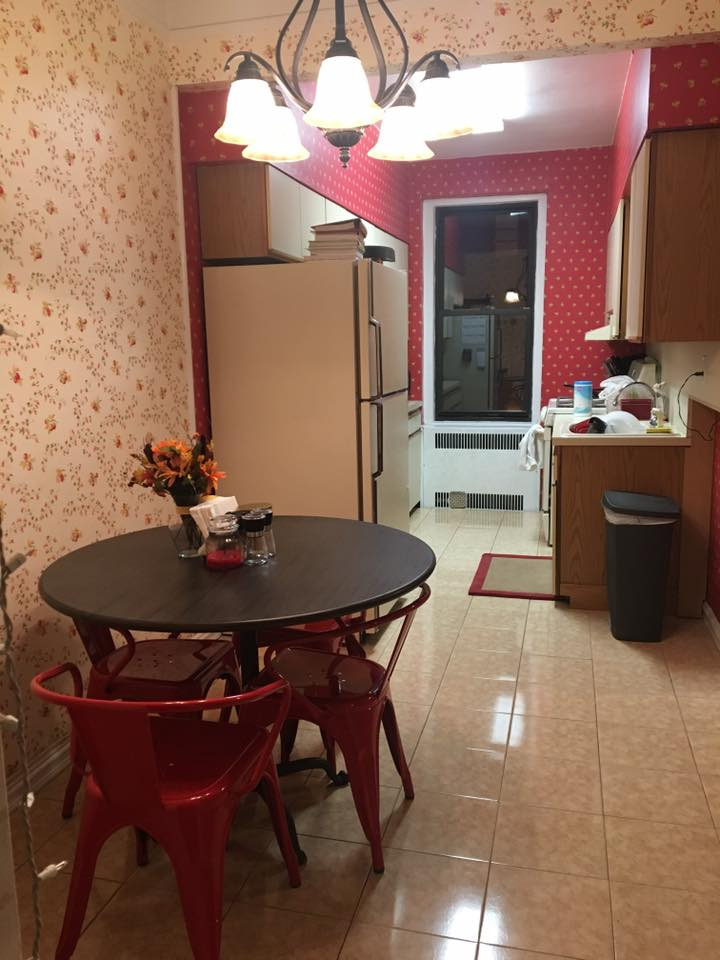 "When I first saw a picture of my kitchen in a Naked Apartments listing, I immediately texted my boyfriend (I'm bi but in a relationship with a man) a picture of the wallpaper saying: "IT'S SO TACKY…. I NEED IT!" It was the first apartment we saw, and we moved in a few days later. We threw an ugly sweater party this past year and I have to say I think my wallpaper won the award for 'ugliest.'"
---
Jen / 27 / Hamilton, Ontario / Finally Not a Cashier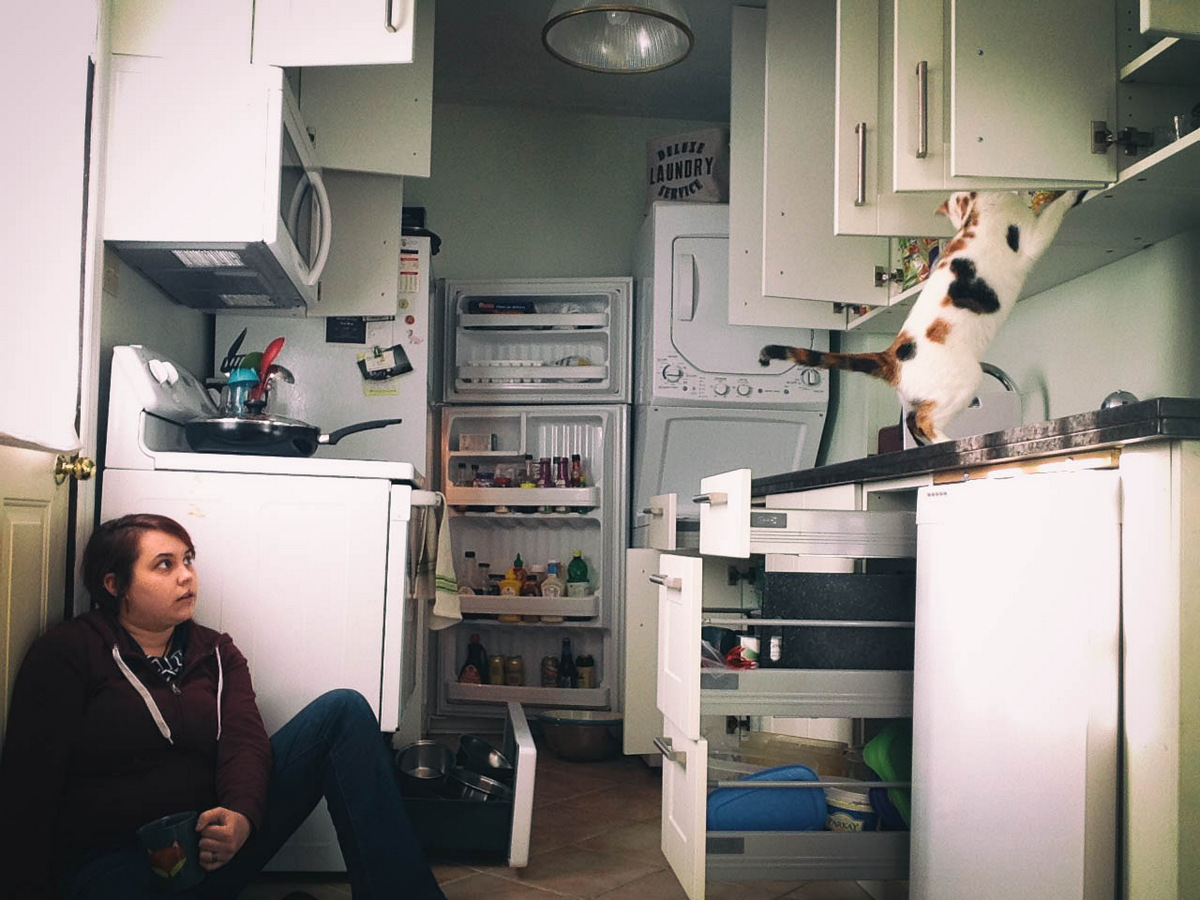 "I couldn't boil a potato before my wife got her hands on me. I tell people my brain is like a well-stocked kitchen, where all the cabinets are open."
---
Megan and Alyssa Hillier-Geisler (That's us in the picture in a popsicle frame on top of the fridge!) / 31 and 29 / Salt Lake City, UT / Innovation Manager and Communication Specialist (both at large non profits)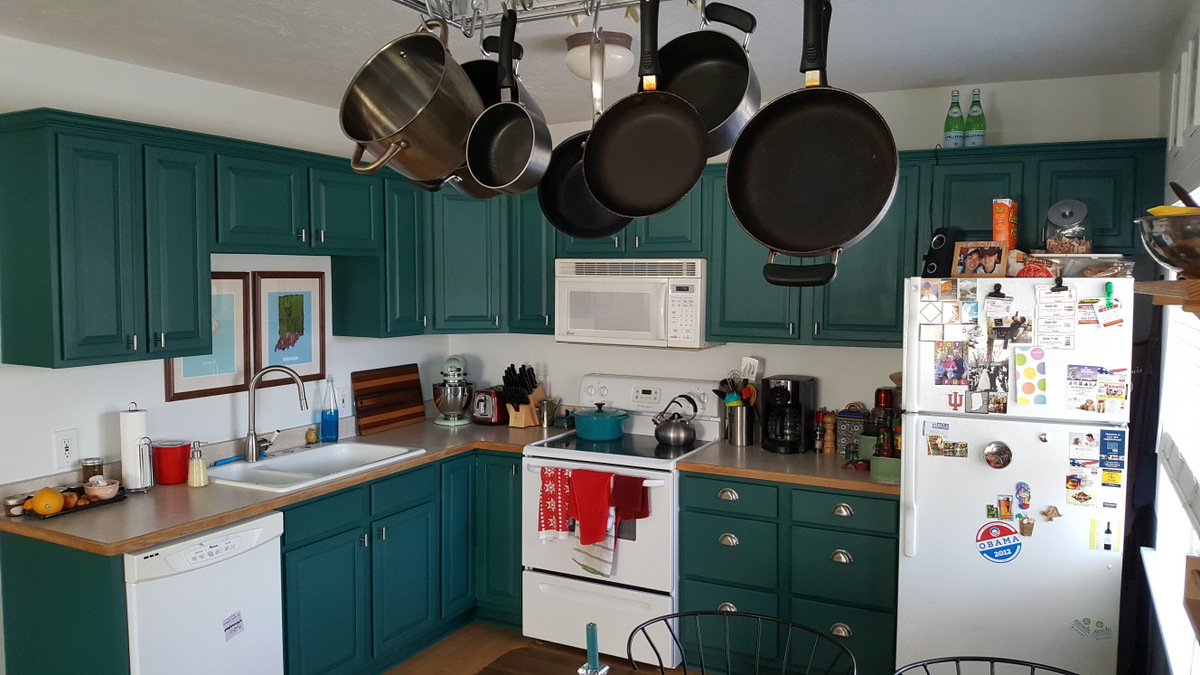 "Alyssa is an amazing chef with a stack of cookbooks a mile high and would be happy if she never ate the same thing twice. I basically make soup and horribly unhealthy things (all the salt, cheese, and spicy you can put together) that we call "bachelor food." After 5 years of marriage and 4 years in SLC, we just bought our first house a few months ago. The house is microscopic so the kitchen and living room are one big room. We love that the two rooms we use the most are now together (meaning we can watch the Cubs play while we cook)."
---
Sandra Londino / 41 / Ithaca, NY / Certified Nurse Midwife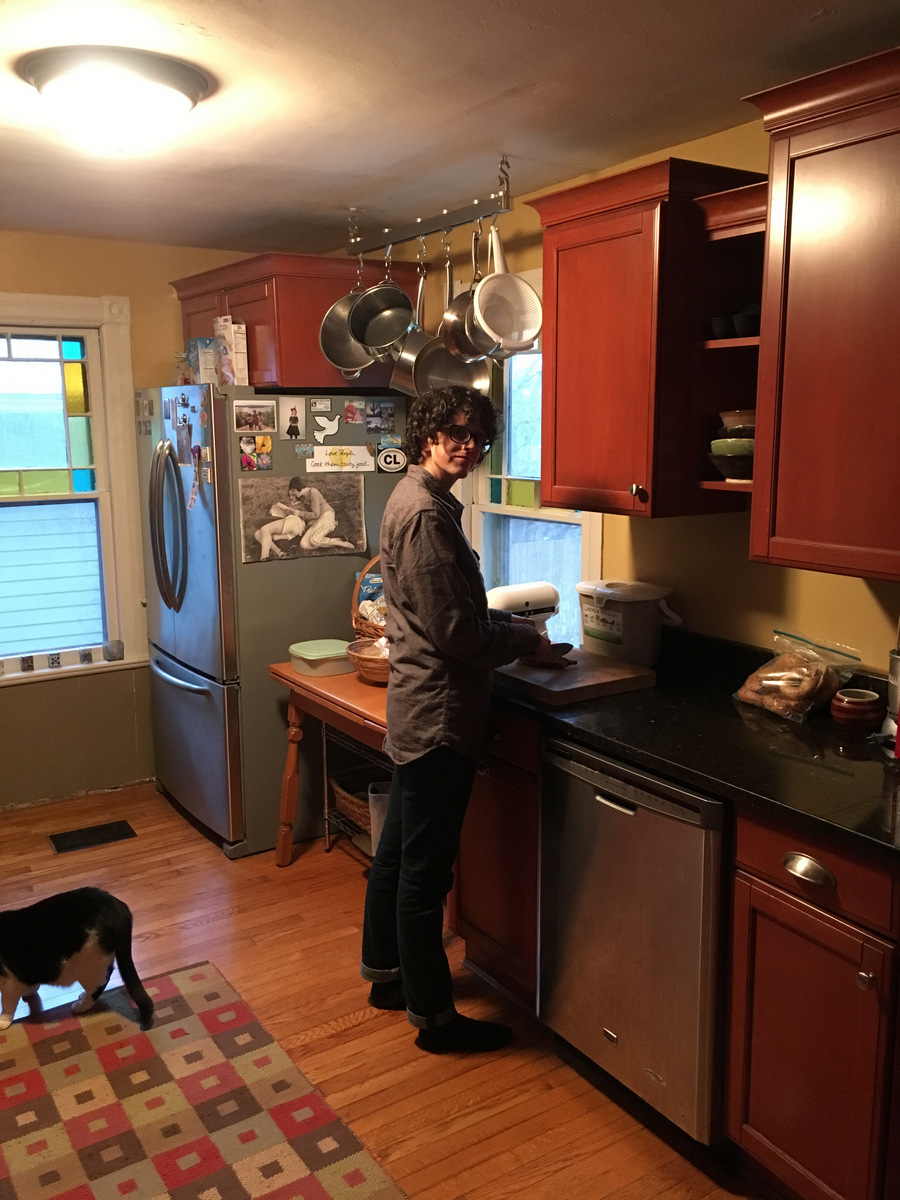 "I really like cooking dishes with lots of ingredients. The more small bowls filled with chopped veggies and spices all around me, the happier I am."
---
Kait (human), Hercules (dog) / 27 (human years), 7 (dog years) / Indianapolis / Social Worker by day, Improviser by night.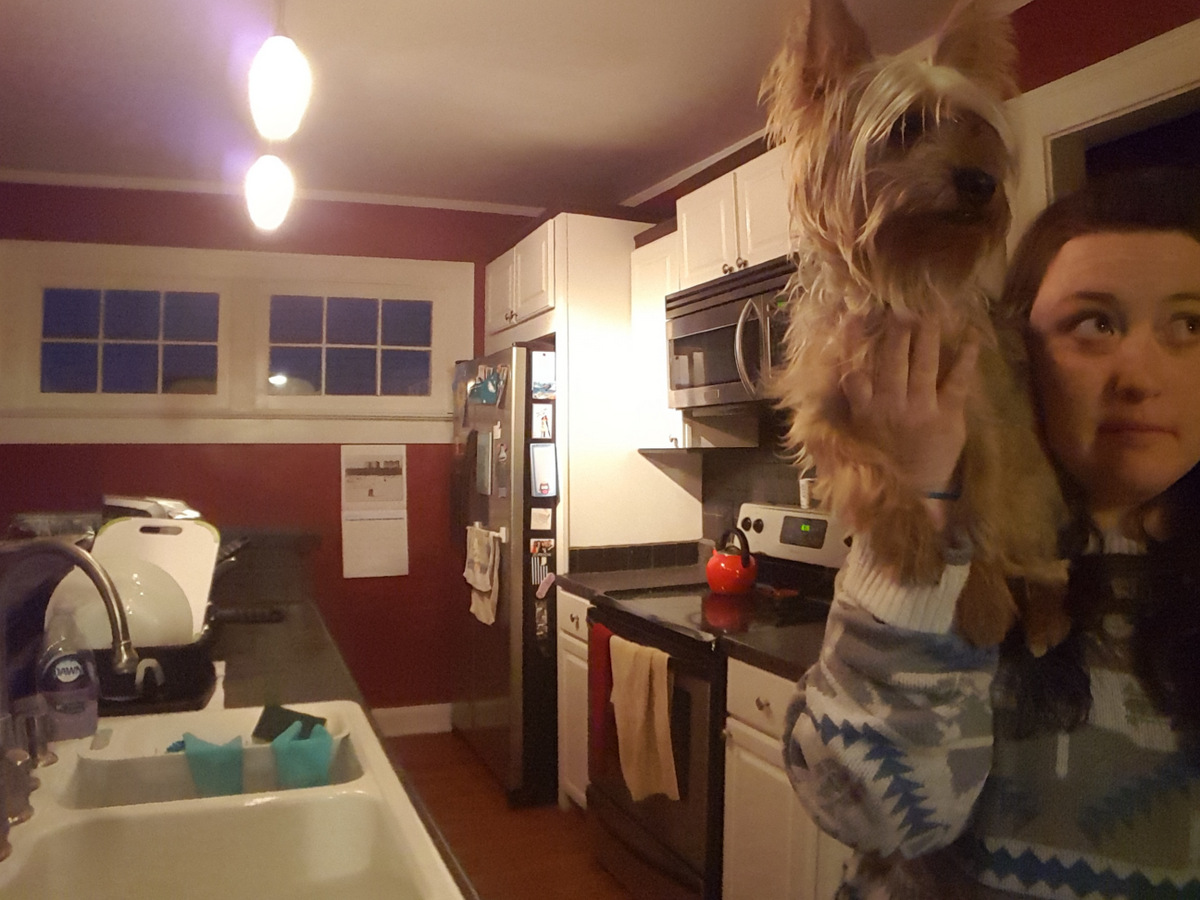 "My favorite thing to do in the kitchen is to sautée EVERY DAMN THING."
---
Emma Grinde / 26 / Viroqua, WI / Food Scientist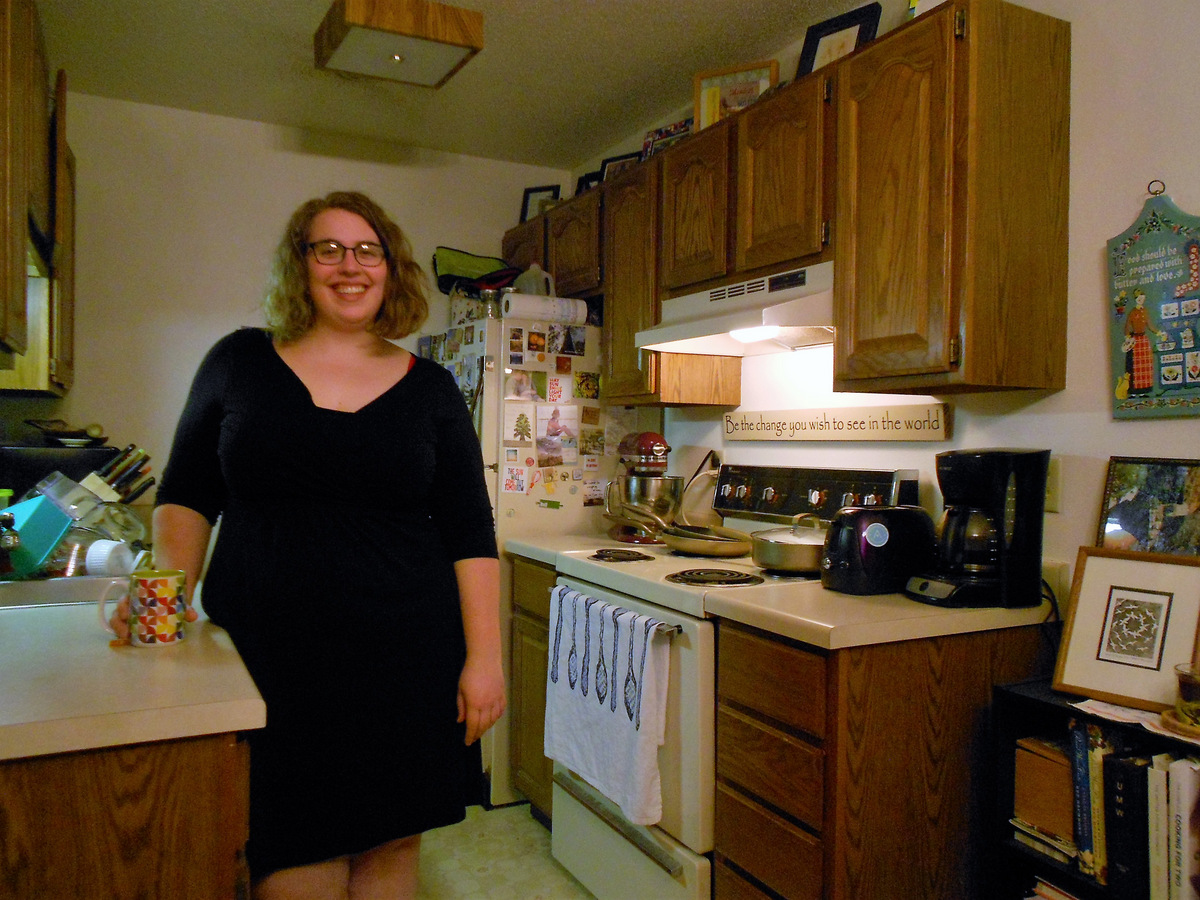 "What this photo doesn't capture is the smell of a hair tie burning on the bottom of my oven (how did a hair tie make it into my oven?!) and the sound of the fan trying blow away the burning hair tie smell.
PS – Like the anonymous question-asker in Some Answers to Some Things You've Been Asking Us #10, I didn't know where to put my A+ sticker. I took Yvonne's suggestion and went with the toaster."
---
Kayde Mae / 40 / İstanbul, Turkey / Artist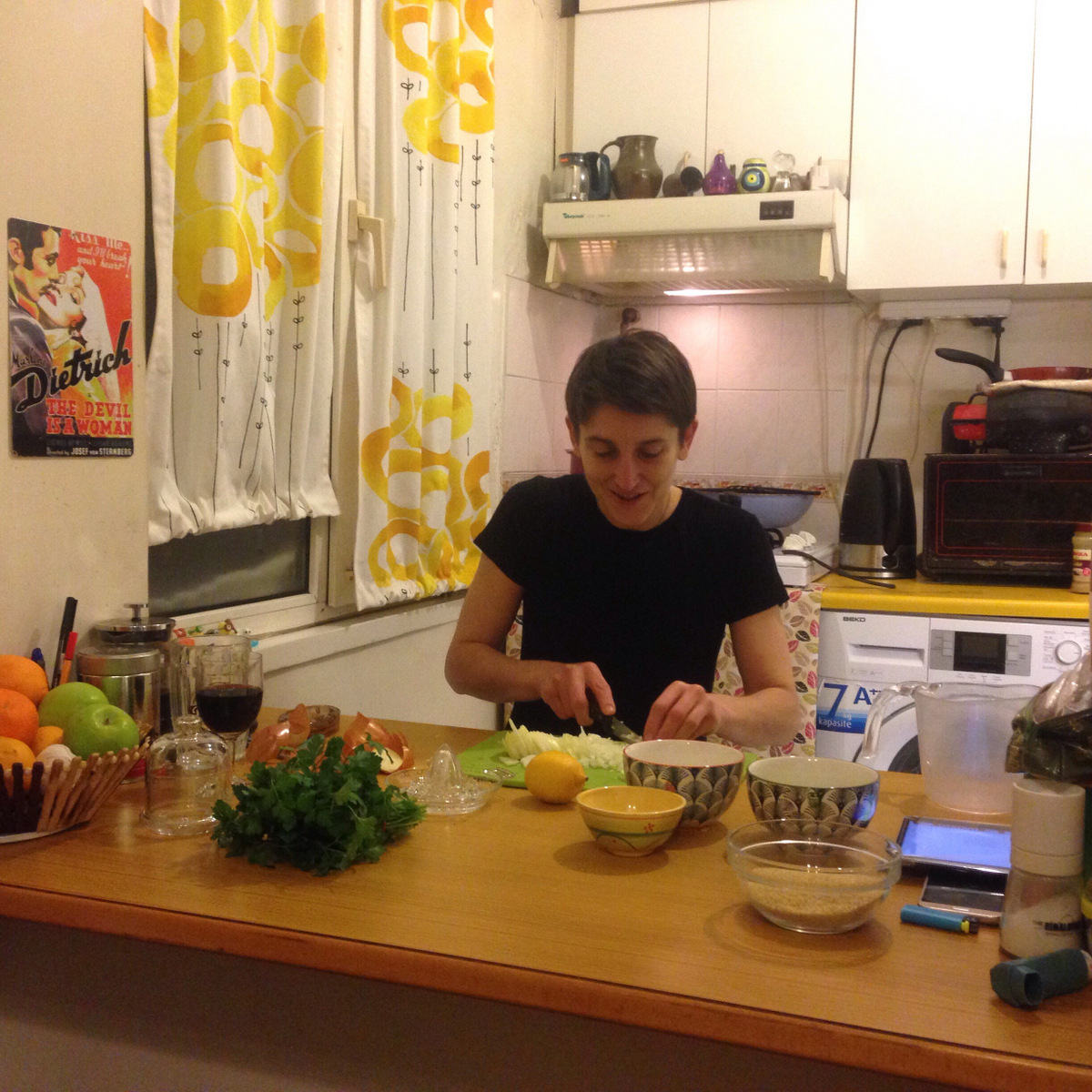 "Most prized kitchen item is the spice rack."
---
Amelia / 23 / Leeds, UK / Working in customer service and volunteering at a rape crisis centre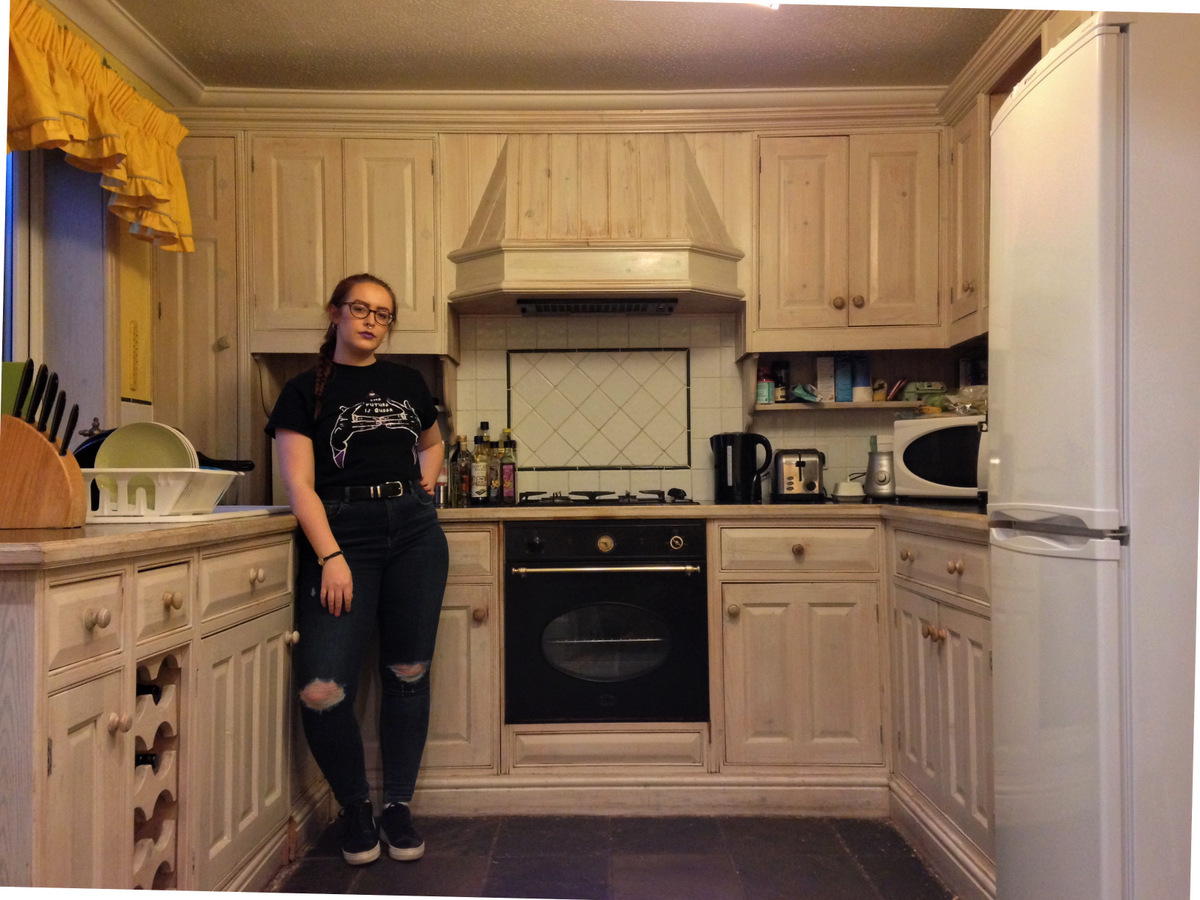 "I love cooking for family and friends — especially things they've never had before, so I can surprise them and let them in on something great that I've discovered."
---
An Sasala / 24 / Lawrence, KS / Women, Gender and Sexuality Studies PhD Student
"I fell in love with someone in this kitchen. Now, I'm learning how to be alone again."
---
Leslie Robertson / 29 / Chicago, IL / Digital Marketing Associate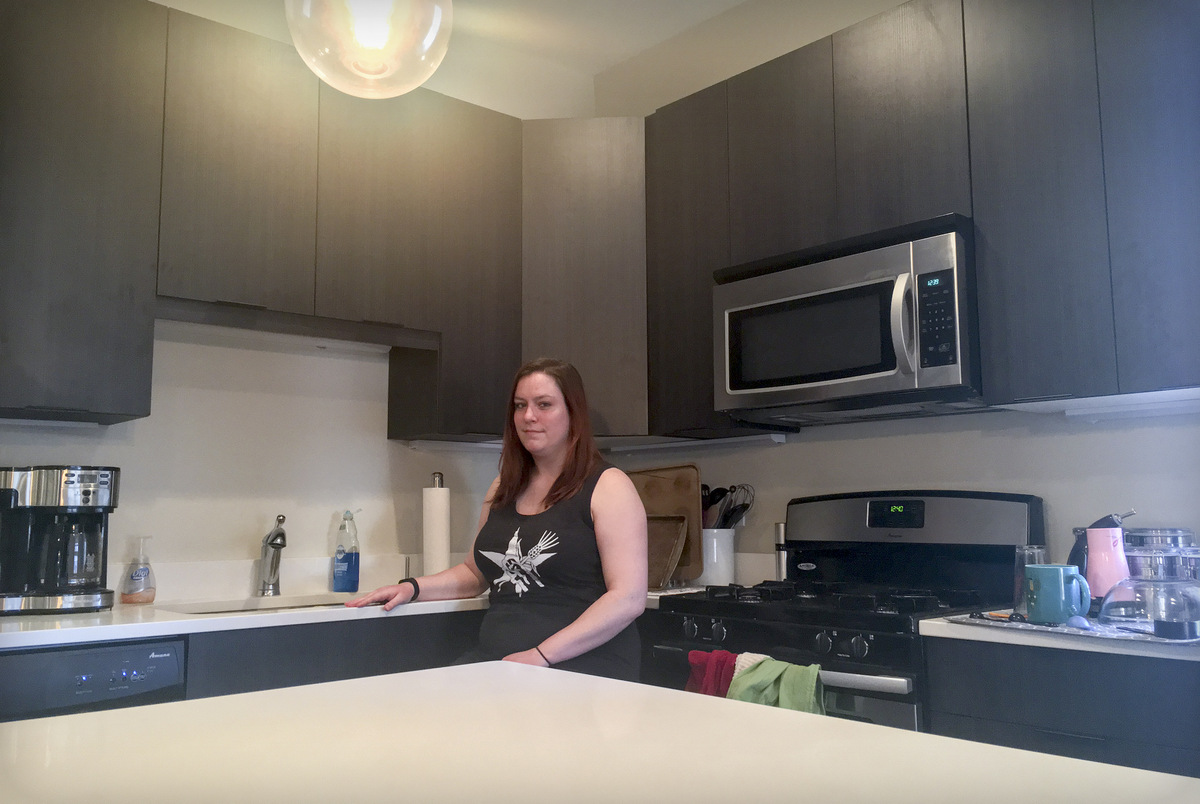 "This kitchen is the main reason we got the place. I'm a pretty casual person and not confident as a cook, so I'll usually make some kind of chicken and rice (if it's not a frozen Trader Joe's dinner). My most prized kitchen item(s) are the dishes I inherited from my 98 year old grandmother."
---
Amanda and Rachel Walwood + cameo from dog Willa / Amanda is 28 and Rachel is 29 (Willa is 1.5) / Amanda works in donor relations for Macalester College. Rachel is a software product manager and aspiring web developer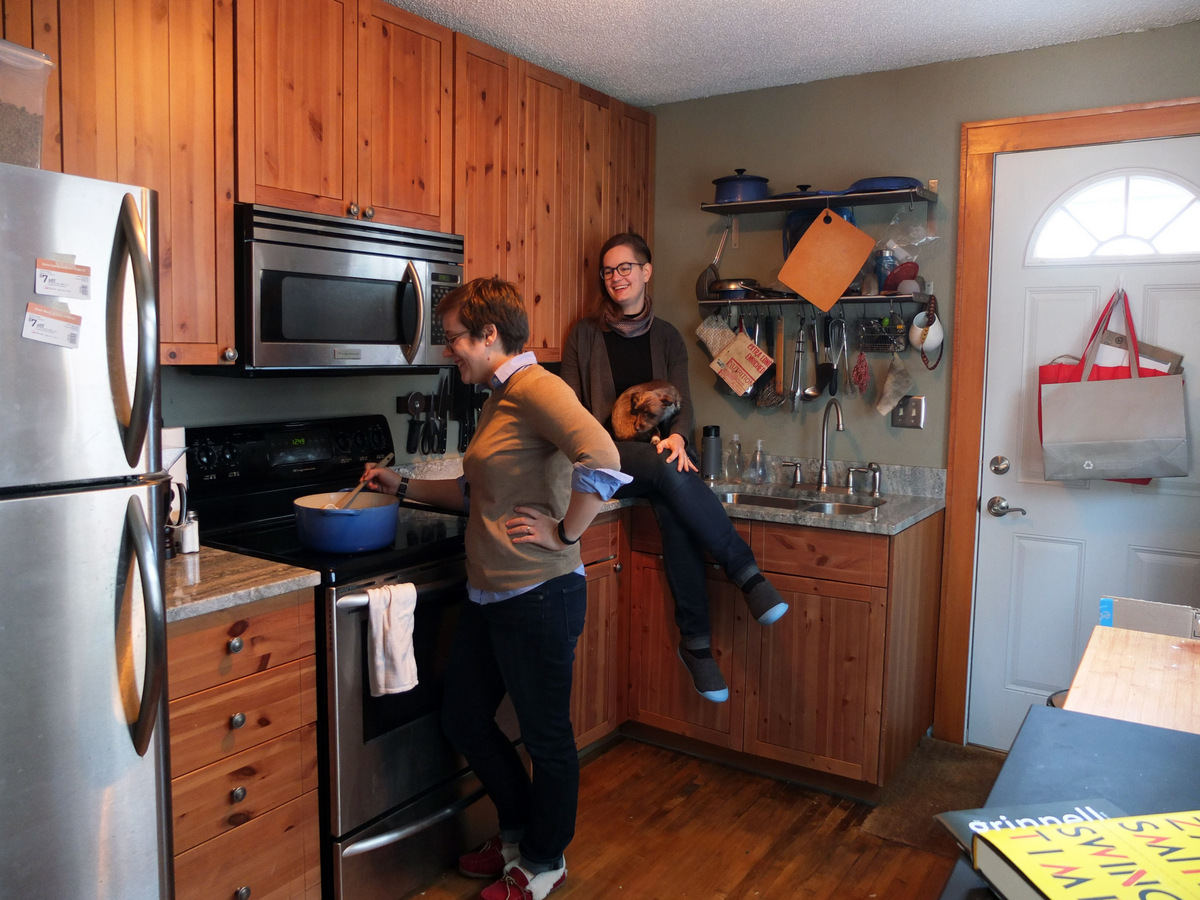 "Winter weekends usually mean braised meats and some combination of butter + flour + cinnamon. You can just see the top of it in the bottom right here, but our portable dishwasher is probably our most prized kitchen possession — we call it our robot butler."
---
Kylie / 27 / Lincoln, NE / Mental health therapist

"I love my kitchen especially in the late afternoon when the sun is just beginning to mellow. Beer tastes better and chocolate chip cookies smell sweeter here. It's the cat hair."
---
Wiley Reading / 28 / Burlington, VT / City Kids (after school elementary) Lead Teacher, Personal Care Attendant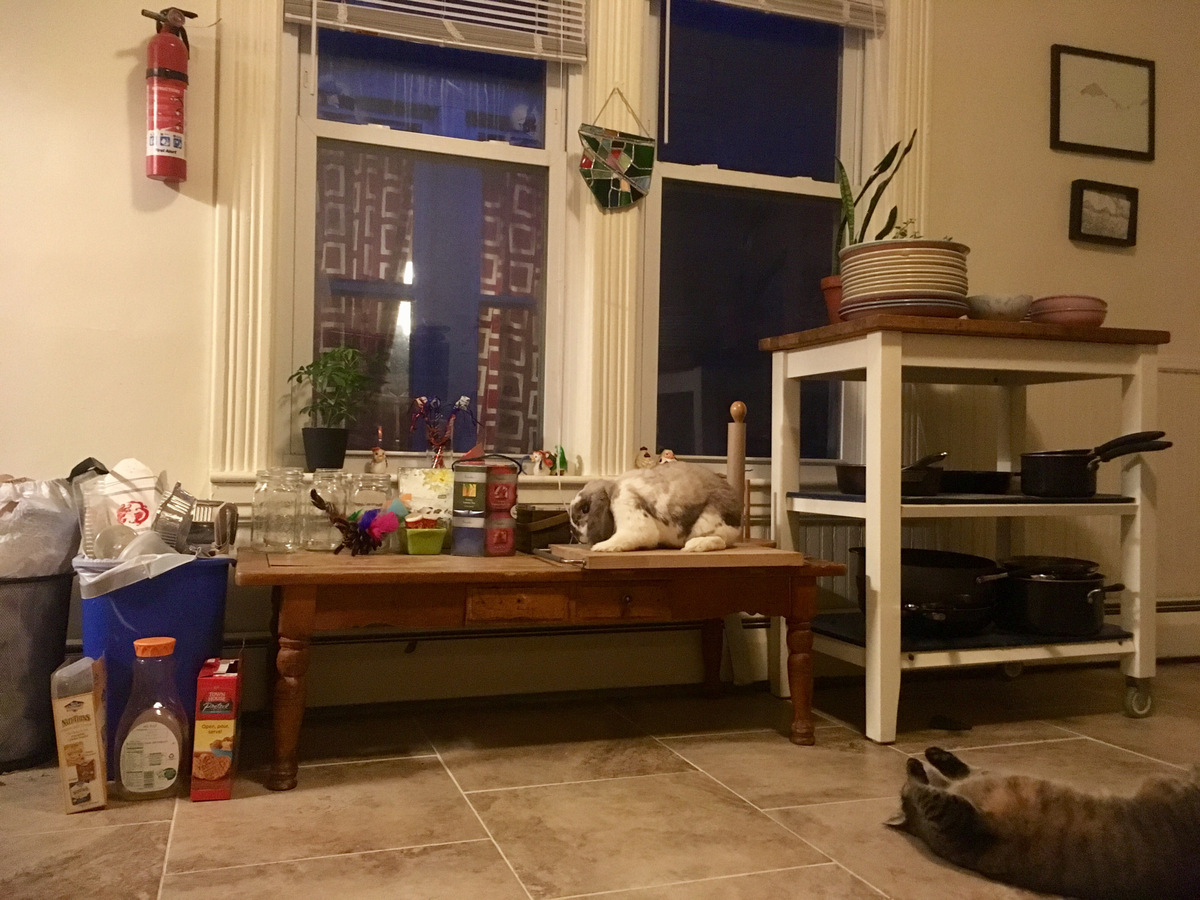 "My favorite thing to prepare is something that shows off my skills making something fancy out of super "humble" ingredients, like dumpster-dived kale or chicken organ meat. Examples: latte with foam and cinnamon dust WITHOUT espresso maker OR frother, or kheema paratha with only stuff I get from the discount veggie bin at the co-op and some pantry basics.
I didn't take out the trash or recycling for this photo, and those pretty curtains in the window are actually in the window of our across-the-alleyway neighbors (also a queer household) #radicaltransparency"
Pages: 1 2 3 4 5 6 7 8 9See entire article on one page