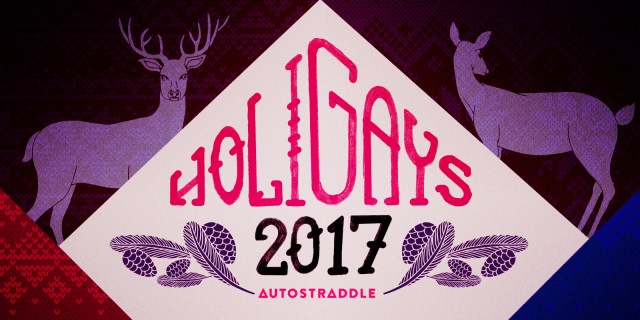 Hi Brownie Bites, we made it! The holigay season is just rolling on by, full steam ahead, and here we are, participating in it! Hanukkah came and went, Christmas Eve is upon us with Christmas Day waiting in the wings, and Kwanzaa is coming right up. Winter Solstice also joined the party, and if you're letting me be Very Self Indulgent for a moment, I'll point out that My Birthday is kind of a winter holigay also, and it was really pleasant this year, thank you so much for asking! And now we're all here, together, hanging out in our traditional annual holigays open thread. Believe it or not, this is the NINTH year in a row we have hosted this auspicious open thread, and damn, I feel like we have gone through some shit together. We keep making it. That's important to remember – write it down.
So what are the holigays all about? Welp, that depends who you ask. For some of us, it's a quiet time to reflect on the past year and gather strength and energy for the upcoming season. Some of us have a million familial obligations this time of year and totally love it, and some of us have those same obligations but actually dread seeing the humans we call family and are probably hiding in our bedrooms right now, huddled under the covers with our laptops, softly weeping into a very soft sleeve or perhaps a cute stuffed animal. We attend sexy variety shows where our friends and chosen family dress up as elves and perform Christmas carols, we make traditional holiday dishes and deliver them to our neighbors who we don't know very well, we excuse ourselves from the dinner table and take some space in the bathroom so we don't explode. We buy gifts. We watch Carol. To be real, we also watch Riverdale. We nap. We cuddle our pets. We hang out in this thread. At the end of the day, the winter holigays are about whatever the fuck you want them to be about. The important thing is, we're here for you, in this thread, no matter how you're feeling! The holigays can feel festive and fun or terrifying and terrible or somewhere in between all those feelings. And all of that is perfectly okay.
So listen, can we just put on holiday themed pajamas, sit by the fire place, and open gifts together? The gift can be a conversation or a hug or a puppy, I'm not picky. The gift is you! I personally am so grateful to be back at Autostraddle after a very long hiatus and the reason I'm glad to be back, the reason any of us do any of this at all, is because we fucking love you. The Autostraddle community is the goddamn heartbeat of this whole endeavor, and I personally thank you for existing. You are bright and funny and fiery and kind and smart and way cute. You are special and important and I hope you know that, okay?
Happy Christmakwanzakah, my loves. Merry holigays. Blessed everything. I love you all forever and ever, amen.
NOW GET IN THE COMMENTS AND CHAT WITH ME, OKAY?!?!
---
How To Post A Photo In The Comments:
Find a photo on the web, right click (on a Mac, control+click), hit "Copy Image URL" and then…
code it in to your comment like so:
If you need to upload the photo you love from your computer, try using imgur. To learn more about posting photos, check out A. E.'s step-by-step guide.
How To Post A Video In The Comments, Too:
Find a video on YouTube, copy the URL, and paste the link on its own separate line in your comment. You no longer need to use the "embed" code!