I genuinely feel like I wrote the Thanksgiving leftovers Femme Brûlée post only a few days ago. I can't believe it's been a month! Where did December go? Maybe it's just me but it always feels like this time of year flies by.  I've always thought it was no fair that most of the major holidays happen so close together and as a result are over in a blur. I would protest but there's one thing I do at the holiday season that wouldn't be sustainable if it lasted any longer, and that is eating my way through boxes of gingersnap cookies.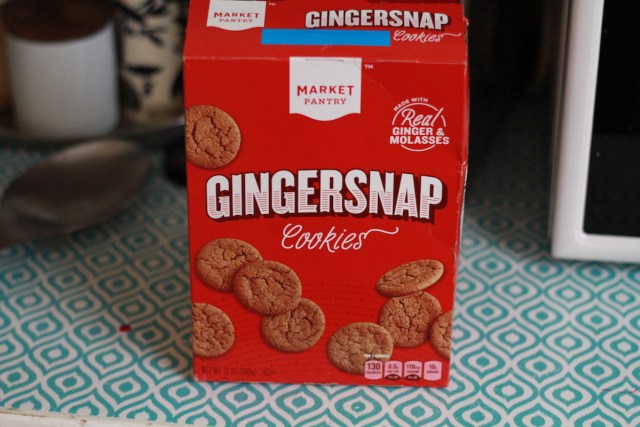 I know these are available all year, but I only ever want them in the month between Thanksgiving and Christmas. When that time comes, I. Go. Hard. I bought that box yesterday and it is now empty, and no this recipe doesn't call for a full box of gingersnaps. I do come by my extreme gingersnap enjoyment honestly. I ordered my mom three pounds of these cookies last year as part of her gift and lets just say they were gone faster than you'd expect three pounds of cookies to be gone. I think that's really what makes my love for gingersnaps so strong, one part is the crackly ginger spiced cookie perfection and the other is the nostalgia. The link they have to my favorite childhood memories, my favorite and only parent, and the magic of the holidays. Even as a child when our neighbors brought us giant trays of expertly decorated cookies, I still looked most forward to putting my pajamas on inside out, and dunking a gingersnap in a glass of milk while wishing for snow. Not that I had to wish that hard, we lived in upstate New York.
I was sitting on my couch in LA reminiscing about New York Christmases past when this recipe idea floated into my visions of snow flurries. Apple crisp is a pretty standard east coast winter dessert, and what could be a better edible representation of my childhood holiday memories than a pile of New York's favorite fruit covered in warm spices and finished off with a gingersnap crumb topping? The answer is nothing. This is it. I added the pomegranate so this would have an extra level of winter fruit and I do not regret it one bit. It's equally good without them though. This is absolutely one of my favorite recipes that I've created so far, both for it's level of deliciousness and the fact that it's super simple to make. It warmed my belly and my heart, and I hope it'll do the same for yours.
Apple Pomegranate Crisp with Gingersnap Crumb Topping
Ingredients
For the topping:
1 cup raw pecans
3/4 cup gingersnap crumbs (about 12 cookies)
1/2 cup brown sugar
1 cup all purpose flour
1 teaspoon salt
1/2 teaspoon baking powder
1 stick butter, melted
For the filling:
3-4 lbs apples, peeled, cored, and sliced
1 cup pomegranate seeds (about 1 large pomegranate)
1/4 cup granulated sugar
1/4 cup brown sugar
2 tbsp cornstarch
1 tablespoon orange zest
1 tablespoon lemon juice
1 tablespoon brandy (optional)
1 teaspoon ground cinnamon
1/2 teaspoon salt
1/4 teaspoon ground ginger
Special Equipment: Food Processor or Blender
Preheat oven to 375° F. Butter a 9×13 baking dish and set aside. Toast pecans on a baking sheet in the oven for a few minutes (3-4), just until they start to smell good. Set aside to cool.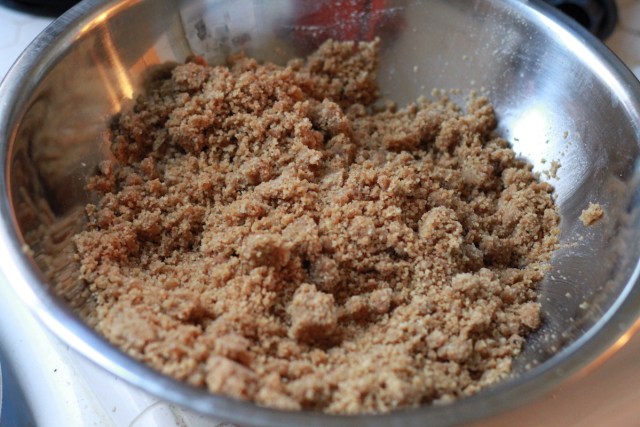 Place cookies in the bowl of a food processor and blend until you have crumbs. Next add the toasted pecans and blend again until everything is mixed, about 1 minute. The brown sugar goes in next! Process for another minute, then add the flour, salt, and baking powder and pulse everything until it's all evenly incorporated. Lastly, pour in the melted butter and pulse the mixture just until it starts to clump together. Then pour it into bowl and mix a few more times with a spoon. It should look like kind of like wet sand.
Put your peeled, cored, and sliced apples in a large bowl with the pomegranate seeds. Throw all of the remaining ingredients on top and stir it around until everything is coated in sugary spiced goodness.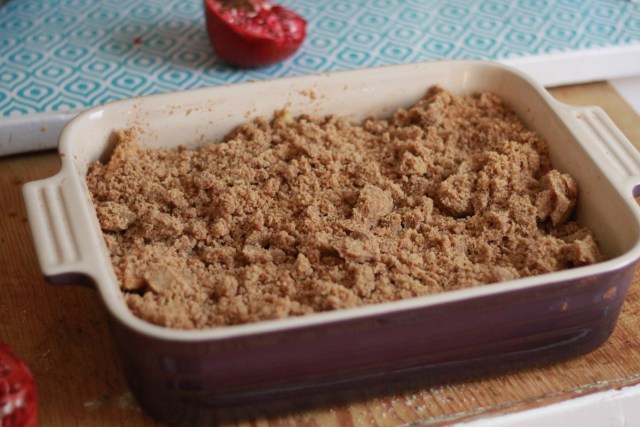 Pour the apple filling into your prepared baking pan, then top with the crumbs. I like a lot of crumbs on my crumb topped things, so the ratio here is about even apples to crumbs. If you want less, just put on less!  I do suggest using at least 3/4 of the crumbs though. How many times can I say crumbs in one instructional blurb?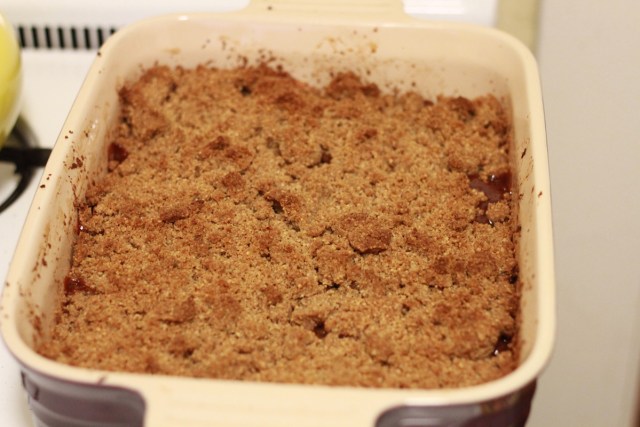 Bake for 35-45 minutes. The top should be brown in some places and have syrup bubbling up around the edges. Do me a favor and pardon the lighting in these last couple photos! The sun went down while this was in the oven and the lights in my apartment are not conducive to food photography .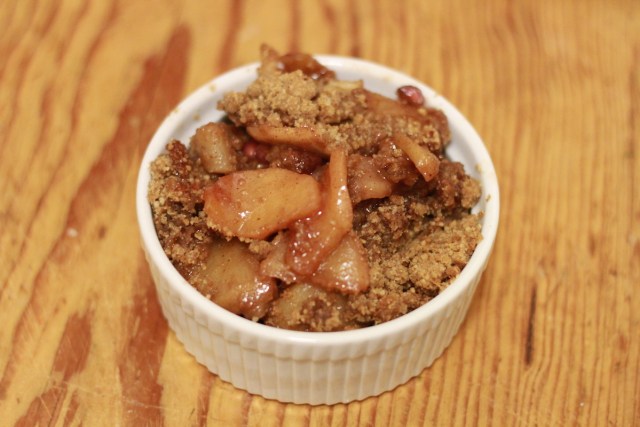 Allow to cool for at least ten minutes before serving, then serve it up! I like it warm with ice cream on top, but its also good room temperature and even cold out of the fridge at midnight. As always, Femme Brûlée is a no judgement zone, especially during the holidays!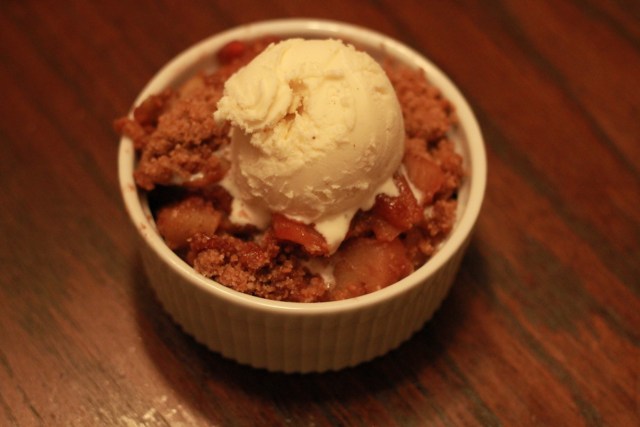 Happy eating!