I'm gonna say something here that iIve often been in the habit of keeping to myself; I despise this time of year. New Year's season when everyone is comparing their current selves to their past selves (and each other), professing loudly how they're going to be better than who they were the day before, and very commonly in that professing, saying a bunch of fatphobic things. This is the time of year when I'm most likely to bring a dessert to a friend's party and overhear people talking about how it's level of deliciousness makes it "dangerous" to their goal of making sure they never end up looking like me, a fat person. GASP. The horror. It's tired, and I'm tired.
As a result, more than any other time of year, this is the season that I just don't. I don't make resolutions anymore since past me spent so many years feeling obligated to make them and tell the world just how much I hated my body and myself cause that's what was expected of me. I don't get on social media because it's not fun to see people put themselves and others down in a way that masquerades as a healthy positive action. I don't watch TV, I don't engage in the conversations, I don't allow myself to start the year being reminded of just how much the world fears people like me, and wants all of us to fixate on how we are not enough. A few years ago I just stopped. I realized I had permission to make other choices, and now I do.
I choose to highlight what I did well during the past year, and to look at the places that the world is clearly lacking love and understanding, and do my best to decrease that deficit. I also cook and eat whatever I want, and this year it was these muffins. I've been craving a cranberry orange something since the cranberries starting showing up in stores in November, but never managed to get around to making it happen until the blur of days between Christmas and New Year arrived. I tend to crave muffins when I'm feeling a little down and out about the world, so all those powers combined to bring these muffins into the world as my first recipe creation of 2020.
They are not dangerous, but they're real delicious. VERY cranberry given the cup and a half of berries that get all bursty and juicy in the oven, and VERY orange thanks to the zest and juice of a whole orange, plus just enough sugar to avoid any pucker response and lend creamsicle vibes. It's a sweet-tart winter muffin delight. I smile every time I eat one and think of how happy I am to just be me, accepting myself completely, and having breakfast figured out for the week.
You can be channeling citrus sunshine and tart jammy cranberry brightness too with a small amount of effort and 30 minutes of your time. Happy New Year.
---
Ingredients:
2 cups (240g) all purpose flour
1 1/2 teaspoons baking powder
1/ teaspoon baking soda
1/ 2 teaspoon salt
1 1/2 cups (185g) fresh or frozen cranberries
3/4 cup (150g) granulated sugar
zest of one orange
1 large egg
1/2 cup (4oz) orange juice
1/4 cup (2oz) milk
1/4 cup (2oz) coconut oil, melted
1 1/2 cups (185g) fresh or frozen cranberries
Preheat the oven to 375° F / 190° C. Oil a standard muffin pan and set aside.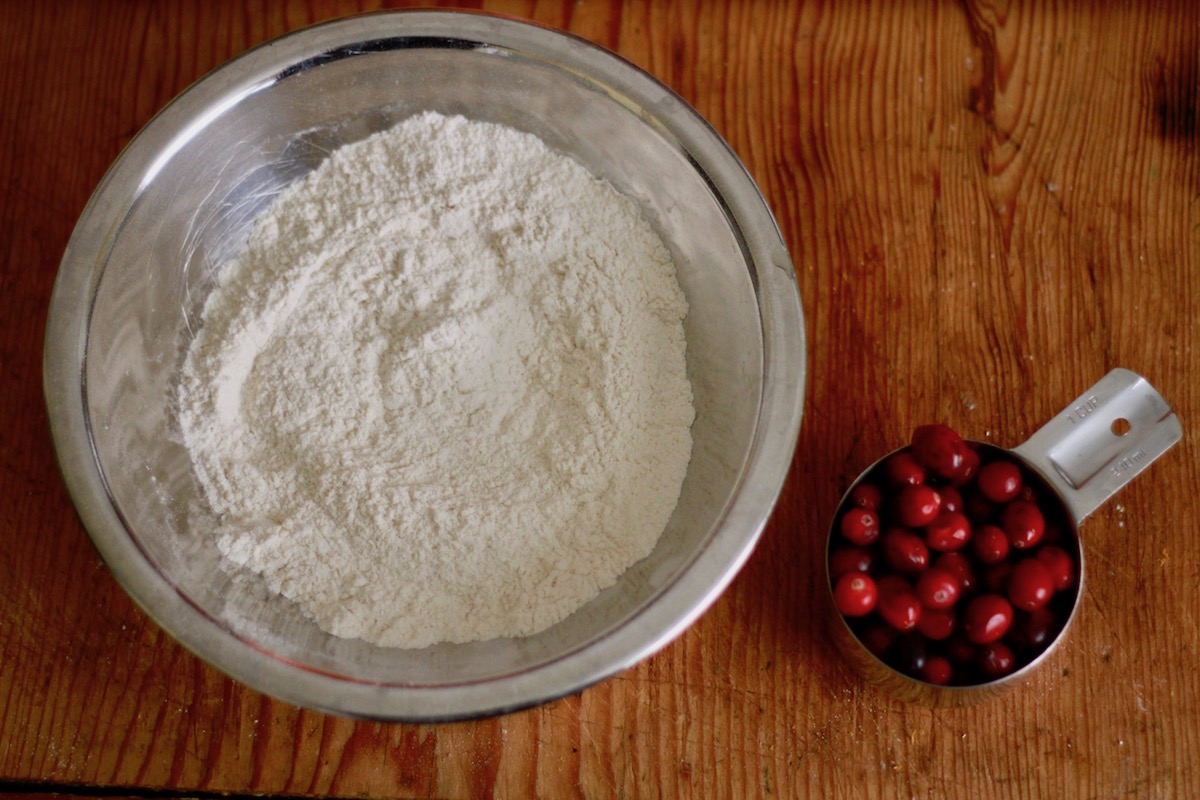 Sift together the flour, baking powder and soda, and salt in a medium bowl. Add the cranberries and toss in the flour mixture until coated then set aside.
Pour the sugar into a large bowl, then add the orange zest and rub it into the sugar with your fingers for a minute or so until it's evenly distributed and you can smell the orange oil. It's been so long since I've asked you to rub zest in sugar! Enjoy it.
Next whisk in the egg, orange juice, milk, and coconut oil until smooth, then add the flour and cranberries to the large bowl and stir to combine just until there are no dry spots left in the batter.
Divide the batter as evenly as possible among the muffin cups and bake for 15-20 minutes, then allow to cool in the pan for 5 minutes before transferring to a wire rack to continue cooling.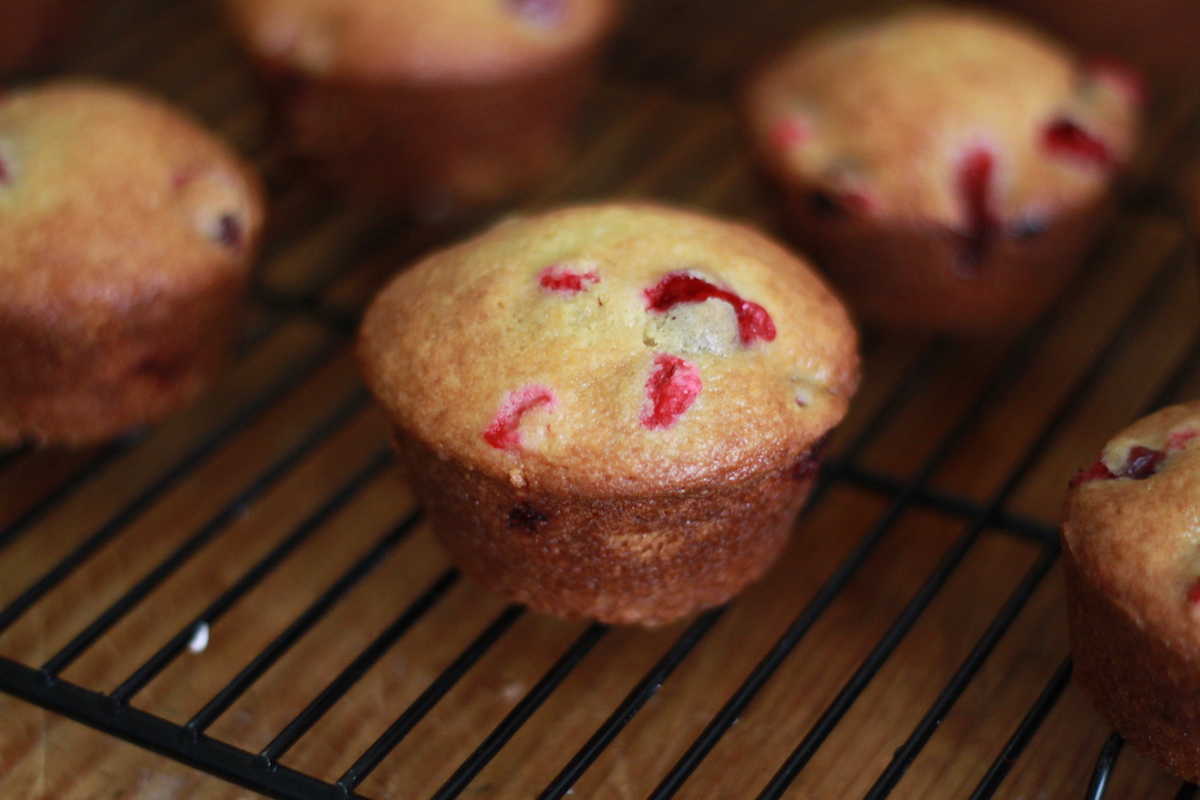 Wait about 10 minutes and you're golden.
You can eat them warm.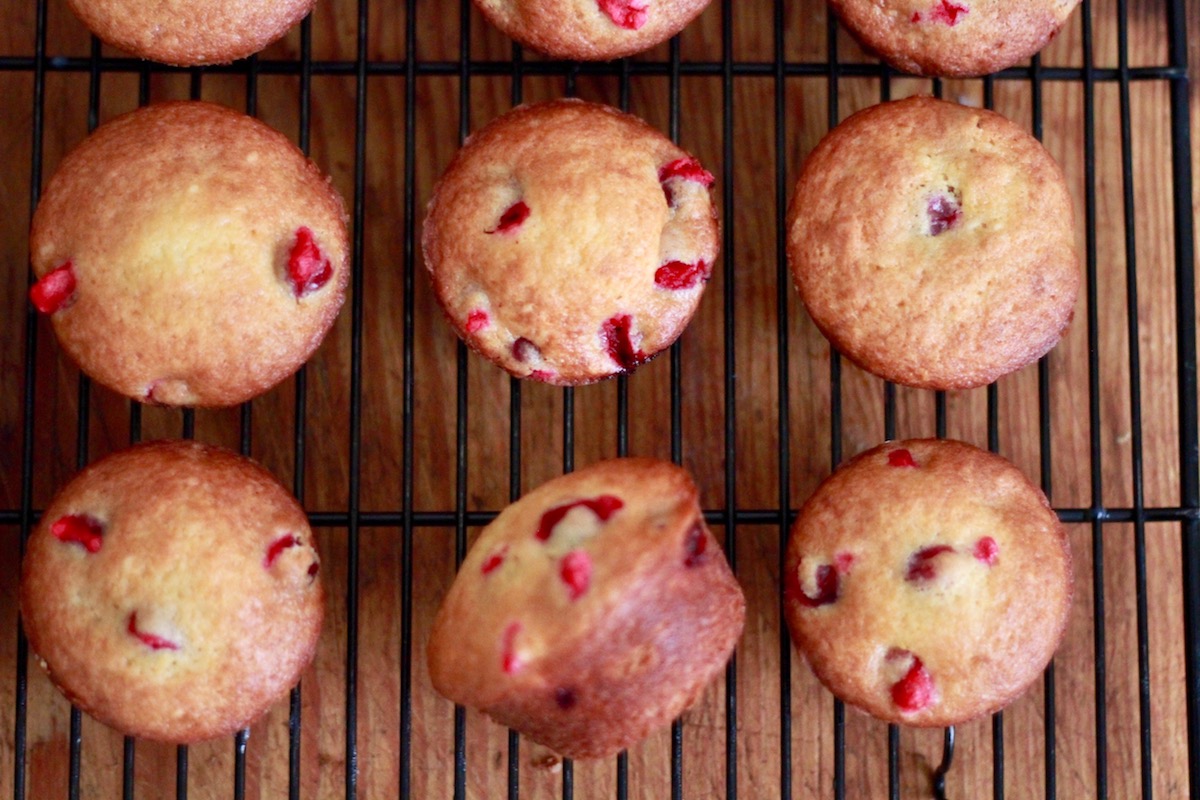 Or, if you prefer room temp muffins just keep waiting around while they make your home smell delicious.
Regardless, your new year will be off to a mouthwatering start.