Happy New Year's!
It's the best holiday of the year! It is also, perhaps, the only holiday that my family celebrates, so I may be a little biased here. There's delicious food, family, friends and red envelopes stuffed with money1!
The most important part of New Year's is eating delicious things with family and friends. There are a lot of specific dishes with specific meanings that are traditionally eaten around New Year's, with a lot of variation depending on where you're from. My grandparents are from northern and southern China and my parents are from Taiwan and Hong Kong so we have a whole mish-mash of foods and traditions2. My family usually eats fish, noodles, rice cakes, oranges and spring rolls, among other things. Food symbolism usually comes about from homonyms or visual/physical characteristics of the food. Fish symbolize plenty, rice cakes symbolize growth and oranges symbolize luck, since the names and meanings are homonyms. Noodles and spring rolls symbolize longevity and prosperity, respectively, since noodles are long and spring rolls are golden and shaped like gold bars.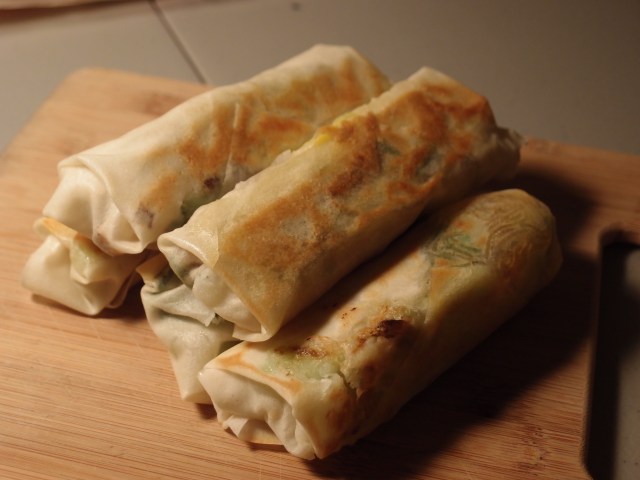 This year on New Year's day, I'm going to call my mom and my closest friends to exchange New Year's greetings3, give oranges and red envelopes to my friends' kids4 and have a tiny but extravagant banquet with my friends in town.
1 New Year's is a little like a combination of Thanksgiving, Christmas and New Year's all rolled into one. There's a giant banquet, family and friends spending time together and presents! Except, we don't get presents, we get money in red envelopes. It's great.
2 Other factors determining what shows up on the menu include how annoying a particular dish is to make and how much effort the chef feels like making that year.
3 Traditional greetings, in verse
4 Technically, you only give out red envelopes (and stop getting them) when you're an adult, which my mom tells me is defined as being married. My friend, however, has no idea what's going on with New Year's anyway, so I'm giving his kids red envelopes and oranges.

---
Spring Rolls!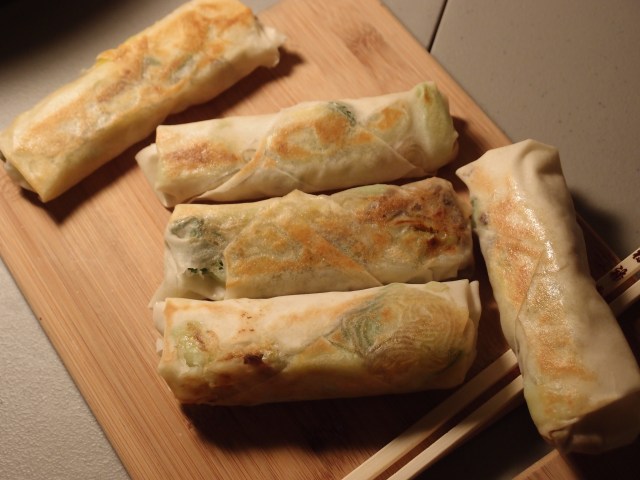 Ingredients:
1 package pressed or baked tofu, thinly sliced
1 oz. dried shitake mushrooms, soaked until soft (30 min-2 hrs depending on the mushrooms), thinly sliced
1 bundle mung bean noodles (each package usually has multiple bundles in it)
3 heads of baby bok choy, thinly sliced
Frozen spring roll wrappers, thawed
1 egg yolk
Soy sauce
Pepper
Oil for pan frying
There are many things that can go into spring rolls. The key things when making the filling is to make sure that everything is fully cooked, chilled and not liquid-y. Excess liquid or hot fillings will often cause spring roll wrappers to tear. Within those parameters, feel free to go wild! This filling is what my family usually makes. (It's not a set recipe, we usually just eyeball ingredients)
For the filling:
Cook everything: saute the bok choy, simmer the mushrooms, cook the mung bean noodles until clear and soft (follow directions on the package).
Mix all the filling ingredients, then season with soy sauce and pepper to taste.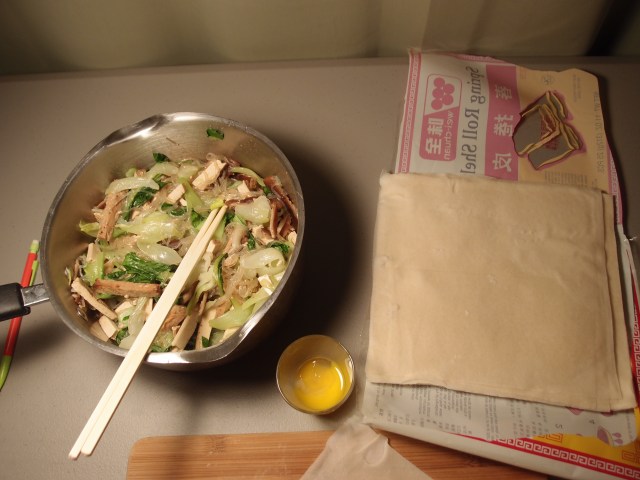 Drain as much liquid out of the filling as possible and set the bowl in the fridge until chilled.
Wrapping: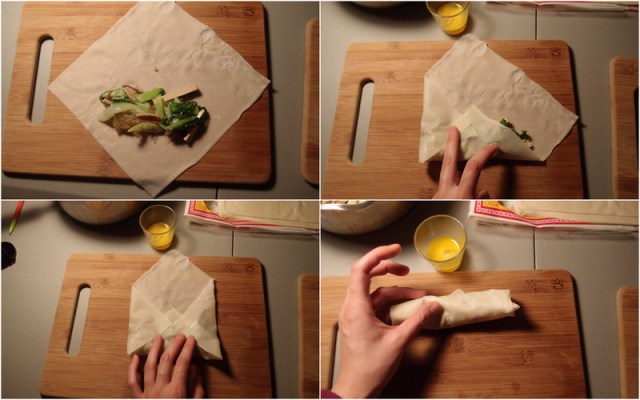 Place a reasonable amount of filling in the wrapper. Err on the side of less filling if you haven't wrapped spring rolls before. Later on you can try to make them as big as possible without bursting.
After the first fold, cinch the fold and filling towards you.
Fold the left and right side in.
Roll the spring roll all the way up and use a dab of egg yolk to glue the end in place.
Frying:
I usually pan fry the spring rolls in a non-stick pan with a few teaspoons of oil for a few minutes on each side until they are a light golden color (depending on how tightly your spring roll is wrapped, you may have to fry on two sides, 3 sides or 4 sides). You can, of course, go unhealthier with progressively more oil and deeper frying.
Possible dipping sauces include sweet and sour sauce, an oyster sauce/soy sauce/black vinegar mix, or anything else that tastes delicious to you.
Spring rolls are best eaten immediately after frying. The filling and wrappers can be kept refrigerated, separately, for a few days. Keep the wrappers in a ziplock bag so they don't dry out. Enjoy!