If you're reading this in the United States you've likely just survived another Thanksgiving, have had your fill of leftovers and are wondering what to do with the rest and feeling guilty about the idea of throwing them away. There are tons of suggestions out there for what to do with the turkey, mashed and sweet potatoes, and pie that are leftover, but I've noticed no one ever really seems to have an idea for what to do with leftover cranberry sauce. I've never been to a Thanksgiving that didn't have a sad unwanted bowl of cranberry sauce like this one left behind.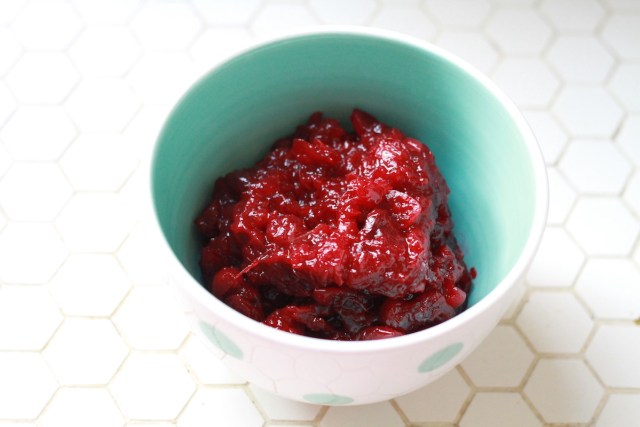 It's delicious and totally brings the meal together, but people generally take a spoonful at most leaving behind a bunch of the sweet, tart, spiced, cranberry deliciousness to get tossed in the trash. It always breaks my heart. I LOVE cranberry sauce and think it deserves better so I made this recipe to remedy this issue. These muffins are the perfect thing to whip up when you've had it with leftovers but don't want to be wasteful, and make an awesome breakfast and/or snack for the week.
I also made them vegan because 1. I know good vegan Thanksgiving/holiday/muffin recipes aren't easy to come by, and 2. Cranberries are FULL of pectin which is what holds vegan baked goods together so I knew it'd be simple to do. And it is.
These are NOT dry, dense, flavorless vegan muffins though. They're perfectly sweet and tart, lightly citrusy, extremely photogenic, and delicious with coffee and a little vegan butter spread on top. The crystallized ginger also adds a level of awesomeness that really should not be missed. You can make these without it but I highly suggest you find some and add it in. The spice with the tart cranberries is so delicious. It can be found in most grocery stores, especially those with  bulk spice sections and looks like this: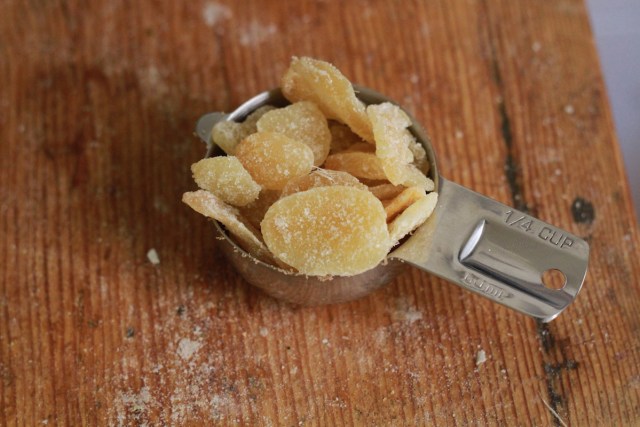 If you're ginger averse you can always add candied toasted walnuts or pecans, or just make them plain. I also tested the recipe with both fresh and canned cranberry sauce and it works beautifully with both, though the canned ones are sweeter given the corn syrup they add in so I cut the sugar by one third.  If you're looking for a Thanksgiving leftover makeover, or If you aren't celebrating thanksgiving and are just looking for an awesome fall muffin I hope you'll give these a try.
Cranberry Sauce Muffins
Ingredients:
2 1/2 cups (300g) all purpose flour
4 teaspoons baking soda
1/2 teaspoon salt
1/2 cup brown sugar (1/4 cup if using canned cranberry sauce)
1/4 cup granulated sugar
zest & juice of one lemon
1 cup cranberry sauce
3/4 cup non-dairy milk
1/4 cup coconut oil
1/4 cup crystallized/sweetened ginger, diced
1. Preheat the oven to 375° F. Oil a muffin tin and set aside.
2. In a medium bowl, whisk together the flour, baking soda, and salt. Set aside. In a large bowl mix the brown and granulated sugar with lemon zest and juice, and rub together to combine. Next whisk in cranberry sauce. Now is the time to taste the mixture and adjust the sweetness according to your liking. The canned cranberry sauce was far sweeter than my homemade version, so it needed less sugar as noted above. You may want more, so taste it and then adjust. Now whisk in the non-dairy milk and coconut oil. Combine the dry ingredients with the wet, adding the flour mixture in thirds and stirring until incorporated in between additions.
3. Add the diced crystallized ginger to the mixture and fold it in just until it is distributed throughout the dough.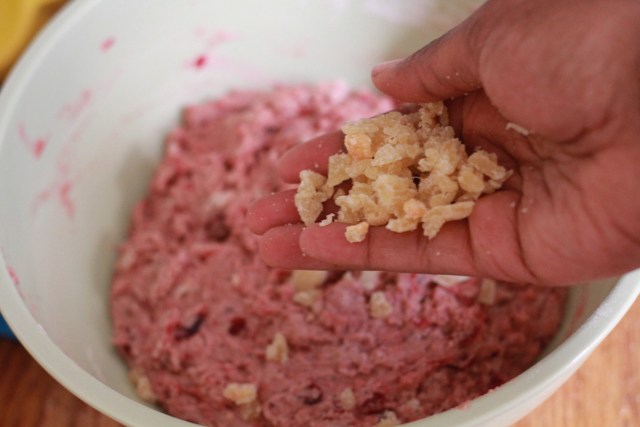 4. Scoop the muffin batter into your prepared muffin tin. Place in the oven and bake for 15-20 minutes. I checked each of my batches at 15 minutes and they were done at 17 minutes.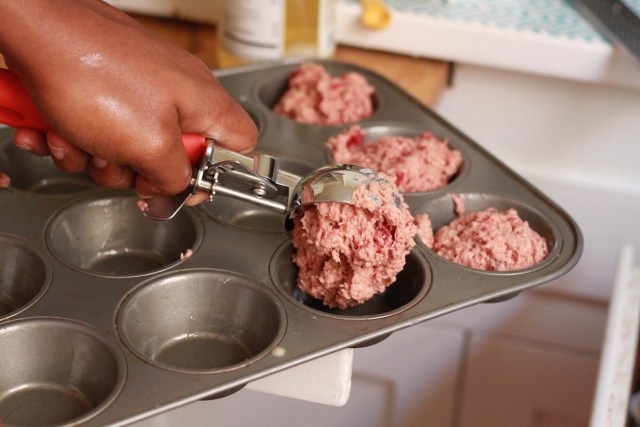 5. Cool muffins in the pan for 10 minutes, then transfer to a baking rack to cool as long as you can stand to let them.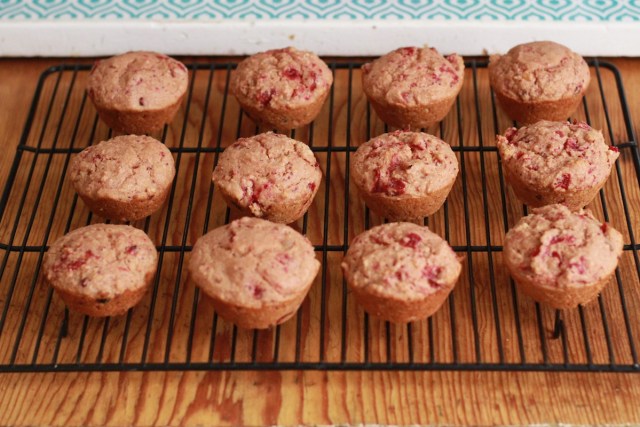 6. Serve the muffins to your family & friends and revel in the glory of being called a genius for finding a use for the unwanted cranberry sauce leftovers.