A couple summers ago, I started making beach ceviche — ceviche to eat on the beach. I'd always been intimidated by the idea of making ceviche, because the technical process of curing raw fish with citrus seemed like it might leave little room for error. But once I learned that using frozen fish to make ceviche is actually a safe and recommended option, I decided to take a stab at it. I've now made my shrimp ceviche a few dozen times for friends and family, and since I'm constantly asked for the recipe, I decided to finally formalize it here!
I like to call my ceviche "Beach Ceviche" because, you guessed it! It's best eaten on the beach! There's also a practical version for my tendency to prepare this dish specifically as a beach snack: The process of curing the shrimp with lime juice can vary timing-wise. Sometimes it can take over half an hour. So if I prep the ceviche in a sealable bowl and pop it into my cooler backpack, by the time I'm on the beach, it's usually ready to go. There isn't much of a concern with over-curing when it comes to this shrimp ceviche. When working with other fish like tuna or salmon, it's def possible to let it sit in the citrus too long, yielding tough or chewy fish. I find frozen shrimp to be way more forgiving than other fish, and I've let my Beach Ceviche sit and cure in a cooler for over two hours before without compromising the taste or texture.
The ingredients and process for this Beach Ceviche are simple enough that you could definitely whip this up on a beach vacation (so long as you have access to a kitchen) and impress everyone around you with such an upgraded beach snack that blows sliced fruit and a bag of chips out of the water! Just pack a large Tupperware for vacation in case your Airbnb or rental doesn't have one. But I'll confess I've also "emergency" bought a new sealable bowl at a grocery store while on a beach vacation just to be able to make Beach Ceviche. I'm also lucky enough to live near the beach (and lived even closer the past two summers), so Beach Ceviche really has become a staple in my household, and it quite literally never disappoints! What's better than eating fresh, citrusy shrimp by the ocean?!
As with a lot of the things I make — even the recipes I make a million times — there's a lot of room for riffing and customization! If you have specific questions about substitutions you want to make or just questions about the process in general, hit me up in the comments!
Of course, the beach isn't required for Beach Ceviche. This dish would also be great for a pool party, as an appetizer at a dinner party, in a backyard, etc. Its late-summer vibes are truly immaculate, so now's a perfect time to give it a whirl!
Beach Ceviche
Serves four
Ingredients for Beach Ceviche
1/2 pound of raw frozen shrimp, thawed with tails removed and cut into 1/2 inch chunks
5-10 limes (see directions for more info)
1 pint cherry tomatoes, quartered
1 small red onion or two shallots, diced
2 scallions, diced
1-2 jalapeños, diced
1 avocado, cut into chunks
Cilantro, chopped
Tortilla chips for serving
Directions for Beach Ceviche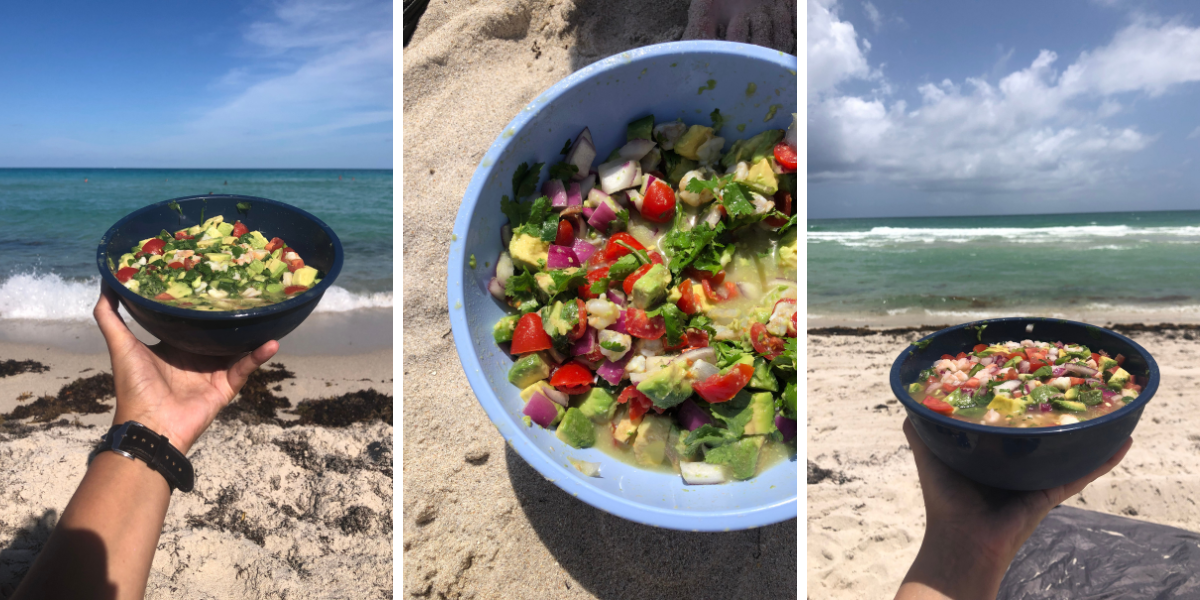 Start by placing your chopped raw shrimp pieces into a large, sealable plastic bowl or Tupperware. I use the third smallest bowl from my Target mixing bowl set, to give you an idea. Next, you're going to juice your limes with whatever juicing apparatus you have. I somehow have four different tools for juicing citrus, which perhaps makes sense given that I live in Florida. My most effective tool is my KitchenAid attachment, especially when it comes to juicing large quantities.
You need enough lime juice to cover all of the shrimp. It doesn't need to be swimming in lime juice, but it should all be covered. The number of limes this requires, I find, varies greatly, depending on the quality and size of limes and other factors. One trick for getting more juice out of your citrus is to firmly roll it with your hand against a hard surface before slicing it in half to juice.
This is important: DO NOT USE ANYTHING OTHER THAN FRESH LIME JUICE. Lime juice from the bottle is great for a lot of things in a pinch, but not for ceviche. I made the mistake of trying it once because I had a craving for beach ceviche but was out of limes, and while the shrimp did eventually cure, it took literally 2+ hours. Never again! Use the fresh stuff only!
I usually let the shrimp sit in the lime juice on its own while I do other getting ready for the beach tasks, like sunscreening and picking which of my 75 bathing suits and cover-up combinations I'm going to wear (again, Florida). After about 15 minutes, I return to the ceviche to add the tomatoes, onion, white parts of the scallion, and jalapeño. Give it a stir to mix it all up. You should start to see the shrimp changing color from its translucent raw shade to a more solid white (depending on the type of shrimp, the color can also become a dark pink). Don't freak out if it's still looking pretty raw. It'll get there; I promise.
I do some more beach tasks like packing additional snacks and beverages and looking for my misplaced sunglasses. After about 10 minutes, add the green parts of the scallions, the avocado, and as much chopped cilantro as you desire (or none, if you're one of the cilantro naysayers!), and give it another stir. Then pop that top on, pack the ceviche in a well insulated cooler, and head to the beach!
By the time you get all set up at the beach, your ceviche should be ready to enjoy with some tortilla chips. I'm partial to the Tostitos Scoops for maximum ceviche scooping capabilities. If you open your ceviche and the shrimp still looks gray-ish and raw, again, don't panic. Give it another shake to let the lime juice do its thing, and try again in a little bit.
Some notes on modifications
If you prefer a spicer ceviche, I like to use serrano peppers instead of jalapeños. If you like a more mild ceviche, remove the jalapeño seeds before chopping.
Additional ingredients you can throw in include chopped mango, chopped watermelon, chopped cucumber.
You can add pickled red onions if you want a more pickled flavor profile.
Yes, you can make this vegan! Skip the shrimp and instead use sliced canned hearts of palm. This is the best vegan ceviche hack I've personally tried.
You can really use any tomatoes for this, but I like the slight sweetness of cherry tomatoes, and sometimes I halve them instead of quartering them when I want a slightly chunkier ceviche (and then accordingly chopping everything else a little chunkier to match).
It's very rare that I write a recipe that doesn't call for salt, but I don't find this ceviche needs salt so long as it's being enjoyed with an appropriately salty chip accompaniment. But if you feel otherwise, go for it! Tajín could also be fun to play with here!
---
If you make Beach Ceviche and snap a pic on the beach, tag me! I want to see! It'll probably make me immediately want to get my ass to the beach!