Welcome to Messy Kitchen, a Sunday smorgasbord of micro essays about my favorite things I ate this week. This week, it's short. One thing that's always the same, and one thing that's a constant but different every time. You can pick your own metaphor adventure, I think.
---
Fried Mozzarella, Olive Garden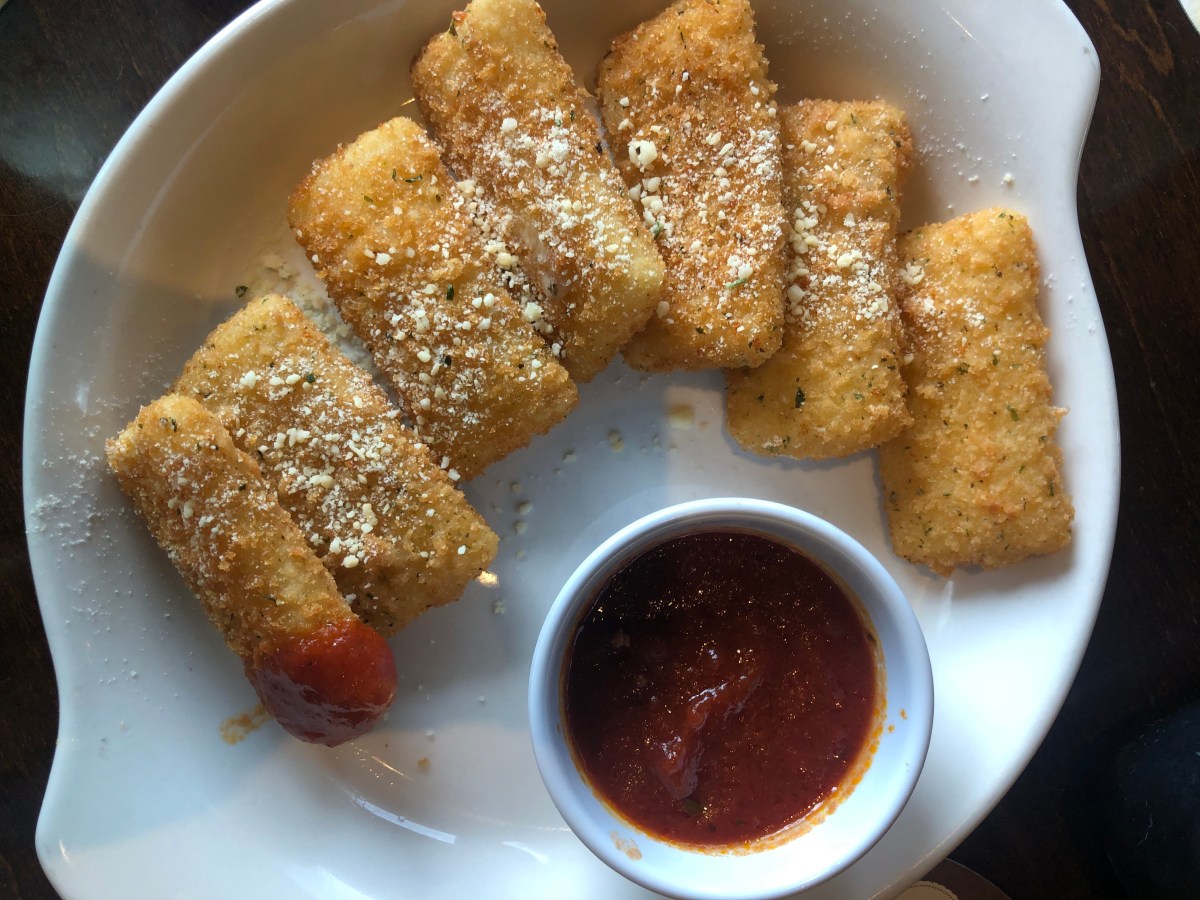 I wish I could say the reason the Olive Garden fried mozzarella didn't make my ranking of mozzarella sticks in 2019 was due to a matter of taxonomy. They are not technically mozzarella sticks — in shape or in name. They are more like fried mozzarella pillows, and I would indeed like to rest my head upon one.
The love of my life loves Olive Garden, and she has sown a love of Olive Garden into me. It is everything I want it to be, every time, as constant as my love for her, and I know that's cheesy to say, but we're little talking about cheese — the food and the general vibe of Olive Garden, which is all cheese literally and figuratively. Even the cheese comes with cheese, as you can see from the photo above. There's no such thing as subtle at Olive Garden. There's no such thing as holding back.
---
Clam Pasta
I realized recently I've been making clam pasta for almost a decade. The origins of the recipe I first used are unexpected. I heard Chelsea Peretti talking on her podcast nine years ago about a family recipe for super simple clam pasta — was it her mother's or her grandmother's? I can no longer recall — using canned clams, a whole onion, white wine, lemon. I jotted the recipe in my Notes app and made it for a boy. This was before I made my own recipes up in my head, when I was still learning by absorbing from others. Copying others in more ways than one. I can't remember actually eating the First Clam Pasta though. Even now, it took me a second to remember when and where my clam pasta ritual started. Then I remembered the podcast; I remembered the boy. I remembered the shitty can opener that could barely break through the seal of the clam tins, how I cut my finger. But I can't remember how that first bowl tasted, if I used Kraft parmesan or splurged for something nicer. If I had to guess, I bet I used Kraft. Sometimes you just gotta go with what you've got.
In all my nine years of making clam pasta, it's never exactly the same as the bowl that came before. I've done it with fresh clams, round littlenecks choked with sand that must be purged before cooking, their little bodies opening in steam. I prefer canned though. Sometimes I use minced, sometimes chopped. Sometimes I splash a dry white wine in to deglaze the onions and garlic in their buttery tack, but sometimes lemon juice is all I've got, and it does the trick. Sometimes, most times, I have a heavy hand with the red pepper flakes the onions and garlic simmer in for an extra kick. Sometimes I top it with arugula, because a fistfull of arugula is an underrated pasta topping. I have no loyalty to a pasta shape; I hear most like linguine with their clams, but I think any noodle has its individual merits.
Clam pasta is my comfort food, even though I never make it the same exact way twice. Clam pasta has become, I think, one of my fiancé's comfort foods, too. She hasn't said those words exactly, but it's so often her answer when I ask her what she'd like for dinner, especially after a long day, a hard week. In fact, it's one of the only things she ever requests, usually deferring to me when it comes to deciding what we'll eat. She likes to defer to me, and I like it, too. But I also like when she asks for something specific, especially when it's clam pasta. It's so easy, and at this point, I can make it without thinking much at all, not a memorized recipe but a memorized set of overarching requirements, all slightly mutable. But the shifts come as naturally as if I were working from the same precise recipe every time.
This time, I made it with campanelle, and I used minced garlic from a jar rather than fresh, because my hands were tired that night. In a pan, I melted butter, toasted panko, added the golden bits to a small bowl with chopped parsley and sea salt and lemon zest. We spooned the crunchy, bitey topping onto our bowls and sprinkled shaved parmesan along with it. I almost accidentally overcooked the pasta; I always almost accidentally overcook the pasta.
Comfort food, I suppose, implies consistency. Comfort, I suppose, implies consistency. But there's a difference between comfort and pleasure. There's a difference between comfort and happiness. Comfort can sometimes lull us into a sameness, make us overly dependent on things that feel good for a moment but don't actually move us forward. Maybe clam pasta isn't our comfort food; it's our happy food. And yes I know I'm being cheesy again — the happy as a clam of it all. But it's true that my clam pasta keeps changing with me, has become something new to be shared with someone new.
She likes extra lemon, extra parmesan. I like to watch her eat it all up.
Every single time, always something that tastes approximately the same but looks a little different, has something about it that's different, in color or in shape. There's pleasure in it now, which is so much more than comfort.