Well It happened! It really happened. Let's be clear, I'd given up hope it was actually going to happen, but it did! Trump was impeached, history was made, and tbh I feel pretty jaded about it. It likely doesn't mean he's going anywhere, and even if he does all the people and problems that allowed him to seize the presidency in the first place are still here. White supremacy is still a cornerstone of existence in this country and the world at large. Yes, it's good that the right thing was done, his abuse of power was called in, and he will forever be known as the first president in U.S. history to be impeached in his first term. Good. But he still holds that office and will likely continue to; he could still run for it again; everything he stands for still has the support of just under half of this country.
I can't help but look at this impeachment as governmental call-out culture, meaning important but ultimately inconsequential. He still holds an immense amount of power, still threatens the livelihood of everyone I hold dear, and will presumably continue living a golden-boy life of wealth and ignorance long after this is over. We do not live in a world where accountability means more than a slap on the hand in terms of white supremacy. I wish we did, but we don't. We have villains who all "happen" to look alike, wield the most power and privilege, and are content to wreak havoc on the lives of everyone outside their toxic little club to maintain it. Oppressing, traumatizing, and extinguishing us on a large scale. Shit is truly twisted in this world and as far as I'm concerned we live in the upside down, so when it comes to baking out my distress about it, that's where my mind is. Upside down cake. The best way I could think of to acknowledge both the importance of this moment, and all the complicated baggage that comes with it in a baked good.
Of course, for the theme and deliciousness, there's peaches. Juicy, sweet, wholly out of season in the US right now so we're using frozen ones, peaches that caramelize in butter and sugar as they bake. Said caramelized peaches are nestled into a wonderfully moist cake made with two unexpected ingredient appearances 'cause I wanted it to be just as unique as impeachments are (lol).
First, there's creamy tangy chèvre goat cheese whipped in with the butter that gives the cake a wonderfully luscious texture and a hint of acidity to counter the sweet. Next, fresh sage is steeped in the milk before it's added to the batter 'cause you've likely learned from following my recipes over the years it's that I love any excuse to add fresh herbs to desserts. Sage tastes incredible with peaches and cream, both of which are present at this impeachment cake party, and with the addition of a little nutmeg it all works together to blend a typically summery sweet fruit with the warm earthy spice flavors of winter. It's kind of like a cheese plate but cake.
You might think this sounds weird, and I feel you, it does! Sometimes weird works though, and this is truly one of those times. The first bite was bliss and by the time I finished I'd almost forgotten why I baked it in the first place. This cake is also special in that it tastes the absolute best warm from the oven while the peaches are meltingly soft and shimmering with caramel that's also soaked into the sides lending a nice crunch to the edges. Perfect for picking off a little piece whenever you walk past the kitchen. I'm drooling just writing about it so honestly, enough talking, lets get to the baking.
Ingredients
For the batter
1/2 cup milk
6 large or 8 small fresh sage leaves
1/2 cup (113g) unsalted butter, softened
5 oz chevre goat cheese
3/4 cup (150g) granulated sugar
2 large eggs, room temperature
1 1/4 cups (150g) all purpose flour
1 1/4 teaspoons baking powder
1/2 teaspoon salt
1/4 teaspoon nutmeg
For the topping
4 tablespoons (56g) unsalted butter
1/2 cup brown sugar
16oz bag frozen peaches
2 teaspoons all purpose flour
1/2 teaspoon cornstarch
Preheat oven to 350° F (177° C). Butter a 9 in springform or deep cake pan and set aside.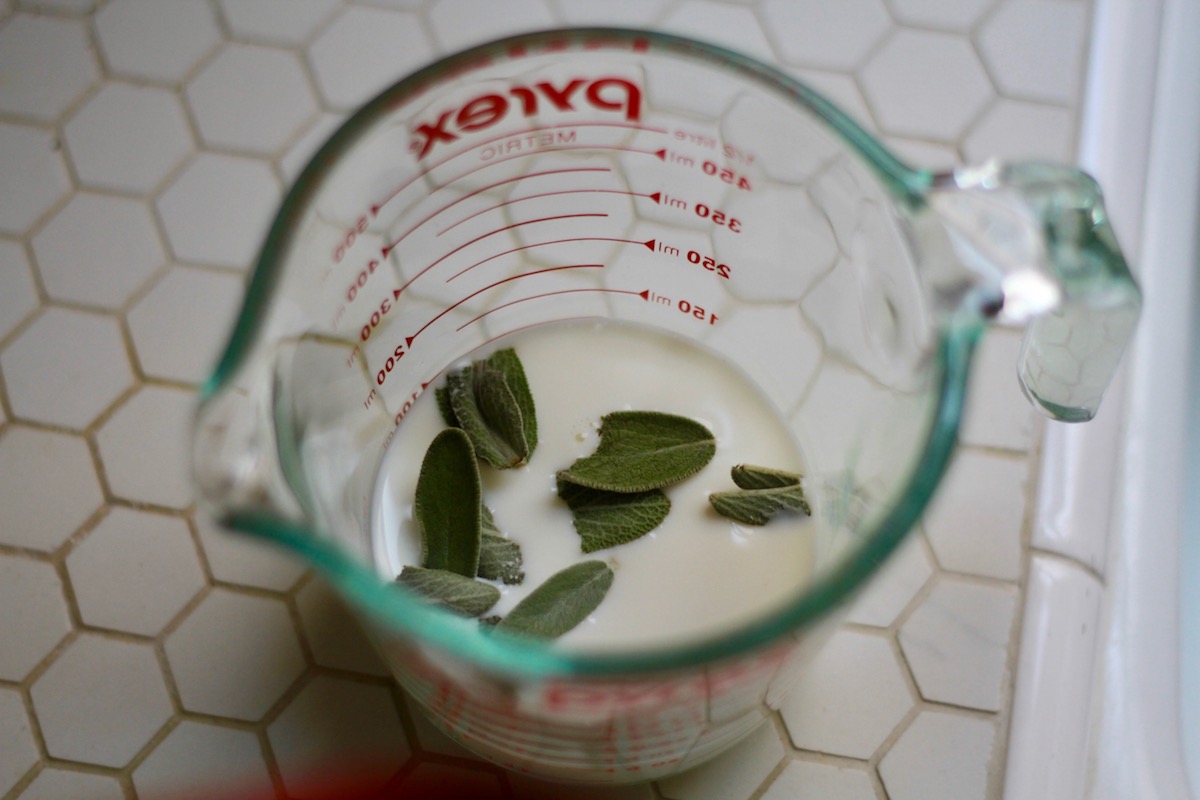 Tear the sage leaves in half and place them in the milk before heating it either in the microwave or in a saucepan just until it's hot and starts to steam, but not boiling. In my microwave this was about 1 minute 20 seconds, or on the stovetop over medium heat, about 3 minutes. Set aside and allow the sage to continue to steep.
In a large bowl or the bowl of a stand mixer, combine the butter, goat cheese, and sugar and cream together on medium speed using a hand mixer, or with the paddle attachment of a stand mixer until light and fluffly, 3-5 minutes. Next add in the eggs one and a time and mix until fully incorporated. Follow the eggs with the flour, baking powder, salt, and nutmeg and blend them in on low/stir speed. When it starts to clump together, pause and strain the sage from your milk then stream it into the batter while continuing to mix on low until there are no dry spots left and everything is smooth. Set aside.
Make the topping! Melt the butter, then whisk in the brown sugar until glossy. It should be thick, but still pourable. Pour this into your prepared cake pan and spread it out to the edges.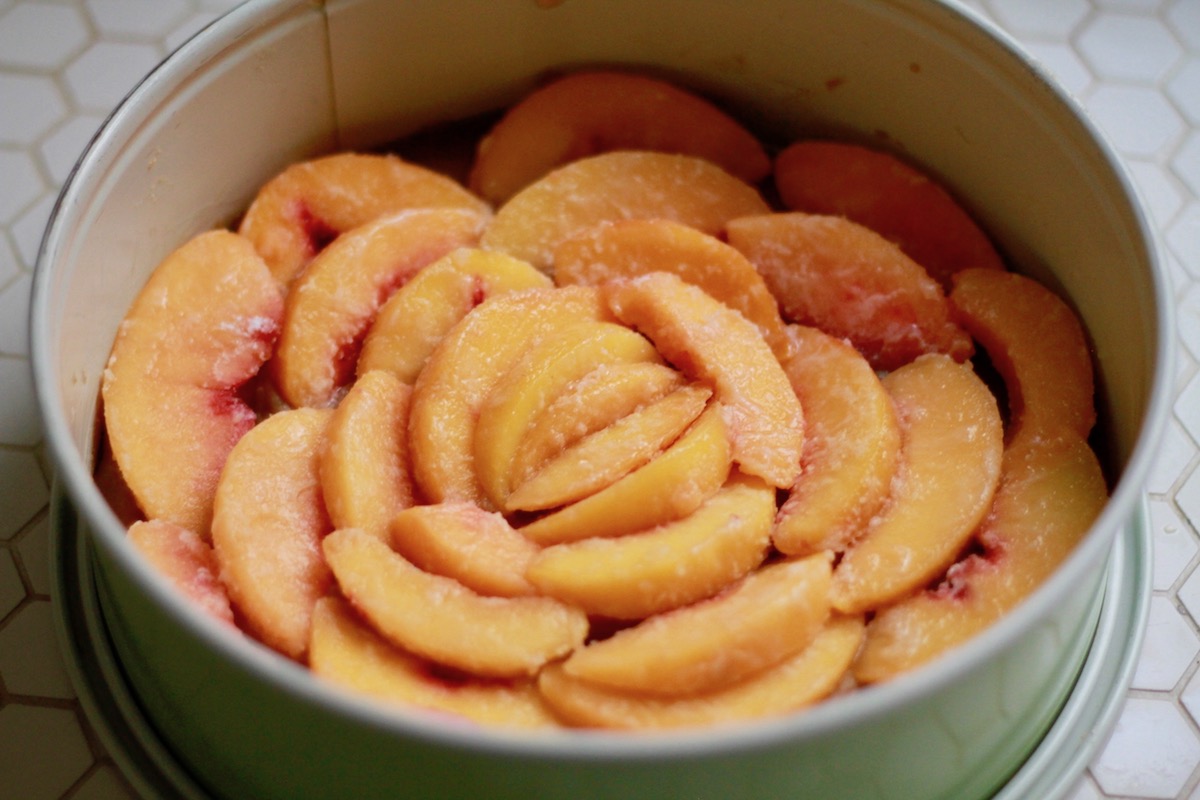 Next, toss the frozen peach slices with flour and cornstarch in a large bowl, then arrange them around the bottom of your baking pan in the caramel sauce. The peaches will likely start to harden the sauce because they're so cold and that's totally fine, it'll all work out in the oven.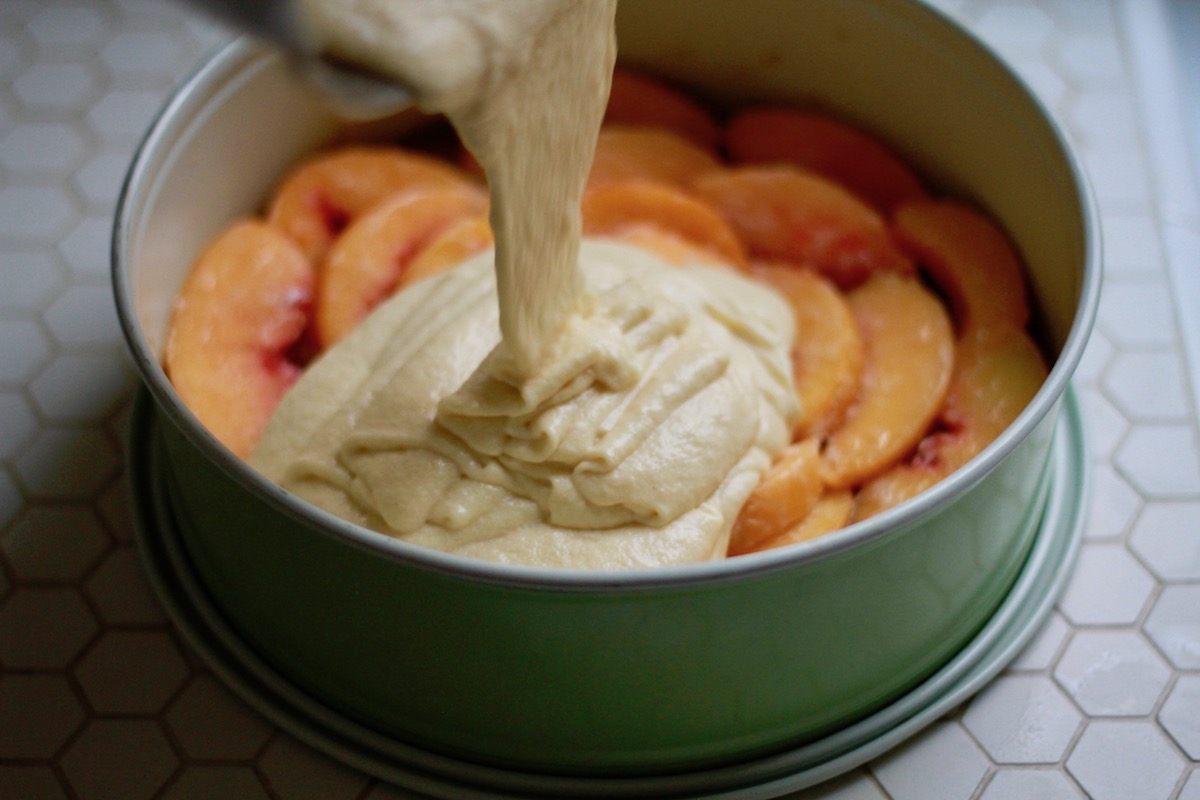 Finally, pour your prepared butter on top of your expertly arranged peach slices, making sure it's evenly spread in the pan.
Bake for 40-55 minutes, or until a cake tester comes out clean, and the edges of the cake have started to brown. There's a wide baking time range here cause I know every oven is different, and given the varying size of the peach slices and the fact that they're frozen, the baking time can be a little relative. Start checking around 40min! Once it's done and your tester is coming out totally free of batter, remove the cake from the oven and transfer to a cooling rack.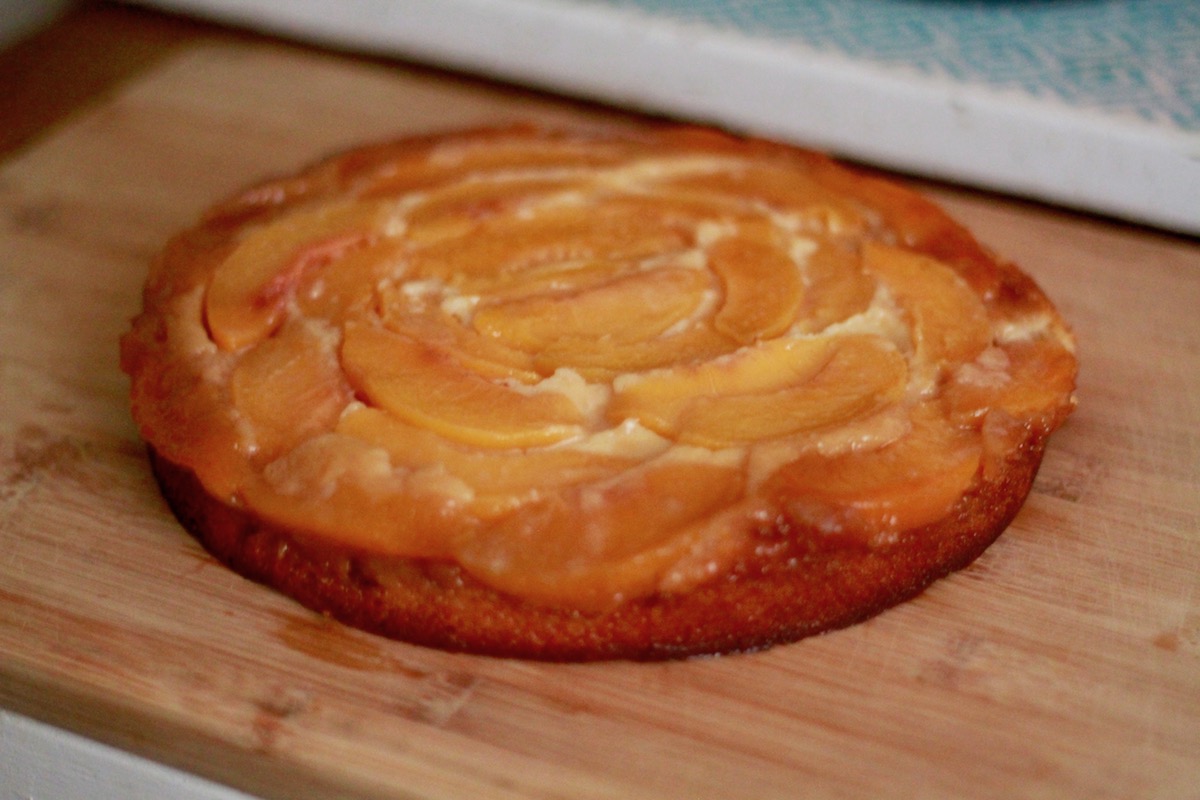 Allow to cool for 10 minutes, then run a butter knife around the edges to loosen the cake from the pan, then invert it onto a cutting board or large plate. Your cake should drop right out. Some of the peach slices might stick to the pan and you can just lift them off with a fork and put them back in place on top of the cake, and garnish with some extra sage if you'd like.
Cool for 5 more minutes so the peaches aren't scorching hot, then slice.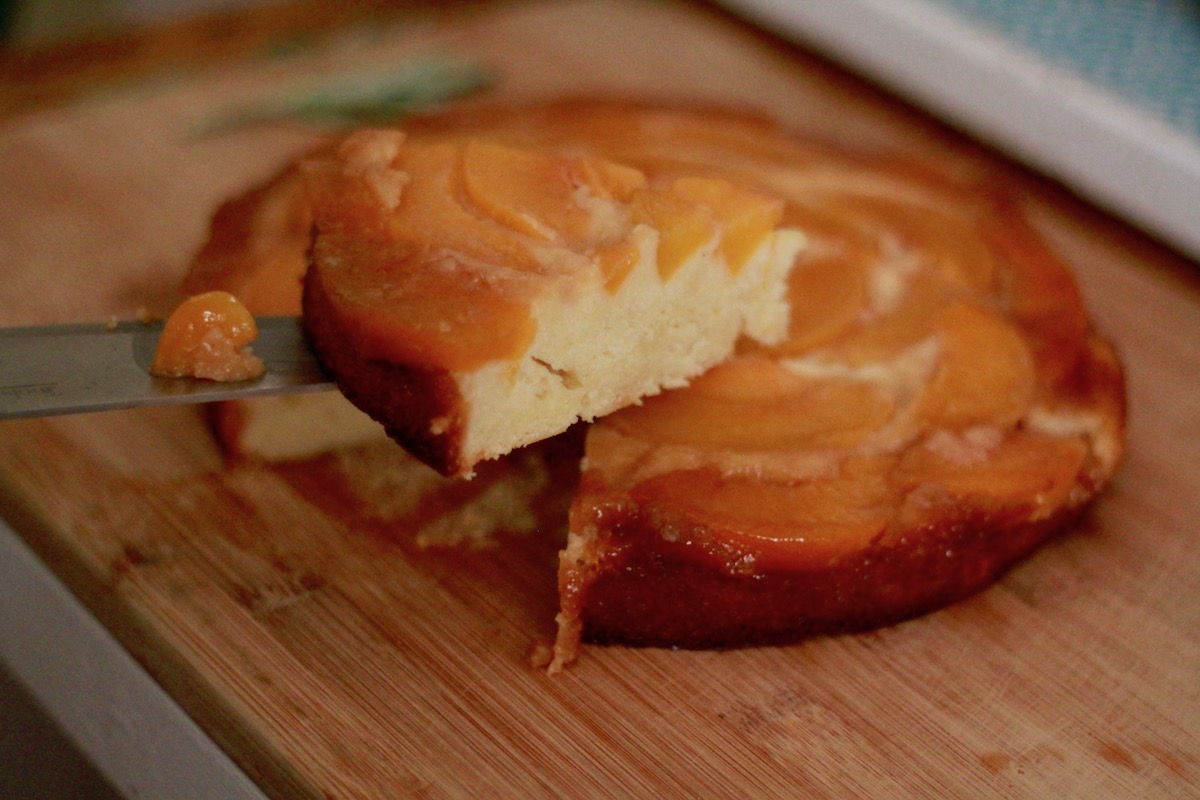 Serve.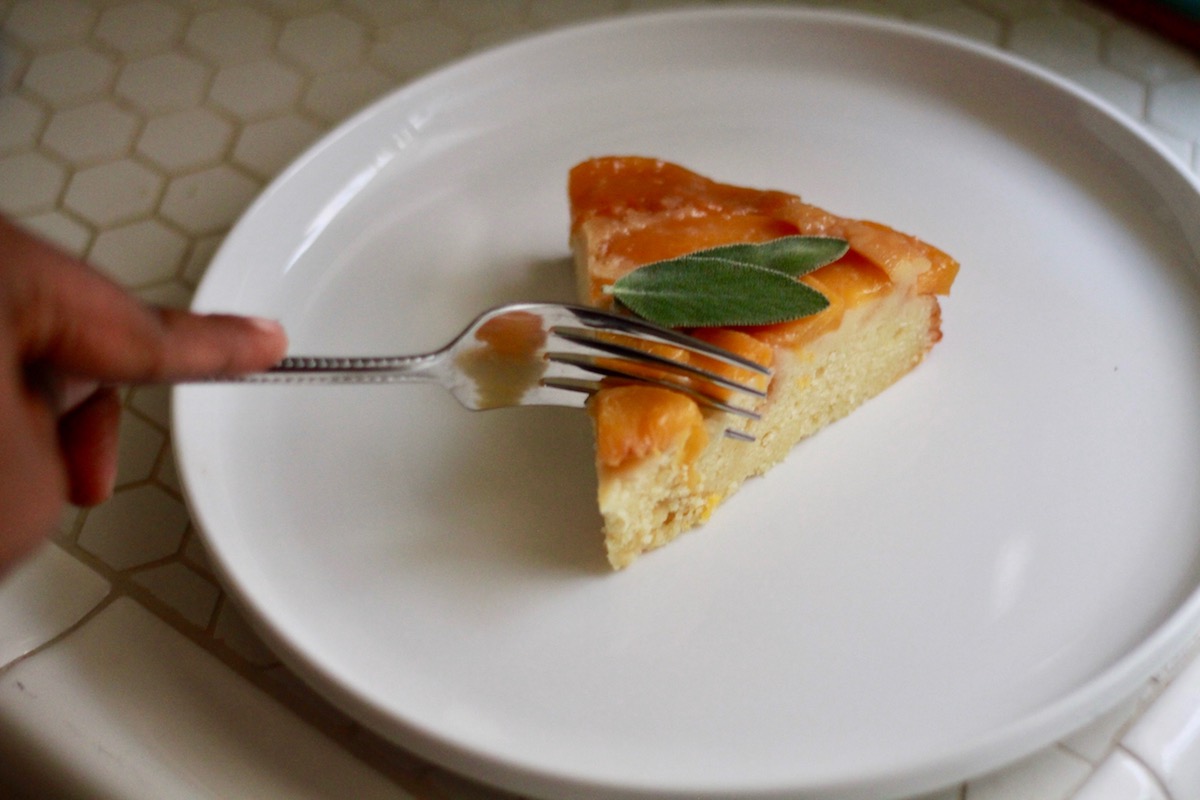 And of course, savor.