Happy holigays, bitches, and welcome to the 6th Annual Christmakwanzakah Open Thread! This is a safe and special place we create every year for you to use as refuge from your family, a recipe depository from your holigay feasts, and also a friend-making machine. Please do feel free to comment here with tales of holigays past, pictures of your weird uncle in a full Santa outfit, information about the drank in your cup, and/or holigay-themed photos of your pets. Here, I'll go first!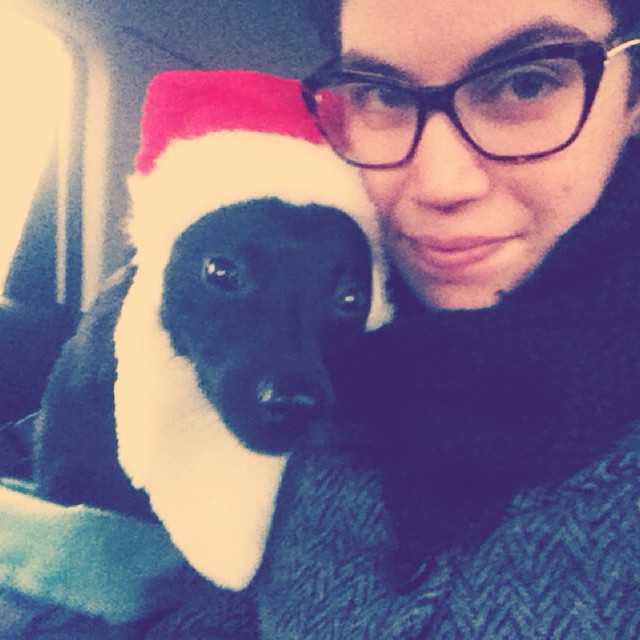 Current drink in my cup, by the way? It varies, but one thing stays the same: NOT. ENOUGH. BOOZE. IN. THE. WORLD.
If you're like me, you'll spend today desperately refreshing a package tracking link, sending a big ol' batch of holiday cards (they're not late unless you send them after December 26, it's a technicality, I'm serious), attempting to view a claymation movie about the Heat Miser, and contemplating how to make it possible to bring hot, mulled wine to dinner tomorrow. If you're like other people, you might be opening gifts, eating chinese food, petting a cat, or rocking around a tree. Honestly, no matter who you are in this world, you're probably a winner, so. That's about all I have to say about that. Now that we've covered this part of the day, TAKE THE HOLIGAY POLL!
I said Heat Miser because like, um. Duh? Like, I think that's my Facebook profile picture. MOVING ALONG!
The holigay season open thread is an established tradition steeped in richness here at Autostraddle dot com, and I'm super duper totally honored to be hosting this digital soiree this year. When I think about the holigays, and I think about family, I think a lot about my chosen family — and so many of the people who work for and read this website are the people who come to mind when I'm writing cards, wrapping gifts, singing carols, checking my list and checking it twice, eating cookies left for me by strangers across the country, and doing other general business at the North Pole. And that's special! So thank you for being here, and I hope you like these apple cookies I made because I had to skip making the eggnog cookies because I was just too busy eating at a bunch of diners with my mom. I hope you understand.
I'd like to offer up my own memories of Christmakwanzakah open threads past in commemoration of this occasion and remind you all that my person Geneva made this meme last year and it remains perfect. As an aside, I also frequently speak in doge and I think it's kind of becoming a problem.
Ho Ho Ho! Very Cheer!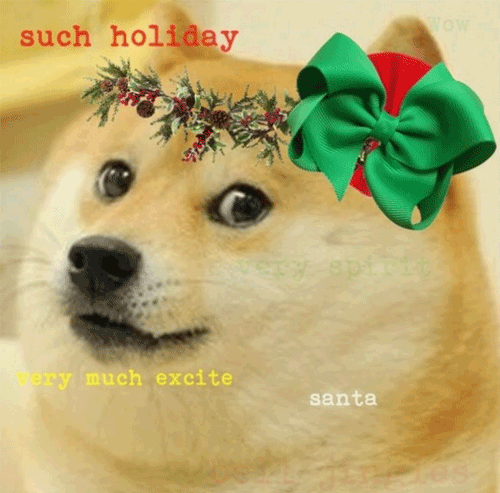 So, what else is there to say? We're here, we're queer, we're either about to stuff our faces or about to watch a lot of Netflix and at the end of the day, I'm madly in love with you. NOW LEAVE A COMMENT AND SPREAD THE LOVE, YOU GLORIOUS MOTHERFUCKERS.
Lastly, Muppets. Because like, we are all made of Muppets, right? Unless they scare you. In which case, forgive me lover for I DON'T CARE.
Also, you should probably use the last days of the holigay season to share your memories and feelings online with the hashtag #HappyHoligays! Just saying. I'm totally not biased or trying to make this hashtag trend or anything, I promise.
---
How To Post A Photo In The Comments:
1. Find a photo! This is the easy part. Find a photo on the web, right click (on a Mac, control+click), hit "Copy Image URLwp_postsand then…
2. Code it in to your comment! Use the following code, and use a DIRECT LINK to the image. Your image link should end in .JPG or .GIF or .PNG or .CallMeWhateverYouWant even. I don't care, but it should be an image suffix! KINDA LIKE THIS:
If you need to upload the photo you love from your computer, try using imgur. To learn more about posting photos, check out Ali's step-by-step guide.
How To Post A Video In The Comments, Too:
1. Find a video on YouTube or Vimeo or WHATEVER and click "embed." Copy that code, but first make sure it's for 640 px wide or less. If your player is too large, it will not display properly.
2. Copy the code and paste it directly into your comment.
3. Go forth and jam.