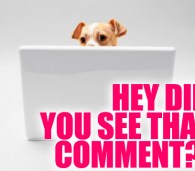 Hi all! Are you at Dinah Shore? Yes? No? Here is a guide to what Autostraddle is doing over there, and if you're like me, you'll want to live vicariously through them via the liveblog which will probably be the best part of your weekend.
Other things that happened this week: Crystal made a playlist for you! It's called No Fucks To Give, which means you need to check it out right now. Speaking of playlists, here are 5 playlists for you to have sex to. What will help you get laid? Reading books! Join our book club, we're reading Bastard Out of Carolina, by Dorothy Allison.
Pure Poetry week/month continues/ends with our Stephen Dunn megapost and Jess interviewed Linda Perry!
---
On Vatican Stands Up to Catholics & Obama By Maintaining its Anti-Gay Position:
The No Hard Feelings Award to e:
this is ridiculous. i hope they all spill some oily substance on their dresses and can't find any oxiclean. motherfuckers.
The Non Sequitur Award to diver:
fuck the pope, i just ran 20 miles and ate 2 cans of beans
On Playlist: You've Got No Fucks To Give:
The Ziggy Waxes On Award to Ziggy Hreins:

On Target Really Wants Gay People To Hate Them, Despite Solid Stock of Cute Boyshorts:
The Terratresgay Award to e, SomethingClever, cynthia, terracottatoes:

On NSFW Lesbosexy Sunday Has 5 Playlists for 5 Ways to Get It On:
The How To Get Kids To Pay Attention Award to Ko, tick, cynthia, Marika, yo-ren-ishii: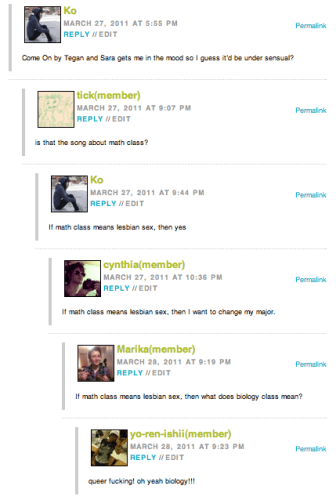 On Dear Abby, Who Can a Girl Talk to For Good Advice on Gay Prom Dates Around Here?:
The Scandalous Abby Award to solovei, Celand, Ari, Dina:

The I'd Write To Gay Abby Award to abby:
Dear 'Dear Abby:'
Now, I realize you give such shitty advice that you must use an alias, however, some real people have earned the name 'Abby' (exactly as you spell it), and would like for you to step out of your advice-giving closet and use your legal name. That being said, if I followed the advice you give, I'd probs end up in a ditch somewhere in California, searching for the truth and panning for gold. Keep in mind that only a select few can live life as unicorns.
Regretfully yours,
a gay Abby

On Dragon Age Just Got Gayer, Get Your Lesbian Avatar, Let's Play:
The Lesbian Colonies Award to allie, tarzzee:

On Pure Poetry #34: Of All Poets, Stephen Dunn:
The Stephen Dunn Forever Award to Grace:
So, I am now a Stephen Dunn fan for two reasons- 1) all the lovely words and reasons laid out in this post & 2) look at that dude in that motherfucking vest. bamf.
On The Dinah Shore 2011 Liveblog is Here: Autostraddle Does GirlBar:
The Liveshare 2011 Award to Brianna:
I ate three bananas today and one of them was in a sandwich. Just thought you should know.