Target's higher-ups continue to ruin our lives by making it unethical to shop in their stores, even though their underpants are super cute. The latest involves a California gay advocacy group called Canvass for a Cause, which has been lobbying in support of gay marriage outside some of Target's San Diego Stores. Now Target is suing them to cut it out. According to ABC News, Target wants to preserve a "distraction-free shopping experience" and has consistently taken legal action against groups which infringe on that experience, regardless of their viewpoint or affiliation. (The only lawsuits filed by Target that we can find records of involve things like K-Mart for deceptive advertising and a blogger for leaking company shoplifting policies).
This is what the company said:
"In response to feedback from many guests, Target long ago established a solicitation policy at our stores nationwide. We do not permit solicitation or petitioning at our stores regardless of the cause or issue being represented."
Canvass for a Cause lawyers say that store fronts and shopping centers are part of the "public square," where free speech ought to be protected. Canvass for a Cause executive director Tres Watson:
"You've seen activists like us at almost every store in the country. Twenty-somethings in t-shirts with clipboards, saying 'Hey, do you support gay marriage?' And when people say no, we say, 'Well do you want to talk about it? Target is alleging that our people are angry, militant, homosexual activists. But if you think through it logically, there's nothing [that] supports our cause [by] acting that way, and we don't."
On Perez Hilton, Tres Watson is quoted as saying:
"It's very David vs. Goliath. We understand they're the Goliath in the room. They've got all money in world to get us to stop talking about gay marriage. We train our staff and volunteers very carefully in techniques in winning people over. When you're trying to persuade voters and reach out to the community with a message, there is no advantage to being aggressive."
The San Diego County Superior Court judge heard arguments yesterday and will issue a ruling on the restraining order late next week.
Target was already in hot water with the gay community because last year Target donated $150,000 to MN Forward, a political action committee which supported the (ultimately failed) run of anti-gay candidate Tom Emmer for Minnesota Governor. According to Q Salt Lake, the subsequent boycotts did inspire change:
The donations did not go unnoticed to many gay-rights activists and many activists started Target boycotts nation-wide. The new policy for political contributions requires a committee to guide political donation suggestions for the company. The committee will balance business interests with other considerations for employees and customers. Gay-rights activists are claiming the boycotts a success with these policy changes.
But an investigative piece from The Awl in December revealed that Target continued donating to anti-gay politicians all over the country and in fact nothing had changed.  In 2009 and 2010, Target scored a 100 on the Human Rights Campaign's Equality Index for sponsoring pride events, offering domestic partner benefits and non-discriminatory hiring practices, among other things. The 2011 Index notes that Target and Best Buy both lost points this year — "penalized under Criterion 6 for a large-scale public blemish to their recent records, namely, for failing to take any corrective action in response to significant community concerns."
Then! Earlier this year, Lady Gaga and Target made a deal — Gaga would give Target exclusive rights to sell the deluxe edition [bonus songs + remixes] of Born This Way and Target would try to dig deep in their pockets and give more than just 2% of it's millions of dollars worth of charity donations to LGBT resources.
Ultimately Target "refused to promise that it would never donate to political groups or politicians believed to be anti-gay." So Lady Gaga dissolved their relationship. This put us all in a very difficult position because Wal-Mart is essentially The Evil Empire to a degree no other retailer even begins to, shopping at K-Mart is like stepping inside a giant screaming diaper, and Target sells really cute boyshorts.
+
Target's Giving Tree
It's also worth mentioning that Target is one of the largest sponsors of LGBT events around Minnesota including Twin Cities Pride and the Minnesota AIDS Walk. Target also sponsors free and pay-what-you-can nights at art museums around the country including The Museum of Modern Art (the hipsters line up for miles, as traditional admission tops $20) and The Los Angeles County Museum of Art.
In fact, Target is one of the most philanthropic companies in the US, ranking #22 in Fortune Magazine's "World's Most Admired Companies" list in 2010. Target gives over $3 million a week including $150 million to schools across the U.S.. They created the Target House complex in Tennessee, which provides long-term housing for families at of patients at the St. Jude Children's Research Hospital. It's ranked as the highest-cash giving company in America w/r/t percentage of income given (2.1%).
Now, here's a breakdown of Target's political donations via followthemoney.org:
Compare that to Wal-Mart…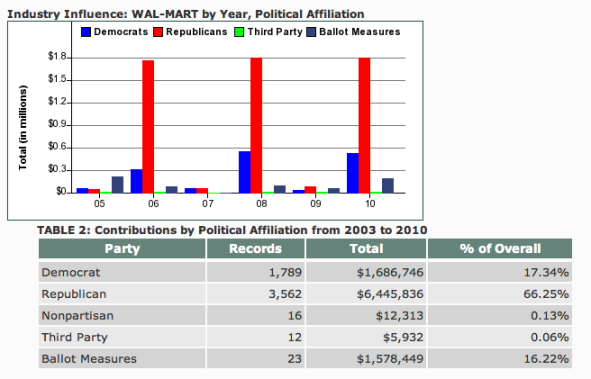 Target does enforce a standard no-solicitation rule at its properties in order to provide aforementioned "distraction-free shopping experience." It made an exception to this policy in 2004, allowing Salvation Army red kettles and bell-ringers. Then Target changed its mind and  asked the organization to "explore alternate methods to partner with Target." Target donated to local Salvation Army chapters via the United Way of America and in 2005, Target and the Salvation Army and, among other Salvation Army related charitable efforts, created the Target/Salvation Army Wish List, which enabled online shoppers to buy gifts for Hurricane victims. Target also refused to let Toys for Tots solicit toys in their stores.
So, if Target doesn't even want The Salvation Army outside of its stores, can we expect them to accept pro-gay marriage groups? Is a shopping center "the public square"? Maybe Target should consider developing a special partnership with pro-gay marriage groups as a compromise? It does sponsor PFLAG Minnesota and Twin Cities Pride — maybe that effort is worth an expansion?