a+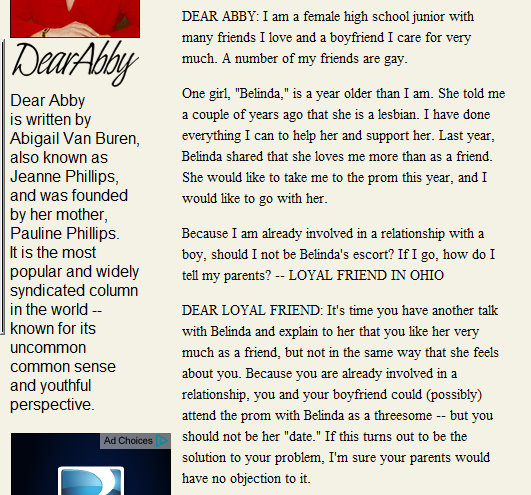 Advice columns are interesting creatures. It seems like no one person is more or less qualified to give advice than the next person, really, because we're all so different and each of us could help others in our own special snowflake way or, you know not. But yet here's Dear Abby, aka Jeanne Phillips, the daughter of the original Dear Abby, whose name also was not Abby, giving advice to a young woman who's getting ready to attend her prom. Here's what I saw / felt when I read the above letter to Jeanne:
"I have a friend, Belinda, who came out last year. I supported her — I have several gay friends. I also have a boyfriend. Last year, Belinda confided that she loves me as more than a friend. I continued to be her friend. She wants to take me to prom this year and I want to go with her.
Because I already have a boyfriend, is this cheating? I don't want to be a cheater. I want to go to prom with Belinda. I also don't know how to tell my parents that I want to go with her to prom. I might be slightly confused about my feelings for everyone involved, so it's possible that anything you say will stick in my head like the American flag on the moon. Please please help."
Jeanne's immediate response it to conclude that LFiO doesn't have special feelings for Belinda, even though LFiO never actually says that. She does say that she has a boyfriend, and if I were in the generalizing mood, like Ms. Phillips here, I'd probably say something like AND I THINK WE ALL KNOW WHAT THAT MEANS. But I would never say that. Because this episode was brought to you by the letter Generalizing Is A Bad Idea. More on that later.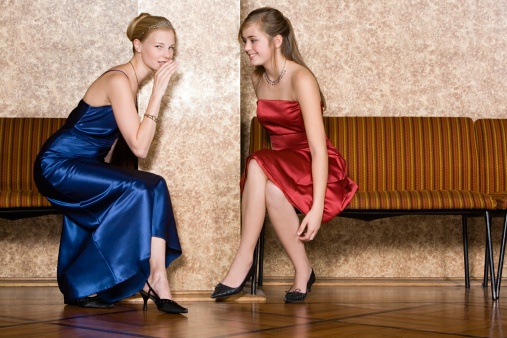 Jeanne also suggests that LFiO, Belinda and Boyfriend could (possibly) attend the prom as a threesome! Well, that is super cute and would probably never blow up in LFiO's or Belinda's face. No that would probably go very, very smoothly. Lesbians love going on dates with girls and their boyfriends, of course.  As long as LFiO keeps her boyfriend nearby, she's safe / not leading Belinda on, because Lord knows LFiO doesn't like Belinda the way Belinda likes her because we've used the Rule of Generalization and Heteronormatization and that was our conclusion.
In her closing, Jeanne lets LFiO know that going to her prom with her boyfriend (and possibly Belinda but whatevs) would most certainly not ruffle her parents' feathers, so there's little-to-nothing there to worry about. THANK GOD. Logically speaking, if not going with Belinda as her escort wouldn't be a problem, I guess we're to assume that going with her as her escort would be a problem? Hm. Well good thing LFiO has ZERO interest in Belinda! She'll never ever have to worry about broaching the topic of girl-on-girl feelings ever!
Oh sigh. It's so good to be straight and attached to a boy.
HEY I have an idea: let's be generous and pretend Jeanne's reply was in code, and she expected LFiO would be able to crack it like in Ocean's Eleven. I just love that movie — SO MANY MEN. Here's what Jeanne's reply might mean, if it were in code:
"If you don't want to make out with Belinda, (and I suspect you do) you should tell her as much either way. Honesty is the best policy! But let's assume you don't want Belinda cuddles — why don't you go with her AND your boyfriend! Which is actually maybe the least honest option! That won't be awkward at all! Yes definitely do that. Mhm yes Belinda and Boyfriend will have so much fun and you — oh honey YOU will have the MOST fun of all! So many feelings!!
Also but hey seriously, your parents might flip out if you go on a date with a lesbian. I mean, that's just the way it is sometimes. You could always lie? Yeah, just tell them that you're going with Boyfriend. This will buy you some time while you figure out what the fuck you're doing going on a date with a lesbian! Ha, just kidding everything's fine. You're fine — just be noble with people's hearts. Good luck and have fun."
But it wasn't in code. It was blatantly heterosexist, presumptuous and without real empathy or experience. The letter Jeanne responds to is from a confused and scared girl who is still young enough to be hopeful that this situation can end with everyone happy. It leaves a lot of questions, true – perhaps most of all the heartbreaking "…and I would like to go with her."
Does she want to go because she has more-than-friend feelings for Belinda, or because even her friend feelings are so strong and sweet and pure that she wants to make Belinda happy? We have no way of knowing. But you know what, neither does Jeanne. Just like how she has no way of knowing that LFiO's having a boyfriend makes her straight – but she assumes it anyway, just like she assumes that LFiO therefore must have the mixture of revulsion and pity that all straight women feel towards their lesbian friends – don't they? Or wait, MAYBE THAT'S JUST HER.
It's true that there wasn't a lot to work with on this question – as someone with literally hundreds of unanswered formspring questions right now (65% of which I've deemed "probably actually unanswerable" because I feel wholly unqualified to give such advice) I have experience in this area. But in that case, it makes it extra obvious how much Jeanne had to read into the unspoken parts – and the answers she came up with say much more about Jeanne than about prom dates.
In conclusion, I wish LFiO had asked one of us this question on formspring. We would've respected her.
Thanks to Cynthia for the tip.