After Obama's announcement this week calling on the UN to support gay rights as human rights and oppose murders of gay people, and a declaration that he will create a government position to monitor gay rights in the Western Hemisphere, and the commitment of 85 nations to defending gay rights, The Vatican's representative to the UN also issued a statement on the same topic:
"The truth is, these attacks are violations of fundamental human rights, and cannot be justified under any circumstances."
Sounds good, right? Except he wasn't talking about gays. He was talking about the rights of straight Catholics.
The Vatican's position, which is perhaps not actually a surprise but still more or less the worst possible response by a major world power to Obama's decision and the decision of 85 other nations, is that this move represents a desire to stigmatize and punish people who express unpopular opinions or convictions, especially if they're religiously based.
"When they express their moral beliefs or beliefs about human nature, which may also be expressions of religious convictions, or state opinions about scientific claims, they are stigmatized, and worse — they are vilified, and prosecuted," [Archbishop Silvano M. Tomasi] said on Tuesday.
Tomasi (and presumably the Pope, whom he basically represents in this capacity) believe that the proposed UN focus on ending the murder of gay people worldwide would constitute attacking those who "do not support sexual behavior between people of the same sex."
Aside from the most obvious problem with this picture – the insistence of the (mostly) white men in the giant silken hats and robes who live in a walled-off palace city and literally sit on thrones in gilded rooms that they are being discriminated against and "prosecuted" by an effort to end violence against marginalized communities – there's the recurrence of an issue that we see a lot of when protection for vulnerable communities is brought up. There's a complete lack of distinction here between ending violence against an oppressed minority and somehow forcing people to support that minority. And in doing so, they're asserting that their own freedom to publicly express any convictions they hold without ever being held responsible for any consequences they might have is more important than the lives of millions of people. As Alternet says, "The Vatican seems to be taking a page out of FRC's playbook by intentionally ignoring that in some countries, folks aren't merely expressing a "moral beliefwp_postsabout homosexuality."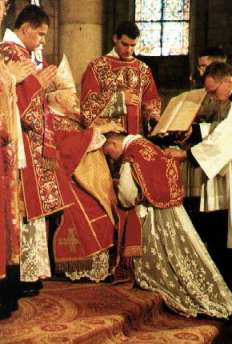 This is a more explicit example of what happened in California during the buildup to the Prop 8 ballot vote. The law only asked straight people to held end the marginalization of queer people by allowing marriage equality to simply exist – something which would have required literally zero effort or change on their part. But the perception in the general public was that the law somehow required them to "support" or somehow "agree with" homosexuality – going so far that PSAs for Protect Marriage featured the completely fabricated and erroneous assertion that children would be "taught homosexuality" in schools if Prop 8 wasn't passed, and that teachers and parents both would somehow be required to "condone" it. It's a pretty incredible leap to make from the assertion that the legal ceremony of marriage shouldn't have a gender requirement, or in the Vatican's case, from the suggestion that we should take action when gay people fear for their lives the world over because they were unlucky enough to be born into a country that think they can only be 'cured' or killed.
This might just be worthy of a shrug and a roll of the eyes at the Vatican, whose track record on issues of homosexuality has always been pretty deplorable. But it gets more interesting in light of the recent finding that Catholics as a group are in fact very accepting of homosexuality, at least compared to other major American religious groups:
Catholics are more supportive of legal recognition of same-sex relationships than members of any other Christian tradition and Americans overall. Nearly three-quarters of Catholics favor either allowing gay and lesbian people to marry (43%) or allowing them to form civil unions (31%). Only 22% of Catholics say there should be no legal recognition of a gay couple's relationship… A majority of Catholics (56%) believe that sexual relations between two adults of the same gender [are] not a sin. Among the general population, less than half (46%) believe it is not a sin.
The Pope is not a politician; although his words are often hugely influential in the political and cultural discourse of many countries, he is not beholden to the opinions and desires of his constituency the way an elected official is. The fact that everyday practicing Catholics seem to differ so radically from their spiritual leaders on this issue doesn't mean the Pope is in any way obligated to change. But it does make one question who exactly the Vatican is referring to when they defend the hypothetical person's right to oppose homosexuality, since they must be aware that that description no longer fits much of their religious community. Whose "moral beliefs" is the Vatican actually trying to protect? Their own? Or those of the global systems of power in general – those people that the UN is actively trying to identify and work against? It's been increasingly apparent for a while now that the leadership of Catholicism is diverging from the people who actually practice it, and this is just one more brick in the wall between the Vatican and those church members standing on the side of the road with supportive handpainted signs during Pride. Whether they know it or not, the real danger may not be from "stigmatizing" UN officials, but instead from their own clutching at a religious interpretation of fear and division rather than love and unity.