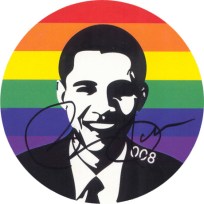 Despite the fact that the U.S. government does not, at this time, really all-the-way fully support "the right of lesbian, gay, bisexual and transgender individuals to lead productive and dignified lives, free from fear and violence," The Obama Administration on Tuesday called on the U.N. Human Rights Council to "fight discrimination against gays and lesbians around the world."
"Human rights are the inalienable right of every person, no matter who they are or who they love. The U.S. government is firmly committed to supporting the right of lesbian, gay, bisexual and transgender individuals to lead productive and dignified lives, free from fear and violence."
Despite the resentment implied by our opening paragraph, the truth is that American Gays are really lucky compared to a lot of the world. Sure, we're no Canada and we can't just yet register at Crate & Barrel, but at least our government doesn't openly sanction the rape, torture and murder of gay people! It's also worth noting that George W. Bush consistently sidestepped this topic and never spoke up for gay & lesbian rights. Probably he was on vacation. You know?
Suzanne Nossel, deputy assistant secretary of State for international organizational affairs, said:
"It is a really pressing issue globally that there continue to be killings on the basis of sexual orientation and persecution on that basis. I think this will stimulate dialogue and increase recognition of the importance of the issue among governments."
The President of Communications at The Human Rights Campaign said "the U.S. was finally stepping into the role it should have held all along as a worldwide leader in promoting equal rights for lesbian, gay, bisexual and transgender people."
Oh also? Last weekend when President Obama was in Brazil hanging out with the President of Brazil, Dilma Rousseff, Obama announced that he'll be creating a government position to monitor gay rights in the Western Hemisphere. Gayest administration ever, I'm tellin' ya.
This is a rough estimate based on our calculations of what The Executive of Gay Rights in the Western Hemisphere will look like: