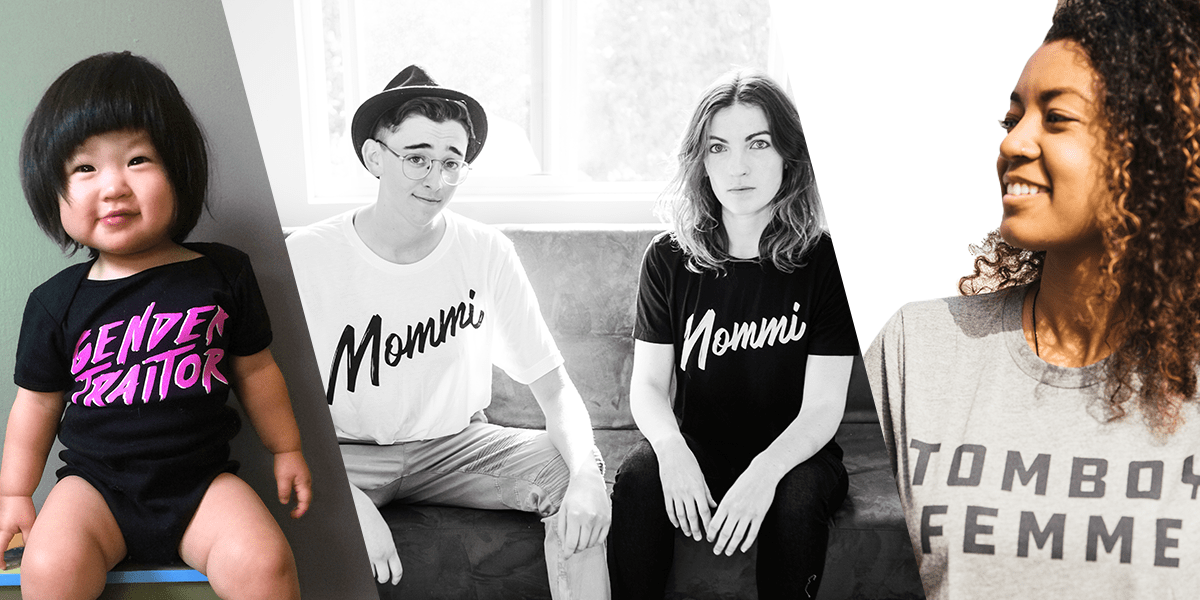 Hello lovely queer folks! It is I, Sarah Sarwar, keeper of the merch store, designer of the things. Doesn't matter if you're an adult human or a baby—we're bringing you some FRESH overclothes this month! Let's jump in!
---
Infant Sizes (3-6 / 6-12 / 12-18 / 18-24)
HOW ABOUT THIS FOR A GENDER REVEAL? If you're a baby in this world with a penchant for breaking societal norms and ground-breaking television, this is the onesie for you. The design is a perfect miniature of our Gender Traitor Tee, and is screen-printed in neon pink and white on a onesie made by Los Angeles Apparel (which is the new American Apparel).
---
Unisex Sizes (XS-3XL)
We're bringing back an old fave in a new design, featuring Draplin Design Co's utilitarian and statement-worthy font! This design is printed on a super-soft Bella + Canvas Triblend tee in a loose, casual unisex style. Dress it up with a pair of skinnies and a plaid button-down.
---
Mommi Tees – $25
Let's raise our glasses to all those Mommis out there, donning oversized sunglasses as they strut into their local pilates studio. Your allure is spectacular and specific and special, and we bow to your dusty rose mani-pedi and your 14 karat diamond earrings. Like shit, you complete us? Which is why we decided here at Autostraddle that we needed to give you something you could wear in honor of your beautiful f*cking self, because no one does it quite like you.
We know Mommis are an eclectic and memorizing bunch with wardrobes that compete with Cher Horowitz, so we're giving you choices. A breezy white relaxed fit tee for your bike ride to yoga class, or a fitted black women's style tee when you're throwing back the third glass of champagne with your gal pal. And both tees are made of triblend fabric because we know your crave a soft, buttery touch against your perfect, bergamot-scented skin.
"i'm already wearing this with my expensive denim and my oversized leather bag that only holds a small pouch with lip balm and a pack of cigarettes"
— Laneia, Executive Editor of Autostraddle.com
"Honestly, these shirts perfectly capture the essence of Mommi. They're simple, sexy, effortlessly alluring. Of course they're in cursive; Mommis love cursive! You can throw this on with a pair of black yoga pants or under a loose, long cardigan, or accessorize it with a single cuff bracelet—all important staples of Mommi couture. This shirt will no doubt be worn by Mommi enthusiasts, but it's also my greatest hope that actual Mommis will wear it, too. So calling all Mommis: Slide into this shirt, and also slide into my DMs."
— Kayla, Co-Inventor of Mommi
---
Guess Who's Back?
We've restocked enamel pins for those among you who are bisexual, independent and bibliophiles. These pins will be in our store in the next few days, so stay tuned!


1. Bi Bi Bi Enamel Pin $10
2. You Do You Enamel Pin $10
3. Read A Fucking Book Enamel Pin $10
---
Deal City, Population: You!
Cozy into your new double-xl scissoring sweatshirt (we have 29 left!) while reading some excellent vintage Autostraddle zines. Or STEAL this rad (but soft, so soft!) Butch tee by Sorté.

1. Sorte + Butch Tee $25 $20
2. Basic Scissoring Eco-Champ Red Sweatshirt $48 $20
3. Yes Cats Zine $16 $10
4. Queer Sultry Summer Zine $16 $10
---

SaveSaveSaveSave
SaveSave
SaveSave
SaveSave
SaveSave