by erin sullivan and kayla upadhyaya
---
Unless you've been fully logged off for the past two years, the term Daddy has at some point made its way into your internet experience. Daddy, we've learned, can be for anything. People can be Daddy. Concepts can be Daddy. A large tree you find appealing can be Daddy. Which is why trying to describe exactly what Daddy means becomes complicated. Its definition seems to best reveal itself through context clues, and so maybe it's easiest to say that Daddy is a feel. And while Daddy has had a solid run, we're happy to announce Daddy has been temporarily benched.
Introducing: Mommi.
Like Daddy, Mommi has always existed — and exists separately from Mommy and Mami, which are their own things — it's just finally getting the recognition it deserves. "Oh, perfect, another wildly specific internet thing to not understand." That's you staring at your screen right now. But don't feel overwhelmed. Kayla and I consider ourselves not just Mommi admirers, but Mommi experts, and we're here to explain it for you in the best way that all ideas get fleshed out: through a series of g-chats.
---
Mommi Mood Boards
K: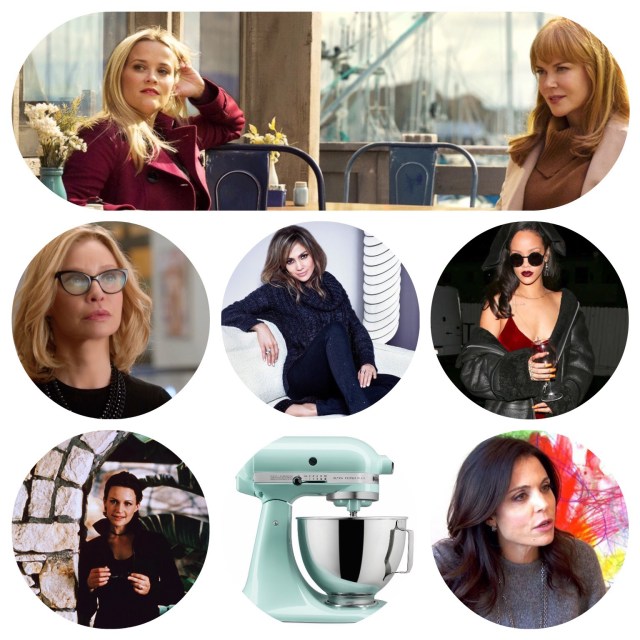 E:
---
What We Mean When We Say Mommi
*
E: is mommi a state of mind
E: or a state of being
K: state of being
K: lifestyle
E: which consists of
E: luluemon clothing for sure
K: yes luluemon. maxi dresses. impossibly big purses. impossibly big sunglasses.
K: screenshots from every episode of big little lies, the mommiest tv show
E: screenshots of texts ABOUT big little lies
E: is also mommi
K: omg omg
*
E: blazer no shirt… mommi
E: however, take the sleeves off the blazer and it's no longer mommi
*
K: this rest stop in connecticut is crawlin with mommis
E: connecticut is the one state i'd guess for that
*
E: mommiest l word character
E: helena
K: yes duh helena
K: helena's thirst for pregnant women is next level
K: helena's casual headbands are very mommi
E: right helena's pregnant tina obsession = inception
*
K: is christina aguilera mommi
E: no
K: dang like even 2017 xtina
E: maybe especially not a 2017 xtina
K: my mommi radar is broken
K: xtina on the voice felt very mommi to me
K: lots of white blazers
E: was it w some understated makeup or heavy makeup
K: hmmm probs heavy
K: i see your point
*
E: can we mommi sally yates
K: absolutely
K: love mommi as a verb
K: momming is the new queering
*
K: also there should be an annual mommi convention
K: mommi con
E:: i mean now that mommis know there are others like them
E: they'd be the group to meet and celebrate themselves
K: mommis love to celebrate themselves
*
E: gotta mommi spice girls
K: well posh was def an early mommi influence for me
E: i'm actually going scary
K: INTERESTING
*
K: who was the most mommi person on camp staff
K: oh duh kyle why did I even ask
E: wow embarrassing
K: smh @ myself
*
K: emily robinson of the dixie chicks is mommi
E: I WAS GOING TO SAY
*
E: kylie minogue
K: VM (very mommi)
*
E: here's something that has been tearing me up: is mary louise parker mommi
K: i think yes
E: i think no???
K: am I conflating her with nancy
E: see nancy was mommi
*
E: who is the official sponsor of mommi
K: white house black market!!!!!!
E: 

E: this might as well be the closing credits of big little lies
*
---
WHY MOMMI
*
E: how do we present this to the world
E: do we include the pregnancy thing. [look there was a private discussion about pregnant women feel free to @ us we're down to chat]
E: where are the lines
E: *oprah voice* what is the truth, etc.
K: i've been mommi thirsty since day one
E: sljdgkljdfjgdfl
E: KAYLA
K: carla gugino in spy kids was my first mommi
E: can I quote you on that
K: you can absolutely quote me on any and all mommi related matters
K: i hope to be a mommi ambassador
K: spread the good mommi word
K: is it too early to make mommi shirts for camp next year
E: "mommi thirsty since day one" is like A LOT
K: the pregnancy thing is pretty important I feel like
E: are you ready to be this person on the net
K: hahahaha I think I already am this person on twitter dot com
K:

K: mommi today mommi tomorrow mommi forever
E: "planet earth"
E: fuuuuuck
K: lololol
E: if you are down to wear a shirt that says "thirsty for mommis since day one" i will design it and bulk order it your way
K: ldfjgkldsfjgd
K: did I ever tell you about the time my mom's book club discussed my lesbianism during a book club meeting
E: no omg
K: (the members of my mom's book club are very mommi)
*
---
Mommi Logistics
*
K: I told my friend about mommi and she was like "do u mean mami" and I was like NO MOMMI and she was like "….mami"
K: should we change it to mommy or am i overthinking this
E: oh GOD ahahaha
E: look mommy feels likes it's got one foot in a weird place
E: ok mommy mommi and mami are all pronounced the same, right? so we're taking a spin on mommy not mami
K: i agree
K: my one friend just didn't GET it
E: I SEE
E: well y would she, we made it up
K: hahahaha
K: our greatest creation
E: getting entrepreneurial with a friend is pretty mommi
E: we mommi'd ourselves
K: mommiception
*
---
Mommi Moves
*
E: this is going to be maybe controversial
E: bc rihanna is younger than me
E: but rihanna is mommi
K: omg how old is rihanna
K: she's so mommi
K: she literally carries a glass of wine everywhere
K: MOMMI MOVE
E: 29
E: glasses inside
E: mommi move
*
---
Divisive Mommis
K: I JUST REMEMBERED THE ULTIMATE MOMMI
K: http://www.elle.com/beauty/health-fitness/a28600/amanda-chantal-bacon-moon-juice-food-diary/
K: THE OWNER OF MOON JUICE
K: that profile of her is ART
E: oh my god i remember that
E: but i'm going to respectfully disagree here
E: can gurus be mommis
E: in my opinion, no
K: omg but like look at her
E: a statement ring cannot fool me
E: gurus smack of self doubt and that is not what makes a mommi
K: ugh that's tru
K: mommis never doubt