Mere weeks prior to this very moment, a group of human beings gathered in a room at our annual A-Camp event in Wisconsin to participate in a ritual near and dear to my heart: drinking wine out of a box while listening to me talk, loudly. The 2017 Boxed Wine & Wisconsin Cheese Curds Tasting was a riotous affair! 30+ people came to a small classroom, delighted to taste and rank six boxed wines, served by my dutiful cocktail waitresses Courtney, Mary and Bree (with some extra help from Monique and Sarah); along with hearty plates of authentic cheese curds. There were plates, napkins, cups, the whole enchilada! It was so much fun I forgot to take pictures! As with my last wine-tasting event, participants rated the wines using this sophisticated Boxed Wine Taster's Card:
Because I forget to ask people to write their names on their cards, I am going to call everybody who attended the workshop "Diane." There will be no Diane consistency — with every new wine discussed, I will start all over with Diane #1, then Diane #2, etc. Make sense? Good, let's start!
---
Naked Grape Pinot Noir – 2.3/6
Cost: $14/3L // $4.86 per liter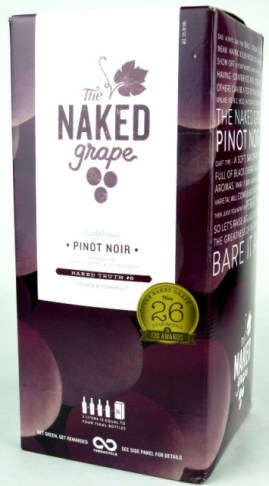 Coming in dead last is Naked Grape Pinot Noir, or, as one reviewer called it, Naked Grape "Pinot Noir." The box promises "a soft confidence that hits the perfect note," which describes my girlfriend but does not describe this extremely maligned wine, which ranked high on the "Tar" wedge of the Wine Wheel.
It appears — and please do quote me on this — that this wine has stolen a secret and apparently holy recipe. Nearly 25% of our tasters said it reminded them of what the gentiles refer to as "communion wine." Well, I have a lot of questions for a lot of nuns right now. (If that's how this stuff works, I'm a Jew, ask me about Manischewitz).
This wine brought back fond memories for many of our Catholic tasters, who suggested names for the wine including:
Jesus Does Love Me, Dad! Wine
Baby Jesus Juice
At-Home Communion
Jesus Take The Wheel and Drive Me Over a Cliff
Modestly Jesus-y
Communion wine aka Blood of Christ aka Cheap as Shit.
Diane #1 suggested this wine for "serving to your family at Christmas after they're already drunk and don't know you're being cheap" and Diane #2 suggested a trip down memory lane, claiming this box would be suitable for "Catholic school nostalgia — stolen wine tastes so much better." The sense of guilt and obligation I've heard is the bedrock of Catholicism also rang true for Diane #3, who'd drink this "when you want to call in sick for work and not feel guilty for lying."
Some tasters had a less religious take on this particular libation, suggesting names like like "WTF Is Your Life," "Sex With An Ex," "Pop My Cherry" and "Megan Rapinot Noir… Naked."
Diane #4 felt this wine had legs… hot legs that is. Not only did she scrawl in "tastes warm" on the side of the Suitability checklist, but she also wrote "Mouth Feel: warm :-/" adjacent to the Boxed Wine Wheel. Diane #4 also felt this wine is best served as "an introductory wine you use in France with the young kids." But France is so far away, Diane! What about those of us introducing wine to young kids in other countries*? Don't worry — even local Dianes came to childish conclusions, with many comparing it to juice and Diane #5 advising this wine for "feeding children, replacement for NyQuil." (*I'm kidding, don't give wine to children!)
Diane #6 suggested consuming NGPN while watching "the movie Carrie." So you can do what you will with that piece of information. I sure did!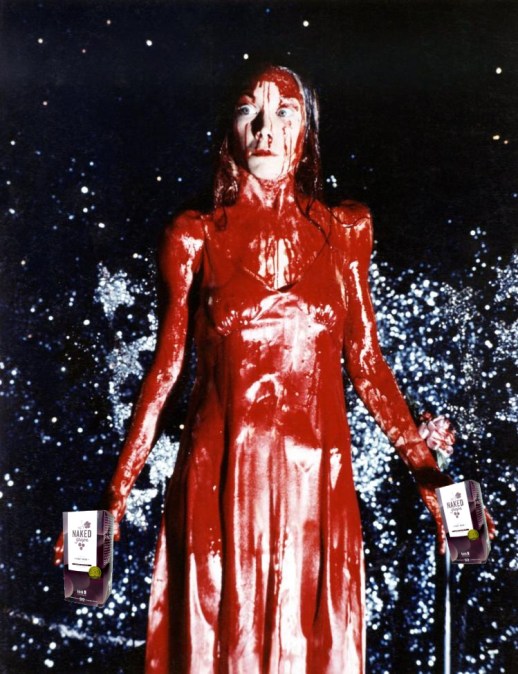 ---
Bota Box RedVolution – 3/6
Cost: $19.99/3L // $6.66 per liter
Who's ready for the RedVolution? NOT MOST OF THESE DIANES! The Bota Box copy promises "rich aromas" of "black cherry, cocoa and a hint of spice" which extend into "lush flavors of dark fruit, cherry and toasty oak, this smooth, full-bodied wine culminates into a juicy, well-balanced finish." Putting aside how messy this already feels, I can confirm that "vaguely fruity" was a popular choice on our Boxed Wine Wheel, so they got that right.
Otherwise, when it comes to the RedVolution, you either loved it or you hated it. Diane #1 loved it enough to suggest consuming it while "playing board games in your underwear at A-Camp," whereas Diane #2 succinctly suggested Redvolution to be an appropriate libation for "Death." Diane #3 wanted to pair it with "drinking sadly while waiting for water to boil to make depression pasta." Diane #4, a rare drinker for giving it mid-level grade, wanted to "drink it from a Diet Coke can at a queer softball game" and Diane #5, another rare mid-level ranker, went into further detail: "when you invite your ex over to hook up but you don't want to get back together, you really just want to fuck and make bad decisions."
Although RedVolution already won the admittedly weak contest for "innovative naming," that didn't stop your creative (is-it-wine-or-is-it-)juices from flowing. Your suggestions for re-naming this wine included:
Capri-Fun
Strawberry Jam
Dead-Volution
Someone dropped their pasta in the fire
Cheap Italian Dinner
The Redvolution Will Not Be Drunk
Happy Fields of Iowa / Is It Good Or am I Drunk?
Str8 Hippie Nectar
Got a Taste Of the Cherry and Now I Need To Take A Bite
Some more politically progressive tasters had a different take, though, with Diane #6 re-naming it, "The Revolution Will Not Be Sober, Nor Will It Profit From Boxed Wine Sales By Co-opting Activist History" and Diane #7 coming in strong with "Elon Musks' Favorite Wine (because it has disrupted the boxed wine industry)."
---
Provisions Cabernet Sauvignon – 3.1 / 6
Cost: $18.99/3L // $6.33 per Liter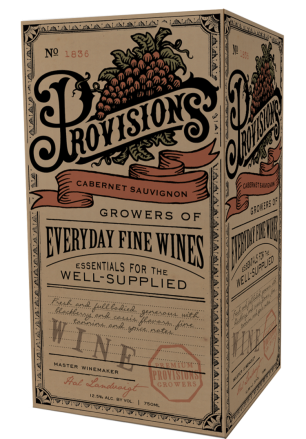 This was my co-facilitator Laneia's favorite wine, and many Dianes agreed, suggesting re-naming it "Self-Care Night," "If Jesus Made Boxed Wine," "My Best Friend" and "Fresh Full-Bodied Like a Nice Woman." Unfortunately I believe that last name was inspired by / a direct transcription of commentary I provided to the class in response to the box's assertion that this particular Cabernet Sauvignon was "fresh and full-bodied."
Other claims made by the box include "fine tannins," "spice notes," and generosity with "blackberry and cassis flavors." However, the issue of cassis was not raised by any of our Dianes.
Diane #1 spilled wine all over their tasting sheet and wanted to call it "Saloon Box" and checked off "pre-partying" as a suitable activity for this wine while writing in the specification "at your local saloon." Diane #2 wanted to re-name it "Gasoline" and suggested drinking it "when you hate yourself." (!!!) Diane #3 wanted to chug this baby while "watching '70s porn with friends you aren't having sex with," and Diane #4 wanted to re-name it "Sad Aunt." SAD AUNT!  Bless Diane #5, who suggested Provisions an appropriate drink for "responding to the comment section" and rated the wine "Worth it with a Frye store card."
---
Corbett Canyon – 3.5/6
Cost: $11 for 3 L // $3.60/Liter
This simple, unassuming wine describes itself as "medium-bodied with classic hints of apple, pears and toasty oak." Diane #1, however, described it as "piss water."
That's right: although reasonably priced and rolling deep in the "Non-Alcoholic Grape Juice Cut With Water" portion of the wine wheel, this wine managed a mid-level score without truly winning over any of our Dianes. But I'll tell you this: show me a white wine in a box, and I will show you a cup you can pour it into and then I'll drink it, which is exactly what I did with this wine. I'd definitely describe it as "totally decent!" and "definitely legal."
As you'd expect at an AUTOstraddle-sponsored event, a solid percentage of Dianes called this wine "Corvette Canyon," and one called it "Toyota Canyon." Unlike the red wines, Corbett didn't aggressively offend most Dianes, except the one who'd only drink it if "locked in a grocery store with only this wine." But even its highest-raters didn't have any grand compliments to bestow, instead noting that this would be "the wine my mother drinks while watching 20/20 and sending me passive-aggressive texts" or the wine for "an awkward holiday work party where you're pretty sure you're about to get fired." A Diane who resolutely ranked this wine as "totally worth it" also wanted to rename it "Watery Hangover-Inducer with a Side of Loneliness" and to drink it "in a college dorm room while trying to seem cool with people you don't know well."
Other suitable occasions? Two found it fitting for "stealing wine for your parents" and another recommended it "post ex-sighting, because I am just as bitter as this wine."
But my heart lies beating with the Diane who wanted to name it "I've Had Worse." Sometimes, that's the best endorsement a gal can give to a box of wine, you know? If only I could say the same about our President.
---
Fish Eye Pinot Grigio – 3.6 / 6
Cost: $15.48/3L // $5.16 per liter
It appears Fish Eye was one of our final wines, because boy does it seem like I've I got some drunken Dianes on my hands! Many of the Fish Eye rating cards contain multiple corrections and loose scrawls.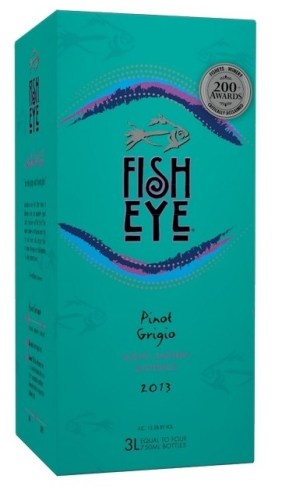 Furthermore, Diane #1 found Fish Eye Pinot Grigio suitable for "Idk I've had 6 cups of wine already I'm about to make irresponsible decisions in the most adorable way possible." I hope your dreams came true, Diane #1! Speaking of dreams I hope came true, Diane #2 wanted to drink this "while working up the courage to talk to the cute Outsiders in their denim vests." For those of you unfamiliar with A-Camp (most of you), The Outsiders are a specific and legendary group of A-Campers who always wear denim vests. They're a fine group of humans, I'll tell you what!
Perhaps it was the suggestion of fish that delivered your palates straight to the sands, but a multitude of Dianes declared Fish Eye suitable for shoreline situations, suggesting renaming it "Beachy Keen" or "Drinking on a Boat" and consuming it while having a "Beach Day w/Coney Island dirty water hot dogs" or while "Canoe Fishing," which is a highly recommended method of fishing.
Diane #3, who wanted to re-name the wine "Classy McClassyface (pronounced with an Australian accent)," wanted to consume this wine at "an outdoor barbecue at your hipster techie coworkers house and you throw it at your host in rage after the conversation turns political." See you there!
---
Franzia White Zinfandel – 4.8 / 6
Cost: $15.99/5L // $3.20 per liter
Franzia White Zinfandel is probably pictured in the dictionary when you look up "box wine." Is there any box wine more box-winey than a giant white crate of uber-cheap pink wine that even in its own tasting notes, humbly acknowledges that you will likely consume it with Ramen noodles? "Complements cheeses, salads, and simple pasta," it says of itself. It will not surprise you to learn that about twenty minutes after losing my Franzia White Zinfandel virginity in 1998, I went ahead and lost my actual virginity. It was fine, much like this wine!
The high ranking of this particular wine speaks to two facts: one, that the rating scale evaluates whether or not each wine is financially "worth it," therefore giving cheap wines an advantage. Two, that boxed wine is never gonna be great, but if it can't be great, it can be something else — INEXPENSIVE. I think Diane #1 said it best when she suggested renaming Franzia White Zinfandel "My Girlfriend's Getting Naked."
Franzia brought many Dianes' minds back to the glory days of college, as write-in answers recalled "hooking up with "straight" girls in college," "sophomore year in DG (Delta Gamma)" and "undergrad." Others summoned more adult-esque visions, like naming it "Soccer Moms" and "Grown-Up Juice" or suggesting Franzia White Zinfandel as an adequate companion to "Parenting." (Worth noting that the "Parenting" enthusiast also drew a geometric design on their wine wheel, scrawled two cartoon hearts at the top of the sheet, and checked off every potential situation listed under "This box of wine would be suitable for.")
Diane #2 just couldn't pick between youth and adulthood, though, suggesting a rename of "College Pre-Party / Adult Shame."
Others went even younger — wanting to bring Franzia along while "watching Wheel of Fortune with your closeted gay aunt in the basement with your friends when you're 16 and afraid of not being cool" or "joy-riding to the mall with 16-year-olds."
The juice-like qualities of Franzia White Zinfandel were appreciated by all, some of whom wanted to call it "Capri-Fun," "Pink Lemonade" or "Princess Peach." Many of you were unconvinced that this was, in fact, wine. As somebody who had two glasses of it, I can assure you that it was.
But cheap reigned supreme, as it did for Diane #3, who gave it a 6/6 while also, seemingly contradictorily, wanting to drink it while "scrolling through twitter and crying." Diane #2 gave it a 5/6, but also scrawled "are you sure it's wine?" on her wine wheel, and complained that although it was her #aesthetic, it was "not as good as Sunset Blush."
Is anything as good as Sunset Blush, though? I'm not sure anything is, or ever could be!
---
In conclusion, we finished our box wine experience with a live demonstration of a phenomenon I was unfamiliar with until this very camp. This phenomenon is known as "slapping the bag" and it is a popular method by which a person exudes resourcefulness and overall dedication to the cause. Props to Katie Mayo and Courtney for participating in a live demonstration of Slapping the Bag!