After four years and seven A-Camps in the San Bernardino Mountains, we have decided to say goodbye to Alpine Meadows' dusty rocky ankle-twisting pathways, scenic/nauseating altitude, remote location and frozen bread in favor of a bigger, brighter tomorrow.
Last fall, we hosted a "trial run" at a new site in Wisconsin and it was as spectacular as we'd hoped. In California, our site had only four indoor spaces for hosting activities — in Wisconsin, we have 20, including a small teaching kitchen, a dance studio, an auditorium and an arts & crafts building. There's room for more campers. We have a lakefront with a beach and we have sports fields and we have a pool. We have everything we need to take camp to the next level, and are so happy to announce that we're moving the whole damn show to the heartland in May for what will be the largest A-Camp of all time!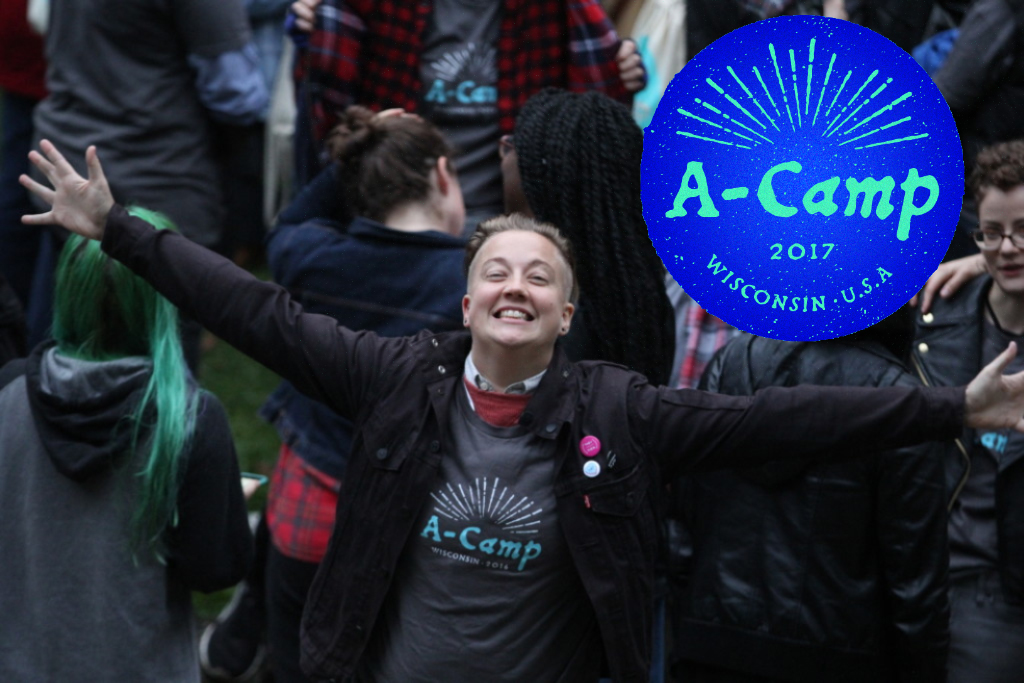 ---
What Is A-Camp?
A-Camp, an idea I had in the middle of the night about six years ago, is a manifestation of this website in three entire dimensions, mixed with a dash of old-fashioned summer camp goodness and an infusion of conference-style programming. A-Camp is workshops, panels, classes, meet-ups, discussion groups, crafts, activities and performances designed to inspire, educate, entertain, build community, and make you laugh. It's a chance to support Autostraddle, be kids again, and make new friends forever — and it's been wildly successful, with the waitlists to prove it. We've held spectacular A-Camps in April 2012, September 2012, May 2013, October 2013, May 2014, June 2015, June 2016 and October 2016. A-Camp has created much-needed community and safe space for LGBTQ women, nonbinary and trans folks from all over the world. It is a queermonormative refuge from the burning hellfire of the rest of the world. This session will undoubtedly have a special impact and a stronger focus on activism, resistance and community care due to the current political climate.
---
When
5:30 PM May 18th – 11:00 AM May 23rd
On May 18th, we'll be running shuttles from Chicago O'Hare to the campsite from 1:30pm to 3pm and from the Milwaukee airport to the campsite at 4pm. Camp officially begins at 5:30 PM.
---
Where
Mukwonago, Wisconsin
The site is 30 minutes from Milwaukee, just over an hour from Madison, 1.5 hours from Chicago, 4 hours from Indianapolis and 5 hours from Ann Arbor, Minneapolis or Des Moines. This site is full of relevant features:
350 wooded acres * Beach * Ropes Course * Indoor & Outdoor Climbing Wall * Canoeing * Kayaking * Campfire Rings * Yurt * Lighted Basketball Courts * Softball Diamond * Indoor & Outdoor Amphitheaters * Archery * Recording Studio * Dance Studio * Arts & Crafts Building * Teaching Kitchen * Ultimate Frisbee Field * Organic Farm * Secluded Witchy Bonfire Situation * Sand Volleyball * Tennis Courts * Hiking Trails * AND SO MUCH MORE!
---
Who?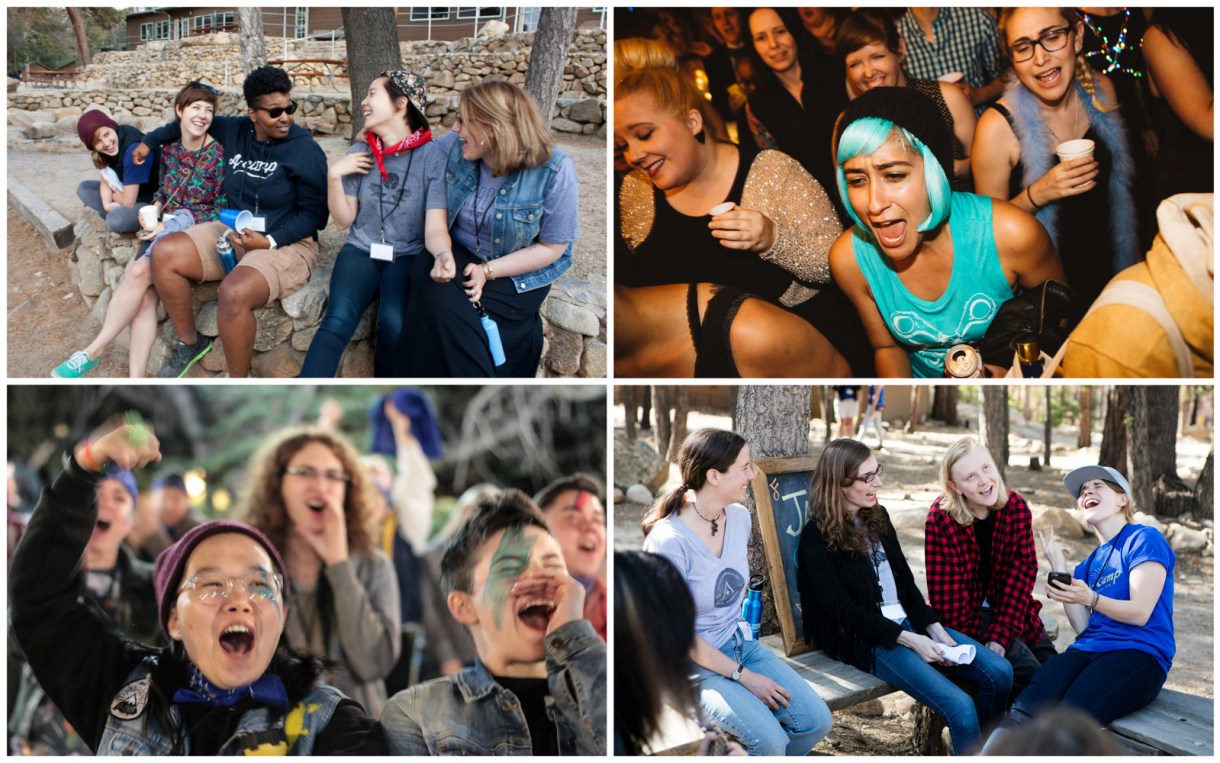 You weirdos! At past A-Camps, half our campers have been over 25 and half under 25, and they've come from all over the world. Usually 60% of our campers are new and 40% are returning, but we're expecting more new campers than usual to join us at our new location.
Also: Us! We are headed up by A-Camp Directors Marni Kellison & Kristin Russo, and in order to give you the broadest range of programming possible, we've got a staff-to-camper ratio of about 1:6, with staff members drawn from Autostraddle the website.
In order to best serve the needs of our diverse community, we also have four leadership positions addressing specific camper populations: two QTPOC Speakeasy Leaders, one Queen Trans, and one Accessibility Maven. (Read more about them on our website.)
---
How Much?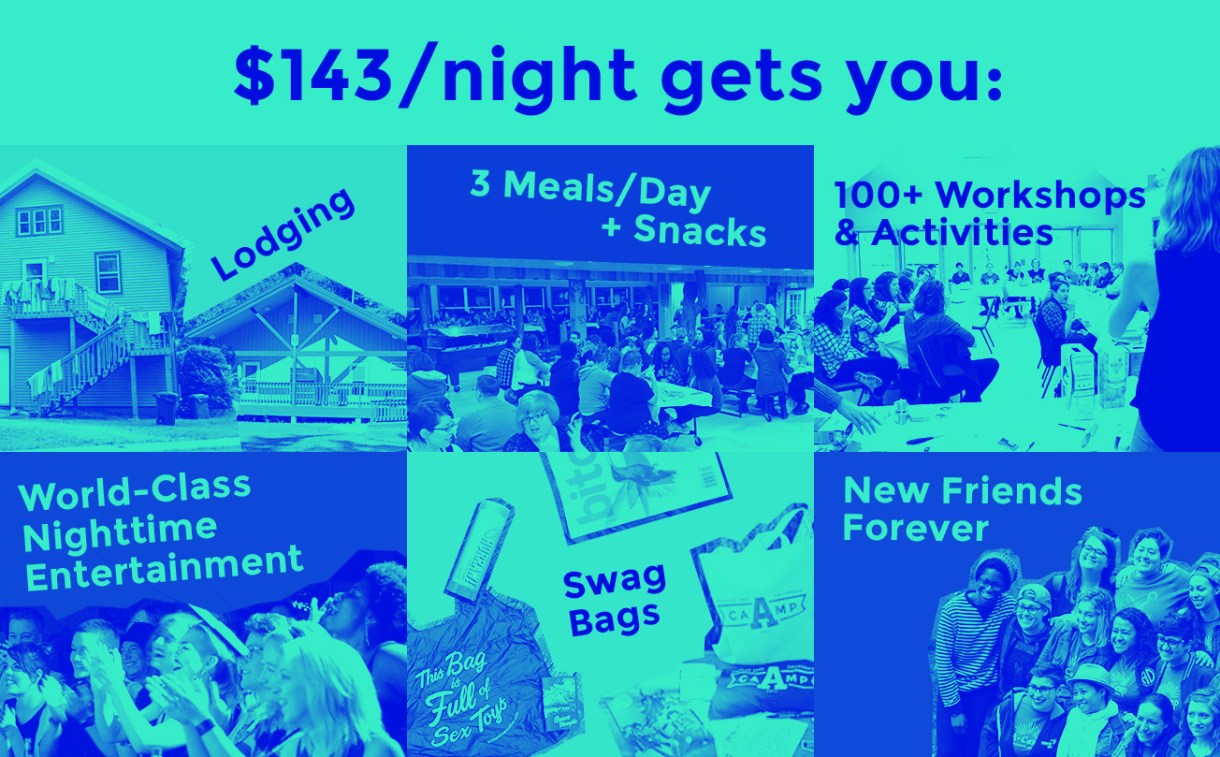 Only $715 Total or $143/night!
3 meals/day and snacks (with options for vegans, vegetarians, gluten-frees, and so forth)
5 nights accommodation in cabins sleeping 10-18 people
100+ programming options: crafts, panels, workshops & adventures
A dedicated staff with a staff to camper ratio of 1:6
5 Nights of Stellar Entertainment
Kickass swag bag with your A-Camp tee and other cool goodies from indie and queer businesses.
If you're not bringing your own sheets/blanket/sleeping bag, there's an option to rent linens from the site for $16/each.
It's costing us way more to do this camp than previous camps — travel expenses are higher for our West Coast staff and talent and the site itself is about twice as much per night as Alpine. If we adjusted the cost proportionately, this camp would cost $975 per person. But we're not doing that, 'cause we want to make this accessible to as many campers as possible (NOW MORE THAN EVER!), even if it cuts into the profit we need so desperately to keep this website afloat. If you're able to pay a little more, then please donate to our campership fund, and if you'd like to read more about the economics of A-Camp, you can do so here.
---
Accommodations
We have two options for accommodations at our new site:
Bunk Bed Cabins: The standard cabins sleeping 12-18 people each, with private bathrooms and showers inside each cabin.
The Villa: A great option for anybody seeking a less rustic and more private experience or consistent access to a kitchen, The Villa complex contains 9 bedrooms with suite bathrooms (two bedrooms share one bathroom) and is available for an up-charge. The Villa includes a full kitchen and dining area, laundry, a lounge area with couches and television, and an outdoor patio. You can select a shared room (with 1-3 other roommates) or a private room when registering. At previous camps, VIP lodging like The Villa has been most popular with campers who really value a good night's sleep and the relative quiet necessary to do so, so keep that in mind when signing up.
---
Daytime Programming

You'll have full access to a variety of activities, workshops, panels, sports, discussion groups, classes and arts & crafts. There are also opportunities for closed spaces and bonding for campers who are QTPOC, trans women and/or bisexual/non-monosexual.
Activities offered at previous A-Camps include…
Arts & Crafts: Dapper Collar Pins * Kinky Cross-Stitch * Coptic Bookbinding * Chingona Chats and Crafts: Sacred Queer Heart Shrines * Look After Yourself: Self-Portraits * Nerdcraft * Make A Thing: Merit Badges * Finger Knittin' Good * Pit Stop: DIY Deodorant
Workshops: Learn to Magish * Shibari Rope Bondage * Erotica Writing * We've Got Your Back: Community Care * YO! A-Camp Raps! * Slam Poetry * Queer Astrology 101 * Lez Talk About Sex(ual Health) * Swagger 101 * String Cheese & Boxed Wine Tasting * Casual Sext * Feminist Improv Troupe * Gay Your Makeup
Sports, Games, Etc: A-Campella * Basketball Wives * Self Defense 101 * Cheer Camp * Ballet for Basic Bitches * Rock Yoga * Beyonce's Dance Grooves * Canoeing * Pop Science Trivia * Mindfulness & Meditation * Haus of Vogue * Hogwarts Trivia
Discussion Groups, Panels & Presentations: Ally Ally Oxen Free: Making Queer Spaces Better for Trans Women * Changing the Narrative: The Importance of QTPOC Fiction * Gaming, Identity and Community * Queer People of Color Politicking & Zine-Making * Mixed-Race/Biracial/Multi-racial Discussion Group * Profesh Pantsuit Power Hour * Mommy Queerest: Queer Parenting Panel * Tardy for the Party: A Coming Out Later In Life Discussion Group * Mountaintop Bisexual Discussion Group and Hummus Appreciation Society * Real Talk: Your Relationship Doesn't Have To Suck
---
Nighttime Entertainment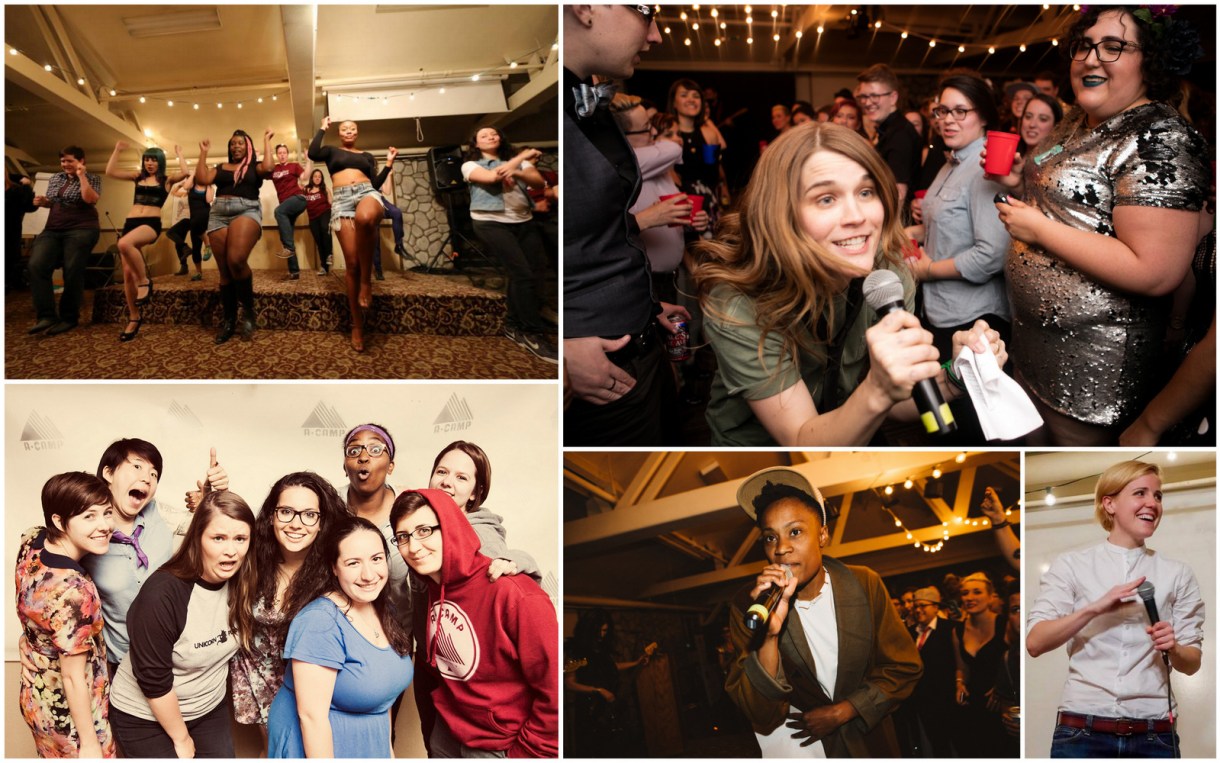 Autostraddle After Dark is where our Special Guests shine most brightly, and where you get a chance to dance your ass of in a ridiculous costume. Past A-Camp After Dark activities have included stand-up comedy from Cameron Esposito, Deanne Smith, Brittani Nichols, El Sanchez and Rhea Butcher; sexy game shows hosted by Julie Goldman and Brandy Howard; the legendary Staff Reading; Talent Shows; Variety Nights hosted by Hannah Hart and Jasika Nicole and concerts featuring musicians including Julia Nunes, Jenny Owen Youngs, Mal Blum, Bell's Roar, Haviland Stillwell and Somer Bingham.
The last night always brings a kickass themed dance party and a performance from the legendary A-Camp Family Band. 
---
Special Guests 

Gaby Dunn, Writer / Actress / Comedian 
Based in Los Angeles, Gaby Dunn is the co-creator of the wildly successful YouTube show Just Between Us, and the host of Bad With Money, named one of The New York Times' "Best New Podcasts of 2016." Her writing has appeared in The New York Times, Cosmopolitan, New York Magazine, The Boston Globe, Playboy, Refinery 29, Women's Health Magazine, Vulture, Thought Catalog and on NPR's On The Media, Sourcefed, Nickelodeon, Buzzfeed Video, Fusion, Mashable, Glamour, xoJane, Salon, Slate, ROOKIE, Jezebel and ABC's Nightline. This year, she co-created and starred in a pilot for MTV and has developed original half-hour pilots for both FX and YouTube Red. This September will see the release of her YA Novel I Hate Everyone But You, co-written with Allison Raskin and published by St. Martin's Press.
Shea Diamond, Musician 
ShaGasyia "Shea" Diamond is a transgender singer/songwriter born in Little Rock, Arkansas, who moved to Memphis and then to Flint and now lives in New York. After ten years in a men's prison for a crime she committed to finance her transition, she moved to New York and began writing "I Am Her," a statement to a world that said she shouldn't exist. In 2016, her video for "I Am Her" was featured in Time, Out, and Paper.
Mara Wilson, Author/Actress
Mara Wilson is a recovering child actor perhaps best known for playing the title role in the movie Matilda. She now works as a writer, voice-over actor, and storyteller. Her voice can be heard on BoJack Horseman and Welcome to Night Vale, and her writing has been featured in The New York Times, The Guardian, McSweeney's, The Toast, and many other places. She is the creator and host of the storytelling show What Are You Afraid Of?, and in 2016, her first book, Where Am I Now? was published by Penguin Books.
Be Steadwell, Musician
Be Steadwell is a singer songwriter from Washington DC. With roots in jazz, acapella and folk-Be composes a soulful blend of genres into what she calls queer pop. In her live performances, she utilizes loop pedal vocal layering and beat boxing to compose her songs on stage. Be's self-produced albums feature her earnest lyricism, proud LGBTQ content, unapologetic silliness, and the art of the simple love song. As she pursued her career in music, she began a career in film. Shooting and editing her own music videos, Be combined her love of music with narrative film. In 2014, Be completed an MFA in film from Howard University.
Brittani Nichols, Actress / Comedian
Brittani Nichols is the creator and star of the comedy pilot Words With Girls, produced as part of Issa Rae's Color Creative TV with a premiere at HBO/BET's Urbanworld Film Festival in 2014 as well as a writer and star of Suicide Kale, an independent film currently racking up awards on the film festival circuit. Brittani has appeared in the series You Do You, was a recurring character in Season Two of Transparent, and hosts two podcasts, Brand New and Hamilton the Podcast.
Kim Milan, Educator / Writer / Artist
We're very excited to have Kim Milan visiting A-Camp in order to lead/facilitate two racial justice workshops.
A daughter of the diaspora, Afro Caribbean, Venezuelan Arawak, Indian and Scottish, hailing from Trinidad and living between Toronto & New York. Kim Katrin Milan is an award winning internationally acclaimed educator, writer & artist. She is recognized stateside as one of The Root's' Young Feminists to Watch,' celebrated in Canada as 2016's National Youth Role Model and nationally as one of the 50 Most Loved Gay Canadians. Kim is the co-founder and Executive Director of The People Project; an initiative to bring forth local and international community development for queer and trans folks of color and their allies, through alternative education, art­-activism, and collaboration. She is also one of the owners of the Glad Day Book Shop, the oldest LGBT bookstore in the world. As an educator, Kim travels around the world talking to people about justice, equity, and human rights. A public researcher, consultant and human rights educator, she has shared hundreds of unique resources and presentations around intersectional issues including race, ability & gender. As a social entrepreneur, she speaks to the opportunities and challenges for women in business and leadership roles. With great openness, she welcomes difficult conversations hosting community dialogues and sharing practical strategies around 'Sexuality & Consent', 'Queer & Trans Allyship' and 'Anti­Racism & Equity'.
---
Camperships & Tuition Discounts
+ Your generosity has sent over 40 deserving humans to A-Camp over the past five years and you'll have the chance to make dreams come true again this year by donating to the campership fund! We take donations of all sizes and a full campership is $715 (or $755 with shuttles, $771 with linens & shuttles), and we'll have a post up soon sharing the stories from some of last camp's campership recipients.
+ You can apply for camperships here. All campership applications must be in by February 20th, but we'll be assessing applications on a rolling basis up until the 20th, so get yours in as soon as possible and you may hear back from us about an opportunity sooner!
+ We also recognize that as A-Camp becomes more expensive it becomes harder to maintain the diversity we require for a truly successful A-Camp. We encourage campership applicants who are POC and/or trans women, and will have some offers for those groups specifically.
+ Our most recent call for submissions, specifically for personal essays by Black queer women, pays $100 cash per essay OR $200 towards A-Camp tuition, so if that's you, check it out!
+ If you cannot attend camp without a full Campership, do not register for camp! We reserve spaces for Campershippers so you don't need to snag one in case you become a Campershipper — that's been taken care of. If you sign up and then end up getting a full campership, you will not be refunded the $75 registration fee.
+ If you have a business who'd like to sponsor a campership, get in touch with sarah [at] autostraddle.com. Previous sponsors have included Sharpe Suiting, Kipper Clothiers, Scout's Honor, Kreuzbach10, OK Cupid and Hannah Hart.
---
Okay, I'm in. What now?
If you wanna get on the saddle and trot on over to A-Camp with us this fall, just head over to the registration form where, for the low low price of a $75 non-refundable non-transferable deposit, you can snag your spot. Please read the instructions at the top of the interface page if anything seems remotely complicated. You'll also have to add tuition to your cart during the registration process, but you're not required to pay in full until April 1st. You can make partial payments up until that point.
For more information about airport shuttles, refund policies and other money-or-travel related questions, please read our FAQ here.
If you need to cancel, you can just log back in to the registration interface and cancel! QUESTIONS ABOUT REGISTRATION OR TRAVEL GO TO cool@autostraddle.com. ("COOL" stands for "Coordinator of Logistics")
---
For More Information
On our A-Camp website, you'll find our FAQ, the staff we've got on board so far and a link to register the hell out of your unit. For more information about what goes on at A-Camp, you can check out our recaps from past camps and testimonies from campers about the joy of the experience. (We had to stop doing Recamps in 2016 because of the time it took, but previous camps should still give you a good idea!) Ultimately, A-Camp is whatever you make of it: every camper writes their own story. Come with your heart wide open and do whatever you want.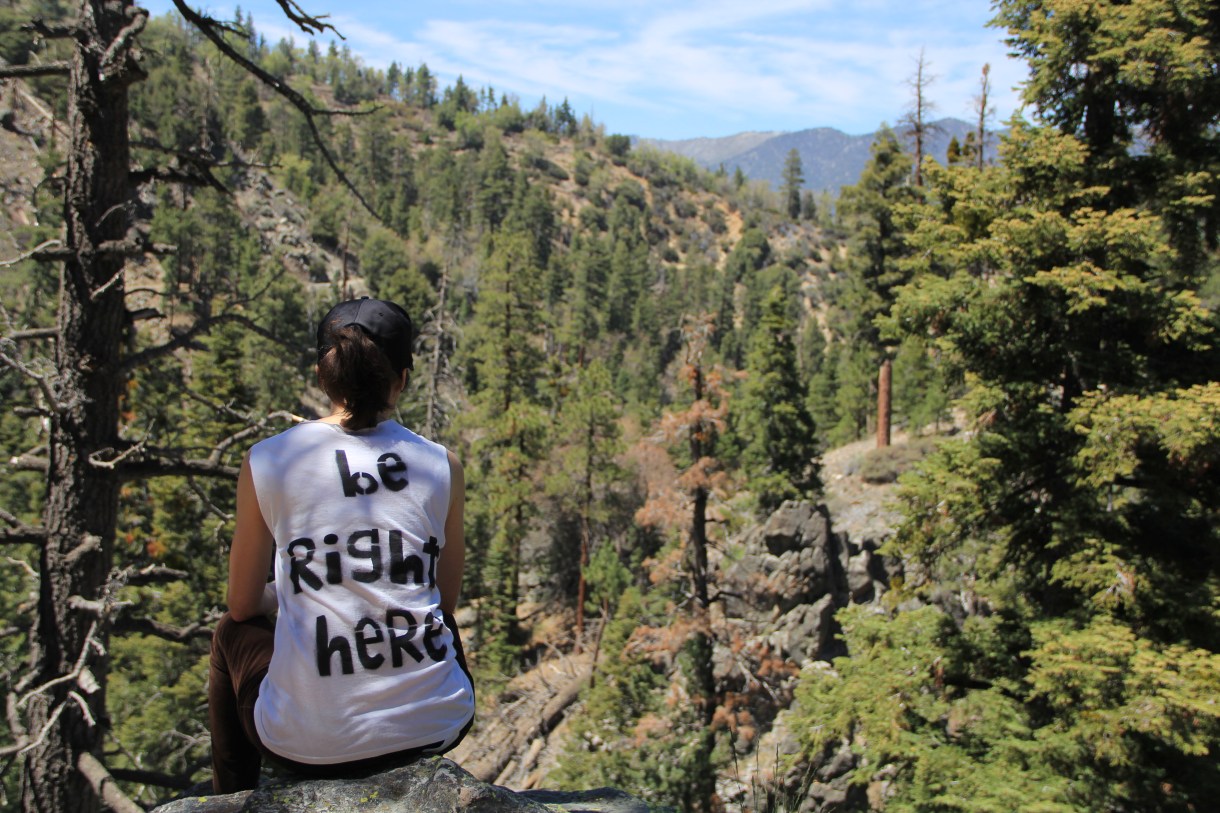 What are you waiting for?