feature image by Bree Peacock
---

Disclaimer: These wines were not ONLY ranked by lesbians. They were also ranked by bisexuals, queers, and otherwise-identified campers who came to A-Camp 7.5 in Wisconsin this past October and attended my Boxed Wine & Artisan Cheese Tasting Workshop. However, because we have a series called "ranked by lesbiansim," I could not miss this opportunity for a clever headline based on an inside joke. You could argue that technically since I wrote the post, it was ranked by a lesbian, though. At this point, you can pretty much say or do what you want about anything because the world is ending regardless. Here's what to drink while you sink!
---
This past fall in the sweet village of Mukwonago, Wisconsin, a bunch of queers gathered in an average-sized classroom to sample expensive artisan cheeses from female cheesemakers and cheap boxed wine from Ray's Wine & Spirits in Wauwatosa, Wisconsin. It was a festive occasion and everybody left full of wine and cheer, as well as affection for life and for each other in general. "I went to the whiskey thing too," confessed one reviewer on their official wine-rating card. "I'm pretty buzzed. Wow so many cute women here and I'm a little in love with all the staff," she noted. "#sogay," she concluded.
I can only surmise that other reviewers were also "feeling the love" as our mid-afternoon activity progressed into late afternoon. Participants were invited to rate their wine using this handy chart, which is official and important: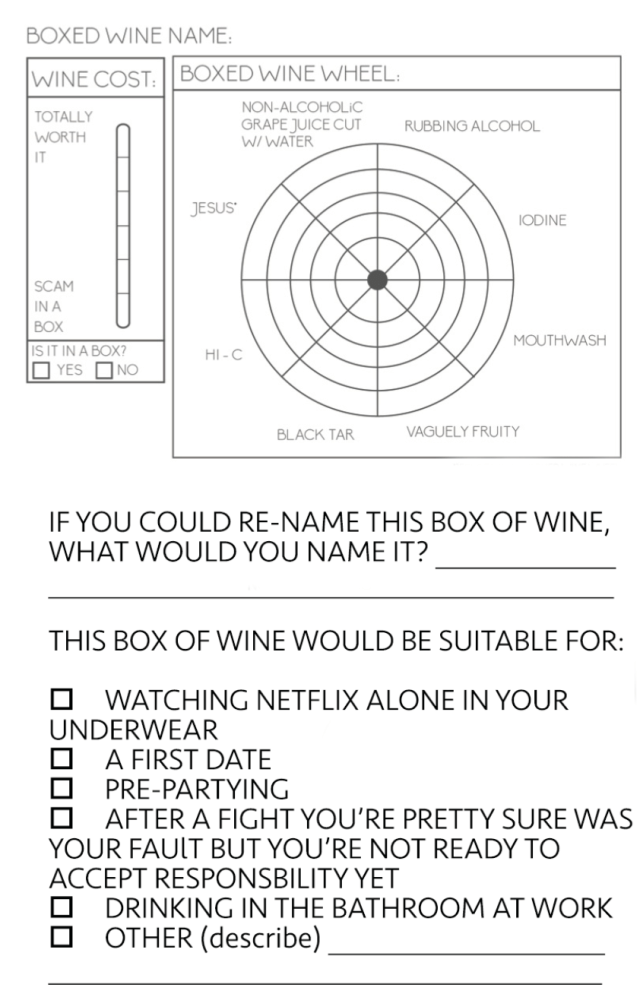 I will now share these reviews with you in order from worst-rated (Scam in a Box) to best (Totally Worth It).
---
Franzia Cabernet – 2.5 / 6
Price: $17.97 for 5L // $3.59/liter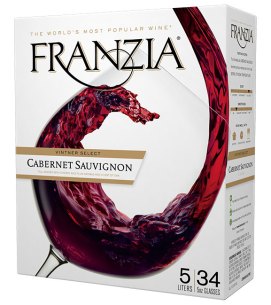 "A satisfying dry red wine with cherry and plum aromas. Complements beefs and dark chocolates," claims the Franzia website regarding this wine. Despite a noted lack of beefs and dark chocolates, our drinkers did indeed drink this wine. Compliments, however, were few and far between.
The overall sensation of consuming said wine was perhaps best encapsulated by a drinker who suggested imbibing this beverage while "guiltily taking communion the morning after your first time with a girl." Several references were made to frat parties as an appropriate venue for imbibing, including the specific sensation of being a high school girl at said parties. Although "pre-partying" was an option on the form, at least one drinker felt compelled to point out that this wine would also be suitable for the "partying" portion itself. One thing's for sure: either you loved this wine or you hated it. Most drinkers ranked it less than 2.0 or more than 5.0, with very few settling for a mid-range numerical selection.
Suggested re-names for this include "It's not blood!", "#Blessed", "Self-loathing", "Regret: The Wine," "BAE <3" and "Surprisingly Drinkable (but in French)." Two people who may or may not know each other but probably should get to know each other offered suspiciously similar names: "You've Given Up," wrote one. "I've Given Up," wrote the other. GET A ROOM, YOU TWO.
A word of warning: a drinker who suggested the name "Box Wine, so that like Band-Aids and Q-Tips, the name of this wine could become universal," also had an ominous write-in remark: "This gets worse the longer you drink it." Tell that to the beef and dark chocolate, my friend. Tell that to the beef and dark chocolate.
---
Black Box Pinot Noir – 3 / 6
Cost: $21.97 for 3L // $7.32/liter


Black Box Pinot Noir, according to their press materials, "displays enticing aromas of strawberry, cherry, and rose petal with complementary notes of toasty oak." I think we all know the truth, which's that this wine was inspired by the taste of the deep seawater dripping off the black boxes they find in the ocean after a plane crash.
Black Box Pinot Noir did not delight our guests. In fact, they had little to say about this wine at all, which I suspect is because it was the last wine served. By that point everybody was drunk and feeling good about life no matter what happened next. One drinker suggested Black Box would be a good fit for "pre-gaming before the airport." Another noted, "Only good if already drunk at A-Camp." Alternate names included "fruity tar" and "Lots O' Tannins." One particularly philosophical drinker suggested, "Where memories are saved when all is lost? Or where memories are lost and all is saved."
One thing's for sure: you might be better off mixing some rubbing alcohol with Black Cherry Jell-O before the step where you put it in the refrigerator and turn it into Jell-O.
---
The Naked Grape Chardonay – 3.1 / 6
Cost: $18.9 for 3L // $6.32/liter


"Our Chardonnay has essence of baked apple and caramel," claims the Naked Grape website. "Its elegant and creamy palate delivers a mid-bodied chardonnay with lingering fruit finish." In other words — you know when you're a child at a Halloween party and there's a "haunted house" in some hallway and one of the elements of it is putting your hand in a bowl filled with unpeeled grapes that some sadistic and undoubtedly drunk mom declares are DEAD EYEBALLS? That's these grapes.
Our tasters overwhelmingly felt this wine would be best suited to drinking in the bathroom at work. Many of our drinkers had other scenarios they thought would be ideal for this hot sip:
Fairly chuggable, great for a last call wedding bar option before the after-party. Grab 2 on the way out, chug before you leave, good to go for the after party. Also good because it is white so when you spill it on yourself while on the dance floor, nobody will know.
Drinking to get through your 5-year-old cousin's Christmas concert
Waiting for the wedding couple to be announced for their reception
Drinking in a sun shower
Pretending you made it and taking it to a potluck
Drinking it in a rain storm while splashing in the puddles
Removing nail polish
Watching Stranger Things and/or Grace & Frankie in your underwear
On the taste wheel, we saw many dots migrate towards "non-alcoholic grape juice cut w/water." Suggested names included "Yellow Crying Water" and "Quickest Route From Point A to Point Drunk," "Jenny's D-Lite" and "Grandma's Table Wine." Most re-naming ideas referenced apples, meaning that this wine succeeded in tasting sort of like it said it would on the box. Still looking for that caramel, though.
---
Big House Pinot Grigio – 3.4 / 6
Cost: $19.97 for 3L // $6.65 / liter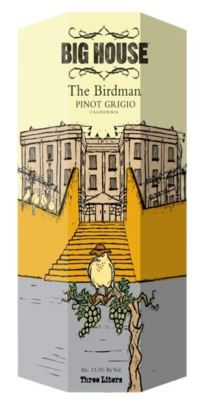 A #1 draft pick for the "vaguely fruity" portion of the wine wheel, Big House Pinot Grigio ws notable for its commitment to hipster aesthetics within a genre of product generally beloved by a less design-sensitive demographic. Unfortunately, the design on the right has been phased out in favor of a new design that emanates more of an Alcatraz Gift Shop vibe. I wish I had kept one of the old-style boxes to sell on e-bay to my grandchildren's friends in 200 years. Nobody ever tells you to save the damp box, you know? AHEM.
"Big House Pinot Grigio boasts a nose full of citrus fruits and a round, soft palate," claims the website, summoning a horrifying image of nostrils stuffed to the brim with pineapple chunks, "With flavors of grapefruit and honeydew melon to leave you quenched." Putting aside the fact that honeydew melon is a bullshit fruit used by restaurants who claim that a $5.95 fruit cup contains a variety of fruit when it really just contains honeydew melon and some slouchy red grapes, one of our drinkers found quite a different fruit within their glass, suggesting the name "Sad Pear."
The most beloved scenario for consuming this beverage was, by far, "After a fight you're pretty sure was your fault but you're not ready to accept responsibility yet." One drinker, who suggested re-naming the wine "Bitch Better Have My $$," altered this answer on her form, replacing "You're not ready to accept responsibility yet" with "talking yourself into a self-righteous state where the world is out to get you." Another added "because you need to punish yourself" to the end of the sentence in its original form. Ladies!
A drinker who rated the wine 6/6 suggested "pouring it into an empty bottle of fancier wine to bring to a party at your boss's house" and also came up with the lengthy re-name of "cool good sex wine high five carrie brownstein." Other highlights from the re-naming section include "Wine Mom," "The Big Hurt" and "Gone With The Wind." A drinker with handwriting suspiciously similar to Laneia's proposed the moniker "Ain't a Hell Yeah But It Ain't a No Either."
---
Bota Box Riesling – 4/6
Cost: $21.99 for 3L // $7.33/L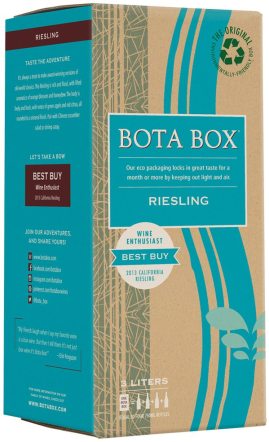 I wasn't surprised to see Riesling come out on top, because Riesling is a varietal of wine named after me, Riese, and I am a very influential person. Furthermore, it's way easier to make a drinkable box of grape juice than it is to make a drinkable box of Cabernet, and in many ways, Riesling is not unlike grape juice. In fact, this cool and refreshing libation scored big on the "Hi-C" portion of the Boxed Wine Wheel.
This wine's PR materials claim a wide variety of fruit flavors, professing: "Bota Box Riesling is a medium-bodied wine that offers lively aromas of sweet melon, ripe stone fruit, honey and floral notes, followed by flavors of juicy lychee, pear, white peach and a hint of green apple." It's practically an entire orchard!
This wine scored big as a "First Date" idea, with details including, "with someone who would be impressed you spent $24 on them." (Guilty as charged!) Write-in appropriate situations included:
Apocalypse, or for my gayby's first wine
Cooking dinner to samba music like a fucking squid
Frolicking in a field of ragweed
Introducing your wine-phobic girlfriend to the joys of wine (or breakfast)
Testing interactions of new meds with various alcohol
When it's the very last thing in the fridge
Invited a girl over to a pre-party you are throwing and want to NOT serve Franzia
Sneaking wine in your best friends' basement after prom right before you kiss
Literally anything is suitable for this
But would a Bota Box Riesling by any other name taste as sweet? Our drinkers said "yes," suggesting re-naming the drink "Fancy Welches," "I Want Candy," "Juice Juice Baby," "Sweet Morning Dew" and "Honey Water."
---
In conclusion, the best thing about boxed wine is that it comes in a box. Also, you can take the bag out of the box if you want to go tubing.