Marita Smith has one of those jobs you never knew you wanted. That's right: she's a mushroom grower! Working at the fabulously fungal intersection of biology and what I can only describe as sheer magic, Marita spends her workdays in a converted caravan or out on the hillside encouraging the world's weirdest not-actually-a-plant to grow, so she can harvest nutrient-dense mushrooms for happy customers in Milton, Australia.
In this interview, Marita tells the story of her three-year-old gourmet mushroom farm, from its beginnings as an experimental side-project to her now-daily routine as the sole trader running Milton Mushrooms. This is also a story of living frugally, and of the role of patience and flexibility in a business that relies so heavily on nature. If you've ever fantasised about making a living from farming, or wondered if it's possible to turn that gardening side-gig into something more, Marita's passion for shrooms and growing will inspire and encourage you.
---
Age 27, Milton, NSW Australia
Hi Marita! Can you introduce your business? What's your mission? Who do you serve?
I run a one-woman gourmet mushroom farm. My aim is to grow nutritious food for my local community and provide others with the means to do the same. I believe we should be growing as much of our own food as possible, and mushrooms fit neatly into any sustainable growing system.
I grow a variety of unusual mushrooms, mainly oyster mushrooms (pink, white, phoenix and king oyster), so my growing shed is always a riot of colour! I sell mixed bags of fresh mushrooms at two farmers markets per week and also sell petri dish cultures and grain spawn cultures online.
How would you describe your approach to business? What personal qualities inform your approach?
When I started, I was definitely winging it. I was just excited to be growing and trialing new methods, foraging and starting culture lines. As a result, I would have waaay too many mushrooms one week and none the next. It took time to work out how to get a consistent supply of fresh mushrooms.
I still feel like I'm winging it to some extent, but I think that's part of primary production — a really hot week can reduce yields, while a nice cool, wet series of days will have the mushrooms going ballistic. Now that it's a proper business, I'm definitely more of a planner. I'm an INFJ, so I like to feel like I have control over the process. I sit down and calculate how many cultures I need to create, how much substrate to pasteurize, and approximate yields based on previous seasons. Probably the biggest lesson has been learning to be adaptable week to week.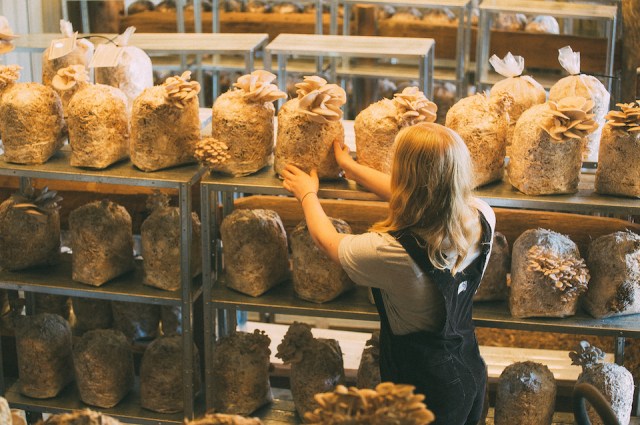 What does a typical day look like for you? What is your workspace like?
I have a pretty unusual work space. My laboratory is a converted caravan annex and the growing shed is a simple structure built into the side of a hill, which provides great thermal mass.
On a typical day, I get up around 6am. I have two semi-industrial pressure cookers that I use to sterilize growing media (both home-made nutrient agar for culturing and soaked grain for mature cultures). I typically run both pressure cookers twice a day, once in the morning and once in the afternoon. I'll spend a few hours in the lab working on new cultures and then move outside to prepare 200 – 400 litres of growing substrate, mix through spawn and bag up for fruiting in the growing shed. I tend to prioritize this sort of work before checking emails and mailing customer orders, which I do later in the afternoon. I always make time for a run or a walk, whether first thing in the morning (typically in the summer) or in the afternoon (winter).
During the growing season (about 6-8 months of the year), my working week is full-on. I do all the physical and technical labour, but I always try to 'knock off' by dinner to chill out. I really enjoy the production process (it still feels like magic to see an entire shed filled with mushrooms), so it doesn't really feel like 'work.' Plus, homegrown mushroom breakfasts are pretty kickass.
When did you know that this was what you wanted to do? And what were your early goals, your first steps?
I studied science at university, and after my honours year I decided to take a gap year before starting my PhD. That gap year turned into three. I worked on organic farms and farm-sat overseas before returning back to my hometown, where I worked on the family farm for a few months and decided to re-train in horticulture. I love how growing is both a way to commune with nature but also a way to apply tenets of biochemistry and microbiology. It just makes sense to me.
I was lucky enough to get a job as a market gardener/waitress at an incredible local restaurant, St Isidore. The proprietors, Jo and Alex, knew I was a science nerd and sent me to do a mushroom growing course. I loved it. For me, growing mushrooms is the perfect intersection of science and permaculture. I started experimenting and gradually scaled up, leaving St Isidore in the process. Now I've been growing for nearly three years.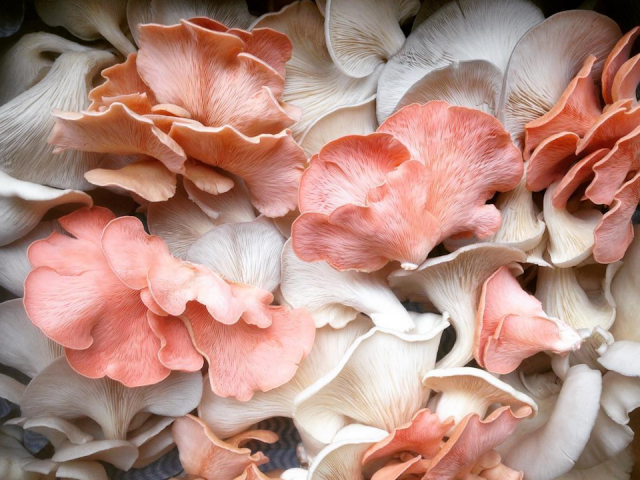 What's the best thing about the work you do?
I love that I'm in control of my work day, that I'm feeding my local community with nutrient-dense produce, and that I have a real place in the fabric of our town. I'm always coming up with crazy ideas, whether that's creating bioluminescent t-shirts with a native glow-in-the-dark mushroom I've cultured or altering the nutrient profiles in my nutrient agar (malted milk powder is the bomb). It's genuinely exciting work that feels like play.
And the worst?
Weather extremes. Last summer we had a series of crazy hot weeks and I lost successive crops. When each fruiting bag of mushrooms represents six weeks of labour, it's a punch in the gut.
What are the key challenges you face in your work? What are your tactics for overcoming these?
Probably the fact that I work solo. I am really lucky to be leasing some land from my parents, so there are always people around on the farm. Market days are brilliant for catching up with farming friends, and I make an effort to lure friends down for visits (Home-grown food! Beaches! Mountain hikes!). There's a great network of small farmers in Australia and we typically meet up every year in 'Deep Winter' for an unconference of ideas, stories, and feasting.
At the same time, I'm a bit of a hermit and hate it when people drop in unexpectedly! It's a balancing act that I'm still working on perfecting.
How do you approach time management?
I always aim to get a good chunk of my actual work done before I even think about checking emails and orders. I let my phone ring to voicemail while I'm working in the lab or outside. I also love getting started early. My Dad always says that 'half the day's gone by 9am'.
Let's talk money. Can you tell us about your financial situation when you started out?
Growing mushrooms is definitely not a get-rich-quick scheme, but can luckily be done on a shoestring budget with some ingenuity. Large commercial operations import spawn from the Netherlands and employ dozens of professional pickers. I'm just one woman! When I started out, people knew me as the 'girl growing mushrooms in her caravan,' which was perhaps not the most flattering anecdote to have attached to your name. I grew sporadic buckets of mushrooms and gleefully shared them with friends. I expanded slowly, investing in movable infrastructure (shelving, my pressure cookers, a HEPA flow hood) from my savings. My first year, I made a pittance. My second, I covered all my costs. Now I'm making a bit on top of covering my costs.
Is your business sustainable now? How do you feel about the money side of 'following your arrow'?
I cover all my costs and make enough to live on, so I count that as sustainable. I'm still learning how to make production more viable and streamlined. I never want to reach a point where I'm not assessing and tweaking my methods.
I also have a side-hustle, a small academic editing business, which helps cover any lean times. I live on about $15,000 a year, so I'm yet to pay tax. For me, it's about finding a way to live simply, support myself, and contribute to my community. I feel really blessed to be able to live a self-directed life. A perk of my business, with its 6-8 month growing season, is the down-time over the winter, which I wouldn't trade for any money. I get to spend time on my writing, exercise and exploring.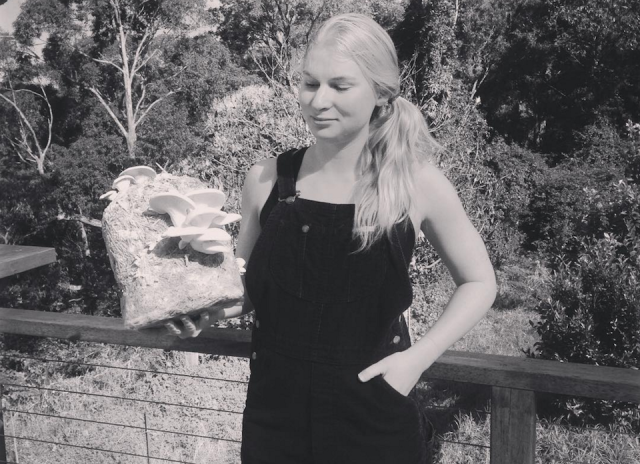 Where would you like to see yourself in five, ten years' time?
I'll be living in my tiny house (I'm still half in the caravan, half inside the main farmhouse right now) and ideally be supplying even more mushrooms to my local community. I'd also like to be producing medicinal mushrooms and extracts (two of my sisters have Crohn's disease and it's a passion of mine to grow some immune system-boosting mushrooms). Hopefully I'll have perfected my bioluminescent mushroom experiments too!
How do you market your business?
I rely on direct farmer-customer contact both at market and via instagram. Instagram is great for communicating about growing successes and failures, and I've grown specific species based on insta feedback!
What's the most valuable tool in your kit?
Oooh, that's a tricky one. I think it's my ability to find the zen in repetitive tasks like culturing.
How does being LGBTQ impact on your business (if at all)?
I don't make a big deal of being a total gay-mo, but most people in my community know I'm gay and are cool with it (which is awesome in itself because I live in a regional area).
What three websites, blogs, books or people do you rate for business advice or ideas about your work?
The mushroom grower's bible is Growing Gourmet and Medicinal Mushrooms by Paul Stamets. It's my go-to for questions about species-specific growing conditions, trouble-shooting, and beautiful, inspiring photos.
My living ethos is pretty well captured in The Art of Frugal Hedonism by Annie Raser-Rowland and Adam Grubb, which I recommend if you're into simple living and skirting scary things like Mortgages and Big Debts.
For a general kick in the pants to start your business, check out The $100 Startup by Chris Guillebeau. You definitely don't need lots of coin to get your idea off the ground.
What's your hot tip for queer women who want to start their own business?
Do it. I'm so glad I had the guts to do it. I'm the happiest and most empowered I've ever been in my life. Associate with people conducive to your business idea and your way of life and your days will be more vibrant, exciting, and rewarding. We've only got, what, eighty or ninety years of life? Why not spend them doing things we truly believe in? I think Seneca, in his treatise 'On the Shortness of Life', sums it up: "So it is: we are not given a short life but we make it short, and we are not ill-supplied but wasteful of it."
Don't waste it. Don't be ninety five and wishing you'd grown root vegetables, met a hot lady farmer in overalls and raised dairy goats together; started your lunar cycle consulting business; converted a bus to a retro diner on wheels; taught people how to survive in the wilderness; or written that book.
Just Freaking Do it.
If you wanna do it (I do!) you can find inspiration and information at Milton Mushrooms. For more shrooms, head to @miltonmushrooms on Instagram, or hang out with Marita herself @marita_smith.