One January evening, almost two years ago, I got dressed up and went to see The Prom on Broadway with a full theatre row of my queer found family. As Emma opened her laptop and found her people, I got to look to my left and see the people I found that very same way. I wasn't sure if the Netflix's The Prom would hold a candle to that experience, so I was so happy when the credits started to roll and I realized I had a GREAT TIME. Is it cheesy and campy? Yes. Are all of their problems glossed over with a perfect sheen and solved with a glittery dance number? Yes. Did I love every single note? ALSO YES.
I thought for sure I was going to be alone in my love for this movie, so imagine my EXTREME DELIGHT when the Autostraddle Slack lit up with Drew and Carmen also singing its praises. That's when I knew I had to invite these two to be my Prom dates and do a little roundtable so we could shout about our feelings together.
Alright, friends, it's time to dance.
Extreme spoilers for Netflix's The Prom ahead. Only walk on stage if you're ready for the curtain to go up.
---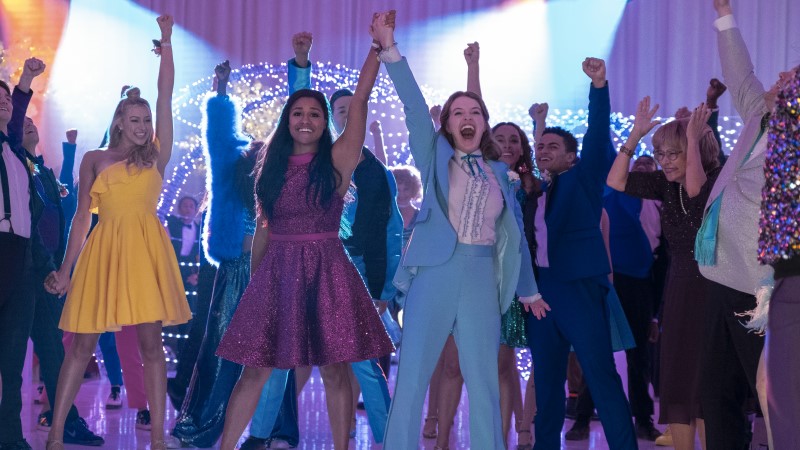 Valerie Anne: How much did you know about The Prom going into watching this movie? What were your expectations, and did the movie meet them?
Drew: All I knew about The Prom was the basic logline. It opened on Broadway right before I left New York, so I didn't get a chance to see it and honestly I'd heard from some people that it was very, um, what's the word… made for straight people? But the thing is I love musicals and — God help my soul — I love Ryan Murphy so I found myself getting more and more excited about this movie as its release approached. That said, my expectations were still VERY measured. But then — wow yeah they were completely and wildly surpassed.
Carmen: I also missed The Prom on Broadway, and to be honest I hadn't paid it much attention because campier musicals aren't usually my preference. In fact, I think the first time I seriously paid attention to Prom-mania was when they had that famous same-sex kiss at the 2018 Thanksgiving Day Parade and all those conservative "family values" groups protested.
Of course once I found out what all the commotion was about, I fell in love immediately. That said, if Drew considers herself a Ryan Murphy faithful, I'm definitely Ryan agonistic. I was holding my breath, believing in the power of Meryl, and diving into this movie against my better instincts.
Valerie Anne: Gods, if I run with this metaphor, I think I'm a born again Ryan Murphy fan. I loved him then I hated him but I'm really coming around again, and this movie had a big hand in that. As I mentioned, I saw the show on Broadway loved it, but I wasn't sure I could trust a movie adaptation with so many big non-Broadway names so I was cautiously optimistic. I know I'm a sucker for movie musicals but it still exceeded my expectations.
---
Valerie Anne: What characters or scenes resonated with you the most?
Drew: I hated high school. I was closeted to the point of being closeted to myself, but I look back and view my high school experience as very much that of a queer teen. I mean, I got into college with a social justice scholarship for queer activism and was bullied for being gay all my life and TRULY THE MIND BOGGLES THAT I DIDN'T PUT THE PIECES TOGETHER FOR MYSELF.
Carmen: Oh my God Drew, huge same for me! I spent all of high school very convinced I was straight, and that my boyfriend who painted his nails in black sparkles and took me on date nights to Rocky Horror Picture Show and the touring production of RENT — not once, but twice — was also straight. (Spoiler alert: Neither of us was straight.)
Valerie Anne: I was also trying very hard to be straight in high school but also got into fights with my religion teachers about how Jesus would have loved gay people and they were being hypocrites. So, same.
Drew: We were all so, so gay. Anyway, I deeply loved Emma and felt so strongly her desire to get the fuck out of Indiana and her general disconnect from her school population. And at the same time I really understood Alyssa and her desire to put forward this perfect front. It was so easy to project so much onto these characters and root for them from beginning to end. When Emma breaks up with Alyssa I felt so sad for Alyssa and also so proud of Emma and it was just so many FEELINGS because in my own skewed trans way I identify with both of them at different points in my life — and sometimes at the same time at the same point.
Carmen: Oh for me it was no contest that I was Alyssa Greene. Constantly burying my queerness, constantly in a quest for perfection. Perfect grades, perfect hair, always hiding beneath a mask. Never letting anyone know how much I was hurting as long as I kept smiling. Her autobiographical number "Alyssa Greene" completely took me out. And then when you get to the relationship with her mother? And how terrified Alyssa is of disappointing her?
There were not enough buckets in the world for all my tears.
Valerie Anne: Yeah I'm with Drew, I was definitely a mix of both Emma and Alyssa. The little miss perfect to try to please my mother while also the internal desperate need to get the hell out of my hometown, and even the looking to the internet for community even before I knew exactly what community I was looking for.
---
Valerie Anne: This cast is jam-packed with legends, literal Broadway stars, and adorable newbies. What were your favorite or least favorite casting choices?
Carmen: Hands down it's Jo Ellen Pellman as Emma. I don't remember I saw a newcomer who just — I mean, you are on stage with Meryl Streep and you are eating her up for breakfast? In your first major role? Who does that! It's unbelievable how wonderful she is — awkward and shy and charismatic, but also fully sure of herself, and that voice?? Sheesh.
I'll say it like this, I didn't love Netflix's The Prom's opening number — which gives you Nicole Kidman, and Meryl Streep, and James Corden, and Andrew Rannels — in fact, I was more than half-ready to take it off. But then Jo Ellen Pellman debuts with "Just Breathe" and my entire world stopped.
(Don't get me wrong, Meryl was great, too! In a chewing scenery kind of way. But to be fair this will still rank as only my third favorite Meryl Streep musical role — behind both Mama Mia and Into the Woods.)
Drew: Wow hot pro-Meryl in Into the Woods take! I'm going to start with the negative. I think we were all concerned about James Corden from the beginning… and I have to admit he surprised me. It's the most I've liked him since I saw him on stage in One Man, Two Governors. But I still think that character could've been a real stand out and point of connection for me in another actor's hands and he was not. Better than I expected, but still not as good as he could be.
Carmen: Agreed!
Valerie Anne: Seconded, my bar was low but he grand jeté'd over it.
Drew: I pretty much loved everyone else though! It helps that I am a total Nicole Kidman stan, always am happy to see Andrew Rannels, and love Kerry Washington enough to get on board with her very quick moral turnaround. I also think one of the wildest things about this movie is the casting of Meryl Streep and Keegan-Michael Key as love interests. Dare I say that is the queerest thing about the movie?? I kid, I kid. But truly… what?? Just a wild choice.
Carmen: I loved their odd-pairing a lot!! I didn't expect Keegan-Michael Key to pull off the kind of humble sweetness that could take a Patti LuPone-style Diva of Meryl Streep's making and bring her back down to earth in a very rooted way, but damn — it worked.
Valerie Anne: I'll admit that dynamic didn't work for me in the stage version, the principal and the Broadway legend, but Keegan-Michael Key and Meryl Streep sold me on it.
Drew: There's also one thing that DELIGHTED ME. I want to celebrate Jo Ellen Pellman and Ariana DeBose not just for being great — but for being QUEER. I guess it's fine when straight actors play queer characters, but God feel the difference? It's really such a difference!
Valerie Anne: YES. Yes yes yes. Also I fell in love with Ariana DeBose when I saw her in Bring it On the Musical on Broadway many moons ago (a highly underrated musical; one of the most amazing feats of athleticism and skill I've ever seen on stage, plus also it's got some BOPS) and am always excited to see her name in various credits so I was thrilled she got her time to shine here. And shine she did. And I agree about Jo Ellen Pellman; she said in the press interview that Ryan gave her the note to play Emma with an underlying thread of hope and optimism, you can tell she really took that to heart.
---
Valerie Anne: Do you have any real life prom experiences you want to share? Was same-sex prom dates a thing in your high school or would that have been taboo? Did a team of clueless Broadway actors come help you throw an inclusive prom for you and your girlfriend?
Carmen: I skipped prom entirely and spent the night at home. I would've killed for a team of clueless Broadway actors to come help throw me a party — imagine Audra McDonald serenading me from a taffeta covered stage? That's the dream.
Valerie Anne: I went to Catholic school so same-sex dates weren't allowed and frankly neither would a girl earring a tux be permitted. I took a friend to my senior prom, and the dance itself was FINE… my ex-best friend was at our table because we had to pick our seating arrangement in like September but a lot can change in a school year, and one of the "popular" girls told me she didn't recognize me because I "actually look really pretty" so that was confusing. But mostly what I remember is hanging out at my friend Katie's house in full hair and makeup but our PJs, watching Ghost Ship to scare ourselves and then Shrek in Spanish so we could get some sleep.
Drew: I have major prom trauma. Prauma? Is that a word? It should be.
Anyway, my high school did Junior/Senior Prom and, since all my friends were older, junior year was when I would've gone. I'd spent the couple months leading up to promposals starting a thing with someone and then it was cut short because her friend had a crush on me and she said she couldn't betray her friend and it was so annoying because I didn't like her friend and the friend needed to just get over herself but whatever. I was producing a production of All My Sons and I started becoming closer with our choreographer (yes, our production of All My Sons had dance numbers) and found myself getting over the first girl and getting a crush on this choreographer. She was sort of halfway between theatre kid and popular girl, but she didn't have a date and high school cliques are stupid so I thought what the hell I should ask her.
She loved fairy tales so I wrote her a personalized two page fairy tale and at the bottom it said "P.S. do you want to go with me to the closest thing our school has to a royal ball? If yes, come outside the band room." And I was standing outside the band room with flowers. And she said yes!! She was so excited. She was like overwhelmed by the fairy tale and rushed us into the choir room next door where the cast was rehearsing and was like WE'RE GOING TO PROM TOGETHER. I did not experience a lot of wins in high school and it was just a really cute and nice moment.
But. Then. Her popular girl friends told her that if she went to prom with me she couldn't come in their limo because I wasn't cool enough. So instead they set her up with some asshole and she called me and canceled. The problem was she'd announced we were going together to all of my social circle so I couldn't ask anyone else because I didn't want anyone to feel like a second choice. So I did not go to prom and a month later that girl started dating some new guy (not the prom date) and now they're married! So I guess it's for the best that we didn't go together because what if we had the best time and started dating and then she never got to date the guy she eventually married?? Really sucked for me though. *Siri, play "Barry is Going to Prom"*
Valerie Anne: If she can be so cruel to someone who wrote her a personalized fairy tale I have to assume she also has bodies in her basement. That's COLD.
---
Valerie Anne: What was your favorite song/number?
Drew: Oh baby okay. So I think the Broadway star songs are fun and while watching the movie they really delighted me. But as I have been listening to the soundtrack on repeat I've been listening to my own very teen heavy edit of the soundtrack with "Just Breathe" and "Alyssa Greene" specifically on repeat.
I think one thing Netflix's The Prom does very well is give us two teen lesbians who feel grounded in themselves and their romance.
Carmen: Yes! Without a doubt, yes. Teen lesbians are everything about what makes The Prom work, despite any of the rest of its flaws.
Drew: I love an "I want" song about being stuck somewhere you don't want to be and I love any song about feeling pressure to live up to expectations. ("Breathe" from In the Heights is maybe my favorite musical theatre song ever?)
Carmen: Drew, we might be the same person, "Breathe" from In the Heights is easily one of my favorite musical theatre song ever. The pressures of living up to the dreams of your family? Hell, living up to the dreams of your own? Instant tears, every time.
Valerie Anne: BREATHE FROM IN THE HEIGHTS IS ALSO ONE OF MY FAVORITE MUSICAL THEATRE SONGS EVER. And agree re: "Just Breathe" and "Alyssa Greene." Basically this whole roundtable is just me agreeing with you both excitedly.
Drew: I also love how "Unruly Heart" isn't just about being queer but is about being a queer person who is incapable of hiding. Obviously some queer people have to stay closeted (especially teenagers) and I think the movie does a great job with Alyssa showing that experience — but I also think there's something to celebrating queer people who have something in them that makes them loud.
And, okay, besides Emma and Alyssa, I also really loved "We Look to You." Theatre means a lot to me and I think this song is such a lovely tribute to what theatre means to so many of us. Is it possible to write about any of this without sounding so corny? Guess not! And I don't care!
Carmen: For me it's a straight slate of the teen numbers, no chaser. If Emma or Alyssa sing it, I'm all over it. "Unruly Heart" — which is the double tear dropper of Emma singing to other queer and trans teens! About how hard it is to be a queer teen! Then also, "Just Breathe" and "Alyssa Greene," both of which I've already mentioned but cannot stop playing on repeat.
Valerie Anne: "Unruly Heart" is my favorite song in the show because of the reasons you mentioned – I'm 33 and I feel like I'm still learning to give myself space to love what and who I love fully without worrying about what other people think. And then linking it to other queers finding her on the internet? That's how I found my family, through the internet, and I wouldn't be who I am today without them. And also I was sitting with some of them in the theatre when I heard the song for the first time. MY EMOTIONS. And I think the movie brought that to life really well. It captured the sweetness of Emma reaching out, and the pain/relief combo of other lonely queer kids watching her video.
Carmen: I actually think the finale number, "Time to Dance" is actually the best piece in the show? Especially as an ensemble. In a lot of musicals the finale is ironically an afterthought, so I think it's refreshing to have a show that actually builds to something!
Valerie Anne: I do love a big group sing.
---
Valerie Anne: Any closing/overall thoughts about the movie?
Drew: I'm pretty sure the community is going to have vastly different feelings about this movie, because it's not just a queer movie, it's a musical, and it's not just a musical, it's this kind of musical. Some people will be enthralled watching Nicole Kidman do a Fosse-esque dance number where she is grinding on a mostly likely very horny teenage lesbian and some people will think it is absurd and stupid! I am in Camp One.
Sure, the politics of this movie are not complex and it's a very easy view of queer acceptance and queerness in general, but I also think it's based in high school and feels adolescent in a way I kind of appreciate. I don't know! Maybe I'm just a corny Broadway gay. No, I'm definitely a corny Broadway gay. And I loved The Prom.
Carmen: I am very easily a corny Broadway gay, and I wear that flag proudly. I love musicals. I love being gay. If you also love musicals and being gay — I think it's going to be very hard not to love The Prom.
Did I love all the campiness? Depending on the scene, I could take it or leave it (Nicole Kidman doing bad Fosse did little for me, but Meryl Streep killing her Patti LuPone impression certainly did much more). I could have done with 100% less of the Ryan Murphy focus on cis gay white men who "save the world" — for instance, I found myself wondering if I would have come around on the Andrew Rannels' character more quickly if he had been played by say, Billy Porter, just off the top of my head. But in the end, none of it mattered. Because it's not their story, it is not the story of any of the adults.
This is a love story about Emma and Alyssa. Two queer teens in a small midwestern town and if you don't want those little dweebs to go to sparkle filled prom and kiss at midnight and slay their demons and sing and dance — then I'm sorry, but you may not have a heart. (I don't make the rules!)
Valerie Anne: Yeah I could have done with more of the teen lesbians and less of the adults (I would at least like the stolen verse of You Happened back.) And this goes for the stage and movie versions but I could have done without the whole Love Thy Neighbor subplot entirely, THAT SAID, I think Jo Ellen Pellman and Ariana DeBose (and Nicole Kidman and Kerry Washington) did so much with what they DID have that when the movie was over, all I was left with was a happy, joy-filled, unruly heart.