One of the first things I remember my father saying to me after he accepted my transition was, "Well, you know you're going to have to drive on vacations now." My nuclear family is pretty progressive about gender expression and roles and there aren't many things I would think of as "mom tasks" and "dad tasks" or "husband to-dos" and "wife to-dos." In fact, some of the traditional gendered familial roles were flipped in my house. My mom killed the spiders. My dad, who had more flexibility with work, stayed at home when my sister and I were babies.
So it struck me as odd but also significant that my dad was suggesting that my gender shift would correspond with a specific gender role. The idea of being "the vacation driver" has stuck with me since then. In every straight couple I knew, the man typically drove when both were in the car and he did so exclusively on longer trips. Was that common? Were there other roles I'd never thought about that would be mine as a husband and a father? (Or would be placed on me to take on.) What about my other roles in the family? Was my being a son different from being a daughter? A brother different from a sister? Nephew from niece? Uncle from aunt?
This Christmas, my parents, sister and I flew into our home state of Kansas from our respective corners of the country. We spent a week bouncing between Kansas City, Lawrence, and Topeka, visiting friends and family we hadn't seen in two to ten years. Many of my relatives and all my old friends had not seen me since I transitioned.
My anxiety before the trip surrounded whether or not I'd be accepted as male, if I'd easily be seen as the grandson or the nephew. But as the clans quickly showed their acceptance and even comfort with my maleness, I was able to learn more about this aforementioned shift in roles and what came with it.
First, we hit my dad's side of the family, whom I hadn't seen in about four years. Prior to my arrival they had asked my parents whether it was okay to have old pictures of me around the house – I said, "yes," but the fact that they asked let me know they were tuned into the seriousness of my "situation" and wanted me to be comfortable. The second we arrived they came out with big hugs for everyone, we were all told that we looked great (I mean, everyone did) and I don't think any special attention was paid to me. No one said anything about my voice or anything really related to my transition or maleness. But everyone said my name, Sebastian.
Then my grandma, well into her 80s I believe, pulled up. We greeted her at her car and she gave everyone hugs. Finally she got to me and said with a big smile, "Now who's this guy?" And with that the tone was set. I was Sebastian, I was a guy, and we were all so happy to be around each other for the holidays.
For the next two days, no one made any fuss over my transition. We didn't talk about it and no one seemed to be staring – no one even messed up with pronouns or my name. But me being a 24 year old male did feel different from the 20 year old closeted (for that side of the family) lesbian they had most recently met. I was treated differently.
Not long after we'd been there someone brought up the young woman I've been dating. I think I suggested that I'd been traveling a lot to the city and my parents, somewhat proudly, announced that I was visiting my "notgirlfriendwp_postsas they call her. I hadn't talked to this side of the family about my romantic life since I was in middle school and was dating awkward boys who took me to movies with their parents. This had meant a lot of summers (we used to take annual beach trips) of quickly deflecting questions about boyfriends. Eventually, I think my parents told them and then everyone stopped talking about my love life at all. It wasn't rejection or disapproval, but there was a discomfort there. Now I got to be this straight 24 year old qt with a beautiful and successful notgirlfriend who lived in the big city.
When we took photos dressed up on Christmas Eve, there was a guys' photo and a girls' photo. Sebastian, the grandson, nephew, son, brother, and cousin (male), was obviously in the men's photograph.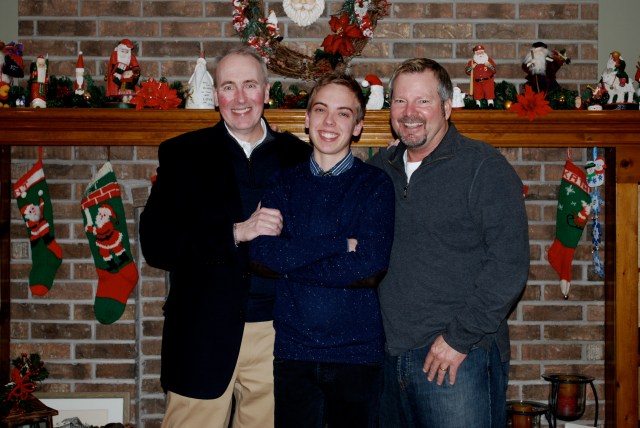 Even for my family, who are definitely more with it than I think Kansans are assumed to be, me being an androgynous lesbian was weird. They maybe would never call it that and they loved me and I'm sure would have awkwardly accepted a serious partner coming over for Christmas, but it was this strange and uncomfortable thing. I didn't fit into any narratives they were familiar with and I didn't match the rest of their family. My cousins, for example, are beautiful, petite cheerleaders, and sorority girls (my aunt and grandmother, too, actually). My uncle coaches college baseball and makes sort of dirty jokes. My aunt and grandma cook (or prepare the food we've ordered in) while my uncle watches football. So they struggled to get me before I transitioned. My grandma liked to get matching gifts for the grandchildren. For years I got panties and Victoria's Secret gift cards, jewelry, things I would never feel comfortable wearing. My well-intentioned grandma who knew me very well just couldn't understand a girl that wasn't girly.
I'm a pretty heteronormative guy now, on the surface. Yes I'm small and would say I have more style than the regular straight dude, but I'm a much more normal as a guy than I was as a woman. I think they can get me now – they can see all of me now (though maybe they won't be directly supporting my more feminine characteristics – like a serious Barbra musical obsession… only time will tell). Instead of lacy panties, this year I got an H&M gift card (with a letter apologizing that it was pink and explaining that that was the only color card left).
It's a complicated conclusion to draw — although generally speaking, society, and certainly the law, is less tolerant of trans people than gay people, for my family, a trans identity was more comfortable than a gay one. Perhaps it is just an issue of their comfort with what is outwardly normal (i.e. girls that like pink and boys that like action movies), or maybe it is just that I am for them what I've always been to me. My comfort in my gender presentation and identity has translated into a newfound comfort for them, as well.
On my mom's side of the family, my new maleness took a slightly different role. I mean for sure, I found myself carrying more things than ever before. As the son and nephew in a family with lots of women this was my job. (And admittedly the testosterone has made me stronger than I would have been last time I was in Topeka.) I received two white dress shirts with a note saying that they were must-haves for every man. And ain't that the truth. Where would I be on interviews, for weddings, New Years Eve, funerals, etc. as a man without white dress shirts?
And for the first time got to be an older male role model. My cousin has a four-year-old son that I met for the first time. He attached himself to me immediately as I helped him set up the Air Rescue helicopter Playmobile set my family had gotten him for Christmas. He called me his buddy and wanted to do everything I did. Even though I think I would have also been the one to help construct the helicopter and would have loved to play with him in years past, I don't think he would have latched onto me if he didn't see me as an older boy. At one point he saw an old yearbook photo of mine from when I was probably 12. He asked who it was and his mother very casually said, "That's Sebastian when he was younger." His reply?
"Sebastian [actually "Bus-Bash-Been"] had long hair? I want long hair!"
I'm sure there will be longer explanation in the future, but for now, he knows that I'm his older male cousin (who "looks like a grown-up but really is a big kid") who had long hair when he was a boy. And that's sort of exactly who I am and it felt so good to be known as that.
Unlike my dad's side of the family, most of these relatives had known about my queer love life for quite some time, and two of my aunts had actually expressed interest in girls in my past, so it was no surprise that they demanded to see photos of "this notgirlfriend we keep hearing about." Also unlike my dad's side of the family, I had already spent some time talking to most of my aunts and uncle and cousins about my transition. I'd gotten direct words of support and understanding from almost every one, in one medium or another. I have collected a number of "man essentials" like cognac, cigars, the book "Man Up!" and Garrison Keiler's memoirs. In this family, my shift from niece to nephew had been going on honestly since before I transitioned, and there was nothing marked in their response to my now physically transitioned self.
One of the most noticeable shifts in familial role for me was evident in my relationship with my sister. Without violating her privacy, I will share that she was coming to Kansas after a really terrible and dramatic break up. The first night in town she and I got drinks at a bar in our old neighborhood and talked about her ex and the relationship and the break up. I played older sibling more so than I ever have in my life. I'd even say I played older brother. I was caring and protective and was ready to take matters into my own hands if she needed some help. I was angry but also had advice. (I don't want to suggest that a woman could not take this role, just that that is the stereotypical role of the older brother and something I fell into naturally in this setting.) We then got a little tipsy and started divulging information and swapping stories about various partners and sexual endeavors, which I think is more a nod to our development as sisters than anything else (do you know a brother and sister who would feel comfortable sharing details like that?) So I came away from that experience feeling like an older brother who had the comfort level with his sister that an older sister would. What a lucky guy.
During the trip, one of my aunts had taken quite ill and our family spent several hours in the Topeka hospital on Christmas and the days following. As my sister and I sat in the basement cafeteria, we talked about my transition. She has always been so supportive, but still sort of took me back with the level of her support and encouragement on this trip. She told me that it feels to her that she's always had a brother. And not just in the sense that there was always a part of me that was trans or male. She said her memories have even altered so that "Sebastian" is a part of them and not "Sarah" (interestingly mine have begun to do this, as well). She said it is just so clearly who I am that it follows that it is just so clearly who I was, as well. She also said that she thought we had grown closer since I transitioned.
We admitted that our dynamic fit the brother-sister archetype far better than the sister-sister archetype. Growing up we didn't have any sort of model for how to interact with each other. We had a dynamic that didn't match what we saw on TV or even amongst our friends and family who had siblings. And I'm a firm believer that in development (and maybe throughout our life) we need models to learn either how to act or how to be comfortable with how we are already acting. Without these models, I think my sister and I drifted apart. We didn't know how to be sisters, so we didn't really become close as siblings. Suddenly, I fit into this male role –- brother –- so naturally that we have a dynamic we are comfortable with, and it's allowed us to bridge that distance that grew between us in adolescence.
I think this will be true of the rest of my family. Their acceptance and affirmation of my gender has reminded me how great they are and how much they love me. And perhaps even more importantly to the overall family dynamic and closeness, I fit the various male roles within the family better than I ever fit the female ones. More comfortable as the young man of the family, as the vacation driver, the older cousin a young boy aspires to be, the protective brother, the grandson with a notgirlfriend, et cetera, I will be able to connect with them more than ever.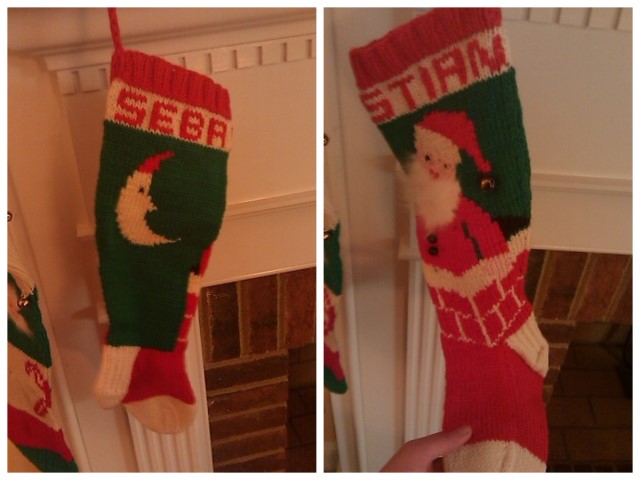 ---
Special Note: Autostraddle's "First Person" personal essays do not necessarily reflect the ideals of Autostraddle or its editors, nor do any First Person writers intend to speak on behalf of anyone other than themselves. First Person writers are simply speaking honestly from their own hearts.