Hello world of Autostraddlers! It's Sunday again, and I'm at home following my spiritual journey. I'm so glad I got home in time to find out about all the good news coming our way from the world! Also today is Puppy Bowl VIII so we're watching it together after a round of good news!
Did you know we're about to get a lot more of Ellen in our lives? No? Well, did you know how to make bread? The general gist is, dreams are coming true this week. Especially because at the end, we'll all watch the Puppy Bowl together.
Susan G. Komen Takes It All Back, Stands With PP
Susan G. Komen, the organization we all found out was run by conservative crazy people this week, has rescinded their decision to stop grant funding to Planned Parenthood as of Friday, and is sorry for the decision. Of course, who wouldn't be? Although the organization has often suffered scrutiny for the "pinkification," commercialization, normalization, sexualization, and / or sterilization of breast cancer, they had never seen the true wrath of any haters until this week.
If you need to catch up, Jezebel did a great recap for you, bullet-by-bullet, beginning with their controversial decision and ending with the reversal. They also came up with this thing called "Disgrace for the Cure" that I thought was smug and clever.
The original decision to stop funding was made in light of policies in place at Susan G. Komen preventing grants from being paid to any organizations under investigation. Since Planned Parenthood is currently suffering a political investigation because of its evil desire to spread birth control, abortion, and other vital health services to the masses of the United States, their funding was therefore pulled. The decision was controversial from the start, considering Planned Parenthood offers vital breast health services and women's health services relevant to the mission of Susan G. Komen. It was made worse, however, by the decision makers – especially their VP of one year, Karen Handel. Jezebel reports in their breakdown how her conservative politics affected the situation:
…the timing of Planned Parenthood's defunding seemed oddly coincidental, seeing as less than a year ago, Komen appointed a woman named Karen Handel to serve as the charity's Senior Vice President of Public Policy. Handel had run unsuccessfully for governor of Georgia in 2010 on an anti-choice platform that cited as one of its central tenets the necessity of defunding Planned Parenthood. […]
That night, Karen Handel retweeted an anti-Planned Parenthood tweet that urged Komen detractors to "Cry (her) a freaking river."
After Komen pulled funding, Planned Parenthood experienced a drastic outpour of giving in the amount of over 3 million dollars, all of which will now be devoted to breast cancer-related services. Major donors included Bloomberg and LIVEStrong. (A sidenote: it is a sad day when Bloomberg gives more to women's lives than Susan G. Komen. But I digress.)
CEO Nancy Brinker released a statement on Friday explaining that the decision was incorrect and the entire organization was sorry, and that they were committed to "saving women's lives" and had simply been misunderstood:
We want to apologize to the American public for recent decisions that cast doubt upon our commitment to our mission of saving women's lives. The events of this week have been deeply unsettling for our supporters, partners and friends and all of us at Susan G. Komen. We have been distressed at the presumption that the changes made to our funding criteria were done for political reasons or to specifically penalize Planned Parenthood. They were not.
Our original desire was to fulfill our fiduciary duty to our donors by not funding grant applications made by organizations under investigation. We will amend the criteria to make clear that disqualifying investigations must be criminal and conclusive in nature and not political. That is what is right and fair.
Welcome to the party, Susan G. Komen! We all know supporting Planned Parenthood is right. (And if it isn't, well, I wanna be wrong.)
NJ's Same-Sex Marriage Fight Brings About Poignant YouTube Video
Governor Chris Christie (I did not vote for that man) has promised to veto any sort of gay marriage bill, but one is still forming there. Radical, right? And after hearing testimony for over six hours on Thursday, the New Jersey state Assembly approved legislation allowing same-sex marriage. But really, it's probably mostly because of Madison Gallucio's testimony, which I am compelled to share with you for the sake of happy tears:
Antibullying PSAs Will Air at the Superbowl Today
Imagine a world in which the message not to bully gay kids into isolation and, sometimes, suicide, is universally accepted. Since we don't live in that world, you can just start imagining one in which anti-gay bullying PSAs will air at the Super Bowl anyway:
Antibullying messages sponsored by the Gay, Lesbian, and Straight Education Network will still be shown on the Jumbotron at Lucas Oil Stadium during the Super Bowl Sunday, despite right-wing activist Linda Harvey's call to cancel them.
Harvey, president of the conservative Christian group Mission America, had written in her online newsletter that GLSEN's ThinkB4YouSpeak campaign "seeks to instill the false idea that only by enthusiastically approving of homosexuality and gender confusion can we prevent bullying." She urged her supporters to pressure Toronto-based Grazie Media, which owns the Jumbotron at the stadium in Indianapolis, to withdraw its offer of space for "this shameful message."
PS, did you hear that name Wanda Sykes? I love Wanda Sykes.
Bread is the BEST
I love bread. Here's an easy way to make it in case you do, too.
You Can Never Have Too Much Ellen + Portia
+ One million mothers couldn't nag JCPenny out of loving Ellen DeGeneres:
The retail giant JCPenney, "stands behind its partnership with Ellen DeGeneres," officials said in a release to Yahoo Shine. Earlier this week the Gay and Lesbian Alliance Against Defamation threw its support behind JCPenney and its choice to partner with DeGeneres with the campaign "Stand Up For Ellen" (#StandUpForEllen) after the antigay group One Million Moms threatened to boycott JCPenney if it didn't fire DeGeneres. The boycott was based solely on the fact that DeGeneres is a lesbian, according to a release from GLAAD. 
+ Ellen and Portia were described as being "partners in life and business" because of this new TV thing they're doing:
Portia de Rossi and Ellen DeGeneres, are teaming up for a project that DeGeneres is executive producing and that will star de Rossi, according to Entertainment Weekly.
ABC has ordered a pilot of The Smart One, about a "brilliant and successful woman who begrudgingly goes to work for her less-brainy but more popular sister – a former beauty queen, weather girl and now big-city Mayor," according to the show's logline released on EW.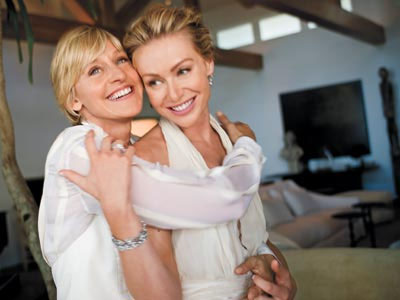 Daniel Radcliffe Was ALSO Drunk
Pat Sajak is only the hero to a younger generation also hoping to get drunk at work, and among them was once Daniel Radcliffe:

Daniel Radcliffe admitted he was drunk while filming some scenes for the "Harry Potter" movies during a period in his life where he was drinking "nightly," the young star said in an interview.
"I have a very addictive personality. It was a problem. People with problems like that are very adept at hiding it. It was bad. I don't want to go into details, but I drank a lot and it was daily – I mean nightly," Radcliffe said to British celebrity news magazine Heat earlier this week.
"I can honestly say I never drank at work on 'Harry Potter.' I went into work still drunk, but I never drank at work. I can point to many scenes where I'm just gone. Dead behind the eyes," the 22-year-old actor said.
The good news is that Radcliffe overcame his drinking problem and now you have more reasons to re-watch Harry Potter in its entirety.
In Ashley Greene's Dreams
Ashley Greene and Olivia Wilde are gonna be in this movie together called "Butter," which already feels sexy.
But even better is that Ashley Greene kissed a girl and she liked it:
According to E! News when asked who was the best lip-locker in Hollywood, the stunning brunette said: "I'm going to go with Olivia."
"Sorry guys. Ours was much more intense than either of the boys, so they need to step up their game."
When asked if she enjoyed shooting the lesbian scene she said: "She is a good kisser."
"And I would know this because we had to do several takes." […]
Ashley gushed: "Gay men, straight men, straight girls and lesbians all want to kiss Olivia Wilde I think."
THE PUPPY BOWL IS ON TODAY
You don't need any photos, videos, paintings, or real-life animals in your life today because the Puppy Bowl will be airing to take care of all of your cuteness needs on Animal Planet at 3 PM EST. But here's one anyway.