Welcome to Movie Night! Where we choose a movie based on any number of variables and feelings, create a themed menu and some decoration ideas to match, then spend the night eating these foods and watching these movies! It's an uncomplicated but promising plan.
Tonight we are watching Grease 2, the lesser-known sequel to the John Travolta/Olivia Newton-John classic that spawned a million theme parties and karaoke performances. Grease 2 has more terrible puns, more surprise dance numbers, and more ketchup-based flirtations than its older sibling. It also has about twelve times the camp, and Michelle Pfeiffer. You're sold, right?
The Movie
Grease 2
[buy it here / stream it here]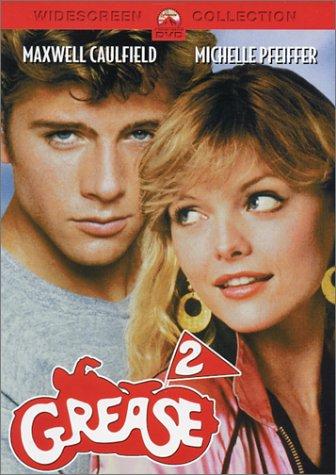 Synopsis (from IMDB):
"Return to rockin' Rydell High for a whole new term! It's 1961, two years after the original Grease gang graduated, and there's a new crop of seniors – and new members of the coolest cliques on campus, the Pink Ladies and T-Birds. Michael Carrington is the new kid in school – but he's been branded a brainiac. Can he fix up an old motorcycle, don a leather jacket, avoid a rumble with the leader of the T-Birds, and win the heart of Pink Lady Stephanie Zinone? He's surely going to try!"
Cara: Vanessa only likes five movies and this is one of them. In fact, she likes this movie so much that one time she got into an argument with some complete strangers in a pizza shop about whether or not it is superior to The Original Grease. The argument went something like this:
Vanessa: "Grease 2 is better than Grease 1."
Strangers: "We strongly disagree, as does most of the rest of the world."
Vanessa: "Hmm. Are you lesbians?"
Strangers: "No."
Vanessa: "Ah, that explains it. That is the only way you could not be completely drawn in by the pure, heartwrenching sexiness that is Michelle Pfeiffer popping her collar in front of a school bus."
Strangers (after conferring briefly): "Our artistic preferences are legitimate. We don't appreciate you demeaning them by attributing them to our sexuality, which is irrelevant; you, of all people, should understand how problematic, NAY, oppressive, this tendency —"
Vanessa: "Oh don't even. I will end you all. Cara let go of me."
At this point I removed us from the pizza shop. A few months later I woke up on the floor of my kitchen surrounded by various ingredients and with a shiny DVD dangling before my eyes. Thus this movie night was born.
Vanessa: This movie is the greatest. Seriously, if you tell me you prefer Grease to Grease 2 I am going to judge you and question our friendship. Cara is also telling the truth, I hate most movies, which makes my love for this particular one all the more poignant. I first saw it as a small child in the '90s, and as this was a time before Googling the lyrics of your favorite soundtrack was a thing, I sat patiently in front of my television set with a notebook, pencil, and the TV remote. I'd pause the movie dutifully every few lines of a new song so I could scribble the lyrics down in full. Neither of my parents thought it was weird that I was singing about reproduction, doing it for my country, or holding on tight to a cool rider. I dunno. I still have that notebook somewhere.
Also I only came out as a gay lady at age 19, but upon re-watching this movie with Cara and gasping or moaning every time Michelle Pfeiffer appeared on screen it has become apparent that she is in fact my root, and I probably should've been barging out of the closet at age 10 when I first saw this film. Oops. But better late than never, and we're all here now, so let's…
Set the Mood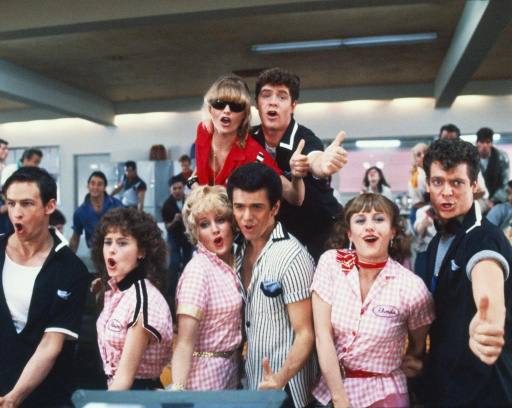 C: If you're having a party or a Fun Date, a cool thing to do is to refuse to allow your guests entrance unless they enter on a motorcycle or, failing that, approximate a motorcycle sound when you answer the door.
V: Alternatively, guests can wear before/after outfits for Michael (dorky grandpa sweaters vs. cool leather jackets), sexy pink jackets, Calendar Girl outfits (dibs on the Christmas tree, obviously), or bowling shoes.
The Menu
Cool Sliders
T-Birds (aka Black & White Milkshakes)
Pink Ladies (aka Strawberry Milkshakes)
Cool Sliders
(Adapted from How Sweet It Is)
One of the more memorable Grease 2 scenes is a number called "Cool Rider," in which Stephanie, Michelle Pfeiffer's character, sings about how she'll only date a badass with a motorcycle. The song goes something like this:
"I want a whole lot more than the boy next door," Stephanie explains later. "I want hell on wheels." This is how I feel about these tiny barbecue mushroom burgers. When you taste them, I think you'll agree.
Ingredients
+ baby portabella mushrooms (go for large-ish ones if you can)
+ slider buns/small rolls (as many as you have mushrooms)
+ 1 red onion
+ 1 avocado
+ your favorite cheese (we used gouda)
+ olive oil
+ smoked paprika
+ onion powder
+ chili powder
+ black pepper
+ barbecue sauce/other condiments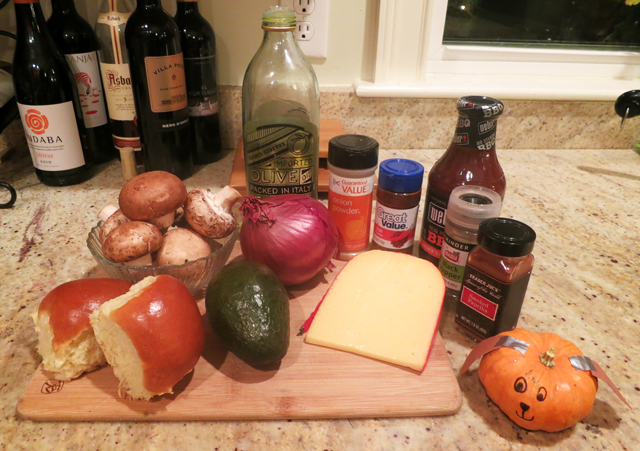 1. Slice up your red onion and sautee it in some olive oil for 8-10 minutes, till it gets soft. While it's sauteeing, wash and de-stem your mushrooms! If you're quick, this is also a good opportunity to cut up your avocado and arrange it beautifully on a plate.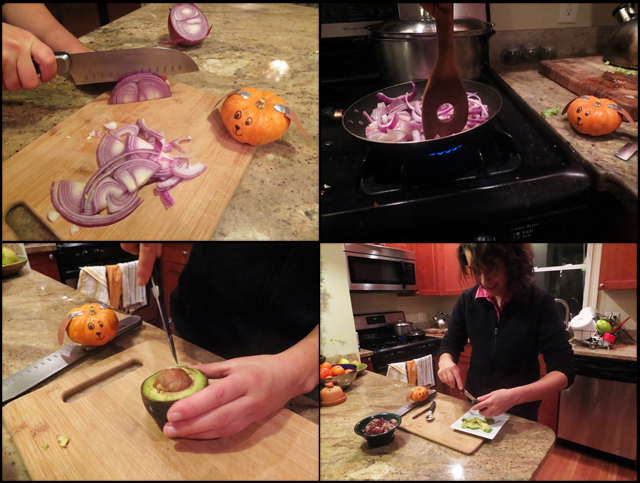 2. Mix all your spices together. The amount you use will depend on your number of mushrooms and whether you like things to, as Stephanie describes, "burn you through and through." But as a general rule, use about twice as much smoked paprika and onion powder as you do chili powder and black pepper.
3. Brush each mushroom with olive oil and rub it in the spice mix. Put all your spice-dusted 'shrooms in a pan and cook them on medium heat until they start to brown (about 5 minutes). Flip them over and cook them for 5 more minutes on the other side.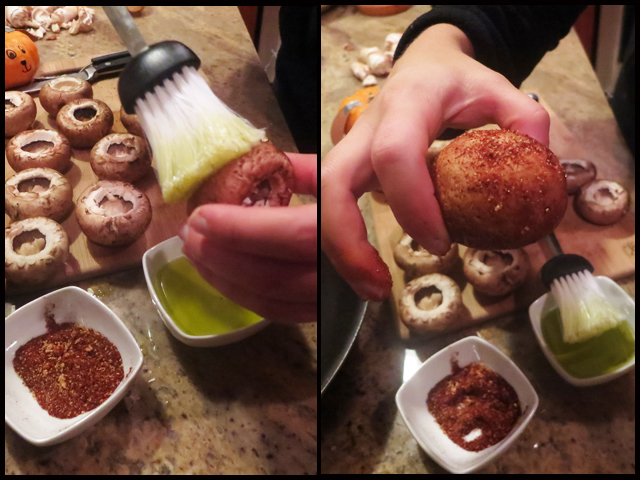 4. While they're browning away, slice your buns in half and your cheese into mushroom-sized squares.
5. Flip the mushrooms over one more time, so the round sides face up. Top each with a square of cheese and keep your pan on the heat until the cheese melts. (If it's a rebellious, authority-bucking cheese that refuses to melt, stick a pot lid over your pan — the steam will do the trick.)
6. Put your sliders together! Don't forget the barbecue sauce or Michelle Pfeiffer will yell at you. On second thought, maybe do forget the barbecue sauce, if you're into that.
T-Birds & Pink Ladies
What's an early-60s themed movie night without some milkshakes and gender essentializing? As vices go, these milkshakes are both tastier and, dare we say, cooler-looking than cigarettes. They'll also wipe off your leather jacket really easily after you do a spit-take during the film's surprising and emotional dream sequence. Warning: these will be really hard to make without a blender.
Ingredients

The T-Bird: Vanilla ice cream. Milk. Chocolate sauce. Optional embellishments (cocoa dust, malt powder, Milky Ways, etc.)


The Pink Lady: Strawberry ice cream. Milk. Optional embellishments (strawberries, whipped cream, tiny umbrellas, etc.)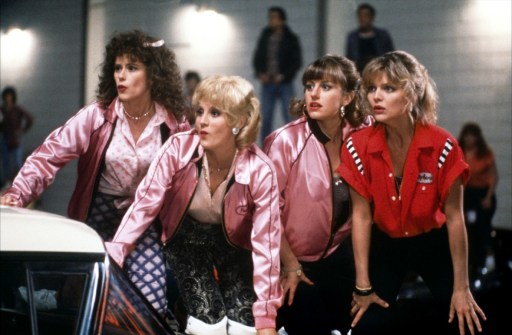 1. Put ice cream in your blender (~1 cup per milkshake). Splash in milk — more if you want a liquidy milkshake; less if you'd like it to be more like a Wendy's Frosty. If you're making a T-Bird, add about a 10-second squeeze of chocolate sauce and the candy bar if you want.
2. BLEND.
3. Pour into your coolest glassware. Add accoutrements if desired. Toast to true, real, everlasting high school love, and/or Michelle Pfeiffer's true, real, everlasting smirk.