feature image via shutterstock
In poll results published Sunday by YouGov, a full 49% of 18-24 year olds identified as something other than exclusively heterosexual. The online poll asked 1632 adults in Great Britain to identify themselves on the seven-point Kinsey scale. Among respondents of all ages, 72% identified as a 0 (heterosexual), 4% identified as a 6 (homosexual), and 23% identified somewhere in between. Breaking the data down by age group, however, shows a very interesting trend.
According to the report:
With each generation, people see their sexuality as less fixed in stone. The results for 18-24 year-olds are particularly striking, as 43% place themselves in the non-binary area between 1 and 5 and 52% place themselves at one end or the other. … People of all generations now accept the idea that sexual orientation exists along a continuum rather than a binary choice – overall 60% of heterosexuals support this idea, and 73% of homosexuals. 28% of heterosexuals believe that 'there is no middle ground – you are either heterosexual or you are not'.
This report is largely in line with existing research, including the 2013 British Social Attitudes survey showing growing acceptance of same-sex relationships in the UK, and the 2014 HRC report showing that 40% of US LGBT youth are non-monosexual.
Interestingly, when asked to label their sexuality, only 2% of all respondents self-identified as bisexual. This remained relatively steady across all age groups, increasing to 4% identification for those 25-39, and down to 1% for those 60+. Comparatively, 89% identified as heterosexual, 6% gay or lesbian, 3% prefer not to say, and 1% other. Even accounting for those listing themselves as "other" and "prefer not to say," this leaves ~15% of respondents who presumably call themselves straight yet experience some level of same-sex attraction. And in even further proof that straight chicks want to make out with you, a surprising 35% of hetero-identified people responded with a "definitely," "maybe," or "very unlikely, but not impossible" when directly asked "If the right person came along at the right time, do you think it is conceivable that you could have a sexual experience with a person of the same sex?"
While collecting solid data about LGBT populations is always a difficult task, it seems telling to me that there's such a large divide between the number of apparent bisexuals (the 23% plotting themselves as Kinsey 1-5's) versus the number of people actively laying claim to the label (again, a mere 2%). Kinsey himself never used the word "bisexual" in relation to his work, because he felt it "implied a biological origin of bisexuality rather than a psychic one." I doubt this is the motivating factor for many survey respondents in 2015.
One possible reason for the disparity is that people experiencing attraction to multiple genders don't feel comfortable using the label until they've had sexual encounters with both same and different sex partners. However, 17% of respondents (20% of females and 14% of males) reported a sexual experience with a person of the same sex. Different-sex experiences were not reported on, but whatever the number, it still leaves a sizeable gap. Are the 1's and 5's not counting themselves because they don't feel bisexual enough? The 2's and 4's? Unfortunately we don't have enough data to say.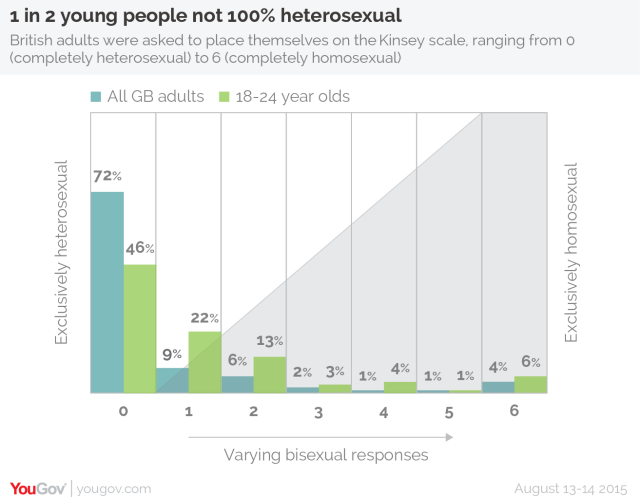 Certainly, coming out as bisexual poses unique challenges, and if someone feels more comfortable with an alternate label, they should have the individual agency to do what's right for them. I personally use different labels in different contexts, as do many others. But there's power in naming things as they are, and sometimes I wonder what impact avoidance of the term "bisexual" has. For example, would bisexual women have better mental health if more people identified as bi and there was a larger, more visible community? Would the allotment of resources change if all those Kinsey 2-5's were counted up? What happens if we don't do anything? I don't have the answers, but apparently, there are more us than ever. I hope we figure some of it out soon.