The 2013 British Social Attitudes survey (BSA30) found that almost half (46.7%) of respondents believed "sexual relations between two adults of the same sex" to be "not wrong at all," compared to a fifth (22%) who said it was "always wrong." The BSA30 report and news headlines highlighted the drastic change in public opinion since the survey was first conducted 30 years ago, when the proportions were roughly reversed: half the public (50%) said it was "always wrong" and a fifth (17%) answered "not wrong at all."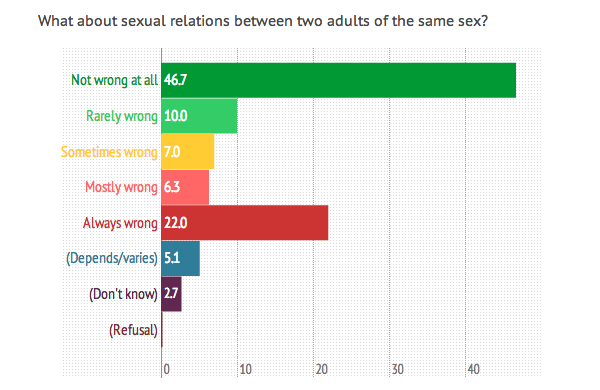 The survey is conducted annually by NatCen Social Research, an independent not-for-profit organisation, and engages a representative sample of 3,000 people. Since 1983, the BSA has been measuring and tracking changes in people's social, political and moral attitudes.
Anti-gay public opinion peaked in 1987, when nearly two-thirds (64%) believed same-sex sexual activity to be "always wrong" when only a tenth (11%) said it was "not wrong at all." The 80's were marked by the HIV/AIDS crisis, which turned public sentiment hostile particularly to gay and bisexual men, and the introduction of Section 28 under the Thatcher administration.
The 90's, on the other hand, saw anti-gay sentiment on the decline again alongside medical advances in the treatment and understanding of HIV/AIDS as well as a rise in LGBT activism in the UK.
To roughly compare trends in public opinion to those in government policy, here's a quick summary of key legislation concerning LGB rights in England and Wales:
1967 Sexual Offences Act: decriminalisation of male homosexual acts
1988 Local Government Act (Section 28): prohibition of promotion of homosexuality by legal authorities and schools
2000 Sexual Offences Act: equalisation of age of consent at 16 + legal recognition of female homosexual acts
2002 Adoption and Children Act: equal access to adoption for all individuals and couples (marriage no longer required)
2003 Local Government Act: repeal of Section 28
2004 Civil Partnership Act: legal recognition of same-sex relationships
2008 Human Fertilisation and Embryology Act: equal access to IVF and assisted/self-insemination for all individuals and couples + recognition of both parents in same-sex relationships on birth certificates; later equal access to surrogacy for all individuals and couples in 2010
2010 Equality Act: codification of anti-discrimination laws and protections on the basis of sexual orientation
2013 Marriage (Same-Sex Couples) Act: legal recognition of same-sex marriages
(N.B. Bills do not immediately come into effect upon passing both Houses and receiving Royal Assent: same-sex marriages, for example, will only begin in mid-2014. Scotland and Northern Ireland are governed separately, with Scotland's legislation on these issues more closely mirroring those of England and Wales.)
Despite same-sex adoption being on the books for a decade now, BSA30 found that public opinion is still divided on this: 48.2% agreed that "homosexual couples should be allowed to adopt a baby under the same conditions as other couples" while 44.6% disagreed.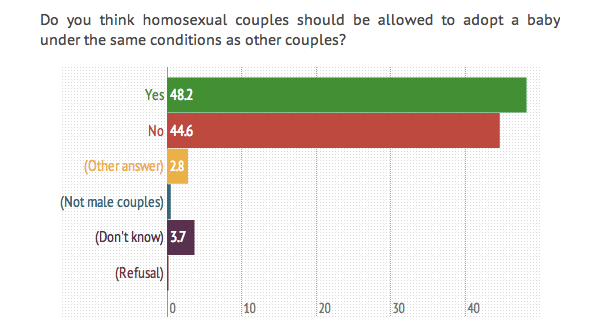 Survey respondents were similarly divided on same-sex parenting more broadly: 44.4% agreed that a "same sex female couple can bring up a child as well as a male-female couple" while 34.8% disagreed. The figures for same sex male couples were 42.5% and 39.2% respectively.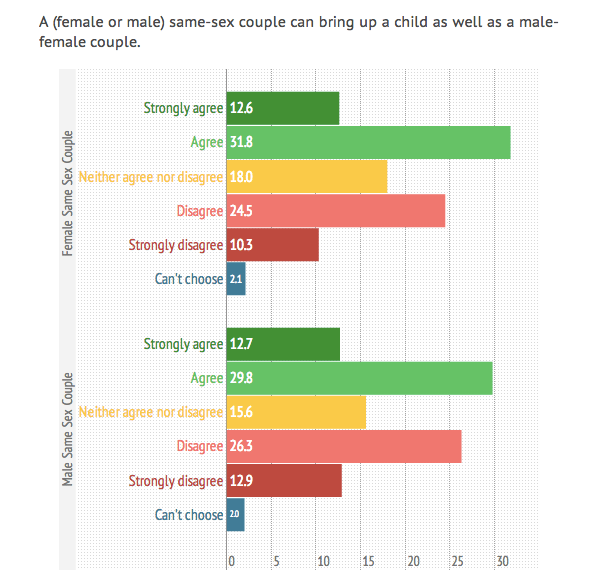 With regard to same-sex marriage, which was legalised only very recently, over half (56.5%) agreed that "gay or lesbian couples should have the right to marry one another if they want to," twice as many as the number of people (22.8%) who disagreed.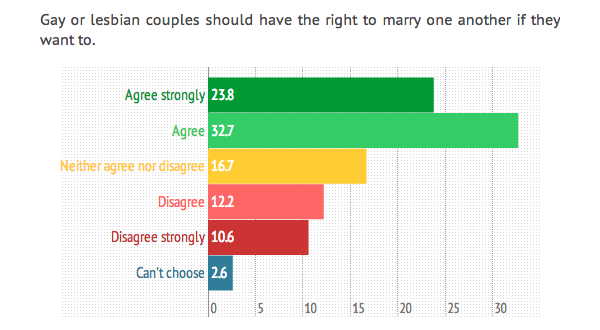 Other survey results were distinctly less controversial: 90.2% agreed that it was "acceptable for a homosexual person to hold a respectable position in public life," and most respondents were okay with gay people being teachers in colleges or universities (86.2%) and schools (82.6%).
The BSA30 report also studied how opinion varies among different groups and over time. It noted that attitudes towards homosexuality were influenced by age group ("each successive generation has more liberal views than the one before"), education level (graduates being the most tolerant and those without any qualifications the least), party identification (Conservatives being the most, well, conservative) and religion.
Not surprisingly, religious belief is closely linked to attitudes to homosexuality. Those who aren't religious are the least likely to see it as always or mostly wrong, only 16 per cent do so. This compares to disapproval rates of over a third among Anglicans (40 per cent) and Catholics (35 per cent). The highest disapproval of all is found among non-Christians, six in ten (61 per cent) of whom see homosexuality as always or mostly wrong (although these figures need to be treated with caution due to the small sample sizes involved).
Across all groups, regardless of demographic or ideological differences, acceptance is on the rise. Nonetheless, the rise in anti-gay sentiment from the early to late 80's followed by its decline till today – all tracked by this survey – highlights the difficulty in predicting social trends and the dangers of assuming that homophobia is straightforwardly on the decline. Public opinion both influences and is influenced by government policy, and can be waylaid in unpredictable ways by events like the HIV/AIDS crisis.
With these caveats in mind, the present and future are looking fairly optimistic for LGB people in the UK. The BSA30 report concludes that "the patterns […] described here do point fairly clearly towards the liberalisation we have already seen continuing over the next few decades." See its website for the full list of questions, topical report on homosexuality or a newly launched interactive data tool which compares results from 1983 to 2013.