It's the Monday Roundtable, where Autostraddle editors and staff writers will be talking about all kinds of things, every Monday morning! Heads up, though: once a month the Monday Roundtable will be especially personal or revealing, and will only be available on A+. (Support independent queer media and vulnerability and join A+ for as little as $2.50 a month!) Have an idea for a Monday Roundtable topic? Head over to our Contact Page and choose "I have a hot tip!" — your message will go straight to an editor's inbox.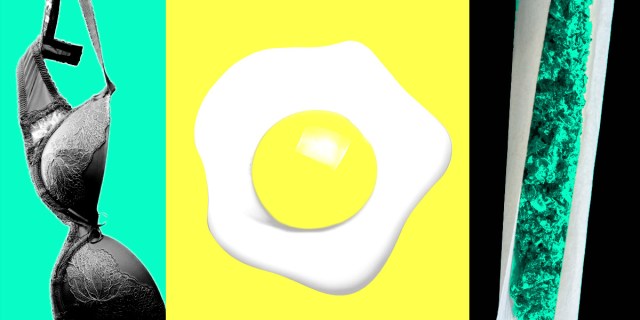 The relationship was what it was — maybe it was good, maybe it was terrible, but either way, it's over now and that's that. Still, you learned stuff, right? Not like stuff about yourself and your heart and how to be a person who exists with another person, or how to have feelings or whatever.
I mean like… you learned how to make a really incredible salmon dish or how to ski or how to change a tire or were introduced to an author who's your favorite author now. We've got some exes and we're wondering: what did we learn from them?
---
Kayla, 25, Staff Writer
My first girlfriend taught me how to put on eyeliner (after years of other girls trying to teach me how to put on eyeliner, but I think when I was younger, I just pretended to still be bad at it so that they would do it for me, which I liked because it was intimate yet still innocent). I have another ex-girlfriend who taught me how to use Instagram, which I guess was pretty crucial, because I love Instagram. My ex-boyfriend taught me like three words in French. He also introduced me to Whataburger, which isn't technically a real learning experience, but it still feels very important. I also learned about asthma from him, which was good, because he was the first in a very long streak of me only sleeping with people who have asthma.
Tiara, 31, Staff Writer
Ever since Monica's The First Night music video came out in 1999 I've been wondering why certain parts of the clip look "faster" than others. Was there something to it or was I just imagining things? My most recent ex (and fellow AS reader, hello!) is a filmmaker, and when I asked her about this last year she explained the different effects that different frame rates and analog vs digital film can make on video quality. a 17 year mystery FINALLY EXPLAINED.
Laura M, 30, Staff Writer
My first girlfriend taught me that trick where you can slip your arms out of your bra straps to take off your bra without taking off your shirt. I had never seen it done before, it was a magical moment, and it 100% changed my life for the better.
For your reference:
Erin, 31, Staff Writer
I learned a lot about endometriosis from one of my exes, which was helpful because it turns out a lot of people experience it on some scale. Another ex taught me how to not burn garlic. This is a skill that seems small but is actually Very Big.
Carrie, 28, Staff Writer
My ex taught me a trick for getting every last bit of lotion out of bottles: once squeezing/using the pump stops producing anything, cut the bottle open with scissors and scrape the remaining lotion off the sides. Ruins the bottle, but you're getting rid of that anyway — and now you have an extra 1-7 days' worth of lotion you would have otherwise thrown out! As someone who likes to maximize every cent at the drugstore, I was forever changed.
Molly, 31, Staff Writer
My first girlfriend taught me how to sail. No joke. We fell for each other at a summer camp for girls (natch) when we were both counseling, and she took me out and sailed on the summer waters. I learned about knots, I learned the lingo, and I learned how to actually pilot a boat on my own. I didn't get a patch for it — which is bullshit, frankly — but it's nice to know my way around a boat. Plus: boat shoes are great, don't let anyone tell you any different.
KaeLyn, 34, Staff Writer
My college ex was the first person to introduce me to pot. I never did learn how to roll a joint, but I can make a sploof and pack and smoke a bowl with some level of dexterity. It comes in very handy for pretending to be cool and hip even though I have a 2% interest in weed now.
Riese, 35, Editor-in-Chief
I'm still not a good cook, but I learned so much about cooking and got so many new meal ideas from a few of my exes. Honestly before Marni made me brussels sprouts I did not even know that they were a delicious thing that real people ate and not just a thing protagonists complain about in children's books. My first serious girlfriend — disturbed by the fact that at the age of 26 and with a legitimate writing career, I still lacked basic grammar and "Omit Needless Words" skills — edited me and taught me things until I achieved significant competence. (Yes I realize the sentence I just wrote is not a great example of said competence.) She also introduced me to Kathy Acker, Rilke, Don Quijote, David Foster Wallace and The Bible. Prior to dating [Autostraddle co-founder] Alex, I did all my own design for my internet projects, apparently totally clueless that I had no real visual art skills and that design was an actual profession. Working with and existing with Alex didn't make me a good designer, but she definitely gave me a basic proficiency and awareness of how things ought to look. Various ex-girlfriends including the aforementioned have also supplied me with a basic repository of knowledge on topics including but not limited to gender dysphoria, Type 1 Diabetes, drug addiction, Judith Butler, bipolar disorder, home decorating, ghosts, mental hospitals, petroglyphs, which famous musicians are Canadian, and how to roll a joint.
Alaina, 26, Staff Writer
All of my exes have taught me how to roll a blunt. Unfortunately (and part of the reason why it's a skill all of my exes have taught me), I'm still very, very bad at it, and unless I'm forced, I still won't do it in public.
Laneia, 36, Executive Editor
The only ex who taught me something useful is the one other woman I've dated — a man has never taught me anything I didn't already know — so this was all her and I'm eternally grateful. She taught me how to cook an egg-in-a-basket, [my son] Eli's favorite form of egg. Because we live in the goddamn desert, she also taught me how to cool down quickly: wet your head, apply (and then remove) wet washcloths to the bends in your elbows and knees, your armpits, the inside of your thighs, and your neck. This has actually saved many lives. And most importantly, this ex introduced me to the concept of cheese plates, how to build them, and the fact that they could be your entire meal. Reader, I have never looked back.
Rachel, 28, Managing Editor
I forget which of my two computer scientist exes showed me VLC and told me it was the best media player, but they were correct. This girl I dated for a few months taught me that you can drink kava for stress relief — she worked at a natural foods store — and how to make this drink she called a "brutal hammer" that was just a shot of vodka poured into a glass of red wine, which you would then chug. Was that useful? Sort of, honestly, yes.
Reneice,28,Staff Writer
My ex taught me the art of drinking La Croix. I'd never seen or had it before her and made fun of her relentlessly for drinking it at first. She finally got me to try it after a while and I was totally hooked. I became obsessed with making wine spritzers for weeks and tried every flavor. She really upped my hipster lesbian credibility.
Priya, 27, Staff Writer
One of my exes was the one who introduced me to sushi! It may seem like a minimally important thing, but as someone who still loves Spicy Tuna and Philadelphia rolls, I remain eternally grateful for this gift. She took me to dinner with her friends one night, and I was filled with the anxiety of meeting her peeps and trying to make a good impression. She cunningly (and perhaps unintentionally) distracted me with a lesson in salmon rolls and how to properly dip them in soy sauce. Having previously attempted to eat sushi and being overcome with raw food phobia, my victory that night was having the time of my life eating fantastic food—oh, and meeting her friends of course.
Heather, 38, Senior Editor
One of my earliest girlfriends gave me her copy of Stone Butch Blues and I can honestly say that I would not be who I am today as a writer and an activist if I'd never read that book. It wasn't what Stone Butch Blues was about, really, the plot and the characterization. it was more about what Stone Butch Blues represented to a larger queer culture I'd never been a part of. It was coming to a realization and then stepping outside the realization. It was about dismantling every binary I'd been brainwashed by. I dove into LGBT literature and non-fiction after that with a tenacity and curiosity and longing I've never felt about any kind of reading since. "I felt as though I was rushing into a burning building to discover the ideas I needed for my own life," you might say.