Spoilers below for the first season of GLOW.
Ah, the 1980s, when clothes and hair and music were hella dope but women were given the same courtesy as plants in Hollywood. Then along came women's wrestling to shake television and gender roles way the fuck up.
I had really high hopes for GLOW. And I did love it. The women are physically and mentally strong as hell and come in all shapes and sizes. The men cry. The opening theme song is Patty Smyth's "The Warrior," a delicious love power-anthem that is somehow way too appropriate for a neon animated wrestling montage. That said, when you consider that GLOW was created and helmed by none other than Jenji Kohan of Weeds and OITNB fame, you'd think that the introduction of a complex and openly queer character is a no-brainer, but no such luck here.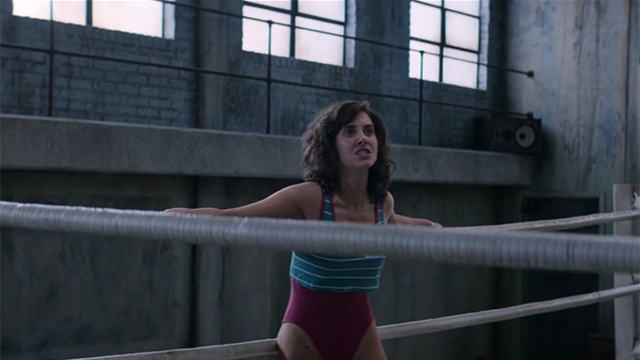 The show first centers around fresh-faced, doe-eyed, unlikely terrible person Ruth Wilder (Alison Brie playing a role that had to have been offered to Rachel Bloom too). Ruth is a starving actor and hardcore theater nerd. The show later evolves into an ensemble that manages to paint the one ambiguously lesbian character in broad strokes of the weak link, at best; and the background player, at worst.
Ruth is broke and has a hard time getting booked for anything because she's not new and fresh enough. Oh and also because she purposely reads the wrong sides in auditions in hopes that the casting director will see that she can perform the shit out of meaty roles just as well as any man. And she can, but they're just not having it.
Ruth falls into wrestling by way of an audition pitched to her as an "experimental" project in (gasp) THE VALLEY. If you don't live in LA, The Valley is gross and hot and they shoot a whole lot of porn there. She's glad to keep most of her clothes on for this gig and toils to prove herself.
Ruth treats wrestling like a "real" acting job even though she isn't initially convinced that GLOW (Gorgeous Ladies Of Wrestling) involves any real acting. She even goes as far as researching her character Zoya The Destroya by tagging along to a Russian-Jewish bris with the manager of their dorm/motel, The Dusty Spur. He has a girlfriend no one's ever seen and looks at the punkhunky pizza guy like this:
Standup comedian Marc Maron is perfect as the abrasive, coked up, philandering director of the show. He fancies himself an auteur and when he isn't denigrating Ruth he's ignoring her. But she eventually grows on him and he reveals an empathetic and dependable side during a traumatic life event for Ruth.
Ruth's BFF Debbie (Betty Gilpin) lives in Pasadena and is a tall, blonde soap actress who was written off her show after getting pregnant. Debbie also joins the team accidentally. When she finds out Ruth has been having a short-lived affair with her husband, Mark, she shows up at the gym and kick's Ruth's ass with flair and panache, leading Sam to track her down and beg her to join with the alluring promise of artistic freedom.
The rest of the assembled team:
Arthie (Mad Bomber Of Beiruit) is an Indian-American pre-med student who is very protective of the team and quick to offer a diagnosis or advice. In one scene she tries to give everyone pads to save them from Toxic Shock Syndrome, and the ensuing period talk is frank and funny instead of shameful/gross/embarrassing, which is very refreshing.
Cherry (Junk Chain) is an ex-stuntwoman and the no-nonsense pack leader who is consistently killing it with the rompers. She's also about her business and keeping old fling Sam in line while managing a very healthy and communicative relationship with her stuntman husband Keith. Cherry gets offered a role in a new buddy cop show and has to quickly decide whether it's worth abandoning the team she helped build.
Carmen (Machu Picchu) is a lovable gentle giant. She's also wrestling royalty and has massive stage fright that she only overcomes after gaining her father's acceptance of and respect for women wrestlers.
Dawn and Stacy (The Beatdown Biddies) are a pair of hairdressers from The Beverly Center whose characters are two cranky old Jewish women. They're queens of slapstick and love to get high and crank call the other women.
Jenny (Fortune Cookie) is a wry Cambodian-American social butterfly who plays a very generic Chinese martial artist and Communist in the ring. She's also in charge of costumes for the crew and spearheads a birthday party for the reluctant Sheila to help her feel included and accepted.
Justine (Scab) is a shy, 19-year-old punk and film geek who seems to have a crush on Sam but is actually his daughter from a one night stand. She falls for a pizza guy/poor man's Billy Idol named Billy Offal. By the way, Offal is the intestines and other weird cuts of an animal like the tail and liver that you can get from a butcher shop.
Melanie Rosen (Melrose) is a Jewish-American Princess with a short fuse and a wallet full of daddy's cash. Her special skill is that she's not boring, "I can wake up in the morning with nothing to do, and just BE in a Van Halen video by the end of the day."
Reggie Walsh (Vicky The Viking) is a literal Olympic athlete who rarely appears onscreen and her first line is "I throw things." Her name is fucking Reggie. Not Regina. Not Gina. She's the strong silent type with a crushing handshake and is it too much to ask to make her a lesbian instead of an ambiguously gay lady with the personality of a dry mop? Season two maybe? The women of GLOW seem like a really close knit family, but Reggie is mostly silent and on the outskirts.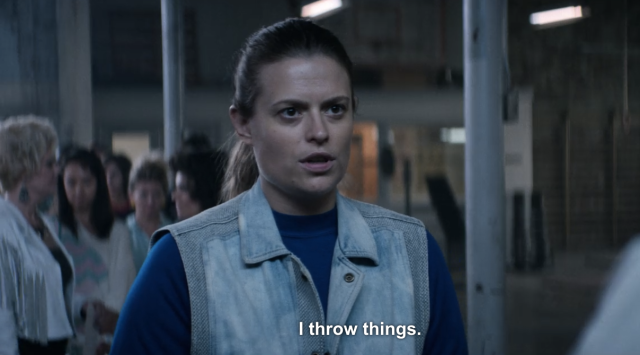 Rhonda (Brittanica) is hot, homeless and English without a self conscious bone in her body (aside from Sam's…I'm sorry it was a joke I couldn't pass up). She falls for Sam but their relationship is a bust because he's too jaded to realize that she wants him for more than just professional gain. Rhonda's nerd props all come from Sam's dresser drawers. She also makes up a very corny theme song for the group. When an amused Sam asks if she's rapping, she replies with, "I'm speak singing like Rex Harrison in My Fair Lady".
Sebastian "Bash" is 25, the group's financier and considers himself a patron of the arts. He's a surprisingly likable rich douchebag who refuses to grow up until his mom freezes his trust fund. His vision of the team as colorful stereotypes wins over Sam's dystopian future theme (also featuring lesbian mutants): "When I said I wanted something different I mean how like Ms. Pac Man is different from Pac Man."
Sheila (The She-Wolf) is unintentionally in character 24/7 and has the best headshot on earth. She knows that people think she's crazy but she doesn't actually believe that she's a wolf; she just feels most comfortable expressing herself as one.
Tammé (Welfare Queen) has concerns about her character because of how patently offensive it is. Her son goes to Stanford and she doesn't want to embarrass him with her first real acting role. We never meet Tammé's son, but the second season would be a great opportunity to explore the dynamics of their relationship in the face of this performance. The players all know that this is meant to be social satire, but will viewers and audience members who want to believe those stereotypes see it that way?
Debbie doesn't take wrestling seriously until Carmen convinces her to check out a live match. In that moment she has an epiphany and realizes that wrestling is very literally just a soap opera on steroids. This leads to her eventually agreeing to be the face to Ruth's annoying but earnest heel as they train under the tutelage of Carmen's brothers and are forced to trust each other professionally, if not personally.
When the coffers run dry and their venue for the big match falls through at the last minute, Bash has them crash his mother's fundraiser as speakers from Wrestlers Against Drugs (a totally made up organization). At the fundraiser, Justine comes clean with Sam and Debbie confesses that she loves wrestling more than marriage because it's the only place where she feels true bodily autonomy.
When it comes to the grand finale, everyone shines, including Reggie (for the first time all season). The producers' erstwhile careless handling of harmful stereotypes also wrecks havoc when racist ("economically anxious") audience members hurl insults and full beer cans at an already apprehensive Arthie when she emerges in character as The Mad Bomber.
Of course this same crowd eats up Debbie's All-American "Jesus and Apple Pie and Make America Great Again" persona. All-American means white American, as evidenced by the crowd's vitriolic response to Welfare Queen snatching Liberty Belle's crown with a nod to the disenfranchised in a sleight-of-hand twist orchestrated by Sam. It's worth asking yourself who you root for in this final scene that posits blackness as the villain to America's hero.
All things considered, the show is fun and engaging enough to make me want to give pro wrestling a chance, which I've never wanted to do in my entire life. It's also fantastic about featuring a variation of ages and body types and cultural/ethnic backgrounds with zero shame attached. GLOW does so many things right, but if the show is aiming for true diversity and female empowerment, rendering queer women as either mythical mutants, ambiguous, or invisible is definitely not that way to accomplish that goal.