Last October, directly before a great darkness befell the land and winter cascaded from the sky across the American heartland and melted beneath our feet as we batted our eyelashes in the wind, we invited you to take a very long survey. We wanted to know things. Things about you. Things about how you felt about us. And oh! Oh did you tell us how you felt. You feel so many things, and we felt your feelings, and those feelings informed the work we do.
We wanted to know more, though, which is why a couple weeks ago we kindly requested your participation in a shorter survey — the 2017 Autostraddle Reader Mini-Survey. This helped us do our jobs during our annual Senior Staff week-long meeting (the only time of year when we're all able to work in the same room), but you're welcome to take it now if you haven't already! I promised you then that I'd give you more information about the results of last year's survey soon, and it turns out this is one of the 10% of made promises I'm actually following through on!!
So, if you're ready for the one thing I have wanted all my life but never managed to get, which is somebody telling me who I am and what I want, I'm about to do that for you!
---
Basics
Age
One of the coolest things about being elderly is that now we can compare certain evolutions over time because we've done so many surveys with y'all! For example, the age distribution of our readership: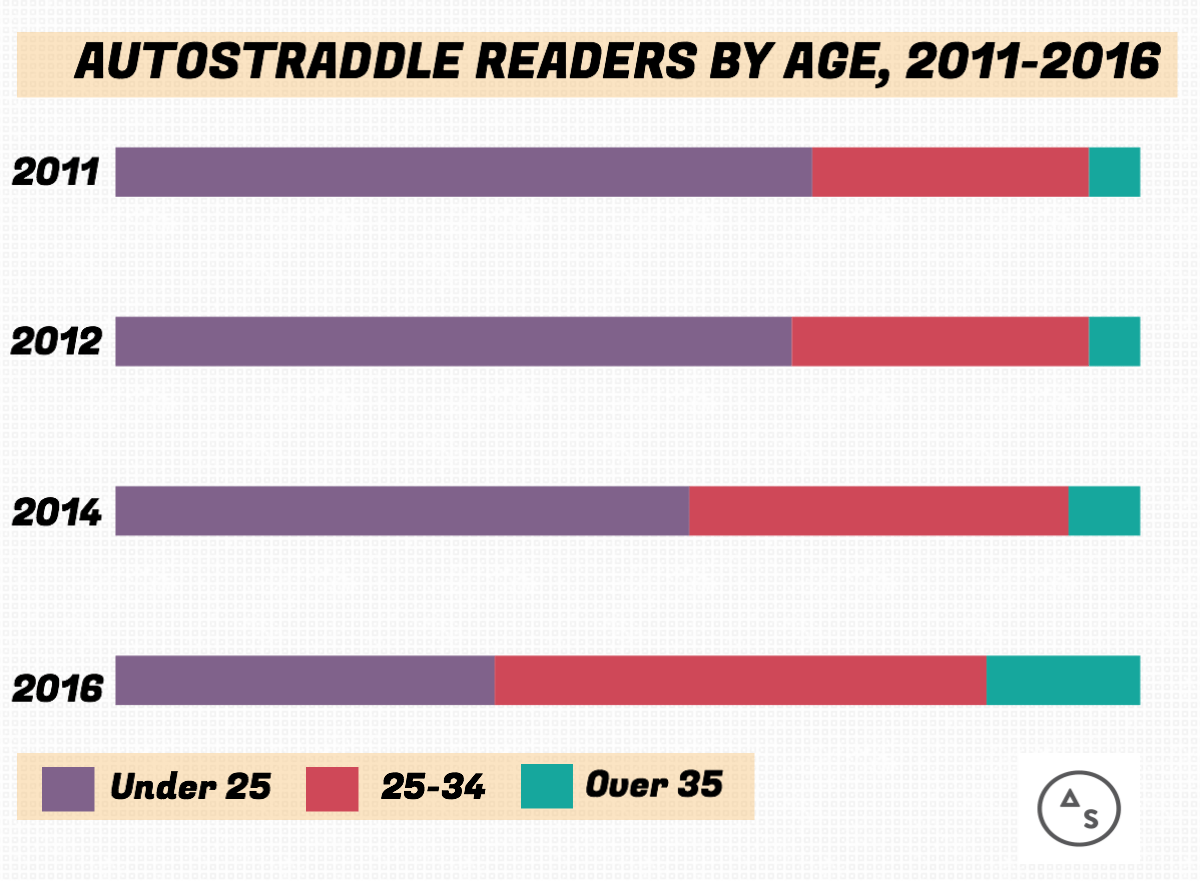 Of course, we have more readers now than we used to, so it's not that we necessarily have a smaller number of readers under 25 than before, just that our age spread is finally starting to even out, which is great! This likely has a few causes: long-time readers getting older because that's how time works, our site having more content relevant to older readers because Heather, Laneia and I are all in our mid-to-late 30s, and an influx of new readers from AfterEllen, who's audience historically skewed older than Autostraddle. (Interestingly, those who'd said they came to Autostraddle on a recommendation after AfterEllen shut down were most likely to be Under 18 or over 45.)
Sexual Orientation, Relationship and Gender Identity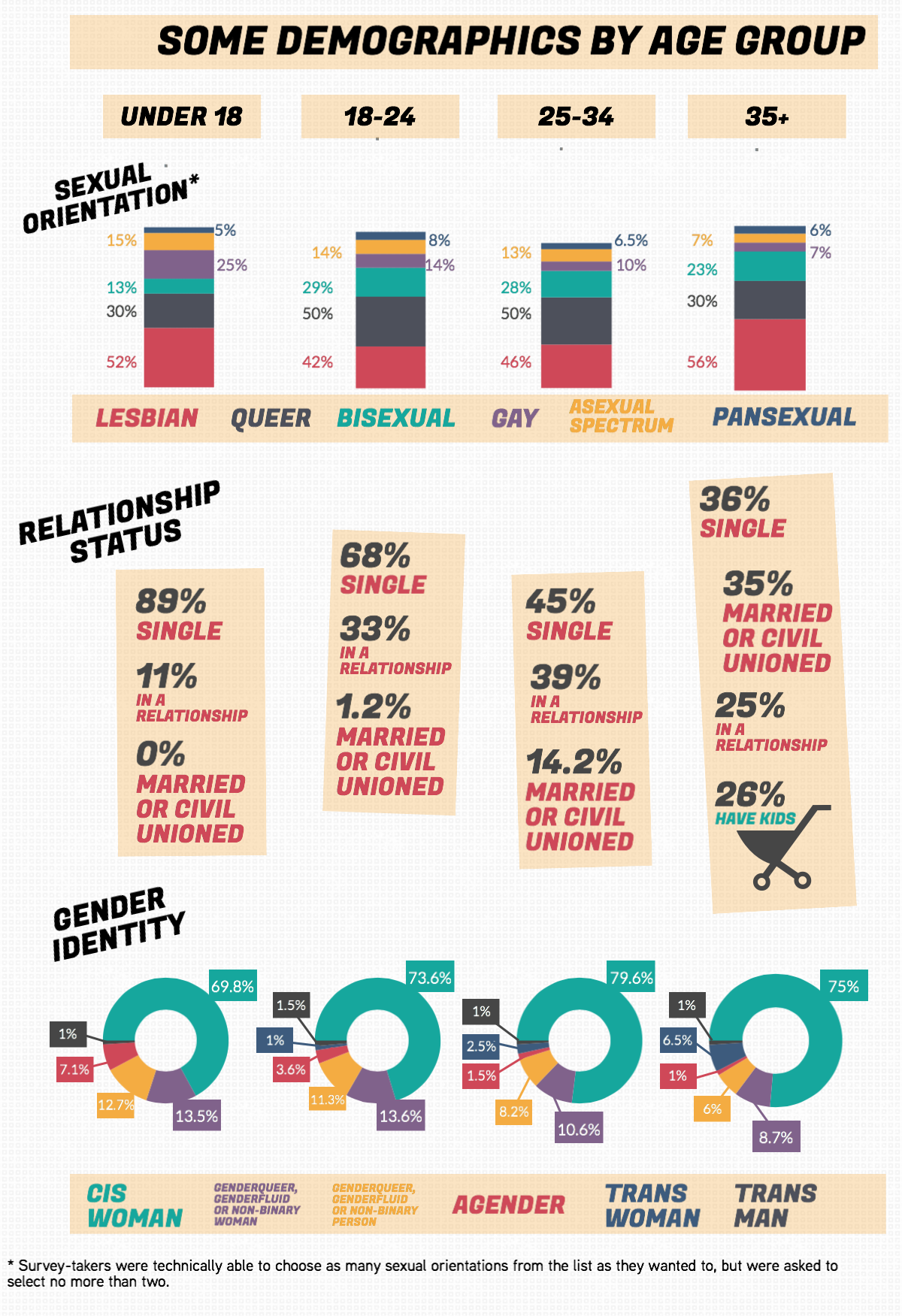 It's interesting to think about which of these numbers reflect how different generations identify and which are revelatory of how one's identification changes over time.
Another compelling number is the percentage of trans women increasing dramatically once we get into the over 35 group. I've noticed this at camp, as well — generally speaking, trans women campers tend to skew older than cis campers. I have a billion theories about this, here's one of them: many older cis lesbians have never heard of Autostraddle and have found community in other established publications, like AfterEllen, Curve and The Lesbian Connection. But many trans women don't feel represented or comfortable in those spaces, so regardless of their age, they end up on Autostraddle.
I'm always really intrigued by generational differences. Here's another one: we asked about who you voted for in the Presidential primaries (WERE WE EVER SO YOUNG) and 29% of people over 35 voted for Bernie Sanders (53% voted for Hillary), whereas 51% of readers 18-24 voted for Bernie, with only 27.8% voting for Hillary.
---
How You Spend Your Free Time
Despite my repeated insistences that cats are problematic animals who turn a normal human home into an allergenic hellscape and that dogs are wonderful creatures you should all seek out and rescue and then let me play with, 37% of you have cats and only 27% of you have dogs! What's going on?
I also must report that in 2014, 59% of you exercised regularly and 54% of you went to bars/clubs/lounges. I don't know what that says about you, I'm not in charge, I'm just sharing. However, I think 47% of you will be interested to know that only 53% of you have reported "sexual activity" as a thing you do regularly.
We also asked about how you get around this life that you lead.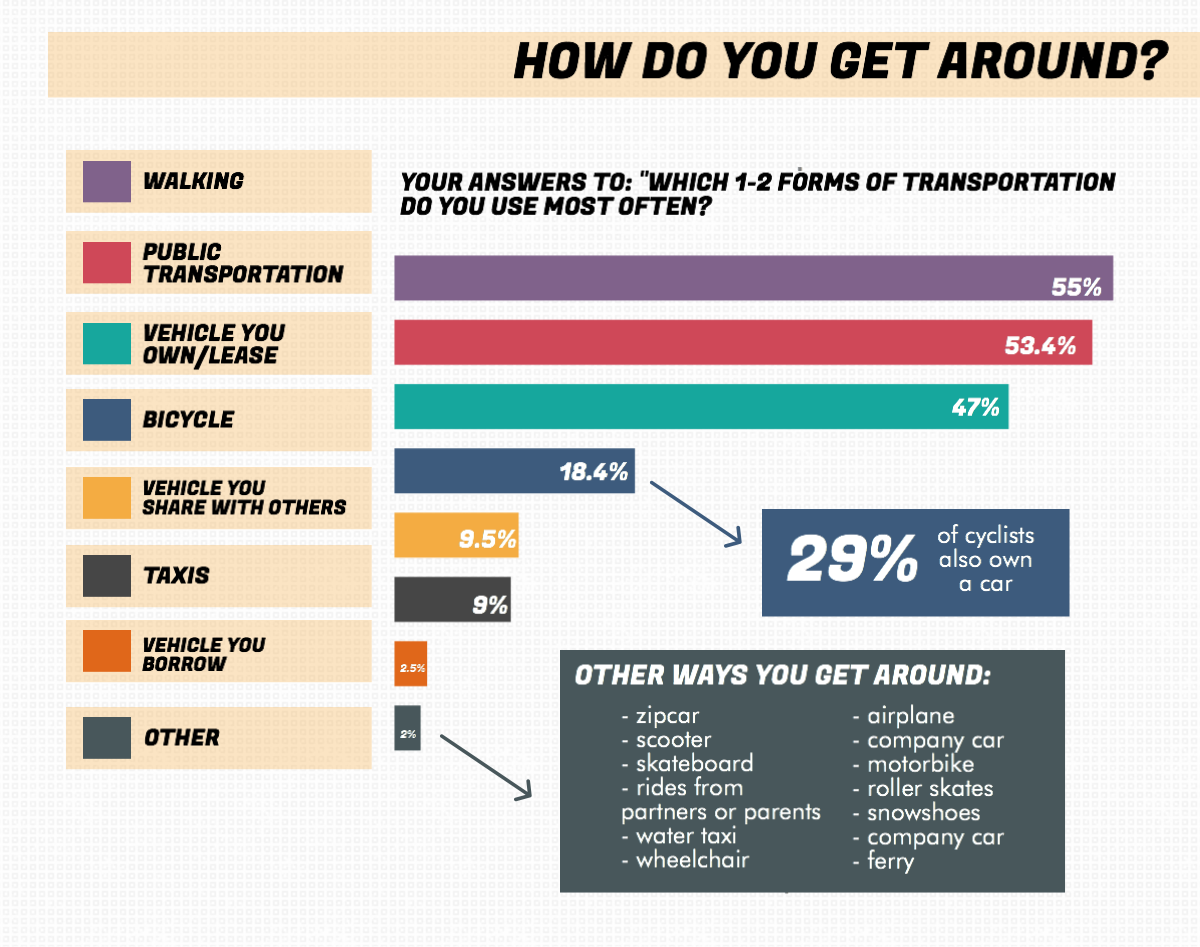 Apparently, 89.9% of American households own a car, but I don't know what a "household" is so it's tough to compare. 65% of U.S. residents over 25 on our survey own/lease a car, which still feels low — but also in tune with trends towards "multi-modality," or increasing numbers of humans who take at least one walking, biking or transit trip each week, in addition to biking. Queer people are also more likely to live in urban centers, meaning greater access to public transportation and bike lanes.
We also asked about your eating and drinking activities.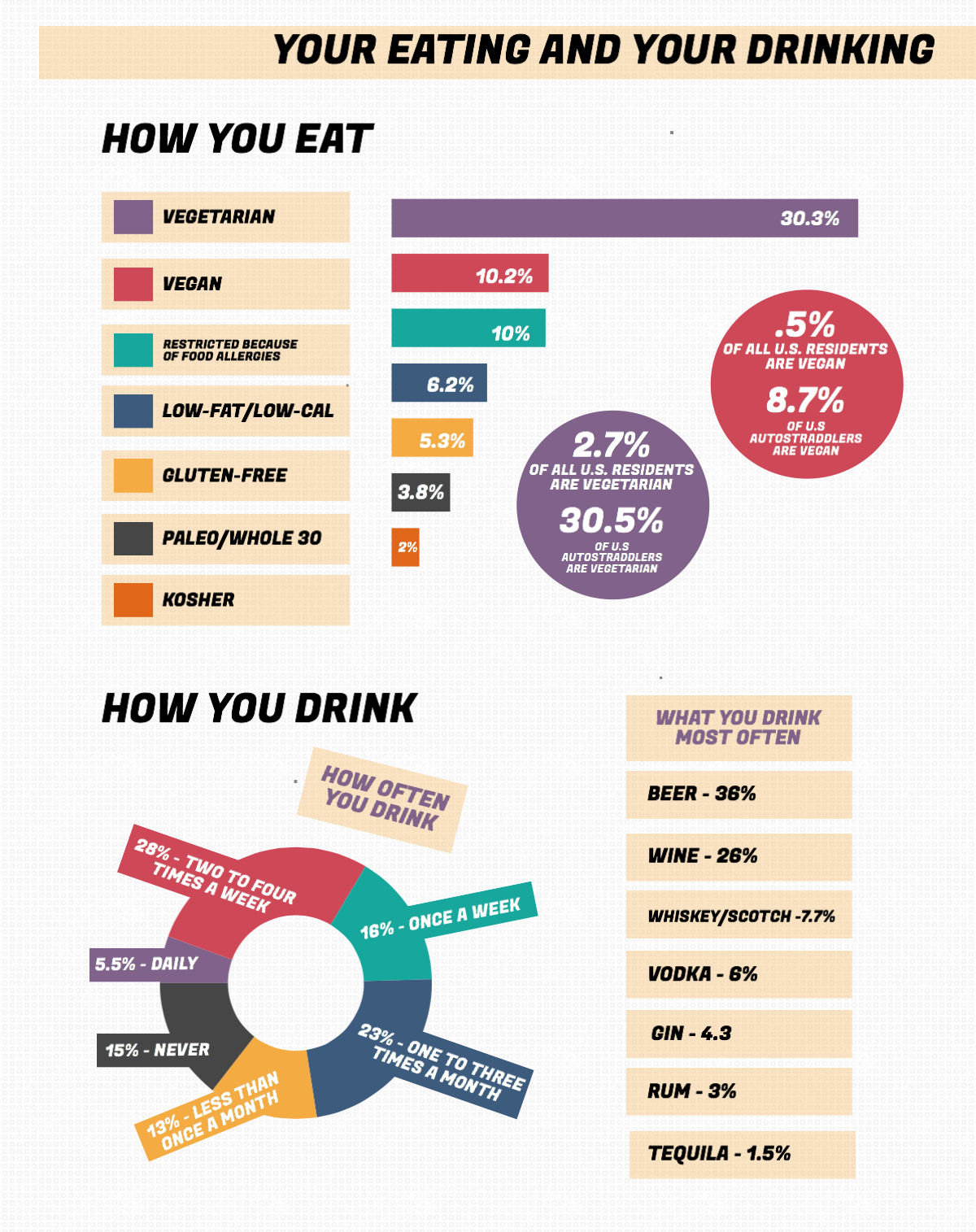 As you can see, queer women are vegetarians and vegans at truly incredible rates compared to the rest of the population, because we are nothing if not faithful to stereotype.
It's not a secret that LGBTQ+ folks in the U.S. drink more than your average American, but there's a lot of other demographic forces at work with our sample, too, like that you're younger and also a lot less likely to be a card-carrying member of a religion that frowns on alcohol consumption. A mere 9.5% of U.S survey-takers don't drink, compared to 30% of U.S. humans overall.
We also asked about marijuana usage, which turned up a bit lower than I'd expected, actually! 1.8% of you use marijuana medically, and another 3.6% are able to buy it legally where they live. 7% buy it illegally, and 9% only use when somebody else bought it and brought it.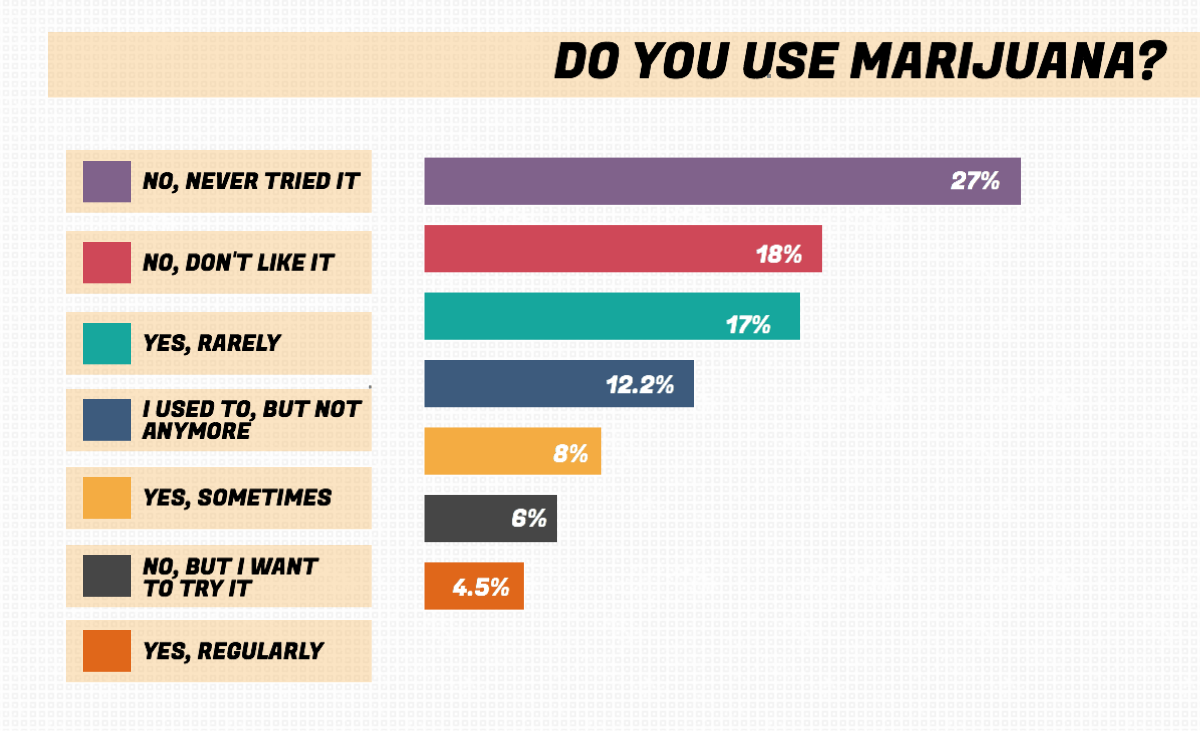 The numbers are slightly higher for U.S. residents than residents of other countries for regular use — 5.9%, compared to 4.5%. Furthermore, almost twice as many Oregon residents use marijuana regularly than residents of other areas. 32% of residents of states with legal recreational marijuana use at least rarely, compared to 29% of states without. Regular marijuana usage was most common in the 18-to-24 age group.
Whereas 52% of all adults in the U.S. report having tried marijuana, 77% of our readers have. Those of you actively using it are pretty on par with the rest of the country, though — they're at 13%, you're at 14%.
---
Work and School
I realize looking at this "Jobs You've Worked" rundown that I literally made a list of every type of job I have ever worked and then was like "hey y'all, did you do this too?"  There were two jobs on the list that didn't make it onto the infographic, probably because I never personally worked them — but we had 1% and 1.5%, respectively, coming in as having worked as a delivery person for Postmates or Instacart or the like and driving for Uber or Lyft.
The Autostraddle community is, as always, disproportionately likely to seek out a post-graduate education and to work in an educational field. 47% of Autostraddle readers from the U.S. over the age of 25 have completed or are attending Grad School, compared to 12% of all U.S. residents over 25. This is probably because y'all had crushes on your teachers and therefore want to be in school forever.
---
Where Do You Live
64% of you live in the United States, which is also where I live. We have a really bad president right now, it's the worst.
The "infographic" below (I'm not a designer I'm just trying to make this post kinda pretty) includes a comparison of top Straddler states versus the most populated U.S. states, which I did to show where there's clearly an outsized or undersized proportion of queers. Namely: Massachusetts (#3 for you, #15 for the U.S.), Washington DC (#9 for you, #51 for the U.S.) and Oregon (#8 for you, #27 for the U.S.)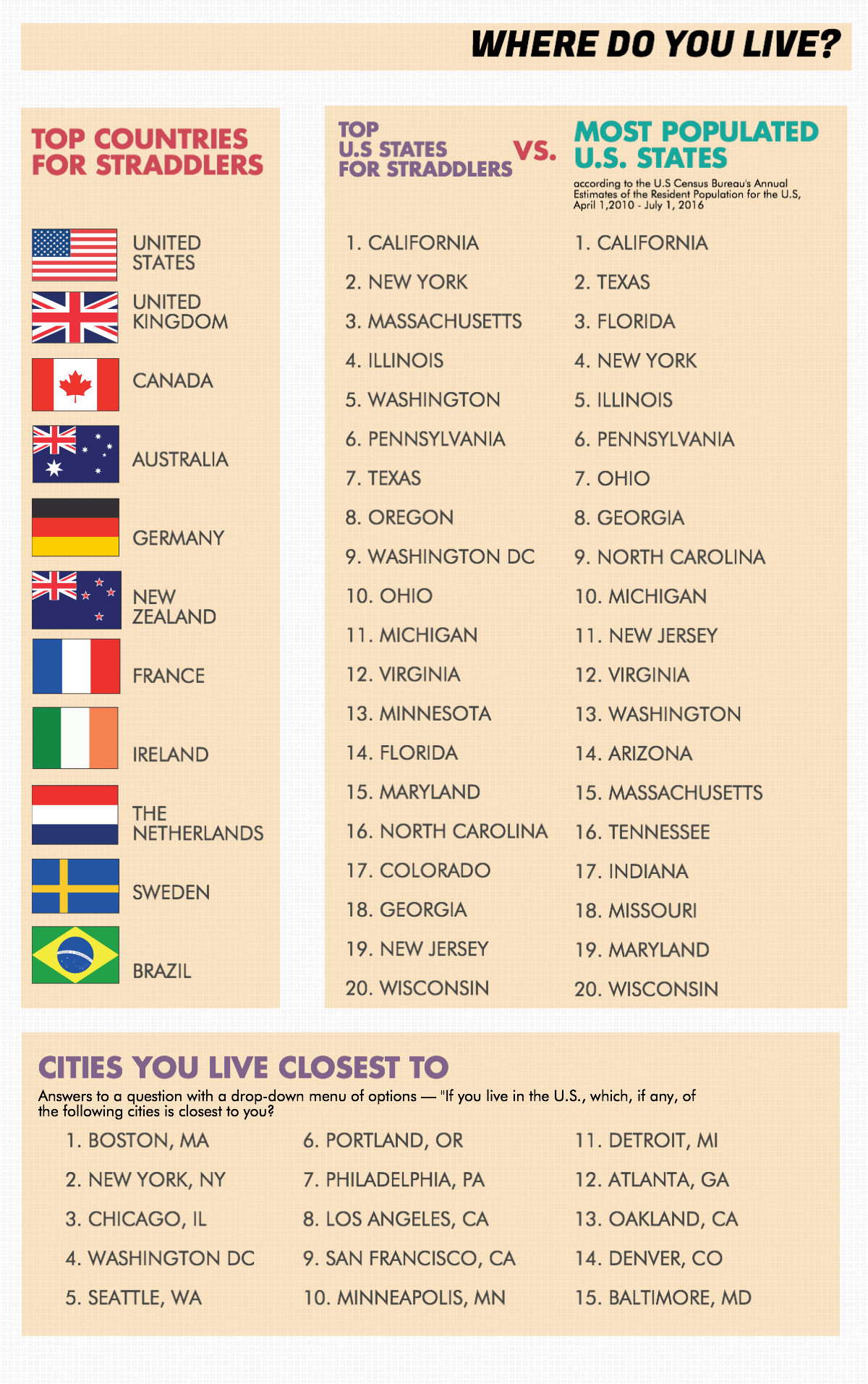 In addition to the data you gave us, Google Analytics provides us with geo-data for our users. Generally this data is a bit different than the reader surveys, as it involves readers who only read one post all year (e.g., something that went viral, thus pulling in a different demographic, or a dude looking for pics of lesbian scissoring) as well as readers who'd be around long enough to want to take this survey. But, fun fact: Google Analytics numbers are very similar to what you gave us (the U.S., UK, Canada, Australia and Germany numbers are identical!) with a few exceptions: both India and South Africa were in the Top 10 according to Google. Furthermore, The Philippines and Singapore ranked much higher on Google's statistics than our Survey's.
---
How Our Queer World Has Shifted
Some of the other questions we ask — about the sexual orientation breakdown of your friend group and how out you are — didn't give us any data worth presenting, upon close examination. We allowed multiple responses, and it appears, for example, that some people selected "out to everybody" as well as selecting each group they were out to individually, whereas some selected "out to everybody" and nothing else. So there's not much we can conclude from that.
I now realize it was erroneous of us to have presented this data as reliable in the past. But it wasn't totally useless, because I did compare some of these questions to the same questions asked in prior surveys! This was interesting in and of itself:
As you can see, the percentage of readers who didn't have any queer friends at all has decreased since 2012, and the percentage of readers who are out to everybody in their life or have a mostly-queer friend group has gradually gone up. I threw marriage in there too, to show how much that has shifted since the U.S. legalized same-sex marriage.
---
Autostraddle Community
We had a higher percentage of people who'd been reading Autostraddle for a few months or less in this survey than prior surveys because it was shortly after the AfterEllen shutdown. But alas 65% of you NEVER COMMENT. These numbers are always weird for us to get (I think it was 60% in 2012) 'cause basically it means our most direct feedback, as well as other's perceptions of what readers think of us, is based on the opinions of a mere 10% of y'all! However, we do get a lot of feedback from A+ members through the A+ Priority Inbox, and bless this survey of course.
Here's how your support of Autostraddle shakes out: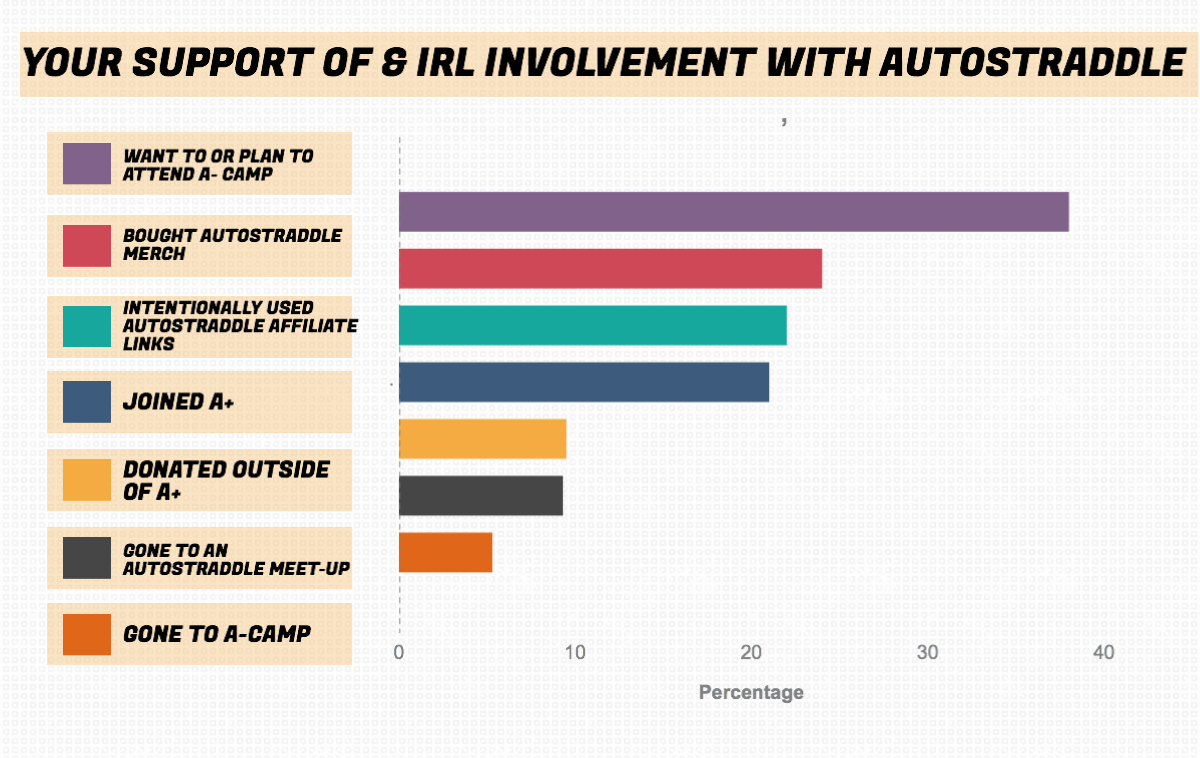 There's definitely a perception that a significant percentage of our readership have been to A-Camp, which is fake news — only 6% of you have gone! (The actual number of humans who have attended at least one A-Camp, according to official registration data, is around 1,330.)
Here's a preliminary fun fact from our 2017 survey — 19% of you say you're interested in joining A+ but haven't gotten around to it yet. I'd like to humbly suggest that you do so right now, before the heat death of the universe/Autostraddle. It's fun, I promise! So are t-shirts and pins!
Another fun thing? Joining Amazon Prime. We get $3 for every reader who signs up for a 30-day trial via an Autostraddle affiliate link, and you can do so JUST IN TIME FOR PRIME DAY.
---
If you missed any of our earlier posts about the Autostraddle Reader Survey, you can catch up here: