Last year's Autostraddle Reader Survey gave us a fascinating look at all of your thoughts, feelings, dreams, beliefs, and online shopping patterns. One of the questions we asked was about your current relationship status. Here's how those numbers shook out: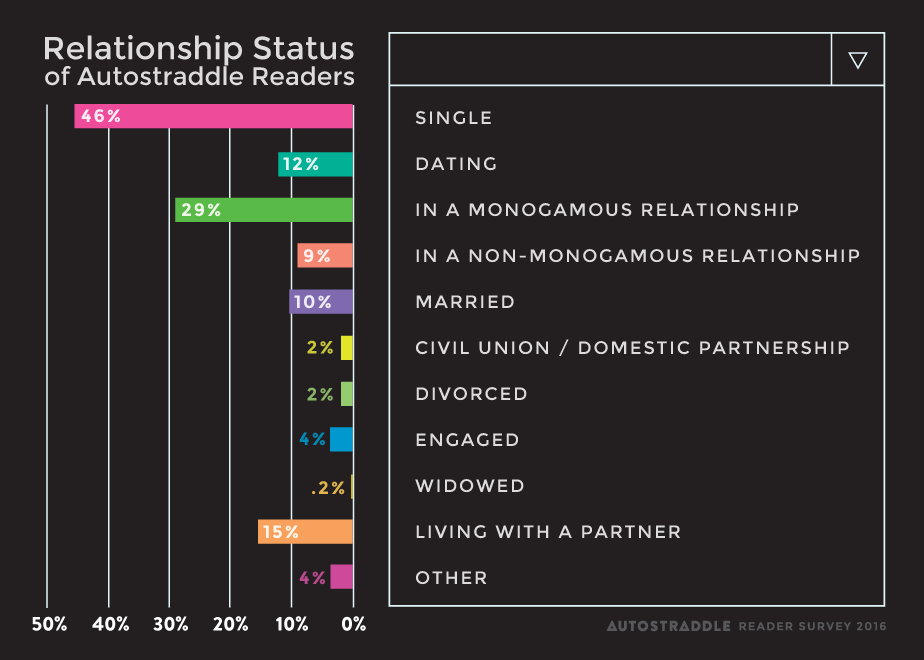 But — SURPRISE! — many of you had more feelings about your relationship status than could be accurately conveyed by simply checking a box.
So, here are some of your very best and most illuminating answers to "what is your relationship status," ripped mercilessly out of context and listed here for our communal enjoyment.
1. just kissed this polyamorous human last night so we'll see
2. kissing my room mate and not sure if we're dating. help
3. we call each other "blorp" and "lovah-friend"
4. I have a massive crush on my very best friend so there's that unfortunate situation.
5. I've sort of moved into my girlfriend's apartment and we have a cat together so we're basically married
6. tragic
7. Desperately single PLS DATE MEEEEEEEEE
8. LTR with self
9. In "it's complicated" with grad school
10. Oh dear God I have no clue right now, it's a mess!
11. Like tim gunn Im single with no plans of ever not being
12. aannd sleeping with my straight best friend
13. Spinster 4 lyfe.
14. In a Significant Relationship with a person that is definitely not dating, nope, that would be scary.
15. 5ever alone
16. Poly triad with one cis gray-ace queer gal and one gendervague demisexual heteroflexible AMAB person
17. I live with an ex girlfriend, but we live on separate floors of the house. it's complicated.
18. Dumped a week ago :'(
19. LOVE IS A LIE
20. Cat lady forever, probably
21. Desperately pining for the cute queer Hot Topic employee who complimented my yellow doc martens the other day
22. Celibate spinster. It's not functionally congruent to "single", trust me.
23. In a long term monogamous relationship with my PhD dissertation
24. Can't be arsed to talk to people
25. we got in a really bad fight today, so i'm not sure. ughhhh
26. Complicated fucker
27. Single as of last night
28. Fuckbuddy
29. Single as a mothafudgin' pringle
30. In like kind of a thing
31. CRUSHING HARD ON A GIRL
32. Pining and depressed, emotionally taken
33. Pining over a straight girl
34. Pining over my ex
35. Holding out for a hero
36. Dating in theory, shy introvert in practice.
37. Can't wait to be married to her, but we have no idea how to plan a wedding
please send help
38. In the words of Facebook, it's complicated
39. My current human is doing her PhD, which she often jokes is her "wife." This makes me the mistress!
---
TAG YOURSELF obviously I'm 19, but also 35, because the lyrics to that song were the entirety of my JDate profile in 2004. It's still true.