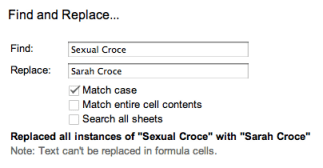 The 2012 Autostraddle Hot 100 Of Real Queer Women votes have been counted and the 2012 Autostraddle Hot 100 post is in progress, so that's something to think about as you lie awake at night worrying about swine flu.
However, while sifting through the Autostraddle Hot 100 Votes, we were struck not only by the variety of ways in which one can spell "Moennig"*, "Portia de Rossi" and "DeGeneres," but also by the myriad deviations from the contest "rules" — most notably the rules that the contestant must be queer, female-identified, and real. (Let's not get into the "do not vote for the same person more than once" rule, y'all are hopeless in that regard.)
We thought we would share with you some of our favorite responses to our question: "Who are the top 10 hottest queer women in all the land?". Here they are:
1. Amelia Earhart
2. Brittany S. Pierce (6 votes for this one)
3. The third basemen on the opposing softball team
4. George Clooney
5. Shiloh Jolie-Pitt
6. That Hot Genderqueer Barista
7. That Hot Femme Bartender
8. Dianna Arton
9. fuck me with a strap-on
10. PORTIA DE ROSSIE
11. Olivia Benson
12. Julie Andrews
13. hot girl w/dreads who fills the bulk bins at a certain Whole Foods in SLC
14. Xena the Warrior Princess
15. your mum
16. That half-asian fox in the shark cabin
17. Chelsea Grace Chavarria
18. cats
19. Liv Tayler
20. Carrie Underwood
21. the black queen of sogo
22. Freja Benson Erikson
23. willow rosenberg
24. bette
25. Callie Torres (I know she's not real but she's really really hot)
26. Jonathan Groff
27. The girl I'm having a first date with tomorrow, you guys should hear how witty she is!
28. The Internet
29. Rachel Evan Wood
30. The 2013 Autostraddle Calendar girl who, in the teaser video, identifies as "a really big lesbian" and a "b-o-i boi lesbian", whose name and designated calendar month has, to my knowledge, not yet been revealed and who, clearly, I have a big crush on (how's that for a 'FULL NAME'?!)
31. Sara Quin's jaw
32. that one barista at the coffee shop
33. Katy Perry
34. Michelle Bachmann (duh)
* It took me three years to remember how to spell Moennig myself though, so.