Obama's recent announcement that he personally supports the right of same-sex couples to marry has made waves to a degree that little else from his term has, as historic as his presidency already was. This week, both Newsweek and The New Yorker have devoted their covers to commemorating the President's declaration. The New Yorker's, fairly tame, depicts a version of the White House with rainbow columns out front, which the cover artist Bob Staake describes as a way to "celebrate the bravery of the President's statement—a statement long ovedue—but all the more appreciated in this political year." Newsweek's cover, on the other hand, is more controversial: a portrait of Obama with a rainbow-patterned halo over his head and the headline "The First Gay President."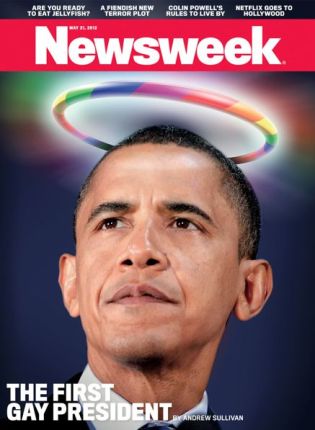 The cover story, by Andrew Sullivan, purports to answer some of the questions that Americans had immediately following Obama's announcement: Was it planned, or forced by Joe Biden's unscripted statement a few days earlier? And to the extent that it was planned, was it a heartfelt expression of a deeply held personal conviction, or a politically calculated move aimed at reelection, or something in between? Sullivan has been following Obama's stance on marriage equality for years, and describes his heartbreak at watching Obama reiterate his view that civil unions are a better option at a fundraiser in 2007, but also a certain skepticism: "…it also felt strained, as if he knew it didn't quite fit… he was both a cold, steely, ruthless, calculating politician who nonetheless wanted to do the right thing in the end." Sullivan believes that this is something Obama has believed and wanted to make known for some time, and finally had the opportunity to.
As for the timing of that opportunity, Sullivan says that Obama had already been planning to make this announcement before the election, but not quite as soon as he did. He had meant to make his statement on The View yesterday, but Joe Biden's statement pushed his schedule up, and instead he ended up talking with the women of The View about what his announcement meant. As in his interview with Robin Roberts, Obama carefully avoided implying any commitments about the legislative future of same-sex marriage, and instead stuck to talking about his own opinions on the subject.
And what about Newsweek's title, "The First Gay President?" It's a reference to the moment in 1998 when Toni Morrison called President Bill Clinton "the first black president," saying, "After all, Clinton displays almost every trope of blackness: single-parent household, born poor, working-class, saxophone-playing, McDonald's-and-junk-food-loving boy from Arkansas." In the same vein, as Eric Randall of the Atlantic Wire points out, Obama has already been called the "first woman president" three times now, the "first Asian-American president," the "first Hispanic president," and the "first Jewish president." In each of those instances, the allusion represents either Obama's perceived solidarity with that group or is a suggestion that the facts of Obama's own life somehow align him with this group. In this case, Sullivan asserts that Obama's biracial identity gives him a lot in common with the gay community, despite the fact that for most of his life and career Obama told us that his religious identity informed his views on the gay community:
Barack Obama had to come out of a different closet. He had to discover his black identity and then reconcile it with his white family, just as gays discover their homosexual identity and then have to reconcile it with their heterosexual family. The America he grew up in had no space for a boy like him: black yet enveloped by loving whiteness, estranged from a father he longed for (another common gay experience), hurtling between being a Barry and a Barack, needing an American racial identity as he grew older but chafing also against it and over-embracing it at times. This is the gay experience: the discovery in adulthood of a community not like your own home and the struggle to belong in both places, without displacement, without alienation. It is easier today than ever. But it is never truly without emotional scar tissue. Obama learned to be black the way gays learn to be gay… I have always sensed that he intuitively understands gays and our predicament—because it so mirrors his own.
It's not the first time attempts at comparisons between the experience of being gay and being of color have been made; drawing parallels between the civil rights movement of the 1960s and the movement for gay equality are fairly common. (Although Sullivan does seem to be talking more specifically here about the experience of being biracial in America, which is admittedly different.) In a lot of ways, Sullivan's point here seems to make some of the same mistakes that the attempt to call on the civil rights movement often does: although Obama has written extensively about his own life, feelings, and experiences, and Sullivan is well versed in the experience of growing up gay, he's still ultimately writing as a white man, and locating Obama's life experience within his own may be overreaching.
Furthermore, arguing that Obama's move last week came out of a personal identification with the gay community seems almost reductive. It's true that relating on a personal level to someone in the gay community is often a way in which someone comes to support our equality, but ultimately, it's also just the right thing to to do. And isn't that what Obama himself said? He spoke about friends, staff, and American servicemembers, and the kind of world that his own daughters expected to grow up in, and that ultimately his faith led him to support equality and families, not work against them. It's very possible that Obama's own experiences of marginalization and feelings of alienation contributed to his thinking on the matter, but it's also possible that someone can look at the current state of things for gay Americans and simply come to the realization that it's not okay — and that may be what we need from America as a whole more than anything.
Beyond the response of the media, the real-world effects of Obama's announcement have been more difficult to pin down. In terms of day-to-day life for gay Americans, not much has changed; Obama's statement was a matter of stance and principle more than anything else. The only indication we have of any real legislative change came on Monday, when Obama said during a fundraiser that his policy goals for his potential second term do in fact include repealing DOMA. The fundraiser in question was hosted by gay activists and attended by Ricky Martin, and seems to indicate that Obama's stance will earn him more funding from gay donors, many of whom had been less enthusiastic after he refused to sign an executive order for gay workplace protections. Latino/a voters and activists also appear to be heartened by Obama's move, and hope that they can adopt tactics similar to the gay rights movement and secure more from Obama in terms of immigration reform.
Voters on the whole, however, didn't have a uniformly positive reaction. As far as supporting Obama's support, one poll from Washington Post-ABC News is  evenly split, with 46% in favor of Obama's announcement and 46% opposed (8% undecided). Polls that look at how Obama's move might affect his overall success are even less optimistic. Although each poll is slightly different and none are definitive, polls from the Pew Research Center and the New York Times/CBS both found that roughly 25% of those polled are now less likely to vote for Obama as a result of his statement, and only 16-19% were more likely to vote for him. Polls also found that "a clear majority of Americans regarded Obama's declaration of support for same-sex marriage as largely a political move," which seems unlikely to win him a lot of support from any demographic. When asked about how he sees the election going, Obama said he believes the economy, and not gay marriage, will ultimately be what makes up voters' minds.
"Gay president" or no, Obama's unprecedented statement of support will go down in history as a surprising and to many, brave and compassionate, move towards support and solidarity with the gay community at a time when a politician's stance on gay issues is perceived as a make-or-break issue. Whether it will also be remembered as something that made a major difference, either in the lives of gay Americans or in Obama's political career, remains to be seen.