Lindsay Lohan tweets a lot. Lindsay Lohan tweets so much and so inanely that virtually every news source in the world including us, your cousin who reads a lot of TMZ, and Samantha Ronson's twitter feed have ceased to comment on them. Except now we cannot stop ourselves from doing so, because in the wake of the recent gay marriage victory in New York that you may or may not have heard about, Lindsay Lohan's twitter feed is just too bizarre. We have to talk about this.
Because the thing is, Lindsay Lohan's Twitter feed so far has a 100% solid fucking gold track record of either being COMPLETELY oblivious to any major happenings in terms of marriage equality – even or especially when they are heartbreaking and awful and bring the rest of us to tears. (Aside from that special myspace blog post she wrote about equality, kinda, while she was dating Samantha, which was sweet, I think, if I remember it correctly.)
Which is maybe not weird, considering that Lindsay Lohan is by all accounts a very busy young starlet with a lot going on and various court dates to attend and many friends to drive cars with and clubs to be photographed outside of. But also, she is for some people one of the more relatable queer public figures they have – she's young, she's firm in her refusal to let anyone define her as "gay" or "straight," and has had a public relationship with another woman without apologizing for it. So it would be nice if she maybe acknowledged at least that there is something huge going on that deeply affects a community to which she at least kind of is aware of belonging to. But no!
For instance: on November 4, 2009 – which some of us think of as the day that the voter referendum in Maine was lost, and our hearts broke – Lindsay Lohan had a lot of feelings about her father's relationship with the tabloids, and not much else.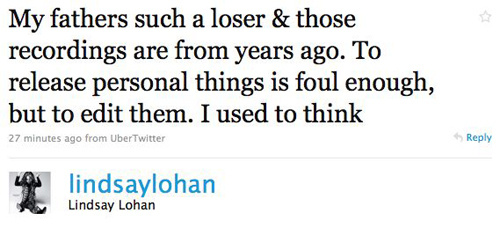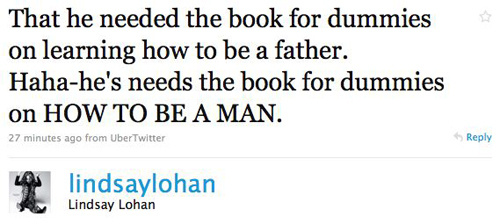 Or on December 2, 2009, when the first attempt at marriage equality in New York was shot down: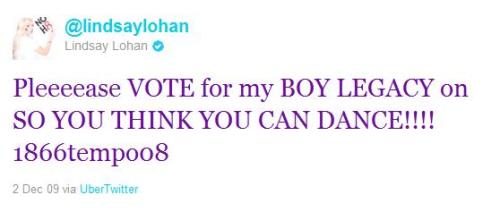 There's a theme here, no? The theme mostly being no theme, at least definitely not a theme of "using your public platform as an out celebrity to recognize the monumental injustice and enormous levels of discrimination that your fellow queers are facing." Is that too much to ask of a celebrity whose other concerns include ex-girlfriends who wear a lot of slouchy hats and frequent court dates? Maybe. Which is why we'd given up pretty much on any sort of reflection of our queer selves outside of our irrationally strong feelings about Samantha Ronson in this one leggings-focused little corner of the internet.
BUT THEN marriage equality became a reality in New York, and while that elicited an emotional state that was about 95% "gleeful," "ecstatic," "celebratory," and "lesbian executive realness," we later checked Twitter and the other 5% was "Whaaaaa? Lindsay what?"
And then —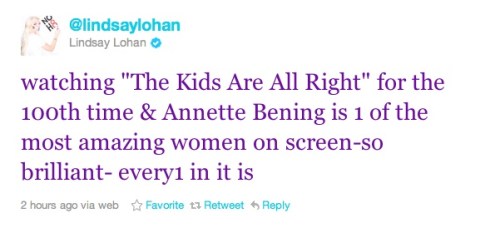 This may literally be the gayest thing Lilo has ever tweeted. Including every late-night lesbian drama mention of Sam Ronson. Also, those playing along from home will note that she has only recently changed her profile picture to an Adam Bouska NO H8 photo.
What is going on? Is the fact that we finally, finally won a thing as opposed to being denied equality at every single turn enough to make her identify with us in some obtuse way? Does she just really, uh, admire Annette Bening? Is it insane to spend this much time or text thinking about this? (I am sure we will find out your feelings on that last in the comments!) What would a Lilo/Cholodenko collaboration even look like? Am I the only one on Earth who thinks this is incredibly weird? WE HAVE SO MANY QUESTIONS.