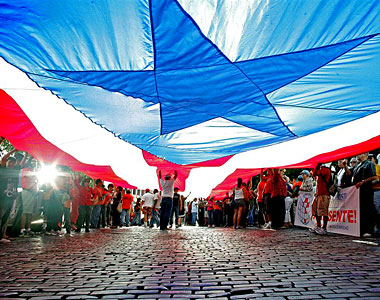 While the rest of the world is celebrating Pride, Puerto Rico is reeling from a spree of violent hate-based crimes against its LGBTT community. Eighteen gay, lesbian and transsexual individuals have been murdered in the last eighteen months. The most publicized of these murders is that of Jorge Stephen Lopez Mercado,  who was decapitated, dismembered, burned and left on the side of the road in the city of Cayey. His attacker, Juan Antonio Martinez Matos, claimed his attack was caused by the shock of realizing Lopez Mercado was a biological male and not a female prostitute. "Gay panic" pushed him into a blind rage and allegedly forced him to violently murder Lopez Mercado. He has since been sentenced to 99 years in prison. Puerto Rico itself seems to have been experiencing an epidemic of gay panic for years. These murders are the horrific end result of general ignorance and fear of the LGBTT community in Puerto Rico. Sensational details like "transsexual prostitute" and "decapitation" fly around the world and top Google News headlines, but what's really going on in the island of enchantment?
Pedro Julio Serrano, founder of Puerto Rico Para Todos, an organization for the inclusion of LGBTT individuals in Puerto Rican ideals of equal rights, is the advocate that most major news outlets are going to for quotes about the murders. Serrano is rightfully calling for politicians and lawmakers to address this violence towards the LGBTT community. But the one thing many outlets have failed to mention is that Serrano currently does not live in Puerto Rico; he lives in New York, like me. Not to invalidate Serrano's advocacy, but isn't it possible that a voice on the island might provide a better view of what's really happening and what really needs to be done?
+
The Administrative Problem
Juan Carlos (last name withheld for safety purposes) is an activist librarian currently living in Puerto Rico who spoke with me over the phone. He coordinated Puerto Rico's first LGBTT Health Summit, which took place on March 2, 2011. The summit's objective was to explore the ways in which hate crimes, machismo and homophobia affect Puerto Rican health. Juan Carlos understands that the problem of the high murder rate affects more than just the queer community. So far this year, there have been 525 murders in Puerto Rico. At this rate, the number of homicides this year will be higher than the previous records: 983 last year or 995 in 1994. New York City's population is slightly higher than that of Puerto Rico, and it totaled only 536 murders for all of 2010. Even straight and cis people in Puerto Rico live with the threat of senseless violence, much of which is attributed to drug trafficking. But according to Juan Carlos, the LGBTT deaths are in an entirely different category:
"There is a high level of ignorant machista homophobia towards the LGBTT community coming from the Fundamentalist Christians and homophobic legislature. The media outlets don't even know how to report these crimes. Police don't know how to treat victims. We have no advocacy."
He also said talking about the grisly details of the murders is easy for most people because they're so salacious. What's harder to discuss and draw attention to is the root cause; the everyday ways that homosexual and transsexual Puerto Ricans are discriminated against. The bottom line is, the infrastructure needed to support the victims of all of these crimes is not in place in Puerto Rico. For example, recently NYC and San Francisco passed initiatives making LGBTQ sensitivity training programs mandatory for health care workers. Juan Carlos said he wishes Puerto Rico would enact that type of legislation as well.  Violence does not manifest solely through murder or physical harm; it also exists in the form of administrative discrimination and systemic inequality. Friends of Juan Carlos — gay men, like him — have been told by doctors and nurses that if they do not "change their lifestyle they [will] no longer receive treatment and [will] have to switch doctors." This is the climate that Juan Carlos and his Health Summit are trying to navigate.
The Religious Problem
Meet Wanda Rolón, self-proclaimed Apostle and founder of the First Christian Church La Senda Antigua, Puerto Rico's very own MegaChurch.
She's an outspoken anti-gay activist, most recently infamous for protesting against Ricky Martin. (Hating Ricky Martin in Puerto Rico is like hating Santa Claus at the North Pole.) Rolón attacked via Facebook, announcing that Ricky would "lead Puerto Rico to hell," a statement she later recanted:
I never promoted hatred, but the love of Christ … God calls us only man and woman because it was how He created us.
(She kinda looks like one of us…::cough::)
Rolón's sentiments are not exclusive to the Christian Fundamentalist movement in Puerto Rico; they're also mirrored by El Visitante, a Puerto Rican Catholic news publication. El Visitante states that homosexuality is triggered by environmental, biological and familial weapons of destruction and can be reversed. As religious groups, they are of course legally permitted to have their own point of view, but with Puerto Rico being heavily influenced by both Catholicism and a recent surge of Fundamentalism, queer Puerto Ricans are bombarded with messages that diminish their humanity – and so are those around them, from healthcare providers to johns, with dangerous results.
+
The Political Problem
This kind of rhetoric is also supported by and reinforced politically. Luis Fortuño, the current Governor of Puerto Rico, has been criticized for not immediately declaring these 18 murders hate crimes (even though Puerto Rico passed its own hate crime bill in 2002 and still has not used it once), and for heavily advocating for an indisputable ban on gay marriage in Puerto Rico as a defense of traditional marriage. It's worth mentioning that Fortuño's ties to the Tea Party were made public via a video released of him at the CPAC at the Governor's mansion.  Fortuño is not the only Puerto Rican politician to use family values as a platform against gay rights.
Thomas Rivera Schätz, Speaker of the Puerto Rican Senate, spearheaded a campaign in 2009 to protect the values of traditional Puerto Rican families against the "twisted" (i.e. LGBTT) families attempting to claim equal rights from the Puerto Rican legislature. Schatz claims that "twisted" was not a reference to homosexuals but to families that strayed from the traditional one mother/one father dynamic.  This is an interesting stance for a man involved in his own out-of-wedlock baby scandal and a bribery situation sparked by fellow senator, Hector Martinez, who faced an ethics counsel and has since resigned. Schätz has also been publicly challenged by Julio Pedro Serrano for his statements against the LGBTT community.
Towards A Solution
With Rolón, Fortuño and Schätz upholding "family values" in Puerto Rico, queer Puerto Ricans are being victimized by the "gay panic" pervading the island's social service, religious and political spheres, and they need help. Pedro Serrano, Juan Carlos, the ACLU, Joe Solomnese and countless other organizations have rallied in defense of equal rights for LGBTT community and for diligence in the continued efforts of maintaining their safety. It remains to be seen whether that will turn the tide for queer Puerto Ricans' safety.
The last thing Juan Carlos said during our conversation:
"I could be next just for walking with my arm around my boyfriend or letting you use my name in this article. I could be number 19. That is my reality."
Although his employers are aware of his homosexuality, they ask that he keep it to himself.  Gender identity and sexual orientation bring shame upon companies and families and are unspoken reasons for being fired, disowned or stripped of your life, according to Juan Carlos. Puerto Rico is experiencing the same type of homophobia that runs rampant throughout the world, but what truly makes it stand out is its relationship to the United States. Any laws the U.S. legislature passes for gay rights also go into effect in Puerto Rico due to its status as a commonwealth. This can be both a blessing and perhaps a curse, because what works for us here in the States might not always be the right thing for Puerto Rico. By keeping communication open between us and those living on the island, we can aid Puerto Rico in its fight for LGBTT equality, even after all the headlines have faded away.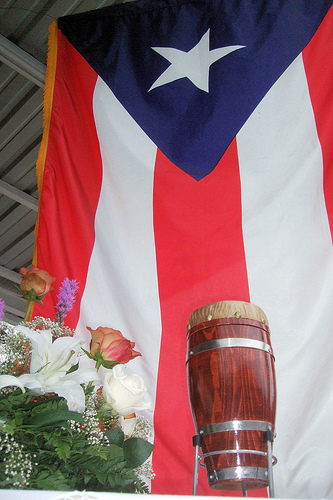 En Paz Descanse
Jorge Lopez Mercado · Michaell Galindo · Ashley Santiago · Angie González Oquendo · Fernando López de Victoria · Humberto Bonilla Rodríguez · Michelle González García · La Flaca Soto Fernández · Benjamín Acevedo Román · Charlotte Crespo · Frank Di Giovani · Ivan McDonald · Edwin Rodríguez Grajales · Ezequiel Crespo · Eugenio Alberto Rivera Ortiz · Karlota Gómez Sánchez · Alejandro Torres Torres · Ramón 'Moncho' Salgado