Now that we know how Samantha Ronson, Tegan & Sara and Neil Patrick Harris feel about marriage equality, what about the politicians and other Important Leaders?
+
The President of the United States: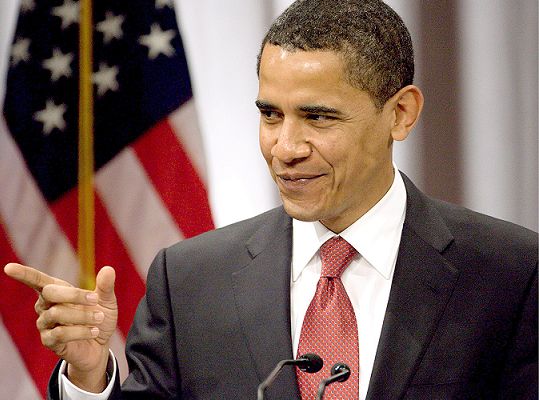 Let's start with the big one — President Barack Obama! From The Washington Examiner, the White House's official statement:
The President has long believed that gay and lesbian couples deserve the same rights and legal protections as straight couples. That's why he has called for repeal of the so-called "Defense of Marriage Act" and determined that his Administration would no longer defend the constitutionality of DOMA in the courts. The states should determine for themselves how best to uphold the rights of their own citizens. The process in New York worked just as it should.
Three years ago, during the big marriage equality controversy of the time, Obama's stance sounded a little bit different. After the passage of Prop 8, Obama expressed disapproval, but didn't go so far as to disagree with the basic principle of "one man, one woman."
I've stated my opposition to this. I think [Prop 8 is] unnecessary. I believe marriage is between a man and a woman. I am not in favor of gay marriage. But when you start playing around with constitutions, just to prohibit somebody who cares about another person, it just seems to me that's not what America's about. Usually, our constitutions expand liberties, they don't contract them.
Obama has said his ideas about gay marriage are "evolving," but he's stopped short of fully endorsing same-sex marriage — a move which indicates, for many, that he's not evolving quickly enough.
+
Social Conservatives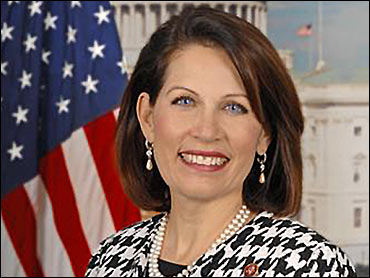 New York has never been a haven for socially conservative right-wing politicians to campaign for President, so maybe our activities aren't of particular interest to people like Michele Bachmann but regardless, same-sex marriage has passed and Michele Bachmann is kinda okay with it (although clearly she'd prefer a referendum):
BACHMANN: In New York state, they have passed the law at the state legislative level and, under the 10th amendment, the states have the right to set the laws that they want to set.
WALLACE: So even though you oppose it, then it's okay from — your point of view — for New York to say that same-sex marriage is legal.
BACHMANN: That is up to the people of New York. I think that it's best to allow the people to decide on this issue. I think it's best if there is an amendment that goes on the ballot, where people can weigh in. […]
WALLACE: But you would agree, if it's passed by the state legislature and signed by the governor, then that's the state's position.
BACHMANN: It's state law. And the 10th amendment reserves to the states that right.
Other conservative reactions were as appalled and outrageous as one might expect. For instance, Ruben Diaz Jr — who you may remember has an out lesbian niece — said: "God, not Albany, has settled the definition of marriage a long time ago."
Reportedly, Brian Brown of NOM "sat in the galley openly weeping with sadness when the 33 to 29 vote was announced." And Maggie Gallagher had a lot of feelings:
Gay marriage was sold to many conservatives as the beginning of that process of marriage renewal. Instead, we are seeing quite clearly that victories for gay marriage lead to renewed calls for accepting family diversity under the powerful new "equality" banner institutionalized in marriage law. (Did you see the LA Times story last week that lauded the Census news on family decline on the grounds that Heather can now have three mommies, thanks to separation and re-partnering among lesbian couples? Heck, in a couple of years she can have six mommies. Families are now wonderfully fluid and to fail to applaud that would be narrow-minded bigotry.)
Our children are being re-educated as we speak.
Also, Pat Robertson thinks that "God will destroy America." And that it will happen for reasons other than Pat Robertson saying things.
+
Catholic Leaders: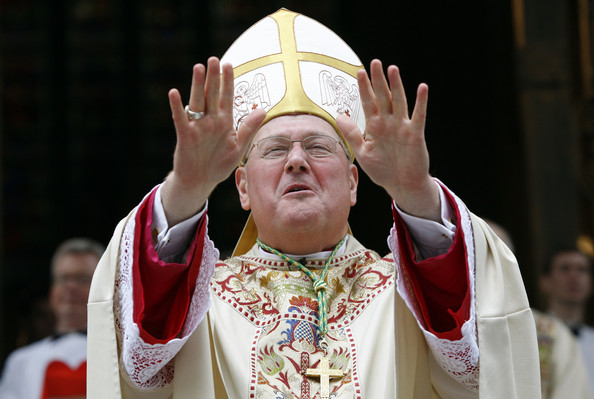 Top Catholic Leader Archbishop Timothy Dolan says we should speak out "clearly and forcefully" against gay marriage:
"We as Catholics would oppose any attempt by anybody to redefine marriage, whether that … whomever that may be,"We just don't believe that marriage can be changed and radically altered to accommodate a particular lifestyle."
Bishop Nicholas DiMarzio, representing the Diocese of Brooklyn, wrote an op-ed for the New York Daily News in which he shared several insane complaints like that society has lost "the primary purpose of marriage as the institution by which a man and woman bring new life into the world and teach the child to become a productive citizen" by making marriage about "legitimizing our individual need for love and affection." He added that this casual view of marriage is responsible for rising numbers of divorce, single parenting, and cohabitation outside of marriage:
"I believe the passage of same-sex marriage is another 'nail in the coffin' of marriage. It is destructive because we fail to view marriage in the context of a vocation: a calling to participate in the great enterprise of forming the next generation. Marriage is reduced to an empty honor."
+
The Orthodox Jewish Union
The Jerusalem Post reports that on same-sex marriage, the Jewish community is divided. Generally Conservative and Reform Jews endorse equal rights but the Orthodox Union does "oppose the redefinition of marriage and the state sanction of same-sex marriages." This time it seems that The Orthodox Union is, at least, satisfied with the religious exemptions added to the bill:
"Just as we, in a democratic, pluralistic society do not seek to impose our religious beliefs on others, same-sex marriage, now the law in New York, must not infringe on anyone's religious liberties. Sadly, in too many states, those acting on their religious beliefs have seen government benefits withheld, government funds, contracts and services denied and privileges such as tax exemptions revoked. New York's law ensures that will not happen here and employers, social service providers and houses of worship are free to uphold their faith."
+
In Conclusion
It actually doesn't matter how anyone feels about it, though, because this shit is on lock! Don Lemon, who is gay and a news anchor but somehow still got California and New York mixed up in the beginning of the broadcast, spoke to CNN Senior Legal Analyst Jeffrey Toobin who says this bill is a "done deal."
While it won't take effect for 30 days after it passing, Toobin  says that he doesn't foresee any legal challenges to the law.
And what's more, the legalization of marriage in New York state may have implications beyond its own borders. Some think that this change may have a "ripple effect" that lends momentum to marriage initiatives elsewhere in the US.
Advocate Richard Socarides says what happens in the state has national implications, and will encourage lawmakers elsewhere to support gay marriage. He says each approval like this one "feeds off of and contributes substantially to the next one." Yale law professor William Eskridge agrees: "The more interactions Americans have with same-sex couples, the more Americans will accept same-sex marriage."
We'll end with an excerpt from last night's PBS Newshour, in which Jeffery Brown did an interview with NOM Doyen Maggie Gallagher and Senator Daniel O'Donnell (who Maggie Gallagher refers to as "Daniel O'Connell"):
JEFFREY BROWN: … Where does this go from here?
MAGGIE GALLAGHER: Well, the next big fight, I think, is in New Hampshire, where the question is, in New Hampshire, the Democrats passed gay marriage, and the people elected — massively repudiated that by electing a new legislature, just as they did in Maine, by the way, in this last election cycle.
And I think the people of Maine were the first to repeal gay marriage. The question will be whether the legislature in New Hampshire becomes the second state to repeal gay marriage. There's also a live movement in Iowa, a movement to pass a marriage amendment in North Carolina, and the people of Minnesota will decide this question, unlike the people of New York, in 2012, too.
JEFFREY BROWN: And, Mr. O'Donnell, so what is the key that you see in taking what just happened in New York to other states? What does it — what would it require in terms of politics to make happen there what happened in New York?
DANIEL O'DONNELL: Well, we have representative democracy for a reason. That's what we have in our country.
And if you don't believe in representative democracy, then maybe you shouldn't live in this country.